A microwave baked potato only requires a little olive oil, salt, and pepper and a 6-8 minute cook time for a perfectly fluffy baked potato!
And, because we know you're going to ask, yes we recommend poking a few holes in your potatoes before cooking.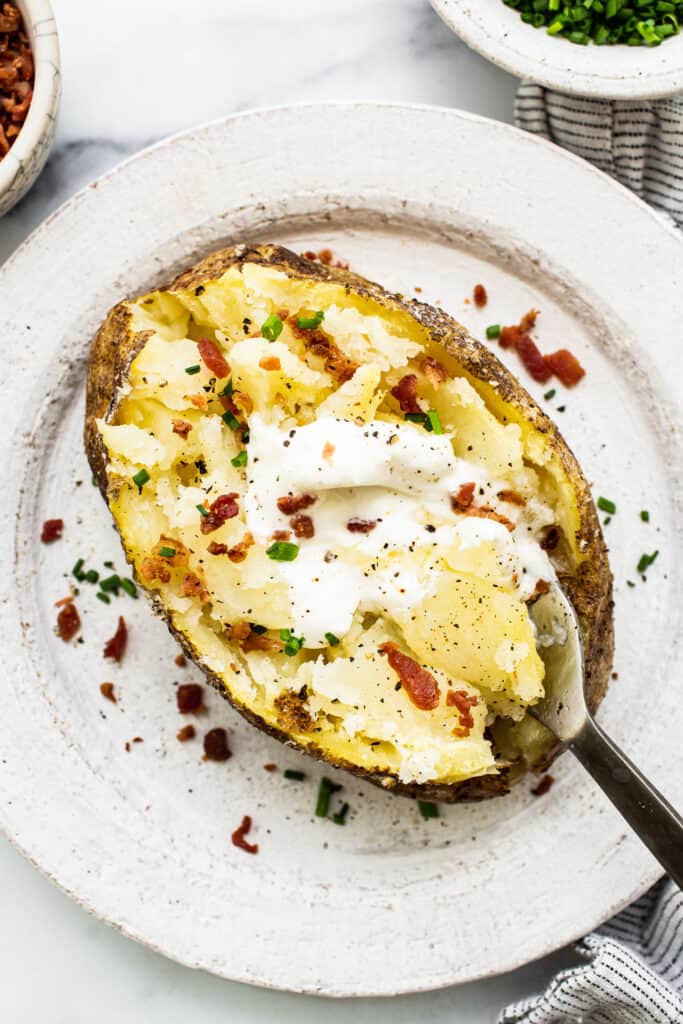 If you would have asked me what my favorite food was as a kid, I would have told you a baked potato. I would microwave them (because it's the easiest way for a kid to make them!) and then top them with butter, a little sour cream, shredded cheese, and salt.
I've since learned more sophisticated ways to making baked potatoes such as baked potatoes in foil or crock pot baked potatoes, but let me tell you, a baked potato in the microwave is still the easiest and most fool-proof method!
How long to microwave a baked potato? 6-8 minutes on high!
What You Need to Microwave Baked Potato
Potatoes- Russet potatoes or Idaho potatoes are our preference when it comes to baked potatoes. Be sure to leave the skin on.
Olive oil– olive oil keeps the potato moist and aids in cooking the potato in the microwave. We like the taste of olive oil but if you'd like to use a different oil, go ahead.
Salt + pepper- we kept things simple for this sweet potato recipe. If you would like to add more flavor to these potatoes you can use any flavorful dry rub like fajita seasoning or taco seasoning.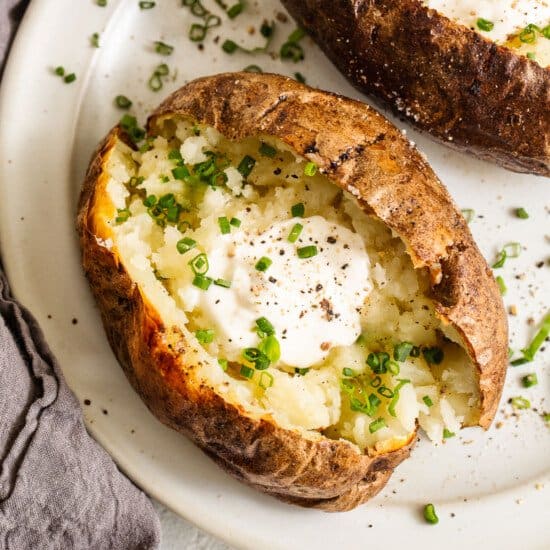 Simple
Baked Potato Recipe
This is a classic baked potato recipe for when you want to use your oven instead of a microwave.
Make It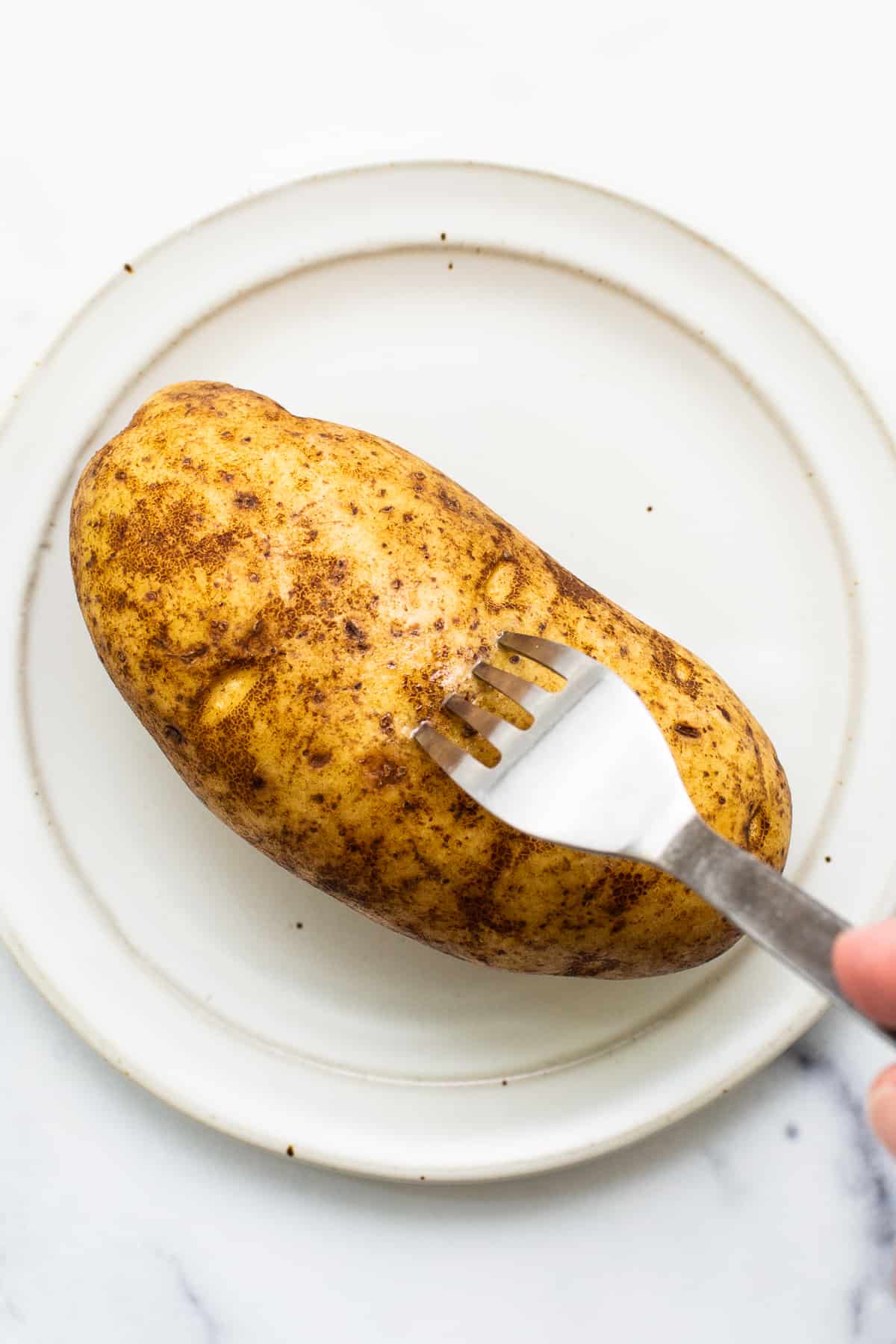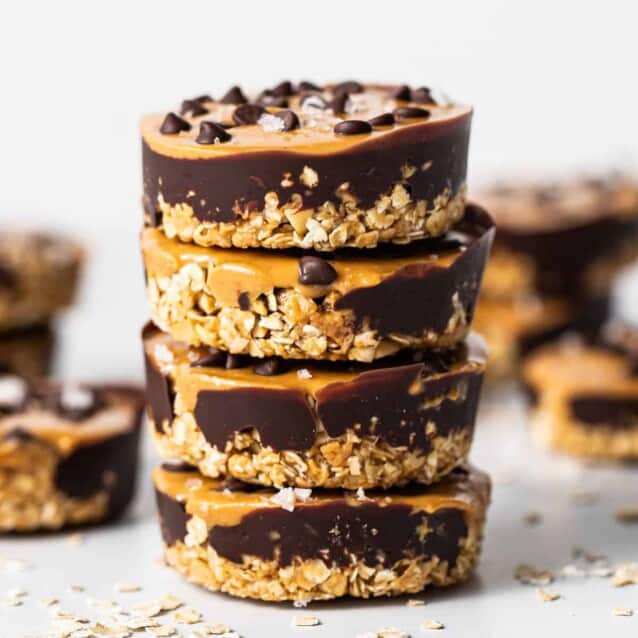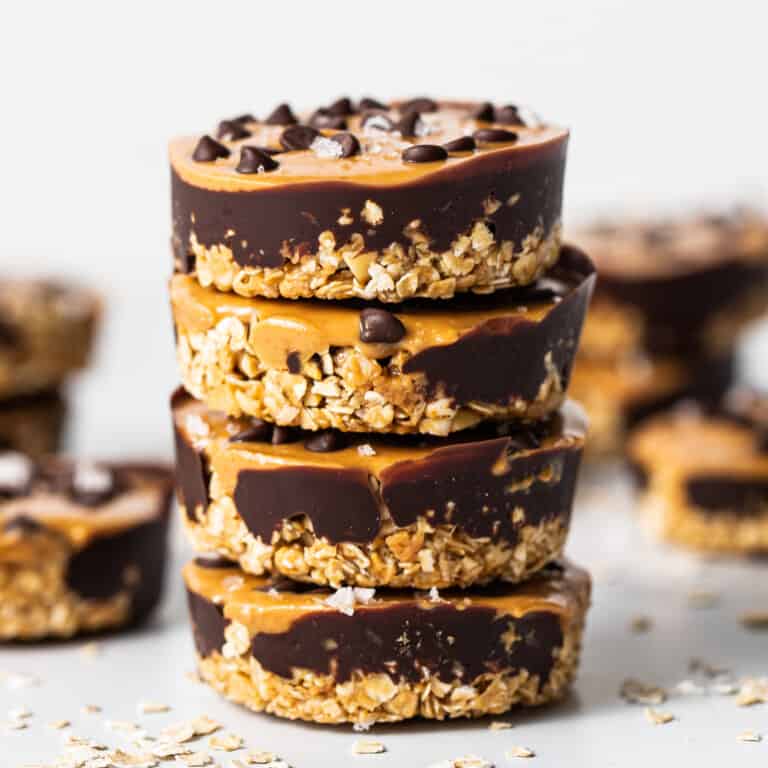 Get our Top 10 5-Star Recipes!
Join our email list for new recipes and BONUS: get our top 10 ⭐️⭐️⭐️⭐️⭐️ recipes e-book!
FAQ
How long should I put my potato in the microwave?

The size of your potato will determine how long your potato needs to be in the microwave, but it should need to be about 6-8 minutes.
How long do 2 potatoes take in the microwave?

For 2 potatoes you will need to increase the amount of time that the potatoes are in the microwave between 10-12 minutes. Be sure to check the potatoes every 4-5 minutes.
Can you microwave a potato raw?

Yes, you can microwave a raw potato. Just be sure you use a fork or a knife to poke holes in the potato before microwaving it.
How do you microwave a potato without it exploding?

To prevent a potato from exploding, be sure to poke holes throughout the potato to allow air to flow through the potato.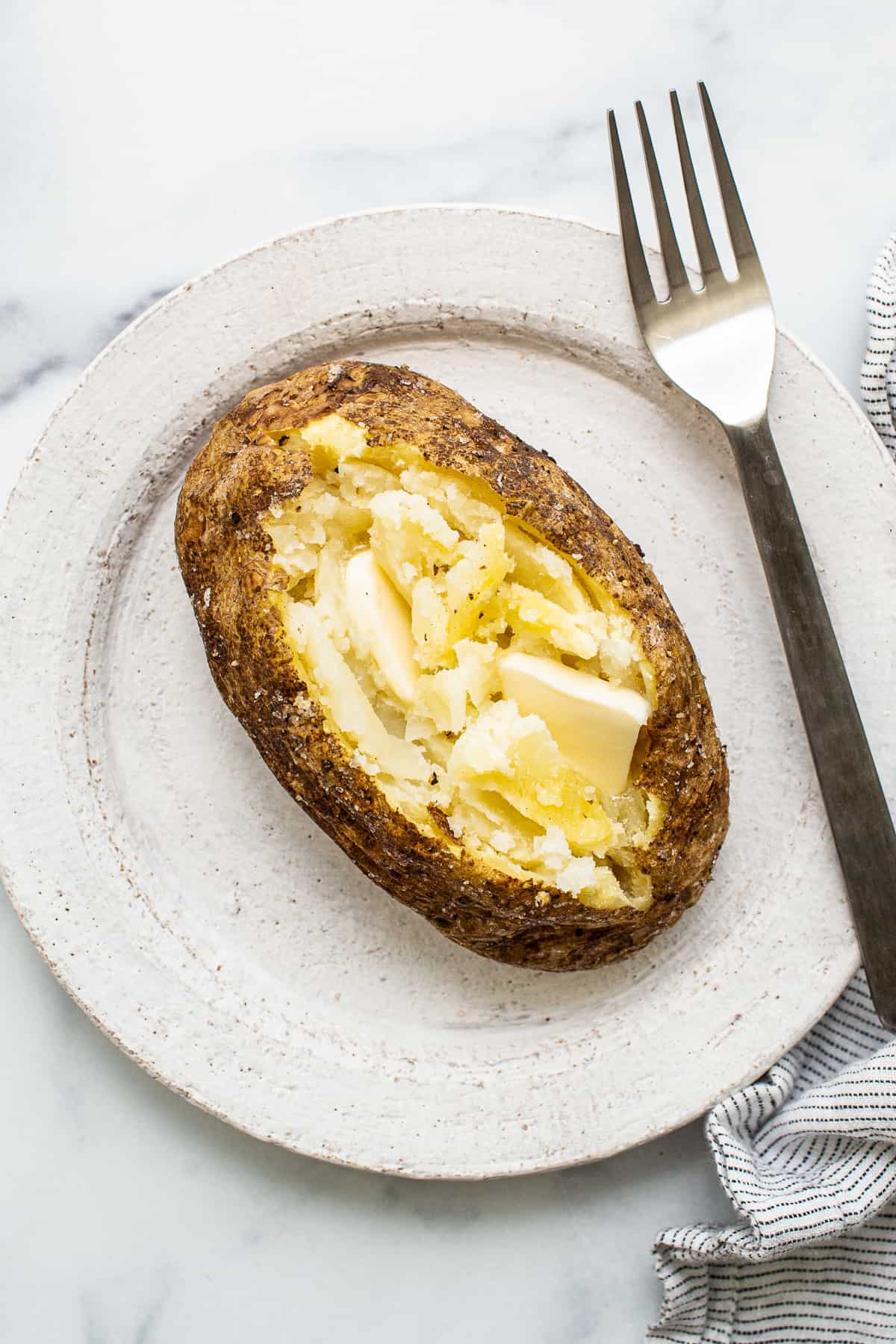 Baked Potato Recipes
Potatoes are an excellent, versatile veggie to roast, puree, bake with, add to bowls, the list goes on! Check out some of our back-to-basics potato tutorials.
Storage
Let the potatoes cool completely. Then, transfer them into an airtight container and store in the fridge for up to 3-5 days.
Can I freeze baked potatoes?
To freeze baked potato, let it cool completely. Then, tightly wrap it in tin foil and place it in a freezer-safe gallon-size bag for up to 3 months.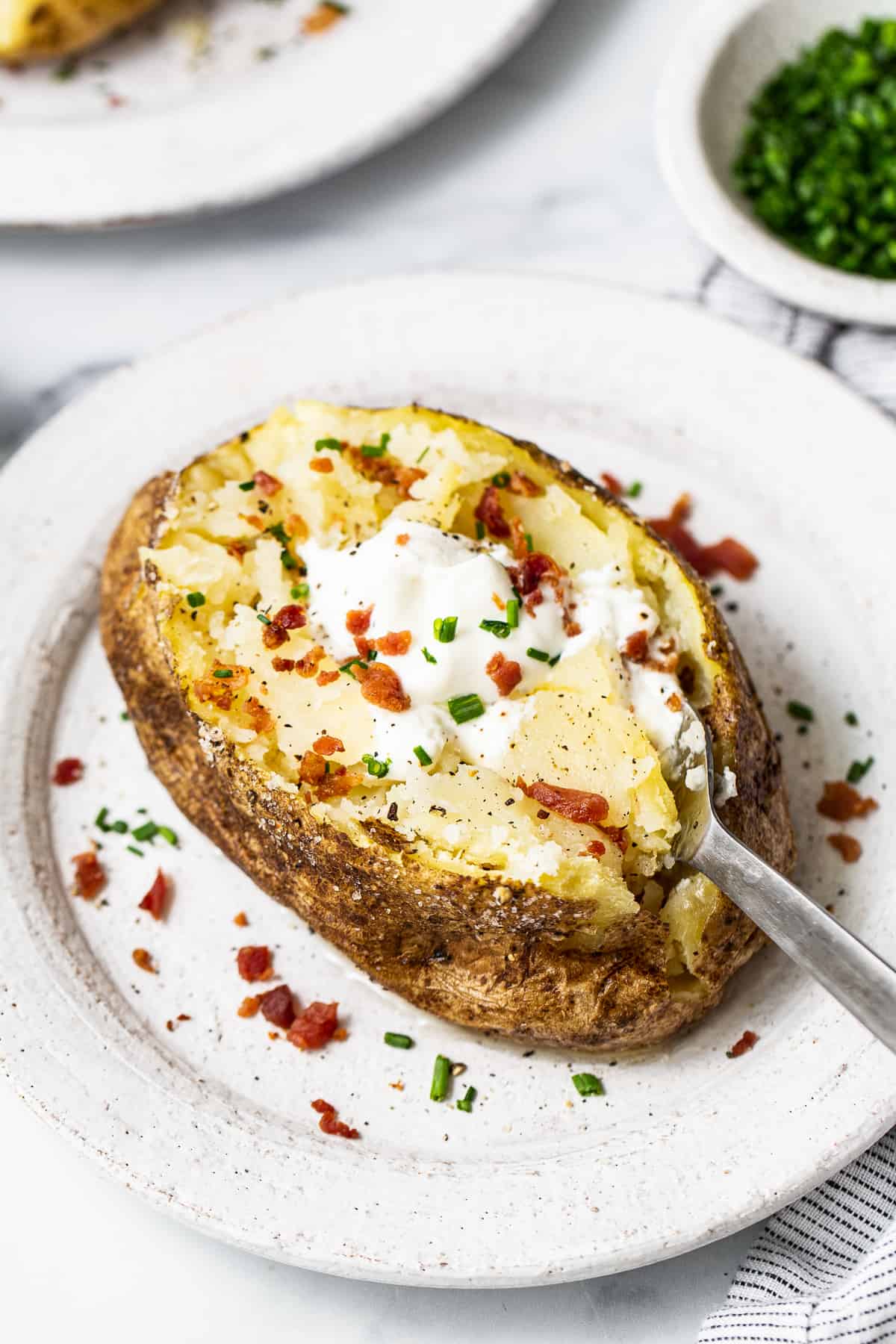 How to Serve a Microwave Baked Potato
We like to keep things pretty classic with butter, sour cream, chives, salt and pepper, but you can get fancy and top it with shredded cheese, cottage cheese, baked beans, or even beef chili!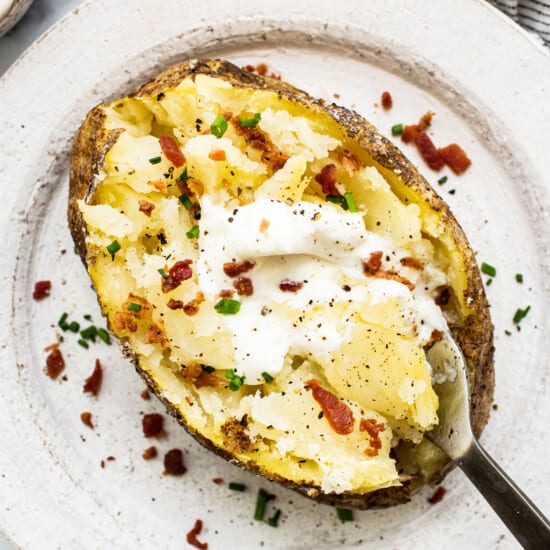 Microwave Baked Potato
Free up your oven and make your baked potato in microwave instead! Simply, wash and poke a few holes into your potato. Then, rub it with olive oil and season with salt and pepper and microwave on high for 6-8 minutes.
Ingredients
Instructions
Prepare your potato by rinsing it under cold water and using a kitchen towel to remove any dirt. Then, use a sharp fork or knife to carefully poke holes all over the potato.

Drizzle olive oil over the potato and use your hands to massage the oil into the potato.

Generously season the potato with salt and pepper.

Place the potato on a microwave-safe plate and cook the potato on high for 4 minutes.

After 4 minutes, check your potato. Pierce it with a fork to make sure it isn't too soft* and then flip the potato over and cook it on high for another 2 minutes. If after 2 minutes, the potato is fork-tender, remove it from the microwave. If it isn't quite ready, cook the potato for an additional 2 minutes.

Remove the potato from the microwave and cut the potato in half. Fluff the insides of the potato with a fork and serve with butter, salt, and pepper.
Tips & Notes
We tested this recipe with a medium and large potato and the cook times were similar.
Every microwave is different so the cooking time may vary based on the potato
Make sure you poke holes deep enough into the potato. It helps cook the potato a bit quicker as well as any accidental potato eruptions in the microwave.
Remember that the size of your potato will dictate how long it has to be in the microwave. If your potato is smaller, 6 minutes may be enough. If your potato is large you may need to add a few extra minutes to the cook time.
Nutrition facts
Calories:
137
kcal
Carbohydrates:
0.3
g
Protein:
0.2
g
Fat:
15
g
Fiber:
0.1
g
Sugar:
0.01
g
Photography: photos taken in this post are by Ashley McGlaughlin from The Edible Perspective.