Make these crispy roasted red potatoes for breakfast, lunch, or dinner! They are perfectly crispy on the outside and soft on the inside. They are ready in under an hour and perfect for meal prep!
When it comes to potatoes, we don't discriminate! We love sweet potatoes, baked potatoes, and potato salad! There is no shortage of potato recipes on FFF!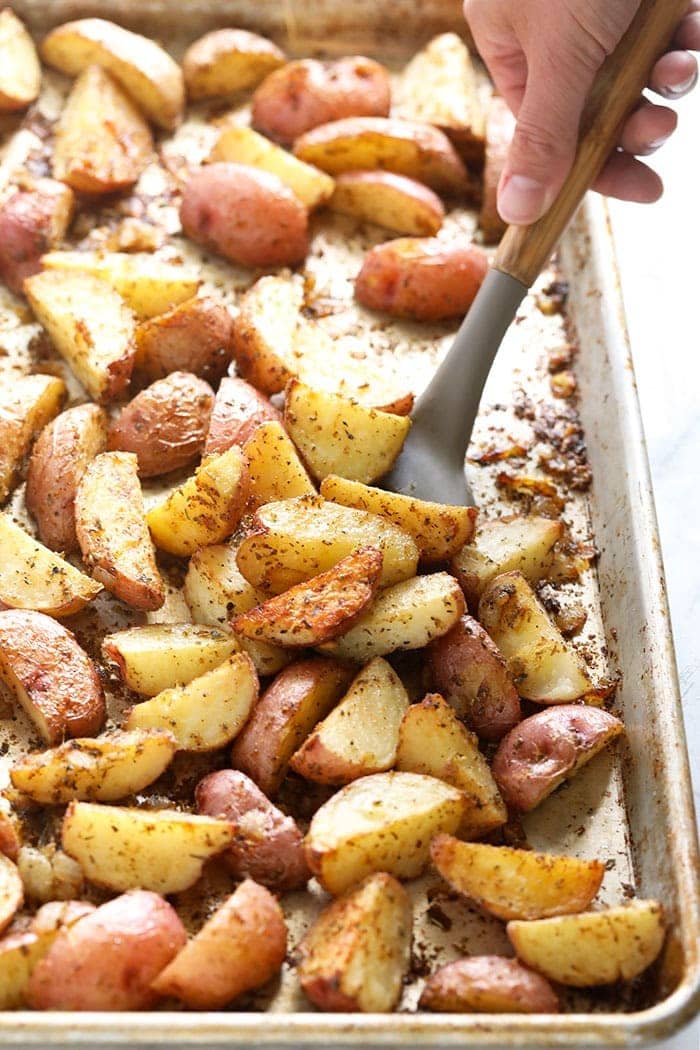 Why We Love Potatoes
Have you ever met someone who didn't like potatoes? I didn't think so! Potatoes are versatile, delicious, and easy to prepare! Now, I understand if there are certain potato dishes that you don't like, but everyone has their favorite potato dish, right?
Red potatoes, Idaho potatoes, red potatoes, russet potatoes, oh MY! There are so many different types of potatoes and so many ways to prepare them. Here on FFF we have potatoes prepared almost every single way!
As you can see we believe you can eat potatoes for every single meal.
Potatoes, It's What's for Dinner
These roasted red potatoes are a staple in the Fit Foodie kitchen. We love roasting red potatoes because they are less starchy and have a higher sugar content. That means they are a little stickier so they are perfect for roasting!
Red potatoes also have a delicious thin skin that softens and crisps up perfectly when they are roasted. You just can't beat it!
Of course, the red potatoes would be delicious as breakfast potatoes and served with eggs and bacon, but the options are endless when it comes to what you can serve with these red potatoes!
Not that you have a better idea of what you can serve these potatoes with, let's go over how you can make these roasted red potatoes perfectly crispy along with some of the most commonly asked questions related to POTATOES.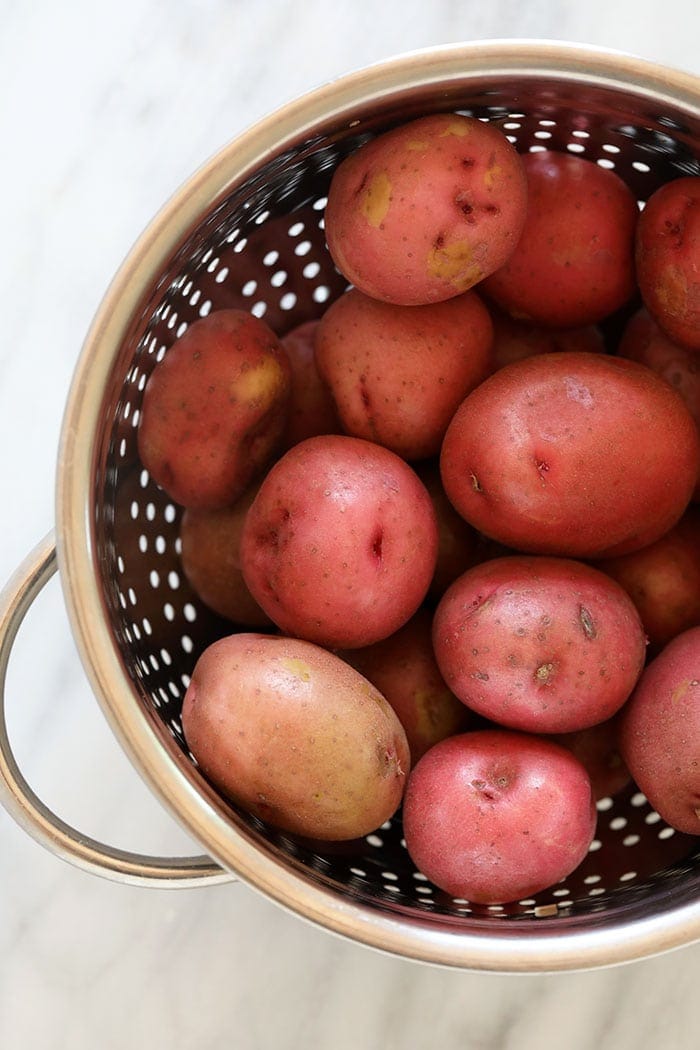 Q & A Roasted Red Potatoes
How do you keeping roasted potatoes from getting soggy? There are a couple of different ways to keep roasted potatoes from getting soggy.
Remove the water. Before placing potatoes into the oven, be sure there is no access water on the potatoes.
Add Oil. Make sure the potatoes are evenly coated in olive oil, this will ensure that they crisp up in the oven.
Dry Rub is the key. Coating the potatoes in a dry rub is very helpful in reducing the moisture in roasted potatoes. Once you have tossed the potatoes in olive oil, coat them the dry rub. After the potatoes have baked, the dry rub will act as a kind of crispy delicious crust!
Meal prep potatoes. If you are meal prepping these roasted red potatoes for meal prep, make sure they are completely cooled before placing them in a glass meal prep container. Sometimes it can be helpful to place half of a paper towel in with the potatoes to absorb the moisture.
What makes roasted potatoes so crispy? Baking potatoes in enough oil, dry rubs, and at a high heat helps to crisp up red potatoes.
How long do roasted potatoes last in the refrigerator? Roasted potatoes last up to 7 days in the refrigerator if they are stored correctly in an airtight glass container.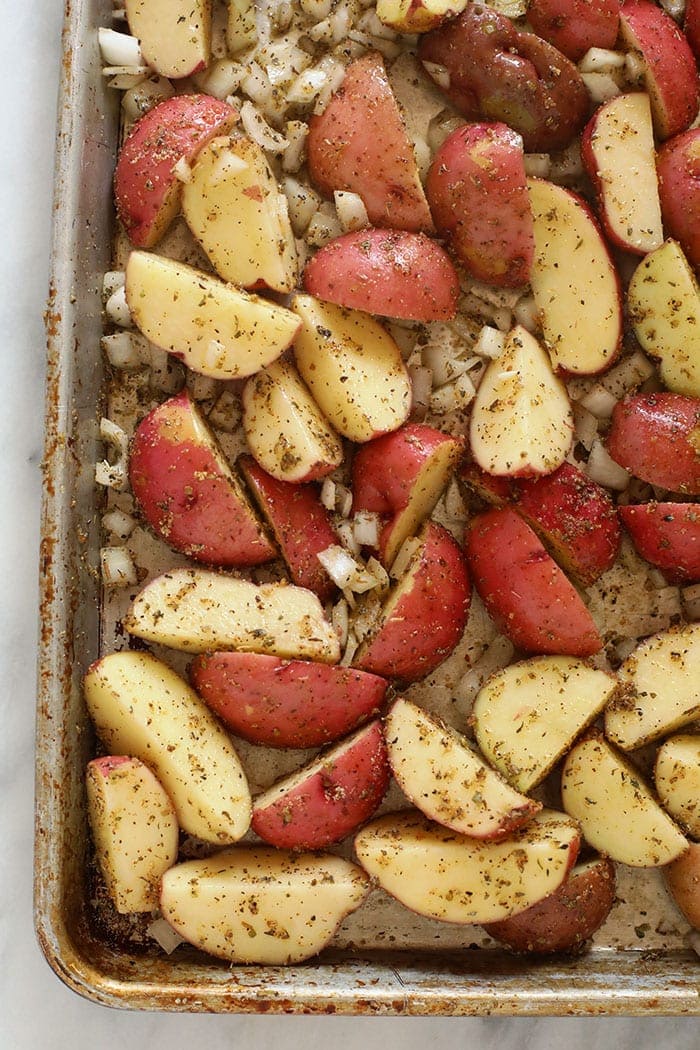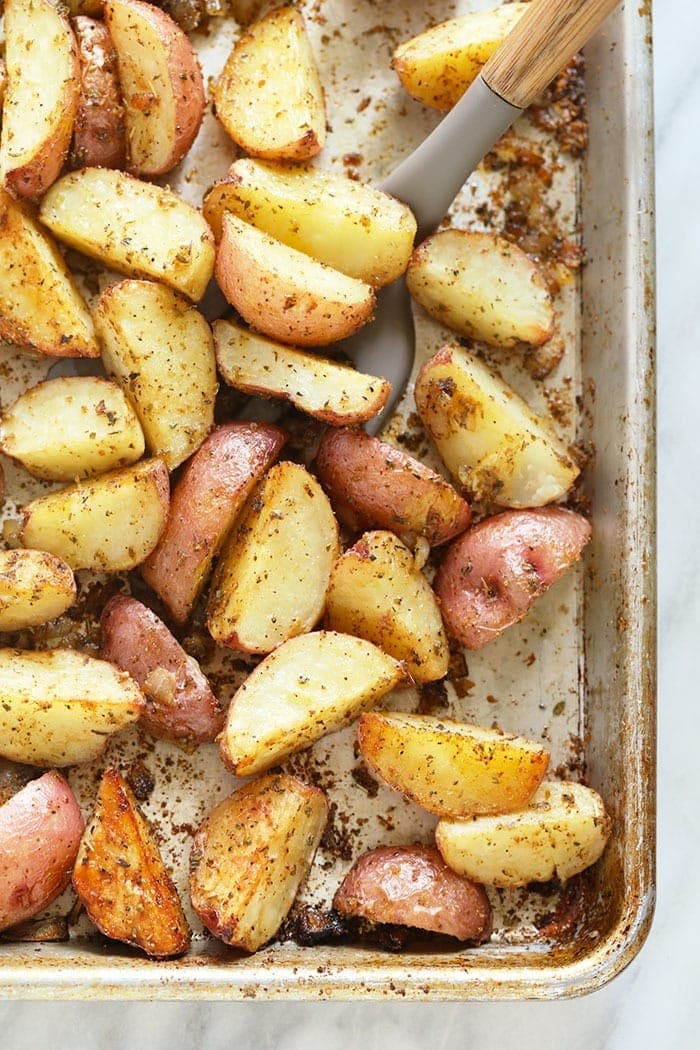 Healthy Potato Recipes
Roasted Red Potatoes Video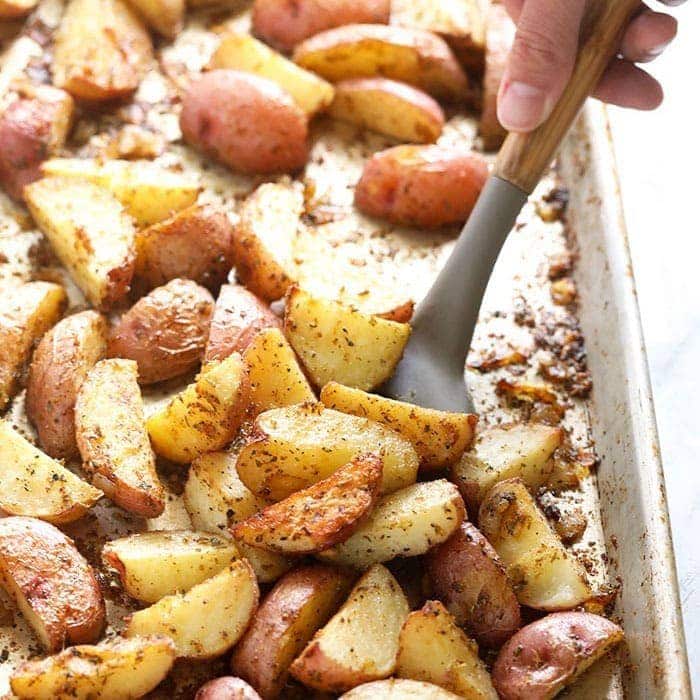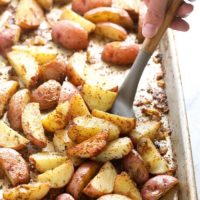 Easy Roasted Red Potatoes
Make these crispy roasted red potatoes for breakfast, lunch, or dinner! They are perfectly crispy on the outside and soft on the inside. They are ready in under an hour and perfect for meal prep!
Prep:
15 minutes
Cook:
30 minutes
Total:
45 minutes
Ingredients
3

lbs. red potatoes

1/2

yellow onion, finely diced

2 tablespoons

olive oil

1 tablespoon

garlic powder

1 tablespoon

dried oregano

1/2 teaspoon

coarse sea salt

1/2 teaspoon

ground pepper

1/2 teaspoon

chili powder
Instructions
First, preheat oven to 425ºF.
Then, prepare red potatoes by washing and patting dry. Then quarter them and place on baking sheet.
Finely dice onion and add to baking sheet and toss with potatoes.
Next, prepare spice rub by combining garlic powder, oregano, chili powder, salt and pepper in a small bowl and mix.
Drizzle a generous amount of olive oil (2-3 tablespoons) over potatoes and onions and toss until fully coated.
Sprinkle seasoning mixture over potatoes and onions and toss together making sure all potatoes are covered.
Roast at 425ºF for 30-40 minutes. Toss after 15 minutes, and again at 30 minutes. Depending on the size of the potatoes, an additional 10 minutes may be necessary. You know your potatoes are done cooking when they are crispy and golden brown on the outside and soft on the inside.
Tips & Notes
Use 3 tablespoons of olive oil instead of 2 tablespoons to achieve crispier potatoes.
Nutrition Facts
Serving Size:
1/6
Calories:
237
Sugar:
0
Sodium:
0
Fat:
5
Carbohydrates:
43
Fiber:
4
Protein:
5
Category:
Side
Method:
Oven
Cuisine:
American
Keywords: Roasted Red Potatoes