This vegan potato salad is light, bright, and delicious! Not only is this potato salad the perfect summer side, but it's also so easy to make.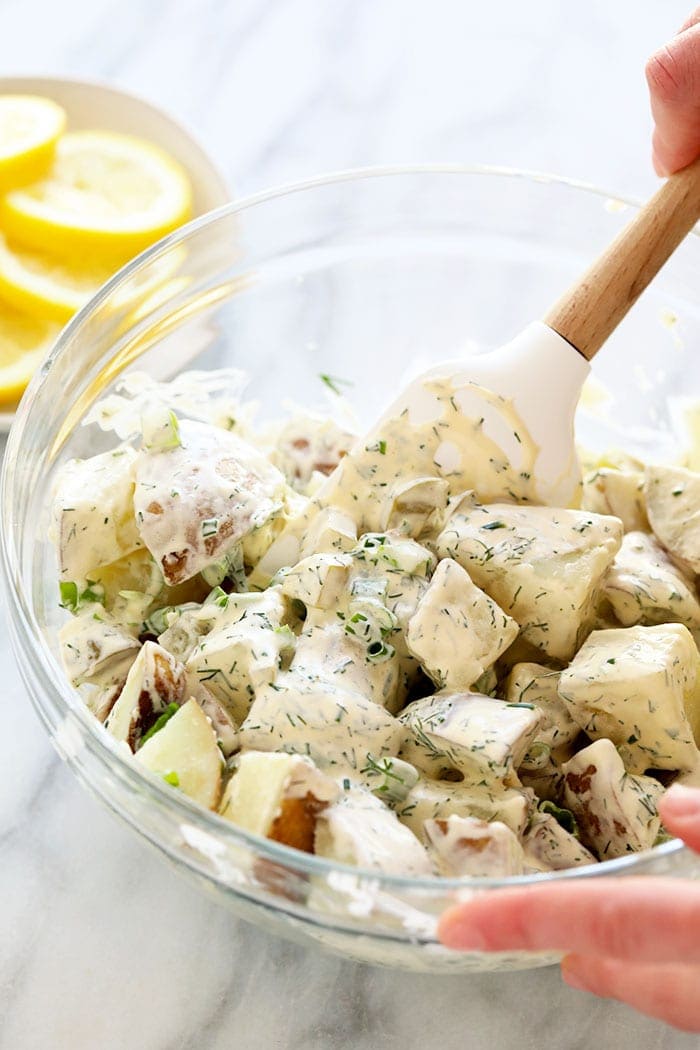 Vegan Potato Salad
If I had to choose three words to describe this vegan potato salad they would be; herby, satisfying, and delicious.All you need is vegan mayo, apple cider vinegar, lemon juice, dill, and chives for the best vegan potato salad dressing around town!
We have a few potato salad recipe on FFF and my favorite used to be this Baked Potato Salad. But then this vegan potato salad came along.
I think I love this vegan potato salad because it is so light and flavorful. Sometimes potato salads can be a bit much, but not this one.
The light and lemony dressing reminds me of a summer day next to the pool and it makes me so dang happy.
How do you make vegan potato salad, vegan, you ask?
Ditch the greek yogurt or the regular mayonnaise and get yourself a vegan mayo!
If you regularly follow a vegan lifestyle, you know that there are so great vegan mayo on the market. We used the Fresh Thyme Vegan Mayo and it was SO good. Need more vegan may options?
What is the Best Vegan Mayonnaise?
Fresh Thyme Vegan Mayonnaise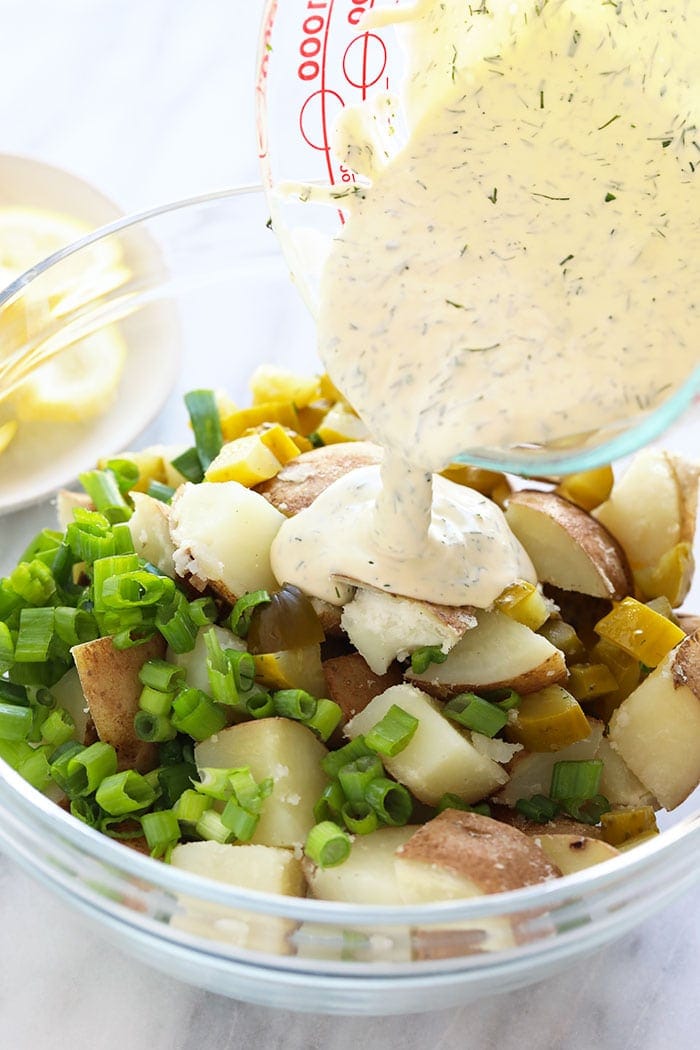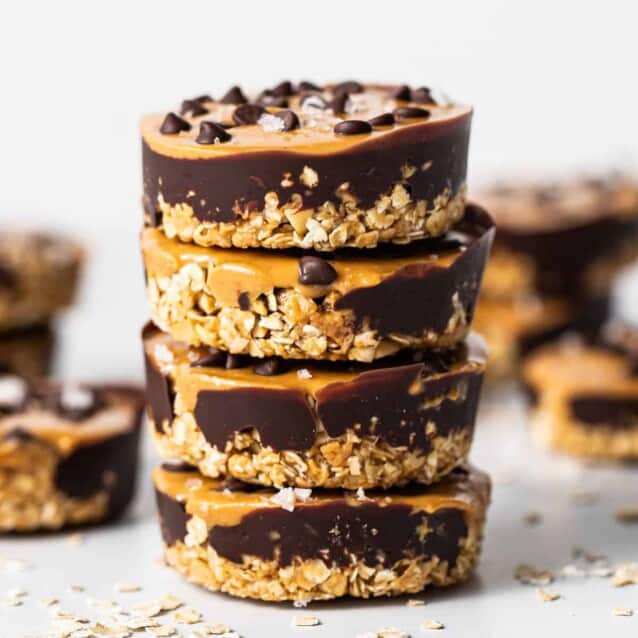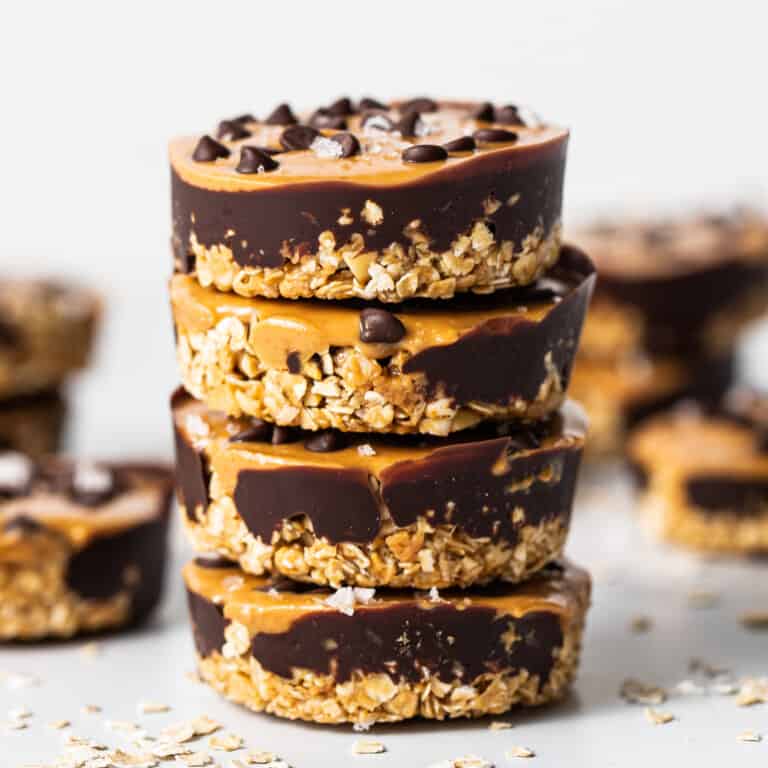 Get our Top 10 5-Star Recipes!
Join our email list for new recipes and BONUS: get our top 10 ⭐️⭐️⭐️⭐️⭐️ recipes e-book!
How to Make Vegan Potato Salad
We kept the ingredient list short and sweet for this tater salad. We wanted the potatoes to really be the star of the show.
Step 1: Cook the potatoes
First things, first. Cook the potatoes. There are two options when it comes to preparing the potatoes for this recipe:
Boil the potatoes by cutting the potatoes into 1.5-inch chunks and boil them for about 15 minutes or long enough for the potatoes to be cooked, yet firm.
Bake the potatoes whole at 425ºF for 45 minutes. Be sure to poke many holes in the potatoes before baking them. Remove potatoes from the oven and cut them (carefully) into 1.5-inch chunks.
Step 2: Make Vegan Potato Salad Dressing
Get ready to make the herbiest and tastiest potato salad! We used a whole bunch of dill and chives, but any herbs would taste amazing. Mince the herbs as fine as you can, add them to a bowl and then add the lemon juice, apple cider vinegar, and vegan mayo.
Mix until all ingredients are combined. If you want it thinner, add a bit more lemon juice and if you'd like a thicker dressing, add a bit more mayo!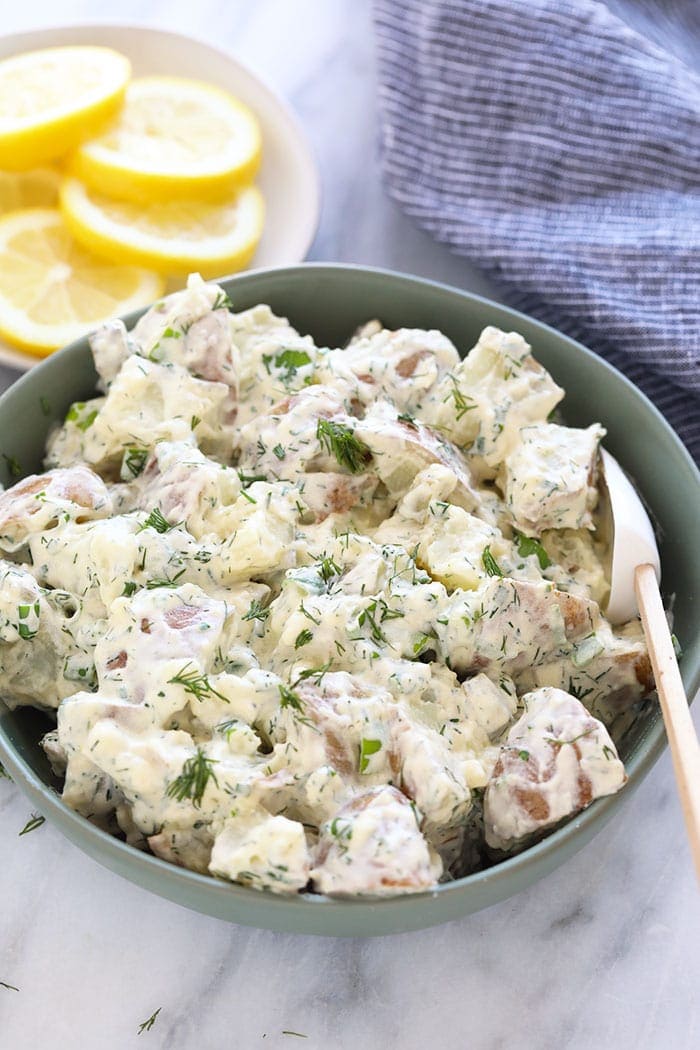 Step 3: Mix and Mash
The final step to making this vegan potato salad a reality is to mix, mash, and chill the salad in the refrigerator. All you have to do is place all ingredients in a large bowl and mix well.
I'm sure you've noticed in other potato salad recipes the potatoes are smashed a bit which creates a creamy consistency. To smash your potatoes, take a wooden spoon and gently massage potatoes into the other potato salad ingredients.
Try your best not to completely puree the potatoes. You want to just tenderize them a bit so part of the potato becomes part of the sauce.
Step 4: Chill and Serve!
Lastly, place the potato salad in the refrigerator and chill for at least 30 minutes before serving.
That's it! After it's fully chilled, serve it next to your favorite BBQ main dish, in a buddha bowl, or as a meal prep meal for lunch all week!
tips + tricks
Though this vegan potato salad is very easy to make, there a few tips, tricks, and questions to keep in mind if you want to end up with the creamiest vegan potato salad, ever!
Don't overcook the potatoes
The last think you want is a potato salad that has turned into mashed potatoes. Be sure your potatoes have a little bite to them rather than a soft potato chunk.
Let the Potatoes Cool
Another important step is to let the potatoes cool completely before tossing them with the sauce!
Easy Mix-in Options
We kept this vegan potato salad pretty basic so that the potatoes could shine! However, feel free to get creative and add in anything you'd like! Below are some add-in ideas!
minced bell peppers
red onion
fresh herbs
Storage
To store potato salad, let the potato salad cool completely and then place it in an air tight container and store it in the refrigerator for up to 7 days if stored correctly.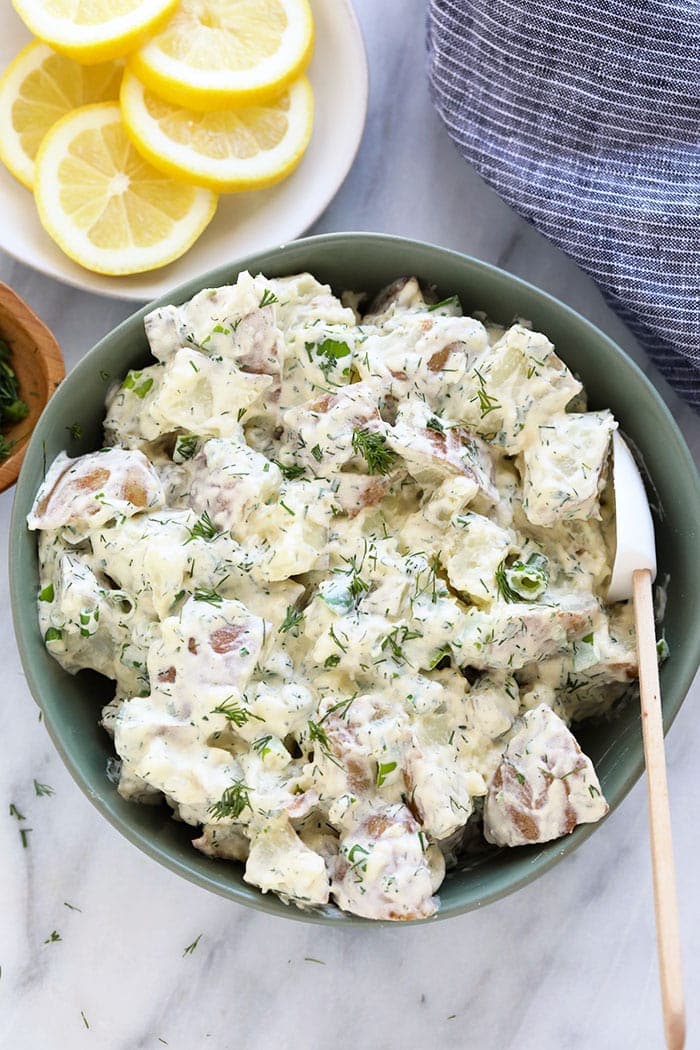 Make this Potato Salad