This baked potato salad is loaded with cheddar cheese, bacon, chives, hard-boiled egg, and a dill pickle sauce! It's the perfect potato salad to serve at your next BBQ or party.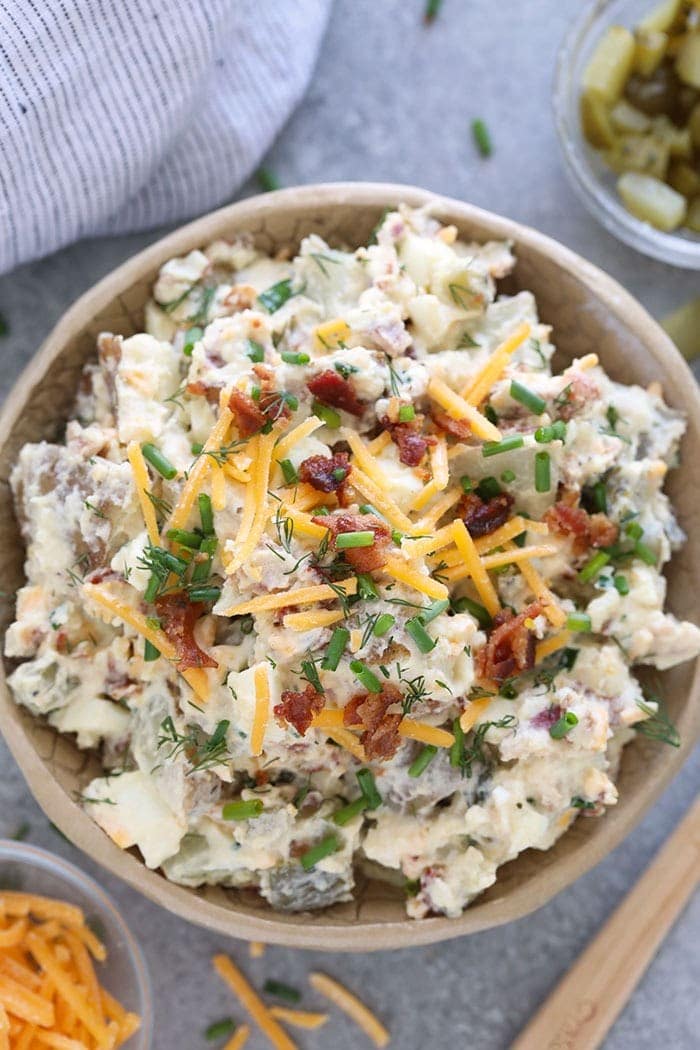 Baked Potato Salad- It's So Good
When the sun comes out and it's time to get those tomato plants in the ground, it's not only gardening season, it is potato salad season. Last year we fell in love with our Instant Pot and as well as our Instant Pot Potato Salad.
People went crazy and so did we. Not only are we in love with potato salad, but we love potatoes in all forms!
We don't discriminate against any spud at any time, but today the star of the show is this baked potato salad. This baked potato salad is perfectly creamy, crunchy, sweet, and tart all at the same time. Now lets GO.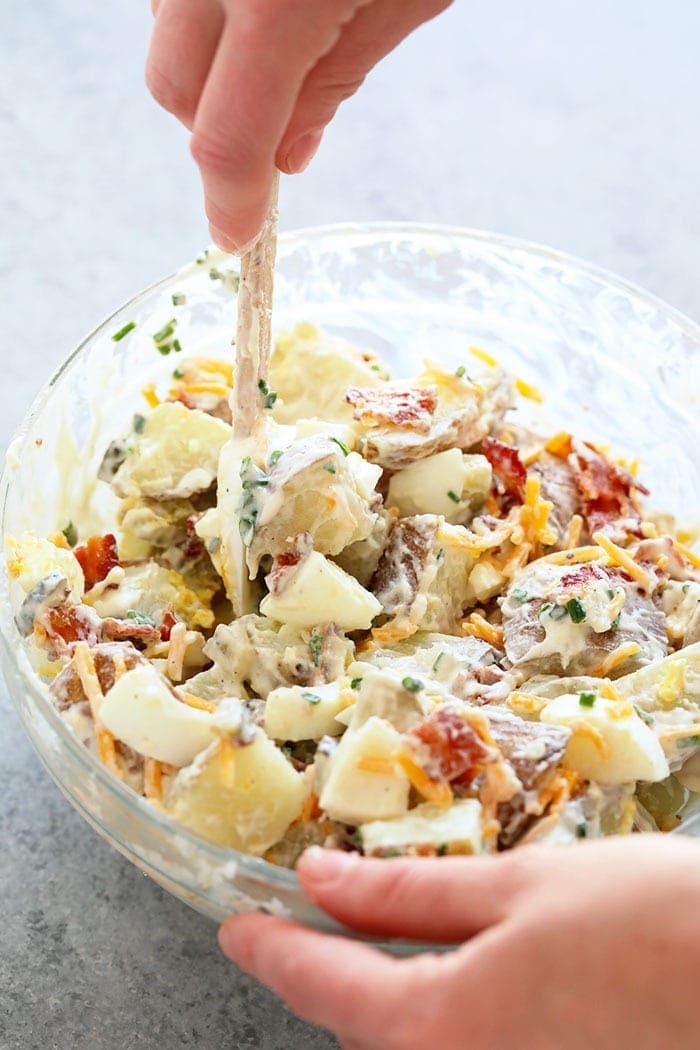 How to Make Baked Potato Salad
This baked potato salad is the perfect combination of a classic potato salad, loaded baked potatoes, and summertime.
This potato salad is ready in under 45 minutes and will blow the socks off your BBQ party guests.
Cook the Potatoes
First things, first. Cook the potatoes. There are two options when it comes to preparing the potatoes this loaded baked potato salad.
Boil the potatoes by cutting the potatoes into 1.5-inch chunks and boil them for about 15 minutes or long enough for the potatoes to be cooked, yet firm.
Bake the potatoes whole at 425ºF for 45 minutes. Be sure to poke many holes in the potatoes before baking them. Remove potatoes from the oven and cut them (carefully) into 1.5 inch chunks. For a full tutorial, follow our baked potatoes in foil recipe.
cook those taters
No matter how the potatoes are cooked, just be sure potatoes are cooked through enough that they will smash easily.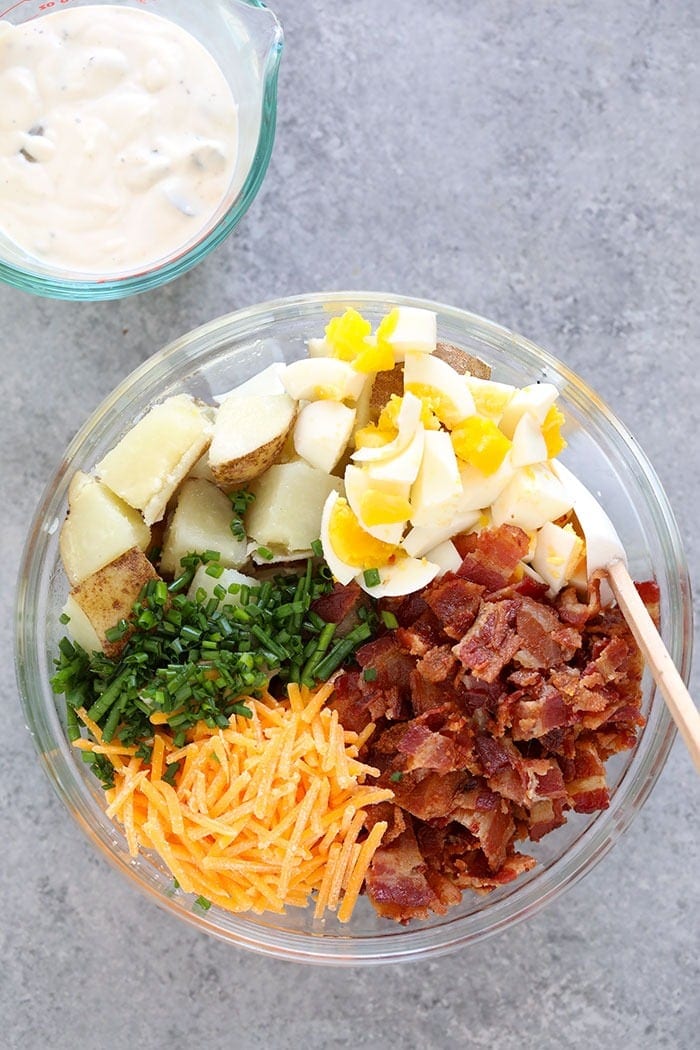 Prepare Loaded Ingredients
A classic loaded baked potato is packed with cheddar cheese, chives, bacon, and sour cream.
This loaded baked potato salad has those key ingredients plus hard-boiled eggs and a delicious sauce. Prepare ingredients in order while potatoes are cooking.
While potatoes are cooking on the stove or in the oven, prepare the bacon. There are a few different ways you can cook your bacon! Choose from one of the options below (click the links for detailed instructions)
After potatoes are cooking and bacon is in the oven, chop all other ingredients, mix the sauce, and wait!
Dill Pickle Sauce
We wanted to give a special plug for the dill pickle sauce because it is truly life-changing and actually made better for you!
Think creamy, tangy, and pickle-y at the same time.
Here's what you need:
Greek yogurt – a healthier sub for sour cream, but option to use sour cream or half and half.
avocado mayo – a healthier sub for classic mayonnaise.
lemon juice
dill pickle juice
pickles – don't skimp on the pickles!
salt and pepper
Mix and Smash
The final step to making this baked potato salad a reality is to mix, mash, and chill the loaded baked potato salad. All you have to do is place all ingredients for the baked potato salad in a large bowl and mix well.
Here are some tips and tricks so you don't end up with a big bowl of soggy mashed potatoes.
I'm sure you've noticed in other potato salad recipes the potatoes are smashed a bit which creates a creamy consistency.
To smash your potatoes—> take a wooden spoon and gently massage potatoes into the other potato salad ingredients. Try your best not to completely puree the potatoes.
You want to just tenderize them a bit so part of the potato becomes part of the sauce.
Place potato salad in the refrigerator and chill for at least 30 minutes before serving.
Storage
Place the baked potato salad in an air tight container and refrigerate the salad for up to 7 days.
You may need to add extra Greek yogurt or pickle juice to the potato salad if it has been in the fridge for a few days. The potatoes tend to soak up moisture when refrigerated!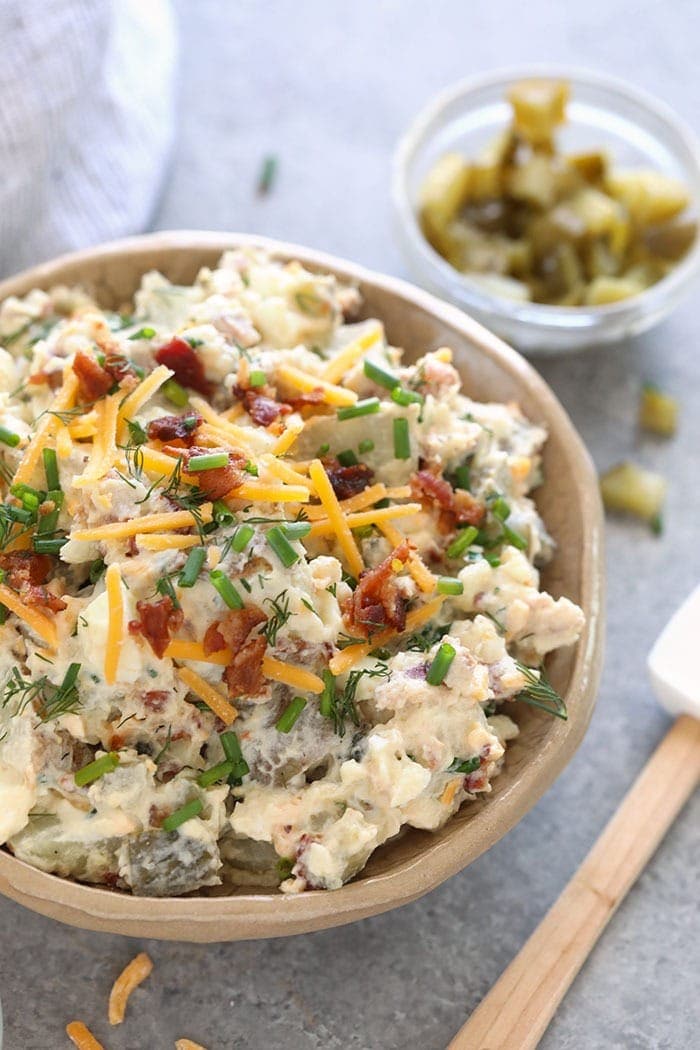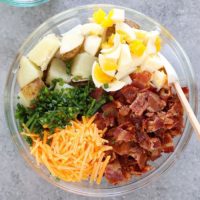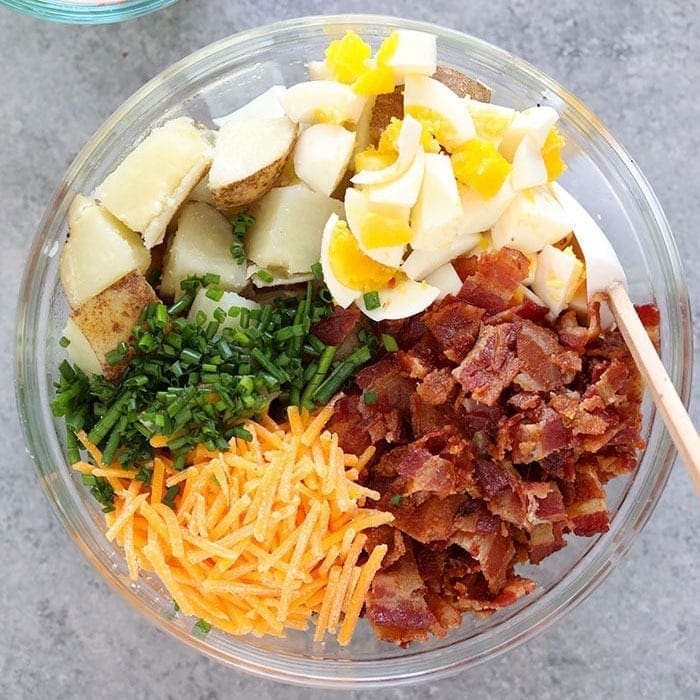 Baked Potato Salad
Get excited for the best BBQ side dish you will ever make! This baked potato salad is the perfect side dish next to bbq chicken, cheeseburgers, or would make a great meal prep lunch.
Ingredients
Potato Salad
1/2

lb.

cooked bacon

chopped into bite-sized pieces

4

cups

chopped Idaho potatoes

1.5-inch cubes (skin on)

2

hard-boiled eggs

chopped

1/2

cup

shredded cheddar cheese

2

tablespoons

minced chives
Potato Salad Sauce
3/4

cup

plain nonfat Greek yogurt

3

tablespoons

avocado mayonnaise*

2

teaspoon

dijon mustard

3

teaspoons

dill pickle juice**

2

tablespoons

minced dill pickles

1/8

teaspoon

salt

1/8

teaspoon

ground pepper
Instructions
Begin, by cooking bacon by following our Oven Bacon tutorial. Once cooked, remove any excess grease and then chop into bite-sized pieces. Set aside.

Next, bring a large pot of water to a boil and add potatoes to the pot. Boil until potatoes are cooked, but still firm.

While potatoes are boiling, mix all ingredients for the potato salad sauce in a medium bowl. Set aside.

When potatoes are done cooking, remove from heat and strain water.

Add potatoes to a large bowl along with the chopped bacon, hard boiled eggs, shredded cheddar cheese, and chives. Mix well.

Finally, pour potato salad sauce over the potato mixture and mix until sauce is covering all of the ingredients. Mash the potatoes with a wooden spoon (just a little bit) to create a creamy potato salad consistency.

Eat immediately or chill in the fridge to eat cold for later.
Tips & Notes
*avocado mayonnaise: option to substitute normal mayonnaise.
***dill pickle juice: you get this directly from a jar of pickles. If you do not have this, feel free to sub apple cider vinegar.
Storage: store in an air-tight container in the refrigerator for up to 5 days.
Nutrition facts
Calories:
301
kcal
Carbohydrates:
21
g
Protein:
17
g
Fat:
14
g
Fiber:
2
g
Sugar:
2
g