This post is sponsored by Mizkan's Nakano. I was compensated and all opinions are my own.
I am super excited to not only be sharing a delicious summery side-dish, but a new FFF partnership! I want to introduce you to a brand called Nakano. Nakano produces both natural and season rice vinegars, perfect for adding into marinade, salad dressings, and so much more!
Today I am featuring a signature Nakano Vinegar- All Natural Rice Vinegar, which is…
Gluten Free
Sodium Free
Sugar Free
Fat Free
Now that's my kinda vinegar!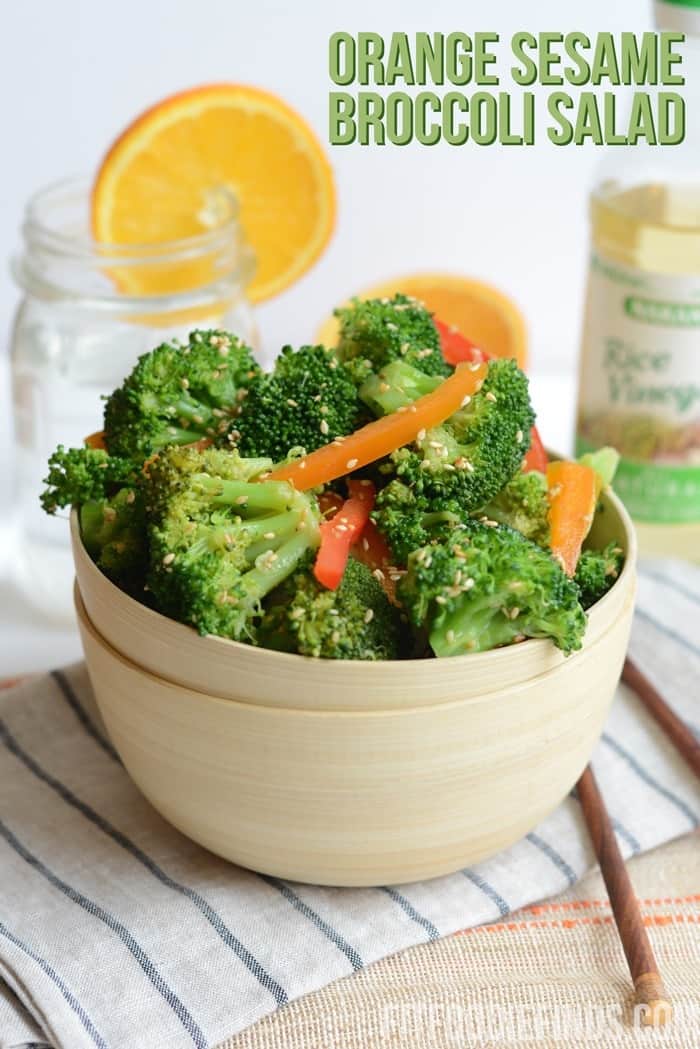 I've been craving Whole Foods' Asian Broccoli Salad that I get from their hot bar, so I decided to make a version for myself :D
First things first. Go find yourself some Nakano All Natural Rice Vinegar! I got mine from Target…but tons of retailers sell it.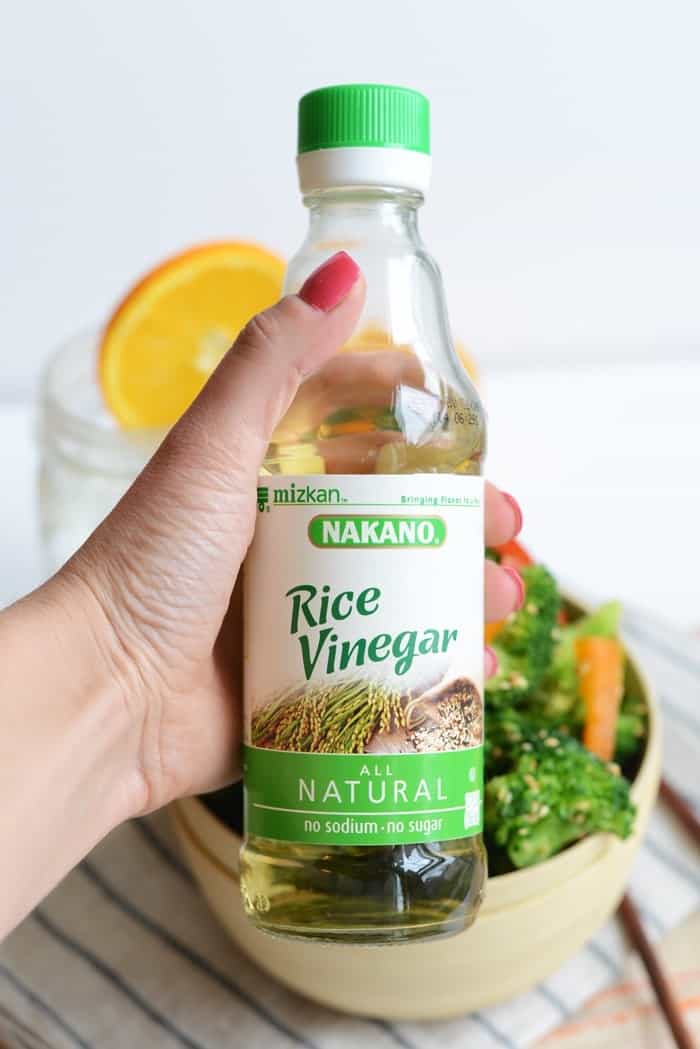 Second things second. DO NOT OVERCOOK YOUR BROCCOLI.
I actually despise broccoli that is overcooked and mushy. What you want to do is blanch it. Pretty much you bring a giant pot of water to a boil, add your broccoli and let it cook for only a 1-2 minutes. Then, you transfer your broccoli into an ice bath or bowl of cold water.
This will allow for your broccoli trees (that's what I call em) to stay firm and green. Plus- you eat this dish cold, so just imagine cold broccoli mush. No bueno!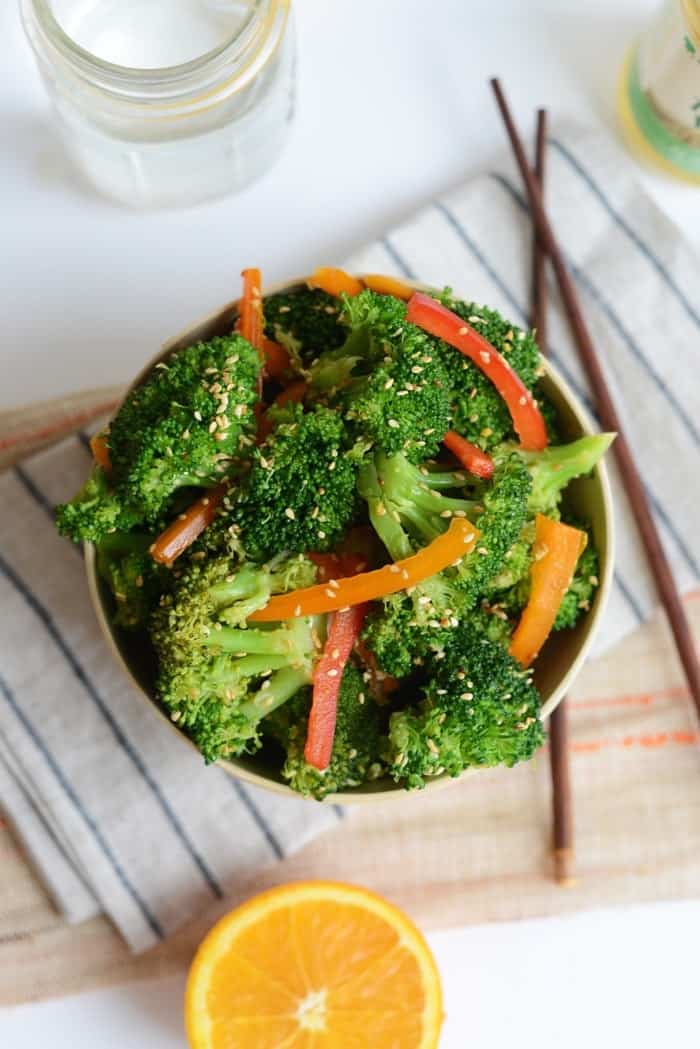 For some color and extra crunch, I added fresh bell peppers and roasted sesame seeds.
Now back to the marinade. This is where the magic happens. You'll need:
Fresh squeezed orange juice
Honey
Sesame Oil
This is what the broccoli will marinade in, inside the fridge for a few hour. Pure citrus Asian bliss.
Recipe
Orange Sesame Broccoli Salad
Ingredients
1 pound of broccoli florets (around 6 cups)
1/2 red bell pepper, thinly sliced
1/2 orange bell pepper, thinly sliced
1/3 cup of orange juice, freshly squeezed if possible
1.5 Tablespoons Nakano All-Natural Rice Vinegar
2 Tablespoons Sesame Oil
1.5 Tablespoons Honey
1/2 teaspoon orange peel, dried
2 Tablespoons sesame seeds
Instructions
First, bring a large pot of water to a boil. Then, blanch broccoli florets by placing in boiling water for about 2 minutes. Poke with fork and cook until desired tenderness (making sure it's not too cooked!). Remove broccoli, drain water, and place in an ice bath or bowl of cold water for about 5 minutes.
Prepare your marinade by mixing together orange juice, rice vinegar, sesame oil, honey, and orange peel.
Transfer broccoli into a large tupperware. Slice bell peppers thinly and add to tupperware. Then, pour marinade on top and toss. Place in refrigerator for about 2 hours or until chilled.
Right before serving. Rub a pan with sesame oil. Then, turn to medium heat. Sprinkle in 2 Tablespoons sesame seeds and cook for a few minutes, stirring often, until brown.
Garnish salad with toasted sesame seeds. Serve cold.
Similar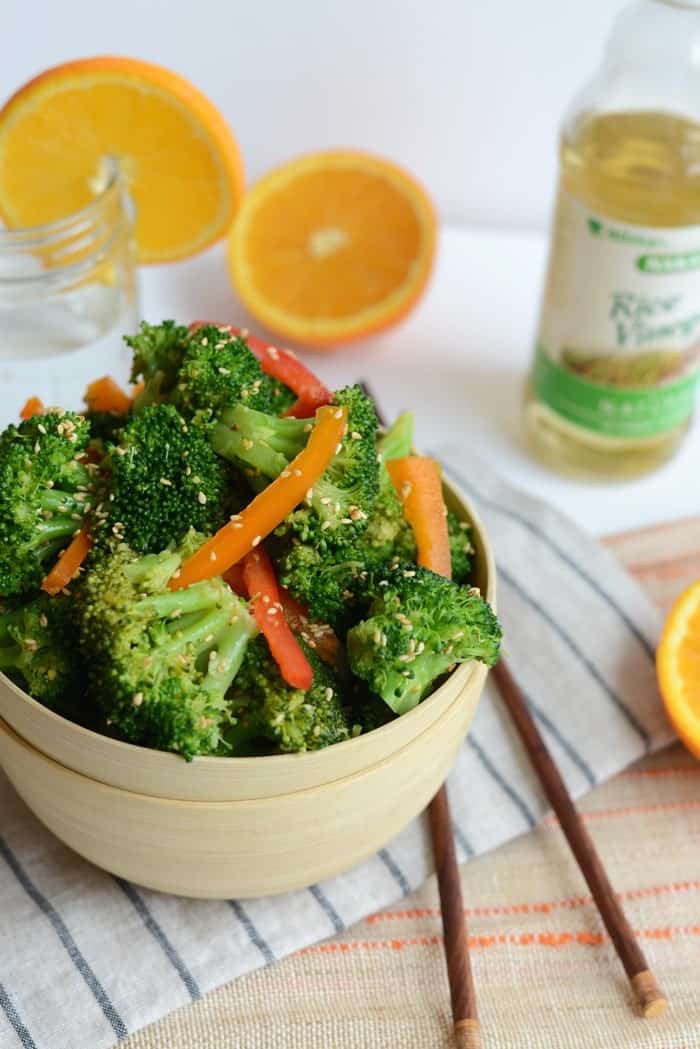 I love how good for you this marinade is! So much better than store bought and so much more flavorful! Whole foods = less additives = WAY BETTER FOR YOU!
The ingredient list on Nakano's All Natural Rice Vinegar is literally rice vinegar made from rice and water.
So tell me- what's your all time favorite marinade for vegetables?