This bean salad recipe is a delicious and easy protein-packed salad. It calls for 4 different kinds of beans, a few veggies, and a delicious fresh dressing.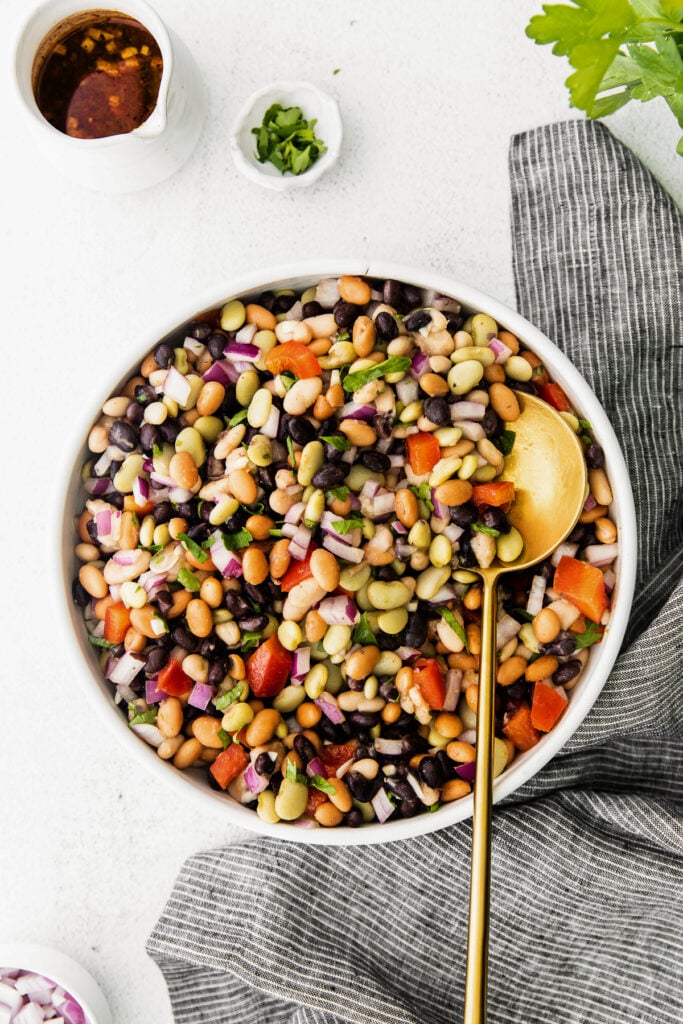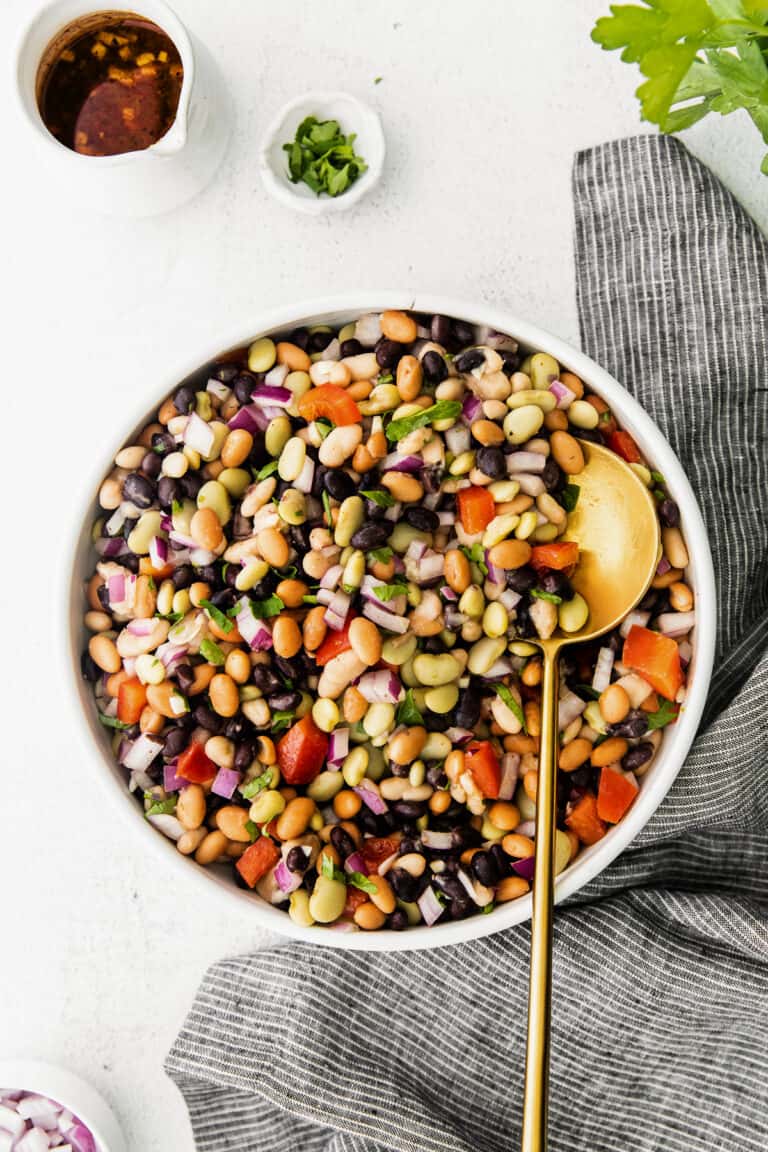 What Kind of Beans are in a Bean Salad?
We all grew up on some kind of delicious bean salad. No matter where you're from there is some kind of vinegary canned bean salad that brings us home.
A classic bean salad (or three bean salad) is made with kidney beans, waxy beans, garbanzo beans, and canned green beans.
This bean salad recipe is a spin-off of the classic bean salad recipe with a few delicious ingredients.
You can use ANY of your favorite beans in place of the canned beans we use in this recipe. It is a personal preference and beans are so easy to swap if you happen to have different beans in your pantry.
Here are the beans we use for this bean salad:
Pinto beans
Black beans
Large butter beans
Great northern beans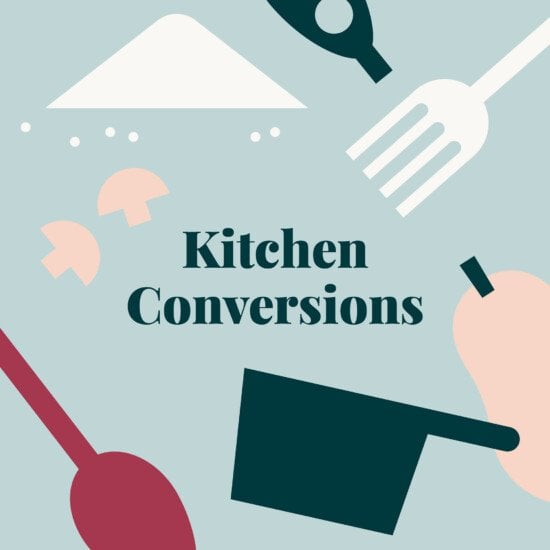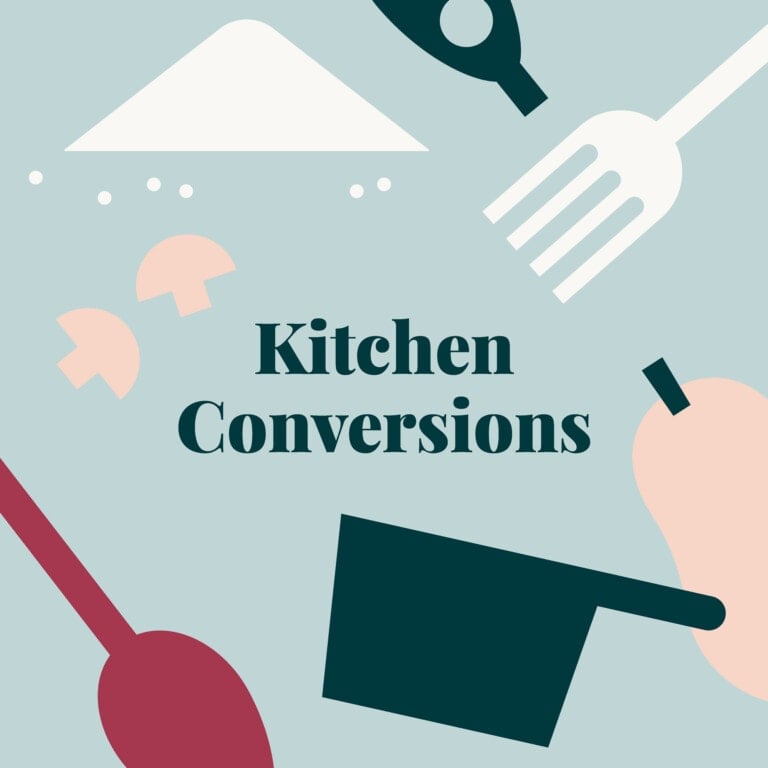 make it easy
Print Your Own
Keep common kitchen conversions like tablespoons to teaspoons and Fahrenheit to Celsius on hand at all times with our printable kitchen conversions chart.
get it now
Learn More Kitchen Conversions
Other Ingredients You Need
You will need all the beans, ingredients for the dressing, and a few fresh ingredients to make a delicious and balanced bean salad. Here is what you need.
Apple cider vinegar– the tartness of the salad dressing is vinegar and citrus. If you don't have apple cider vinegar feel free to use white vinegar.
Olive oil – we added olive oil to the dressing as a little binder. Again, if you have another oil you prefer please use that.
Honey– you have to balance a little salty with sweet and we naturally sweetened our dressing with honey. If you'd like to make the dressing vegan try maple syrup or a little white sugar.
Lime juice– the lime juice makes this salad taste fresh and tart. We highly recommend using fresh lime juice rather than store bought.
Fresh garlic– never skip the fresh garlic.
Spices (ground cumin, chili powder, salt, pepper)– this spice combination gives this salad a southwestern taste.
Bell pepper– we balanced the beans of this salad with a fresh and crisp bell pepper diced up. We used a red bell pepper for color, but any color would due.
Red onion– a bean salad just isn't the same without a diced red onion.
Lime zest– to add even more limey taste we added lime zest!
Fresh herbs– the fresh herbs in this salad really make the salad taste fresh and summery. You will need fresh cilantro and fresh parsley.
Make it spicy!
There are a few different ways you can give this salad a little kick.
Add a 1/4 teaspoon of cayenne pepper or red pepper flakes to the dressing.
Dice up a small jalapeño and add it to the salad.
Add 1-2 teaspoons of hot sauce to the dressing.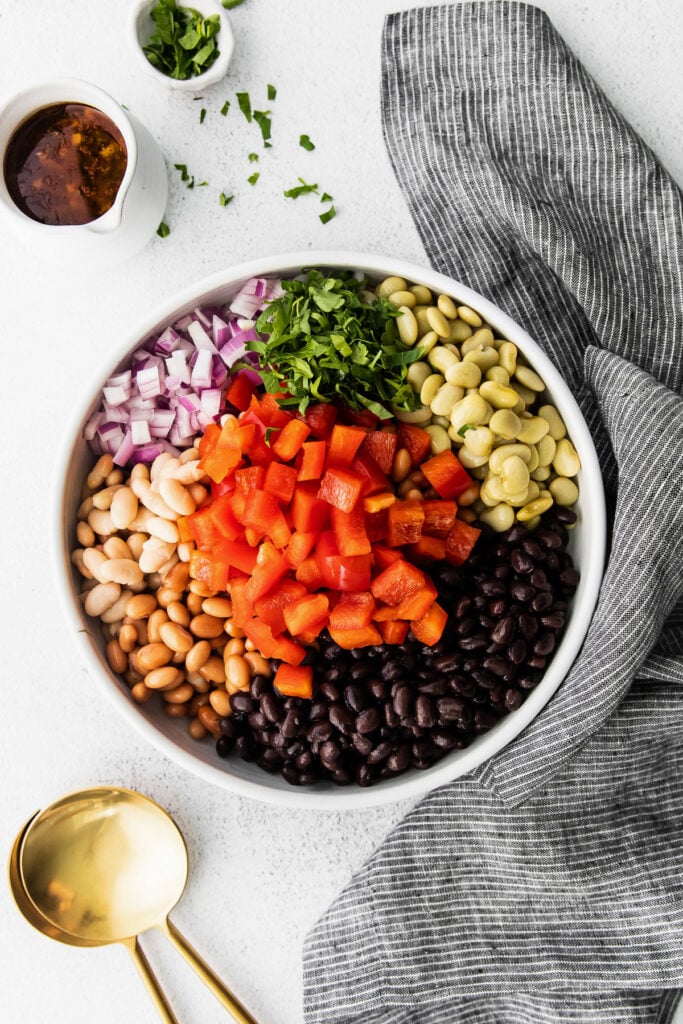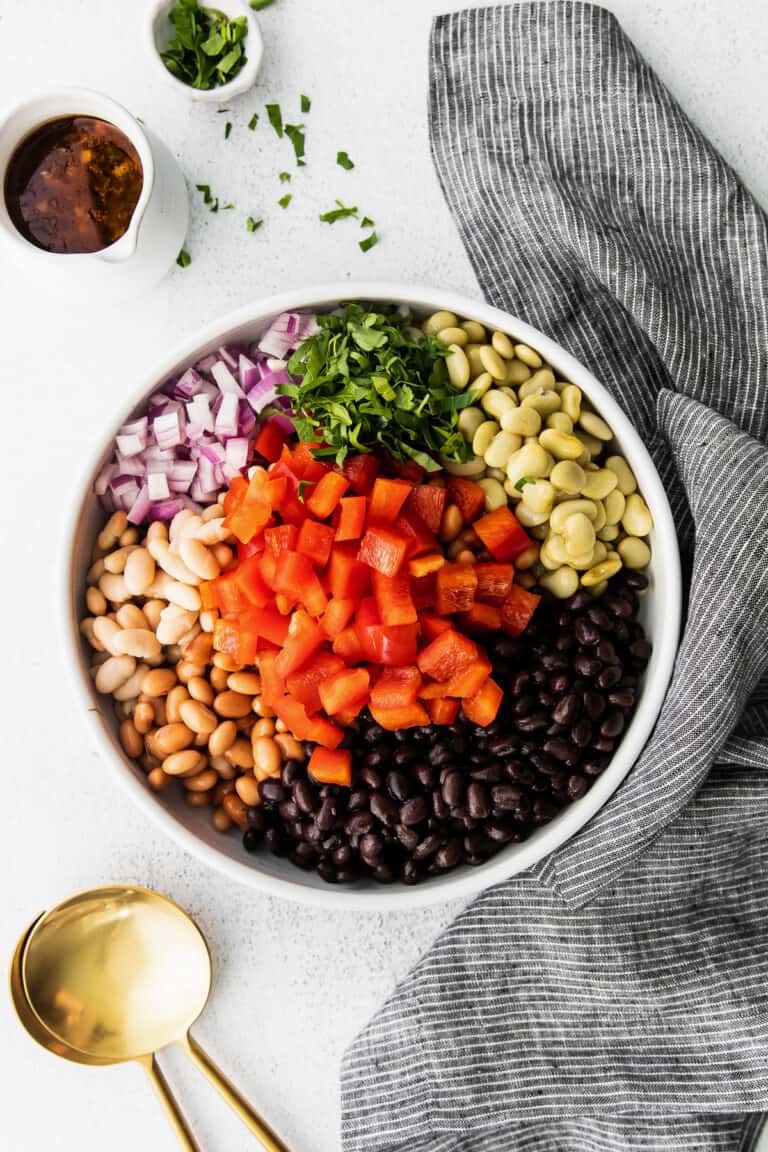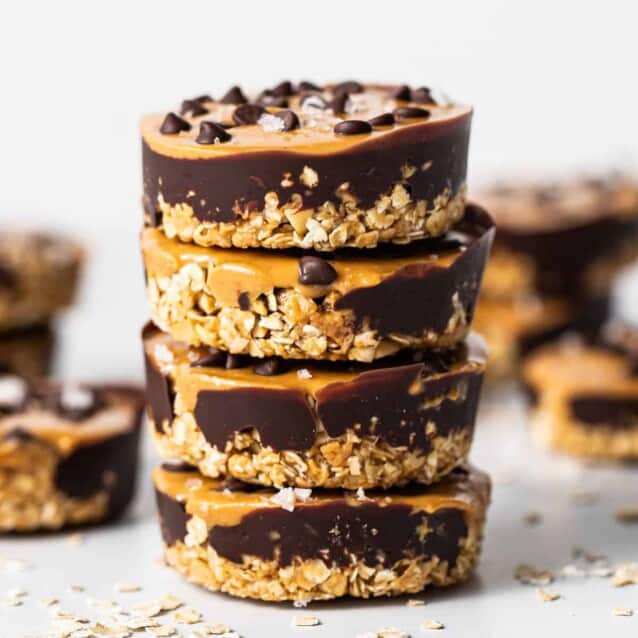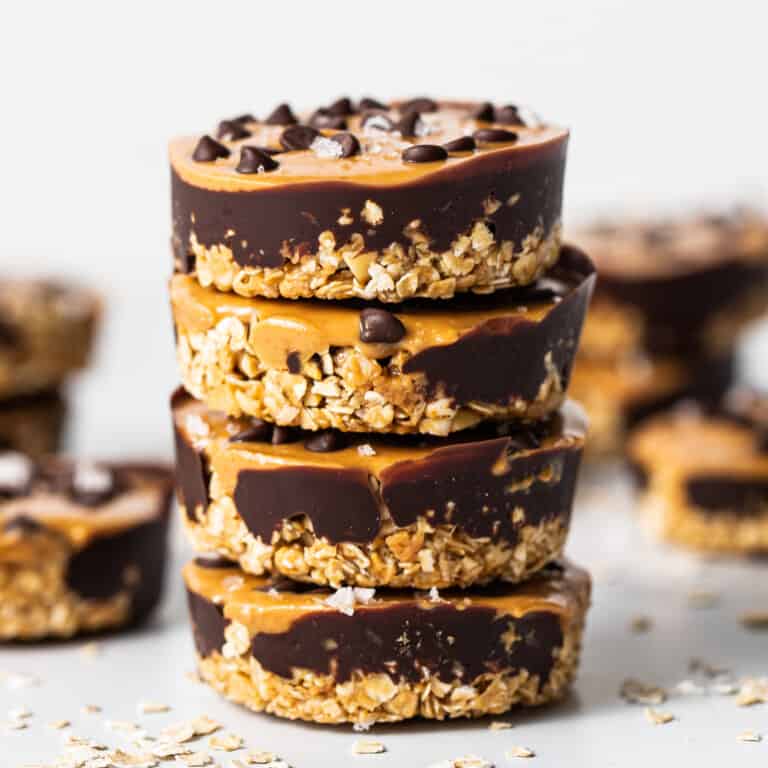 Get our Top 10 5-Star Recipes!
Join our email list for new recipes and BONUS: get our top 10 ⭐️⭐️⭐️⭐️⭐️ recipes e-book!
How to Make Bean Salad
Drain + rinse the beans. No matter what beans you are using be sure to drain them from any liquid they are in and rinse them with cold water. Set aside.
Make the dressing. We like to mix our dressing up in a covered mason jar! Place all the ingredients for the dressing into a jar and shake until combined.
Prepare other ingredients. Dice your red onion, bell pepper, and roughly chop those fresh herbs. We suggest chopping everything into bite sized pieces so you get a little bit of everything in every bite.
Toss everything together. Add your beans, veggies, and herbs into a large bowl and mix. Then, drizzle the dressing over the bean salad and toss everything together until everything is coated in dressing.
Serve or refrigerate. If you're in a rush you can serve this salad immediately. If you have a little time place the salad in the refrigerator.
Season + serve. Right before serving, be sure you give the salad a taste test, we like to let people add salt to their preference.
refrigerate for best results!
We highly recommend refrigerating this salad if yo have the time. It tastes better cold and all the ingredients really soak into the beans for a delicious flavor.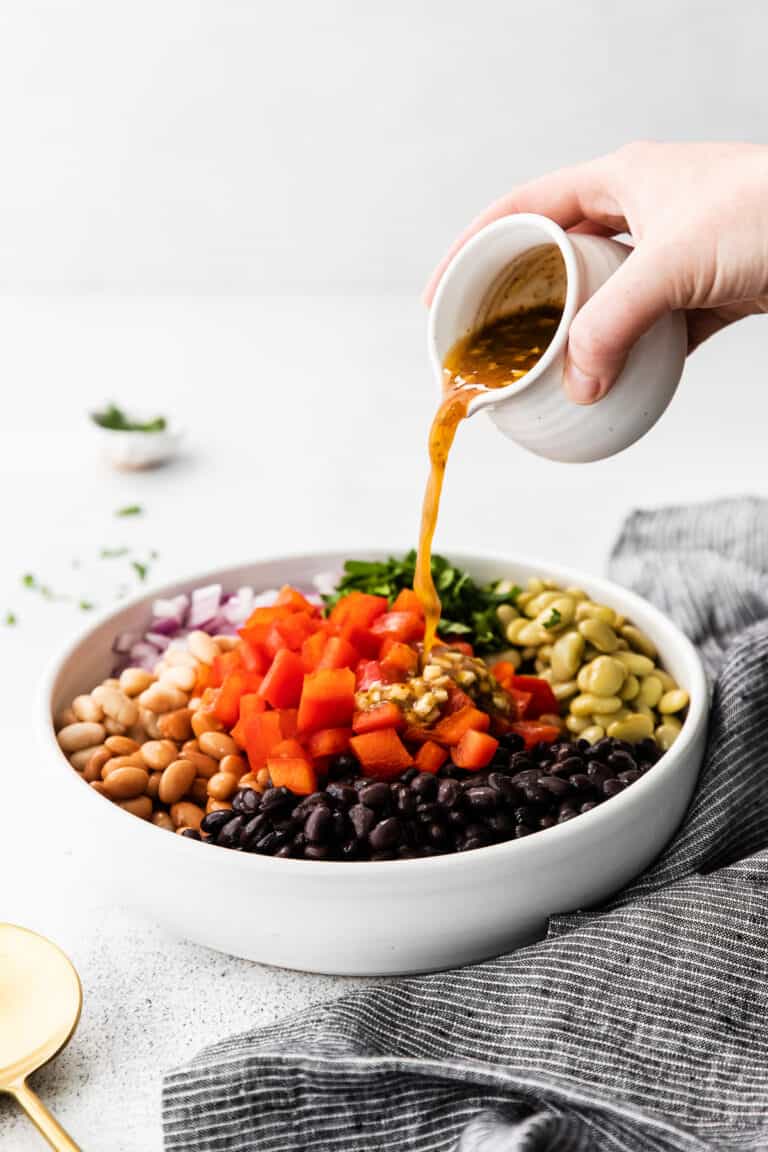 A Few More Things
How long will 3 bean salad last?
Bean salad will last for up to 5 days in the refrigerator. The lime and the vinegar help to preserve the salad. Also, the flavor of this salad gets better the longer it sits.
Are bean salads good for you?
Bean salads are packed with protein, healthy fats, and more! Everything in moderation, but yes, this bean salad is good for you!
Dried beans or canned beans
We used canned beans for our salad and if you're in a pinch they are just a heck of a lot easier.
You can soak and prepare your own dried beans. You'd need about 1.5 cups of dried beans if you were going to replace a can of beans.
Other ingredients to add to bean salad
The sky is the limit when it comes to adding ingredients to this bean salad. Below are some great options! Just remember to dice everything into bite sized pieces.
Serve Bean Salad with these Dishes
We love serving this bean salad in the summer with other bbq dishes or for meal prep throughout the week. Here are some of our go-to recipes to serve along side this yummy bean salad.
Grilled Pork Chops- This grilled pork chops recipe comes out so juicy and tender on the inside and has gorgeous, charred grill marks on the outside.
Grilled Shrimp Recipe- Get perfectly grilled shrimp every single time with this easy and fool-proof step-by-step tutorial on how to grill shrimp!
Foil Packed Red Potatoes- These foil pack grilled potatoes are an easy side to add to any bbq. All you need to do to make these grilled potatoes in foil is toss them in olive oil, spices, and create a foil pack!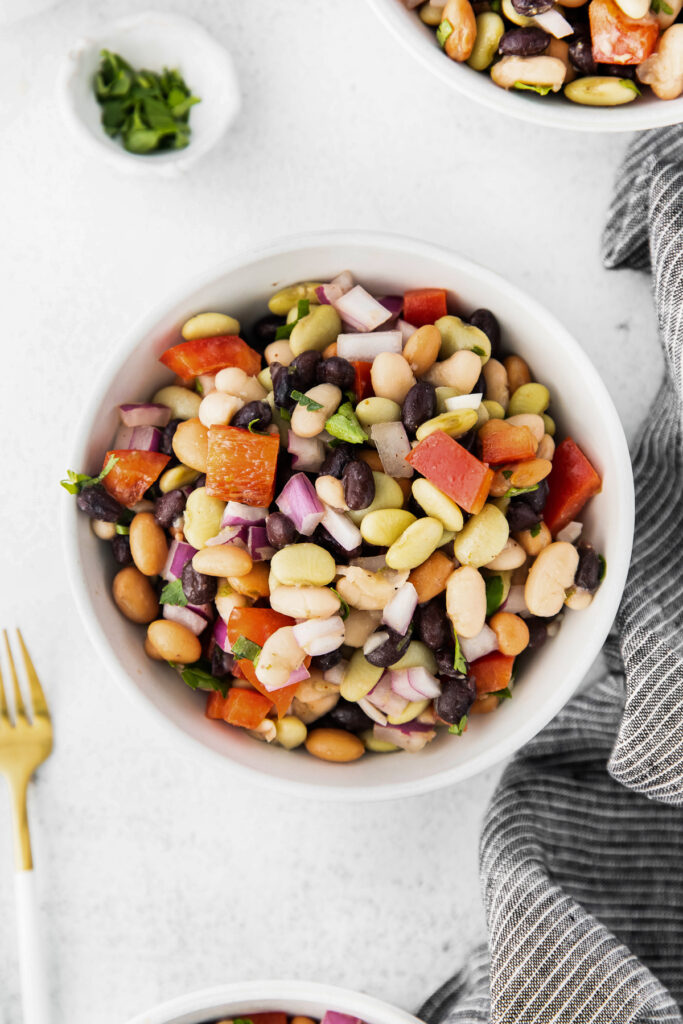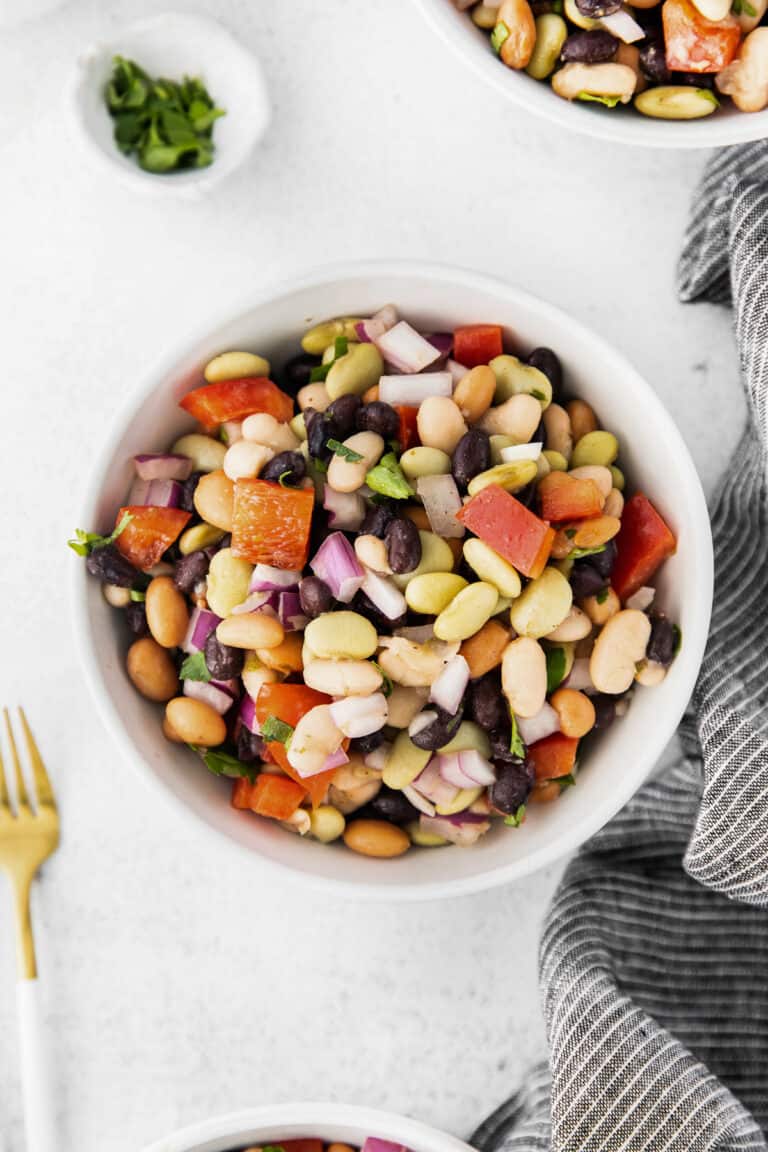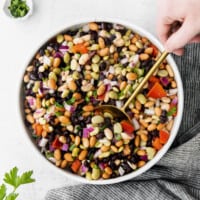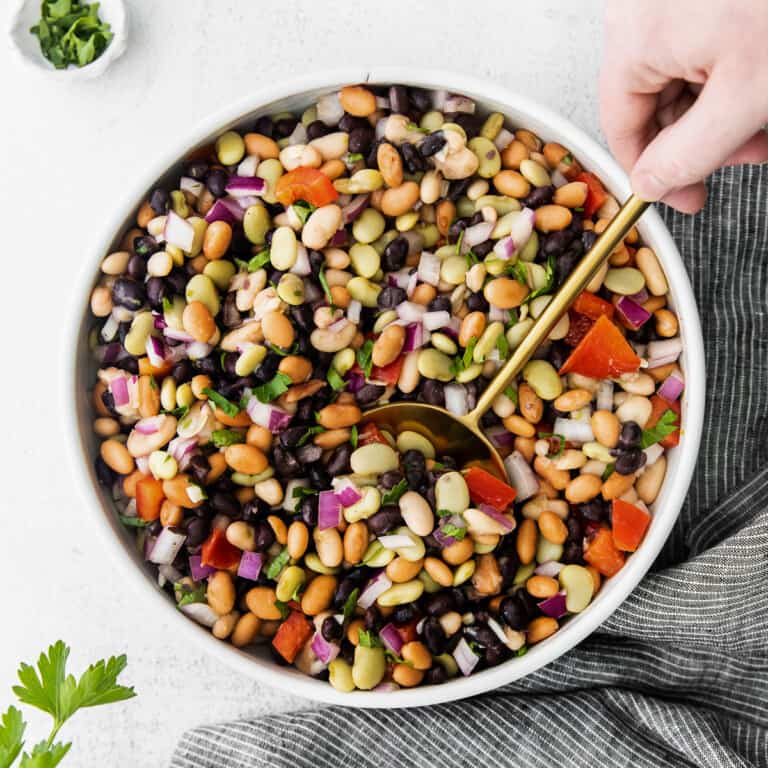 Easy Bean Salad
This bean salad recipe is easy to make and easy to share. It is tangy and made with fresh herbs, four different types of beans, and vegetables! 
Ingredients
Salad Ingredients
1-15

oz.

can pinto beans

drained and rinsed

15

oz.

can black beans

drained and rinsed

15

oz.

can large butter beans

drained and rinsed

15

oz.

can great northern beans

drained and rinsed

1

bell pepper

diced (any color works)

1

small red onion

minced

1

tablespoon

lime zest

¼

cup

chopped fresh cilantro

2

tablespoons

chopped fresh parsley
Instructions
Place all of the ingredients for the dressing into a mason jar. Cover and shake until all the ingredients are combined. Set aside. 

Next, add all of the ingredients for the salad into a large bowl and toss. 

Drizzle the salad dressing over the salad and toss until all the ingredients are covered in dressing. 

Place the salad into the refrigerator for 30-45 minutes to chill. 

Toss, salt and pepper to taste, and serve the salad immediately after.
Nutrition facts
Calories:
283
kcal
Carbohydrates:
43
g
Protein:
49
g
Fat:
6
g
Fiber:
13
g
Sugar:
7
g