These foil pack grilled red potatoes are an easy side to add to any bbq. They are full of garlic-y flavor a hint of char!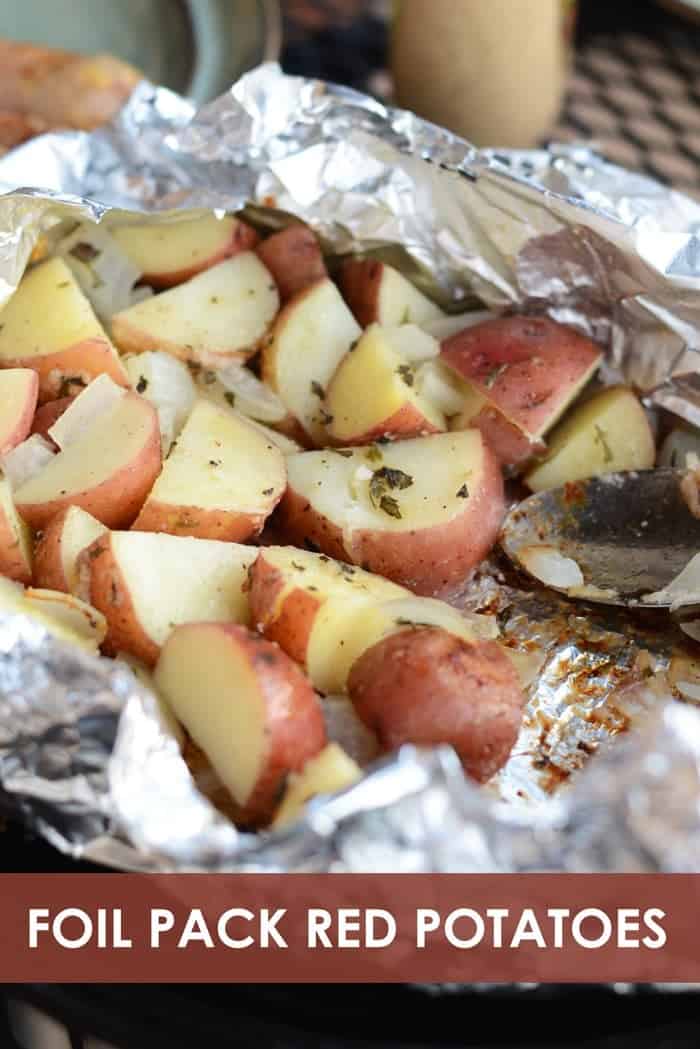 I am a grilling machine. I learned the ropes from Blake last summer because he is a part-time MBA program aka has summer classes aka I am now head grill chef of the household. I've gotten really good at being patient with my grilling instead of checking the meat too soon, which risks ruining the grill marks :D
I am still mastering the foil pack fold. Blake has got that down. My folds always end up…..not perfect. Blake's = perfect.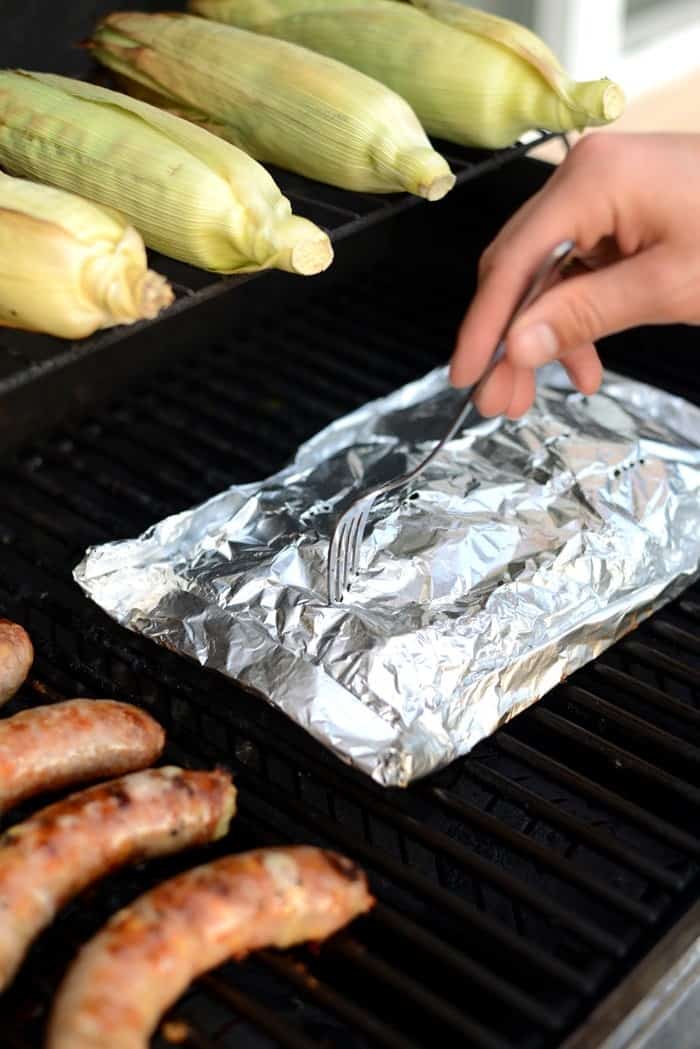 The past week has been really nice. He has the whole month of August off of school, so when he gets home from work we actually get to do fun stuff….like cook together, go to the gym, yoga, and even for walks around the lake!
I still don't know how he is handling school and work (and ME!) at the same time. #sostressful
Anyways- these are the best, easiest potatoes to make EVER!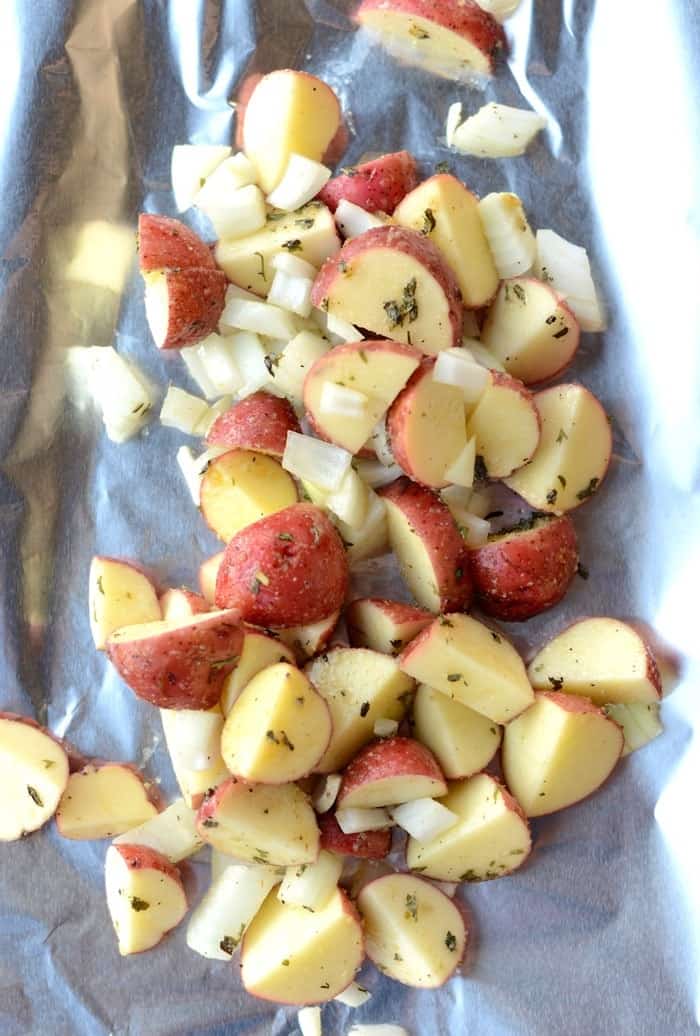 They only take about 5 minutes to prep and 20 minutes to cook.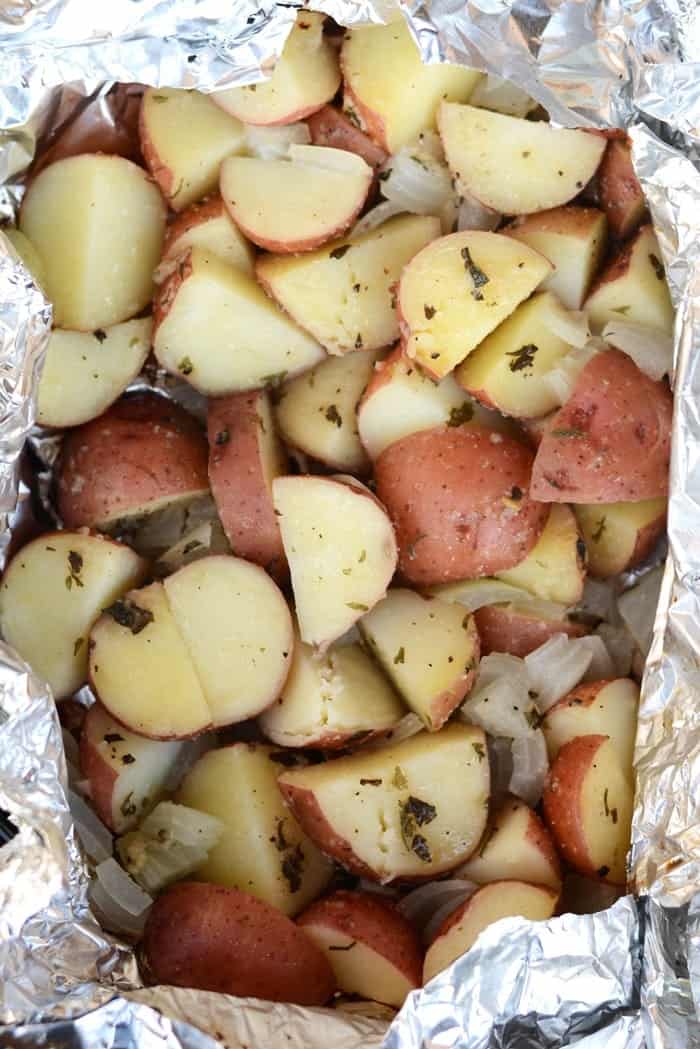 You can add any spices that your palate prefers, but I like garlic, salt, pepper, basil, and parsley.
Classic.
Recipe
Foil Pack Grilled Red Potatoes
These foil pack grilled red potatoes are an easy side to add to any bbq. They are full of garlic-y flavor a hint of char! 
Prep Time:

5 minutes

Cook Time:

20 minutes

Total Time:

25 minutes
Ingredients
1

pound red potatoes, washed and quartered

1

small yellow onion, diced

1 teaspoon

onion powder

1 teaspoon

garlic powder

1 teaspoon

parsley

1 teaspoon

basil
salt and pepper, to taste

2 tablespoon

s Olive Oil
Instructions
First, begin by prepping your red potatoes. Wash them and pat dry. Then, cut in half, and in half again. Prep onion by dicing finely. Place vegetables in a large plastic gallon-sized bag.
Add olive oil and spices. Shake bag to completely coat.
Transfer vegetables onto a piece of aluminum foil. Then place another piece of foil on top. Fold the sides in, creating your foil pack.
Place on your grill grates (I placed directly on the flame) heated to about 350ºF to 400ºF. If you don't cook your potatoes directly on the flame, you may need to cook longer! Ultimately, cook until the potatoes can be easily pierced with a fork.
Nutrition
Serving Size:

1/6

Calories:

121

Sugar:

1

Sodium:

50

Fat:

5

Carbohydrates:

19

Fiber:

2

Protein:

2
Similar
I even created a super duper easy step-by-step image for you to follow.
Next time, try adding in other veggies like sweet potato, zucchini, and bell pepper! You'll never want to cook your veggies another way!
Are you the bbq chef or is your significant other?