These foil pack grilled potatoes are an easy side to add to any bbq. All you need to do to make these grilled potatoes in foil is toss them in olive oil, spices, and create a foil pack!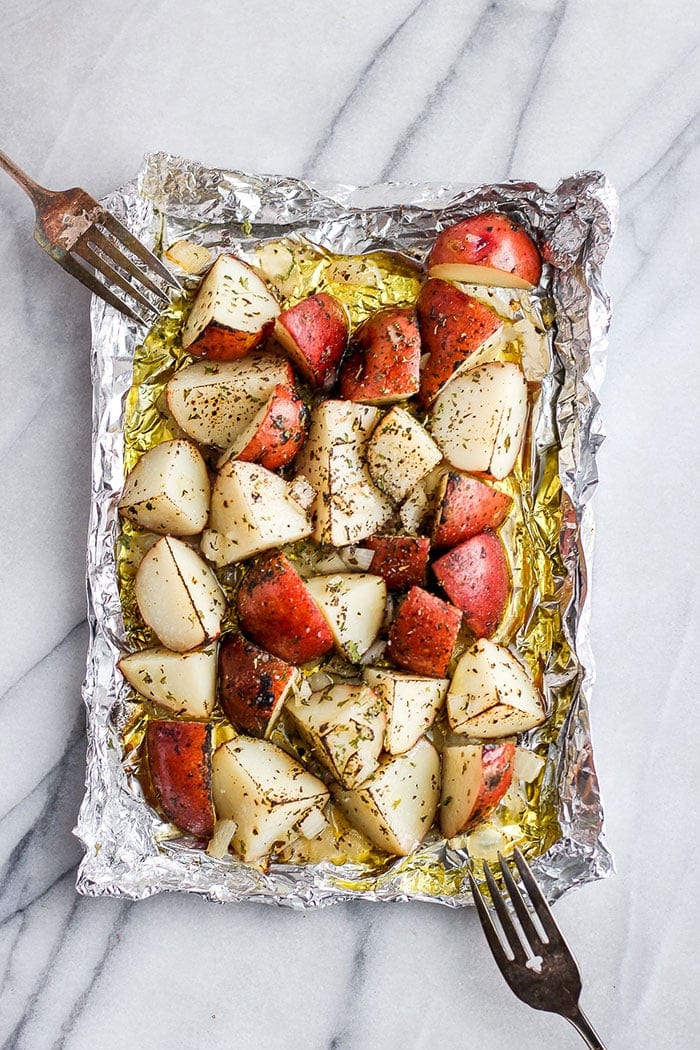 BEST Ever Grilled Potatoes Recipe
Grill season is here and these grilled red potatoes have gotten countless 5-star reviews and are a summer staple for so many.
These grilled potatoes are so simply to make, yet such a fabulous side to any of your favorite grilled proteins such as grilled steak, grilled chicken, or grilled salmon.
Why make grilled potatoes in foil?
We are huge fans of grilling veggies in foil (re: baked potatoes in foil) because it's fast and there is little to no clean-up. These grilled red potatoes are no exception!
Cooks perfectly: thanks to the foil-pack, these grilled potatoes not only get seared from the flames of your grill, but the insides are steamed perfectly.
Fast: this bbq side is ready in under 30 minutes.
Easy Clean-Up: there is barely any clean-up because you can just toss the foil once you're done.
Best Grilled Side: these grilled potatoes are truly the best side. So many of yo have made these and love them!
How to Grill Potatoes

(in foil)

These amazing grilled potatoes only take about 10 minutes to prep and 20 minutes to cook. The method we are using today is the foil pack method, where you place all of your ingredients on a piece of foil, seal it with another piece of foil, and bake it on the grill. It's easy to do and has easier cleanup!
Potatoes
Start off by washing 1-lb. of red potatoes and quartering them. All you need to do is simply cut your potatoes in half and then half again! We like using red potatoes because they're the perfect bite-sized potato and the skin isn't as rough as other kinds of potatoes. We also used a small yellow onion because of its amazing flavor addition.
What other potatoes can I use for grilled potatoes?
Don't have red potatoes on hand? No fear! We've made this recipe with many other kinds of potatoes. Here are a few other options:
Russet potatoes
Idaho potatoes
Fingerling potatoes
Sweet potatoes
Yams
quick tip!
If you're using a larger potato like Russet or Idaho, just make sure to cut your potatoes in about 1.5-in chunks.
Olive Oil + Spices
In order to coat your potatoes in a good amount of olive oil and spices, we like to place the potatoes into a large plastic bag. That way, you can seal the bag and shake the potatoes to evenly coat everything. We kept the spices on these amazing grilled potatoes pretty simple:
onion powder
garlic powder
Italian seasoning
salt and pepper
Spice tip: You can add any spices that your palate prefers, but I like garlic, salt, pepper, basil, and parsley.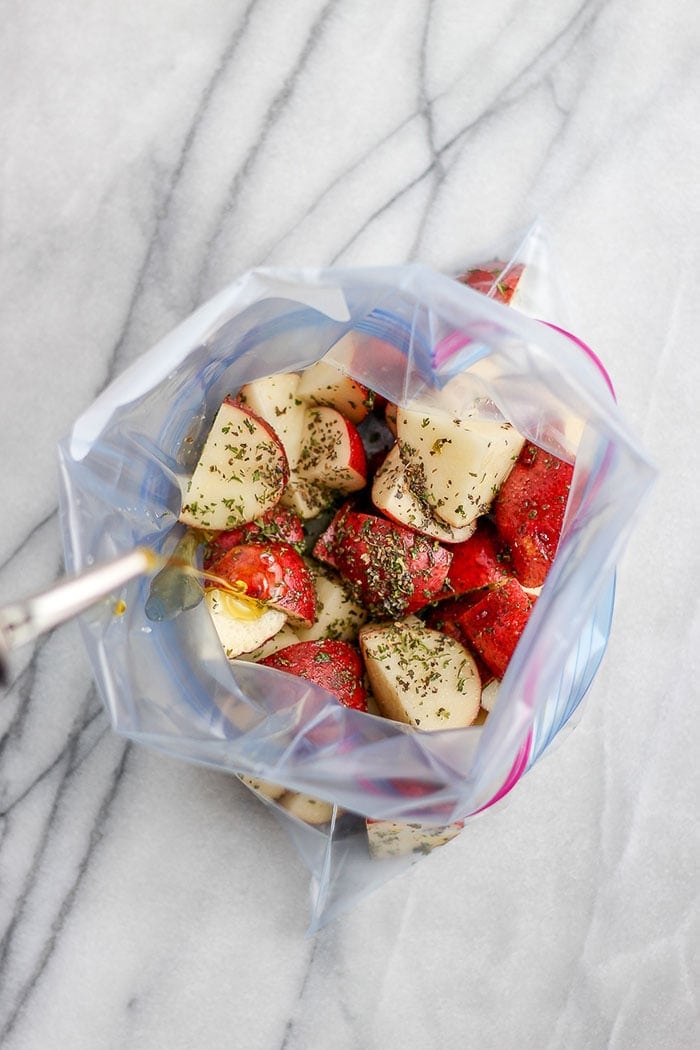 Foil-Pack
Once your potatoes are fully coated with all the good stuff, it's time to make your foil pack. I have officially mastered the foil pack fold. The more you practice the easier it gets, I promise!
Place a sheet of heavy-duty foil (or 2 pieces of normal foil) on your counter.
Then, transfer the potatoes, olive oil, and spices onto the foil.
Place another piece of foil on top and carefully fold all 4 sides together to create your pack.
Last, using a fork, poke a few holes on the top of your foil pack. This will ensure even cooking.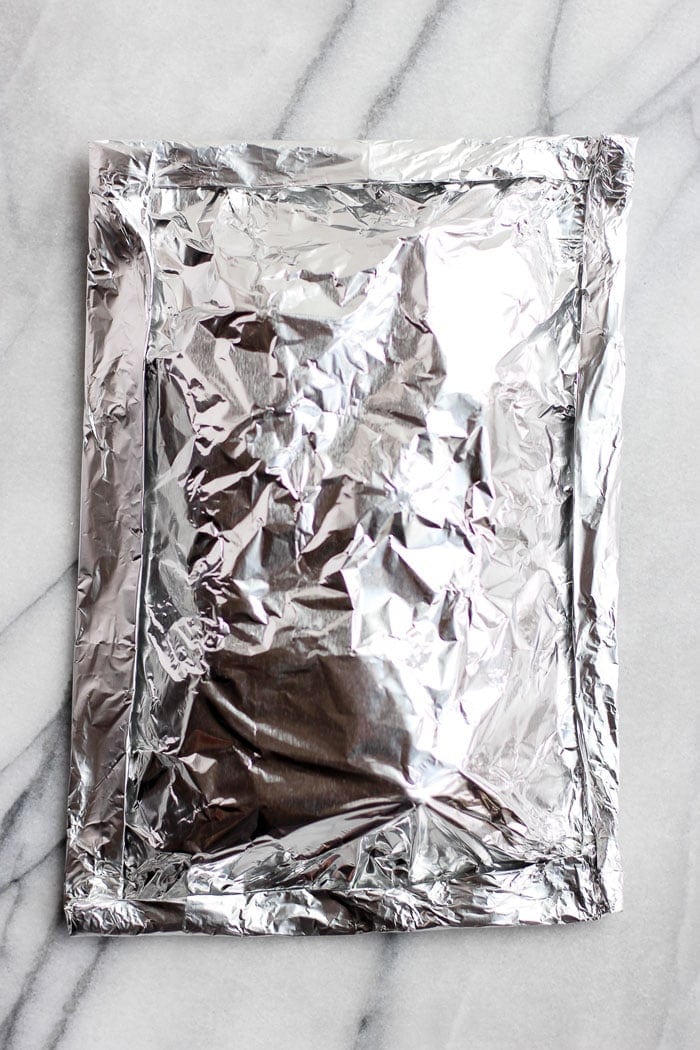 Grill at 400ºF
Grill your foil pack red potatoes at around 400ºF. Place the foil pack right on top of the flames and cover grill. Grill for about 20 minutes or until you can easily pierce your potatoes with a fork.
How to get grill marks
The best way to get grill marks and a crispier potato is to grill at a higher temperature right on top of the flames. This will create that amazing char flavor as well! Oh, and don't skimp on the olive oil. This will help crisp things up as well!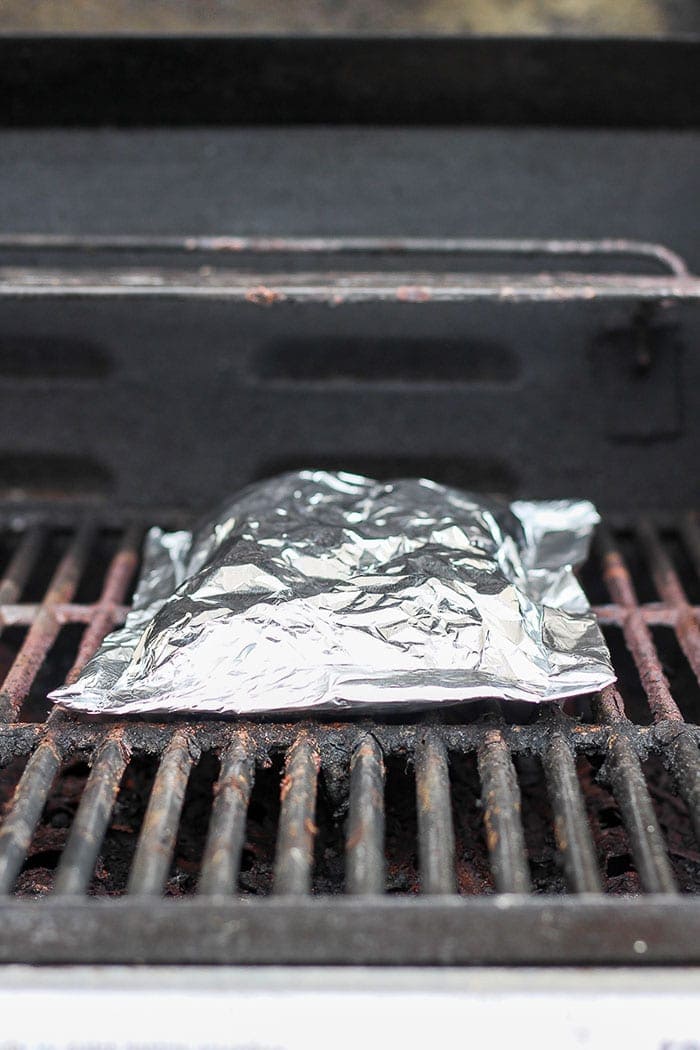 Should I boil potatoes before grilling?
You do not need to boil your potatoes before grilling as the foil pack helps create steam to cook your potatoes fast and evenly.
What if I don't have space over direct heat?
Grilling other things at the same time? Simply sear your grilled red potatoes in foil over direct heat for 5 minutes and then move the foil-pack to the upper rack to continue cooking while you grill your other food.
You will likely need to grill your potatoes longer due to the fact that they aren't over direct heat, but this method also works great.
Can I make this recipe in the oven?
You can easily make foil-pack potatoes in the oven. Follow the directions to season and create the foil pack and then bake at 400ºF for 20-30 minutes. Check the tenderness of the potatoes after 20 minutes. Continue baking until fork-tender.
Is grilling potato healthy?
Grilled potatoes are a healthy side because they're made with olive oil and healthy spices such as garlic powder and Italian seasoning.
Serving Suggestions
Every grilled potatoes recipe needs to be accompanied by other delicious grilled foods. Here are our favorites.
Grilled Pork Tenderloin: Here is the best grilled pork tenderloin recipe; it's dry-rubbed in smokey spices, marinated in a sweet bbq soy sauce, and grilled to juicy perfection. It's a simple pork tenderloin recipe, but it turns out so tender and flavorful.
Best Turkey Burgers: Say hello to the Best Juicy Turkey Burger you've ever had! These turkey burgers are always delicious, and never dry. Enjoy!
Lemon Dill Salmon Burgers: These Lemon Dill Salmon Burgers are savory, delicious and packed with protein and healthy omega-3s.
Grilled Flank Steal: Add this grilled flank steak to the menu this summer! You can serve this flank steak by itself, in tacos, or even in fajitas!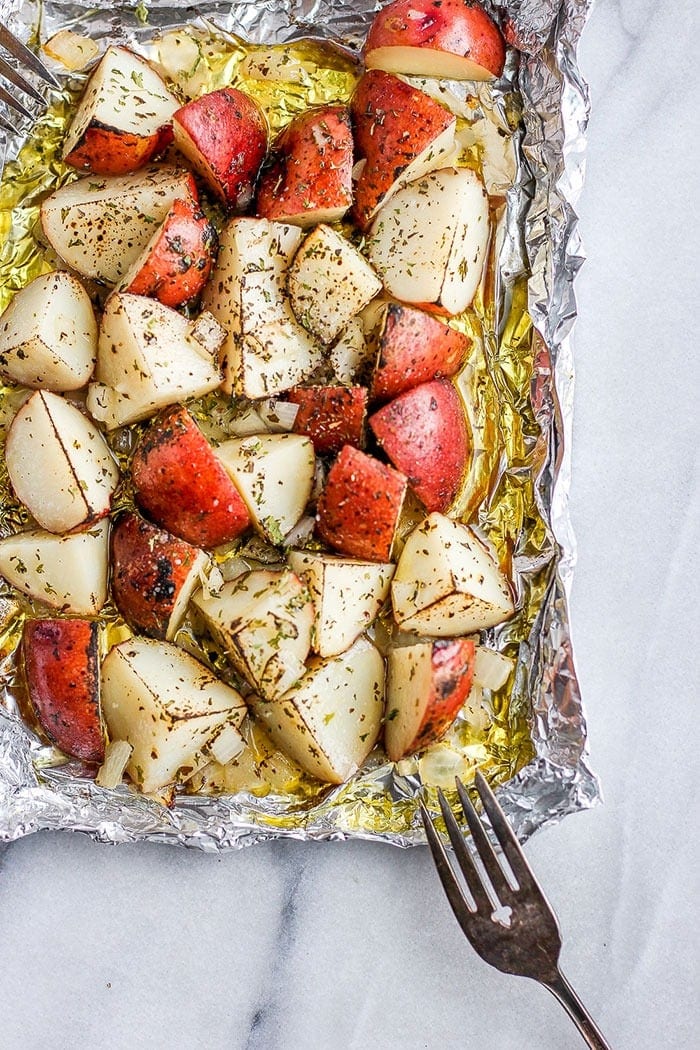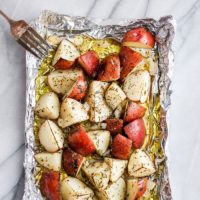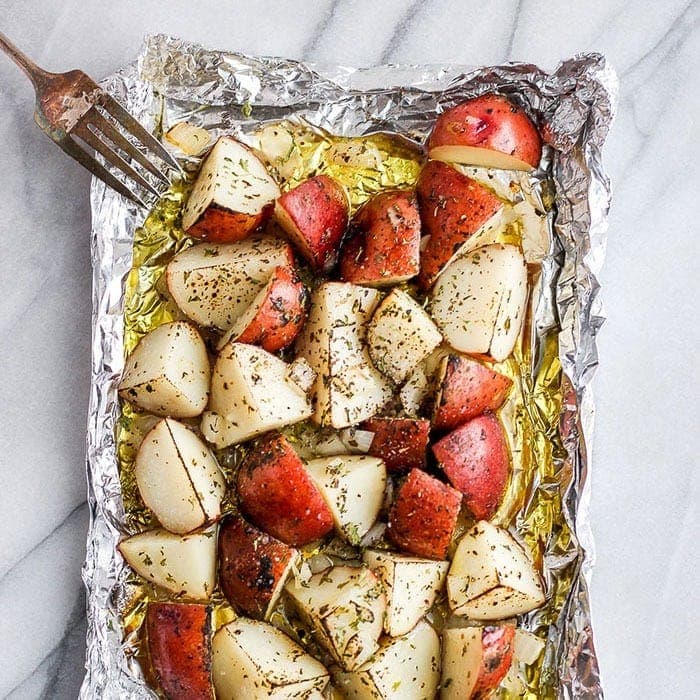 Best Ever Grilled Potatoes in Foil (Grilled Red Potatoes)
Get perfectly cooked potatoes every time with this grilled potatoes in foil method. They're made with grilled red potatoes, olive oil, and your favorite spices.
Ingredients
1

lb.

red potatoes

quartered

2-3

tablespoons

olive oil

1

small yellow onion

finely diced

1

teaspoon

onion powder

1

teaspoon

garlic powder

1/2

tablespoon

Italian seasoning*

salt and pepper

to taste
Instructions
First, heat your grill to 400ºF.

Next, prepare red potatoes. Wash them and pat dry. Then, cut in half, and in half again to quarter them.

Prep onion by finely dicing. Then, place all vegetables into a large plastic gallon-sized bag.

Drizzle on olive oil and add spices. Seal bag and shake so that veggies get completely coated in olive oil and spices.

Transfer vegetables onto a large piece of heavy-duty aluminum foil. Then place another piece of foil on top. Fold the sides in, creating your foil pack. Last, use a fork to poke a few holes on the top of your foil pack.

Place foil pack on your heated grill over direct heat. Then, cover the grill and let cook for around 20 minutes or until the potatoes can be easily pierced with a fork and have reached desired consistency.
Tips & Notes
Italian seasoning: option to use 1 teaspoon dried basil and 1 teaspoon dried parsley instead.
Foil: make sure you are using a heavy-duty foil to prevent the oil from leaking into the grill. Option to use 2 pieces of foil instead.
This recipe was slightly altered on April 11, 2019.
Nutrition facts
Calories:
138
kcal
Carbohydrates:
17
g
Protein:
2
g
Fat:
11
g
Fiber:
2
g
Sugar:
2
g
Photography: photos taken in this post are by Erin from The Wooden Skillet.