Grilled corn on the cob is a summer staple! Get perfectly cooked corn every time with this easy Grilled Corn in Foil recipe. Enjoy!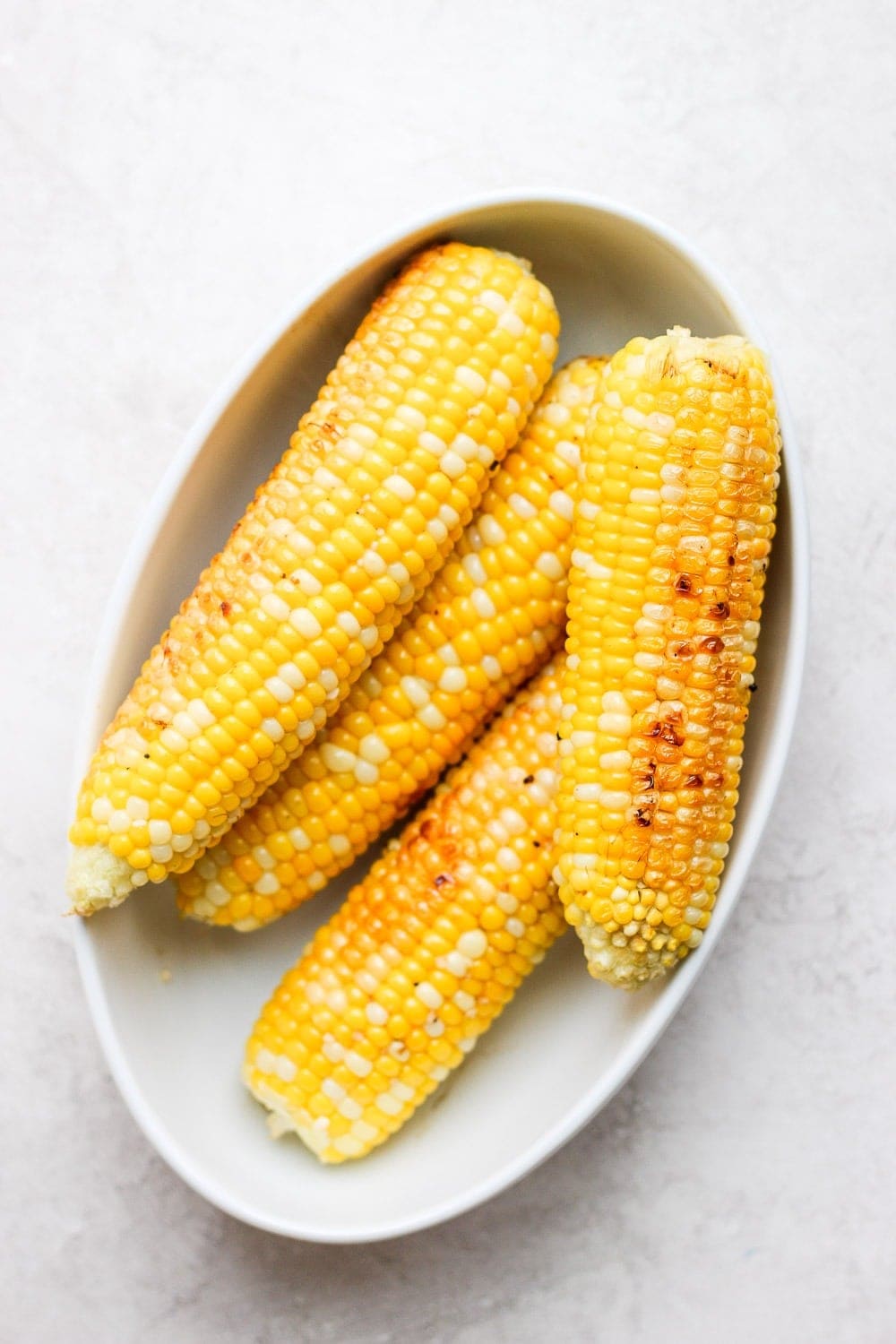 Grilled Corn on the Cob in Foil – Tastes Like Summer
Anyone else out there truly feel like any meal on the grill just tastes like straight-up SUMMER?! And especially when you add a side of grilled corn on the cob!
We're here to share our delicious grilled corn in foil recipe, so you can amp up your summer grilling, too!
Why make grilled on the cob in foil?
We might be biased but grilling corn in foil is the best way to do it. Why?
Cooks perfectly: the foil pack helps seal in heat and moisture, making sure the entire cob of corn cooks evenly and perfectly.
Infuses with flavor: our recipe is made with a yummy garlic butter. The foil allows the corn to cook in the buttery goodness the entire time.
Ready in 30 minutes: you've got the perfect summer side ready in 30 minutes.
Grilled Corn in Foil Must-Haves
When it comes to foil pack grilled corn, there are a few must-haves that we always keep on hand for grilled corn success:
Aluminum foil (we love the heavy duty foil for grilling!)
Salt and pepper
Olive oil or butter
Fresh corn on the cob, of course!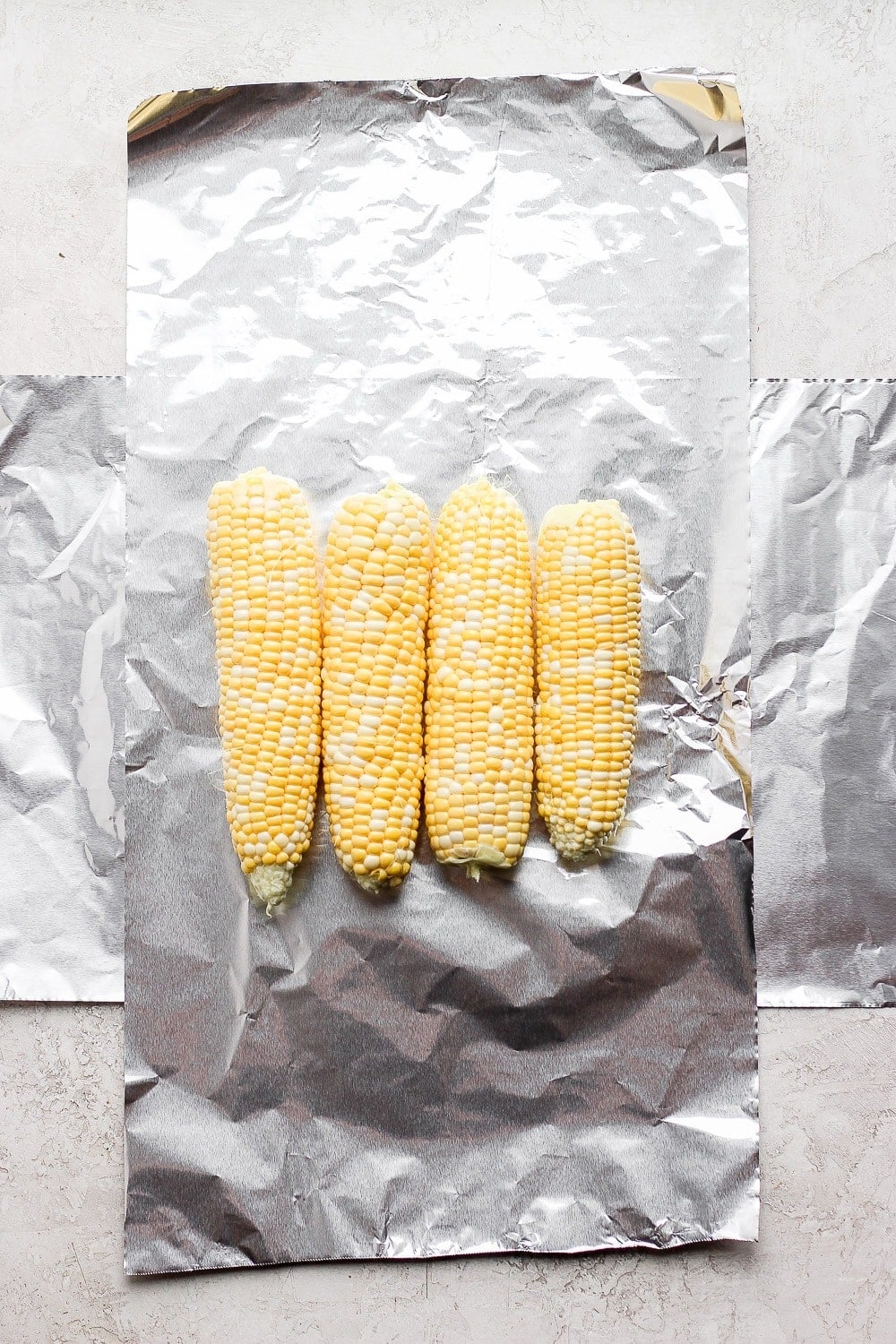 Grilled Corn Tips and Tricks
Grilled corn in foil is one of our go-tos in the summertime! In Minnesota, we are fortunate to have local corn growers and delicious fresh corn on the cob available at both grocery stores and farmers' markets.
How to Shuck Corn
We typically buy our corn in its husk because it's cheaper and super easy to remove yourself. To remove the husk, or to shuck it, all you have to do is peel back the green husks and remove all of the little hairs from the cob.
Then, cut off the extra tip of your cob and toss that along with the husks into the garbage or compost. Finally, run your corn on the cob under warm water to remove any lingering dirt or particles.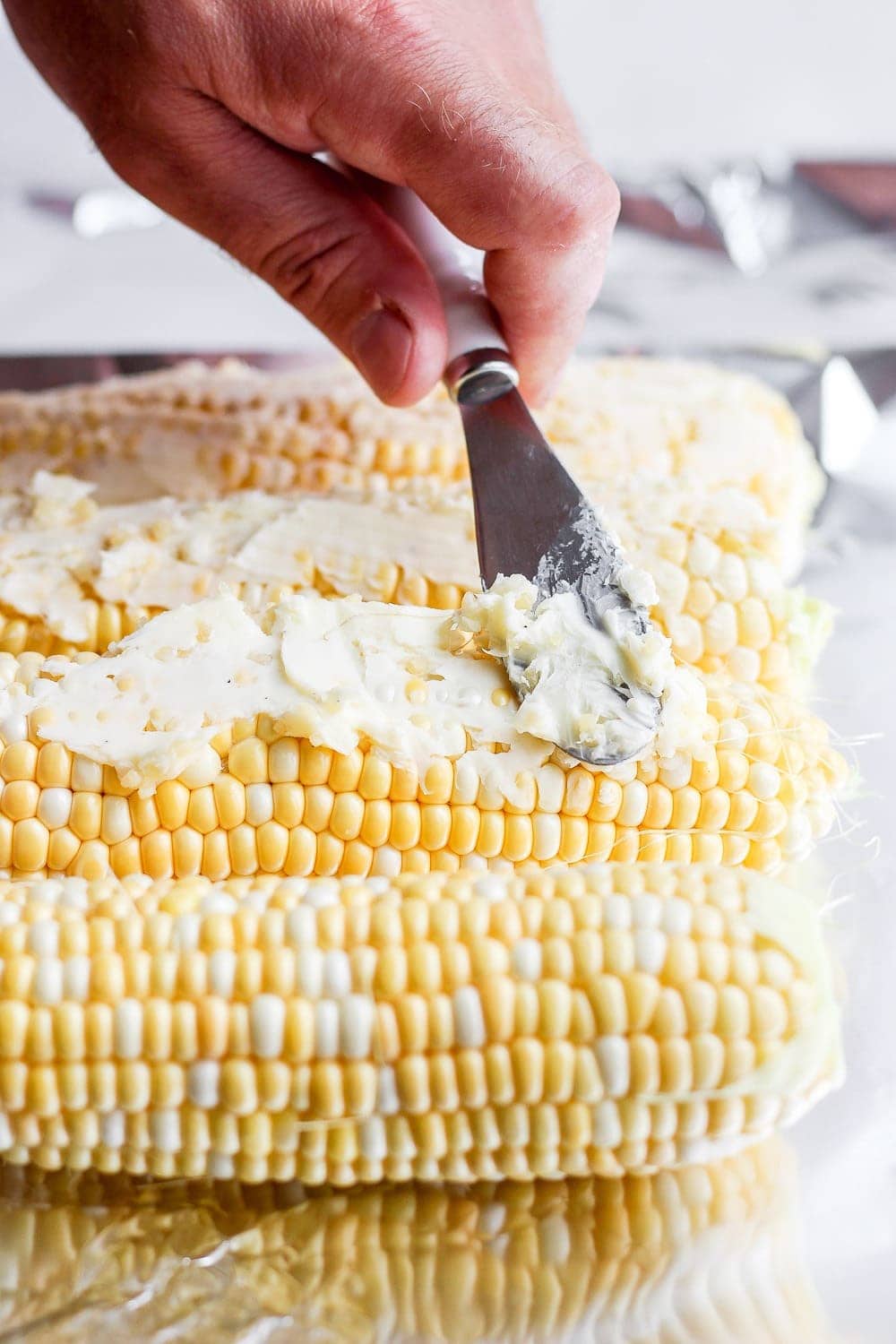 Flavor Ideas
Corn is so much better when it's doused in butter and that's a fact. For this recipe, we're using a basic butter + garlic combo to make it tastes so good. Here are some other flavor ideas you can mix with the butter:
a pinch of paprika
fresh herbs
make the perfect foil pack
We love grilled corn in foil because it allows you to cook over direct heat without worrying about starting a grill fire or having to monitor the corn's cooking progress so closely.
To get the perfect foil pack, all you need to do is make sure that the pack is tightly sealed on all sides. By sealing the foil pack, you not only keep all your delicious seasonings and butter ON your corn on the cob, but you also benefit from a nice steaming effect inside the foil pack.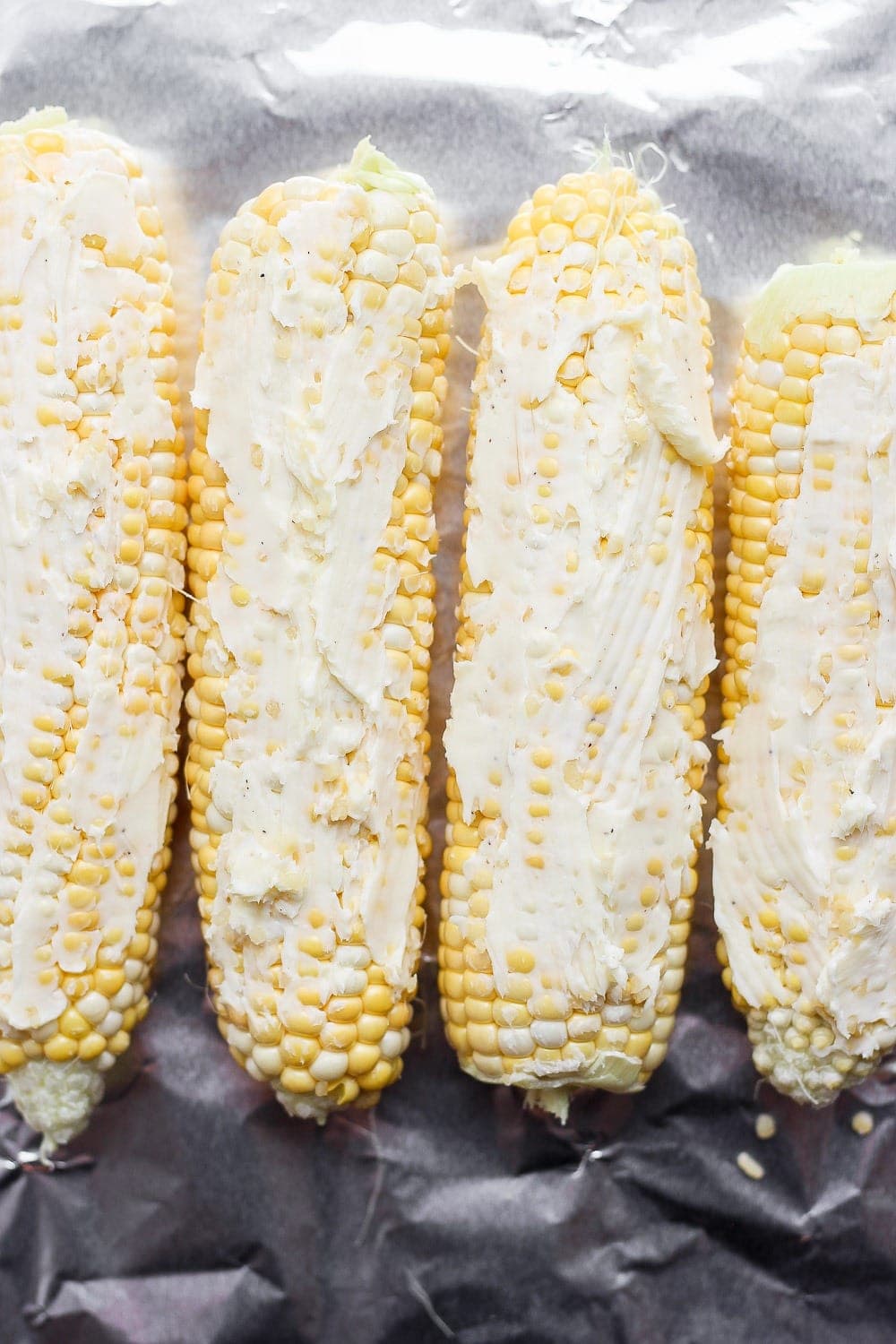 How Long to Grill Corn in Foil
Preheat your grill to 400ºF. Place the foil pack corn on direct flames and grill for around 25-30 minutes, flipping halfway through, at around 15 minutes.
You can easily grill other things at the same time, so we recommend making your main meal alongside your grilled corn in foil so that everything finishes around the same time.
Quick tip: if needed, you can always move your grilled corn off direct heat and into indirect heat to make space for other things. You may need to cook your corn a bit longer.
Can you Make this Recipe in the Oven?
Great question! Yes, of course, you can! Essentially you make the foil pack corn on the cob the exact same way, but instead of placing on your grill, you can place directly on your oven racks. Cook at 400ºF, and flip halfway through, just like on the grill!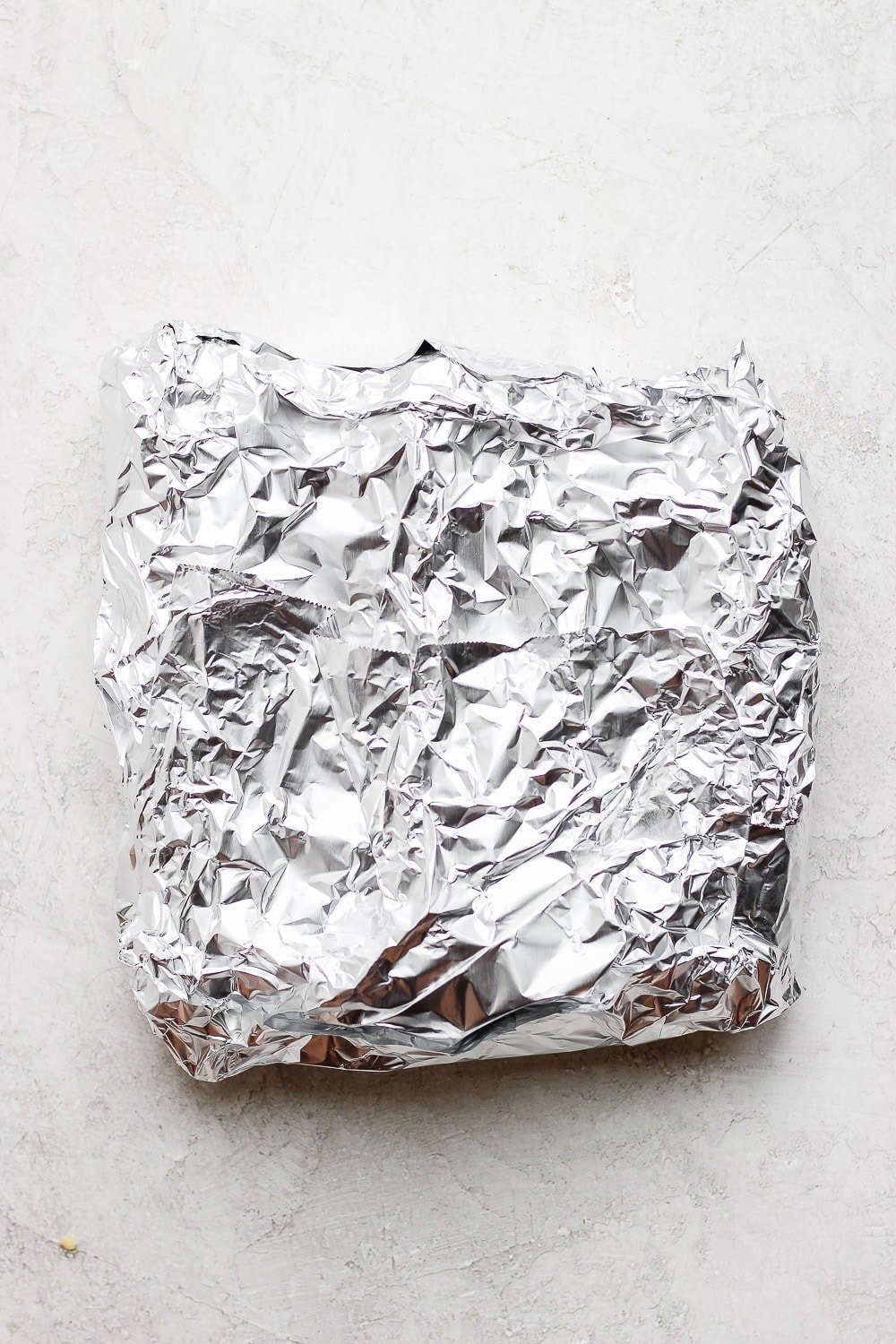 Got Leftovers?
One of our favorite things to do with grilled corn, is save the leftovers for repurposing. Let the corn cool completely, then use a sharp knife to cut the kernels off the cob. Here are some corn-focused recipes to try!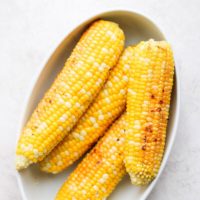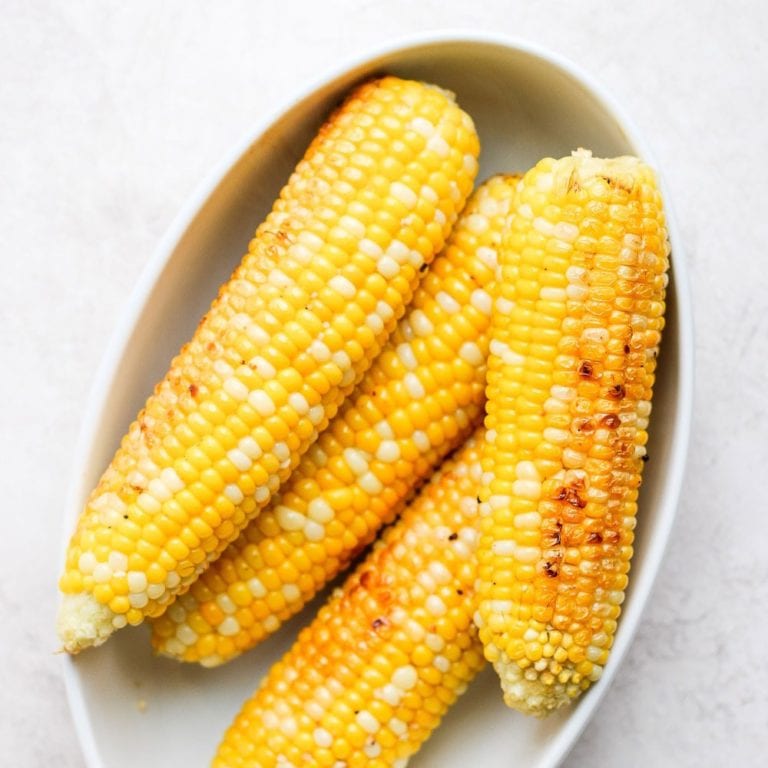 Grilled Corn in Foil
Grilled corn on the cob in foil is seriously the best way to cook corn. Get perfectly cooked, buttery corn every time with this easy Grilled Corn in Foil recipe. Enjoy!
Ingredients
4

ears of corn

shucked

4

tablespoons

butter

room temperature

3

cloves

garlic

peeled, and minced (~1 1/2 tablespoons)

1/8

teaspoon

salt

1/8

teaspoon

pepper
Instructions
Preheat the grill to 400ºF.

Create a tin foil boat with two pieces of tin foil. Make a cross with two long pieces of tin foil, place corn in the middle.

Next, add the soften butter, garlic, salt and pepper to a bowl and mix everything together until combined.

Add one heaping tablespoon of garlic butter to each ear of corn and spread the butter out evenly over each ear of corn.

Finally, fold the tin foil over the corn and seal the tin foil so that no air can escape the tin foil boat.

Place the corn in foil on the grill and close the grill.

Let the corn cook for 15 minutes, then open the tin foil boat (carefully) and flip each ear of corn, seal the tin foil boat and grill the corn for another 15 minutes.

Remove from heat and enjoy!
Nutrition facts
Calories:
246
kcal
Carbohydrates:
31
g
Protein:
5
g
Fat:
14
g
Fiber:
4
g
Sugar:
7
g
Photography: photos taken in this post are by Erin from The Wooden Skillet.