Ever wonder how to grill chicken legs? Look no further because these are the BEST grilled chicken legs in all the land.
We'll teach you how to make the most amazing chicken dry rub and give you a step-by-step tutorial for this grilled chicken legs recipe.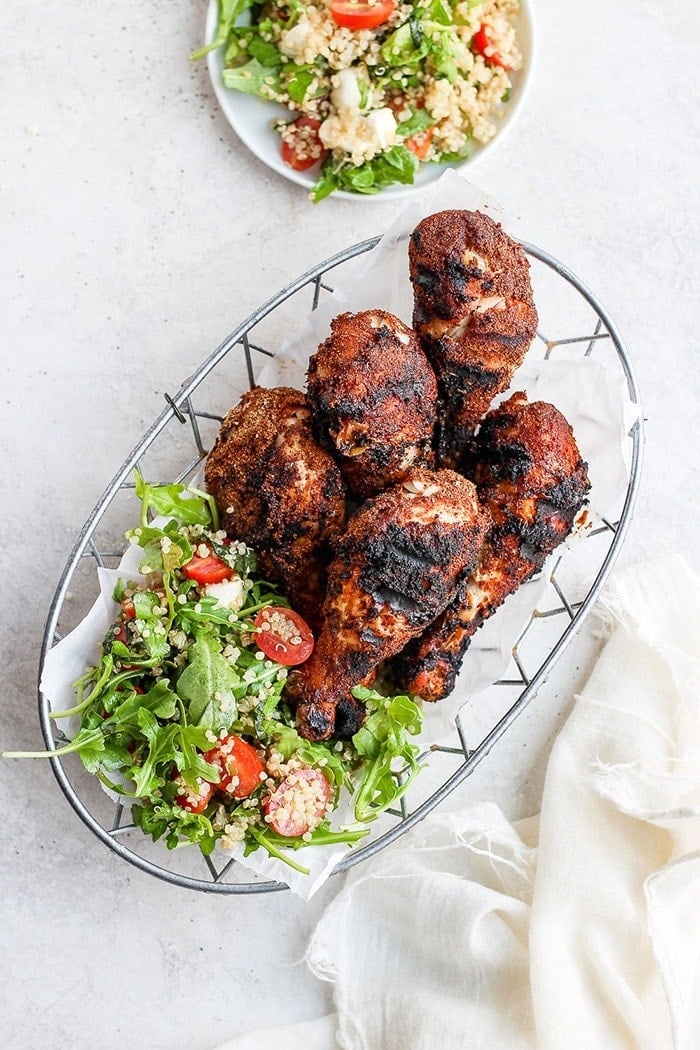 Delicious Chicken Legs on the Grill
Grilling chicken legs is one of our go-to summer meals because they're easy and delicious. Seriously, these scrumptious grilled chicken legs are full of so much flavor all thanks to our homemade chicken dry rub.
We love how inexpensive chicken legs are and how easy they are to flavor up. The bone makes them super moist and flavorful. Plus, a little bit of char from the grill makes these the ultimate Spring/Summer meal that the entire family will love.
Pair your grilled chicken drumsticks with our foil pack grilled potatoes, Caprese quinoa salad, and a homemade honey lavender lemonade for the ultimate summer meal.
PS: try our baked chicken legs or smoked chicken legs for more chicken leg recipes!
What kind of chicken legs should I buy for grilling?
We always recommend going organic/all-natural and free-range when possible. Yes, they cost a little bit more, but I promise you the flavor and texture will make up for it! Plus, in general, chicken legs are one of the more inexpensive parts of the chicken (in comparison to the breast), so going organic isn't actually that bad cost-wise.
Some of our favorite humane chicken brands include…
This grilled chicken leg recipe calls for 1 lb. of chicken legs and you will likely get around 4-6 medium chicken legs per pound. As always, you can double or even triple this recipe easily by multiplying it by 2 or 3.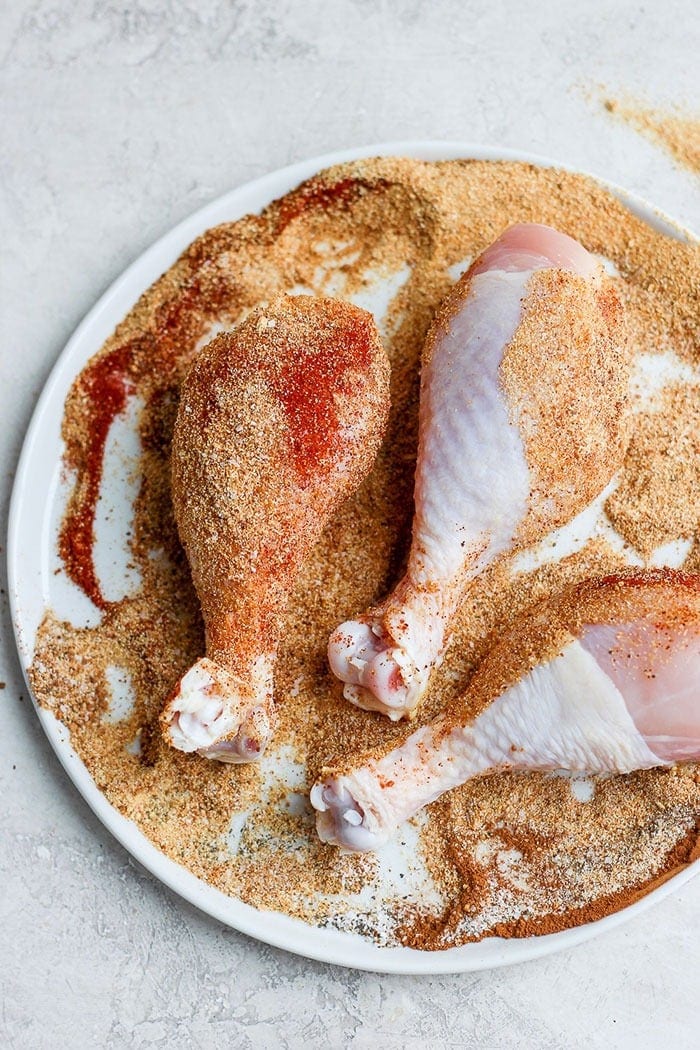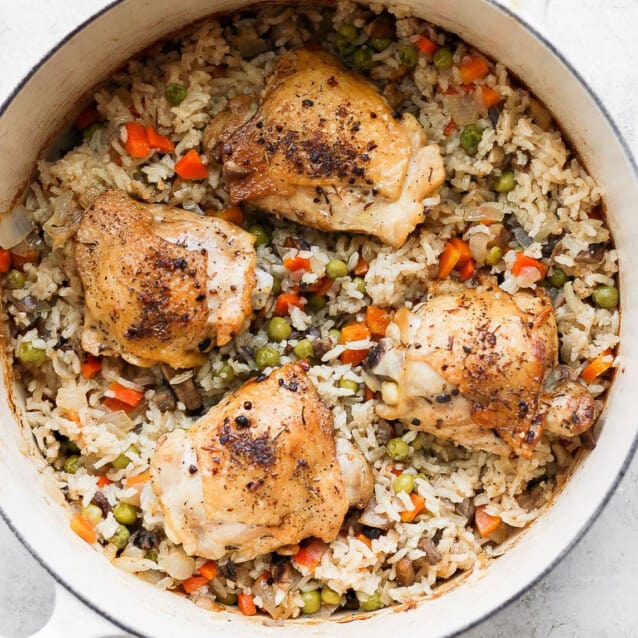 Become a Pro at Cooking Chicken!
We'll teach you everything you need to know on how to cook chicken perfectly every time + we'll share our top chicken recipes when you subscribe to our emails today!
Best Homemade Dry Rub for Chicken Legs
We've paired our favorite dry rub from Fit Foodie Finds with this recipe to create the ultimate crunchy, flavorful, and delicious grilled chicken leg recipe and we highly suggest following the recipe to a tee! If you have our chicken seasoning on hand, you can use that too.
garlic powder
onion powder
coconut sugar (or brown sugar)
paprika
chili powder
chipotle powder
ground cinnamon
ground mustard seed
salt
pepper
Want to add more heat? Add in a pinch of cayenne pepper.
Why make your own dry rub?
What we love about making our own dry rub at home is that there are no additives. You can also monitor the amount of salt, spice, and sweetness your rub has, which is great for so many reasons. One thing I recommend with this rub is making a double or triple batch of it to have on hands at all times!
If you aren't feeling a dry rub, you can try our grilled chicken marinade instead.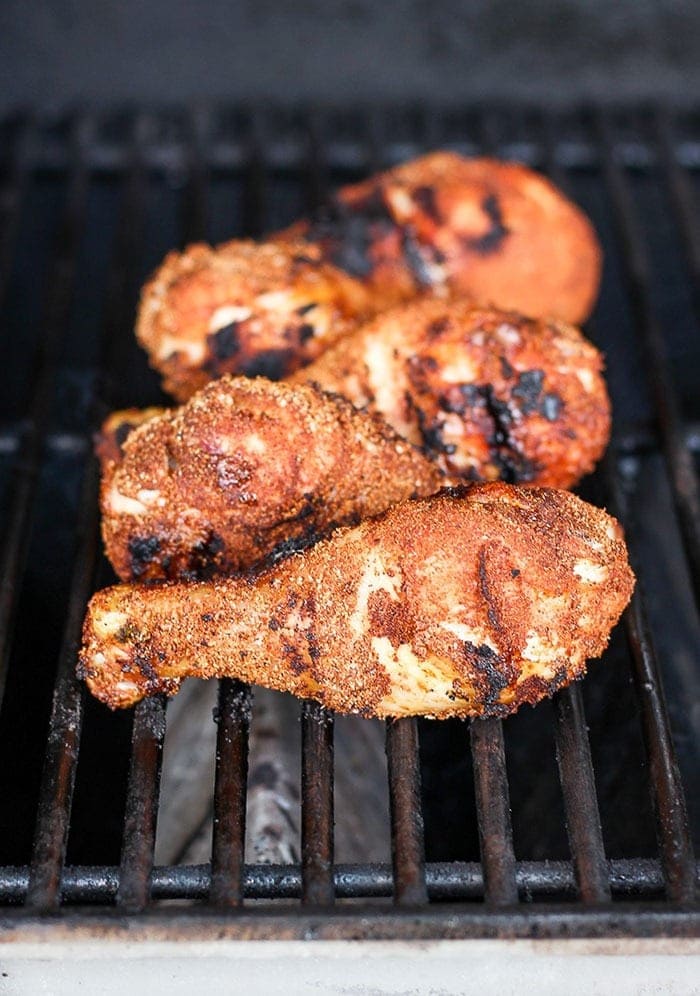 Grilled Chicken Legs FAQ
How long to grill chicken legs?

While it will take around 15-20 minutes, the magic number is actually in the temperature of the chicken. You know your grilled chicken drumsticks are fully cooked when the internal temperature reaches 165ºF.
What temperature should I grill chicken legs?

Set your grill to around 425ºF. If your grill goes up or down a few degrees, don't worry! That's just the nature of grilling. Just make sure that you watch your chicken legs and rotate them every 5 minutes so that they don't burn. You are cooking them on direct flames, after all.
Are chicken drumsticks healthy?

Long story short, yes chicken drumsticks are healthy, especially when you pair them with a homemade dry rub!
Should I use a gas grill or charcoal grill for chicken legs?

Both types of grill will work for chicken legs. A gas grill is easier for managing heat, but a charcoal grill adds great grilling flavor.
How do you grill chicken legs without drying them out?

We found that by grilling your chicken legs over direct heat and a medium/high temperature will get them nice and crispy on the outside and super moist on the inside.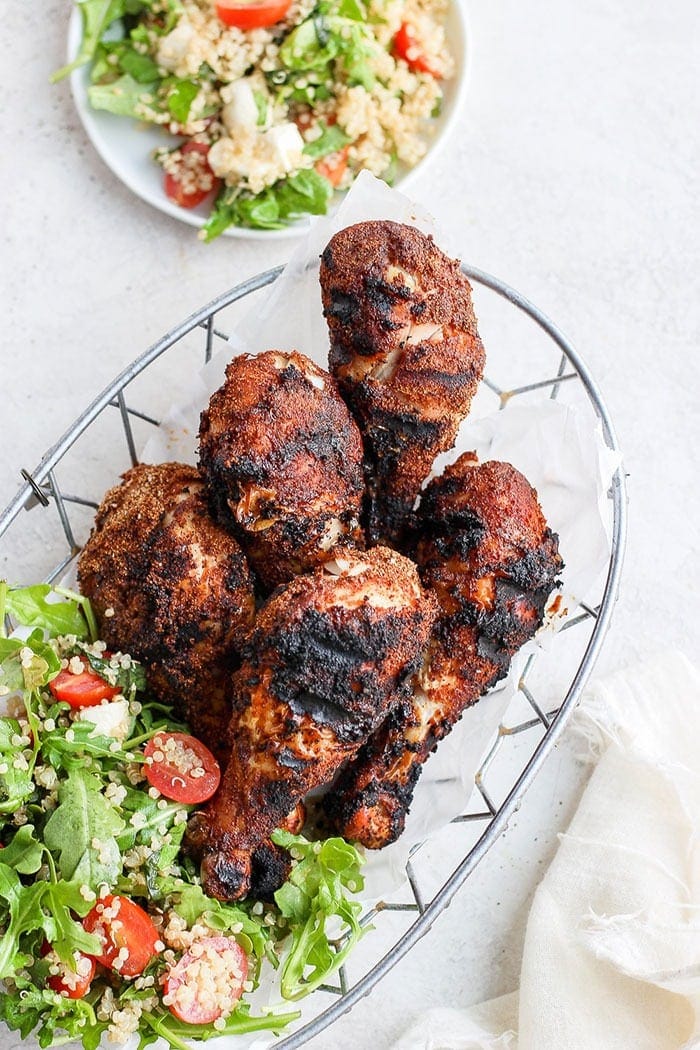 Serving Suggestions
In addition to rubbing your chicken legs with bbq sauce, we're sharing some more serving suggestions below!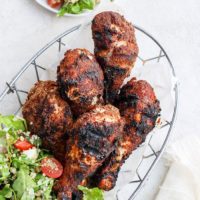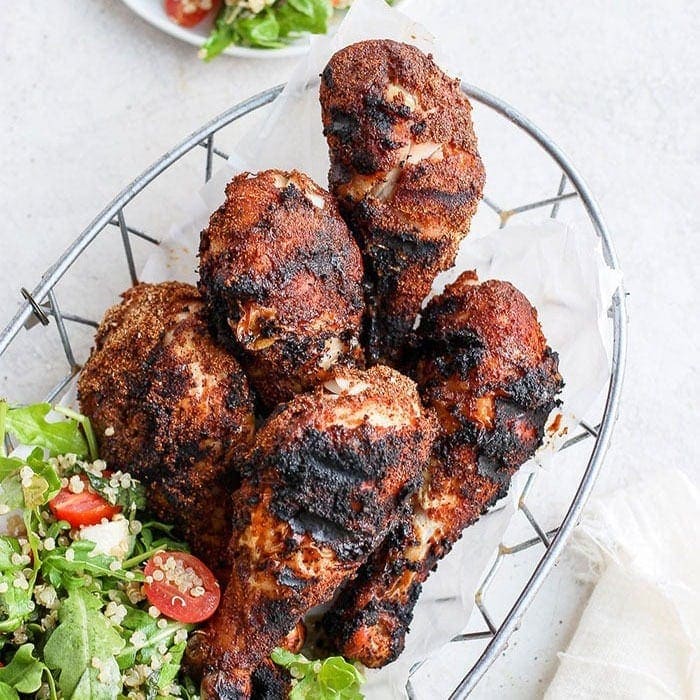 Grilled Chicken Legs
Make perfectly charred on the outside, moist on the inside grilled chicken legs with this super simple recipe! 
Ingredients
1

lb.

chicken legs

~6 legs

2

tablespoons

garlic powder

2

teaspoons

onion powder

2

teaspoons

coconut sugar

or brown sugar

1

teaspoons

paprika

1

teaspoon

chili powder

1/2

teaspoon

ground chipotle powder

1/4

teaspoon

ground cinnamon

1/4

teaspoon

ground mustard seed

1/2

teaspoon

table salt

1/4

teaspoon

ground pepper

Optional: 1/2 cup bbq sauce

for serving
Instructions
Preheat grill to 425ºF.

Then, prepare chicken dry rub by mixing together all of the spices in a small bowl. You should get around 4.5 tablespoons of dry rub.

Prep chicken legs (leave the skin on) by fully coating each leg with 1-2 teaspoons of dry rub. Use your hands to pat the spices into each part of the leg and make sure that every part is fully coated. You may have leftover dry rub. This is okay! Store it in an airtight container for up to 3 months.

Spray your grill grates with nonstick cooking spray (or rub with olive oil) and then grill chicken legs over direct heat at 425ºF (medium-high heat) for around 15-20 minutes or until the legs have reached an internal temp of 160ºF – 165ºF. Rotate the legs every 5 minutes.

Remove chicken legs from the grill and let rest for 5 minutes before eating.

Eat chicken legs as is or rub them with bbq sauce.
Tips & Notes
Don't skimp on the dry rub. It's what makes these legs crunchy and delicious!
Nutrition facts
Calories:
182
kcal
Carbohydrates:
7
g
Protein:
21
g
Fat:
7
g
Fiber:
1
g
Sugar:
2
g
Photography: photos taken in this post are by Erin from The Wooden Skillet.