This Grilled Brussel Sprouts Recipe is perfect for a quick and easy weeknight dinner side or meal-prep for the week!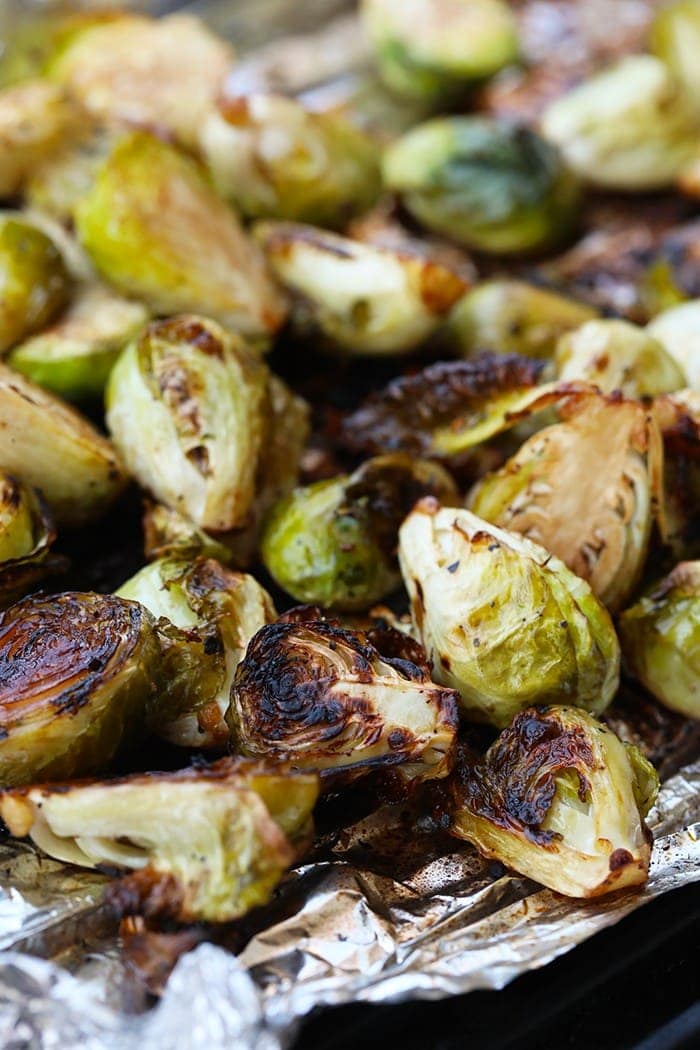 Best Grilled Brussel Sprouts
There is nothing better than summer in Minneapolis! We have long winters that are delightful until you are going on 7 months in the frigid cold. We have a short spring and then BAM, it's 80º and people are walking around in their swimsuits.
Grilling is something we're extremely fond of at Fit Foodie Finds and when it comes to grilling veggies, we're all in! Grilled brussel sprouts have to be one of our favorite vegetables to grill because they come out crunchy on the outside and perfectly cooked on the inside.
This grilled brussel sprouts in foil recipe has been solid from the beginning and is one of our most popular grilling recipes on Fit Foodie Finds. Keep on reading to learn how to make perfectly cooked brussel sprouts on the grill.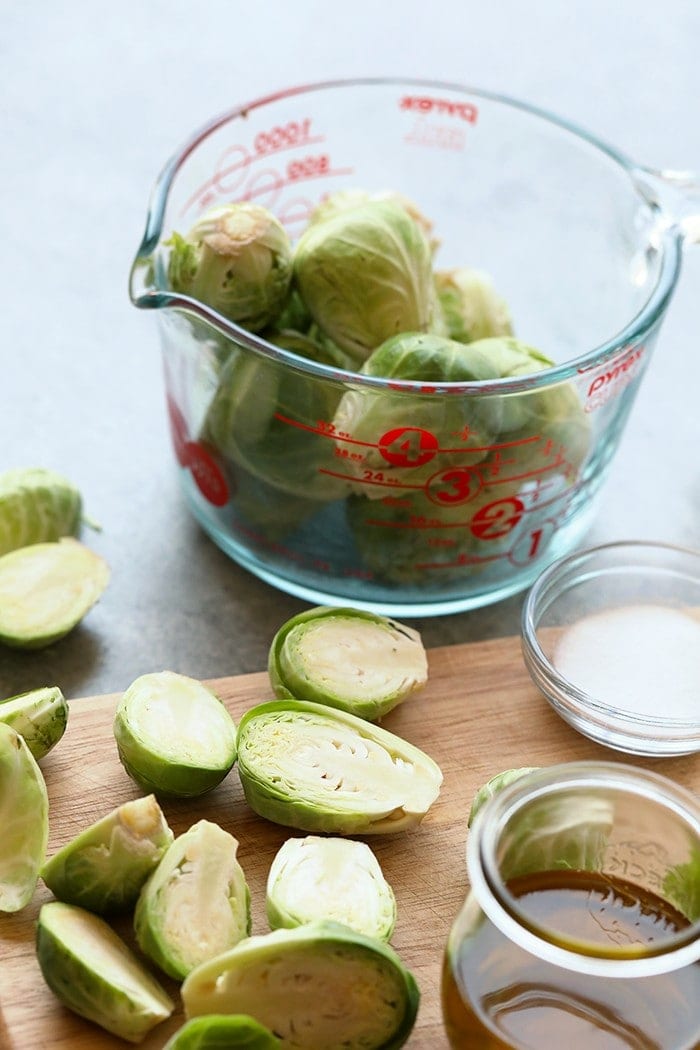 What you Need (simple ingredients)
Fresh brussels sprouts
Olive oil
Balsamic vinegar
Garlic cloves
Garlic powder
Salt and pepper
Optional add-ins: other spices that would be so delicious added to the mix include: onion powder, dried mustard, smoked paprika, or oregano.
#1 Tip: Use FRESH Brussels Sprouts Only
We are not talking about frozen brussels sprouts, here. I know many people that hate brussel sprouts because they grew up on frozen brussel sprouts. If you're into the frozen brussel sprouts thing, more power to you. However, those things are mushier than wet leaves on a crisp fall day after it's rained. Do you feel me?
This recipe is meant to be used with plump, fresh brussels sprouts ONLY. I promise you the flavors and texture will be so much better. So tender on the inside.
More Tips on How to Grill Brussel Sprouts
Wash: Make sure to wash your Brussel sprouts to remove any dirt or residue.
Pat dry: Pat your Brussel sprouts dry so that you remove any moisture. We do this so that they don't get mushy while on the grill.
Grill at medium-high heat: Grill Brussels sprouts at medium/high heat — around 400ºF – 450ºF. Also, it's important that you have a hot grill, so make sure to preheat it!
Season properly: We love cooking our Brussel sprouts with balsamic, olive oil, and garlic. Feel free to add your favorite spice combination to your Brussel sprouts.
Cook thoroughly: Cook them longer than you think! The inside takes longer and the outer leaves will become nice and crispy.
Now, add brussels to the grocery list and give them a chance this week! #brusselsforlife
FAQ
Do you need to soak brussel sprouts before cooking?
There is no need to soak brussel sprouts before grilling them.
Why won't my brussel sprouts get crispy?
Make sure to cook your brussels sprouts at medium-high heat so that the outside gets nice and crispy and the inside gets soft and tender.
How do I get the bitterness out of Brussels sprouts?
Make sure to slice the ends off of your brussel sprouts and to season it generously with spices to remove the bitter flavor.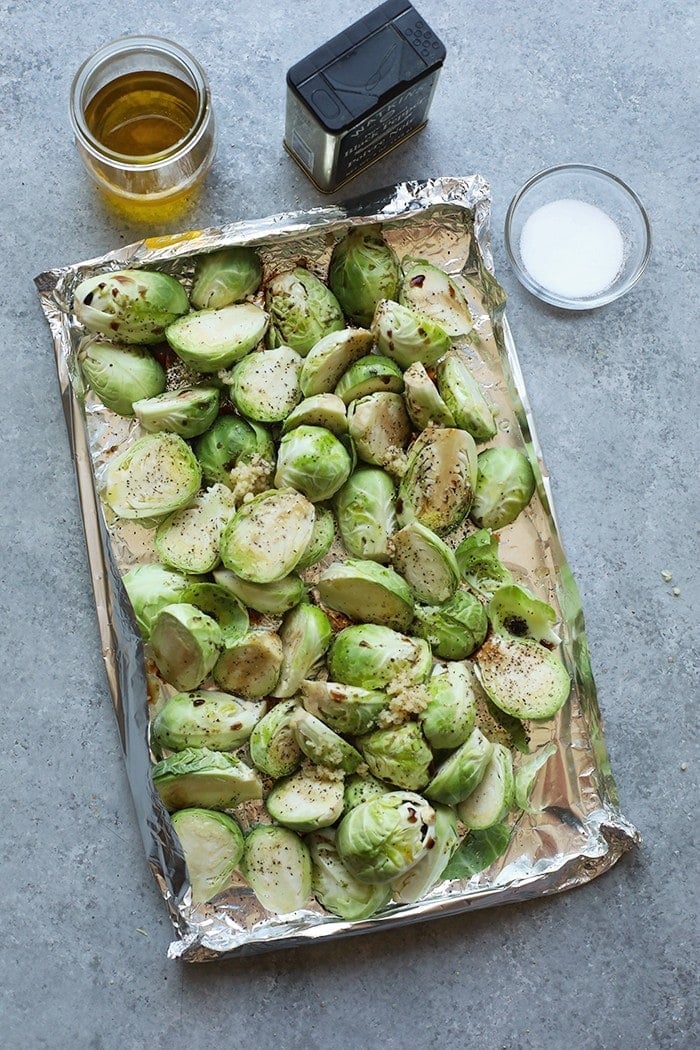 Why Use a Tin Foil Boat?
The tin foil boat is KEY in this recipe! It will keep your Brussels from falling through the grill grate, and allow them to crisp to perfection while cooking.
Simply fold over the edges of your piece of tin foil, essentially creating a lip on the 4 sides. This will keep your Brussels and the balsamic and olive oil safely inside the tin foil boat, and away from the grill flame.
Quick tip: feel free to use a grill basket instead of a tin foil boat if you have it! 
Serving Idea!
Top your grilled brussels sprouts with a drizzle of aged balsamic and a sprinkle of parmesan cheese for one of the most perfect summer side dishes you've ever had.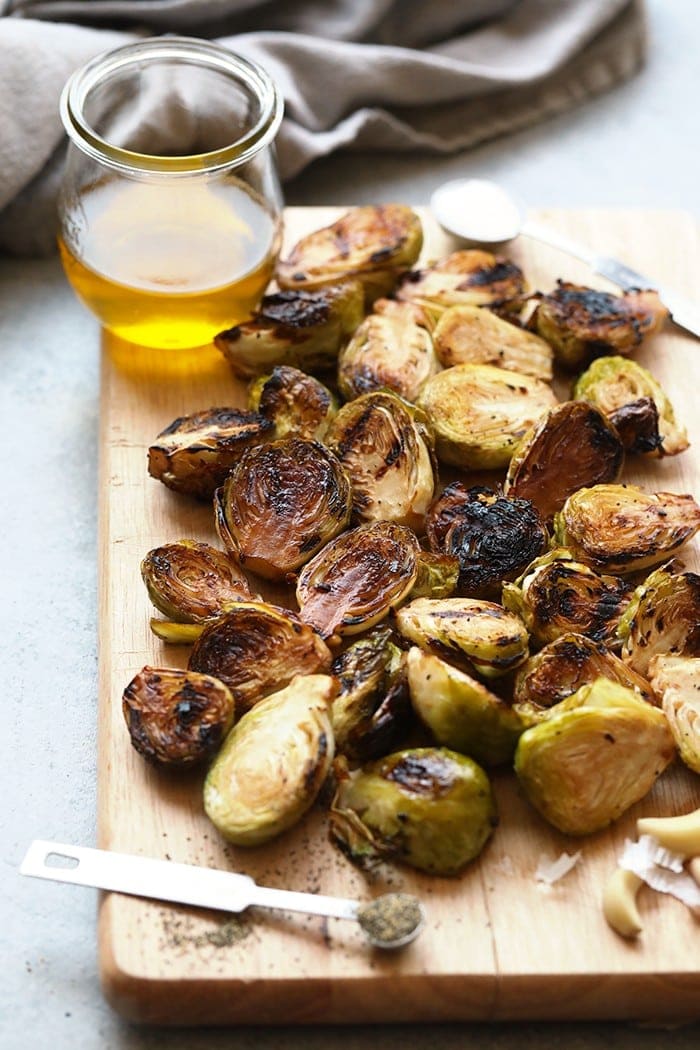 Stovetop Directions
If you don't have a grill, you can simply use a grill pan and cook this recipe right on your stovetop. Or, you can use this recipe and follow our roasted brussels sprouts recipe directions.
Storage
The best way to store grilled Brussels sprouts is in an airtight container in the refrigerator. Make sure that you discard the tin foil and place only the Brussels sprouts in the container. I've also stored them in a gallon-size plastic bag, too!
To reheat: simply transfer Brussels onto a microwave-safe plate and microwave for 60-90 seconds. Alternatively, you can reheat on the stove-top.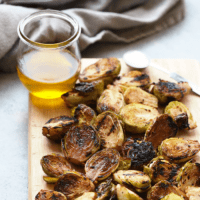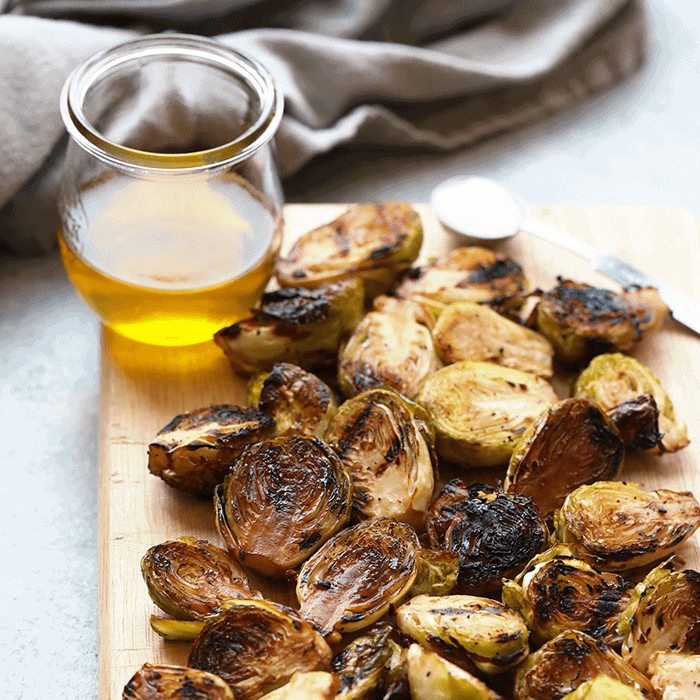 Grilled Brussel Sprouts
This is the most delicious grilled Brussel sprouts recipe. It's caramelized and crunchy to perfection with balsamic vinegar and so tender on the inside.
Prep:
10 minutes
Cook:
20 minutes
Total:
30 minutes
Ingredients
1.5

lbs. Brussels sprouts

2 tablespoons

olive oil

2 tablespoons

balsamic vinegar

3

cloves garlic, minced

2 teaspoons

garlic powder

1/2 teaspoon

salt

1/4 teaspoon

ground pepper
Instructions
First, preheat grill to 450ºF and create a tin foil boat out of tinfoil and place on a baking sheet.
Next, prepare brussels sprouts by washing and patting dry. Then, using a sharp knife to remove any ends and then slice each brussel sprout in half the long way.
Place brussels sprouts in the tin foil boat and the rest of the ingredients. Use your hands or a spatula to coat all of the brussels in oil, vinegar, and spices.
Place tin foil boat on the grill over direct heat and grill for 10 minutes. Toss brussels and grill for another 5-15 more minutes (depending on how thick the brussels sprouts are). Grill unti the brussels sprouts are fork-tender.
Remove from grill and enjoy!
Nutrition Facts
Serving Size:
1/6
Calories:
98
Sugar:
4
Sodium:
224
Fat:
5
Carbohydrates:
12
Fiber:
4
Protein:
4
Category:
Side
Method:
Grill
Cuisine:
American
Keywords: grilled brussel sprouts