Roasted Brussels Sprouts with Bacon – the most delicious holiday side you'll ever sink your teeth in!
This delicious roasted brussels sprouts recipe is made with just a few simple ingredients including thick-cup maple bacon and in less than 30 minutes!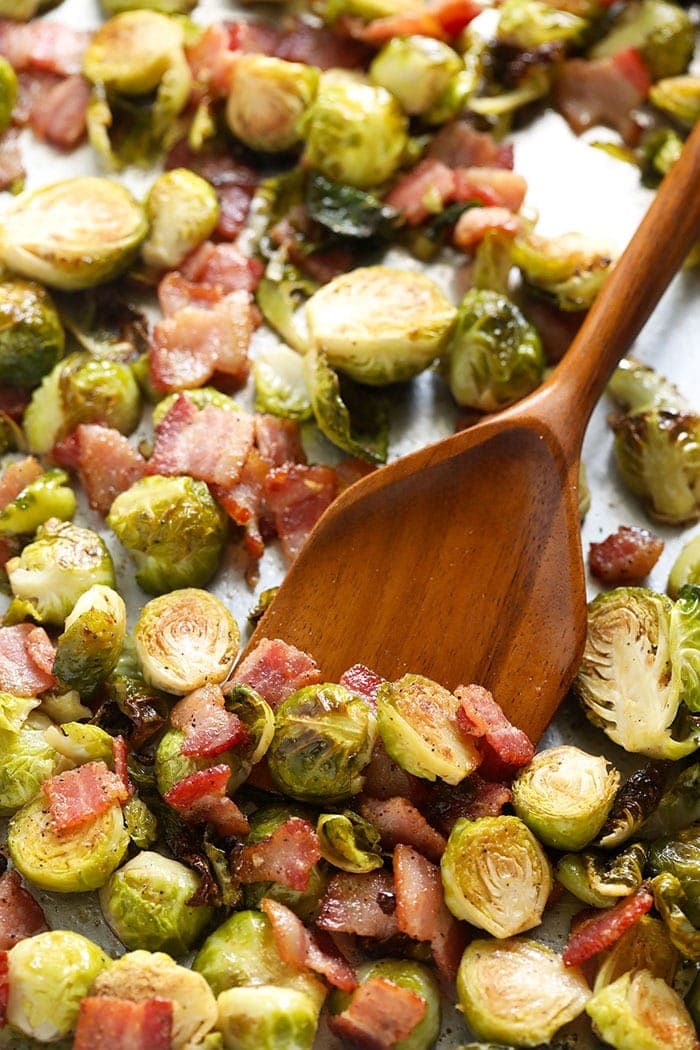 Roasted Brussels sprouts are hands down the best way to make this mini cabbage-like veggie. And, when you pair them with bacon, you can't go wrong! We're so excited to serve this recipe next to our amazing Smoked Turkey Recipe is holiday season.
PS: get our full Thanksgiving Day Menu here!
Just can't get enough brussels sprouts? Check out our how to roast brussels sprouts guide or add our balsamic roasted brussels sprouts recipe to the menu, too!
What do roasted Brussels sprouts with bacon taste like?
Roasted Brussels sprouts on their own take flavor to whatever you season them with such as garlic, salt, and pepper (like in this recipe). Then, when you add bacon to the mix, you get a delicious, savory, salty addition that also adds amazing texture!
How to Make Roasted Brussels Sprouts with Bacon
If you scroll down to the recipe card, you'll notice that this brussels sprouts with bacon recipe is rather simple. But, just in case we're going to break things down so that you can make the most delicious side dish in all the land.
Part 1: Roast Brussels Sprouts
1. Wash Brussel Sprouts
Do Brussels sprouts need to be washed, you ask? Always wash your Brussels sprouts before prepping and cooking with them. Since they are a vegetable, there's a good chance they'll have dirt on them (this is natural), but just take some time to do a little scrubbing and you're good to go!
Place Brussels sprouts in a strainer and run cold water over them. Use your hands or a vegetable brush to scrub/rub as much dirt off them as possible. Then, pat them dry.
2. Trim & Cut Brussel Sprouts
Next, it's time to trim the ends off of your Brussels sprouts and slice them in half. Often times, the ends of your Brussels sprouts can look dry and sometimes have dirt on them, so it's a good idea to give them a fresh slice.
Some people prefer to remove the outer leaves and cut out the stem. if that's you, go for it. We generally just use the whole brussel sprout unless it looks like it really needs to go.
How do you cut roasted Brussels sprouts? Slice your Brussels sprouts hotdog style, in half. We find that Brussels sprouts roast better sliced in half or fourths compared to whole Brussel sprout. At least, we prefer them a little crispy and it's easier to achieve this if they are sliced!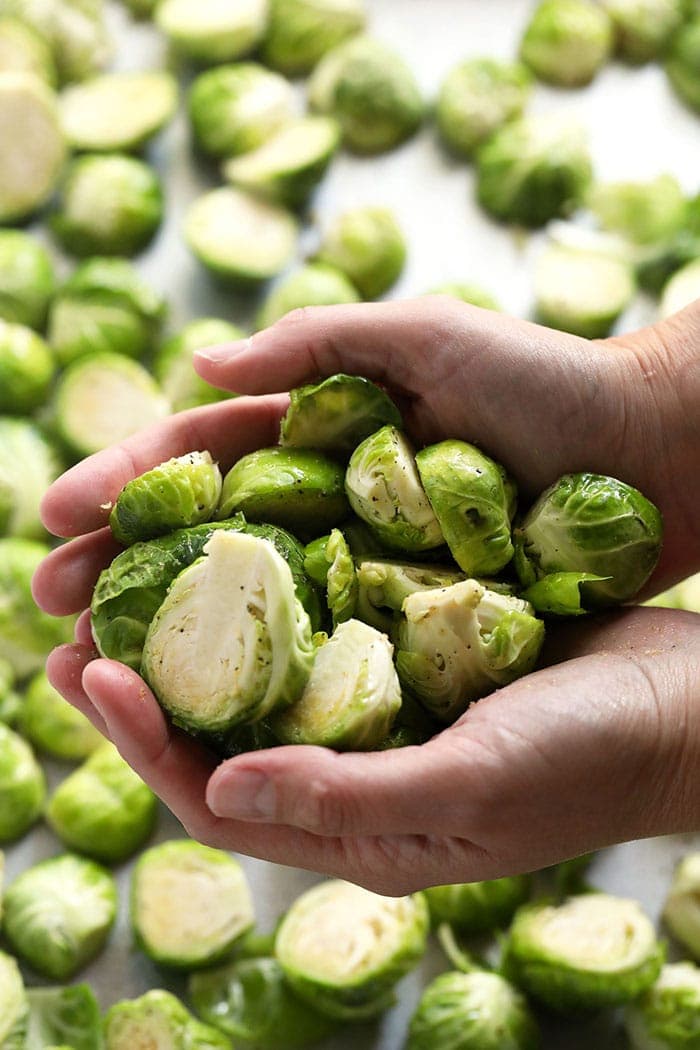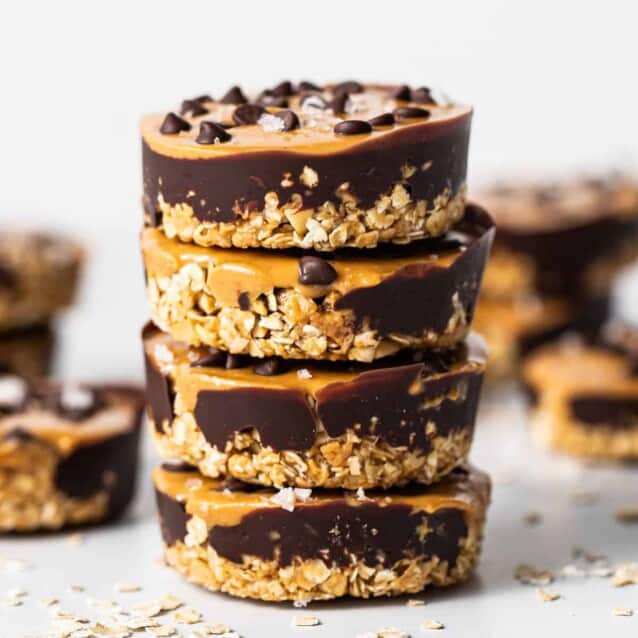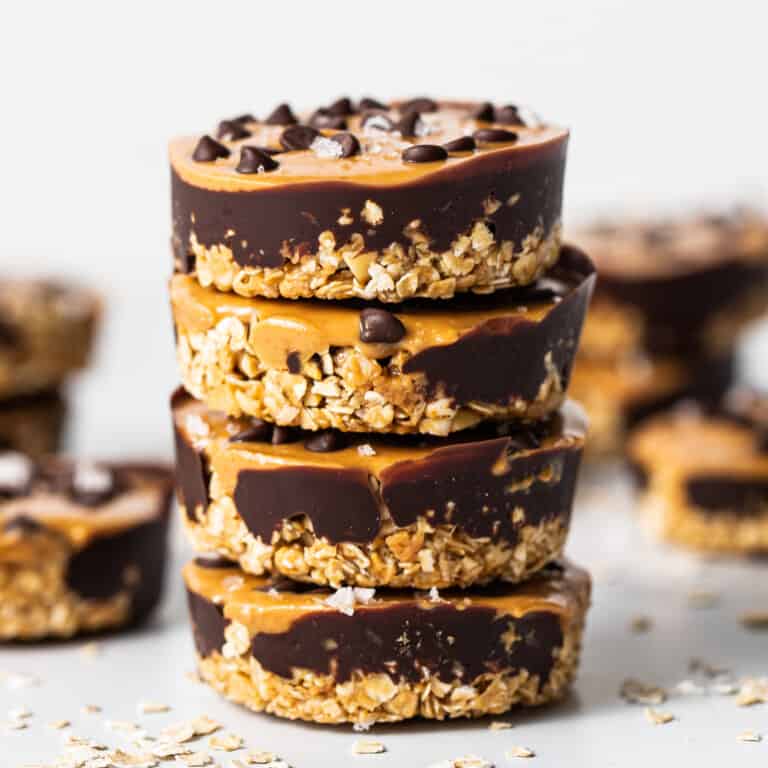 Get our Top 10 5-Star Recipes!
Join our email list for new recipes and BONUS: get our top 10 ⭐️⭐️⭐️⭐️⭐️ recipes e-book!
3. Oil + Season
We're keeping the flavors simple for this roasted Brussels sprouts and bacon recipe because the bacon has such an amazing flavor and you don't want to overdo it.
Place your sliced Brussels sprouts on a baking sheet and generously drizzle with olive oil and toss. This will help them get really nice and crispy.
Next, sprinkle with salt, freshly ground black pepper, and garlic powder and toss again, making sure everything is coated in oil and spices.
Once seasoned, spread the brussels sprouts out into a single layer on your sheet pan. This will ensure all of the brussels sprouts get crispy.
add some spice
If you like things a little bit spicy, feel free to add a pinch of smoked paprika or even cayenne pepper.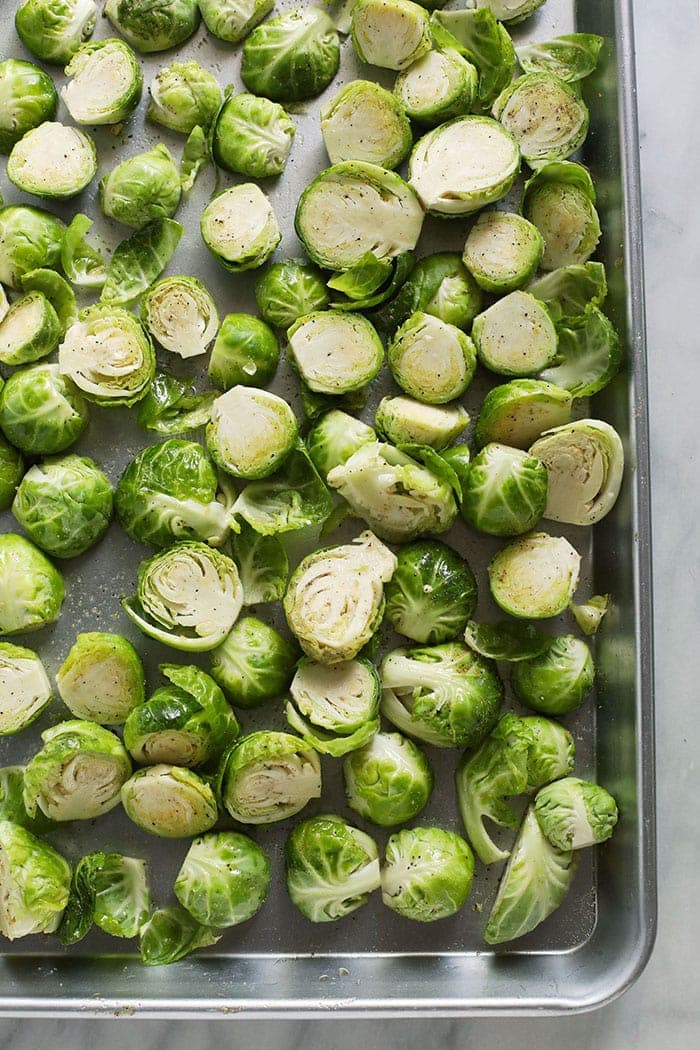 Step 4: Roast
Roast Brussels sprouts at 400ºF for around 30 minutes. Make sure to remove them from the oven and toss them halfway. This will ensure even cooking.
How do you know your Brussel sprouts are done cooking? Your sprouts should be softer to the touch and golden brown in color.
pro tip
Depending on your oven, it may take a little longer or a little less time to get them nice and crispy. Just make sure you have your eye on them!
Part 2: Cook Perfect Bacon
One thing we love doing while cooking is multi-tasking! While your Brussels are roasting, it's time to fry up some BACON!
This recipe calls for maple bacon which will add a little sweetness to this side dish. If you can't find maple bacon, normal bacon works too!
Medium to Thick-Cut
We recommend buying a medium to thick-cut bacon because the texture is so much better than thin bacon. Oftentimes thin bacon gets crunchy, and we're going for a chewy texture here.
So, when you're at the grocery store, look for maple thick-cut bacon.
How to Cook Bacon on Stove
You can really cook your bacon however you want to. We have an awesome tutorial for how to bake bacon in the oven, but if you're short on time and want to multitask while your Brussels are cooking, you can easily pan-fry them in no time!
pan-fried directions
Slice 1 lb. of bacon into small, 1-inch chunks. Note that as they cook, the bacon will shrink slightly.
Next, cook bacon in a frying pan over medium/high heat for 8-10 minutes, using a wooden utensil to stir. Make sure not to overcook your bacon, or it might burn and become crunchy.
Once fully cooked, remove from heat and drain excess grease. Then, add maple syrup and toss.
Part 3: Toss Everything Together
Now that your Brussels sprouts are nice and roasted and your bacon is cooked it's time to put the two together to get –> Roasted Brussels Sprouts with Bacon!
Toss together your sprouts and cooked bacon and serve immediately. You can either serve this dish on the baking sheet or transfer it into a large bowl. Either work!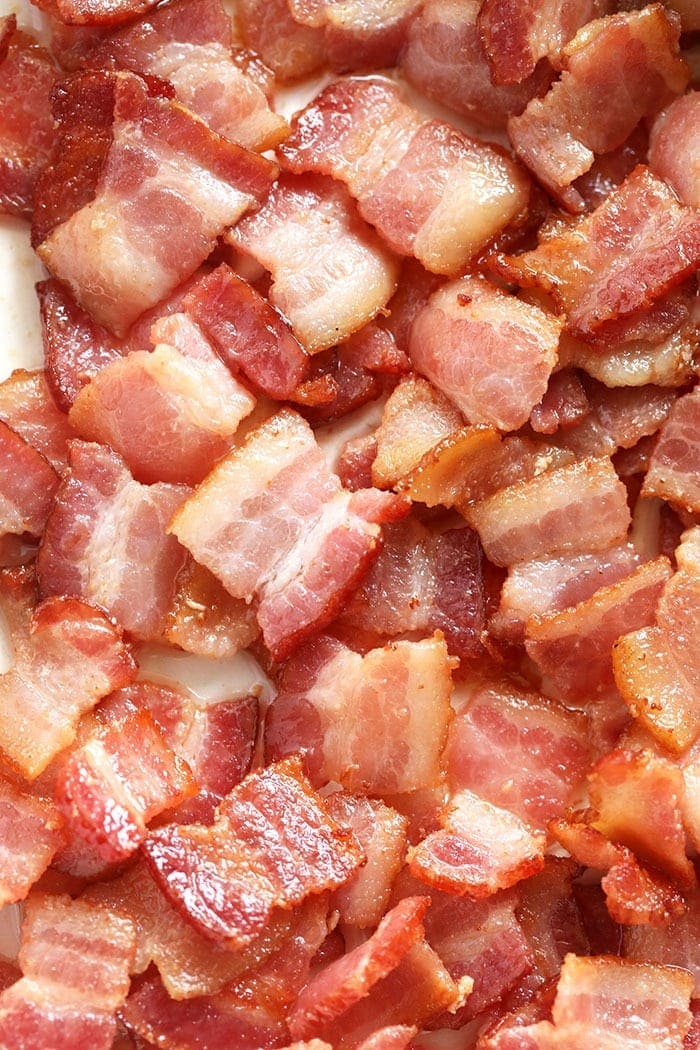 Are roasted Brussels Sprouts good for you?
So, how healthy are roasted Brussel sprouts? Roasted Brussels sprouts are extremely healthy because they're high in fiber and packed with vitamin C and vitamin K. Just make sure you roast them in a heart-healthy oil such as olive or coconut oil.
Are roasted Brussel sprouts good leftover?
Roasted brussel sprouts are some of my favorite things to eat as leftovers. Reheat them in the microwave, in the oven, or on the stovetop and you're ready to go!
What should I serve with Brussels sprouts?
Roasted Brussels sprouts are an excellent holiday side dish. We recommend serving these brussels sprouts with bacon during the holidays but also all year round with chicken, steak, pork as main course or even tossed with buttered pasta (YUM!)
How to Store Roasted Brussel Sprouts with Bacon
Got leftovers? Let your sprouts with bacon cool completely. Then, transfer them into an airtight container and seal. Store in the refrigerator for up to 3-5 days.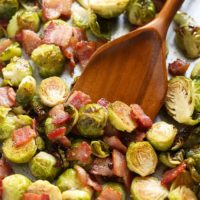 Roasted Brussels Sprouts with Bacon
This Roasted Brussels Sprouts with Bacon recipe is made with simple roasted Brussel sprouts and thick-cup maple bacon!
Ingredients
Bacon
1

lb.

thick-cut bacon

sliced into 1-inch chunks

1

tablespoon

maple syrup
Instructions
First, preheat oven to 400ºF.

Next, prepare Brussels sprouts by washing them to remove any excess dirt. Then, pat dry. Slice the ends off of each Brussels sprout and then cut them in half, hotdog wise.

Transfer them onto a large baking sheet. Then, drizzle with a generous amount of olive oil and season with salt, pepper, and garlic powder. Toss, so that the Brussels sprouts are evenly coated.

Roast Brussels sprouts at 400ºF for 15 minutes. Then, remove and toss. Roast for another 10-15 minutes or until the outsides begin to turn golden brown.

While the Brussels sprouts are roasting, prepare bacon. Begin by slicing 1 lb. of bacon into 1-inch chunks. Using a pair of scissors works really well for this. Then, place the bacon into a large pan and heat over medium/high heat.

Cook bacon for around 8-10 minutes, or until it is fully cooked, but not crunchy.

Immediately drain excess grease from the bacon and then add maple syrup and mix to combine.

Once the Brussels sprouts are done roasting, remove from oven. Add bacon to Brussels sprouts and toss to combine.

Serve immediately.
Nutrition facts
Calories:
416
kcal
Carbohydrates:
10
g
Protein:
23
g
Fat:
34
g
Fiber:
3
g
Sugar:
4
g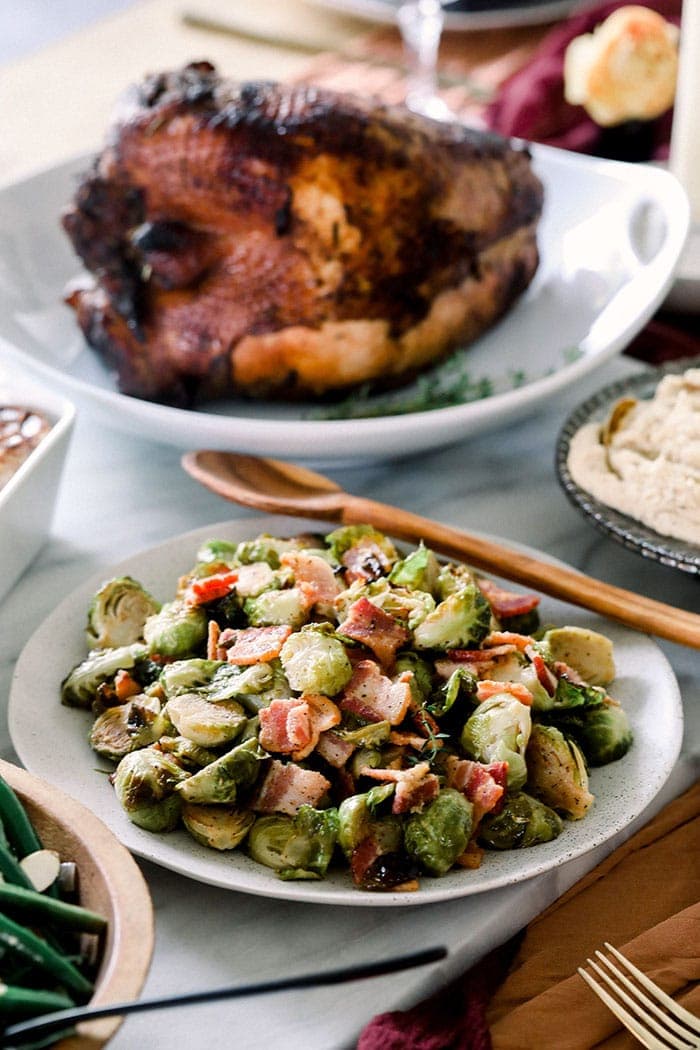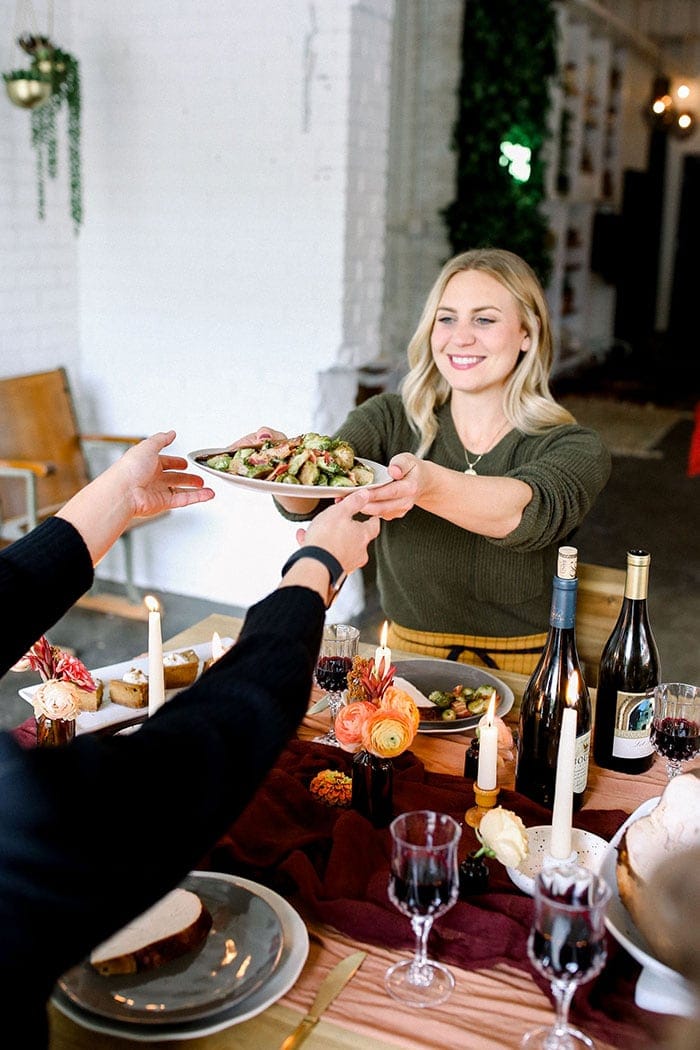 This post is sponsored by Honeysuckle White. I was compensated and all opinions are my own.