Roasted Brussels Sprouts with Bacon – the most delicious holiday side you'll ever sink your teeth in! This recipe is made with just a few simple ingredients and in less than 30 minutes!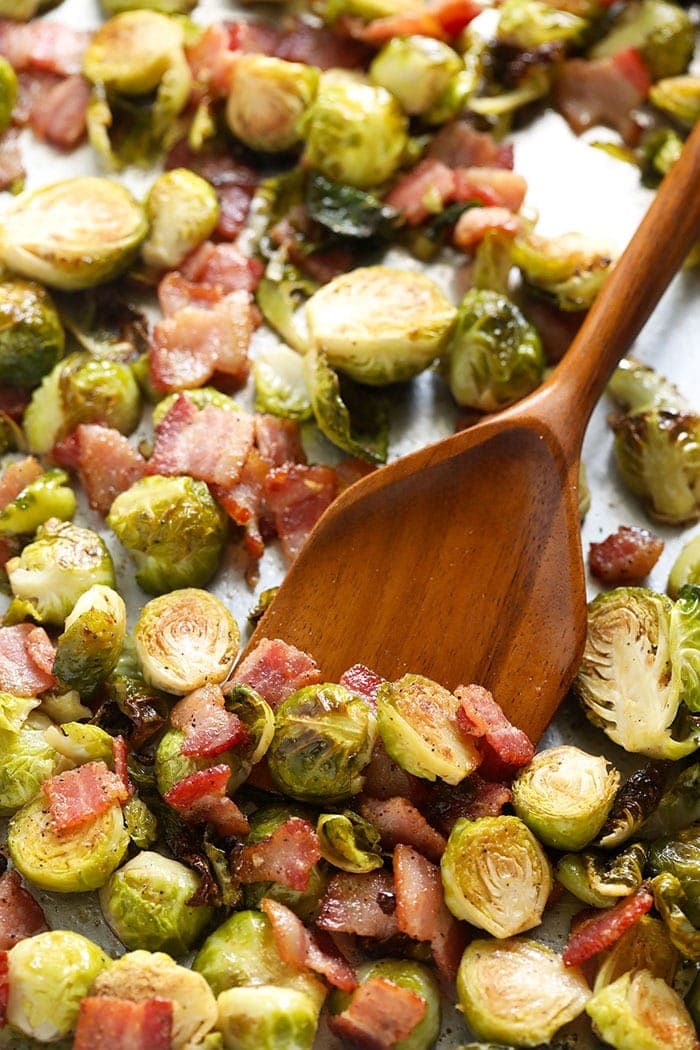 Roasted Brussels sprouts are hands down the best way to make this mini cabbage-like veggie. And, when you pair them with bacon, you can't go wrong! We're so excited to serve this recipe next to our amazing Honeysuckle White Sous Vide Turkey this holiday season.
So? Let's get started by first…roasting your spouts!
How to Roast Brussels Sprouts
Step 1: Wash
Do Brussels sprouts need to be washed, you ask? Always wash your Brussels sprouts before prepping and cooking with them. Since they are a vegetable, there's a good chance they'll have dirt on them (this is natural), but just take some time to do a little scrubbing and you're good to go!
Step 2: Trim & Cut
Next, it's time to trim the ends off of your Brussels sprouts and slice them in half. Often times, the ends of your Brussels can look dry and sometimes have dirt on them, so it's a good idea to give them a fresh slice.
How do you cut roasted Brussels sprouts? Slice your Brussels sprouts hotdog style, in half. We find that Brussels sprouts roast better sliced in half or fourths compared to whole. At least, we prefer them a little crispy and it's easier to achieve this if they are sliced!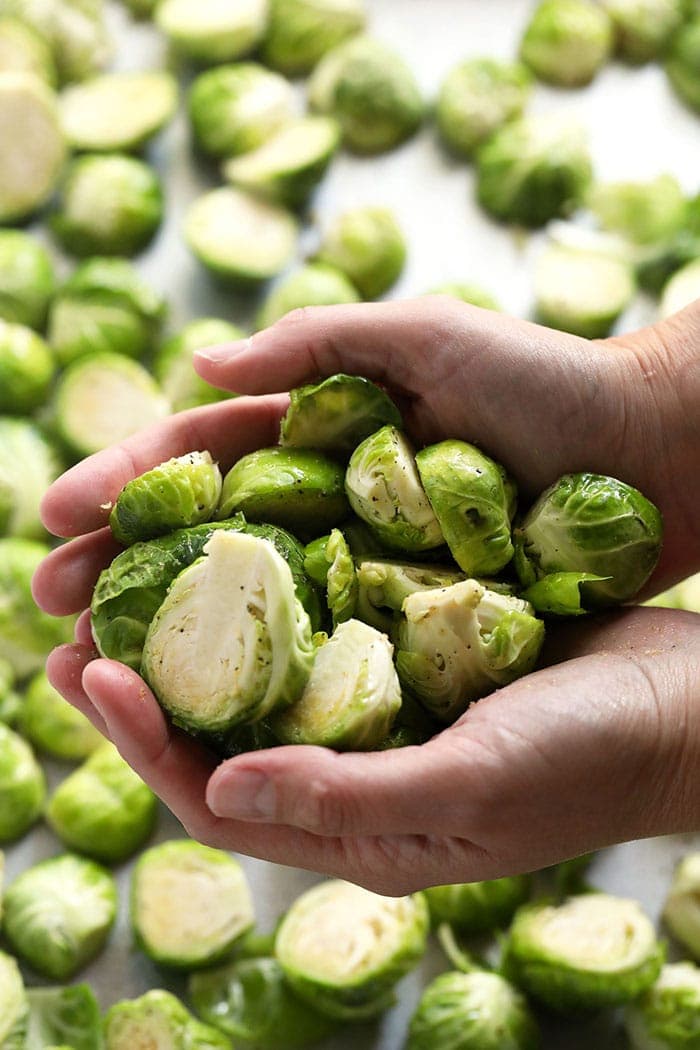 Step 3: Oil + Season
We're keeping the flavors simple for this roasted Brussels sprouts and bacon recipe because the bacon has such an amazing flavor and you don't want to overdo it.
Place your sliced Brussels sprouts on a baking sheet and generously drizzle with olive oil and toss. This will help them get really nice and crispy.
Next, season with salt, pepper, and garlic powder and toss again, making sure everything is coated in oil and spices.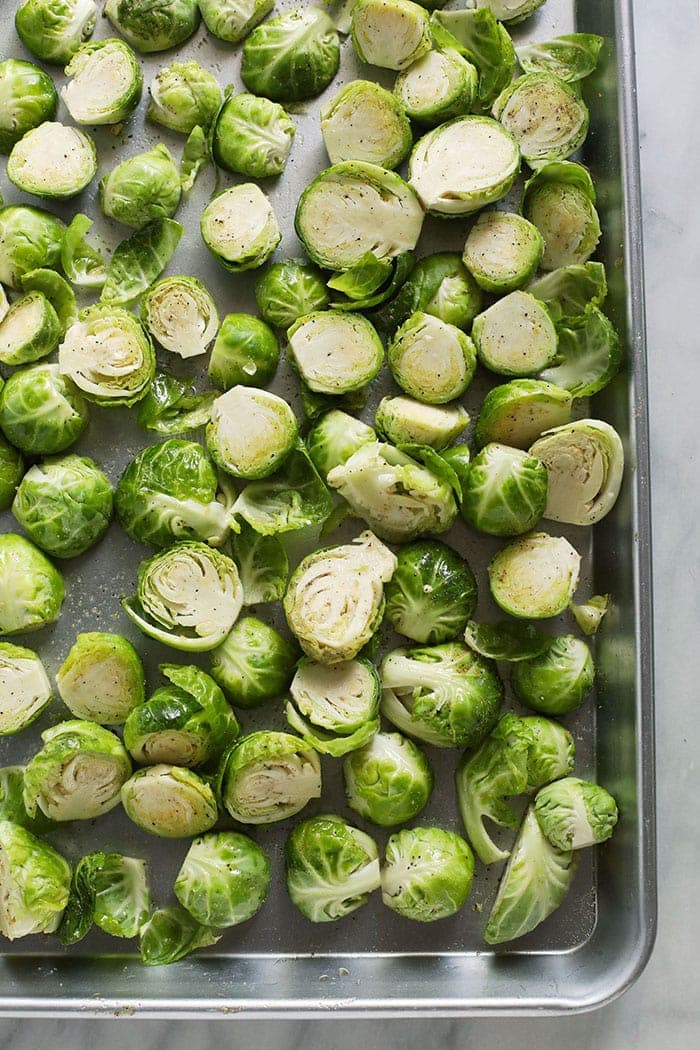 Step 4: Roast
Roast Brussels sprouts at 400ºF for around 30 minutes. Make sure to remove them from the oven and toss them halfway. This will ensure even cooking.
Pro tip: depending on your oven, it may take a little longer or a little less time to get them nice and crispy. Just make sure you have your eye on them!
Multitask + Perfect Bacon
One thing we love doing while cooking is multi-tasking! While your Brussels are roasting, it's time to fry up some BACON!
This recipe calls for maple bacon which will add a little sweetness to this side dish. If you can't find maple bacon, normal bacon works too!
Medium to Thick-Cut
We recommend buying a medium to thick-cut bacon because the texture is so much better than thin bacon. Often times thin bacon gets crunchy, and we're going for a chewy texture here.
How to Cook Bacon
You can really cook your bacon however you want to. We have an awesome tutorial for how to bake bacon in the oven, but if you're short on time and want to multitask while your Brussels are cooking, you can easily pan-fry them in no time!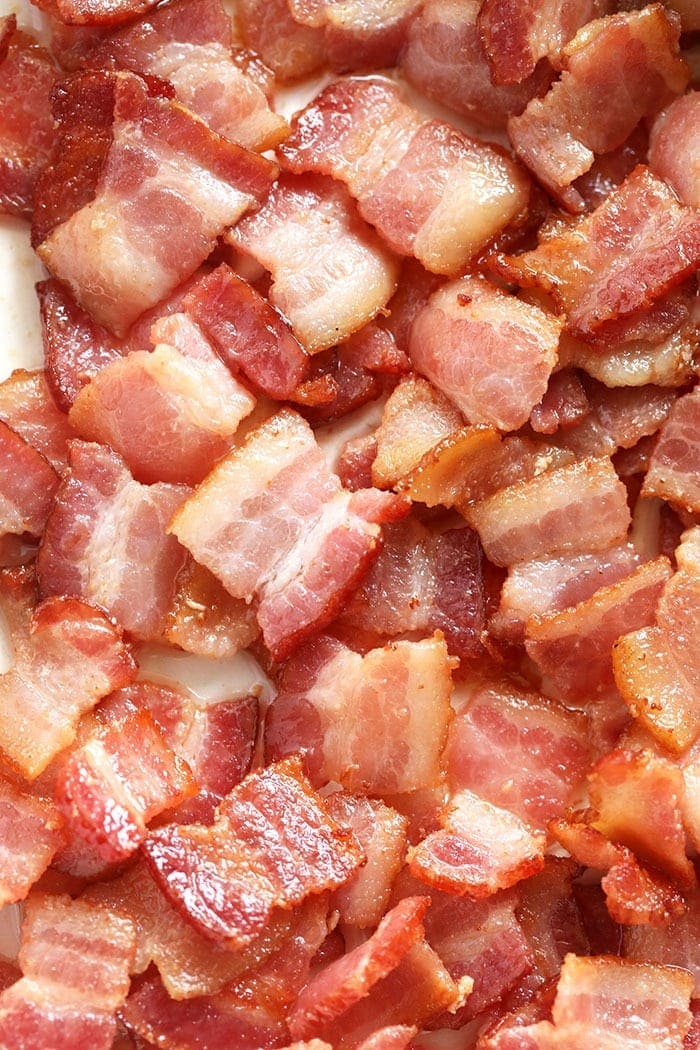 Are roasted Brussels Sprouts good for you?
Roasted Brussels sprouts are extremely healthy because they're high in fiber and packed with vitamin C and vitamin K. Just make sure you roast them in a heart-healthy oil such as olive or coconut oil.
What should I serve with Brussels sprouts?
Roasted Brussels sprouts are an excellent holiday side dish. This recipe would pair amazingly with our Honey Suckle White Sous Vide Turkey recipe and Roasted Honey Balsamic Carrots.

Honeysuckle White Bone-In Turkey Breast
Honeysuckle White bone-in turkey breasts
are perfect for any small holiday gathering or an everyday meal – whether a Friendsgiving get-together or a delicious, healthy dinner.
Each Honeysuckle White bone-in fresh or frozen turkey breast is raised by family farmers without growth-promoting antibiotics and comes pre-brined for the perfect moist cooked turkey every single time. Learn more about Honeysuckle White bone-in breasts here.
More Brussels Sprouts Recipes
Recipe
Roasted Brussels Sprouts with Bacon
Roasted Brussels Sprouts with Bacon – the most delicious holiday side you'll ever sink your teeth in! This recipe is made with just a few simple ingredients and in less than 30 minutes!
Prep Time:

15 minutes

Cook Time:

30 minutes

Total Time:

45 minutes
Ingredients
Brussels Sprouts
8 cup

s brussels sprouts, halved

3 tablespoon

s olive oil

2 teaspoon

garlic powder

1/4 teaspoon

salt

1/4 teaspoon

pepper
Bacon
1

lb. thick-cut bacon, sliced into inch-long chunks

1 tablespoon

maple syrup
Instructions
First, preheat oven to 400ºF.
Next, prepare brussels sprouts by washing them to remove any excess dirt. Then, pat dry.
Slice the ends off of each brussels sprout and then cut them in half, hotdog wise.
Place them onto a large baking sheet.
Drizzle with a generous amount of olive oil and season with salt, pepper, and garlic powder.
Toss, so that the brussels sprouts are evenly coated.
Roast brussels sprouts at 400ºF for 15 minutes. Then, remove and toss.
Roast for another 10-15 minutes or until the outsides begin to brown.
While the brussels sprouts are roasting, prepare bacon.
Begin by slicing 1 lb. of bacon into 1-inch chunks. Using a pair of scissors works really well for this.
Then, place the bacon into a large pan and heat over medium/high heat.
Cook bacon for around 8-10 minutes, or until it is fully cooked, but not crunchy.
Immediately drain excess grease from the bacon and then add maple syrup and mix to combine.
Once the brussels sprouts are done roasting, remove from oven. Add bacon to brussels sprouts and toss.
Nutrition
Serving Size:

1/8

Calories:

416

Sugar:

4

Fat:

34

Carbohydrates:

10

Fiber:

3

Protein:

23
Similar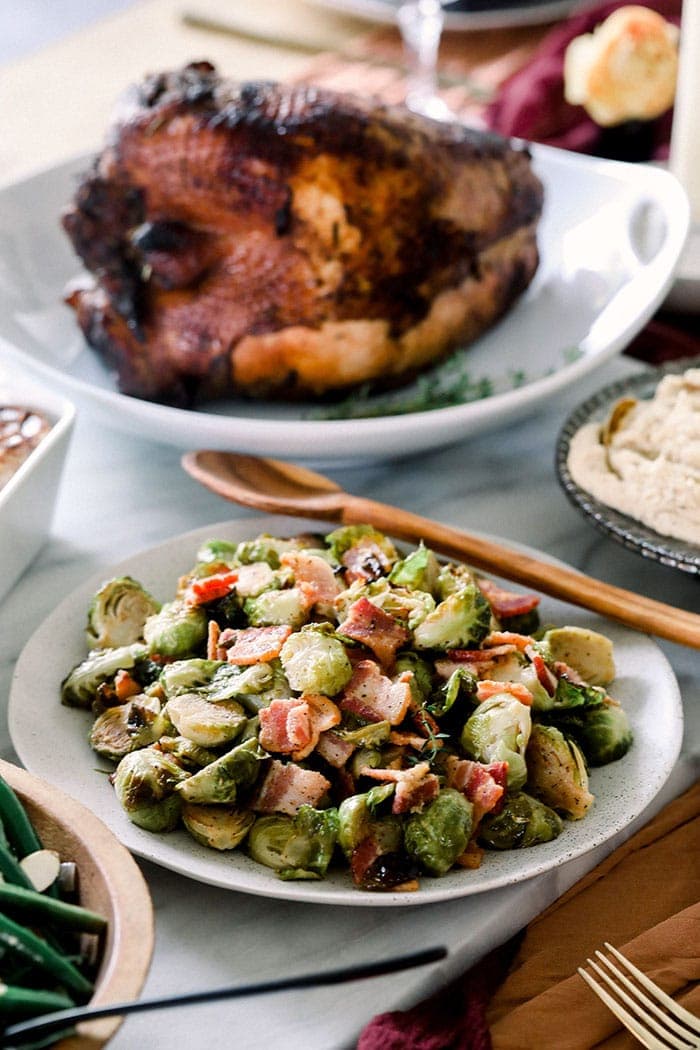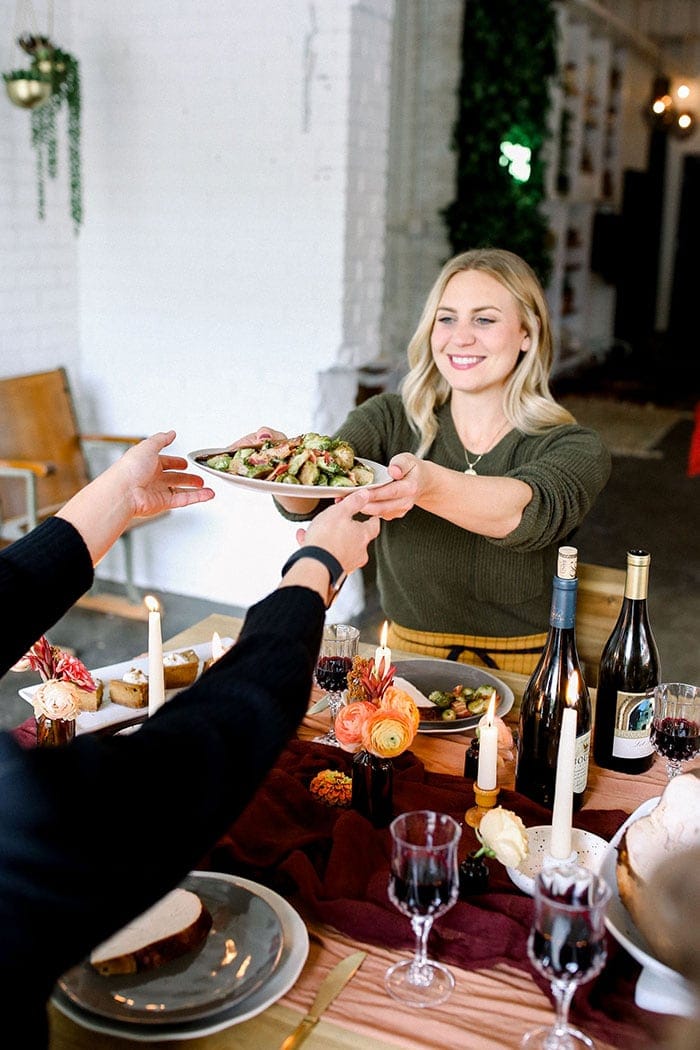 This post is sponsored by Honeysuckle White. I was compensated and all opinions are my own.