Make these Balsamic Sea Salt Roasted Brussels Sprouts this holiday season for the most delicious vegan and paleo side that everyone will gobble up!
Yayyyyyy for November round-up post! I love partnering with my blogger girlfriends becuase they constantly remind me 1. how awesome my friends are and 2. how much I love my job. Who get's to say that they made Brussels sprouts and took photos of them all in a day's work? Huzzah!
This month we are focusing on HOLIDAY. I get the heebie jeebies just thinking about the fact that it's November. Before I tell you my ridiculous Brussels sprouts story, let's check out what my ladies made…
---
---
This healthy, low-carb cauliflower rice stuffing will convince your Thanksgiving guests to jump on board the cauliflower rice train, while secretly getting them to eat more veggies! Plus it's ready in under 20 minutes.
This Salad has all the ingredients you'll want in a Fall dish! Packed with chopped kale, roasted squash, pomegranate seeds, toasted pecans and topped with a super easy & delicious Maple Balsamic for the absolute perfect Thanksgiving salad!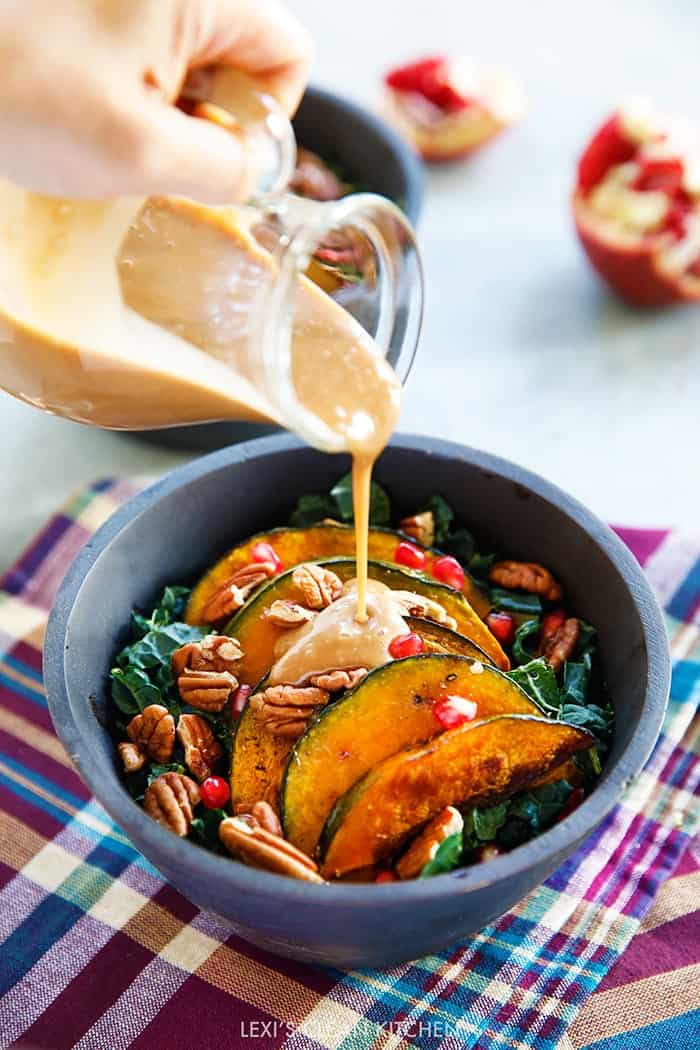 This simple cranberry sauce is made with just 5 ingredients. Make it in the slow cooker and save the stove-top space for all the other Thanksgiving sides.

Green Beans with Caramelized Shallots and Almonds from Eating Bird Food
Add some green to your holiday table with this flavorful recipe for tender crisp green beans tossed with caramelized shallots, toasted almonds and fresh parsley.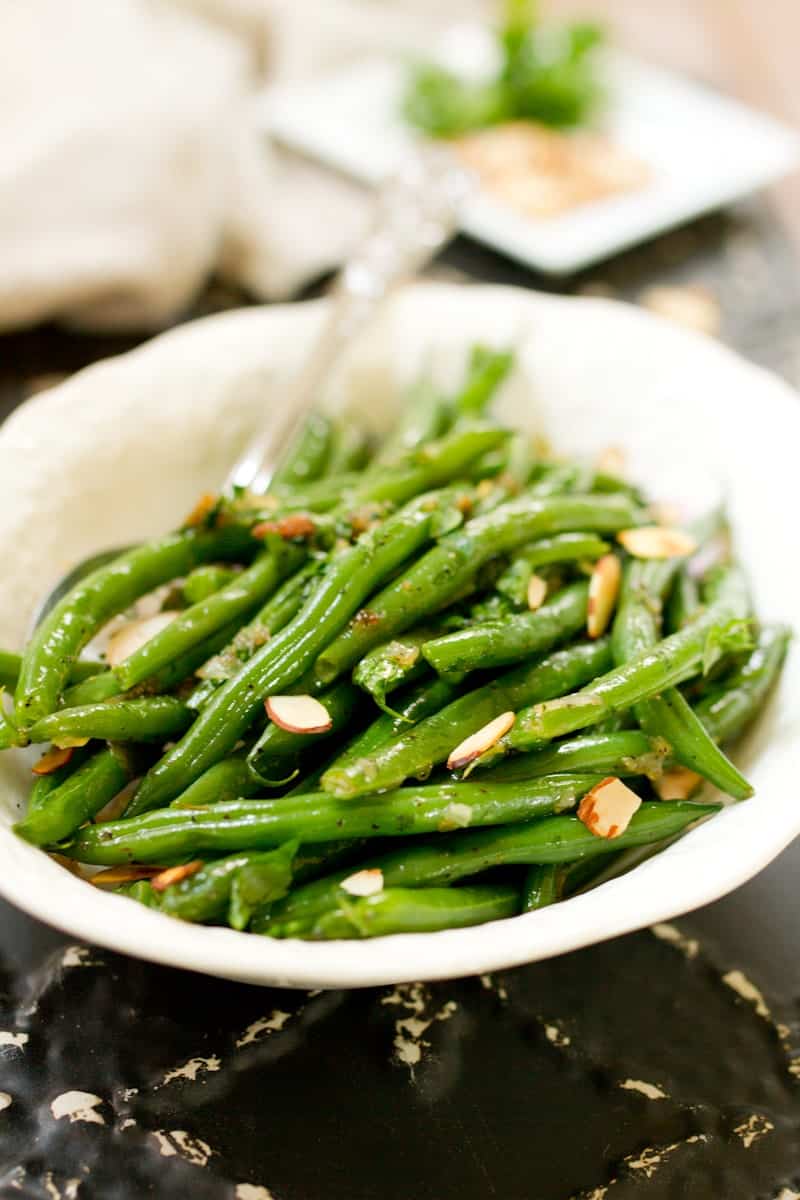 These easy scalloped sweet potatoes are SO creamy and flavorful, you'll have a hard time believing they're secretly healthy and paleo and vegan friendly!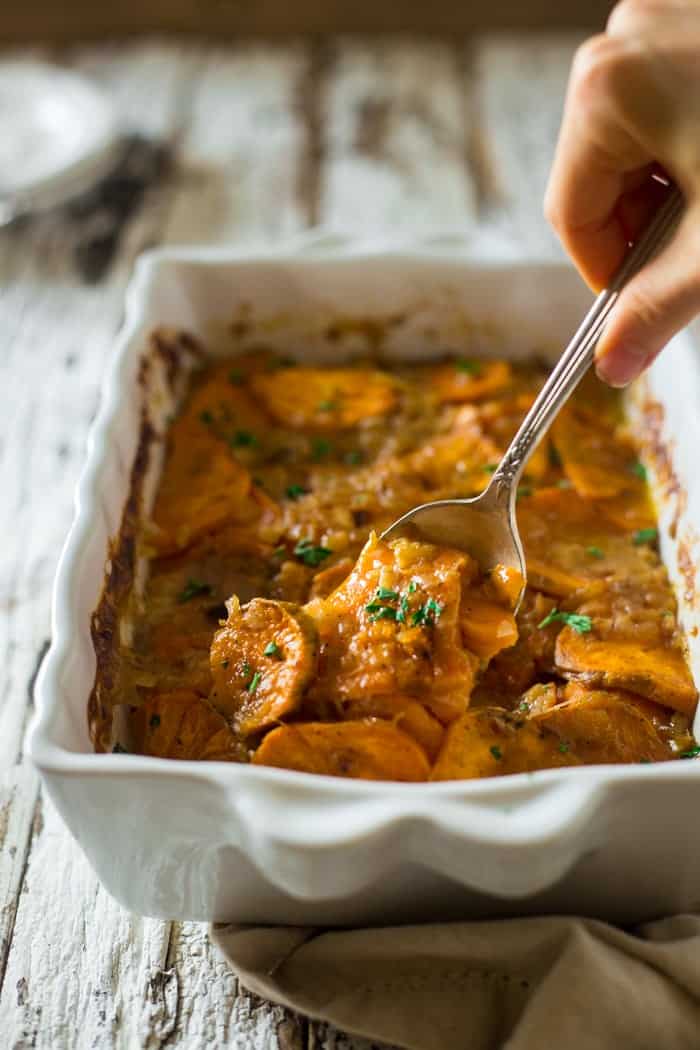 Did you know…I didn't eat my first Brussels sprout until college AND I thought they sucked. At the time, my sister and I were really into Tina's blog and she ate Brussels like they were going out of style. Naturally, we wanted to be just like her and eat Brussels sprouts, too. So what did we do? Bought frozen Brussels sprouts and steamed them. YUCK. We didn't even season them. YUCK again. It wasn't until a few years later, when I ate a proper Brussels sprout recipe at a restaurant really fell in love with them.
In my opinion, the best ways to cook Brussels are either on the grill or in the oven. Never again will I go the steam route 😛 I always start off with copious amounts of EVOO and sea salt and then go from there. In this recipe, I added two of my favorite flavors —> balsamic and garlic.
If you think this recipe looks too "hard" to make. You cray. Literally all you need to do are slice the Brussels in half, drizzle with EVOO and then season away.
Then, for the hardest part, you stick them in the oven and let them bake while you watch 3/4 of an episode of The Walking Dead.
Balsamic is SO GOOD roasted because as it cooks, it caramelizes, making it sweet and delicious.
WAHHHHHH I wish I had these in my oven RIGHT MEOW.
Balsamic Sea Salt Roasted Brussels Sprouts
Prep Time:

5 mins

Cook Time:

25 mins

Total Time:

30 minutes

Author:
Yield:

4 servings
Ingredients
1 pound brussels sprouts, halved
2-3 tablespoons EVOO
1 tablespoon minced garlic
2 tablespoons aged balsamic vinegar
1/2 teaspoon sea salt
Instructions
First, preheat oven to 375ºF.
Then, prep Brussels sprouts by washing and patting dry. Slice off the end and then slice in half. Place on a large baking sheet.
Drizzle with a generous amount of EVOO and sprinkle on minced garlic, balsamic vinegar, and sea salt.
Using your hands, toss Brussels to make sure that everything is evenly coated and spiced.
Place in oven for 23-27 minutes.