Meal prep like a vegetarian boss and make these Roasted Brussels Sprout Polenta Bowls fully equipped with caramelized onions and kale!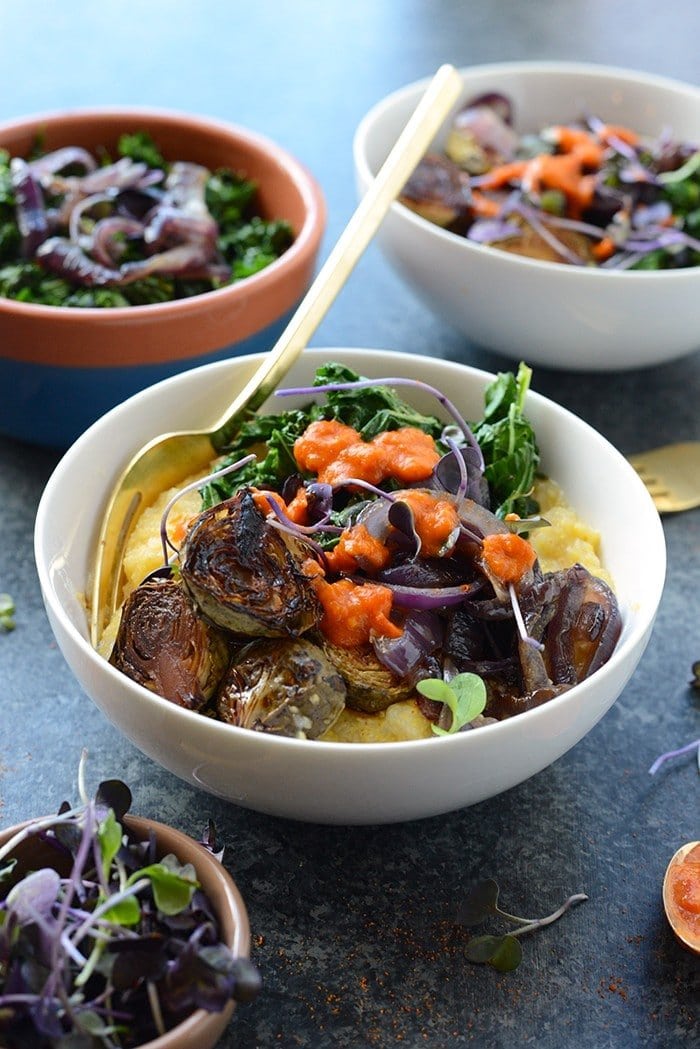 How is it already the week of Thanksgiving? Mark and I got into Milwaukee last night and will be in town until tomorrow night. Then, we're heading south to my parent's house in the Chicago-land area for Thanksgiving…WOOT. On top of Thanksgiving itself, we've got a really fun long weekend planned, which includes:
Running a Turkey Trot the morning of Thanksgiving
Going to STOMP on Broadway in DT Chicago
Going to the Gopher/Badger game in Madison
Oh, and I get to see Ambitious Kitchen for a couple of hours. YASSSSS plz. So follow along on the FitFoodieFinds Snapchat to get insider on what I'm up to! It's gonna be a fun one.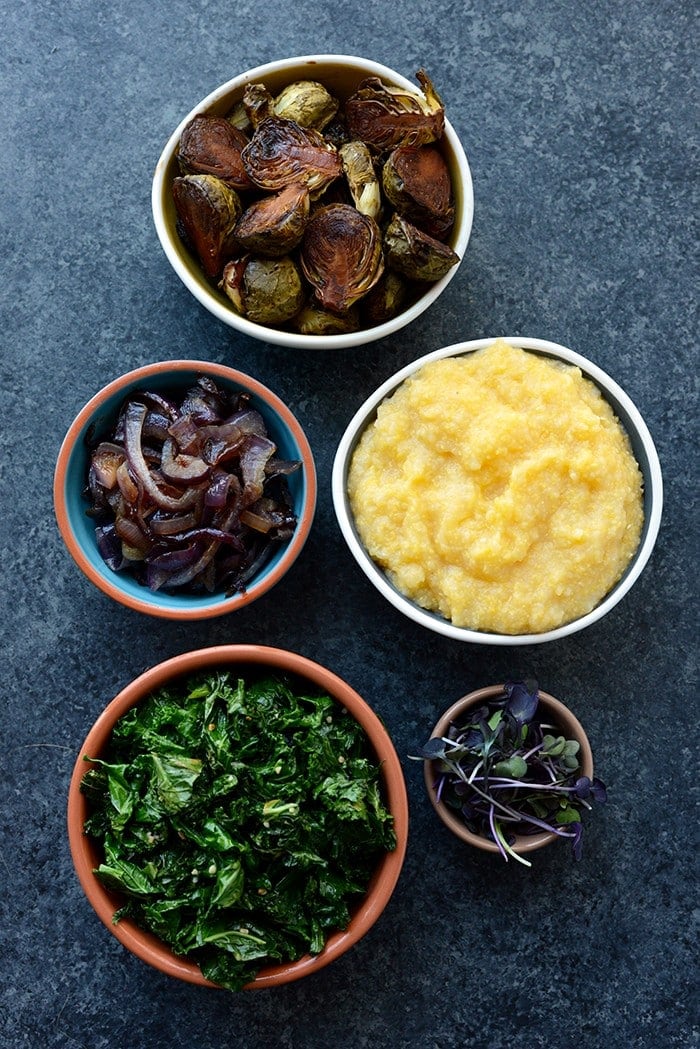 Otay recipe time. Get this- this is the first time I've actually ever made polenta in my own kitchen. It's taken me a whole 26 years. I'm not sure why, but I've always been afraid of polenta…even though it's super simple to make and cook with! All you need is a tube of polenta (I prefer Ancient Harvest
) and some chicken/vegetable broth! Slowly add broth to your polenta over a medium-heat burner until creamy.
IT'S THAT EASY.
I've been on a mission to eat vegetarian once a week…not for any other reason but to EAT MORE VEGGIES. If I take away my animal protein, then it's easier to force myself to eat more veggies. Sad but true. To this day, I still have a hard time eating enough vegetables to meet the quota. Dats why I LOVE BOWLS. If it's prepped…I will eat!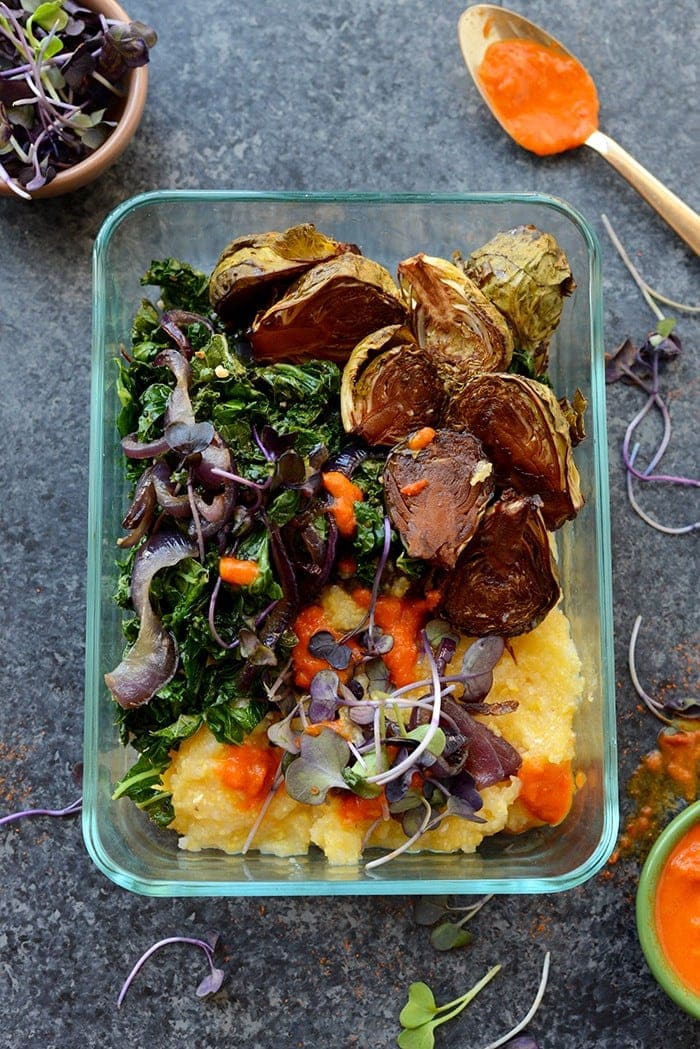 So these polenta bowls are made with:
If you've never tried harissa sauce…GET ON THAT. It is LYFE. My favorite brand? Stonewall Kitchen
.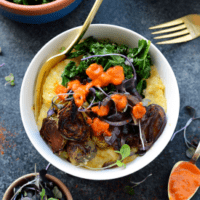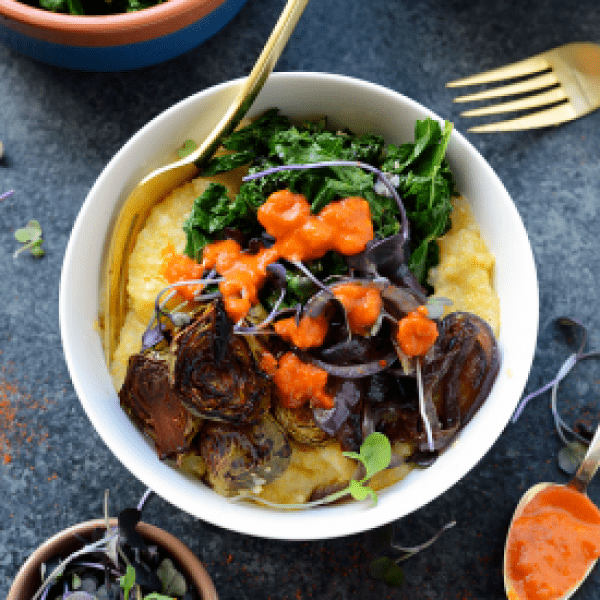 Roasted Brussels Sprout Polenta Bowl
This roasted Brussels Sprout and Polenta Bowl is truly fall in a bowl. It's vegetarian and so delicious.
Ingredients
For the Brussels Sprouts
1

lb.

brussels sprouts

halved

2-3

tablespoons

olive oil

1

tablespoon

minced garlic

2

tablespoons

aged balsamic vinegar

½

teaspoon

sea salt
For the Caramelized Onions
1

large red onion

finely sliced

3

tablespoons

of olive oil

salt

to taste
Toppings
Micro greens

harissa sauce
Instructions
For the Caramelized Onions
Heat 3 tablespoons of olive oil in a large frying pan over low/medium heat.

Add sliced red onion to the pan. Let cook for 6-8 minutes (stirring occasionally) over low/medium heat until onions are translucent.

Season with salt to taste and set aside.
For the Kale
In the same frying pan as the onions, heat 3 tablespoons of olive oil. Add kale.

Season with garlic powder and salt and sauté for 2 minutes. Just long enough to wilt the kale, before it gets soggy. Set aside.
For the Polenta
Open one tube of polenta, cut it into chunks, and place into a medium pot.Turn to medium/high heat.

Add 1/2 cup of chicken broth at a time to the polenta and mix continuously until creamy (about 1-2 cups in total, depending on how creamy you like your polenta). Once creamy, remove from heat and set aside.
Nutrition facts
Calories:
382
kcal
Carbohydrates:
34
g
Protein:
7
g
Fat:
24
g
Fiber:
6
g
Sugar:
4
g

I hope you all have THE BEST Thanksgiving ever! If you make any FFF recipes this week…don't forget to tag @FitFoodieFinds and #FitFoodieFinds! I love seeing your creations.