Say hello to the most delicious healthy bowl recipe you'll ever eat! This seared ahi tuna poke bowl is fresh, nutritious, and easy to make!
Have you ever made seared ahi tuna? Sometimes fish can be intimidating. Check out how to make seared ahi tuna here. You'll see how easy it is to make!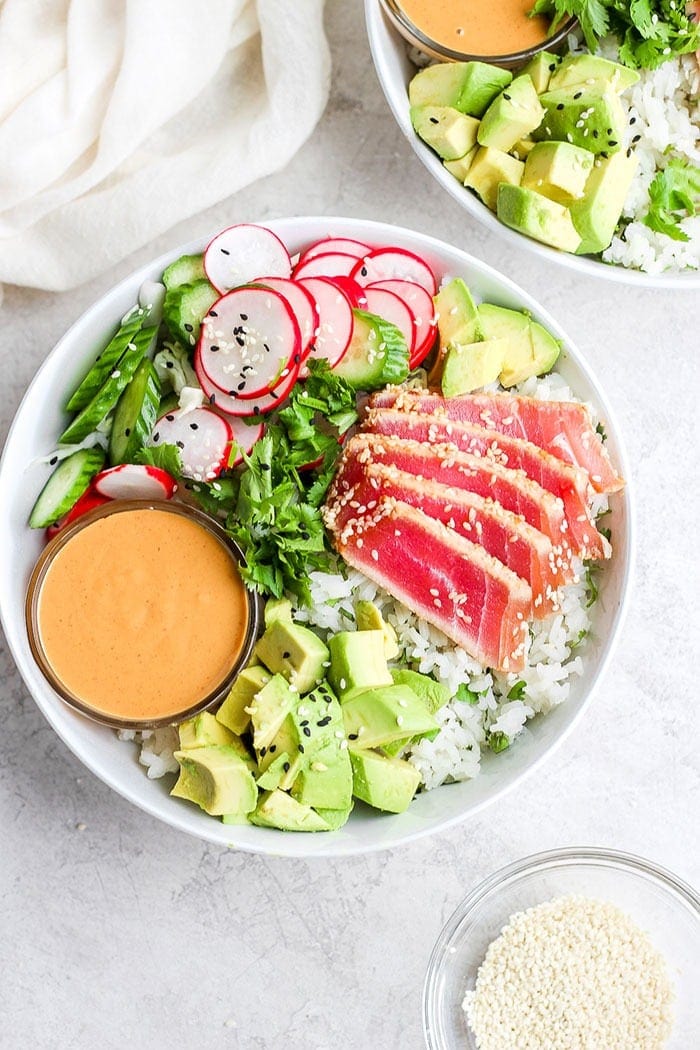 Keeping it FRESH
I have loved sushi since the first day I tasted it. I still remember where and when! It was my sophomore year of high school at a delicious sushi restaurant called Nami (which is no longer there).
I remember loving the texture, taste, and (most of all) the whole experience of eating sushi. It was a long meal full of conversation. I have to admit, the only thing I couldn't get behind was the sea urchin. But hey, I still call that a win!
Since then, I crave sushi at least once a week. One thing I've actually NEVER done is made my own sushi at home. Yes, it makes me a little nervous, but not nervous enough to not do it. I see homemade sushi in the near future!
I thought a good first step towards homemade sushi would be to try to make seared ahi tuna first. Guess what? IT WORKED and it was so easy! Check out our tutorial on how to make seared ahi tuna.
If you're like me, eating a whole tuna steak in one sitting seems like a lot. I love love rare ahi tuna, but love eating it with something. Enter——> ahi poke bowls. I love the combination of poke, hot rice, and cold vinegary vegetables. It may be my choice for my last meal. #SOGOOD
Poke Bowl Tips + Tricks
Before we go through a step by step on how to make a seared ahi tuna poke bowl, let's go over some tips and tricks so this meal is easy AND enjoyable to make!
What is poke? Poke is technically diced raw fish and is native to Hawaiian cuisine. You can eat it alone, as an appetizer, or as part of a main dish.
What is poke sauce made of? A traditional poke sauce is made out of a combination of sea salt, soy sauce, sesame oil, and chili pepper. It all depends on where you are and what you like!
Grains. The million-dollar question when people are preparing poke is Is poke rice hot or cold? Traditionally the poke rice is served hot and the poke is served cold. However, you can eat your poke with whatever grain you'd like! Check out some other options below!
Quinoa
Brown Rice
Cauliflower Rice
Forbidden Rice
What do you serve with poke? Usually, poke is served with hot rice and seaweed. Today poke is everywhere and often served in a poke bowl! Feel free to serve your poke anyway you'd like! Make it an appetizer at your next party or serve these poke bowls for the main dish. The options are endless!
What kind of fish do I use with poke? Yellowtail is usually used for traditional Hawaiian poke. However, ahi tuna and salmon are some of the most commonly used types of fish!
Is it safe to eat poke? Raw fish can be scary sometimes. Our recommendation is to buy sushi-grade fish to prepare your ahi tuna bowls! If you aren't a fan of raw fish, cook it a little more!
How to Make an Ahi Poke Bowl
Step 1 
Marinate the ahi tuna. We spiced up the traditional poke marinade by adding ginger and chili sauce to the traditional soy sauce and sesame oil mixture!
Being by adding the soy sauce, red chili sauce, grated ginger, lime juice, sesame seeds, and olive oil to a large bowl. Whish the sauce until everything is combined.
Next, add ahi tuna to the bowl and cover. Place in the fridge for at least 30 minutes to marinate!
Here's a tip- The longer you marinate the fish, the more flavor it will have! Sometimes we will prepare the marinade the night before we plan to serve the ahi tuna!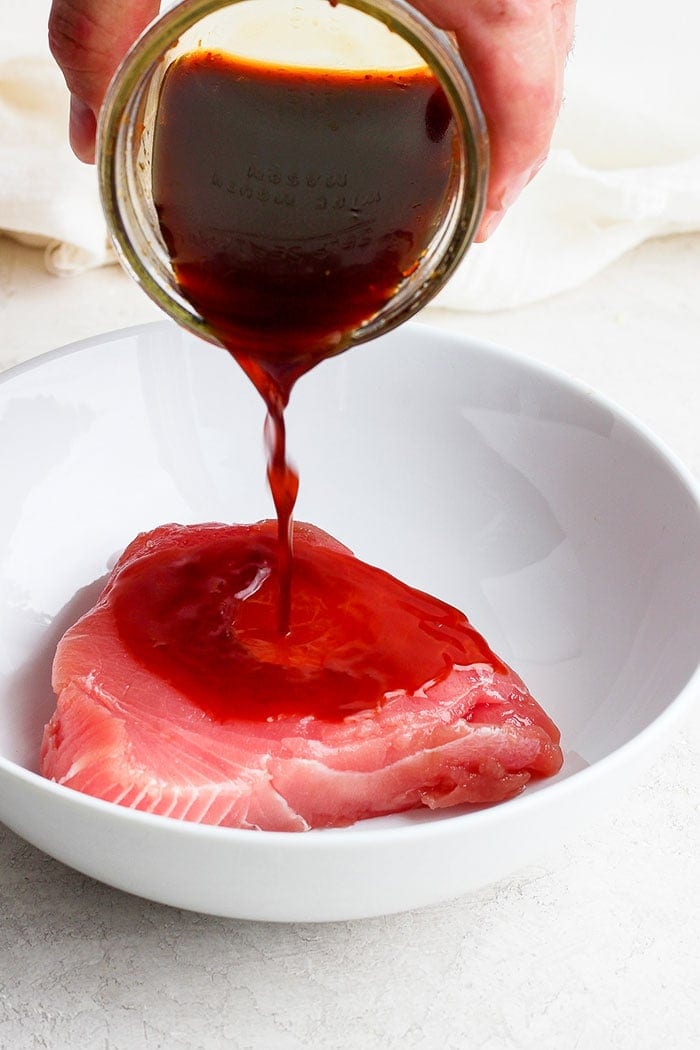 Step 2
Choose + prepare your veggies. You can't have a poke bowl without veggies! We love tossing vegetables for any poke bowl with a delicious vinegary dressing! Feel free to use whatever vegetables and dressing you'd like!
We decided on cucumbers, cabbage, and radishes for the salad in this ahi poke bowl. All you have to do is toss the vegetables with the lime juice, vinegar, and salt. Store the vegetables in the refrigerator until you are ready to serve the ahi poke bowl.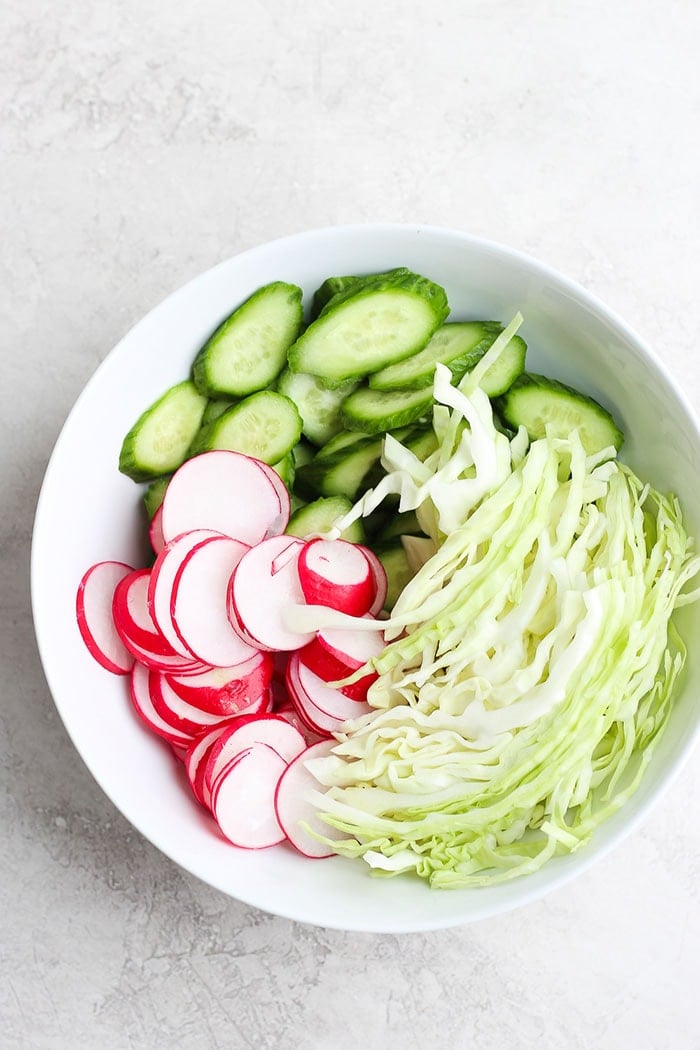 Step 3
Pick your grain.  We love all grains here on Fit Foodie Finds. Our favorite grain to eat with poke is hot white long-grain rice! Feel free to use whatever grain (or not) toots your fancy!
Prepare whenever grain you are using by following the directions on the package! If you are using long grain white rice add 1 cup of white rice, 1.5 cups of water, and a pinch of salt to a saucepan.
Bring water to a boil. Cover and reduce heat until water dissolved (17-20 minutes).
Remove from heat and mix cilantro into the rice. Set aside.
Step 4
Sauce it up. You guys are going to lose it when you make this ahi poke bowl! A little bit goes a long way. Whatever you don't use, feel free to finish off with a spoon (I joke, I joke..but it's seriously that good).
All you have to do is add drippy almond butter, sriracha, soy sauce, water, and lime juice to a mason jar. Cover the jar and shake until all ingredients are combined!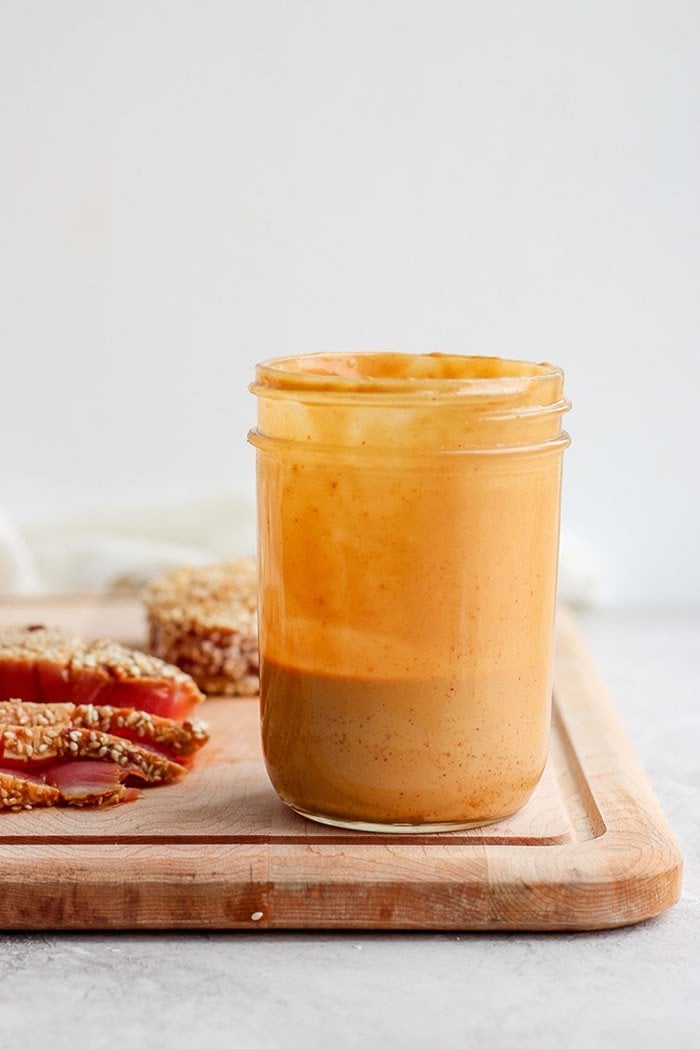 Step 5
Prepare the seared ahi tuna bowls. Evenly distribute rice, ahi tuna, vegetables and dressing to six bowls are meal prep containers. Top each poke bowl with fresh avocado and sesame seeds immediately before serving!
There you have it! An easy, healthy, and fresh meal prep meal that everyone will love!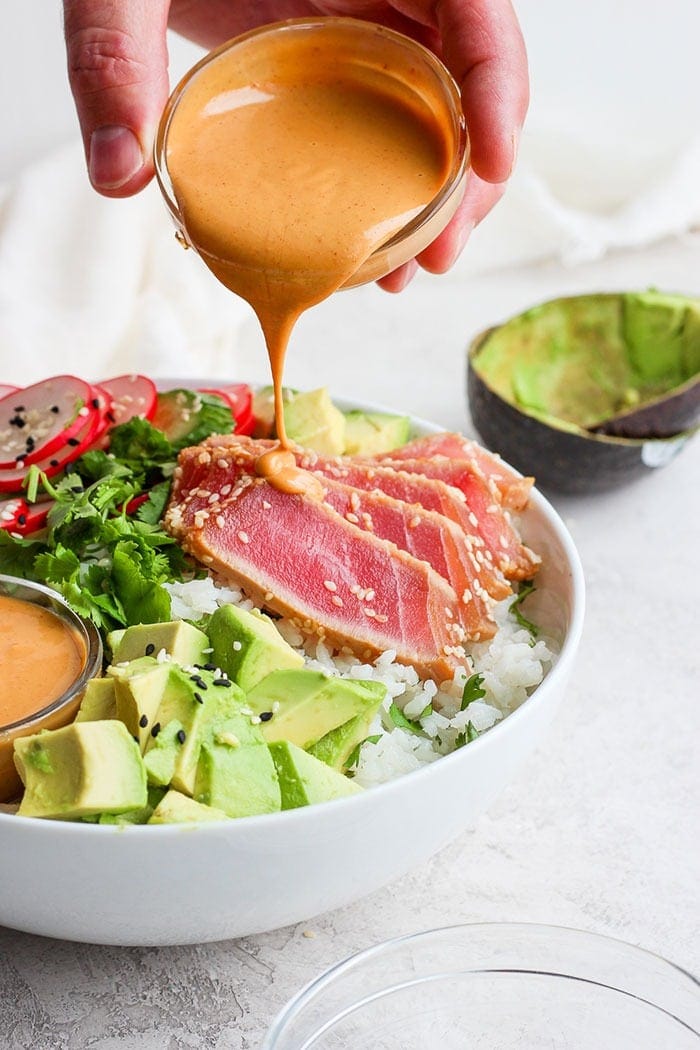 Healthy Meal Prep Recipes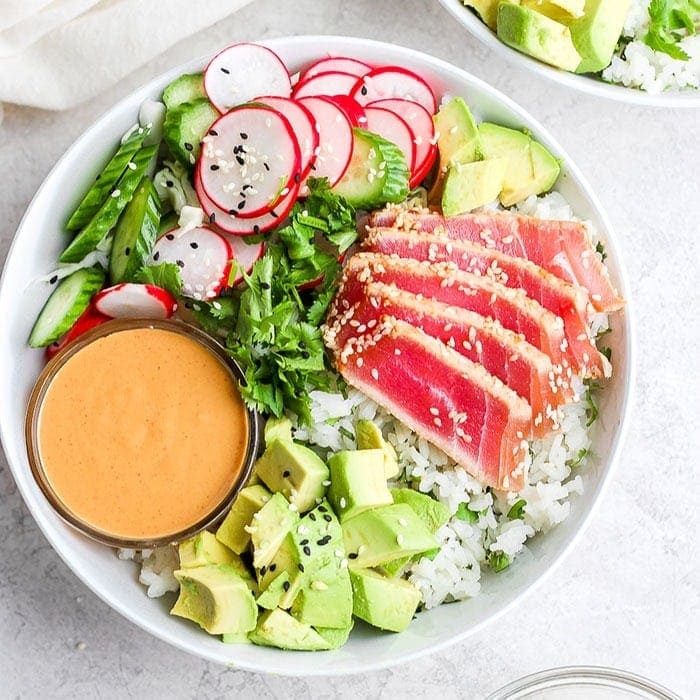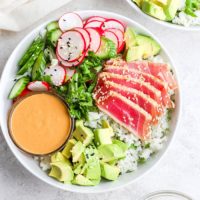 Ahi Poke Bowl
Say hello to the most delicious healthy bowl recipe you'll ever eat! This seared ahi tuna poke bowl is fresh, nutritious, and easy to make!
Prep:
45 minutes
Cook:
30 minutes
Total:
1 hour 15 minutes
Fat
23
Carbs
28
Protein
35
Ingredients
Ahi Tuna
1.5

lbs. Ahi Tuna Steaks (

2

1.5-inch steaks)

1/3 cup

soy sauce

1 teaspoon

red chili sauce

1 teaspoon

fresh grated ginger

1 tablespoon

lime juice

4 tablespoons

sesame seeds

4 tablespoons

olive oil
Cilantro White Rice
1 cup

long-grain white rice

1.5 cups

water*

1/4 cup

chopped fresh cilantro
Salad
I cup sliced cucumbers

1 cup

sliced radishes

1 cup

sliced cabbage

2 tablespoons

apple cider vinegar

2 tablespoons

lime juice

1/4 teaspoon

salt
Poke Bowl Dressing
3 tablespoons

drippy almond butter

1 teaspoon

sriracha

1 tablespoon

soy sauce

1 tablespoon

water

1 tablespoon

lime juice
Poke Bowl
2

large avocados, halved and sliced
Sesame seeds, to taste
Instructions
Ahi Tuna
First, place tuna steaks in a large bowl or a plastic bag.
Make ahi tuna marinade and add soy sauce, chili sauce, grated ginger, and lime juice to a small mason jar. Tighten cover and then shake the jar until all ingredients are combined. Pour mixture over the ahi tuna steaks.
Seal the plastic bag and place the steaks in the fridge and let marinate for at least 30 minutes (the longer the better!).
Remove ahi tuna steaks from the refrigerator and then remove from the marinade. Pour sesame seeds on a plate and coat every part of both tuna steak with sesame seeds.
Heat a large skillet over medium/high heat and 2 tablespoons of olive oil. When the olive oil is fragrant, add one tuna steak to the pan and sear for 30 seconds to 2 minutes on each side.*
Repeat for the second tuna steak.
Let seared tuna steaks rest for 2 minutes and then thinly slice.
Cilantro White Rice
Place white rice and water into a medium saucepan. Turn heat to high and bring to a boil.
Once boiling, reduce heat to low and cover. Let simmer for around 15 minutes or until all water has absorbed.
Remove from heat and let cool for 10 minutes. Add cilantro and mix.
Set aside for later.
Salad
Add all the ingredients for the salad to a large bowl and mix well.
Set aside for later.
Poke Bowl Dressing
Add all ingredients for the dressing to a separate mason jar.
Shake well until all ingredients are combined.
Set aside for later.
Poke Bowls
Now it's time to make 4 poke bowls! Add 1/2 cup cooked white rice to the bottom of each bowl.
Then, add 1/4 of the salad and 1/4 of the sliced seared tuna to each bowl.
Add 1/4 of an avocado to each bowl and then drizzle the almond butter dressing on top of each bowl.
Finish off with a sprinkle of sesame seeds.
Tips & Notes
*Follow directions on your white rice packaging for how much water to use.
*30 seconds for rare, 1 minute for medium rare, and 2 minutes for well done.
Nutrition Facts
Serving Size:
1/6
Calories:
454
Sugar:
5
Fat:
23
Carbohydrates:
28
Fiber:
6
Protein:
35
Category:
Dinner
Method:
Stove top
Cuisine:
Hawaiian
Photos by: The Wooden Skillet