All I really have to say about this recipe is DAYUM. So fresh and so clean. I paired my favorite seared ahi tuna (minus the sesame seeds) with a corn tortilla, homemade guac, and then added some raw fixins' to top them off! It really was a mouthful of deliciousness.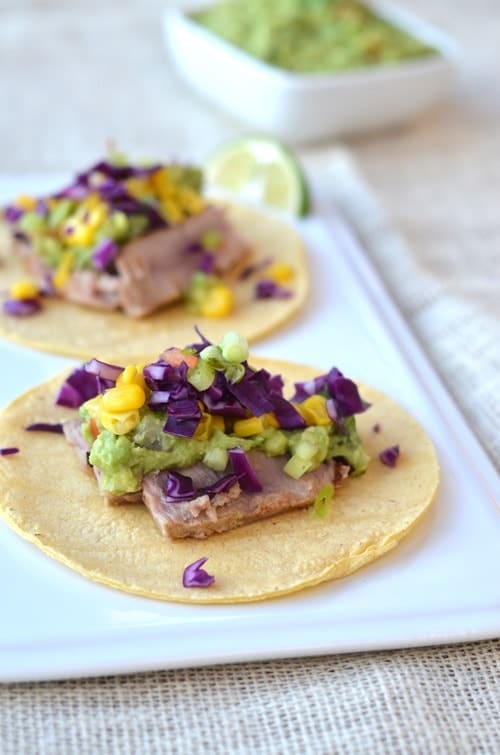 Some days I find myself eating all of the same color vegetable: carrots & sweet potatoes or broccoli & pea pods. Lately, I've been trying extra hard to incorporate multiple colored veggies in my dishes. Last night's dinner was a perfect example!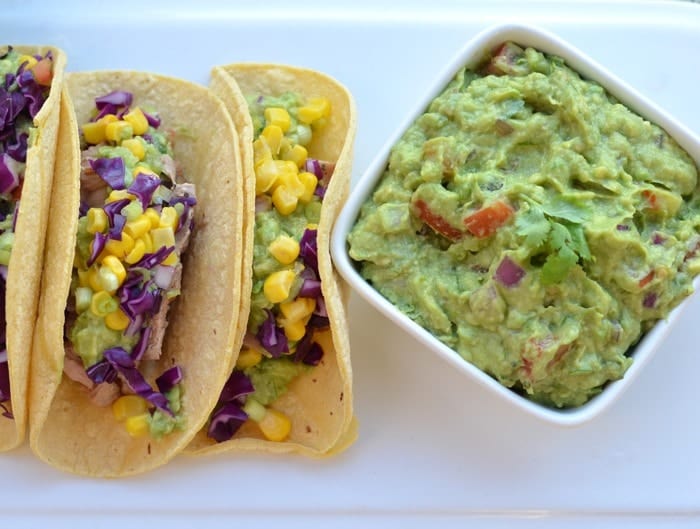 Recipe
Ahi Tuna Tacos
Ingredients
-3 ahi tuna fillets (or ~1 pound)
-8-12 gluten free corn tortillas
-1/2 cup corn kernels
-1/2 cup shredded purple cabbage
-1/3 cup green onions
-1/2 teaspoon salt
-1/4 teaspoon pepper
-2 tablespoons soy sauce
-4 tablespoons Honey Ginger Dressing
-1 tablespoon olive oil
-1/2 cup guacamole
Instructions
1. First preheat your grill to 350 degrees.
2. Next, drizzle olive oil on both sides of each steak and sprinkle on salt and pepper (on each side).
3. Place steaks onto grill and drizzle on about 1 tablespoon of soy sauce and then cook for 3 minutes. I like to use tin foil to make for easy clean up. So- if you choose to use this method, spray nonstick cooking spray onto the foil before placing the tun on top. Then, flip and cook for an additional 3 minutes.
4. Next, assemble your tacos. First make your corn pico. Mix together green onions, shredded purple cabbage, and corn. Season with a pinch of salt and pepper (and even some cilantro).
5. Then, take a corn tortilla and place about an ounce of ahi tuna on top. Sprinkle on some corn pico, about 2 tablespoons of guacamole, and finally a drizzle of honey ginger dressing.
Nutrition
Serving Size:

4

Calories:

307

Sugar:

3

Sodium:

893

Fat:

9

Saturated Fat:

1

Unsaturated Fat:

7

Trans Fat:

0

Carbohydrates:

22

Protein:

37

Cholesterol:

54
Similar
I really enjoyed all of the raw veggies in these tacos. They just taste so fresh and delicious!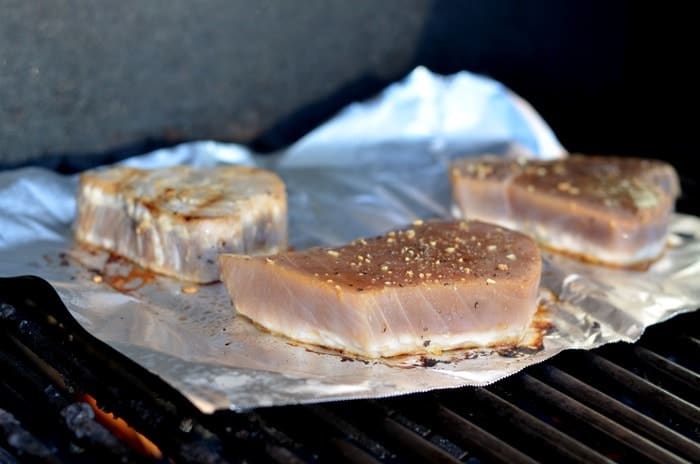 I usually buy pre-shredded purple cabbage because I am lazy. Buying an entire head and chopping it yourself is a MUCH better deal…like $2.00 savings! I got this head of cabbage at Super Target for $1.29.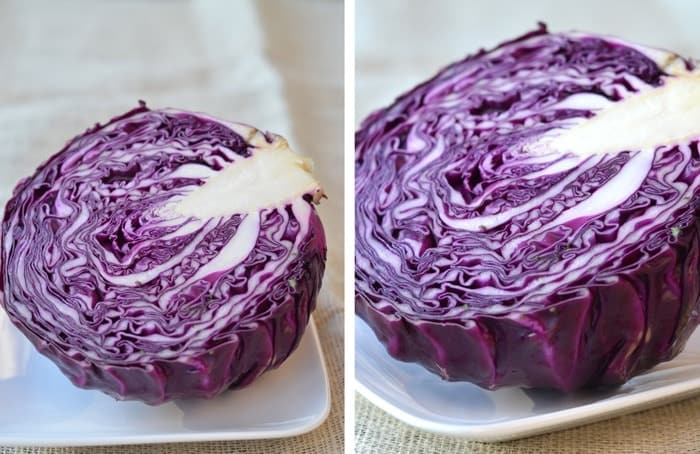 I am so glad I did because it definitely made these photos pop with color!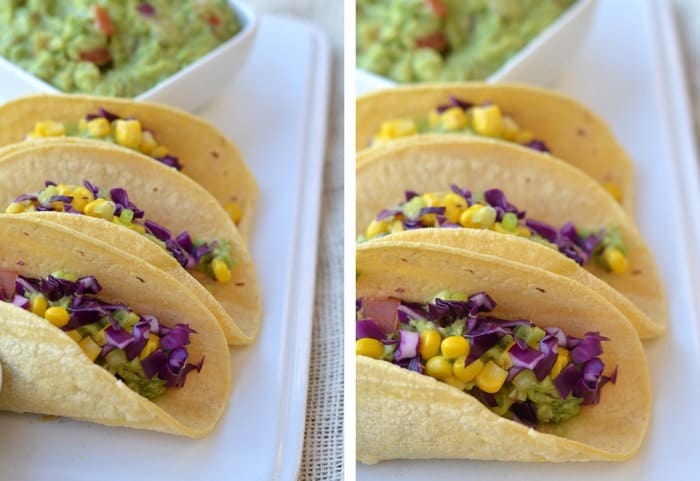 I also picked up some new dressing while at Super Target. I found this stuff in the produce section and it's probably my new favorite dressing! It tastes just like the ginger dressing you get at a Hibachi restaurant for your starter salad.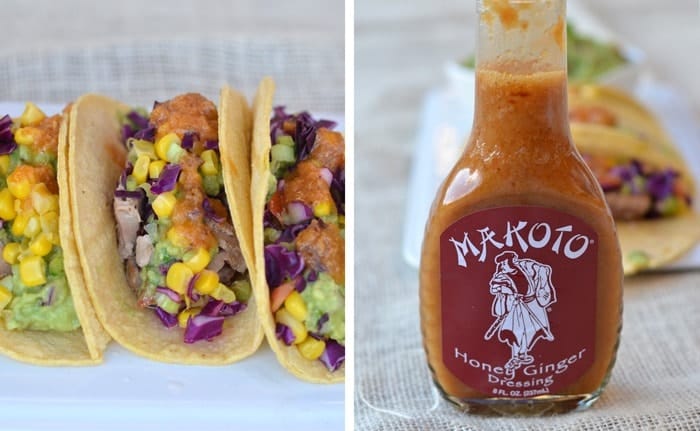 <33333333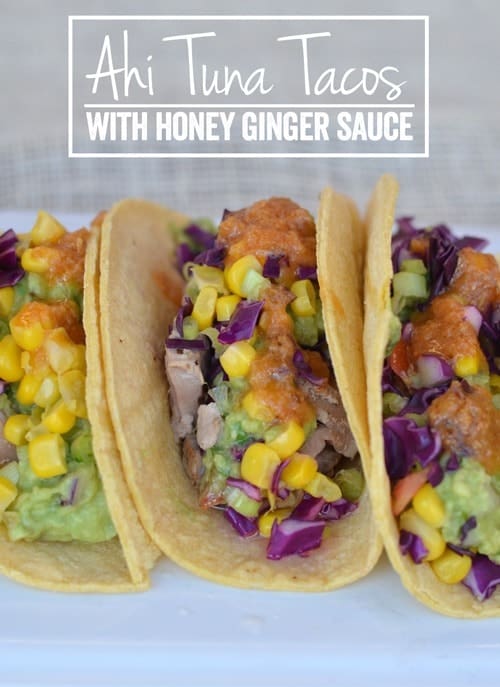 As for the guacamole…mine was fresh. I'll have that recipe coming up later in the week :) It's one of my favorite things to make. Extremely easy and full of so much flavor.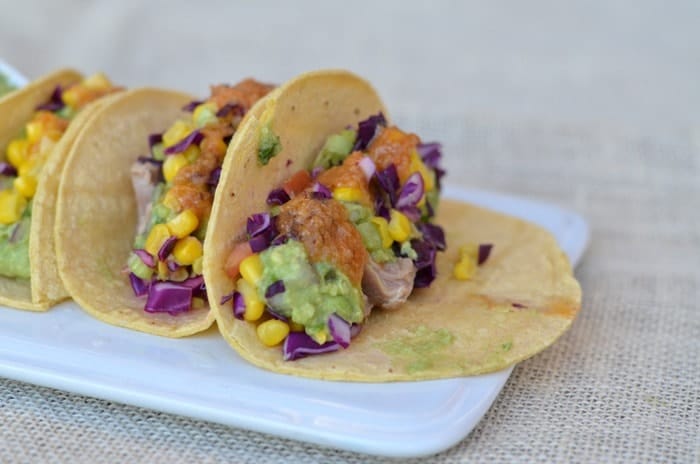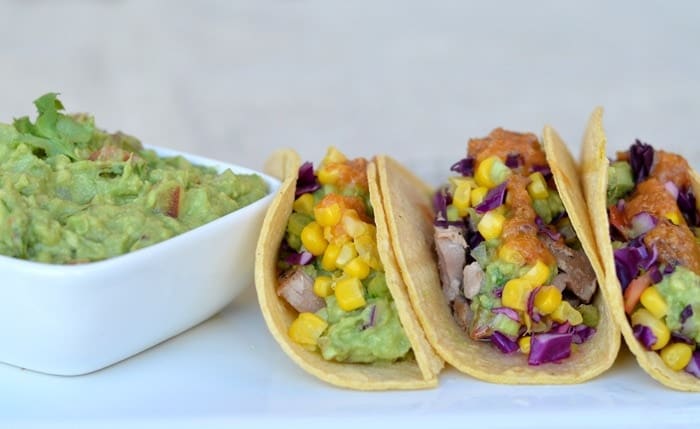 Last but not least, the winner of my KIND Bar giveaway is….STACY MOORE!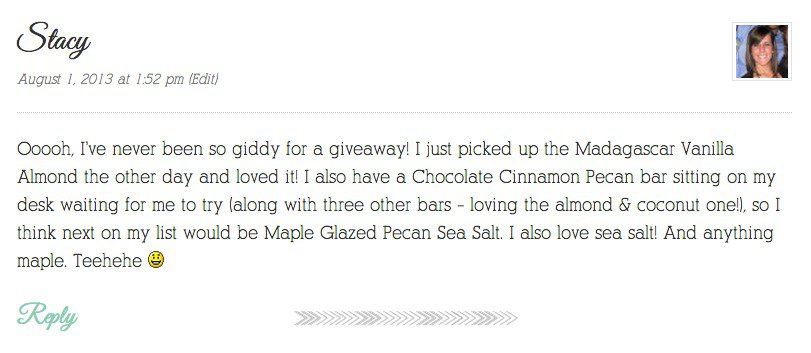 Thank you to all 253 people who entered!