You are going to love this simple seared ahi tuna recipe. It's marinated in soy sauce, ginger, and lime juice and then coated with sesame seeds.
In this post, we'll teach you all about ahi tuna along with tips and tricks in how to make perfectly cooked seared ahi tuna every time.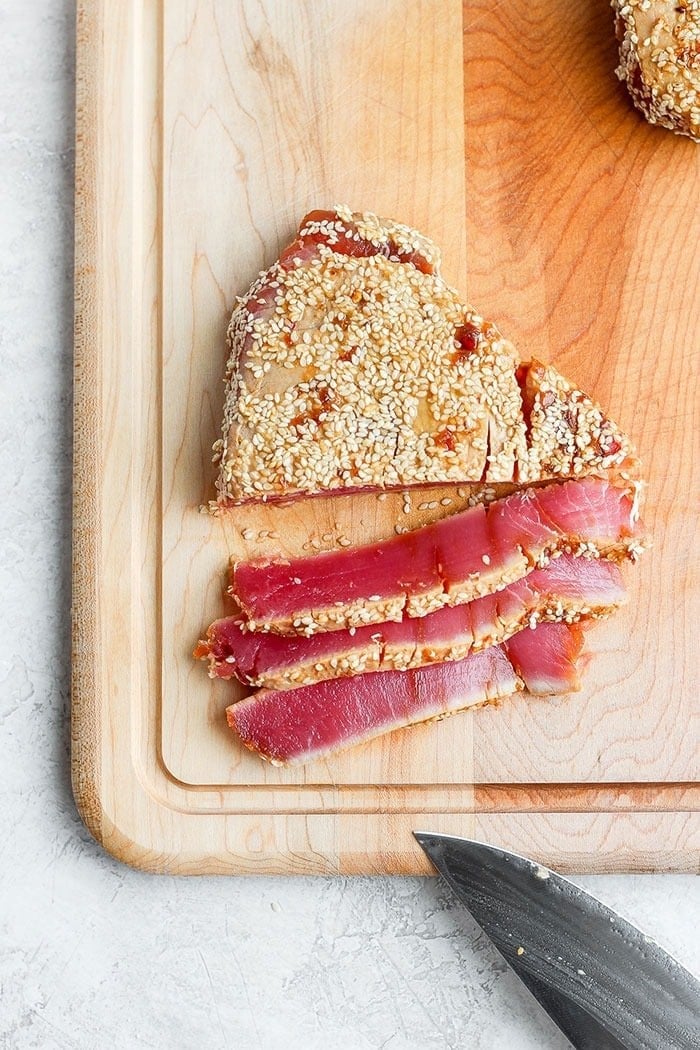 Ahi tuna steaks are a wonderful protein to sear up to eat in tacos or a poke bowl. This seared ahi tuna recipe is made with a delicious marinade and sesame seeds. It's quickly seared on the outside, leaving the inside rare and delicious.
What is ahi tuna?
Ahi tuna AKA yellowfin tuna is a species of tuna found in tropical oceans worldwide. Ahi is a Hawaiian word that refers to a similar species of tuna – bigeye tuna.
Ahi tuna is typically eaten totally raw or seared on just the outside with a rare inside because the texture is so wonderful and it's safe to eat raw.
Is ahi tuna safe to eat raw?

We only recommend eating raw ahi tuna if you purchase sushi/sashimi-grade ahi tuna.
ahi tuna nutrition information
Nutrition based on a 4-oz. serving:
calories: 120
fat: 1g
protein: 28g
carbs: 0g
sugar: 0g
fiber: 0g
Where to Buy Ahi Tuna
We'll mention this a few times in this post, but when consuming raw or rare ahi tuna, we recommend buying a sushi-grade tuna. The best place to find this at your local grocery store is at the butcher where you can speak to someone about the quality of their fish.
If you can't find fresh ahi tuna, it's frozen ahi tuna is widely available and can be found in the frozen section of most grocery stores.
How to Purchase Ahi Tuna
Ahi tuna is typically sold as ahi tuna steaks at most grocery stores or butchers. You can also find frozen ahi tuna steaks, which can be thawed and prepared.
Easy Seared Tuna Steak
When it comes to fish, ahi tuna is queen (and king). There is just something about the flavor and texture of ahi tuna that doesn't even compare to any other fish!
Marinate this ahi tuna for 30 minutes and then the cook time is less than 5 minutes. We're not joking, you'll have delicious and flavorful ahi tuna in no time.
why we love this seared ahi tuna recipe
You can have restaurant style tuna at home!
These ahi tuna steaks are crunchy on the outside and rare on the inside.
There are many different ways to eat this ahi tuna.
Ahi tuna is a great source of protein.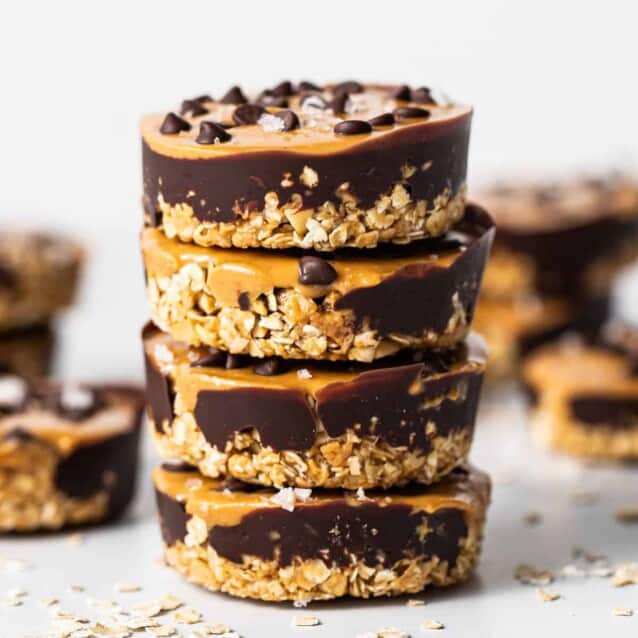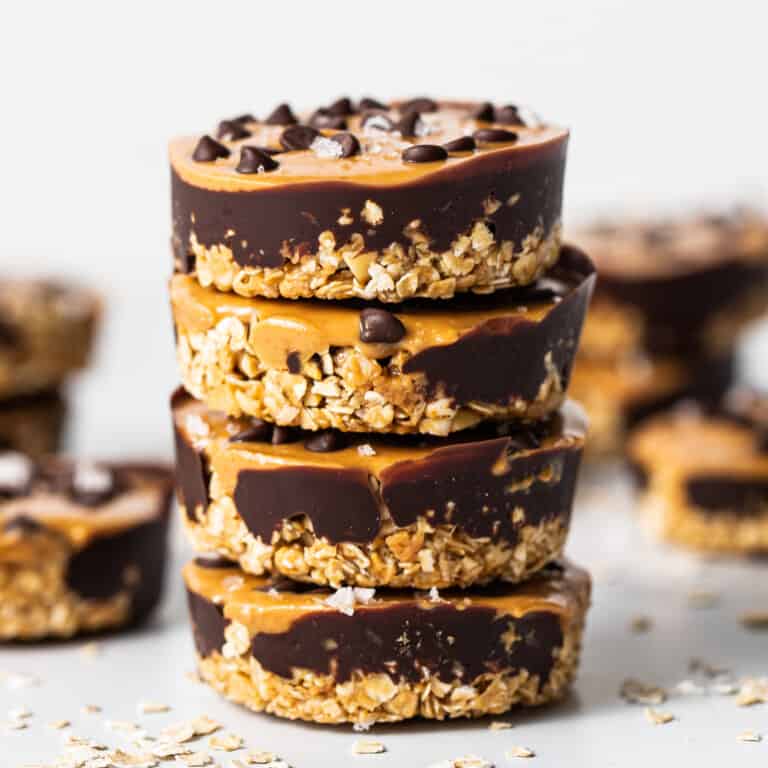 Get our Top 10 5-Star Recipes!
Join our email list for new recipes and BONUS: get our top 10 ⭐️⭐️⭐️⭐️⭐️ recipes e-book!
Ahi Tuna Marinade
For this seared ahi tuna recipe, we wanted the tuna to be seasoned with a flavorful zing, so we used the following ingredients:
Soy sauce
Red chili sauce
Fresh grated ginger
Lime juice
Marinating Ahi Tuna – How to Do it
To make sure the ahi tuna had time to marinate in all this goodness, we mixed all these ingredients up in a mason jar and gave it a good shake to mix it all together.
Place the raw ahi tuna in a Stasher bag (any sealable plastic bag will work!) and pour the marinade in with it before placing it in the fridge laying flat to allow the tuna to soak it up for at least 30 minutes.
How long to marinate ahi tuna?

We recommend only marinating for 30 minutes because citrus can start the cooking process if fish marinates in it for too long.
swaps
Want to add a little something extra to this marinade? Add any of the additions below to change things up!
Wasabi
Hoisin
Garlic
Butter
Sesame oil
Honey
Fish sauce
Mirin
Tamarind paste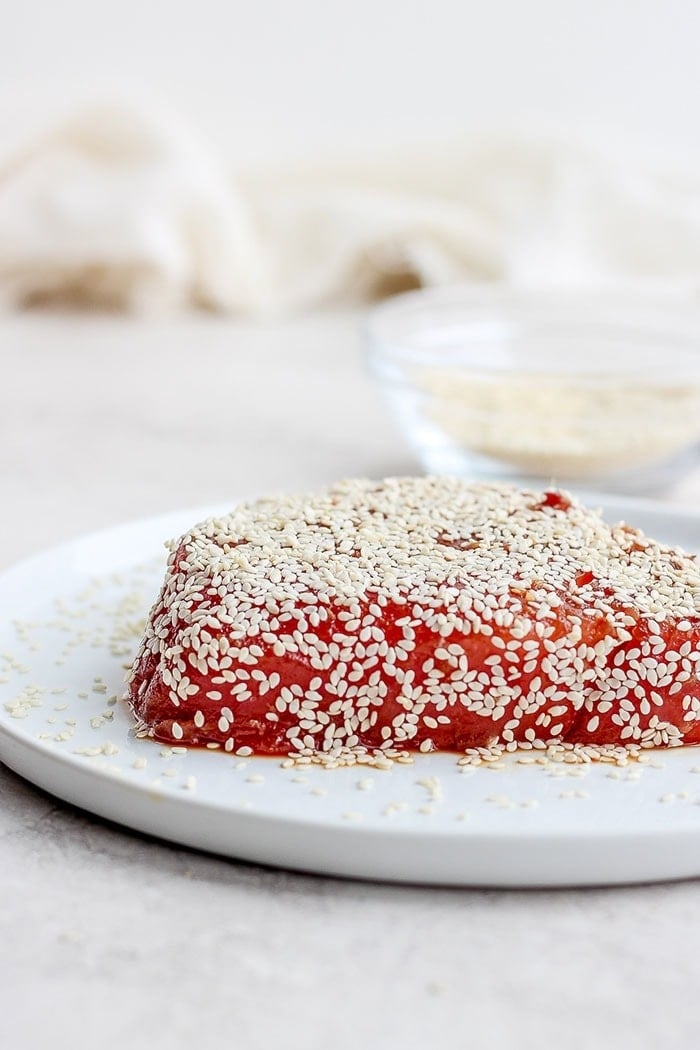 How to Sear Ahi Tuna Perfectly
Whether you're looking for a rare tuna steak (how we cooked ours in these photos!), a medium-rare tuna steak, or a well-done tuna steak, WE GOT YOU.
First, you'll want to make sure your skillet is hot hot hot. We're talking set to medium/high with enough time to fully heat up.
You'll know your skillet is good to go when the olive oil is fragrant. Place 1 tuna steak in the skillet and adhere to the following cook times depending on how well done you like your seared ahi tuna:
Rare: 30 seconds per side
Medium rare: 1 minute per side
Well done: 2 minutes per side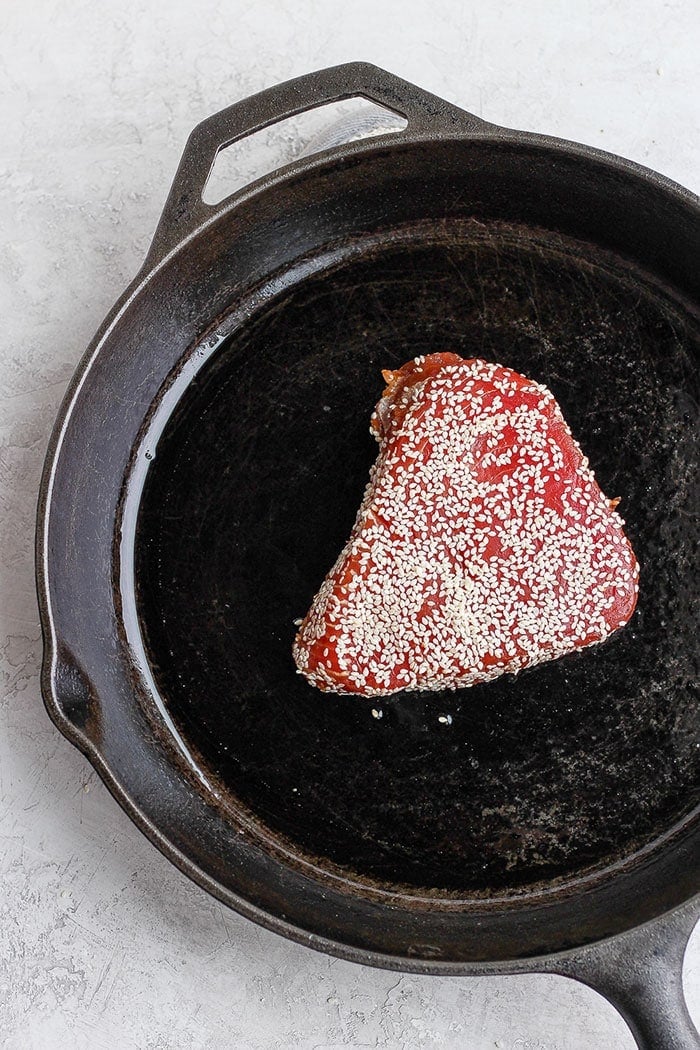 FAQ
Is seared ahi tuna safe?

Yes, seared ahi tuna is safe to eat, but make sure you purchase quality ahi tuna from a butcher or a brand that sells sushi-grade ahi tuna. If you feel uncomfortable eating a rare ahi tuna steak, feel free to cook it until it is cooked through the middle.
Also, if your ahi tuna smells funny or off we suggest not eating it!
Fresh or frozen ahi tuna?

You can use fresh ahi tuna or frozen ahi tuna.
If you are using frozen ahi tuna, remove the frozen fish from the freezer the day before you plan to eat it and place it in the refrigerator to thaw.
Remove excess moisture from the ahi tuna (fresh or frozen) with a paper towel before placing it in the marinade.
Is seared ahi tuna the same as ahi tuna?

Seared is a form of preparation. It's when ahi tuna is pan fried on both sides and then sliced.
How long do I sear ahi tuna?

Sear ahi tuna for 30 seconds to 2 minutes on each side depeneding on how cooked you like your ahi tuna steaks.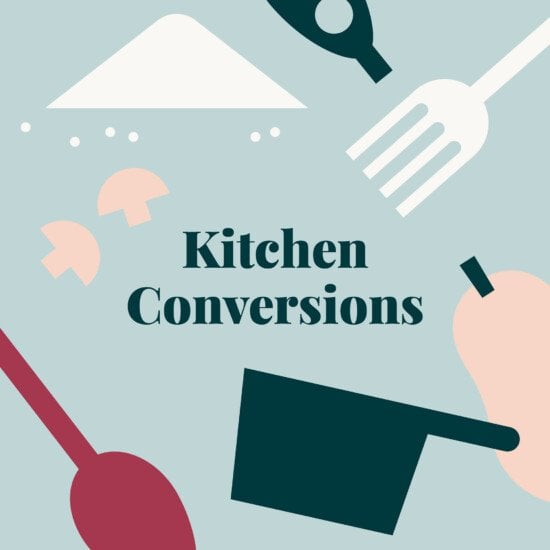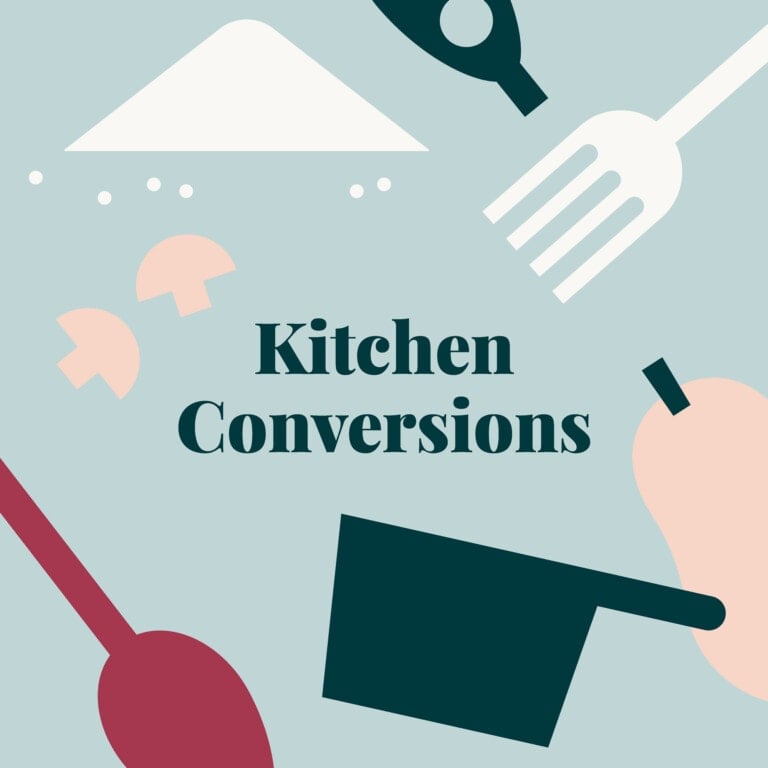 make it easy
Print Your Own
Keep common kitchen conversions like tablespoons to teaspoons and Fahrenheit to Celsius on hand at all times with our u003cstrongu003eprintable kitchen conversions chart.u003c/strongu003e
get it now
Learn More Kitchen Conversions
Serving Suggestions
You can eat your ahi tuna on tacos, in a bowl, or by itself with one of the delicious sides below!
Simple Asian-Inspired Salad– Looking to pair one of your favorite Asian dishes with a simple Asian salad? We've got you covered with this colorful Asian salad recipe dressed with a yummy Asian salad dressing.
Cauliflower Fried Rice– This Cauliflower Fried Rice recipe is a delicious low carb alternative to traditional fried rice. Packed with veggies and a super flavorful sauce, plus it's easy to make. Enjoy!
Thai Chili Corn Salad– We love this Thai Chili Summer Corn Salad. It's made with grilled corn, carrots, red pepper, cabbage, and the most delicious vinaigrette! Make this grilled corn salad today.
Rainbow Noodle Salad– Delicious veggies like red and green peppers, carrots, pea pods, red onion and cucumbers tossed with an Asian-inspired sesame dressing and linguine noodles make for the freshest of the fresh salads.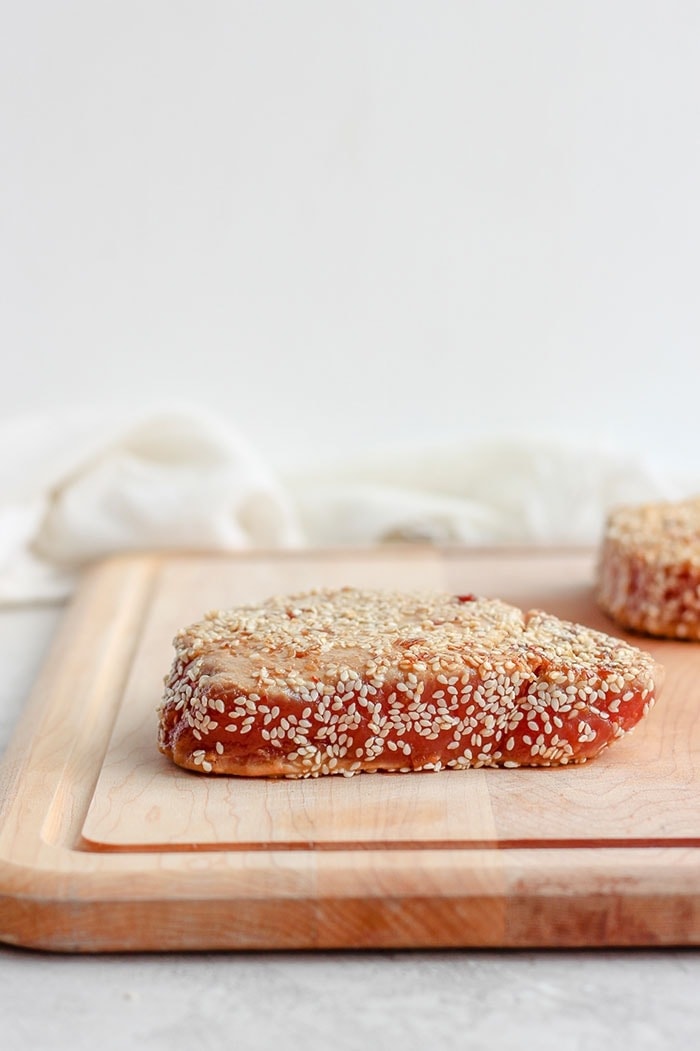 How to store ahi tuna
Store your seared ahi tuna in an airtight container for up to 5 days.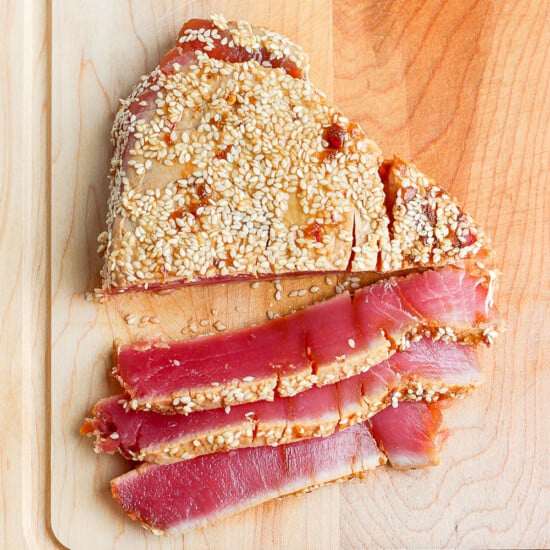 Seared Ahi Tuna
This incredible seared ahi tuna recipe is marinated in soy sauce, ginger, and lime juice and then coated with sesame seeds. Thank it's quickly seared so the middle stays nice and rare.
Ingredients
1.5

lbs.

ahi tuna steaks

2 1.5-inch steaks

1/3

cup

soy sauce

1

teaspoon

red chili sauce

1

teaspoon

fresh grated ginger

1

tablespoon

lime juice

4

tablespoons

sesame seeds

4

tablespoons

olive oil
Instructions
First, place tuna steaks in a large bowl or a plastic bag.

Make ahi tuna marinade and add soy sauce, chili sauce, grated ginger, and lime juice to a small mason jar. Tighten cover and then shake the jar until all ingredients are combined. Pour mixture over the ahi tuna steaks.

Seal the plastic bag and place the steaks in the fridge and let marinate for at least 30 minutes.

Remove ahi tuna steaks from the refrigerator and then remove from the marinade. Pour sesame seeds on a plate and coat every part of both tuna steak with sesame seeds.

Heat a large skillet over medium/high heat and 2 tablespoons of olive oil. When the olive oil is fragrant, add one tuna steak to the pan and sear for 30 seconds to 2 minutes on each side.*

Repeat for the second tuna steak.

Let seared tuna steaks rest for 2 minutes and then thinly slice.
Tips & Notes
30 seconds for rare, 1 minute for medium-rare, and 2 minutes for well done.
This recipe was updated on July 14, 2019.
Nutrition facts
Calories:
289
kcal
Carbohydrates:
4
g
Protein:
46
g
Fat:
10
g
Fiber:
1
g
Sugar:
0
g
Photography: photos taken in this post are by Erin from The Wooden Skillet.