Perfectly Seared Ahi Tuna every single time! This how-to sear ahi tuna recipe is seasoned with delicious Asian flavors and packs 46g of protein per serving. Make this for dinner tonight!
When it comes to fish and seafood, tuna is one of our faves! High in protein and low in fat, plus it's absolutely delicious. Have you tried our tuna egg salad or our fiesta tuna salad or this avocado tuna sandwich?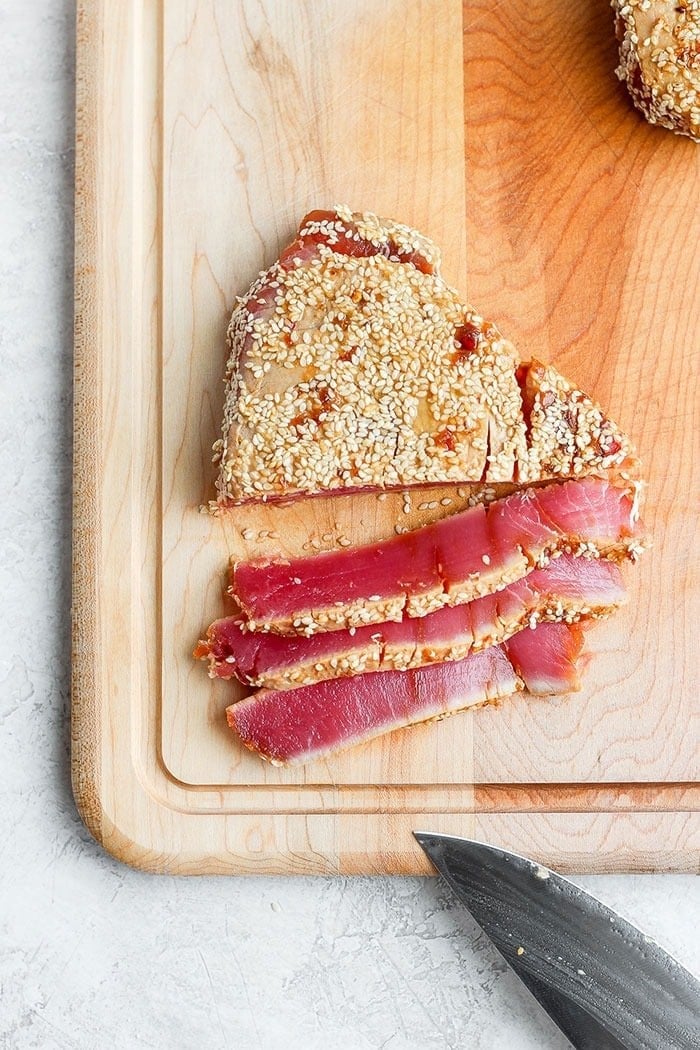 Let's Hear it for Ahi Tuna!
And specifically, let's hear it for tuna steak! When we're not having sushi, seared ahi tuna steaks are our absolute go-to in the tuna world. These crispy on the outside, super rare on the inside steaks are delicious, nutritious, and yes, even easy to make. We'll walk you through seasoning these bad boys, perfectly searing them (whether you're looking for rare, medium rare or well done!), and then even a few recipe pairings to round out your new favorite dinner: seared ahi tuna.
How to Season Tuna Steak
For this recipe, we wanted the tuna to be seasoned with a nice Asian zing, so we used the following ingredients:
Soy sauce
Red chili sauce
Fresh grated ginger
Lime juice
And to make sure the ahi tuna had time to marinade in all this goodness, we mixed all these ingredients up in a mason jar and gave it a good shake to mix it all together. Then, we placed our raw ahi tuna in a Stasher bag (any sealable plastic bag will work!) and poured the marinade in with it before placing it in the fridge laying flat to allow the tuna to soak it up for at least 30 minutes. This recipe will be delish with a 30 minute marinade, but if you have time to let these beauts marinade all day or overnight, DO IT. You won't be disappointed 😀
Oh! And those beautiful sesame seeds? You'll wait to coat your ahi tuna with those til right before you're going to sear them.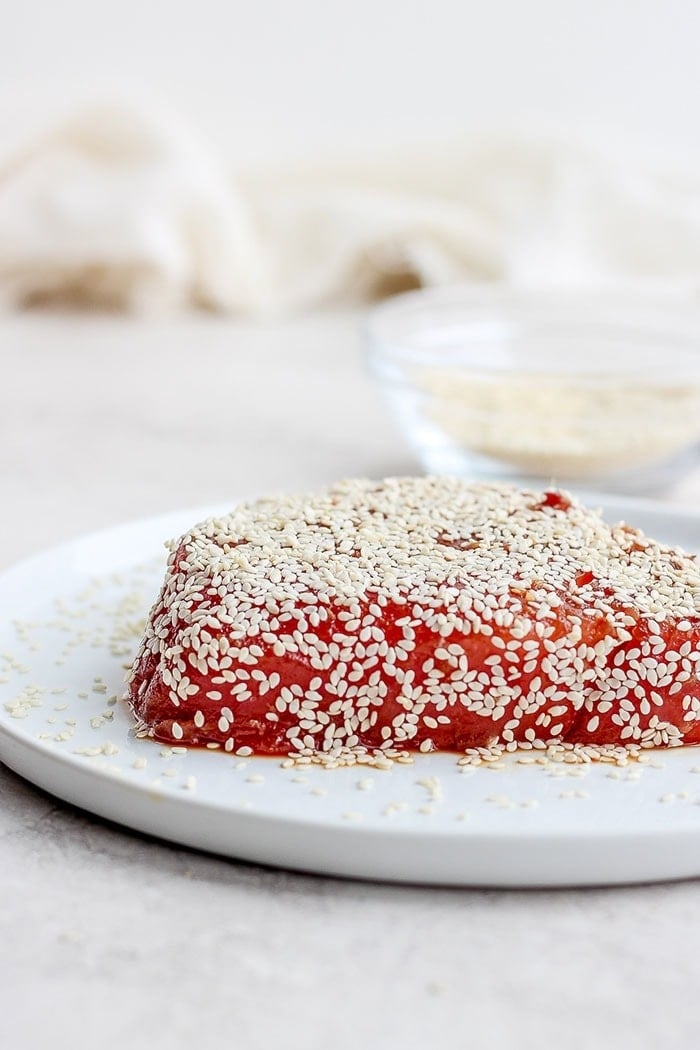 How to Sear Ahi Tuna (Perfectly!)
Whether you're looking for a rare tuna steak (how we cooked ours in these photos!), a medium rare tuna steak or a well done tuna steak, WE GOT YOU.
First, you'll want to make sure your skillet is hot hot hot. We're talking set to medium / high with enough time to fully heat up. You'll know your skillet is good to go when the olive oil is fragrant. Place 1 tuna steak in the skillet and adhere to the following cook times depending on how well done you like your seared ahi tuna:
Rare: 30 seconds per side
Medium rare: 1 minute per side
Well done: 2 minutes per side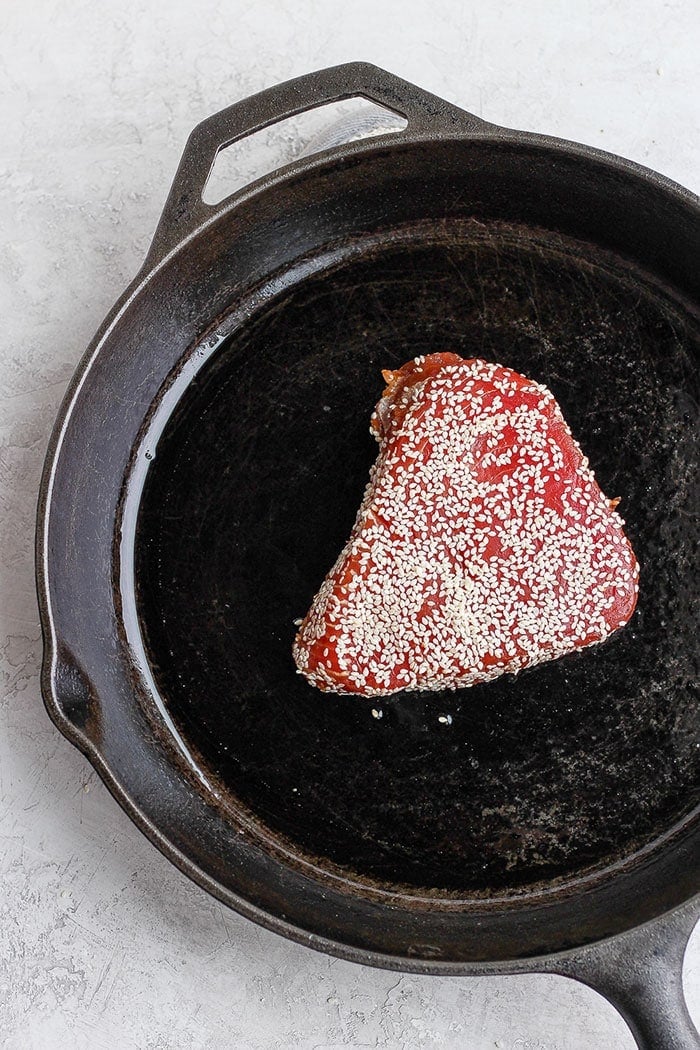 Recipe Pairings for Ahi Tuna
Round out your meal with one of these healthy side dishes: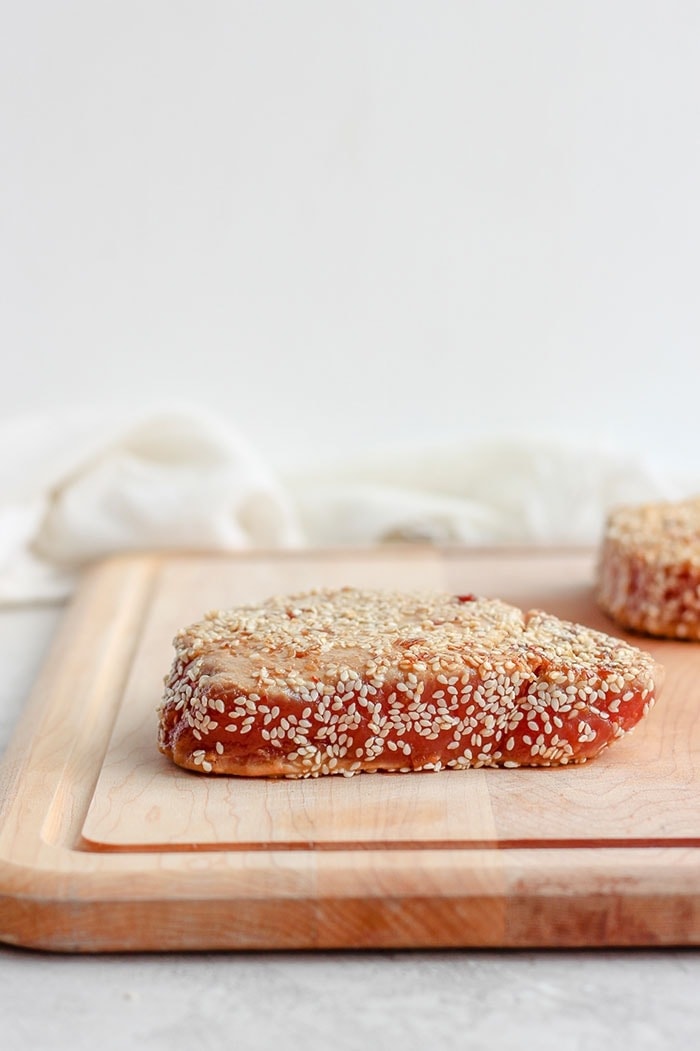 More Tuna Recipes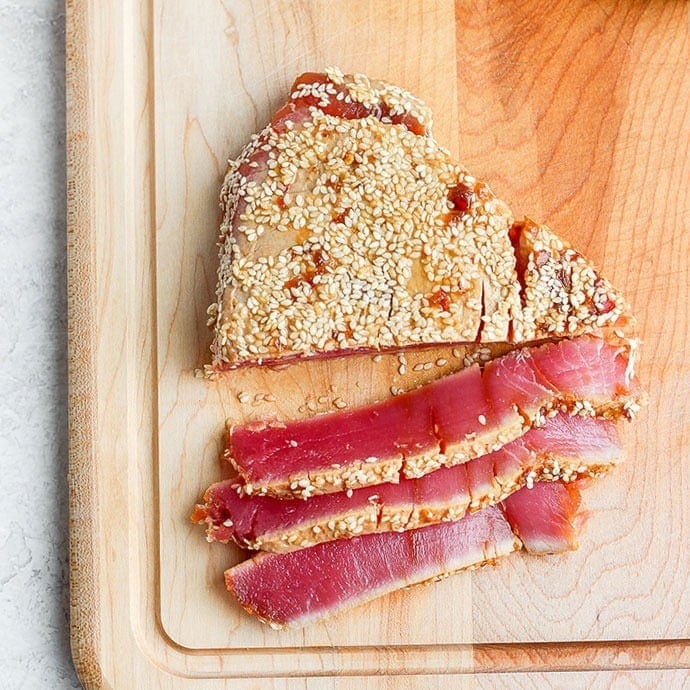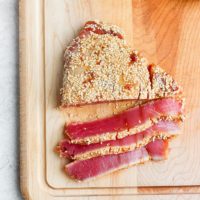 Seared Ahi Tuna
Perfectly Seared Ahi Tuna every single time! This how-to sear ahi tuna recipe is seasoned with delicious Asian flavors and packs 46g of protein per serving. Make this for dinner tonight!
Prep:
45 minutes
Cook:
2 minutes
Total:
47 minutes
Fat
10
Carbs
4
Protein
46
Ingredients
1.5

lbs. ahi tuna steaks (

2

1.5-inch steaks)

1/3 cup

soy sauce

1 teaspoon

red chili sauce

1 teaspoon

fresh grated ginger

1 tablespoon

lime juice

4 tablespoons

sesame seeds

4 tablespoons

olive oil
Instructions
First, place tuna steaks in a large bowl or a plastic bag.
Make ahi tuna marinade and add soy sauce, chili sauce, grated ginger, and lime juice to a small mason jar. Tighten cover and then shake the jar until all ingredients are combined. Pour mixture over the ahi tuna steaks.
Seal the plastic bag and place the steaks in the fridge and let marinate for at least 30 minutes (the longer the better!).
Remove ahi tuna steaks from the refrigerator and then remove from the marinade. Pour sesame seeds on a plate and coat every part of both tuna steak with sesame seeds.
Heat a large skillet over medium/high heat and 2 tablespoons of olive oil. When the olive oil is fragrant, add one tuna steak to the pan and sear for 30 seconds to 2 minutes on each side.*
Repeat for the second tuna steak.
Let seared tuna steaks rest for 2 minutes and then thinly slice.
Tips & Notes
*30 seconds for rare, 1 minute for medium rare, and 2 minutes for well done.
This recipe was updated on July 14, 2019.
Nutrition Facts
Serving Size:
1/4 recipe
Calories:
289
Sugar:
0
Sodium:
755
Fat:
10
Carbohydrates:
4
Fiber:
1
Protein:
46
Category:
Fish and Seafood
Method:
Stove Top
Cuisine:
Asian
Keywords: seared ahi tuna steaks
Photos by: The Wooden Skillet