This baked fish taco recipe is flavorful, easy to make, and perfect for a 30-minute meal all year round!
If you're looking for more 30 minute meal options for the week check out this chicken broccoli stir fry recipe or this PF changs lettuce wrap recipe!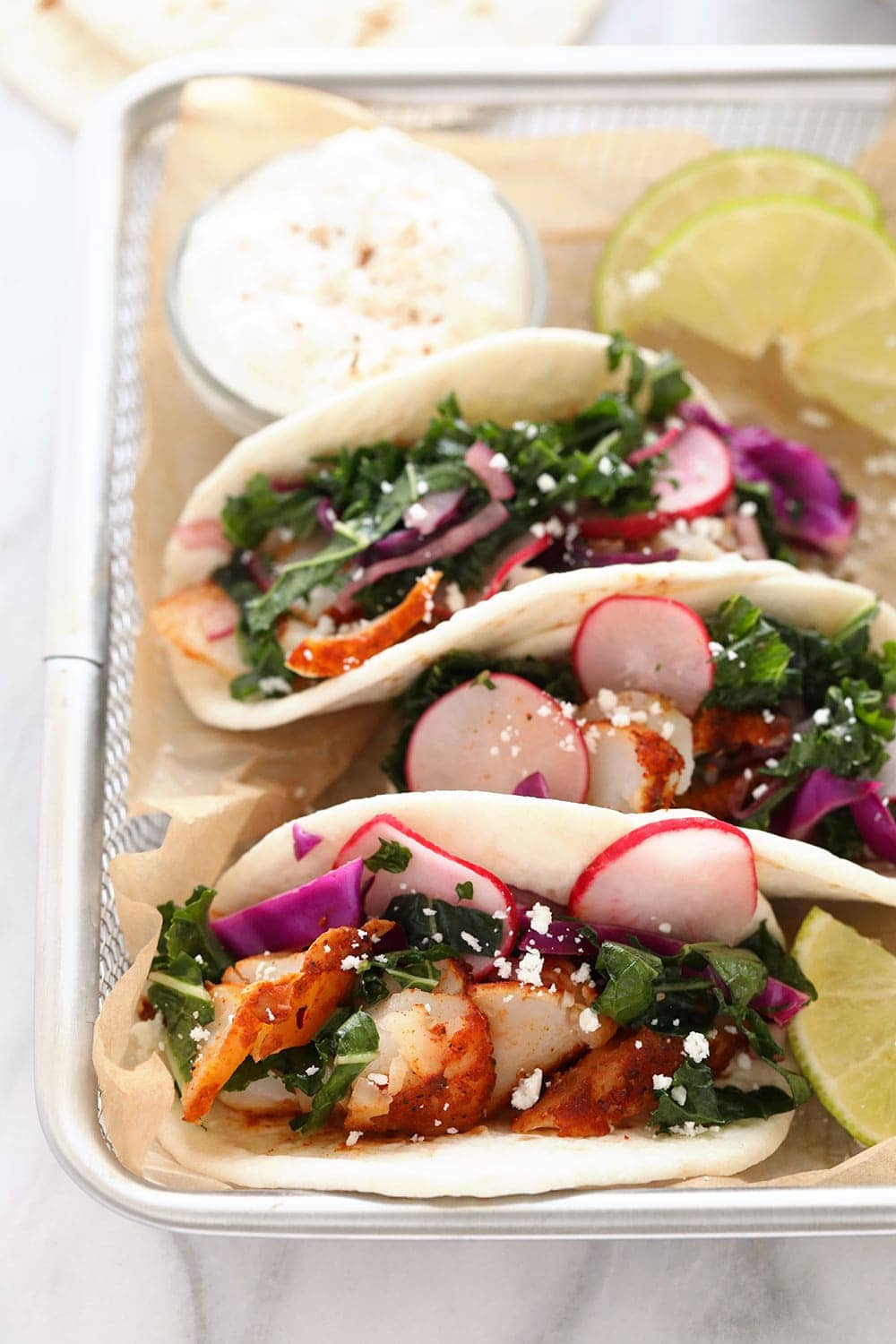 Fish Tacos for Dinner!
When you live somewhere that snows in the winter, sometimes you forget about seafood! I'm here to remind you that you can eat fish all year round! Fish tacos are a great option for dinner during any season no matter where you live.
We are big fans of all taco recipes here on Fit Foodie Finds, but you can't beat how fast you can make fish compared to other types of protein.
From the minute you start this recipe to the moment you are topping your tacos with salsa will only take you 30 minutes! We use our homemade cajun seasoning to season the fish for these fish tacos. The flavor is amazing and the tacos are sensational!
PS: you must try our air fryer fish recipe made with cod!
The Best Fish to Use for Fish Tacos
When it come to fish tacos, it is all about personal preference. Some people love white fish and some love to go for ahi tuna. The choice is yours! Here are some of the different types of fish we like to use!
Cod is usually one of the most economical choices of fish! It is a white fish that is on the fishy side but takes on the flavor of spices that are used!
Tilapia is a great option for fish tacos as well. You can usually find it in the butcher section or frozen section! Both will work!
Ahi Tuna is one of our favorite fish (we love this ahi tuna poke bowl). We like to buy ahi tuna when it is on sale at the butcher! It's fishy, but is usually a higher quality fish that is a bit more expensive.
Walleye is a popular fish in the midwest! Most people don't even know you can eat walleye if you're not from Minnesota or Wisconsin. You CAN eat walleye and its delicious!
Just keep the tips for buying fish for fish tacos in mind when you are deciding!
Ask Your Butcher THIS Question
If you are buying fish from a grocery store butcher it is most likely fish that has been frozen and is thawing while sitting in the case (unless otherwise specified by the butcher).
Be sure to ask the butcher how long the fish has been sitting out before buying. You don't want to end up with bad fish when you get home!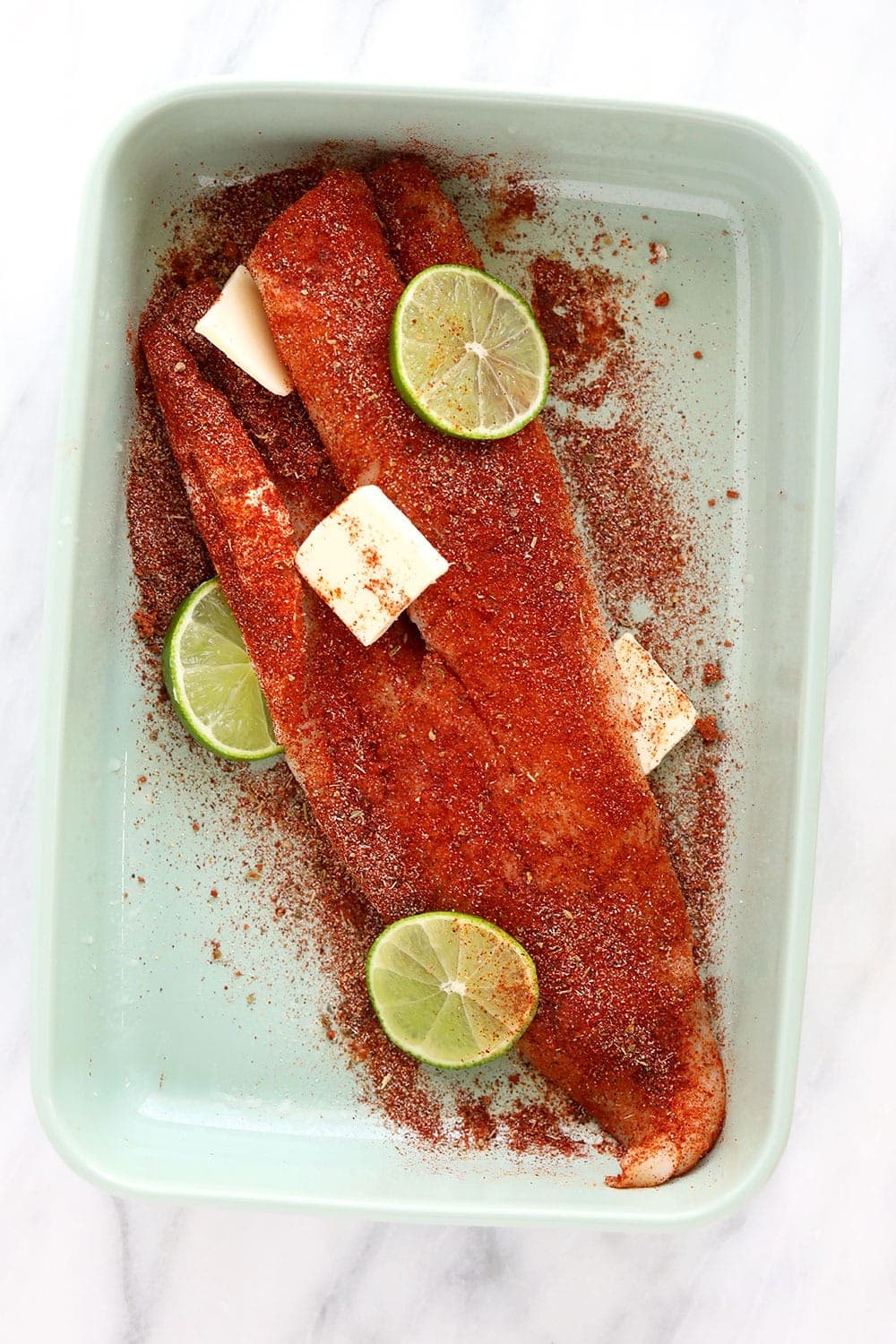 It's All About the Toppings
One way you can take your tacos up a notch is with TOPPINGS! You can go simple or prepare a delicious coleslaw for the top. The choice is yours.
We jazzed up these tacos with the toppings below (+some other great topping ideas).
Coleslaw
Crema
Fresh lime juice
Pico De Gallo
Guacamole
Fresh red onion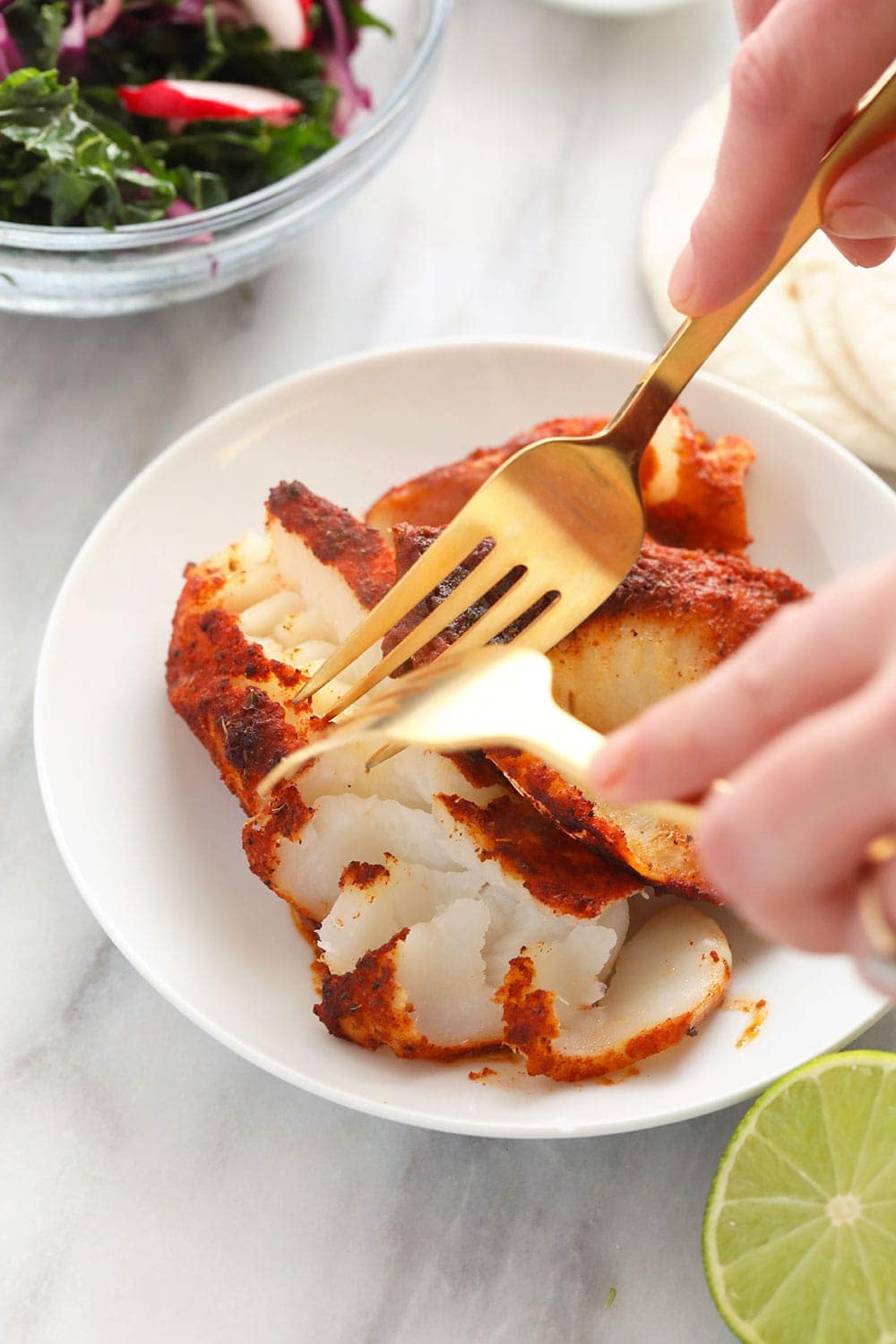 Fish Taco Recipe 101
How long do you need to bake fish?
Bake time for fish varies depending on a couple of different things.
Type of fish
Weight of fish
What vessel the fish is baked in
Oven temp
The larger the filet, the longer it will take to bake the fish (our 1 lb. fillet takes about 15 minutes to bake at 400ºF)! One thing to watch out for is rotten fish. No matter how long you bake a fillet, a rotten fillet will present as undercooked.
If you find that your fish has a pungent smell (that is more than just fishy) or if your fish needs a much longer bake time than expected, be sure it's not rotten and ok to eat.
Can I meal prep fish tacos?
You can meal prep fish tacos by preparing the fish by following the recipe in the recipe card.
Then, store the fish separate from the coleslaw, crema, and tortillas. Assemble the tacos right before serving!
How long does fish stay good in the fridge?
Fish stays good in the fridge for up to 5 days. The smell check is always a good way to make sure that the fish is still ok to eat.
What type of tortillas are best for fish tacos?
The type of tortillas that you use is completely up to you! We have recently been obsessed with street taco flour tortillas made by Mission! Corn tortillas would work, too!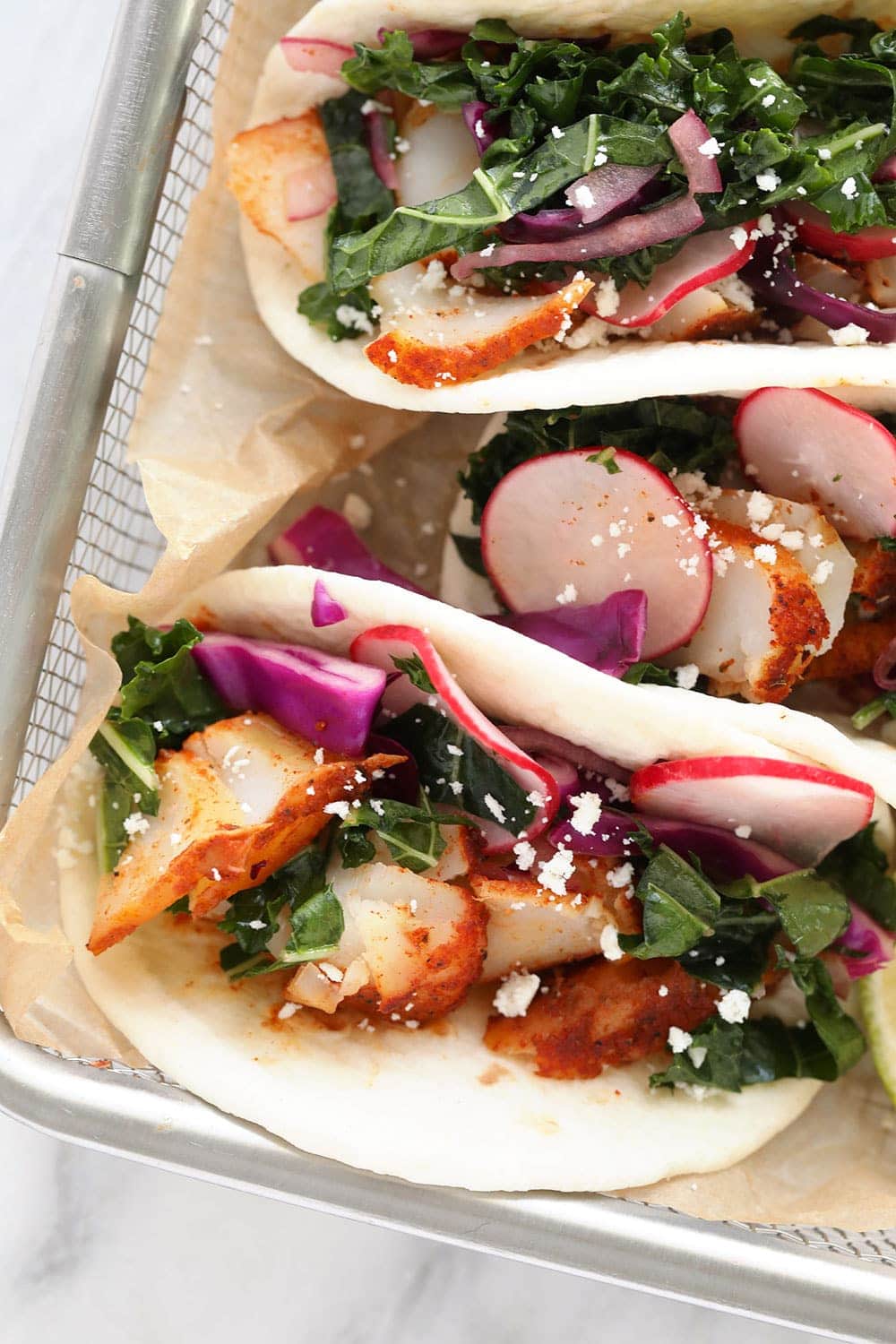 More Taco Recipes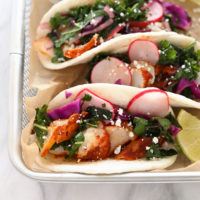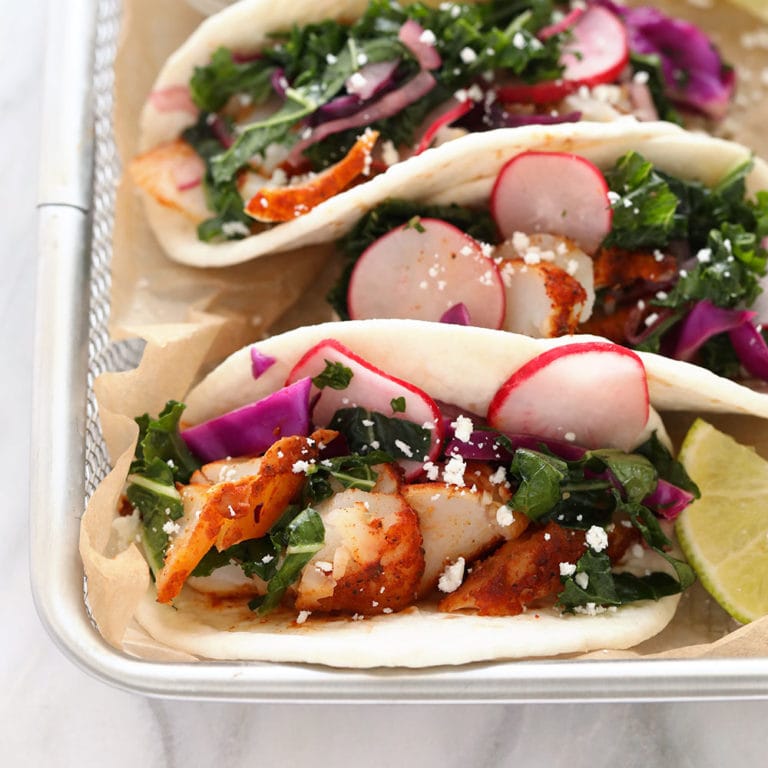 Baked Cod Fish Tacos
This baked fish taco recipe is flavorful, easy to make, and perfect for a 30-minute meal all year round!
Ingredients
Cod
1

lb.

fresh cod

2

tablespoons

cajun seasoning

1/2

small lime

sliced into rounds

3

tablespoons

butter

cut into 1-tablespoon pads
Slaw
2

cups

thinly sliced red cabbage

1.5

cups

shredded kale

deboned

1/2

medium red onion

slice

1

cups

sliced radishes

1.5

tablespoons

apple cider vinegar

1

tablespoon

avocado oil

1/2

teaspoon

salt
Crema
1/3

cup

nonfat Greek yogurt

1/4

cup

cotija cheese crumbles

1.5

tablespoons

lime juice

pinch

salt
Other
8

flour street taco tortillas

fresh lime juice

for serving
Instructions
Preheat the oven to 400ºF and generously spray a baking dish with nonstick cooking spray.

Next, remove fish from the refrigerator and then use a paper towel to remove excess moisture by blotting from the fish.

Next, place the fish into the baking dish and generously sprinkle both sides of the fish with cajun seasoning. Be sure the entire fish is covered in seasoning.

Place lime slices and pads of butter on top of the fish and bake code at 400ºF for 12-16 minutes (bake time varies on the thickness of the fish).

While the fish is in the oven, prepare the coleslaw and the lime crema.

For the coleslaw. Place all ingredients for the coleslaw into a large bowl.

Mix all ingredients together and place the bowl into the refrigerator for later.

For the crema. Mix all of the ingredients together in a small bowl and place into the refrigerator for later.

Finally, remove the fish from the oven. The fish is done when it flakes apart easily with a fork and is firm to the touch compared to raw fish. If it's not quite done, put it back in and monitor it every few minutes.

Use two forks to carefully break the fish up into larger chunks (not shredded).

Finally, assemble tacos. Evenly distribute the fish, coleslaw, and creama into small tortillas.

Serve with a fresh squeeze of lime juice and more cotija cheese, to taste.
Nutrition facts
Calories:
412
kcal
Carbohydrates:
34
g
Protein:
23
g
Fat:
21
g
Fiber:
5
g
Sugar:
4
g