Our homemade Honey Ginger Chicken Stir Fry is a great alternative to takeout! The sauce is made with fresh ginger, soy sauce/tamari, honey, and sriracha.
This healthy chicken stir fry is flavorful, made with real ingredients, and everyone in the family will be begging for this recipe every night of the week.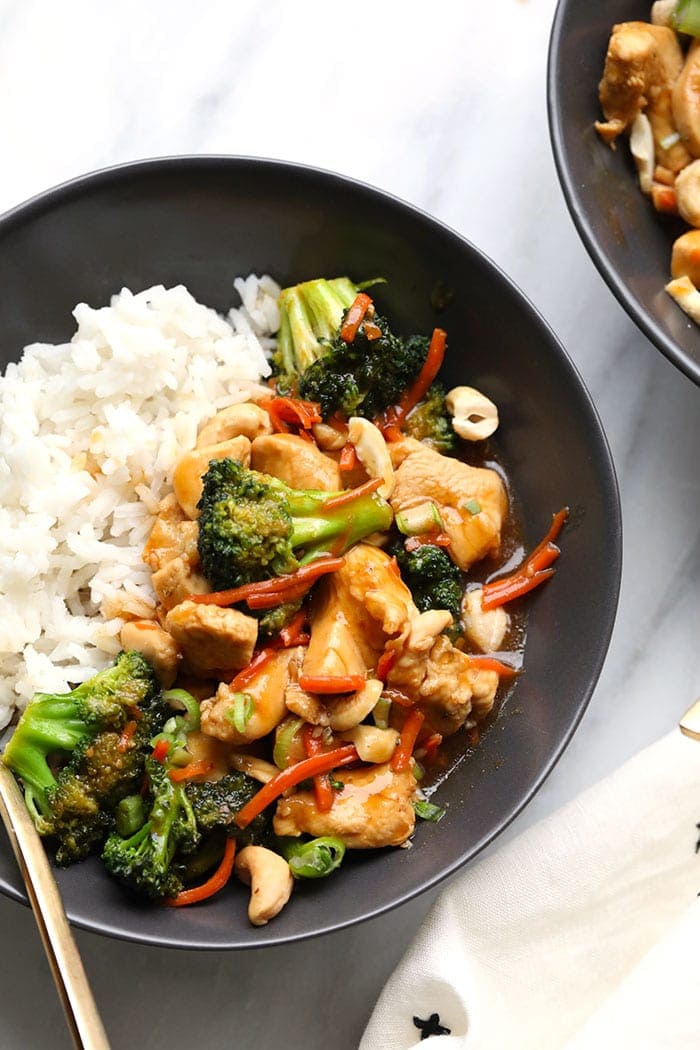 Better Than Takeout
If you love Chinese takeout, raise your hand. WE DO. Lee and I are always down for delicious Chinese food. In fact, we are huge fans of Thai takeout, sushi takeout, and anything that is fresh, full of crunchy veggies, and a decent price! If we are talking favorite takeout dishes it would definitely be honey ginger chicken or beef and broccoli.
This Honey Ginger Chicken Stir Fry happened when we were craving takeout but had a ton of leftover produce in the fridge. We decided to save some cash-money and make our own takeout inspired dish. You can really make this chicken stir fry recipe with any veggies you have in your fridge, but we stuck with our favorite takeout staples—–> broccoli, shredded carrots, chicken, and lots of FRESH ginger.
If you ask us, this homemade recipe is better than takeout and for a few simple reasons:
Cheaper: at the end of the day, you can make far more food for much less mula by making your own healthy chicken stir fry at home.
Better-for-You: you can easily modify the amount of sodium and sugar in this recipe by modifying how much sauce is used. It can also be easily made gluten-free by swapping the soy sauce for tamari!
Faster: that's right, in under 30 minutes you can have this delicious chicken stir fry ready to eat. Instead of calling, waiting, and waiting, why not just make it at home?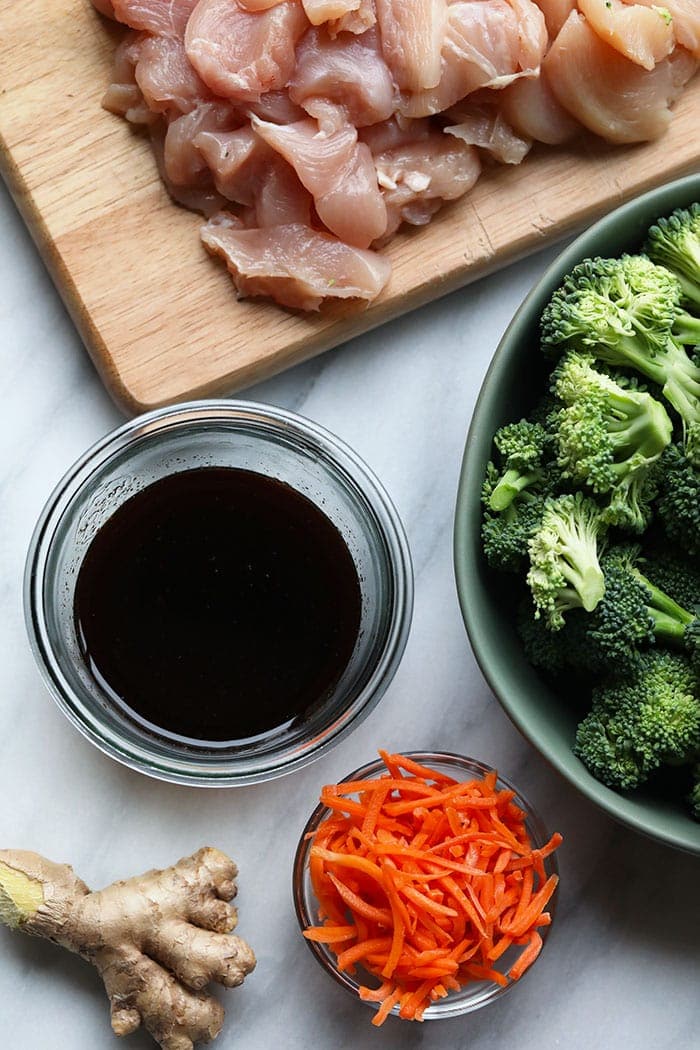 The Sauce
When it comes to chicken stir fry, we're all about the sauce and using different ways to make it a little bit more healthy! Here's how we do it…Fit Foodie-style:
Honey: honey is a great way to make a sweet, Asian-inspired sauce, but without refined sugar. Try swapping the honey for maple syrup for a warmer, but equally delicious flavor.
Soy sauce: a little bit of soy sauce goes a long way. If you're watching your sodium intake, try using a low-sodium soy sauce or even swapping it for tamari for a gluten-free option.
Ginger: fresh ginger is one of my favorite ingredients to use in a healthy chicken stir fry recipe. If you love ginger like us, try doubling it in this recipe!
Sriracha: sriracha adds a little bit of heat, but not too much! If you like it hot, add as much as you'd like!
Hoisin sauce: hoisin sauce is optional for this recipe, but if you like the authentic Chinese takeout flavor, add just a tablespoon and you're good to go.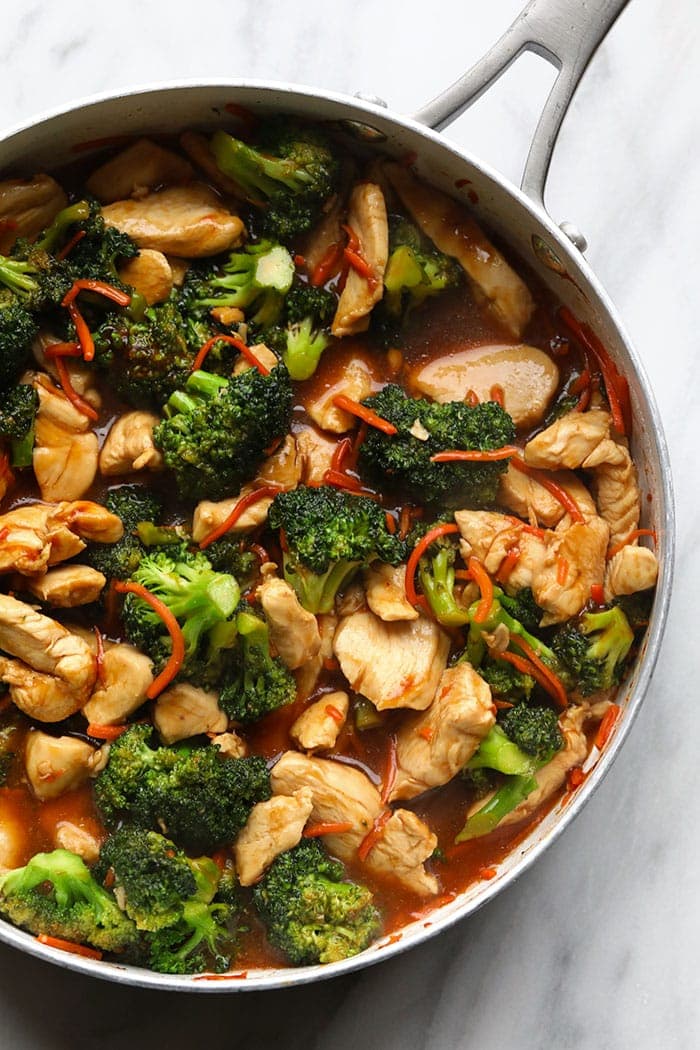 Meal Prep It!
Lucky for you, pretty much any kind of homemade takeout recipe is perfect for meal-prep. For this recipe, add your favorite grain and you're good to go for 4 meals.
If you're feeding a crowd, you can even double this recipe to easily get 8 meals out of it. Check out our favorite glass meal-prep containers here for a reusable, more environmentally friendly meal-prep option.
More Meal-Prep Recipes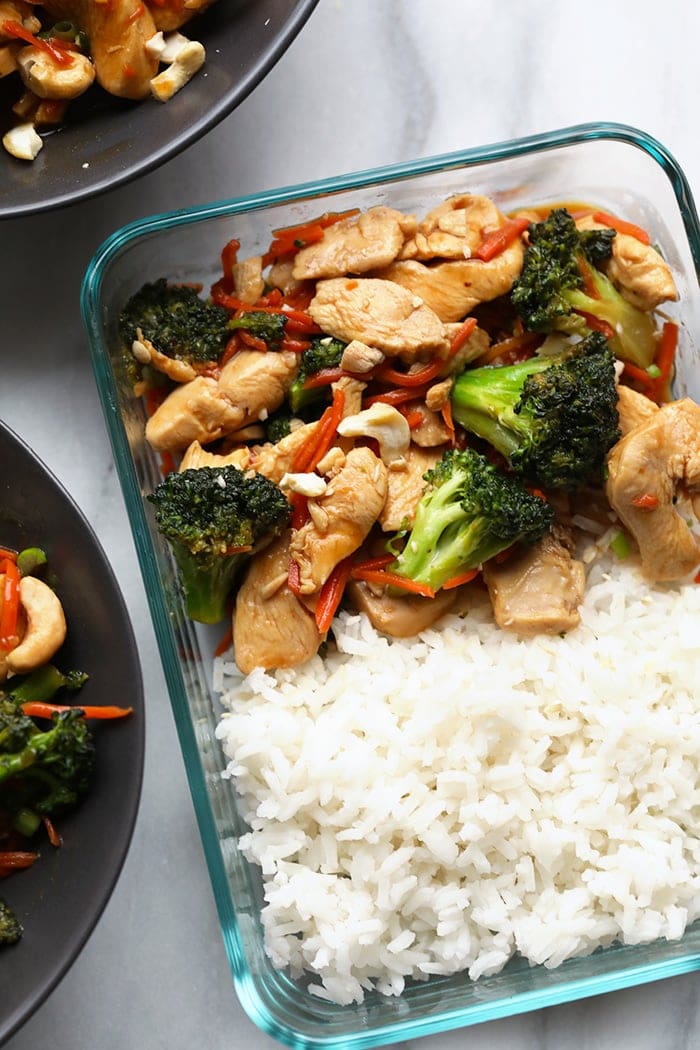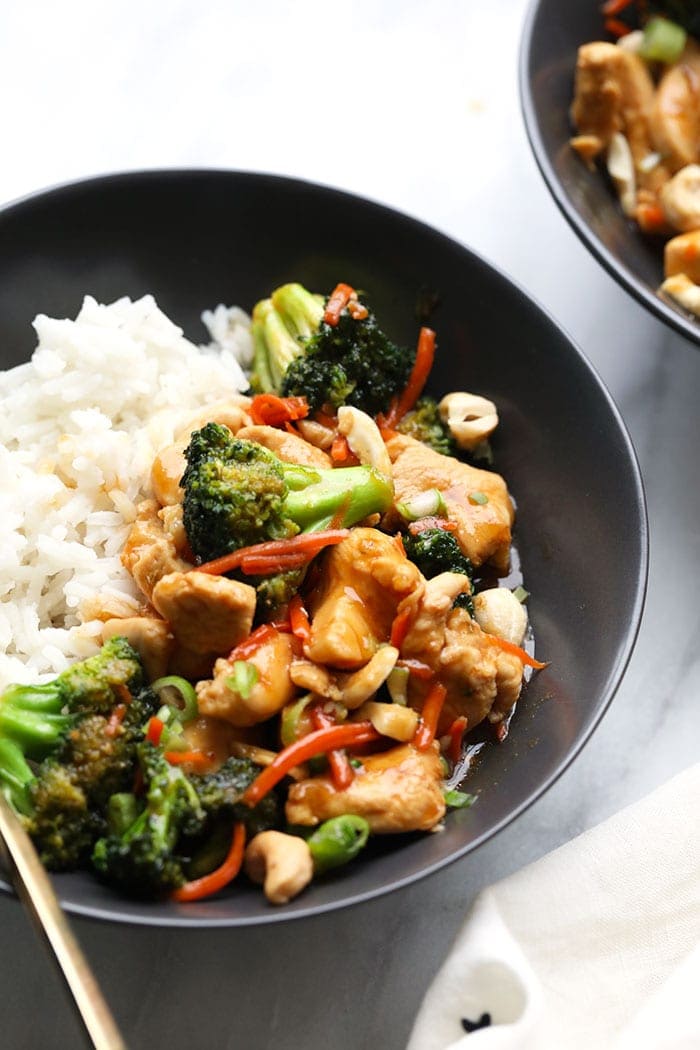 One of my intentions for 2018 was to create some kind of budget. One way that I am budgeting this month is to limit the number of times that I eat out. So, meals like homemade chicken stir fry help keep us on track! If you're a takeout-aholic and are looking to make more meals at home, give this stir fry a try.
Check out some of our other favorite homemade healthy stir fry recipes below.
Stir Fry Recipes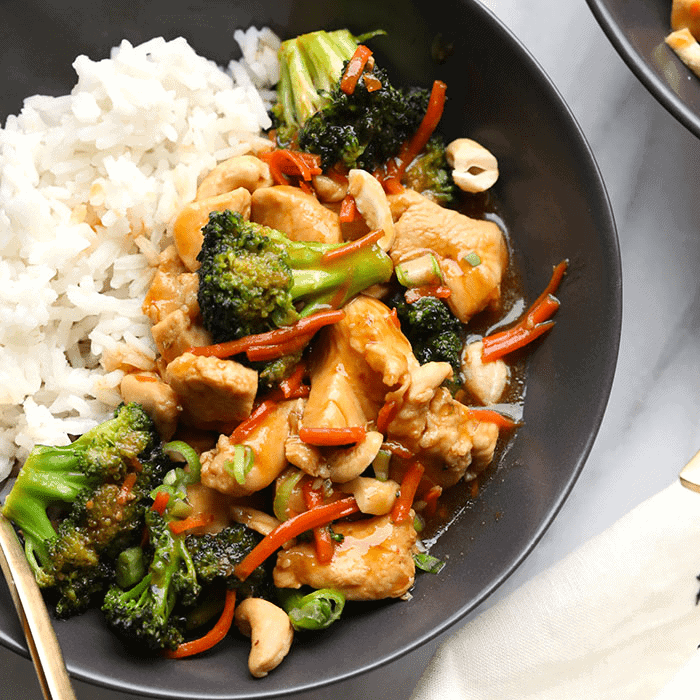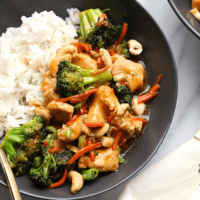 Honey Ginger Chicken Stir Fry
Our homemade Honey Ginger Chicken Stir Fry is a great alternative to takeout! The sauce is made with fresh ginger, soy sauce/tamari, honey, and sriracha.
Prep:
10 minutes
Cook:
15 minutes
Total:
25 minutes
Fat
9
Carbs
34
Protein
28
Ingredients
Chicken Stir Fry
16 oz

. boneless, skinless chicken breasts, cut into chunks

1.5 tablespoons

avocado oil (any kind of oil will work)

1 tablespoon

minced garlic

8 cups

broccoli florets

1/2 cup

shredded carrots
Sauce
1/4 cup

honey

1/4 cup

low-sodium soy sauce (or tamari)

1 tablespoon

grated fresh ginger

1 teaspoon

sriracha

1 tablespoon

hoisin sauce (optional)

2 tablespoons

water

2 teaspoons

cornstarch
Instructions
Heat avocado oil in a large saute pan over medium/high heat. When oil is fragrant add chicken breast to pan and cook for 2-3 minutes.
Prepare sauce by whisking together all ingredients until most of the cornstarch has dissolved. Set aside.
Next, add the rest of your stir fry ingredients to the pan (except for carrots) and saute for few minutes before adding sauce. Bring sauce to a boil and then reduce to low, add carrots, and let simmer for 6-8 minutes.
Remove from heat and serve over white rice, brown rice, or quinoa!
Tips & Notes
Rice is not included in nutrition information.
Nutrition Facts
Serving Size:
1/4
Calories:
305
Sugar:
20
Fat:
9
Carbohydrates:
34
Fiber:
5
Protein:
28
Cholesterol:
34
Category:
Main Meal
Method:
Stovetop
Cuisine:
Asian
Keywords: honey ginger chicken