Homemade Chicken Stir Fry is an easy alternative to takeout and better for you. It's ready to go in less than 30 minutes and the kids will love it.
This chicken stir fry recipe is made with chicken breast, broccoli, and carrots, and the sauce is made with fresh ginger, soy sauce/tamari, honey, and sriracha.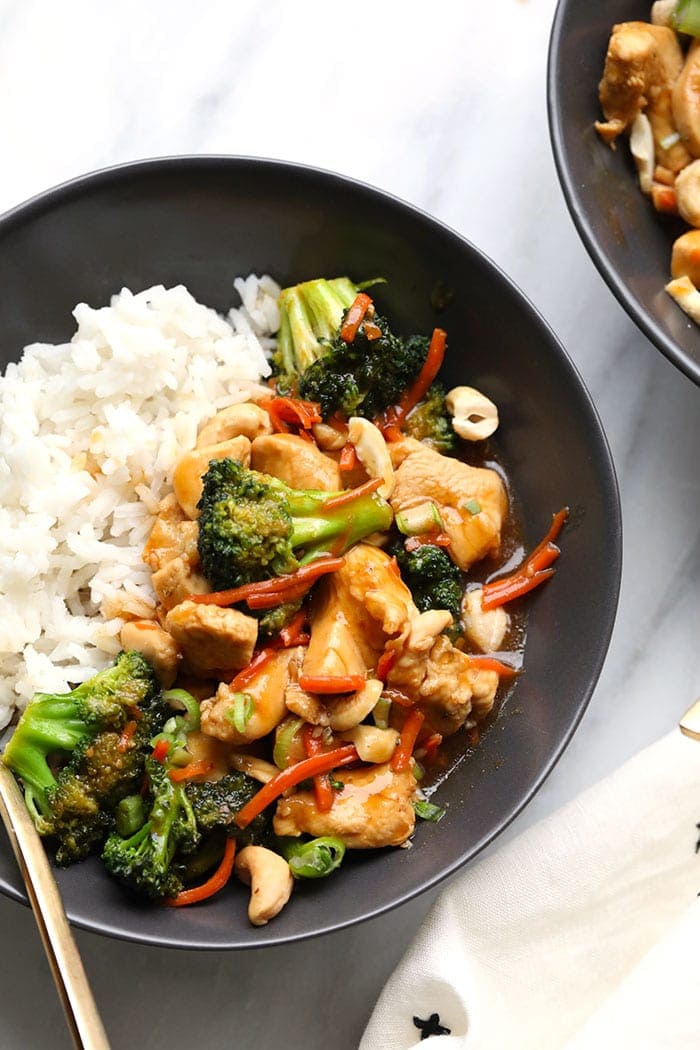 Better-than-Takeout Chicken Stir Fry
If you love Chinese takeout, raise your hand. WE DO. I've been making chicken stir fry since I was 10 years old (NO JOKE) because Chinese takeout is my all-time favorite.
From the second I made my first chicken stir fry recipe in my own kitchen I was hooked. If a 10 year can do it, so can you!
What I personally love about this easy chicken stir fry recipe is the sauce. It's savory, made with 5 basic ingredients, and has a punch of fresh ginger.
Why Make THIS Chicken Stir Fry recipe?
There are so many chicken stir fry recipes on the internet, but this one not only tastes the best, it's been rated 5-stars by so many of you! Here are a few more reasons to convince you:
Inexpensive: at the end of the day, you can make far more food for much less money by making your own healthy chicken stir fry at home instead of getting takeout.
Better-for-You: you can easily modify the amount of sodium and sugar in this recipe by changing how much sauce is used. This recipe is MSG-free and it can easily be made gluten-free by swapping the soy sauce for tamari.
Faster: that's right, in under 30 minutes you can have this delicious chicken stir fry ready to eat. Instead of calling, waiting, and waiting, why not just make it at home?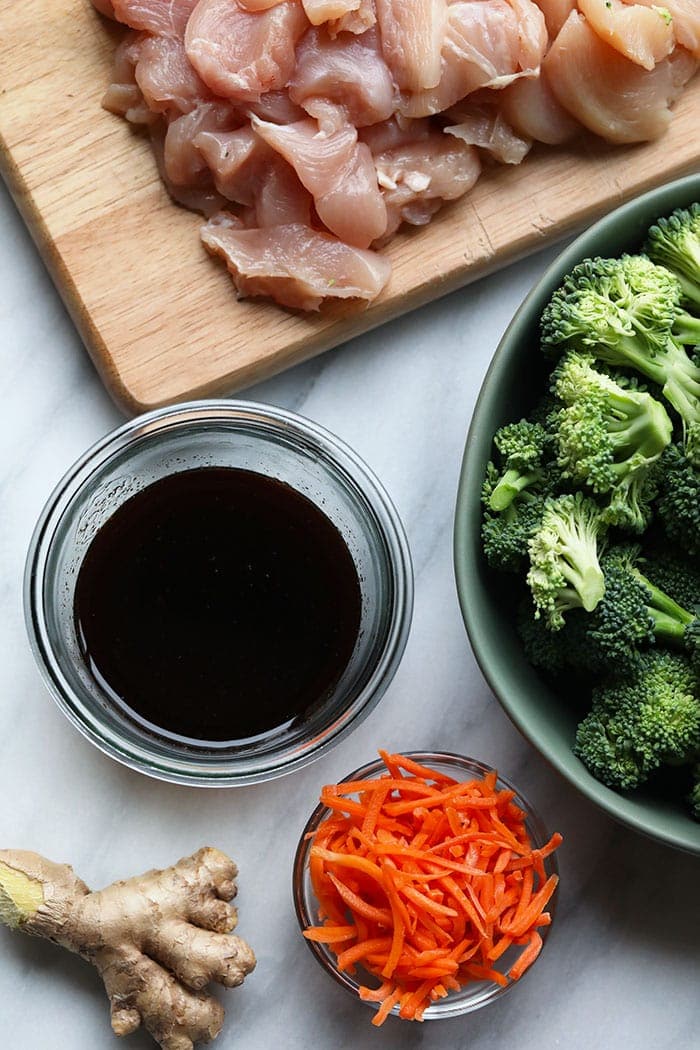 Ingredients You Need for the Stir Fry
Chicken Breast – make sure to purchase boneless, skinless chicken breast for easy prepping! You can use boneless, skinless chicken thighs if you want or heck, swap out the protein altogether for shrimp, beef, or tofu!
Olive Oil – we know lots of recipes call for sesame oil, so if you want to use that go for it! We kept things ultra basic with the most common cooking oil – olive oil.
Broccoli – broccoli is the star vegetable of this stir fry. You need 8 cups of broccoli florets.
Carrots – we used shredded carrots for this recipe, but you can easily swap them for slices if you have whole carrots at home.
Can I add more/different veggies?
Add whatever veggies your heart desires! Since this serves 4 people, we recommend around 2 cups per person. They cook down so it ends up being less than 2 cups/person! Here are some suggestions:
sugar snap peas
green beans
bell peppers (red or green bell pepper)
green onions
cauliflower
Can I use frozen veggies?
While you totally can use frozen vegetables, we 100% suggest using fresh veggies. We repeat –> use fresh vegetables! Fresh vegetables are crisp, bright in color, and taste so much better than frozen!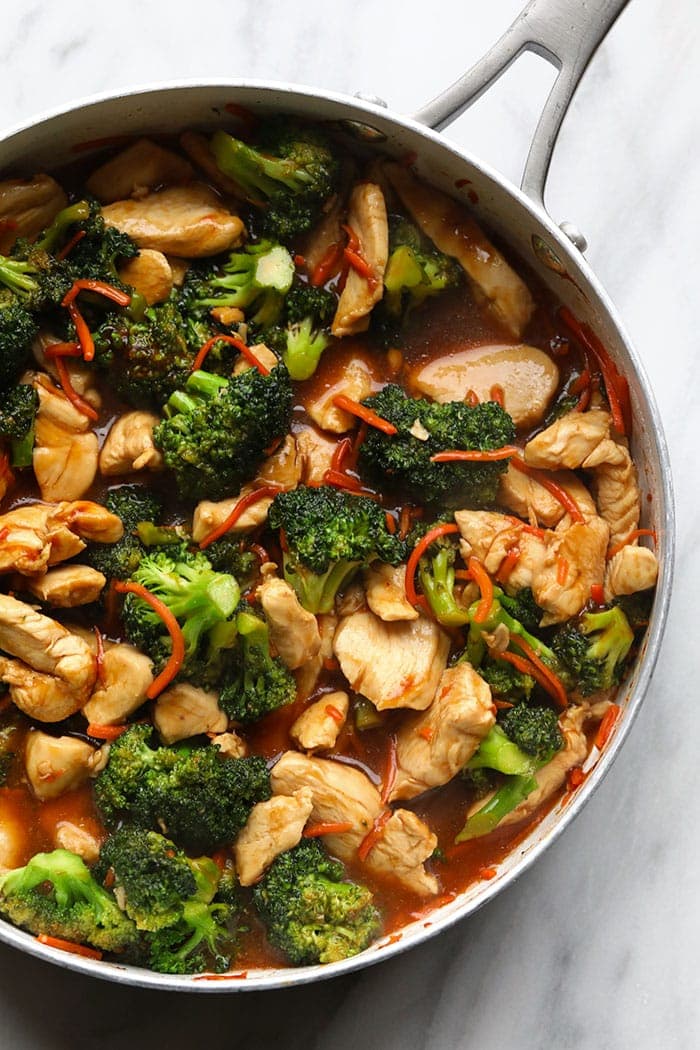 Hands down The Best Chicken Stir Fry Sauce
Now that you know what you need for the stir fry itself, it's time to talk all things stir fry sauce! This sauce is made with garlic and ginger and so so soooo delicious.
When it comes to chicken stir fry recipes, we're all about the sauce and using different ingredients to make it a little bit better for you. Don't worry, no flavor was sacrificed in the making!
Honey: honey is a great way to make a sweet, Asian-inspired sauce, but without refined sugar. Try swapping the honey for maple syrup for a warmer, but equally delicious flavor. PS: we like to use honey in place of brown sugar because it not only tastes better, but it's better for you.
Soy sauce: a little bit of soy sauce goes a long way. If you're watching your sodium intake, try using a low-sodium soy sauce or even swapping it for tamari for a gluten-free option.
Ginger: fresh ginger is one of my favorite ingredients to use in a healthy chicken stir fry recipe. If you love ginger like us, try doubling it in this recipe!
Garlic: I am one of those people that double garlic in every recipe. Do. Not. Skip. The. Garlic. It adds so much depth to this sauce! Feel free to use freshly chopped garlic, pre-minced garlic, or even garlic paste.
Sriracha: sriracha adds a little bit of heat, but not too much! If you like it hot, add as much as you'd like!
Hoisin sauce: hoisin sauce is optional for this recipe, but if you like the authentic Chinese takeout flavor, add just a tablespoon and you're good to go.
Other flavors to add-ins
Looking to add some heat or maybe some citrus? Here are some options for you:
crushed red pepper flakes
hot sauce
sesame seeds
sesame oil
How to Thicken Stir Fry Sauce
No one likes a watery chicken stir fry sauce and that's a fact. In this recipe, we thicken our sauce with a cornstarch slurry. In order to do so, you'll need cornstarch and water.
Place water in a small bowl and sprinkle in cornstarch.
Whisk cornstarch until it dissolves.
Then, add the slurry into your hot stir fry right into the pan. Make sure to keep the heat on at least medium so that it can activate the cornstarch to thicken the sauce.
quick tip
Start with 2 teaspoons of cornstarch and go from there. Too much cornstarch can easily ruin a dish, so start small!
How to Make Chicken Stir Fry
How do you make chicken stir fry from scratch, you ask? Chicken and vegetable stir fry is a quick and easy dinner idea and the reason is that it takes less than 30 minutes!
Once you've got your veggies and chicken chopped and your sauce made you've only got a few steps left.
Prep Chicken and Veggies: cut chicken and veggies into bite-sized pieces, making sure everything is around the same size.
Make Sauce: place the ingredients for the stir fry sauce in a small bowl and whisk to combine. Leave out the water and cornstarch.
Sauté Chicken: cook chicken breast over medium/high heat for about 2-3 minutes.
Add Stir Fry Vegetables and Sauce: Add in your veggies and sauce. Stir fry chicken and vegetables 2-3 minutes before adding the sauce. Bring sauce to a boil and then, reduce heat and let simmer for 6-8 minutes. Option to cover chicken and vegetables for a few minutes to help cook faster.
Thicken Sauce: create cornstarch slurry by whisking together cornstarch and water. Then, add it to the stir fry and continue cooking for 1-2 minutes or until thickened.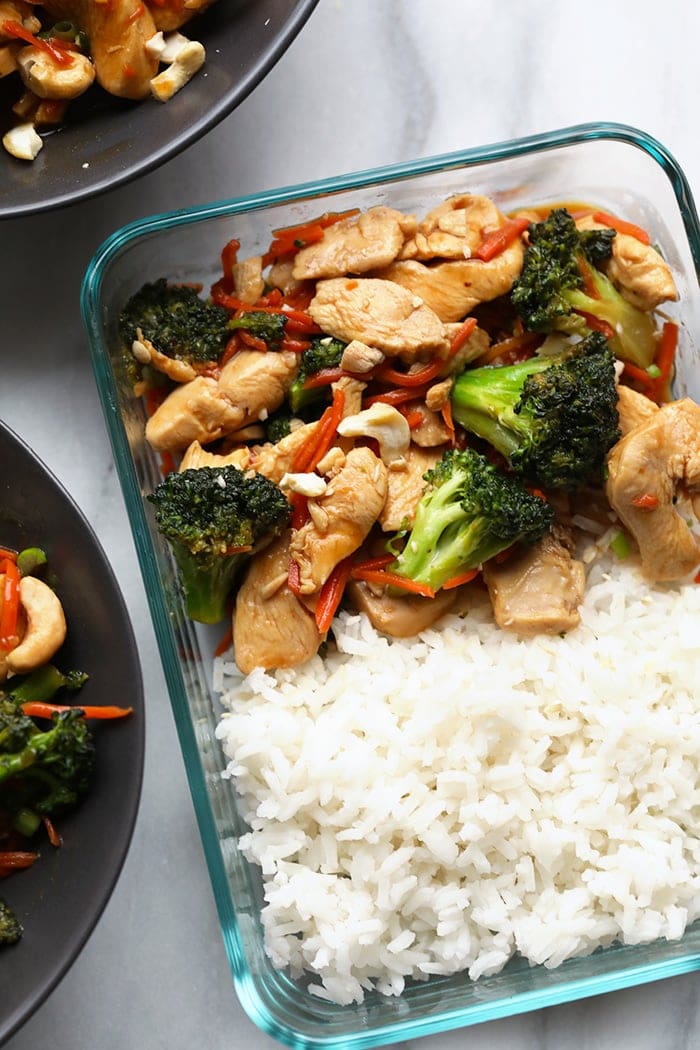 What Goes with Chicken Stir Fry
Chicken stir fry is classically eaten with a side of white rice. Here are some other options for you to try out!
Storage
Let stir fry cool completely and then transfer to an airtight container and store in the fridge for up to 3-5 days.
Easy Meal Prep
Lucky for you, pretty much any kind of homemade takeout recipe is perfect for meal-prep. For this recipe, add your favorite grain and you're good to go for 4 meals.
If you're feeding a crowd, you can even double this recipe to easily get 8 meals out of it. Check out our favorite glass meal-prep containers here for a reusable, more environmentally friendly meal-prep option.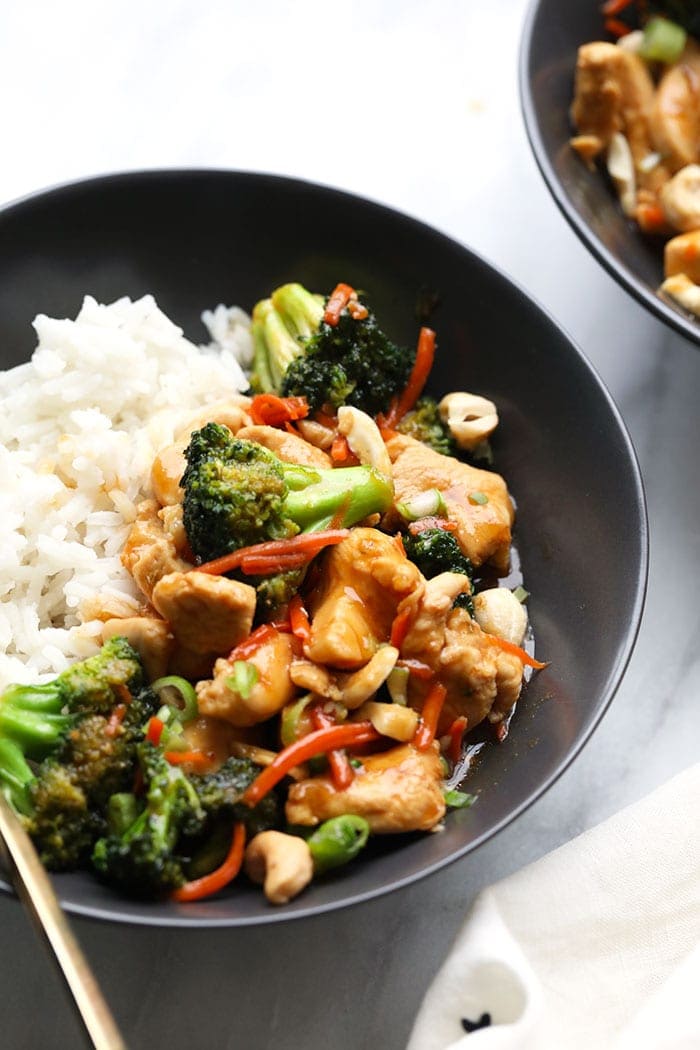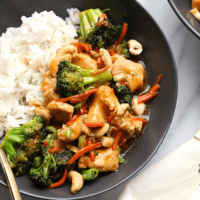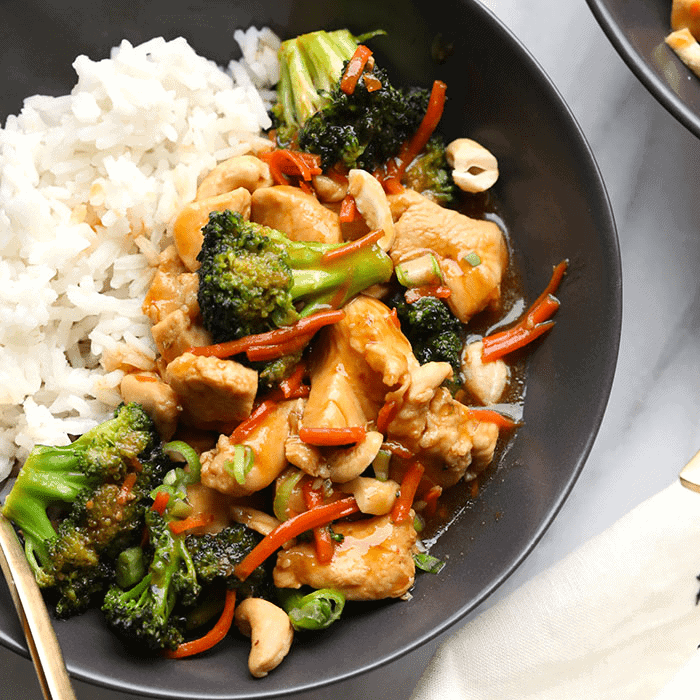 Chicken Stir Fry Recipe
Our homemade Chicken Stir Fry is a great alternative to takeout! The sauce is made with fresh ginger, garlic, soy sauce, honey, and a little sriracha.
Ingredients
Chicken Stir Fry
1

lb.

boneless

skinless chicken breasts, sliced into 1-inch chunks

1.5

tablespoons

olive oil

or coconut oil

8

cups

fresh broccoli florets

1/2

cup

shredded carrots
Sauce
1/4

cup

honey

1/4

cup

soy sauce

or tamari

1

tablespoon

minced garlic

1

tablespoon

grated fresh ginger

1

teaspoon

sriracha

1

tablespoon

hoisin sauce

2

tablespoons

water

2

teaspoons

cornstarch
Instructions
First, prepare stir fry sauce by whisking together all ingredients except for the water and cornstarch.

Next, heat olive oil in a large pan over medium/high heat. When olive oil is fragrant, add sliced chicken breast to the pan and sauté for 2-3 minutes.

Next, add the stir fry vegetables (except for carrots) and sauté for 2-3 minutes before adding the sauce. Bring sauce to a boil and then reduce to low/medium, add carrots, and let simmer for 6-8 minutes. If you have really big broccoli florets, you can cover the stir fry and let it steam for 2-3 minutes to cook it faster.

While chicken stir fry is cooking, make a cornstarch slurry. Whisk cornstarch in 2 tablespoons of water until it dissolves. Then, add the cornstarch slurry to the pan and continue cooking over medium heat to activate. It will take 1-2 minutes for the cornstarch to start thickening your sauce. 

Serve chicken stir fry over your favorite grain such as white rice, brown rice, or fried rice! Option to top with your favorite nut such as cashews, peanuts, or sesame seeds.
Tips & Notes
Rice is not included in nutrition information.
Nutrition facts
Calories:
305
kcal
Carbohydrates:
34
g
Protein:
28
g
Fat:
9
g
Fiber:
5
g
Sugar:
20
g