Looking for a foolproof method on how to cook quinoa? In this post, we'll teach you all about the superfood called quinoa, the different ways to make it, and how to incorporate it into your meals!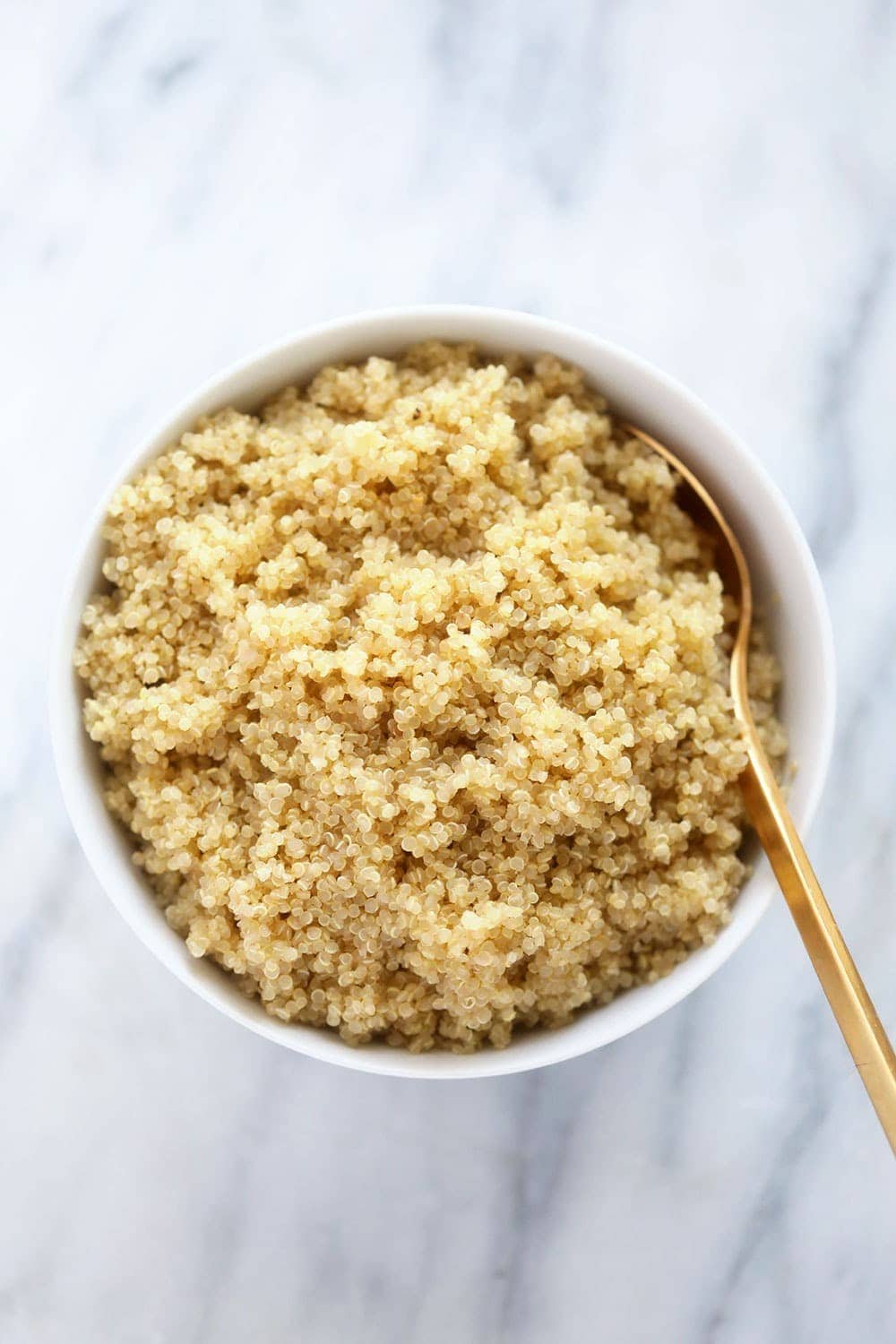 We Love Quinoa!
I've been writing about quinoa since the early days of Fit Foodie Finds. We're talking…since 2010 when quinoa was unknown and a measly $2.99/lb.! I even shared these 10 healthy quinoa recipes dating back to 2011 for my early-on readers.
We love that quinoa is a vegetarian, protein-packed ingredient that's perfect in savory recipes such as casseroles and soups, and sweet recipes such as breakfast quinoa. It's versatile, easy to cook with, and oh-so-tasty.
This post has been a long time coming and I'm so excited to gather my years of experience cooking with quinoa and put it all in one place. From an easy side dish to protein-packed quinoa salads, here is everything we know about quinoa!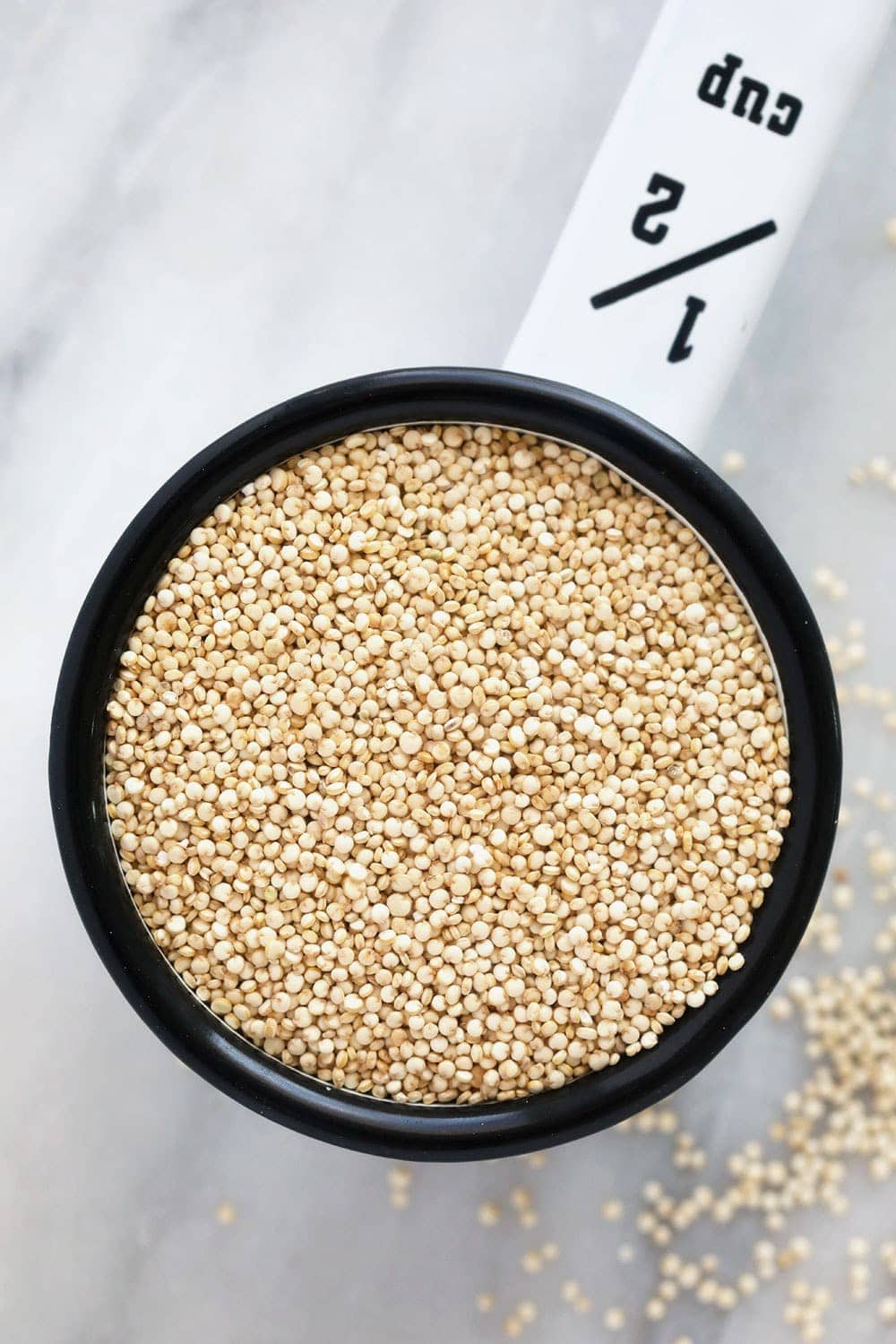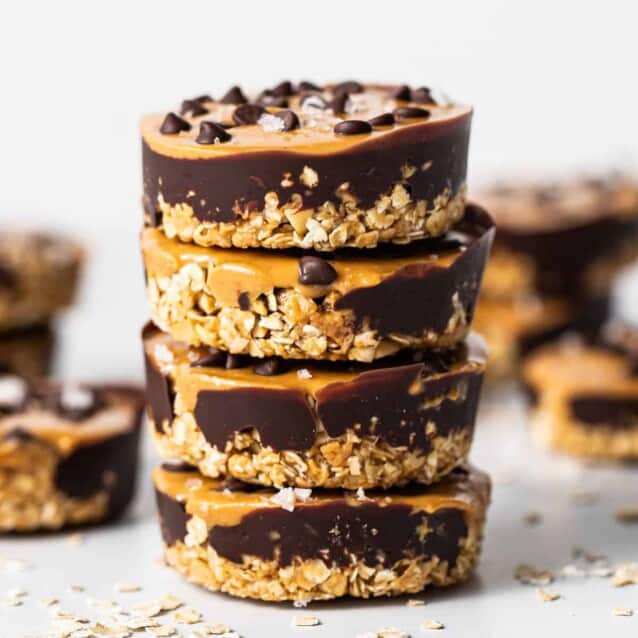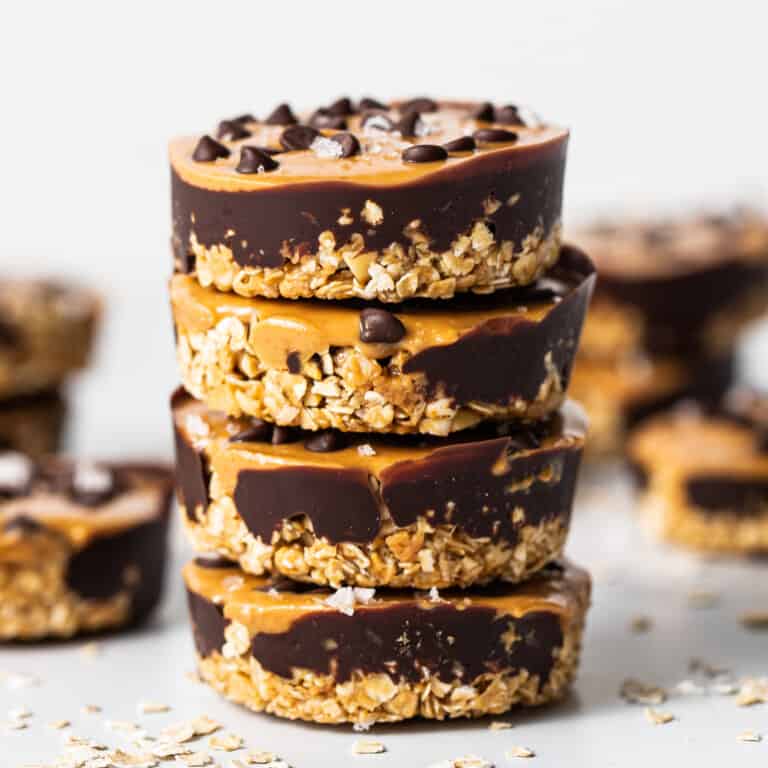 Get our Top 10 5-Star Recipes!
Join our email list for new recipes and BONUS: get our top 10 ⭐️⭐️⭐️⭐️⭐️ recipes e-book!
Quinoa 101
What is quinoa?
Quinoa is a little (but mighty) superfood that originated in South American thousands of years ago. Hence why this little grain-like seed is known as an "ancient grain."
PS: did you know that quinoa isn't actually a grain? It's a seed!
Quinoa pronunciation
Before we go any further, let's chat about pronunciation. The best I've heard is Key-Woah-Wah. And the most common I've heard is Keen-Oh-Ah. However, it's much simpler than both of those!
Quinoa pronunciation: Keen-Wah
What does quinoa taste like?
Quinoa has a mild and slightly nutty flavor. It is commonly used in place of a grain such as rice or couscous and pretty much cooks just the same. Because of the mild taste, you can flavor it both sweet and savory, making it perfect for any meal.
While quinoa is not a who grain, it definitely has a similar taste to other whole grains such as brown rice or farro.
Quinoa Nutrition Facts
Quinoa has been dubbed a health food since pretty much the day I started writing about it because it has a very unique trait to it. Quinoa is actually a complete protein, meaning that it has all 9 essential amino acids. This makes it a plant-based dream food.
per 1 cup of cooked quinoa
169 calories
3g fat
32g carbs
3g fiber
0g sugar
6g protein
Here is a great source from Medical News Today that goes more in-depth about all the health benefits of quinoa. And here is the full nutrition breakdown of 1 cup of cooked quinoa from the USDA.
Where to Buy Quinoa
Quinoa can be found at most grocery stores and everywhere online. We recommend, when possible, buying quinoa in the bulk section. You'll get the most bang for your buck here and save the most money.
Below you will find some of our recommended brands of quinoa that are tried and true in our recipes!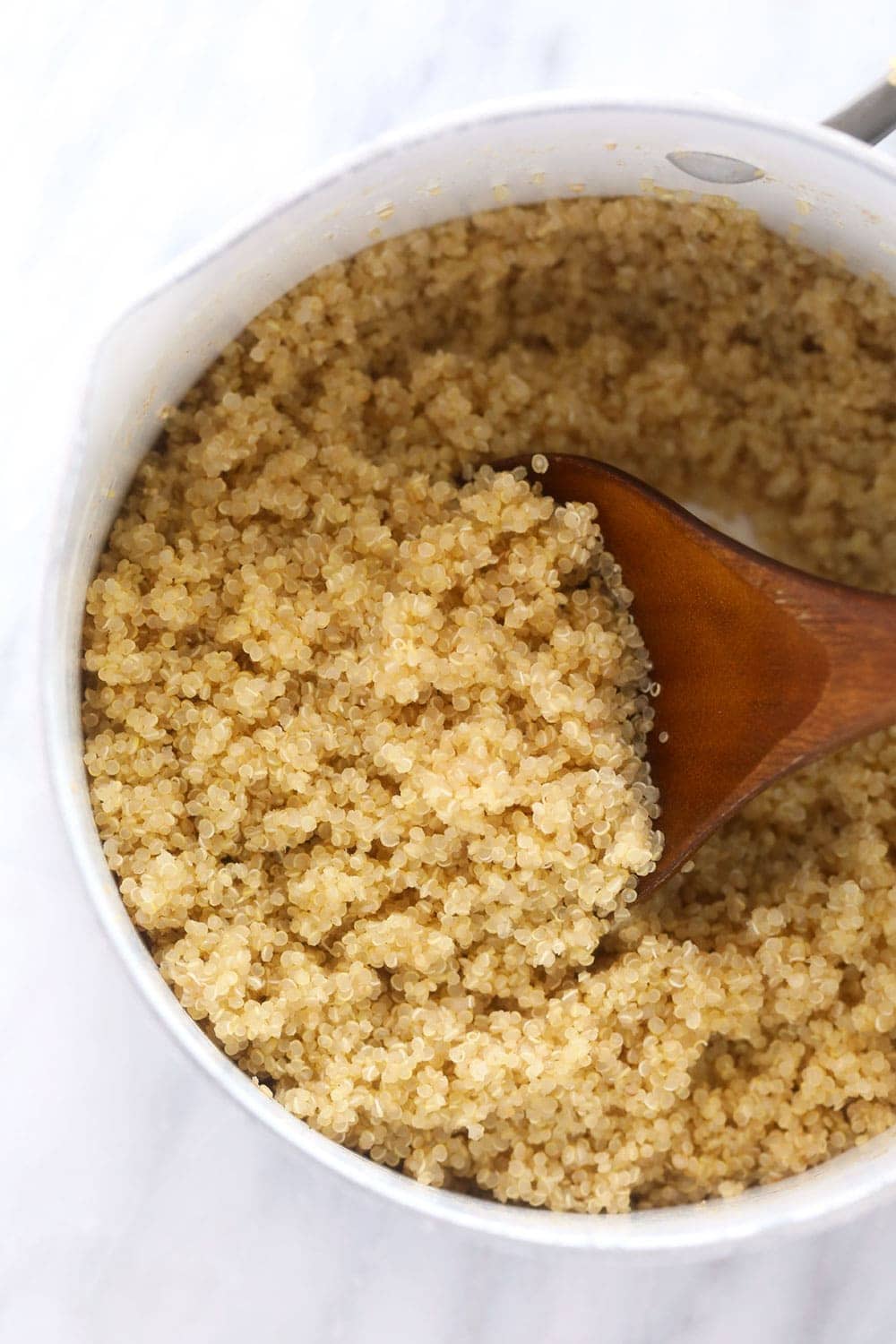 Common Questions
How do you cook 1 cup of quinoa?

The easiest way to cook 1 cup of quinoa is on the stovetop. The standard ratio to follow is 1 cup quinoa to 2 cups liquid, but if you'd like your quinoa to be more rice-like, we suggest 1.75 cups water.

In a medium pan, bring quinoa and water to a boil over high heat. Then, reduce heat to low and cover. Let simmer for around 15-20 minutes or until all liquid has absorbed.
What is the ratio of quinoa to water for cooking?

The standard quinoa to water ratio is 1:2.
Do you need to rinse quinoa?

The short answer is no, you do not have to rinse quinoa. However, it is a common practice to rinse quinoa in order to remove any residue from it which can cause your quinoa to taste sour.
How do you know when quinoa is done cooking?

You know your quinoa is done cooking when the little seeds of quinoa sprout open and when all of your liquid has been absorbed.
Is quinoa gluten free?

Quinoa is naturally gluten free, however just to be sure there's no cross-contamination, always look for a certified gluten-free sticker on the package.
How long does cooked quinoa last in the fridge?

Cooked quinoa will last in the fridge for around 5 days. Make sure to keep it in a glass, airtight container for best results.
How do you know if uncooked quinoa has gone bad?

You know your quinoa has gone bad when the 1:2 ratio no longer works and your quinoa has a hard time cooking properly. It might also have a pungent after-taste.
Can you freeze cooked quinoa?

Yes! Freezing cooked quinoa is easy. First, let the quinoa cool completely. This part is important for preventing freezer burn. Then, transfer into a freezer-safe gallon-size bag or glass container. Remove as much air as possible and seal. It will last up to 3 months.
Which color quinoa is best?

We are plane jane people and prefer to cook with white quinoa. We've found that it cooks much easier than tri-color quinoa as well as red quinoa or black quinoa. Red quinoa tends to have more of a bite to it, whereas white quinoa is more rice-like.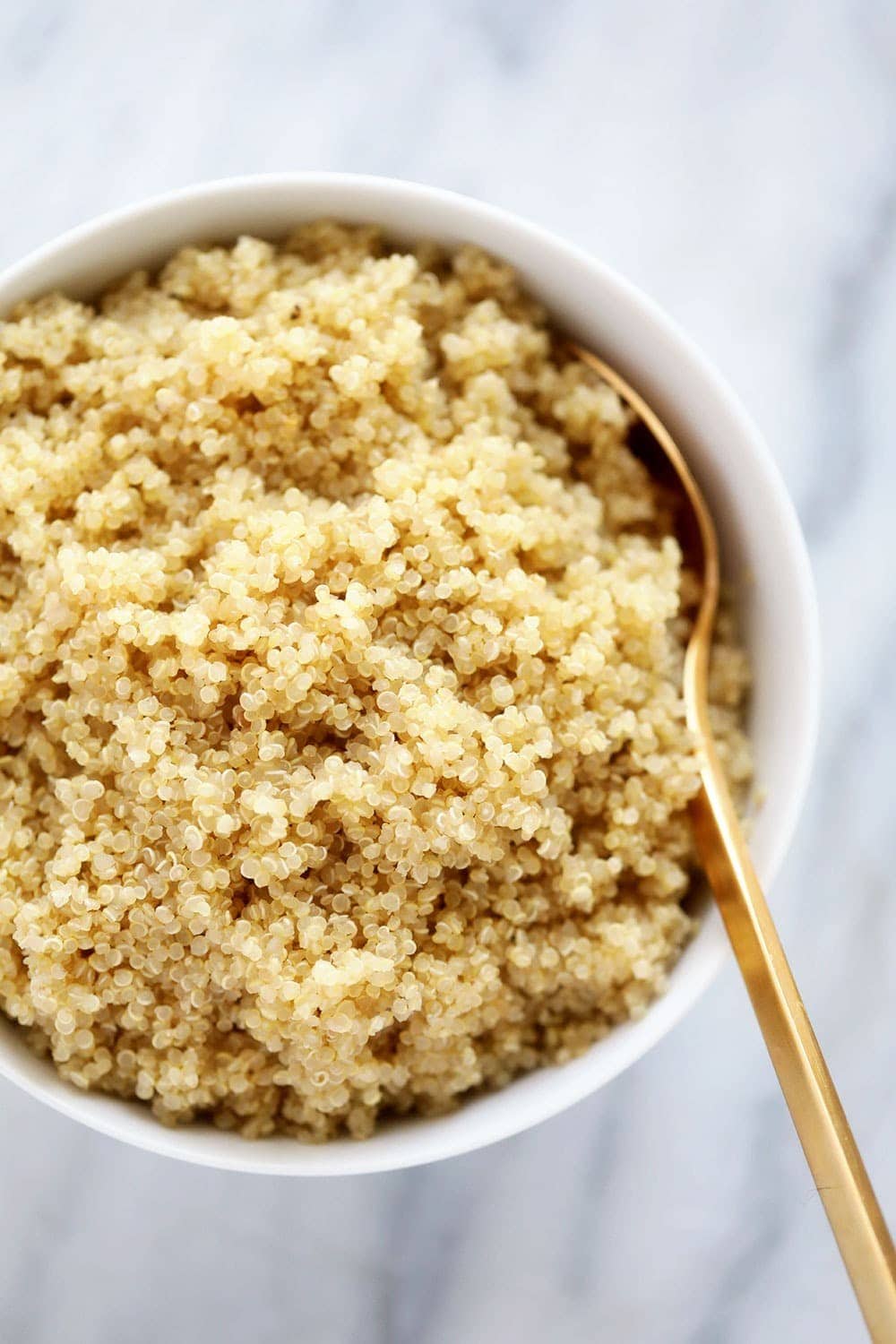 How to Make Quinoa on the Stove
There are many different ways that you can cook up quinoa to get nearly perfect, fluffy quinoa every time, but the one foolproof method you can't mess up is on the stove!
Step 1: Rinse
I am going to say something that might surprise you, but for almost 10 years, I've been cooking quinoa WITHOUT rinsing it. I know, I know, that is completely against the books, but I guess you could say I am a bit…lazy?
Rinsing quinoa is always a good idea because it not only cleans the seeds from any residue but also helps with flavor. I have noticed that SOMETIMES if I don't rinse the quinoa, there will be sort of a pungent aftertaste. This is likely caused by any residue that is on the outside of the quinoa seeds.
So, to rinse your quinoa, all you have to do is place it in a fine mesh strainer or sieve (what we use!) and run water over it for 10-20 seconds. It's as easy as that!
Step 2: Quinoa to Water Ratio
The great debate, quinoa to water ratio. In my almost 10 years of cooking with quinoa, I can safely say there is more than one way to do it and neither is right nor wrong! We tested multiple different ratios and are sharing our results below.
For every 1 cup of uncooked quinoa-
2 cups water: 1:2 has always and will always work. It gives your quinoa a little bit more of a creamy texture, but it will work every time.
1.75 cups water: want rice-like quinoa that has more of a bite to it. 1.75 cups of what is your go-to!
A lot of people claim the classic 1:2 is too much water and honestly, it just comes down to preference. I've grown to like my quinoa to be more rice-like, which is why I prefer the 1:1.75!
Go beyond water
Get fancy and flavorful and try using chicken broth or vegetable broth instead of water! This will add a more savory element to your quinoa. You can even try and make our coconut quinoa by using full-fat coconut milk! Lastly, if you're hoping for more of a sweet quinoa recipe, try milk or almond milk with a little bit of honey or maple syrup.
Step 3: Boil, Reduce, Simmer
Combine quinoa and water into a medium pot and bring to a boil over high heat.
Once the quinoa starts to boil, immediately turn the heat to low and cover it. Let it simmer for around 15 minutes or until all the water has absorbed.
Pro tip: when I say low, I mean low! If you cook your quinoa on anything hotter than low, your quinoa will cook too quickly on the outside, but still, be uncooked on the inside. Just remember, low and slow!
Other Ways to Cook Quinoa
Microwave- Cooking quinoa in the microwave can be done and is great for those that don't have a stove or any fancy kitchen appliances!
Follow our tutorial on how to make microwave quinoa!
Instant Pot- Instant Pot quinoa is glorious for so many reasons, but mostly because you can't make a mess. It's also great for cooking large amounts of quinoa at once.
Follow our tutorial on how to make IP quinoa!
Oven- while we've never cooked quinoa by itself in the oven, we have cooked countless quinoa casseroles that include RAW quinoa in the oven. Our rule of thumb that we always shoot for with casseroles is to still use the 1:2 ratio of quinoa to water.
So, if you'd like to make quinoa in the oven or even create your own casserole, keep that ratio in mind of quinoa to liquid.
Slow Cooker- Like the oven, we've never made quinoa by itself in the slow cooker (because it takes a long time), however, we've made tons of quinoa-based soups and casseroles in the slow cooker!
Use the ratio 1:2 of quinoa to liquid when making soups or casseroles in the crockpot and you're good to go.
Rice Cooker- So you have a rice cooker, do you? Lucky for you this is another great method to make quinoa! Like every method we've mentioned above, use a ratio of 1:2 quinoa to liquid.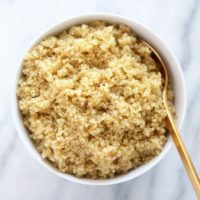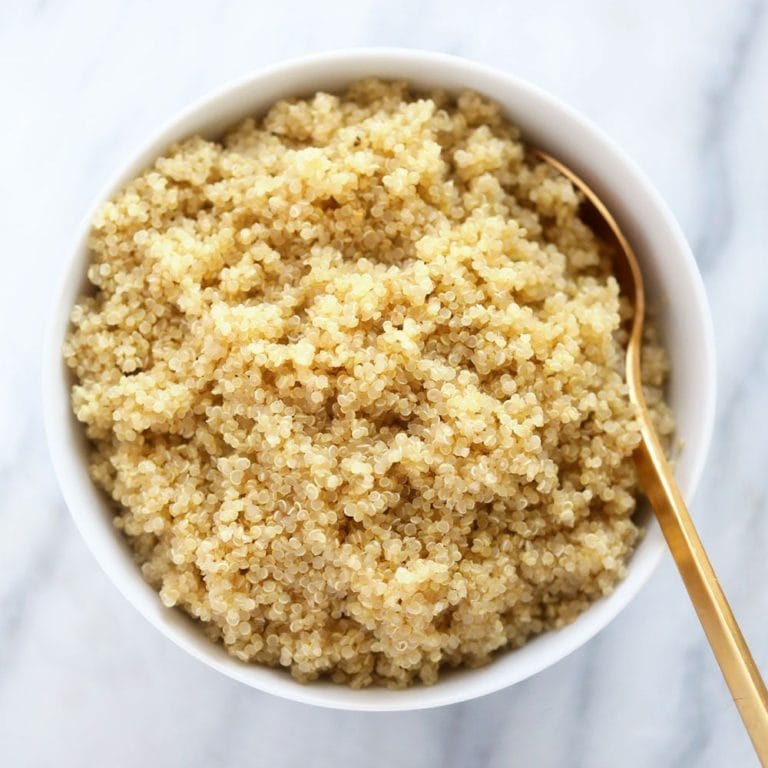 Easy Quinoa Recipe
Follow this easy tutorial on how to make quinoa on the stovetop. All you need is quinoa and water to get started!
Instructions
First, place 1 cup of uncooked quinoa into a fine mesh sieve and rinse it under cold water for 10-20 seconds. Then place rinsed quinoa and 1.75 cups water into a medium saucepan and stir.

Turn to medium-high and bring to a boil, uncovered. Once boiling, turn down to low and cover.

Let simmer for around 15 minutes or until all water has absorbed. Stay close to your quinoa as I've found sometimes it can easily boil over if your burner is on too high.

Remove lid, fluff with a fork, and serve immediately
Tips & Notes
Water: the standard ratio of quinoa to water is 1 to 2, however, we love when our quinoa has a little bit of a bite to it, which is why we prefer 1 to 1.75.
Nutrition facts
Calories:
169
kcal
Carbohydrates:
32
g
Protein:
6
g
Fat:
3
g
Fiber:
3
g
Sugar:
0
g
More Quinoa Recipes
From salads to casseroles to burgers to breakfast porridge, there are hundreds of different ways to use this mighty seed. Below we're sharing some of our favorite ways that will hopefully have you loving quinoa as much as us!
Quinoa Salads
Quinoa salads are a fan favorite! Typically we like to make them vegetarian (or even vegan) and they're a great thing to keep in the fridge at all times. Our Mexican Quinoa Salad Is a great dish to bring to gatherings or even pop in a jar for lunch!
This quinoa salad packs in all the citrus and even classic Mexican veggies such as corn, tomatoes, and black beans.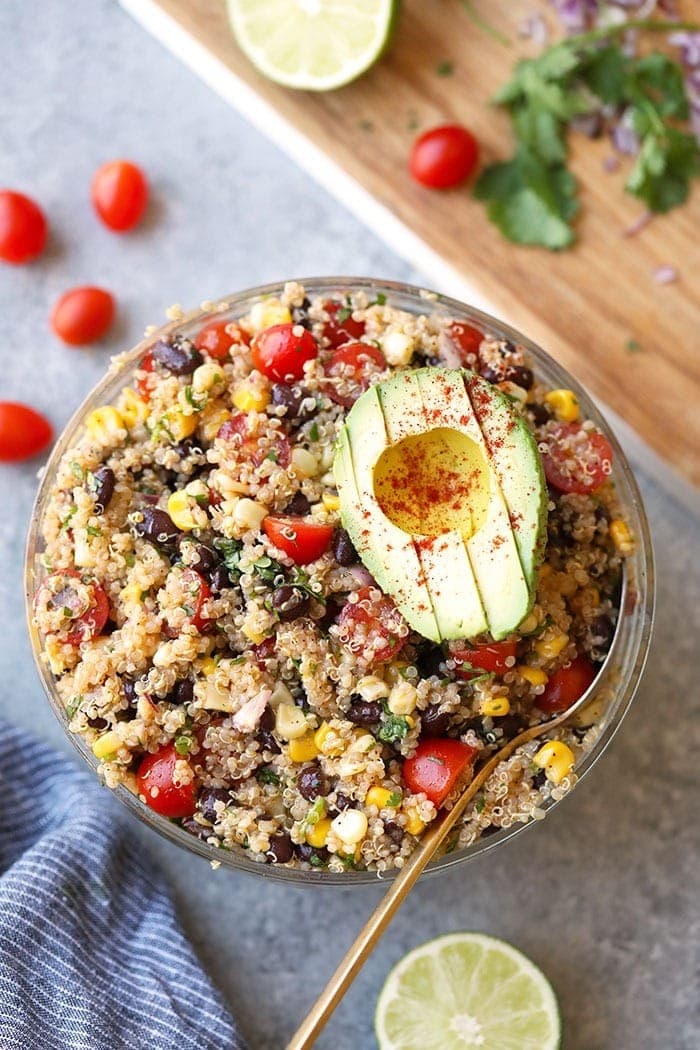 More Quinoa Salads
Quinoa Bowls
Buddha bowls are our go-to meal when "we don't have anything to eat." Quinoa is our grain of choice because it gives you that boost of plant-based protein and tastes good with pretty much anything.
Our Thai Coconut Quinoa Bowls are so flavorful and are actually made with our epic coconut quinoa, a twist on classic quinoa. They're made with roasted sweet potatoes, a cabbage slaw, and a creamy peanut sauce!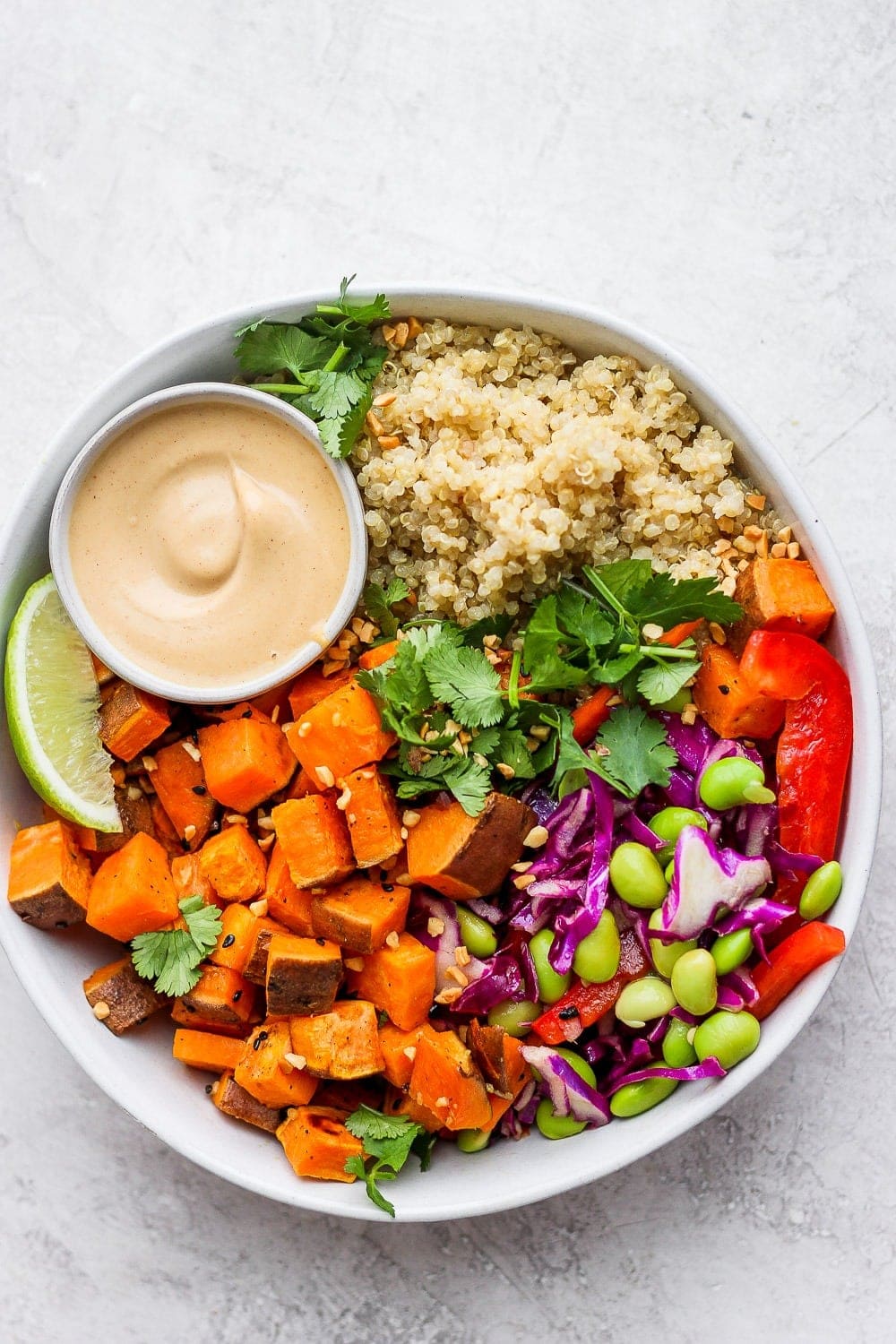 More Quinoa Bowl Recipes
Quinoa Casseroles
Quinoa casseroles have to be one of my all-time favorite meals. Throw everything into a casserole dish uncooked and let the magic happen in the oven!
Our most popular quinoa casserole is the Chicken Parmesan Quinoa Casserole made with chicken breast, your favorite marinara, and parmesan cheese!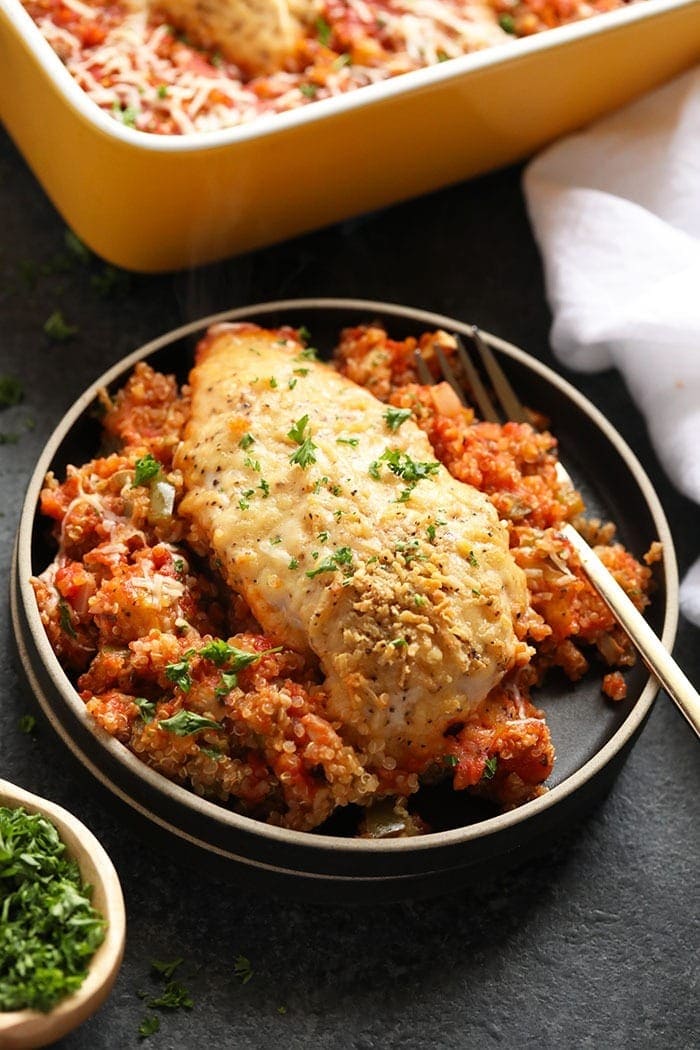 More Quinoa Casserole Recipes
Soup/Chili with Quinoa
When in doubt, add quinoa to your soup! Our Chicken Quinoa Soup is a great noodle soup alternative for those trying to escape from gluten.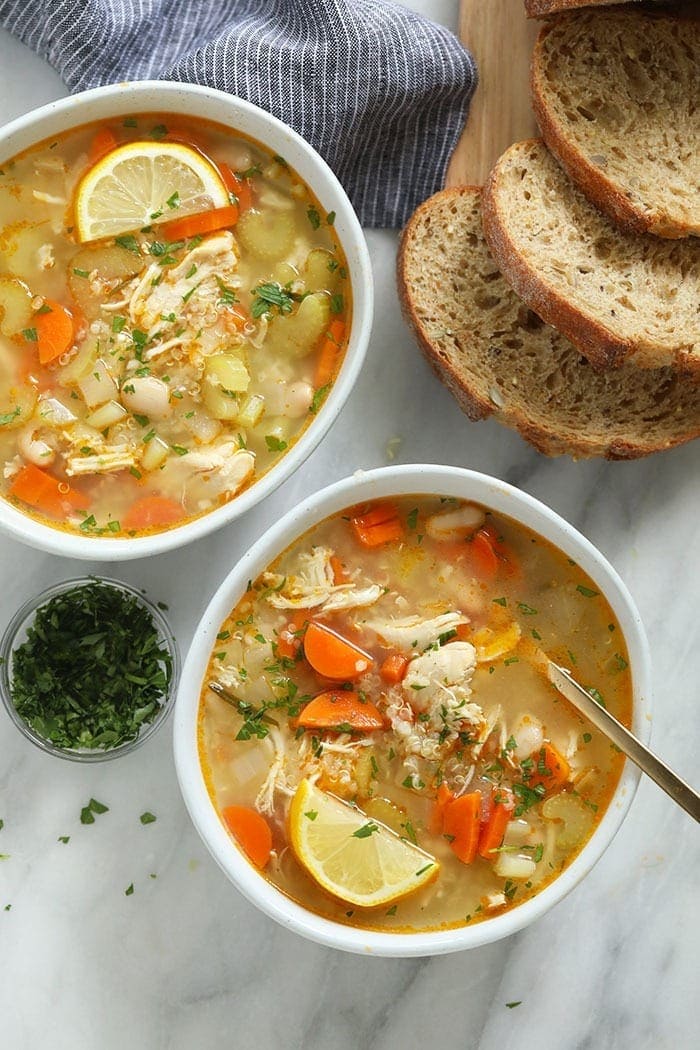 More Soup Recipes with Quinoa