Our fool-proof Instant Pot Quinoa is perfectly fluffy every time and is faster than most other recipes (hello quick release!).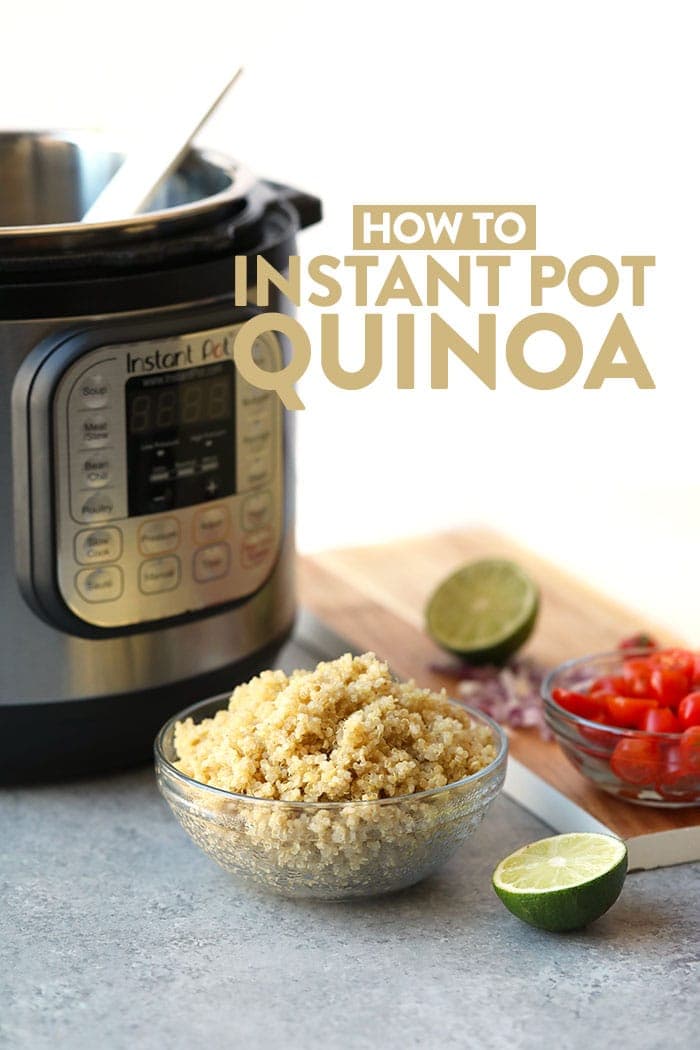 You guys, you know that we love quinoa on Team Fit Foodie. You also know that we love healthy Instant Pot recipes, so it was a no brainer to combine the two for the Easiest Instant Pot Quinoa on the internet.
First things first- a little bit about quinoa. Quinoa is like a superpower seed. That's right, it's actually not a grain, it's a seed! It's naturally gluten-free and high in protein containing all 9 essential amino acids making it a complete protein…basically a plant-based eaters dream.
All About the Research
When doing a bit of research on making Instant Pot Quinoa, there were many tutorials on how to cook quinoa, rice, couscous, and other grains in the Instant Pot. We decided to test as many different ways as possible. You guys, there are so many different avenues you can take when cooking quinoa in the Instant Pot, it all depends on how YOU like to do it.
In the Fit Foodie Kitchen, we prefer to quick release over natural release because, uh, instant gratification, people. We like to adjust the cook-time and make sure that it aligns with a quick release. Aside from the quick-release feature, we focused on two variables when testing the recipe; 1. cook time and 2. the water to quinoa ratio.
Liquid to Quinoa Ratio
Traditional stovetop quinoa calls for a 2:1 water to quinoa ratio and turns out, it's exactly the same ratio to get ultra fluffy, perfectly cooked quinoa!
We know many Instant Pot Quinoa recipes call for a 1:1 ratio, but as you know, we're big fans of the quick-release because it really is a time saver. This is why a 2:1 ratio works for our fool-proof method.
Cook Time
Some people like to use the rice cooking feature on the Instant Pot and some like a gradual natural release. If you're anything like us, you know that a natural release can be slow and painful and take even more time than other methods.
This is why we tested our recipe with a quick-release. We tested times ranging from 2 minutes to 8 minutes. No one likes undercooked quinoa and no one likes overcooked quinoa.
5 minutes came out to the most perfectly fluffy quinoa that really is fool-proof every time!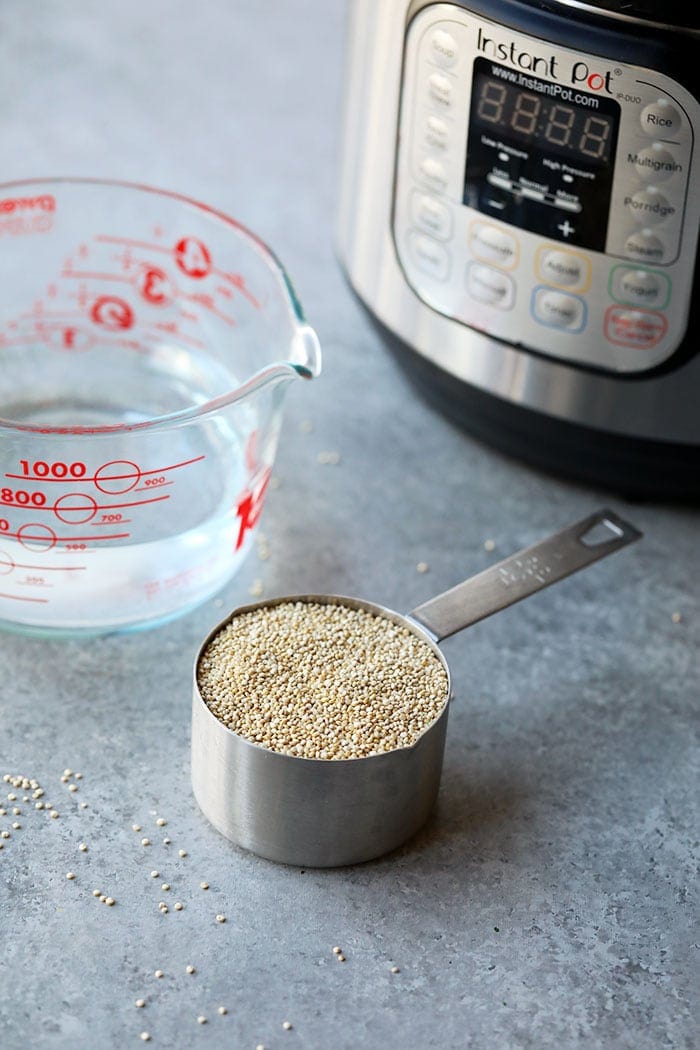 Tips for Perfect IP Quinoa
Rinse your quinoa before cooking. This will remove any residue and make sure you don't get that sour aftertaste.
Make sure your vent is turned to 'seal' instead of 'vent' before setting your instant pot
Use broth instead of water for extra flavor. Any kind of broth works!
Set your pressure to 'high pressure' instead of 'low pressure'
Can you double this recipe? This recipe can easily be doubled or tripled. So, if you're meal-prepping for the week or cooking for a crowd, feel free to do so!
Storage
Store quinoa in an airtight container in the refrigerator for up to 5-7 days.
Can you freeze quinoa? Freezing cooked quinoa is easy! All you have to do is let the quinoa cool completely. Then, transfer it into a freezer-safe, gallon-size bag. Remove as much air as possible and then seal. The quinoa will last for up to 3 months.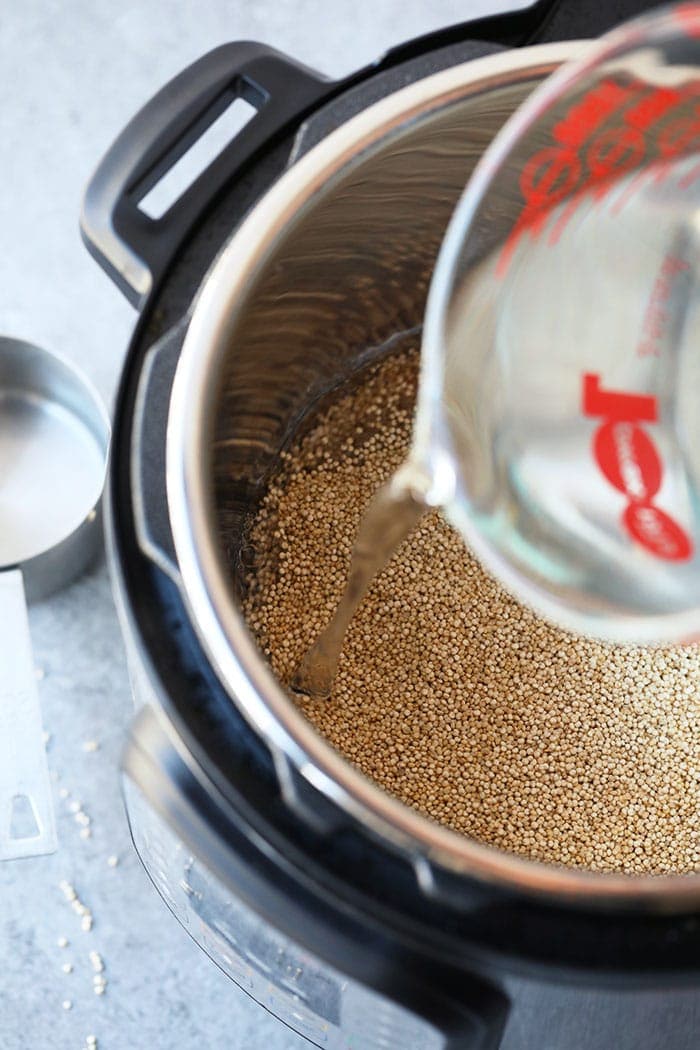 Trust me, you will love cooking quinoa in the Instant Pot. Prep is easy and clean-up is a breeze! We love cooking quinoa in the instant pot because it is great for meal prep. Feel free to serve your quinoa alongside any of our other delicious Instant Pot Recipes like this Korean Beef or Moroccan Chicken!
Recipe Pairings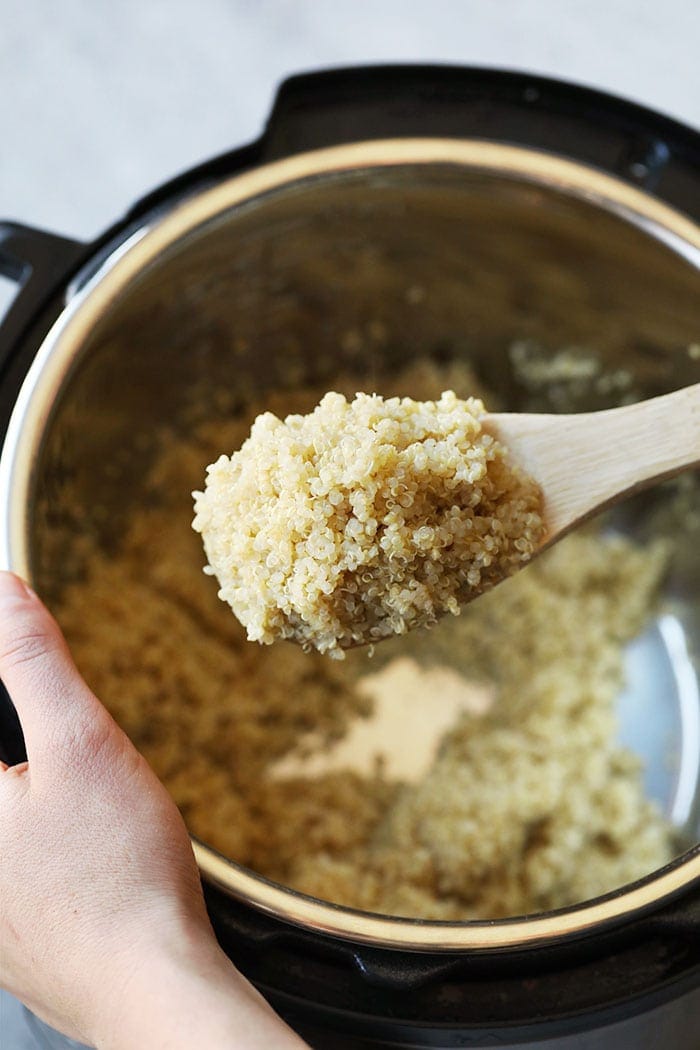 Easy Instant Pot Recipes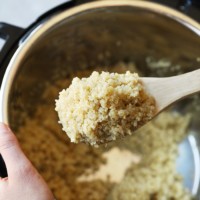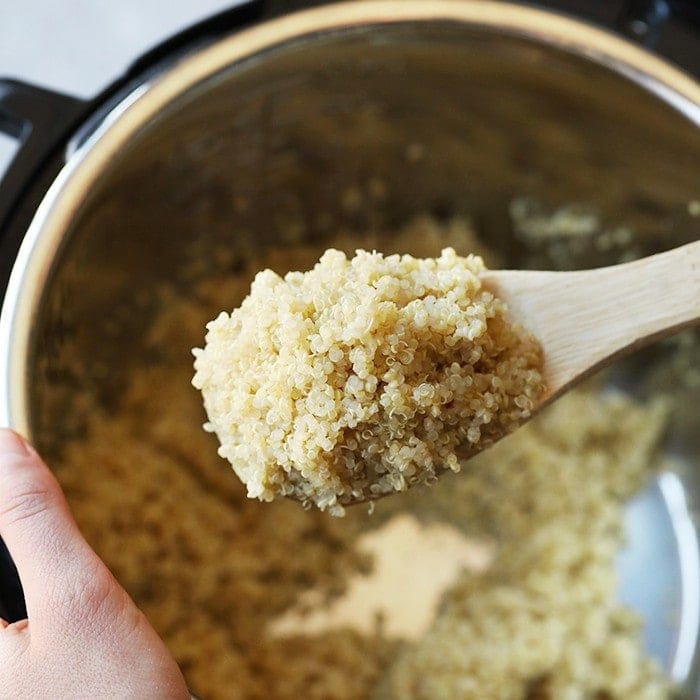 Fluffy Instant Pot Quinoa
This Instant Pot Quinoa recipe will get you perfectly cooked quinoa every single time. Our secret? 2:1 ratio and 5 minutes with a quick-release!
Instructions
Prepare quinoa by placing it in a sieve and rinsing it under cold water to remove any residue. Shake the water out of the quinoa and transfer it into the bottom of your Instant Pot.

Next, add water to the Instant Pot and mix everything together.

Close your Instant Pot and turn to pressure valve to 'seal'.

Press manual and set the pressure to 'high pressure''. Set timer to 5 minutes. It will take 10-15 minutes for the pressure to build, but eventually the timer will start counting down from 5 minutes.

When the timer goes off, quick-release your Instant Pot. Steam will shoot out of the vent, so be sure stay clear!

Open the top of the Instant Pot, fluff with a fork and enjoy!
Nutrition facts
Calories:
180
kcal
Carbohydrates:
32
g
Protein:
7
g
Fat:
3
g
Fiber:
2
g
Sugar:
0
g