There is nothing better than a big bowl of this kale soup! All you have to do is throw everything in a pot, let it simmer for 30 minutes, and it will be ready to enjoy all week long!
We love making a big batch of soup on a cold weeknight! This one pot golden curry chicken soup or this delicious Instant Pot hamburger soup are some of our most popular soup recipes!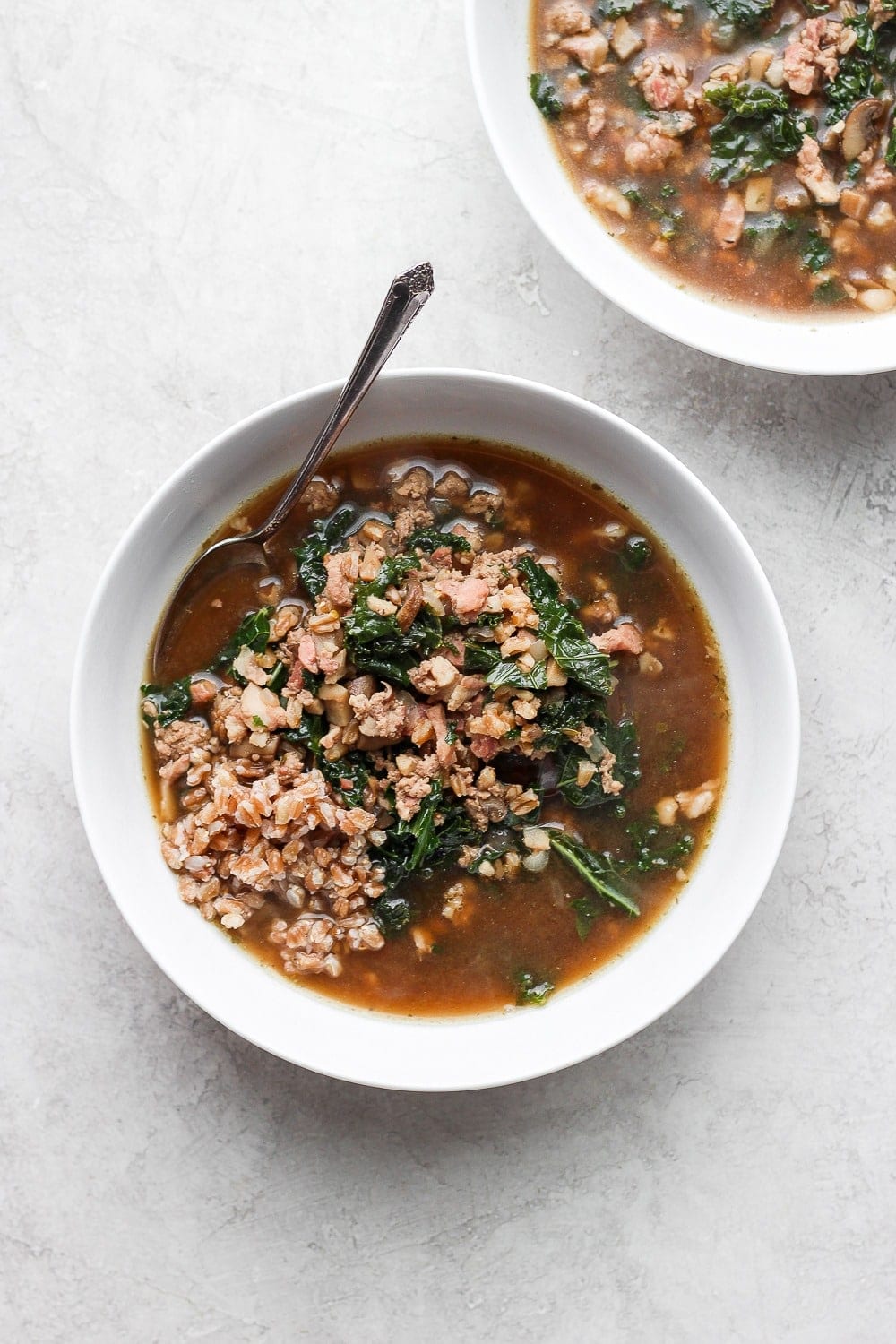 One Pot Soup is the Best Soup
If there is one thing better than a good bowl of soup, it is a good bowl of soup that took very few dishes to make! This kale soup recipe requires only one pot!
Why only use one pot? Not only are one pot soup recipes good for few dishes, you get so much flavor if you prepare a one pot soup in layers!
Sauting veggies, cooking down meat, and deglazing with wine only using pot creates an amazing flavor profile for any soup! You can't beat the ingredients in this dish, let's dig into all of the delicious flavors we're working with.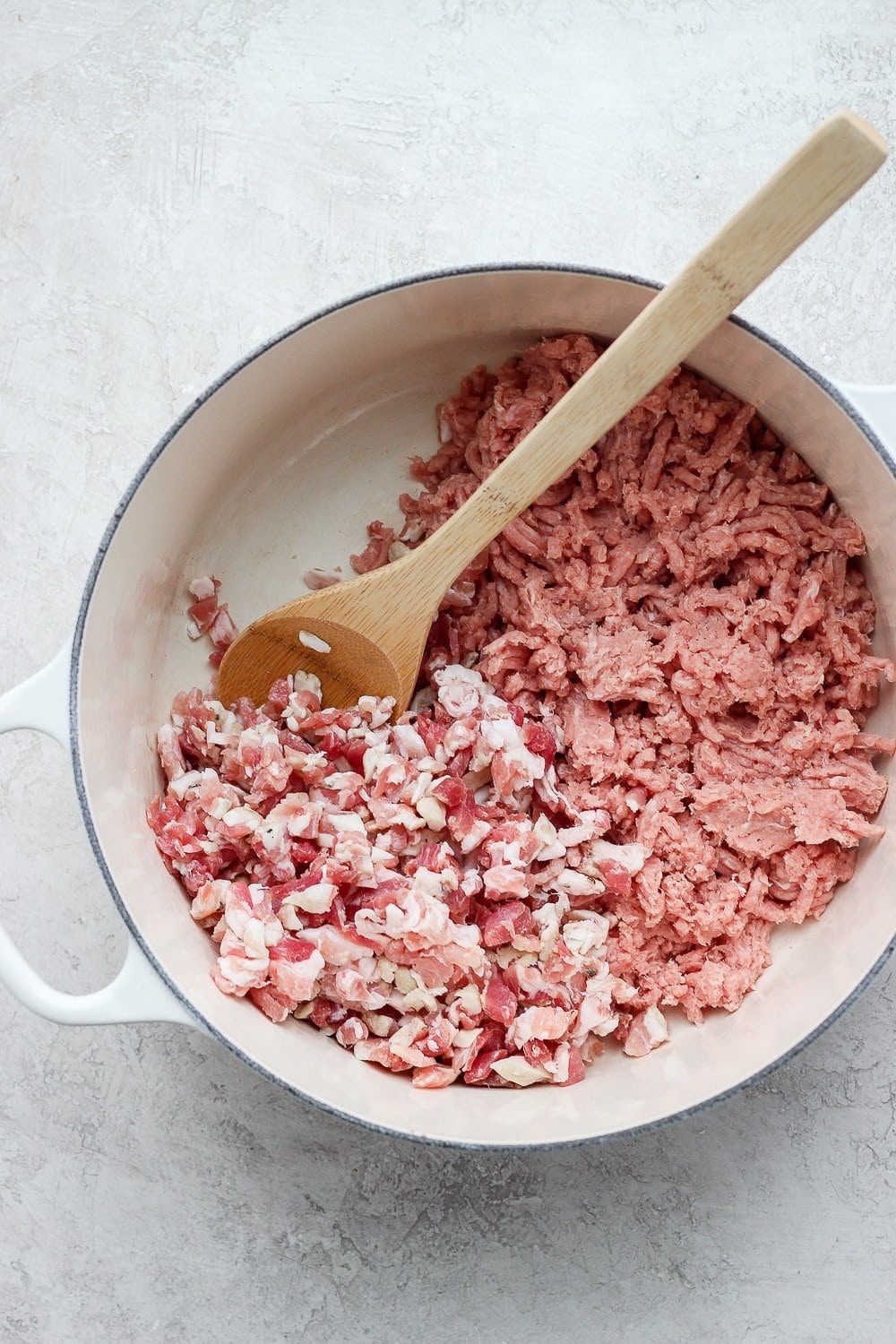 Important Ingredients
This soup is definitely a comfort soup with its rich umami flavors and deep and flavorful broth. There are 30 grams of protein per serving in each bowl of soup thanks to the protein and farro in this soup!
Pancetta- There are 8 oz. of pancetta in this soup and it is one of the first ingredients we partially cook in the pot to create a delicious fond as the base of the soup.
Pancetta is a cured pork meat that you can buy in large chunks or already cut up into cubes (that is what we did). If you can't find pancetta, a great substitution for pancetta is bacon!
Ground Turkey- Ground turkey is another delicious ingredient that makes this soup hearty and healthy!
We used turkey rather than another ground meat because it's a leaner protein and the pancetta has the perfect amount of fat and salt to flavor the turkey perfectly!
Here's a tip–> Be sure not to cook the turkey fully when cooking it down in step 2,  it will fully cook when you simmer the soup later in the recipe.
Red wine- We used red wine to deglaze the pot! Don't skip this step! The red wine adds the perfect amount of acidity that you need to balance out the saltiness of the pancetta!
Kale- Since kale is the hero of this recipe, you can't skip it! Make sure to add the kale last (just so it wilts). If you add the kale too soon, it will turn mushy and nobody likes mushy kale. 🙂
Crimini mushrooms- The mushrooms in this kale soup add a ton of nutritional value and they compliment the wine, pancetta, and everything in between!
Farro- Soup recipes with grains are one some of my favorites! The beautiful part of the farro in this recipe is that you can throw it in the broth and let it soak up all the delicious flavors!
Farro sometimes gets a bad wrap because it takes a while to make, but it has the perfect amount of bite after you simmer it for 30 minutes in this soup!
Beef broth + Mushroom broth- Why two types of broth? Beef broth is delicious, but can sometimes be a bit rich! We went half and half with mushroom broth to add amazing flavor and lighten up the broth just enough!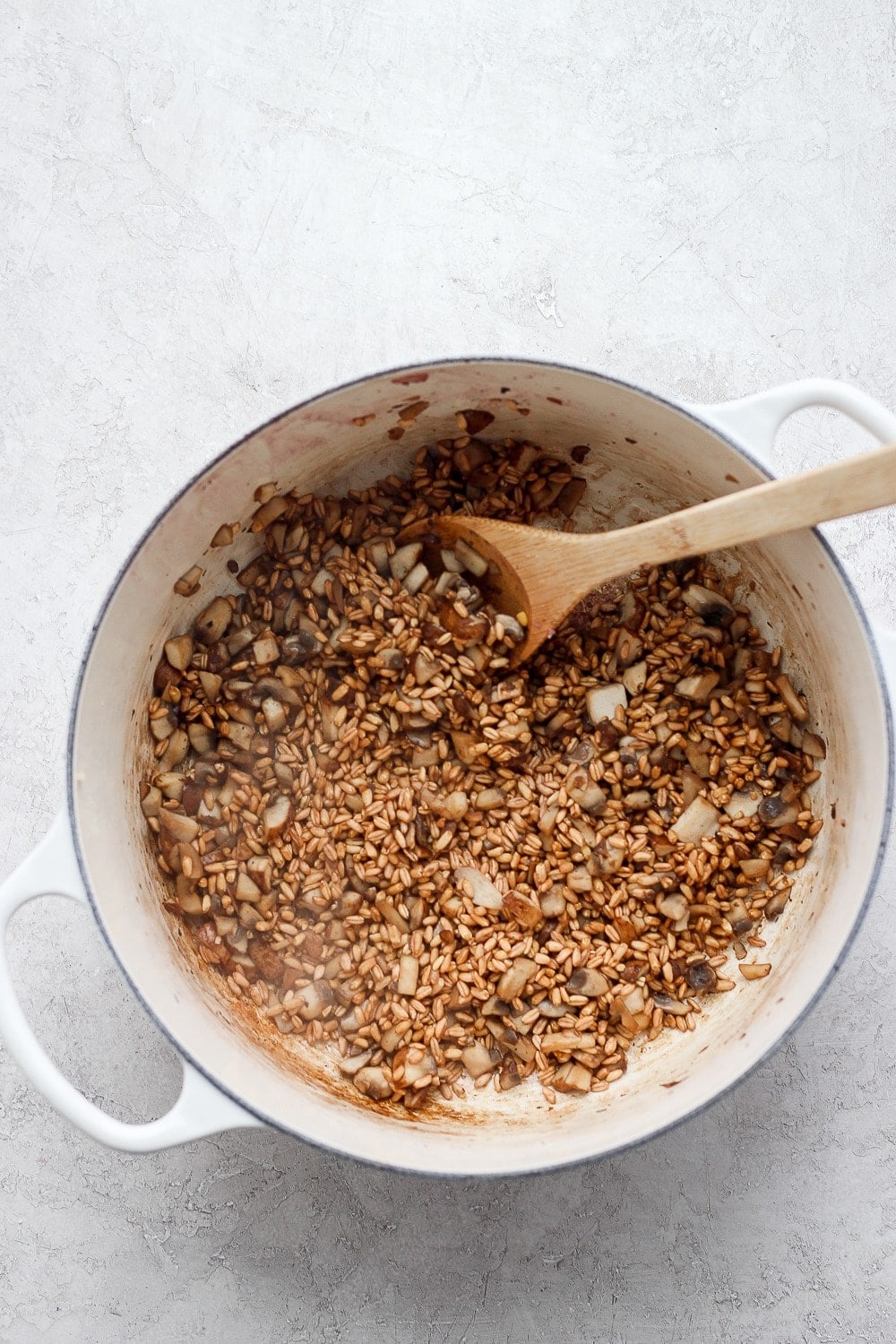 Tips + Tricks
Cooking (and salting) in Layers
When you read through the recipe card you will notice that there is a lot of adding things to the pot and then removing them to cook something else separately.
All to just put everything back into the pot at the end. What madness! There is a method to this madness. You want to cook the all of the ingredients in layers to create a base for your broth.
You also want to be sure you are not over cooking ingredients when you simmer the soup for the 30 minutes it has to simmer.
Do yourself a favor and don't skip the layering!
Deglazing with Wine
Do you have to deglaze with wine, no. Do we recommend it, yes!
Deglazing the pot after cooking down all of the ingredients does two things.
It helps you scrape off all the brown bits from the bottom of your pot.
It adds flavor and acidity to the broth!
Vegetable Options
We use kale, mushrooms, onion, and garlic in this soup. Four simple vegetables that add amazing texture and flavor. However, if you'd like to add more veggies to this soup, here are some of our recommendations!
All vegetables below should be cut into about 1/2 inch cubes (or chunks) and added to the pot when adding the farro so they have enough time to cook.
Potatoes (white or sweet)
Carrots
Parsnips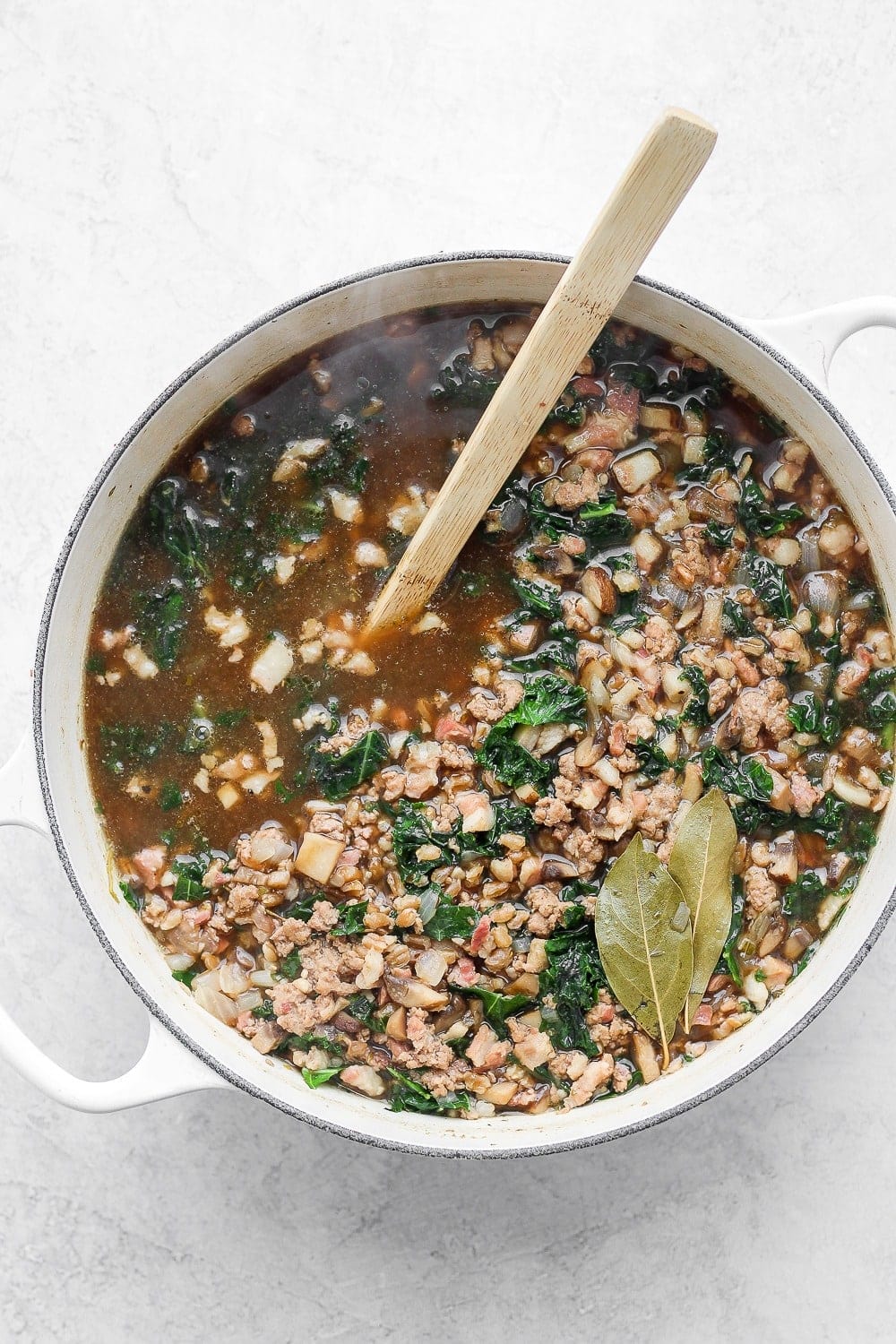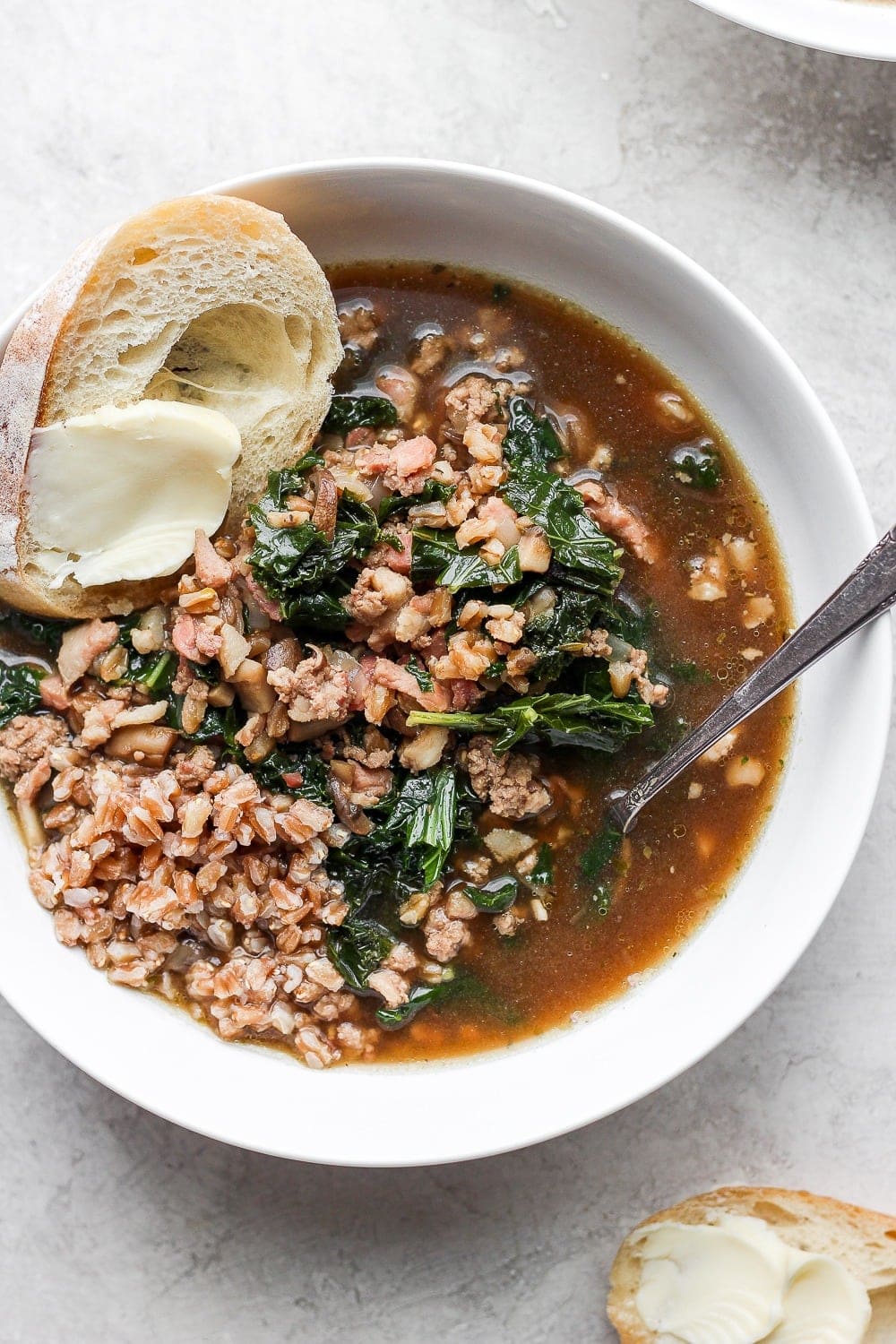 Healthy Soup Recipes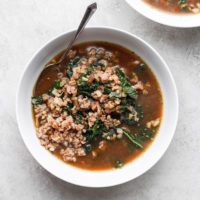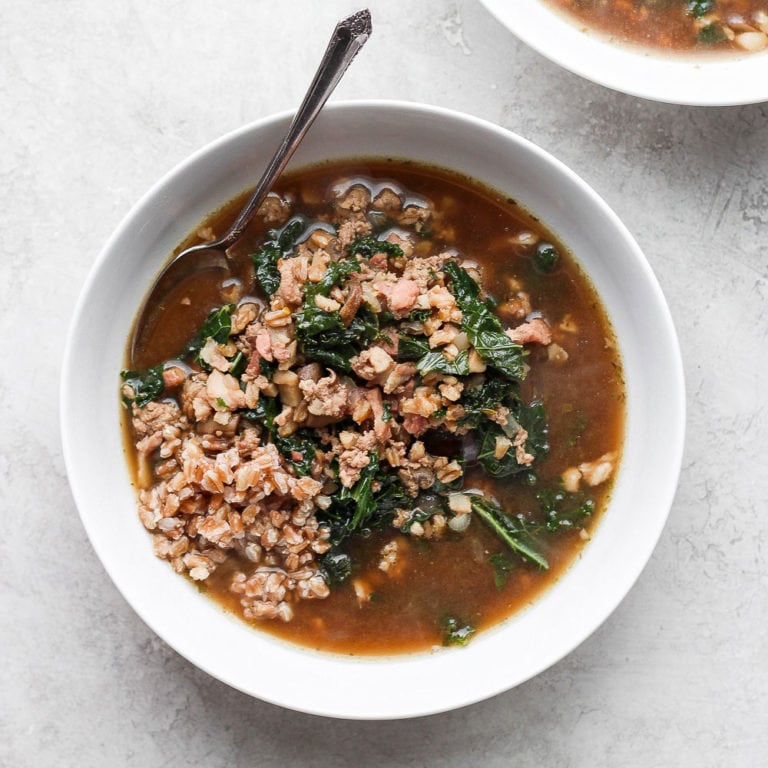 Kale Soup with Farro and Pancetta
There is nothing better than a big bowl of this kale soup! All you have to do is throw everything in a pot, let it simmer for 30 minutes, and it will be ready to enjoy all week long!
Ingredients
8

oz.

pancetta

minced

1

lb.

ground turkey

4

cloves

garlic

smashed and minced

1

medium yellow onion

finely diced

1/4

cup

red wine

2

tablespoons

olive oil

8

oz.

chopped crimini mushrooms

1

cup

farro

uncooked

1

bundle fresh thyme

tied together with cooking twine

3

bay leaves

1

tablespoon

ground oregano*

2

teaspoons

cumin

4

cups

beef broth

4

cups

mushroom broth

6

cups

kale

deboned and chopped

1

teaspoon

salt
Instructions
Heat a large Dutch oven over medium/high heat and add pancetta and ground turkey.

As the turkey cooks, break it into large chunks with a wooden spoon (do not break it up into small pieces). Cook pancetta and turkey for 1-2 minutes until browned on the outside but not all the way cooked through.

Remove pancetta and turkey from the Dutch oven and deglaze the pan with the red wine. The wine will really sizzle, but it will smell amazing.

Add the onions to the dutch oven and turn the heat to medium and cook onion until translucent then add garlic to the onion. Cook for 2-3 minutes, stirring consistently.

Remove onion and garlic from pot and the add olive oil. Deglaze the pan by scraping all the meat and onion bits from the bottom of the pan.

Add mushrooms to the Dutch oven and cook for 3-4 minutes and then add farro to the mushrooms. Stir consistently for 2-3 minutes.

Finally, add all ingredients including the cooked garlic and onions (except for the kale) to the dutch oven. Stir and bring to a boil.

Cover and reduce heat to low and let simmer for 30 minutes.

Add kale and let the soup simmer for an additional 5 minutes.

Serve and enjoy!
Tips & Notes
Ground oregano: if you don't have ground oregano, use 2 teaspoons normal dried oregano.
Nutrition facts
Calories:
372
kcal
Carbohydrates:
27
g
Protein:
30
g
Fat:
26
g
Fiber:
4
g
Sugar:
4
g