This Instant Pot Hamburger Soup recipe is a healthy weeknight meal that everyone will love! It is packed with protein, vegetables, and is ready in less than an hour.
If you're new to the Instant Pot, this Instant Pot soup recipe is a great starter recipe! See 42 more healthy Instant Pot Recipes HERE.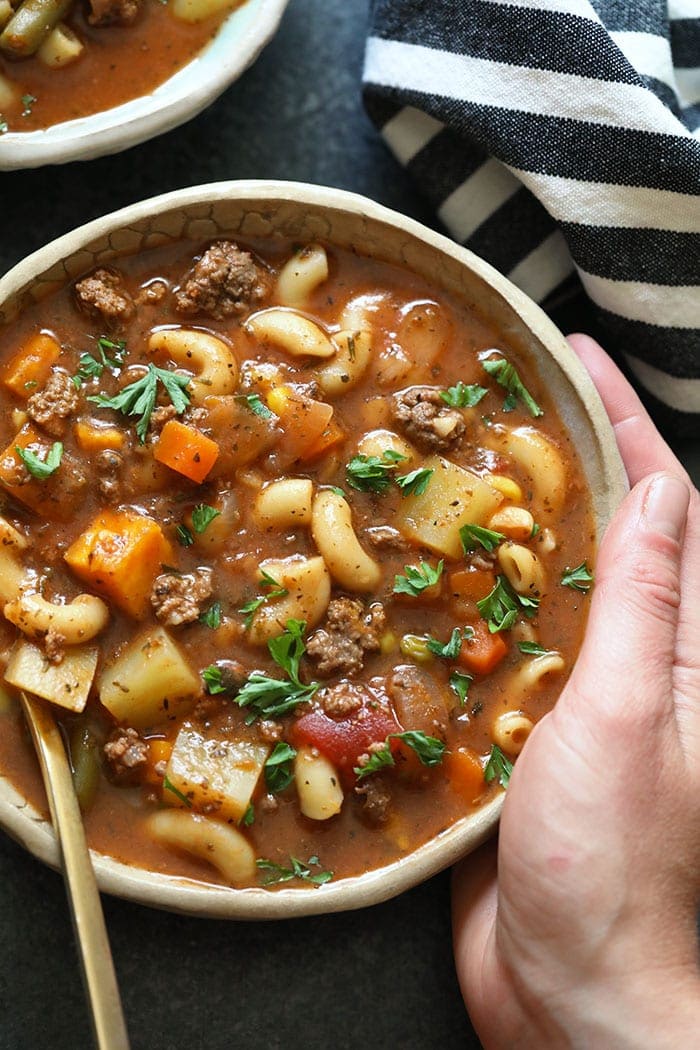 Instant Pot Soup RULES
Hamburger Soup, a Midwestern staple. Think minestrone meets central Wisconsin. All the vegetables, meat, and noodles you ould ever want! Some people call hamburger soup, ground beef vegetable soup and that is exactly what it is.
I love that I can literally throw everything into the Instant Pot and BAM. The cook time for this recipe is only 3 minutes, but you will have to wait for around 20 for the pressure to build-up.
The win is that you can set it, forget it, and you just can't beat 3 minutes of cook time. We do have a couple of tips and tricks for perfecting this hamburger soup recipe below—-> HAVE FUN.
Step 1: Cook Hamburger + Onion
Get this hamburger soup party started by turning on your Instant Pot's saute function. Brown hamburger for about a minute and then add the onion.
Cook for an additional 2 minutes. Make sure that you are stirring the onions and hamburger frequently. This step really creates an amazing base flavor for this hamburger soup.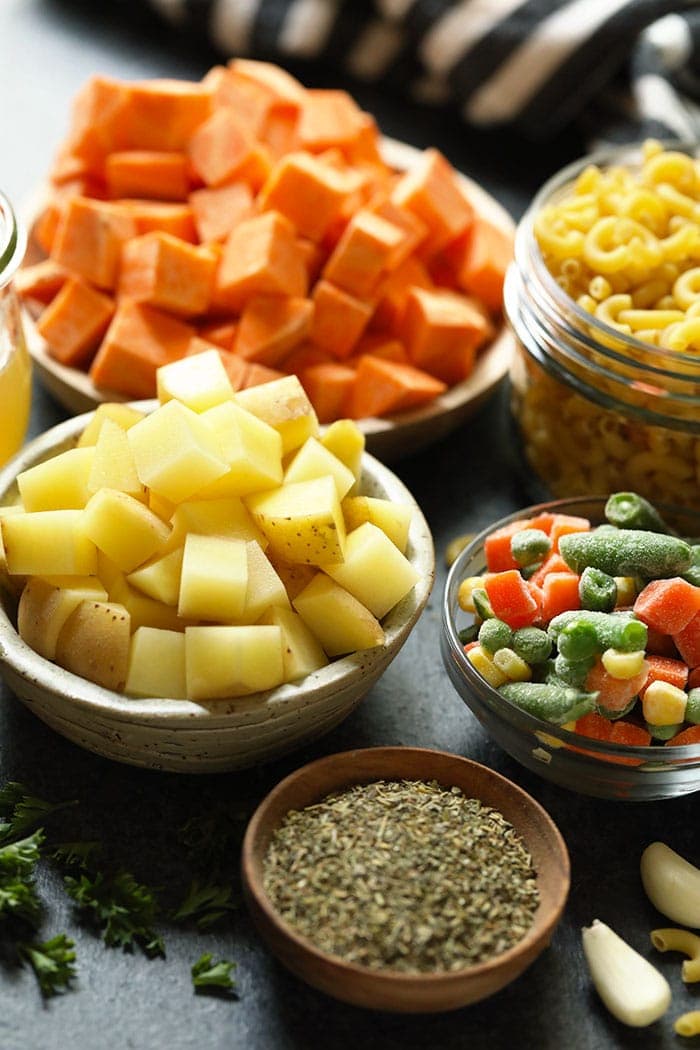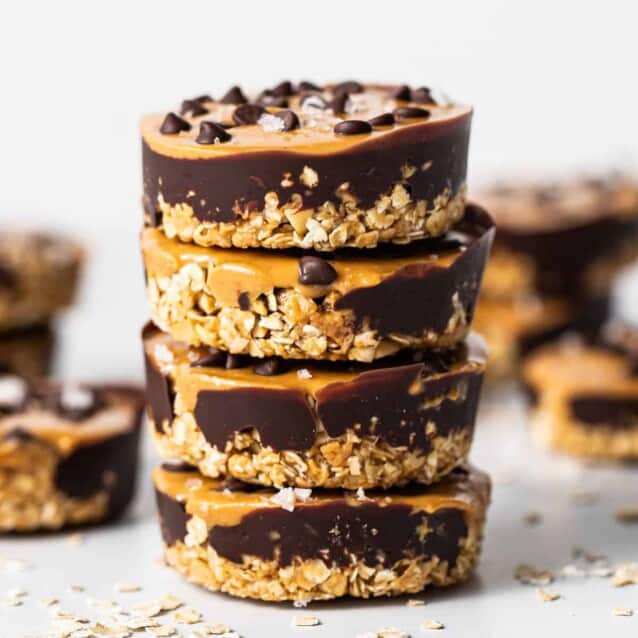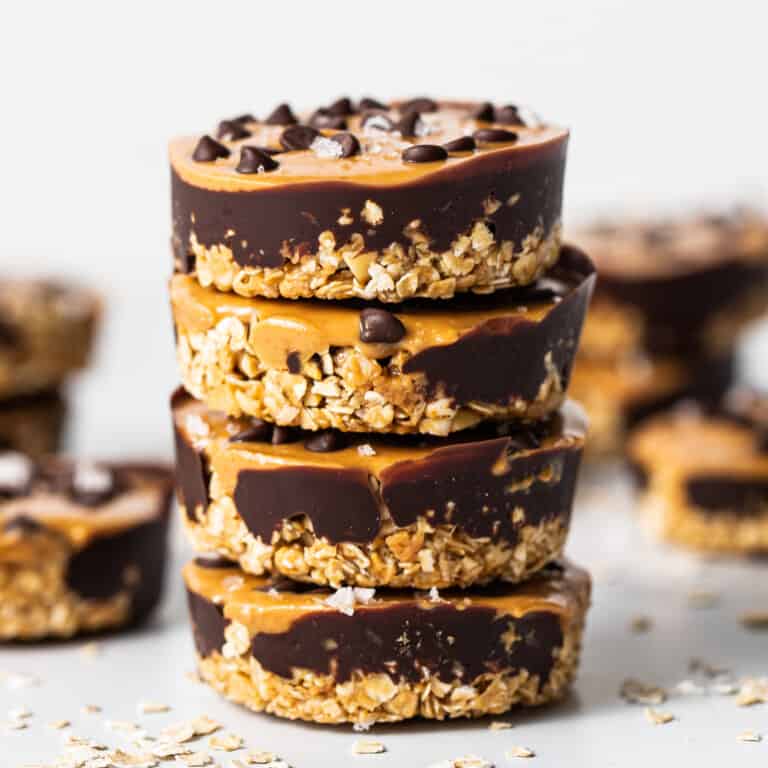 Get our Top 10 5-Star Recipes!
Join our email list for new recipes and BONUS: get our top 10 ⭐️⭐️⭐️⭐️⭐️ recipes e-book!
Step 2: Add Everything Else!
After sauting the hamburger and onion for a bit, now it's time to add the rest of the ingredients! This is where you can pick and choose and really make this Instant Pot soup recipe your very own. Here's what you need:
garlic
sweet potato (don't love sweet taters? Swap them for more normal potatoes!)
Yukon potato
diced tomatoes
tomato sauce
frozen veggies (grab a bag from the grocery store!)
spices
beef broth
noodles (any kind should work just fine)
Once you have everything in the Instant Pot, give it a stir and close the lid. Turn the valve to seal >> set your IP to manual >> high pressure >> and set the timer to 3 minutes.
Hamburger Soup Quick Tips:
Here are a few quick tips to make your soup-prepping easy peasy.
Noodles: If you are planning to eat this soup throughout the week or freezing for later, consider cooking the noodles separately as sometimes noodles can become mushy if they soak in broth for multiple days.
Add more broth: As soup sits in the fridge, it will thicken (this is inevitable). No fear, you can simply add more broth before serving your leftovers and you'll be just fine!
Oregano: Ground oregano is my new favorite spice. Dried oregano is all fine and good, but when ground the flavor it gives broths and sauces is unreal.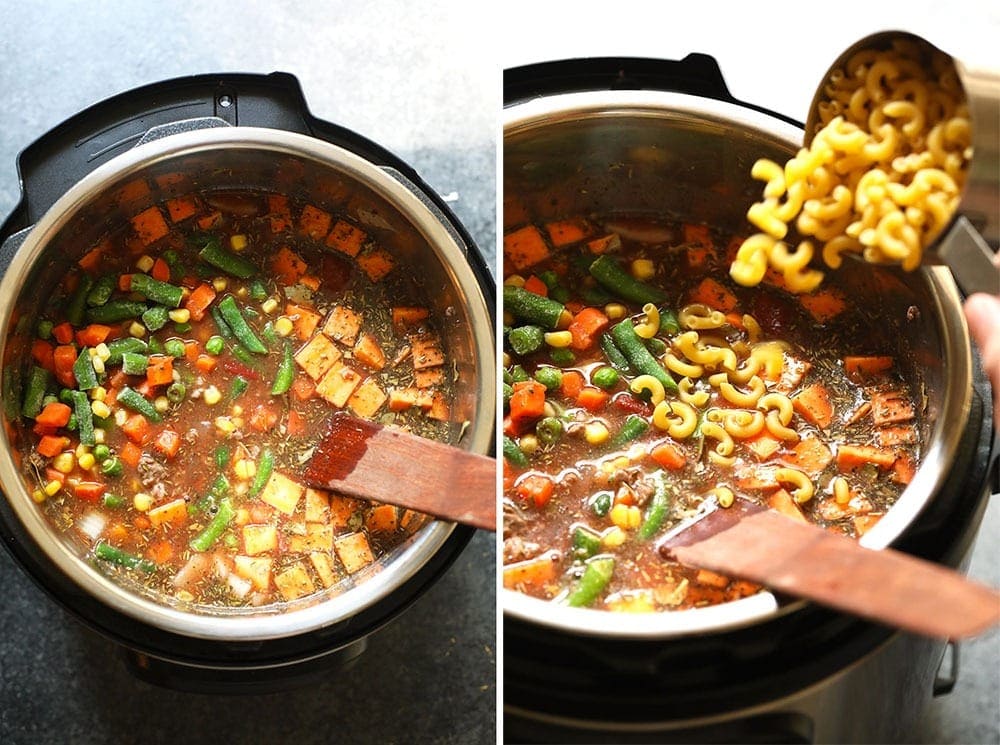 Step 3: Quick Release
Once the timer goes off on your Instant pot, you know it's time to quick-release the pressure. 3 minutes and one, people!
Serve soup immediately. We topped our hamburger soup with some fresh parsley but to each their own. Top with your favorite soup toppings or with a warm piece of bread and enjoy!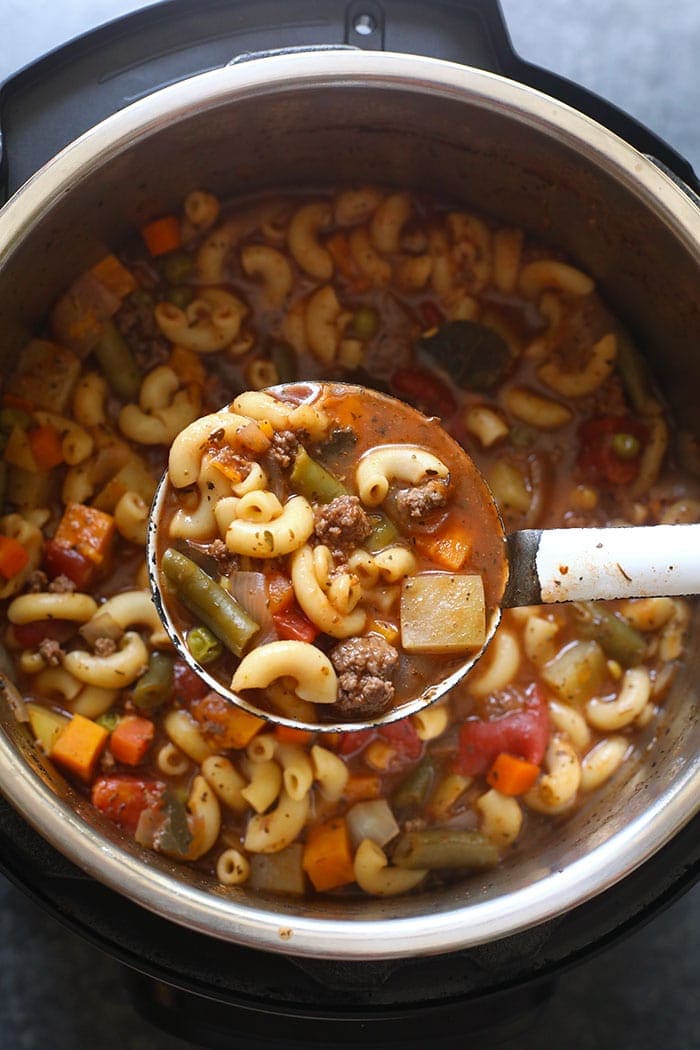 Freezing Directions
Our number one tip for freezing this hamburger soup recipe is NOT cooking the noodles in the Instant Pot with the rest of the soup. They will get soggy, I repeat they will get soggy if you try and freeze + thaw.
So, make this Instant Pot hamburger soup as is, but do not put the noodles in. Let it cool completely and then transfer it into a freezer-safe Tupperware or gallon-size bag. Remove as much air as possible and then seal. Freeze for up to 3 months.
After thawing, cook up some noodles on your stovetop and mix them in right before serving.
Find a full tutorial on how to freeze soup HERE.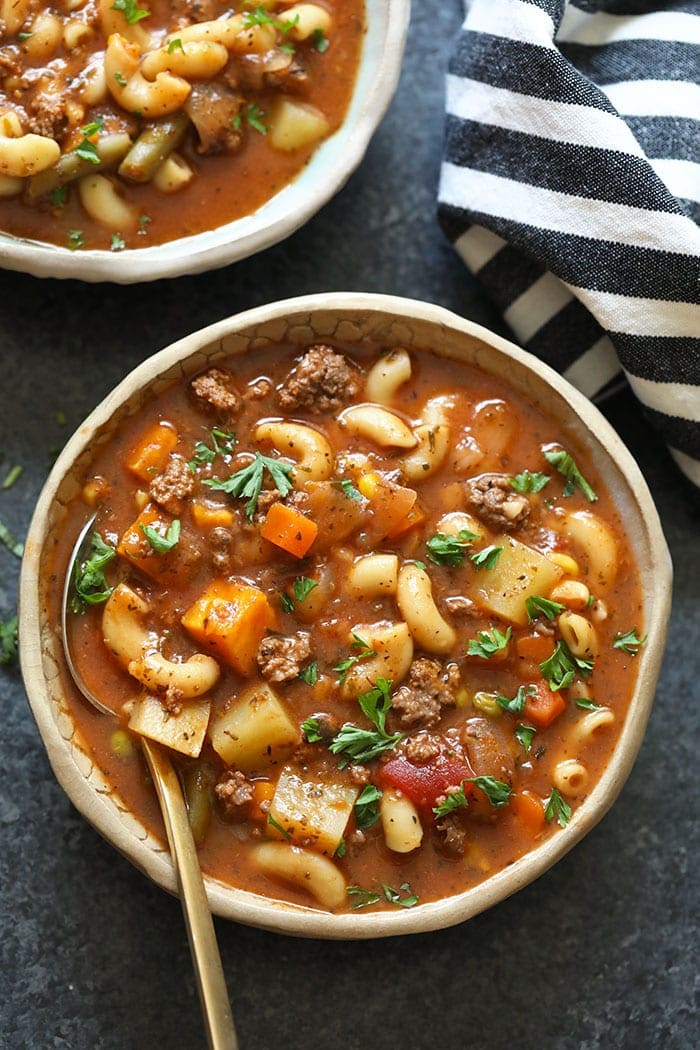 More Instant Pot Soup Recipes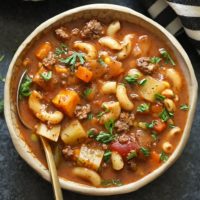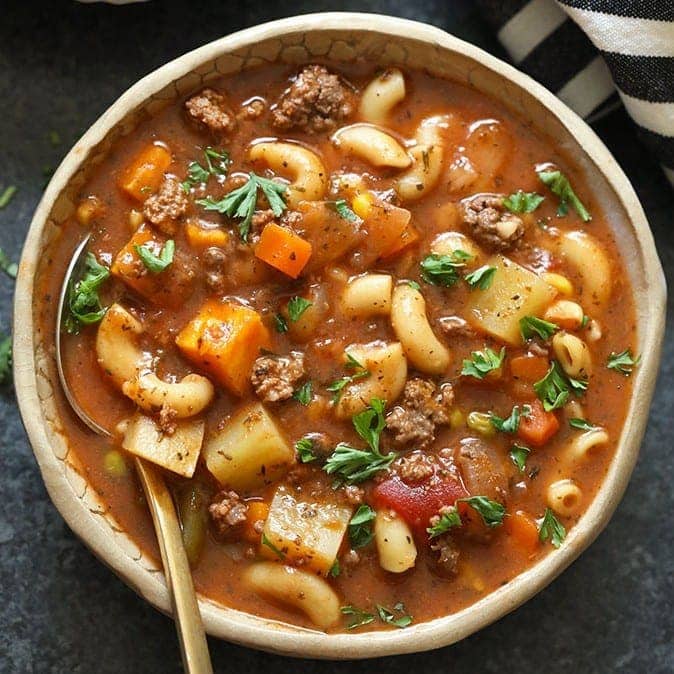 Instant Pot Hamburger Soup
This Instant Pot Hamburger Soup recipe is a healthy weeknight meal that everyone will love! It is packed with protein, vegetables, and is ready in less than 5 minutes. Meal-prep this hamburger soup for lunch or dinner this week. You won't regret it!
Ingredients
1

lb.

ground beef

1

medium yellow onion

chopped

4

garlic cloves

minced

1

medium sweet potato

cubed

1

Yukon gold potato

cubed

3

bay leaves

1

tablespoon

Italian seasoning

2

teaspoons

ground oregano

1

15-oz.

can diced tomatoes

1

15-oz.

can tomato sauce

6

cups

of beef broth*

2

cups

frozen veggies

we used a carrot, peas, and corn mix

2

cups

macaroni elbows
Instructions
Turn on the Instant Pot's saute feature and add ground beef to the pot. Saute for 1 minute and then add onion. Cook for an additional 2 minutes using a spatula to break up the ground beef.

Next, add the rest of the ingredients, stir well, and place cover on the Instant Pot.

Turn pressure valve to seal, and turn to manual >> high pressure and set the timer to 3 minutes.* It will take around 20 minutes for the Instant Pot to build up pressure to start counting down from 3 minutes.

When the timer goes off, quick release the pressure and remove the top.

Serve immediately.*
Tips & Notes
Pressure build: Though the cook time for this recipe is 3 minutes, it does take the Instant Pot 20-25 minutes to build pressure. Plan accordingly!
Broth: Option to add more broth once the soup is done cooking. The soup will thicken once you put it in the fridge, so you will likely need to add water or broth to thin it out for re-heating.
Noodles: If you are meal prepping this meal, cook noodles separately by cooking them prior to making the soup. Place noodles and enough water to cover noodles in the Instant Pot and cook on high pressure for 3 minutes. Remove noodles from Instant Pot, strain, rinse with cold water, and set aside. Add noodles to the soup before eating.
This recipe was slightly updated on 1/7/2020, reducing the amount of Italian seasoning.
Nutrition facts
Serving:
1
g
Calories:
314
kcal
Carbohydrates:
36
g
Protein:
23
g
Fat:
9
g
Fiber:
7
g
Sugar:
10
g