I can't even believe I'm about to say this, but today's high was nearly 40 degrees in the UP! If you don't know where the UP is, it boarders Lake Superior. If you don't know where Lake Superior is, it's basically Canada. I feel like this is a continued trend where the weather surprises me with it's extremes. 2017 needs to be the year where we are more conscious of our environment because I don't ever want to stop skiing over MLK Day Weekend. As the my family grows, it get's better every year! This year Mark and Linley came along and so did Cath (my coñera) and my brother's best friend Paul. IT WAS SO FUN. I got a two day lift pass at Big Powderhorn Mountain and even mad room to go on my favorite hike along Lake Superior. Not going to lie, I was a little nervous for skiing because this was Mark's first time on the slopes…EVER. After a couple of trips down the bunny hill, he was a natural and even went down some blues. PROUD MAMA.
What else did we do? We cooked some pretty solid meals and did a thousand piece beer puzzle. Nothing like doing an entire puzzle and missing 1 piece at the end. Funny enough, I stuck my hand under the couch and pulled out 3 pieces and NONE of them went with the puzzle. Luckily I dug a little harder and found the missing piece. Oh, and how could I forget…THE PACKERS WON. I knew I made that healthy chili cheese dip last week for a reason. HERE WE GO. Scroll all the way down to the bottom of this post to see some photos from the weekend! You know you want to.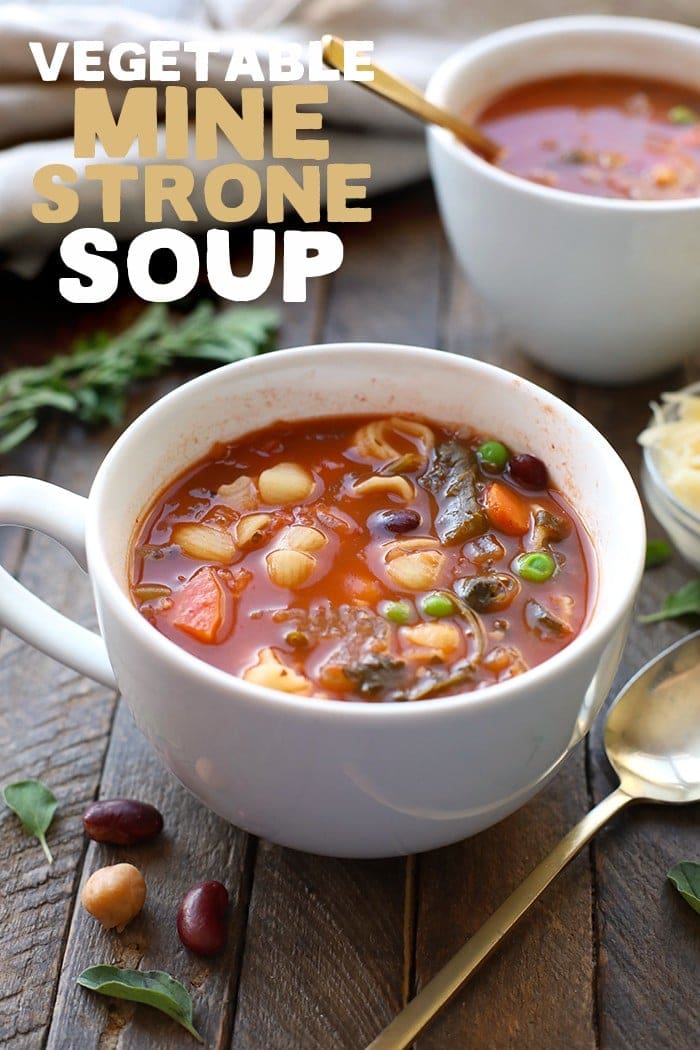 Now let's talk about SOUP. I can't believe soup season is almost over 🙁 🙁 🙁 Every year Lin and I proclaim that we're going to do a soup recipe a week on the blog and then it just doesn't happen. Well if you make one soup this year, make this one! It's packed with tons of veggies and the broth is SUPER TASTY. It freezes really well, so if you can't eat it all, don't waste it! Just throw it in a tupperware and into the freezer for later. You will thank yourself after a long weekend away, I promise!
Fun fact: as a baby, my favorite food was frozen peas. It's not a food that I eat very often, but when I do I tell myself that I NEED TO EAT MORE PEAS. If you're a pea lover out there like me, recipe has got you covered! PEAS, BEANS, CARROTS, AND MORE.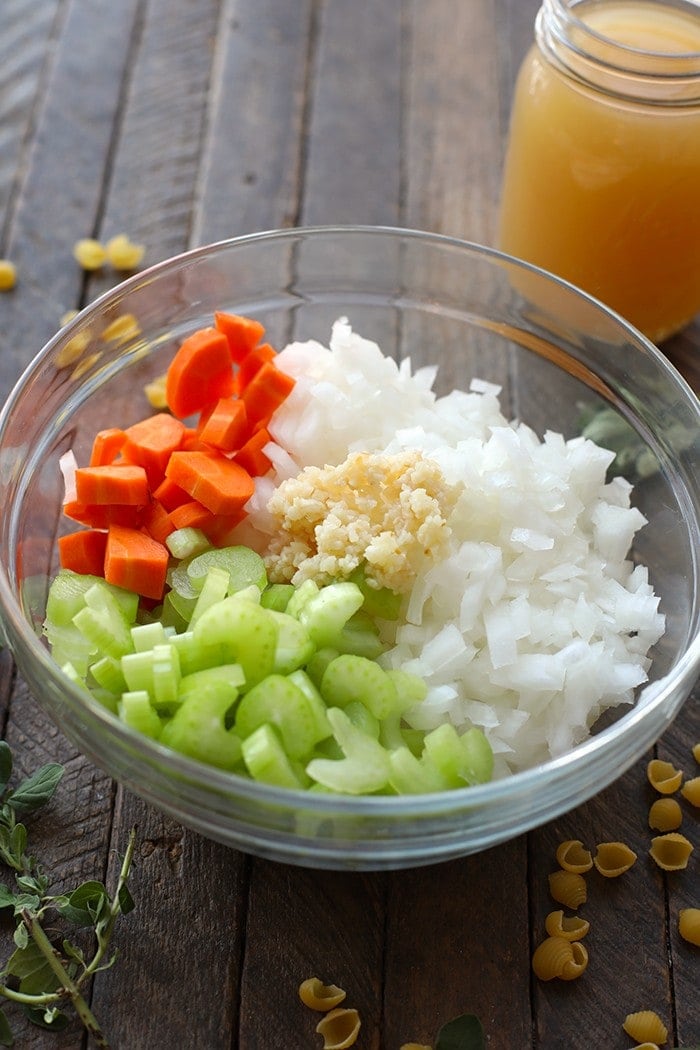 My question for you- is it Min-e-strone or Min-e-stronIE. I say MinestronIE like it has an IE at the end and rhymes with pony, but Linley says Minestrone, rhymes with bone. I'm sure there is a real Italian way to say it, but I want to know how you say it. So, if you could comment on this post with your response, that would be fantastic.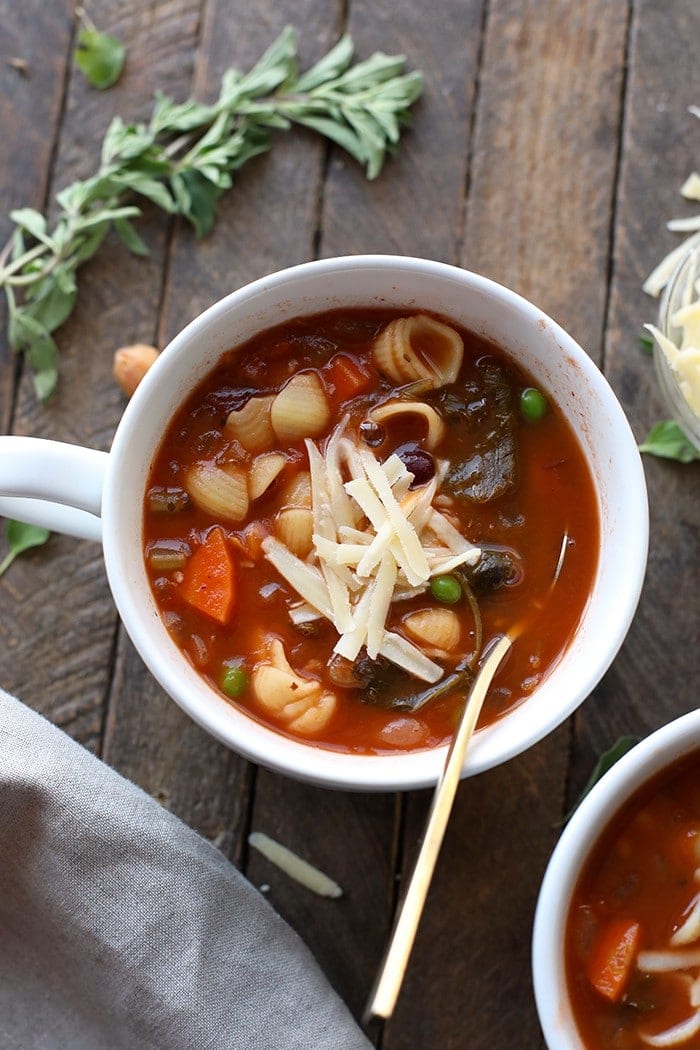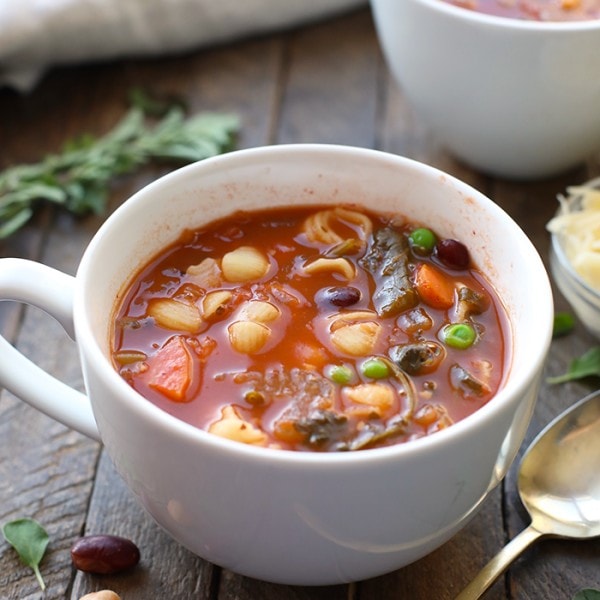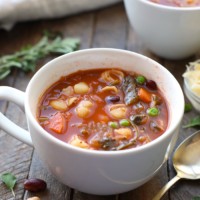 Vegetarian Minestrone Soup
Prep:
15 mins
Cook:
30 mins
Total:
45 minutes
Fat
7
Carbs
77
Protein
23
Instructions
First, cook 8 ounces of small shell noodles ( I used half of a 16oz box) until al dente and set aside.
Next, heat a large pot over medium/high heat. Add olive oil.
Then, add onion, carrot, and celery to heated olive and cook for 3-5 minutes.
Add garlic and cook together for another minute.
Then, add the rest of the ingredients to the pot (except for noodles and peas) and bring soup to a boil.
Turn heat to low/medium heat and let simmer for 15-20 minutes.
Finally, add peas and let simmer for an additional 5 minutes.
Serve over shell noodles and salt + pepper to taste.
Enjoy.
Tips & Notes
*For meal prep and left overs, store noodles and soup in separate containers to prevent soggy noodles.
Nutrition Facts
Serving Size:
1/6
Calories:
464
Sugar:
15
Fat:
7
Carbohydrates:
77
Fiber:
15
Protein:
23