You can't beat a classic vegetable-packed minestrone soup. This soup has a tomato broth, and all the delicious flavors of a classic minestrone soup. This is by far the best minestrone on the internet!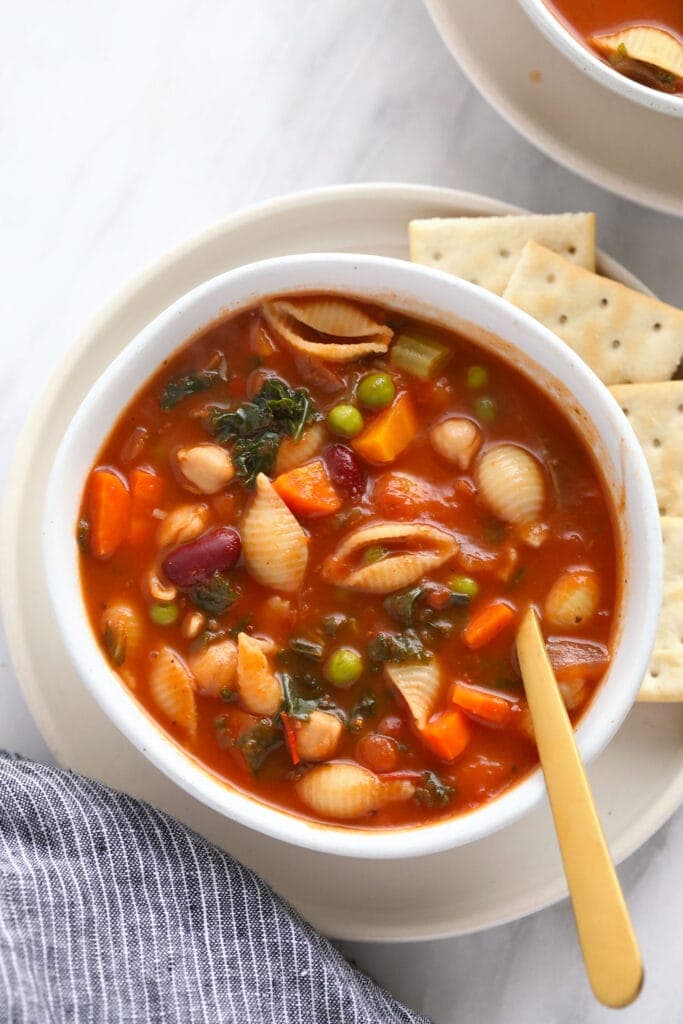 Classic Minestrone Soup
There is no question that this classic minestrone soup is just what the doctor ordered! The tomato broth in this soup is flavorful, creamy, and full of vegetables, beans, and noodles. It is the perfect soup to make when you need a quick vegetable packed soup.
What makes a classic minestrone soup, classic?
Classic minestrone soup has classic vegetable mixture of carrots, celery, and onions.
Minestrone soup usually has a variety of different beans
Usually classic minestrone soup has either noodles or rice added to the soup just before serving.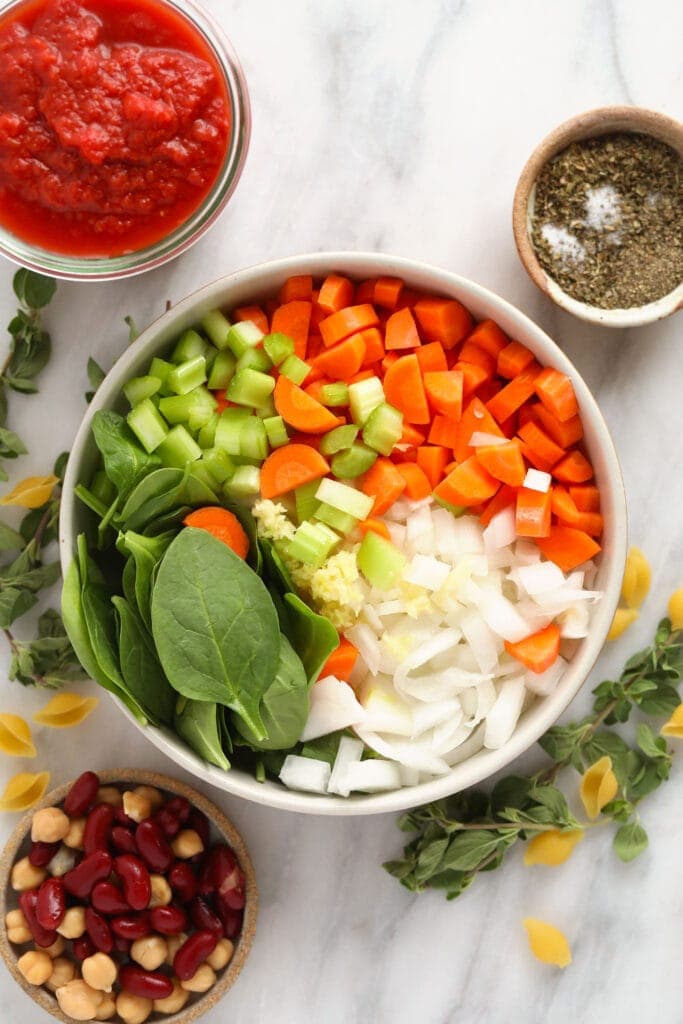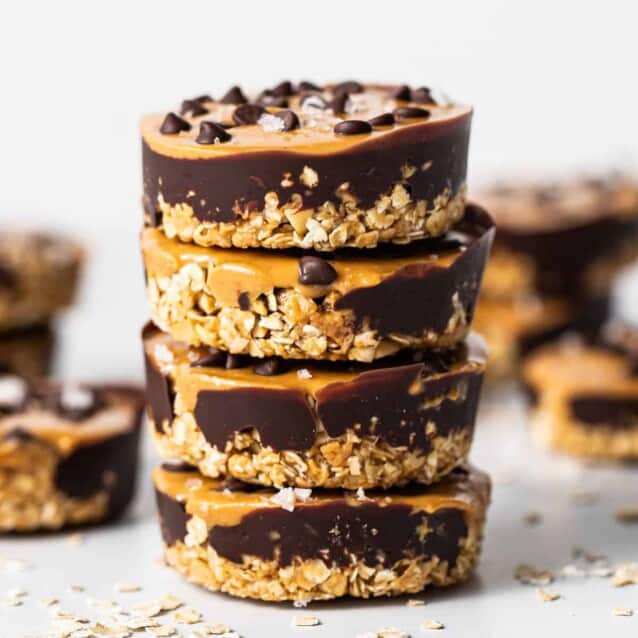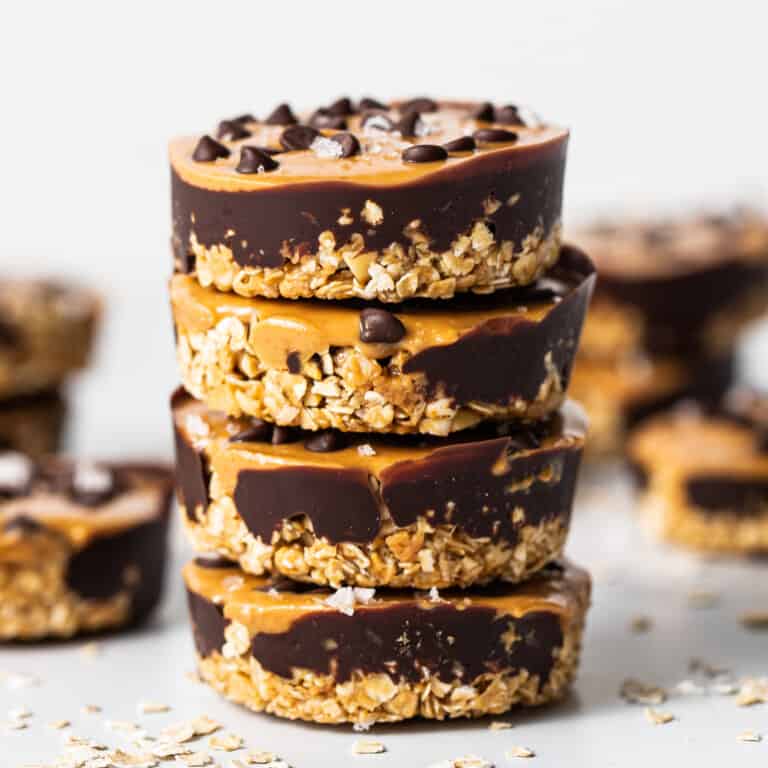 Get our Top 10 5-Star Recipes!
Join our email list for new recipes and BONUS: get our top 10 ⭐️⭐️⭐️⭐️⭐️ recipes e-book!
Ingredients You'll Need
Though this soup is packed with delicious and healthy ingredients it is very easy to make! Here are all the ingredients you need to make this minestrone soup.
White onion
Garlic
Dry red wine
Carrot
Celery
Tomato paste: don't skip the tomato paste, it helps thicken up the broth.
Vegetable broth
Apple cider vinegar: vinegar adds a delicious balance to any soup. If you don't have apple cider vinegar, try red wine vinegar, Worcestershire, or hot sauce.
Salt
Italian seasoning: if you don't have Italian seasoning, use a combination of dried basil, dried oregano, or dried parsley.
Red pepper flakes
Garlic powder
Bay leaves
Fresh oregano
Garbanzo beans
Kidney beans
Spinach: feel free to use kale if you don't have spinach.
Peas
Shell noodles: you can use 8-oz. of any noodle!
More protein
If you want to add more protein to this minestrone soup, feel free to add another can or two of beans! Or? This minestrone soup with be delicious with ground turkey, ground beef, or ground chicken!
To add ground meat to this soup, partially brown the meat in step 3 with the onion and continue following the steps in the recipe card.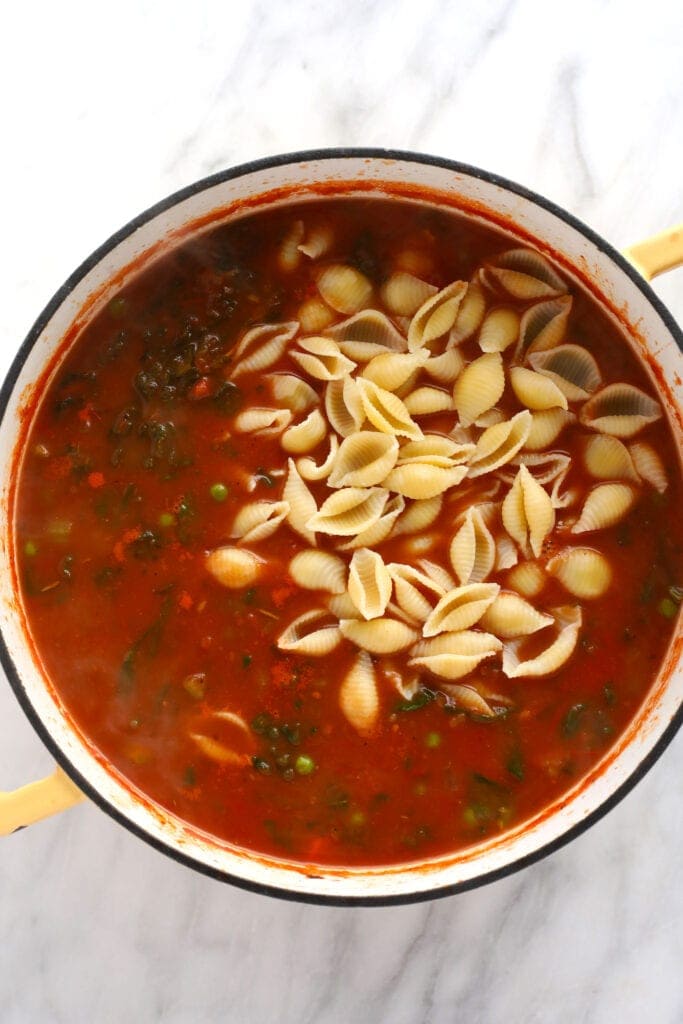 How to Make Minestrone Soup
The key to making flavorful minestrone soup is to follow each step in the recipe card and make sure you layer delicious flavors to make a delicious broth. Don't skip a step and don't skip the salt!
The first step to making minestrone soup is to make the shell noodles. You boil the noodles so they have a bit to the noodles because they will continue to cook a bit when they are added to the soup. Prepare the noodles before you start making the soup, then you don't have to sit around waiting for the noodles to be done!
Steps 2-5 are the most important steps to creating the flavor base for this soup. Heat the olive oil in a dutch oven or large pot.
Add onion to the pot and sauté the onion until it is translucent. Feel free to add an extra pinch of salt in this step.
When the onion is ready, add the minced garlic and sauté the garlic until fragrant. The onion and the garlic may begin to brown and stick to the pot, that's ok!
Finally, you deglaze the pan with red wine! This step is so important. Deglazing the pan loosens all the brown bits that have stuck to the pot. Scrape those bits off the side of the pot, it adds so much flavor to the soup.
After you deglaze the pot you add the carrots and celery to the pot and sauté them for about 2 minutes.
From there you add the rest of the ingredients except for the spinach (or kale), peas, garbanzo beans, and kidney beans. You hold off on adding these ingredients because you don't want to overcook them.
Let the soup simmer for 15-20 minutes to thicken the soup, stirring periodically.
When the soup has simmered, add in the spinach (or kale), peas, garbanzo beans, and kidney beans to the pot, stir and let the soup simmer for an additional 5 minutes.
And then the finale, add the noodles right before serving this soup, not a second before! You don't want to noodles to soak up all the broth.
Classic Minestrone 101
How do you add flavor to minestrone soup?
If this minestrone doesn't have enough flavor, start with adding an 1/8 teaspoon of salt at a time until all the flavors are enhanced and delicious.
If you would like to add flavor without salt add an extra teaspoon of vinegar or garlic powder.
Is minestrone soup good for you?
Yes, minestrone soup is very good for you. Here's why:
You get 12 grams of protein per serving.
It is packed with vegetables.
It's a low calorie soup that is nutrient dense.
Can I add more vegetables to minestrone soup?
Yes, you can add more vegetables to minestrone soup, here are some great options!
Red potatoes
Sweet potatoes
Green or red bell peppers (add them in step 10)
Chopped broccoli (add broccoli when you add the carrots and celery)
Chopped cauliflower (add broccoli when you add the carrots and celery)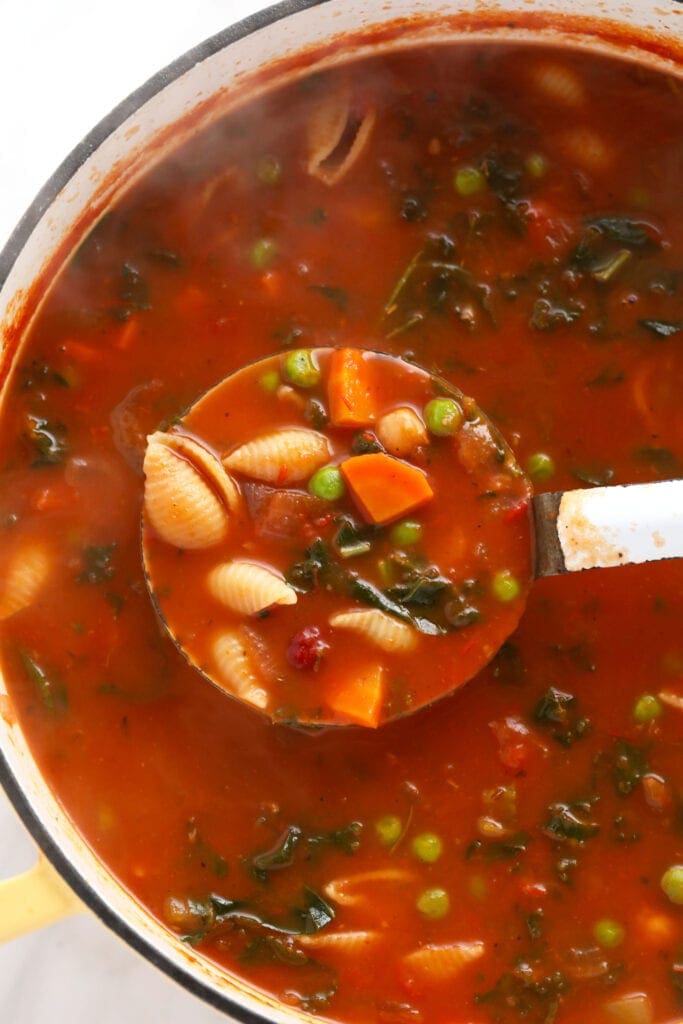 Storage
To store minestrone soup, you want to make sure and store the soup and the noodles in two separate air tight containers. If you store the noodles with the soup, the noodles will turn mushy because they will soak up all the liquid in the soup.
When you are ready to eat the minestrone soup, warm the soup and noodles up separately and add the noodles to the soup right before serving.
freezer instructions
Yes, you can freeze minestrone soup. Let the minestrone soup cool completely and then put it in a freezer safe bag or soup container. Store in the freezer for up to 3 months.
tips for freezing
Freezing soup is simple, but there are a few tips and tricks when freezing and reheating soup. Below are a few simple tips, but if you are looking for a more in depth tutorial, check out our guide on how to freeze soup.
Be sure you let the soup freeze completely before freezing.
If you are freezing the soup in a glass or plastic container, add a piece of plastic wrap to the top of the soup (directly touching the soup) to avoid freezer burn.
To reheat soup after freezing, let the soup thaw completely before pouring it into a pot and adding 1-2 additional cups of broth to help reheat the soup. Heat the soup over medium/low heat.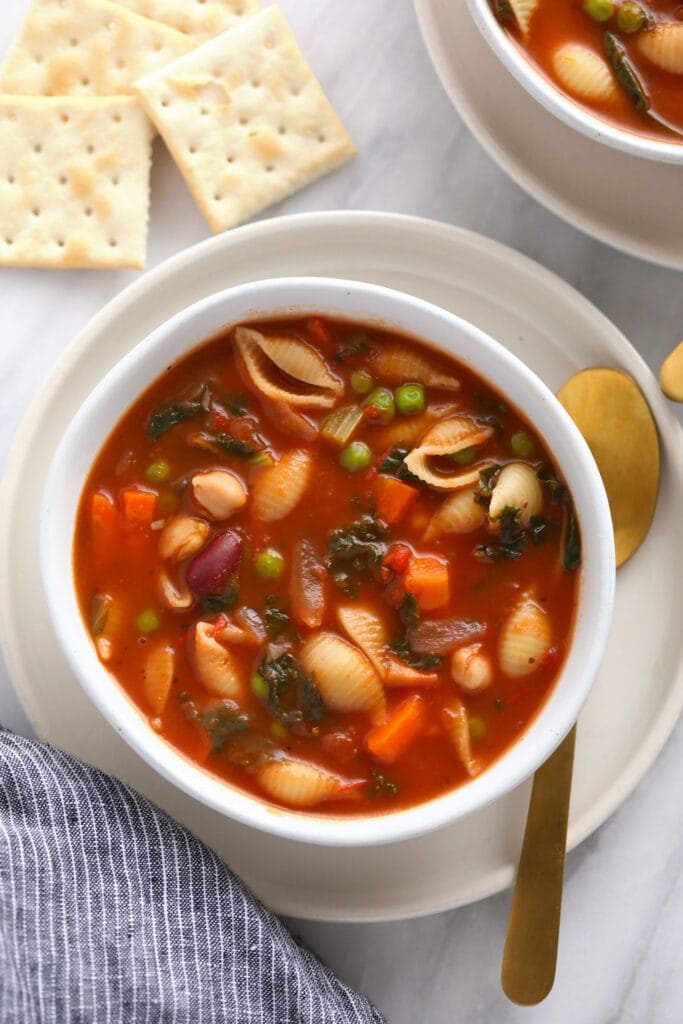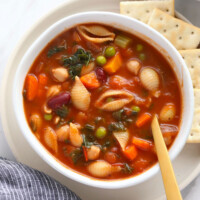 Vegetarian Minestrone Soup
You can't beat a classic vegetable packed minestrone soup. This soup has a thick tomato broth, 12 grams of protein per bowl, and all the delicious flavors of a classic minestrone soup.
Instructions
First, cook 8-oz. of small shell noodles ( I used half of a 16oz box) until al dente and set aside.

Next, heat a large pot over medium/high heat. Add olive oil.

When the olive oil is fragrant add onion and let the onion sauté for 2-3 minutes over high heat.

Add the garlic and when the garlic is fragrant, deglaze the pot with the the wine.

Scrape the little brown bits of garlic and onion from the bottom of the pot with a spatula.

Then, add carrot and celery to the pot and sauté for an additional 2-3 minutes. 

Add the crushed tomatoes, tomato paste, vegetable broth, apple cider vinegar, salt, Italian seasoning, red pepper flakes, garlic, powder, bay leaves, and oregano to the pot and stir until combined. 

Heat everything together over high heat. Bring to a boil. 

Turn heat to low/medium heat and let simmer for 15-20 minutes.

Finally, add the spinach (or kale), peas, garbanzo beans, and kidney beans to the pot, stir and let the soup simmer for an additional 5 minutes.

Serve over shell noodles and salt + pepper to taste.
Tips & Notes
For meal prep and left overs, store noodles and soup in separate containers to prevent soggy noodles.
This recipe was updated on January, 13th 2021. 
Nutrition facts
Calories:
283
kcal
Carbohydrates:
47
g
Protein:
12
g
Fat:
7
g
Fiber:
2
g
Sugar:
8
g