Whip out your Instant Pot and make any of these 42 healthy Instant Pot recipes for a quick, fresh, homemade meal with clean and delicious ingredients.
The Instant Pot is an amazing time-saver for healthy meal prep and you can make pretty much any and all meals in your IP including dessert!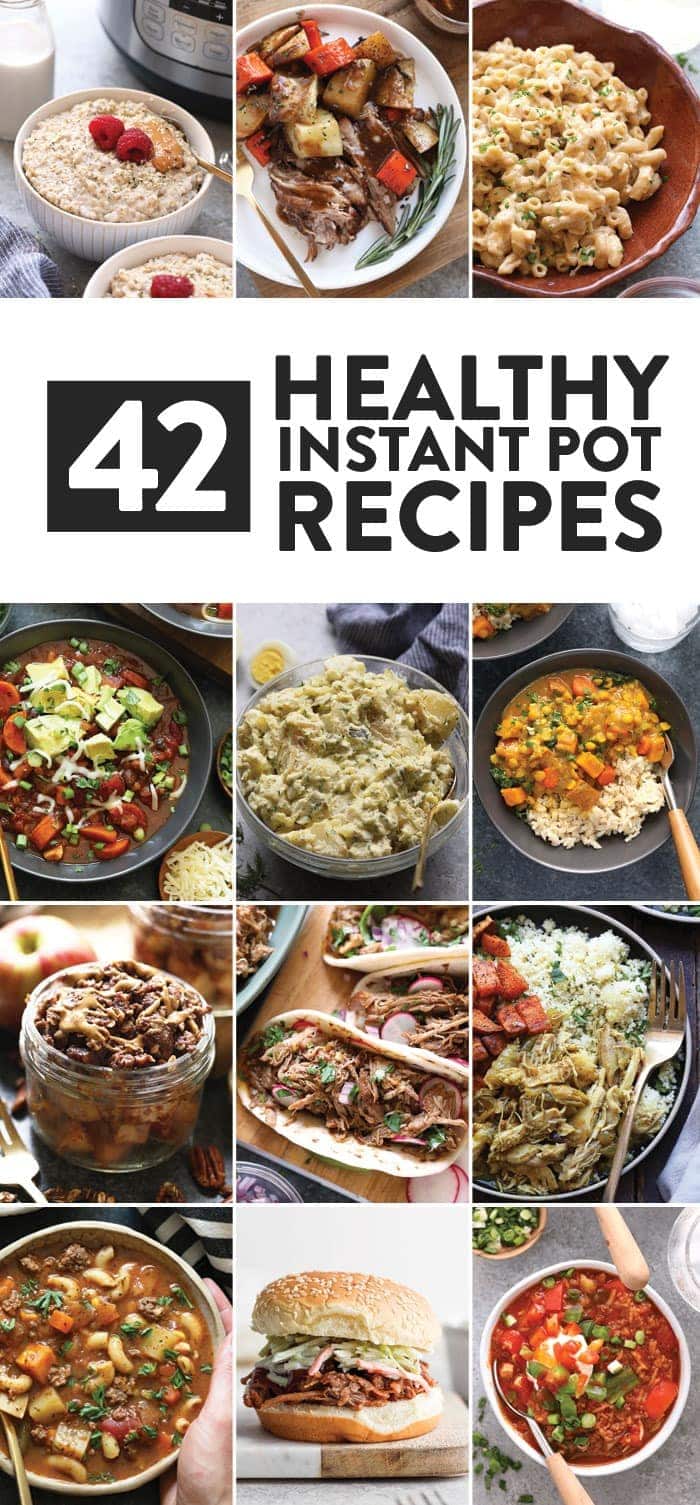 Instant Pot Saves the Day
Here it is, people. After years of getting over our Instant Pot fear, we are officially superfans of the Instant Pot! If you've never heard of an Instant Pot, it is a new age pressure cooker. It is your all-in-one appliance that can saute, slow cook, quick cook, and everything in between.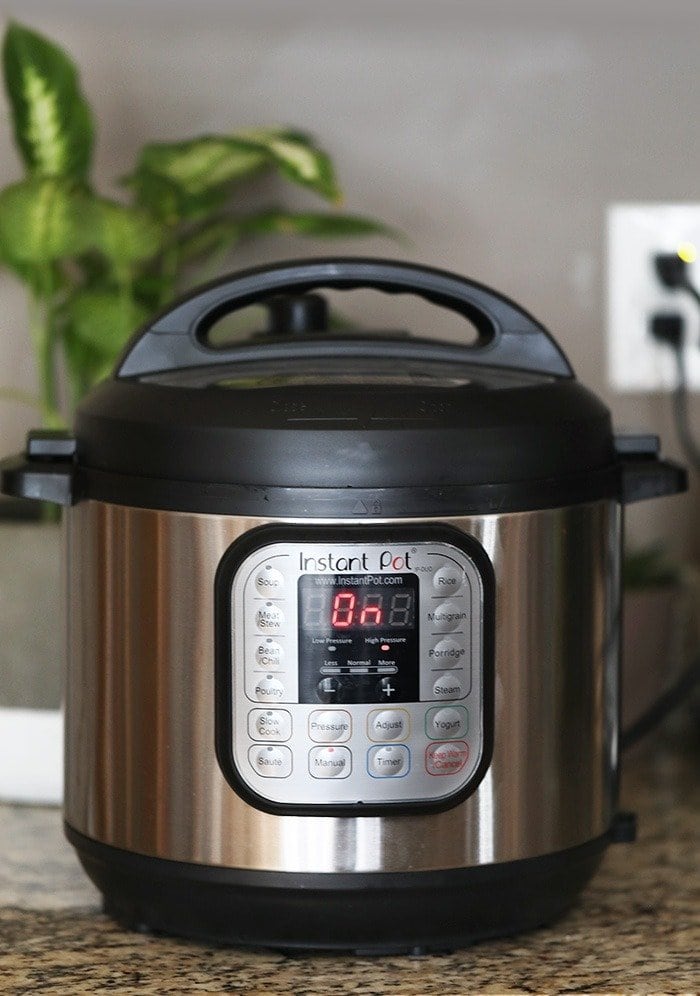 When I say we had an Instant Pot fear in the beginning, it's because if you're not used to hot steam pouring out of one of your appliances, then it may take some time to get used to it.
Lee's Aunt Lisa was the catalyst in Team Fit Foodie getting comfortable with the Instant Pot. We headed down to Illinois for a peach harvest (read more here) where Aunt Lisa taught us how to can peach with the Instant Pot.
She made it look so easy. She went over all the reasons she had an Instant Pot, so I thought we'd share why YOU need an Instant Pot.
Why You Need an Instant Pot
There are countless reasons for you to get an Instant Pot, but here are some of the reasons why WE love our Instant Pot.
Frozen chicken is ready in minutes
It's a one-pot recipe machine
Weeknight meals are ready in half the time
You can make your own yogurt
Rice is super easy to make in the instant pot
A two-pound pot roast takes 2 hours, compared to a crock pot that takes 6-8 hours!
So there you have it, the rest is history! Give your first Instant Pot recipe a go with one of these delicious Instant Pot recipes (42 recipes to be exact)!
Healthy Meals, for all diets
We have stepped up our healthy Instant Pot game on Fit Foodie Finds over the last few years with dozens of new recipes featuring all types of meals. Our Instant Pot recipes are balanced meals that are made with simple and real ingredients that don't sacrifice classic flavors.
While we don't follow certain diets on Fit Foodie Finds, a lot of our IP recipes are naturally gluten-free and vegetarian. We have Instant Pot recipes that suit most diets:
gluten-free
paleo
vegetarian
keto
The Instant Pot is a great appliance for everyone, but especially for those trying to live a healthy lifestyle because it makes meal-prep a breeze AND you don't have to use your oven (insert college kids!).
FFF Healthy Instant Pot Recipes
Here are all of our most popular healthy Instant Pot recipes! You'll find everything from breakfast to chicken, to soup recipes! We also gathered some of our favorite Instant Pot recipes from some of our favorite bloggers!
Instant Pot Breakfast Recipes
Making steel cut oats made easy in the Instant Pot! It is an easy one pot recipe that you can make for great meal prep recipes throughout the week. All our Instant Pot breakfast recipes below are great for meal prep!

Instant Pot Chicken Recipes
We love making a big batch of shredded chicken in the Instant Pot and using it all week long! You can make any of chicken salad recipes with shredded chicken from the Instant Pot! It's the best!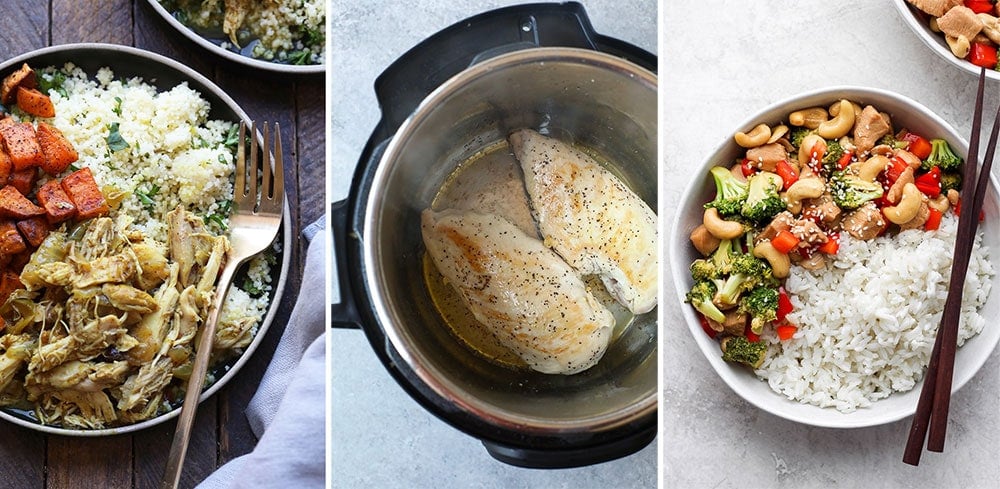 Instant Pot Vegetarian Recipes
Not into meat? That's OK! We have so many amazing vegetarian recipes on FFF that are ready in no time in the Instant Pot!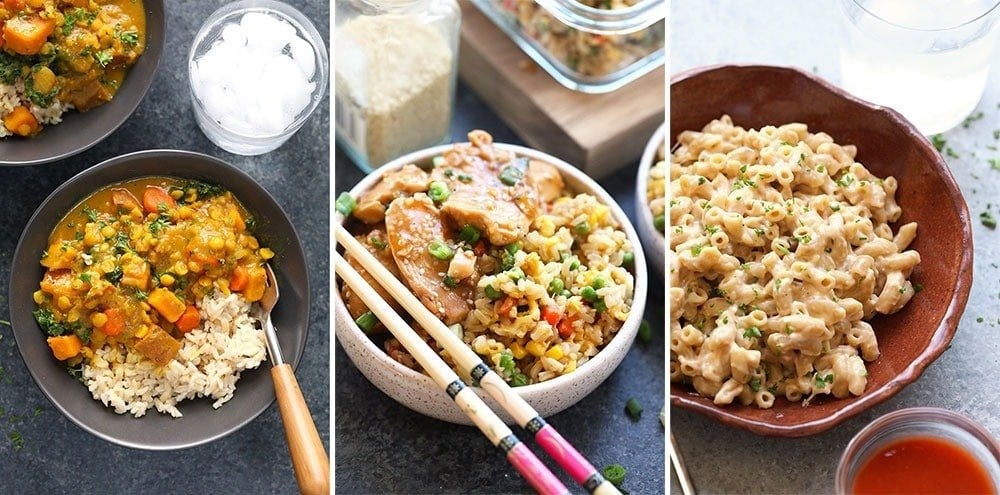 Instant Pot Soup Recipes
Soup in the Instant Pot may be one of our favorite meals in the Instant Pot! It is so easy to through everything in the Instant Pot and let it do it's magic! You are left with a flavorful soup and only one dirty dish!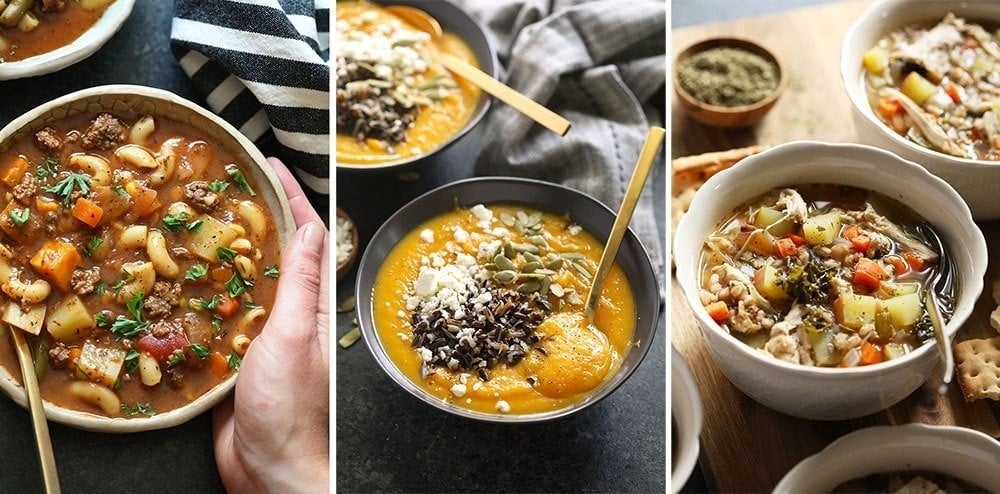 Instant Pot Beef + Pork Recipes
Say hello to our most popular Instant Pot Recipe of the moment, INSTANT POT PORK ROAST. Any big chunk of meat in the Instant Pot is pressure cooked to perfection in the Instant Pot!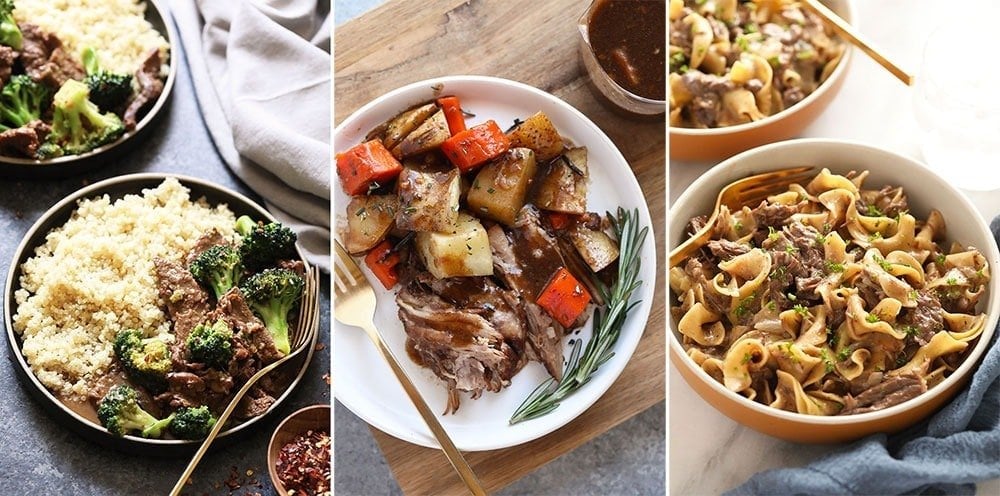 More Amazing Instant Pot Recipes