Is there anything better than fall off the bone pork carnitas tacos? Learn how to make the most delicious and juicy Instant Pot Pulled Pork Carnitas recipe with a few simple ingredients.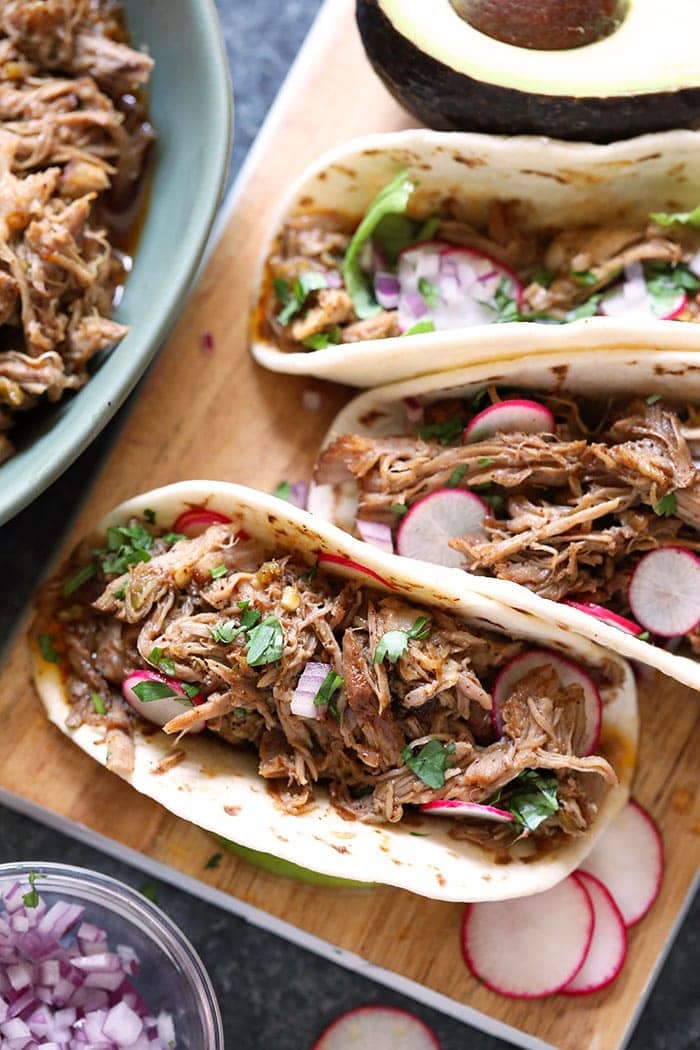 Instant Pot Week Day 1
Welcome to the first day of Instant Pot Week! I feel like we've been talking about this week for a couple of months now and that's because we're just so damn excited. We're totally the type of people that get overly excited, but the next 6 days are going to be the best 6 days of your life! Today's recipe? Instant Pot Carnitas! Yes, we've got an epic slow cooker carnitas recipe on FFF, but we've taken things up a notch with this Instant Pot Carnitas recipe!
First and foremost, please tell me you have an Instant Pot. If you don't have one now, I guarantee you that over the next 7 days you're going to realize you can't live without one. We first bought an Instant Pot a year and a half ago and believe me, it was intimidating at first, but now we use it every day! I recommend the 6-qt. Instant Pot, as it's a perfect size. Second, if you like Chipotle carnitas, then you're going to LOVE these little babies.
Here is a step by step by step tutorial on how to make these amazing Instant Pot Pulled Pork Carnitas. There are only 4 simple steps in making these ultra tender pork carnitas Instant Pot style! 
Step 1: Pulled Pork Dry Rub
Creating a delicious dry rub for your Instant Pot pulled pork is very important! For this step, you'll need the following spices:
chili powder
garlic powder
paprika
cayenne
salt (don't skimp on the salt!)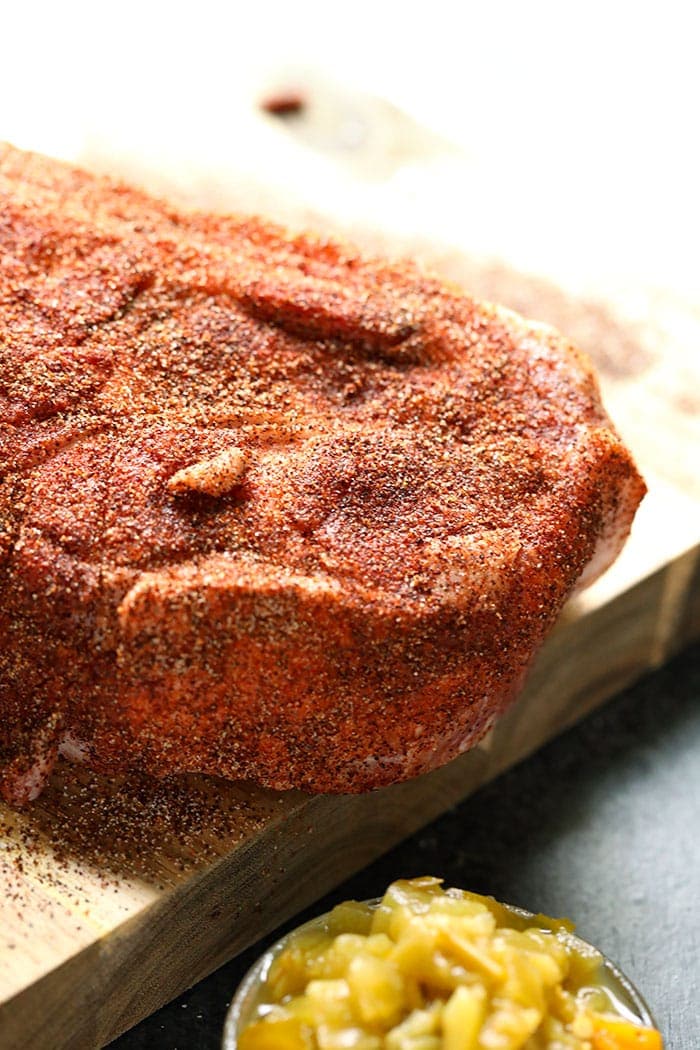 Step 2: Sear Pork in Instant Pot
In my opinion, one of the best parts about pulled pork is the crispy parts. In order to get some great, crispy texture, you'll want to sear all edges of your pork shoulder. You can do this right in your Instant Pot on the sauté feature. YAS.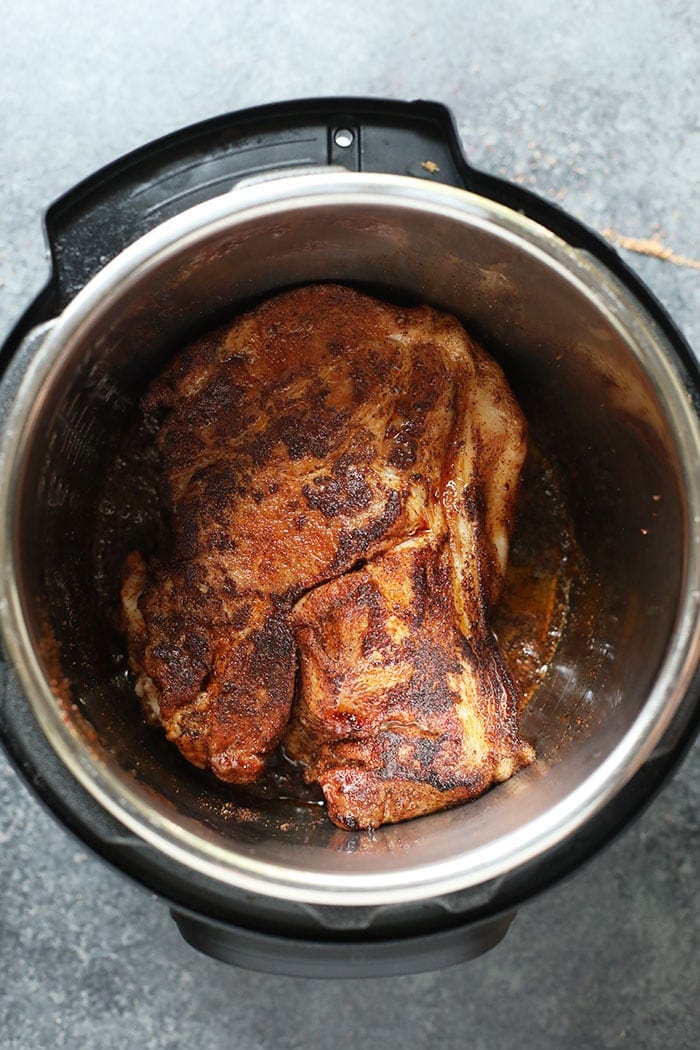 Step 3: Pressure Cook
Now it's time to add a few more things into your Instant Pot (green chiles and water) along with the seared pork to pressure cook away.
Instant Pot Pulled Pork Cooking Time
In this Instant Pot Carnitas recipe, we use the 'high' pressure cook setting and set the timer for 90 minutes. Make sure you seal the vent before setting the time. It will take around 10-15 minutes to build up enough pressure for your timer to start, so be patient. Once the 90 minutes are up, you'll hear it beep. Open the vent and let all of the steam out to quick release your Instant Pot pulled pork.
Shep 4: Shred and Serve Instant Pot Pulled Pork
Once your pulled pork carnitas are done cooking, shredding should be VERY easy. First, remove any fatty parts. Then, take 2 forks and shred away. We like to keep all of the sauce/liquid because there is such great flavor. If you remove any of it, you may need to adjust your spices. Serve your meat as carnitas tacos, in a bowl, or with nachos. We went the carnitas tacos route for this specific recipe and serve them with a squeeze of lime and fresh cilantro. YAS.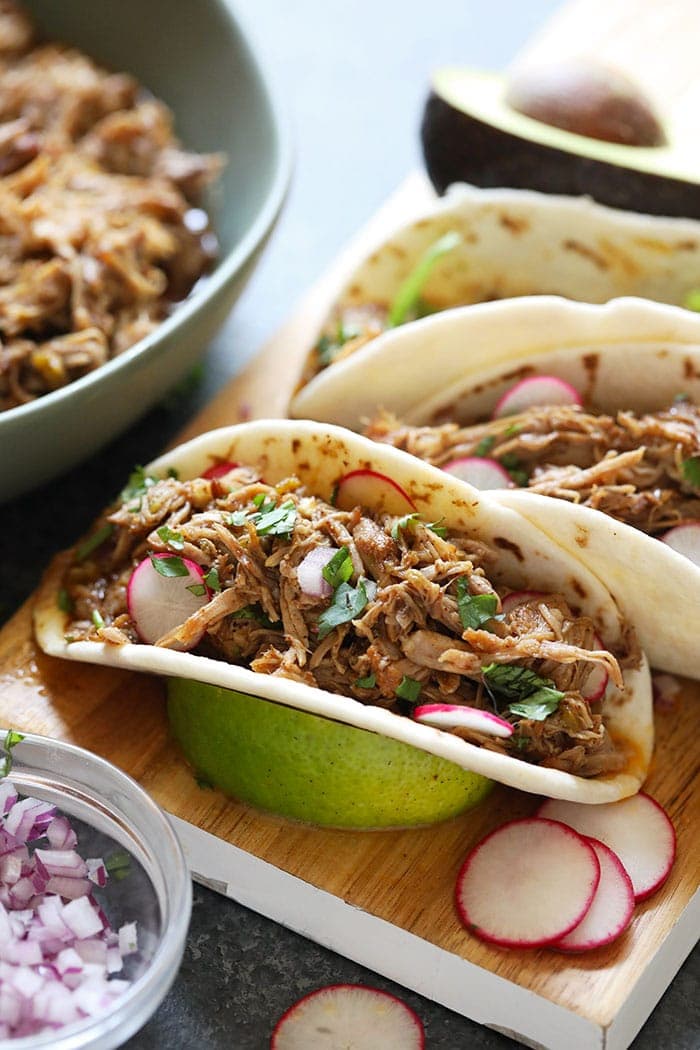 Instant Pot Pulled Pork Carnitas Serving Suggestions
This Instant Pot pulled pork recipe serves a crowd! It's also a great recipe for meal prep because you can serve it so many different ways. The spice rub is a great base and you can totally deviate the flavor by adding other flavors such as bbq sauce, hot sauce, or even hoisin sauce for an Asian flare. Here are some Instant Pot carnitas serving ideas:
Tacos (serve in a tortilla)
Nachos (top on tortilla chips)
Meal Prep Bowl (serve with brown rice and fajita veggies)
BBQ Pork Sandwiches (mix in your favorite bbq sauce)
Breakfast skillet (mix with breakfast potatoes and scrambled eggs)
More Healthy Instant Pot Recipes
Recipe
Instant Pot Pulled Pork Carnitas
Is there anything better than fall off the bone pork carnitas tacos? Learn how to make the most delicious and juicy Instant Pot Carnitas recipe with a few simple ingredients.
Prep Time:

10 minutes

Cook Time:

90 minutes

Total Time:

1 hour 40 minutes
Ingredients
Spice Rub
1 tablespoon

chili powder

2 teaspoon

s garlic powder

1 teaspoon

smoked paprika

1/2 teaspoon

cayenne pepper

2 teaspoon

s salt
Carnitas
2.5

to

3

lb. pork shoulder

1

–

4

oz. can green chilis

3 tablespoon

s olive oil

2 tablespoon

s water

1/2

lime, juiced
Instructions
First, place pork shoulder on a large plate or cutting board. Remove any string using scissors and add all spices to a small mixing bowl and mix.
Pour spices over the pork shoulder and massage spices into the meat. Set aside.
Turn Instant Pot on to the saute feature and drizzle bottom of the pot with olive oil. When olive oil is fragrant, place pork shoulder in the Instant Pot. Let sear for 2 minutes on each side.
Pour green chilis over the pork shoulder, add water, and cover Instant Pot.
Turn pressure valve to seal, set pressure to high pressure, and set the timer to 90 minutes.
When meat is done cooking, quick release pressure by turning pressure valve to vent. Remove cover and pull pork apart with two forks. It should be deliciously falling apart. Remove any large chunks of fat.*
Once shredded, squeeze on lime juice.
Serve as carnitas tacos, over nachos, or in a bowl of some sort.
Notes
Option to remove some of the liquid before shredding. Do note that you'll be getting rid of a lot of flavor if you do that!
Nutrition
Serving Size:

1/8

Calories:

373

Sugar:

2

Fat:

30

Carbohydrates:

4

Fiber:

1

Protein:

23
Similar