Learn how to make the most delicious and juicy Instant Pot Carnitas, the perfect weeknight meal that will leave you with leftovers.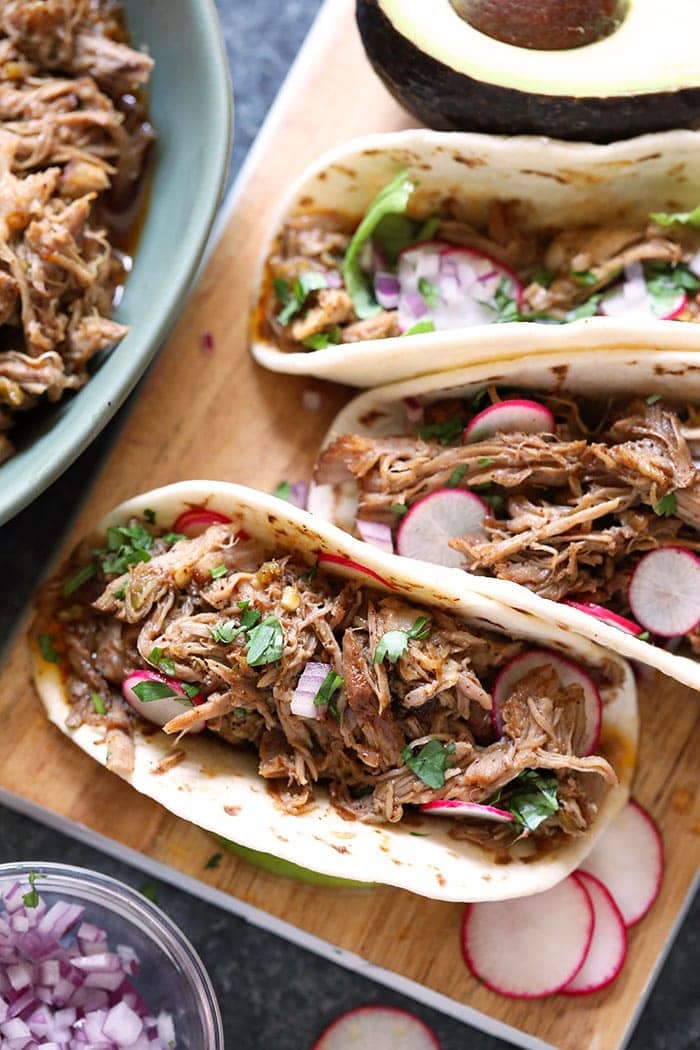 Carnitas are such a wonderful thing to make for the family or as a meal to share. Our Slow Cooker Carnitas recipe is a fan favorite, which is why we're excited to bring you an Instant Pot variation!
What cut of meat should I use?
This recipe calls for a 2.5 – 3 lb. boneless pork shoulder roast. A pork shoulder is an excellent cut of meat for carnitas because it's got a good amount of fat layered in and typically comes in larger cuts. Pork shoulders can also be known as a pork butt.
Size matters: If you get a cut of pork shoulder that weighs less than 2.5 lbs. you will likely need to lower your cook time. If you get a pork shoulder that is larger than 3 lbs. you will likely need to increase your cook time.
How to Make Instant Pot Carnitas
Step 1: Pulled Pork Dry Rub
Creating a delicious dry rub for your pork is very important for the end flavor. For this step, you'll need the following spices OR you can simply use our homemade pork dry rub recipe if you have it in your cabinet!
chili powder
garlic powder
paprika
cayenne
salt (don't skimp on the salt!)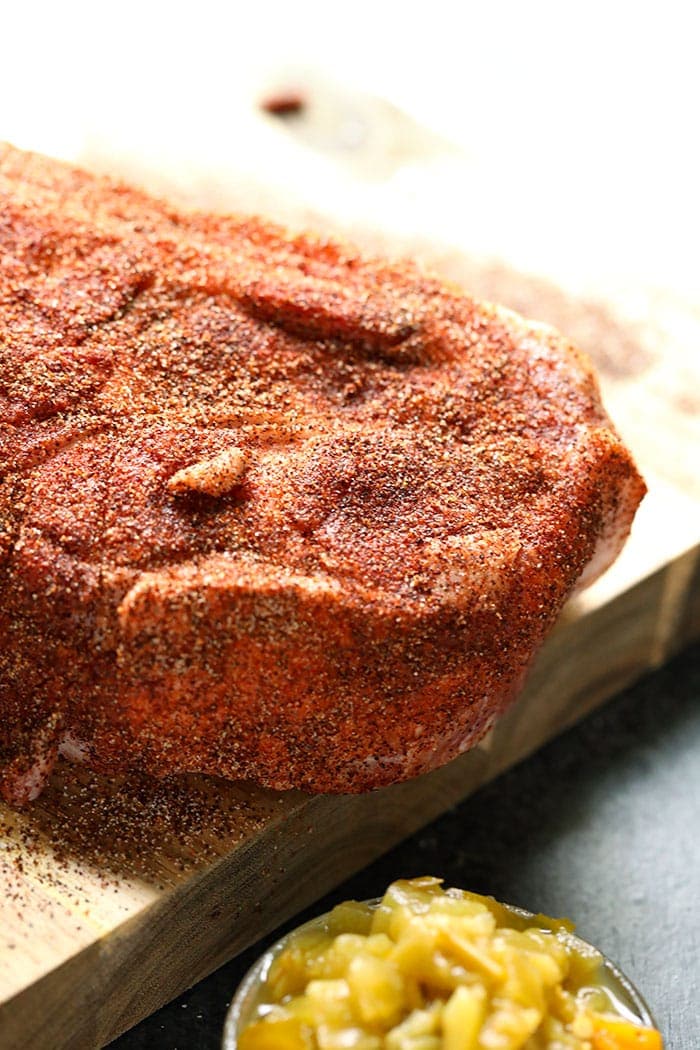 Step 2: Sear Pork in Instant Pot
In my opinion, one of the best parts about carnitas is the crispy parts. In order to get some great, crispy texture, you'll want to sear all edges of your pork shoulder. You can do this right in your Instant Pot on the sauté feature. YAS.
Make sure to use enough oil as a 3 lb. pork shoulder is pretty big! We suggest browning for 2-3 minutes on each of the 4 sides. Don't skimp on this part, people!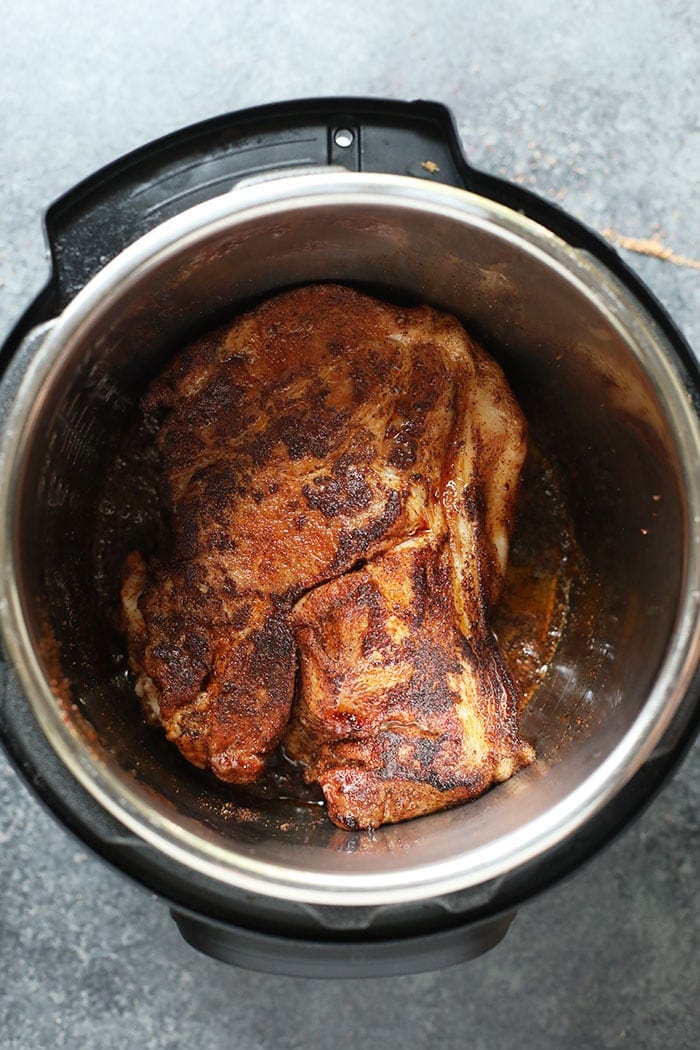 Step 3: Pressure Cook
Now it's time to add a few more things into your Instant Pot (green chiles and water) along with the seared pork to pressure cook away.
How Long to Cook Instant Pot Carnitas
Set your Instant pot to high presser and then set the timer to 90 minutes. Make sure you seal the vent before setting the time.
It will take around 10-15 minutes to build up enough pressure for your timer to start counting down, so be patient. Once the 90 minutes are up, you'll hear it beep. Open the vent and let all of the steam out to quick release your Instant Pot pulled pork.
STep 4: Shred and Serve
Once your pulled pork carnitas are done cooking, shredding should be VERY easy. If your pork still seems a little tough, we suggest cooking it a little bit longer to make it tender and easy to shred!
Remove any fatty parts of the pork and discard it. Then, take 2 forks and shred away. We like to keep all of the sauce/liquid because there is such great flavor. If you remove any of it, you may need to add more pork dry rub to amp the flavor up!
Want to make them extra crispy?
Spray a baking sheet with nonstick cooking spray and then spread the shredded pork on the baking sheet. Broil on high for 3-5 minutes and then toss. Continue broiling until the edges are nice and crispy!
Serving Suggestions
We know that these IP carnitas serve a crowd, but they're also great for meal prep because you can serve it in so many different ways. Here are some creative ways to serve your Instant Pot carnitas!
Tacos (serve in a tortilla)
Meal Prep Bowl (serve with brown rice and fajita veggies like this recipe)
BBQ Pork Sandwiches (mix in your favorite bbq sauce similar to this recipe)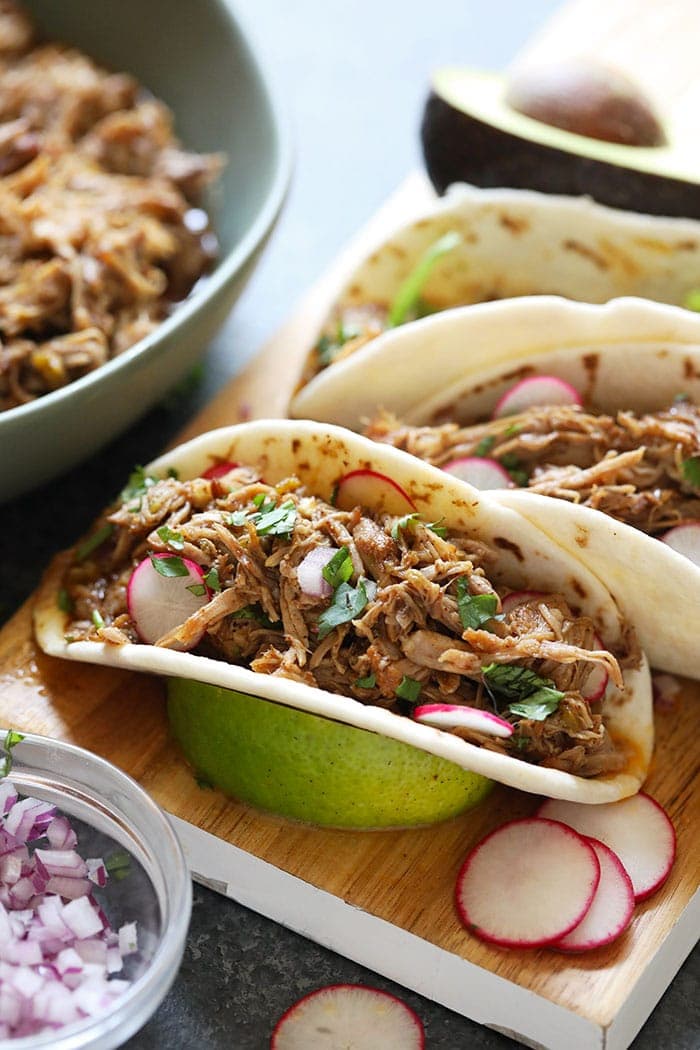 Got leftovers?
Carnitas pretty much taste good in anything savory and boy do we have some ideas for you to make the best out of your leftovers!
Chili: add pulled pork to chili
Mac and Cheese: make our homemade mac and cheese and add carnitas!
Nachos (top on tortilla chips like this recipe)
Breakfast skillet (mix with breakfast potatoes and scrambled eggs)
Can you freeze carnitas?
You can absolutely freeze carnitas. Let them cool completely and then transfer into a freezer-safe gallon-size bag. Remove as much air as possible and seal. Freeze for up to 3 months.
Our Fav Instant Pot Recipes
Instant Pot Pork Recipes
Watch How to Make This Recipe!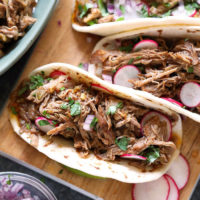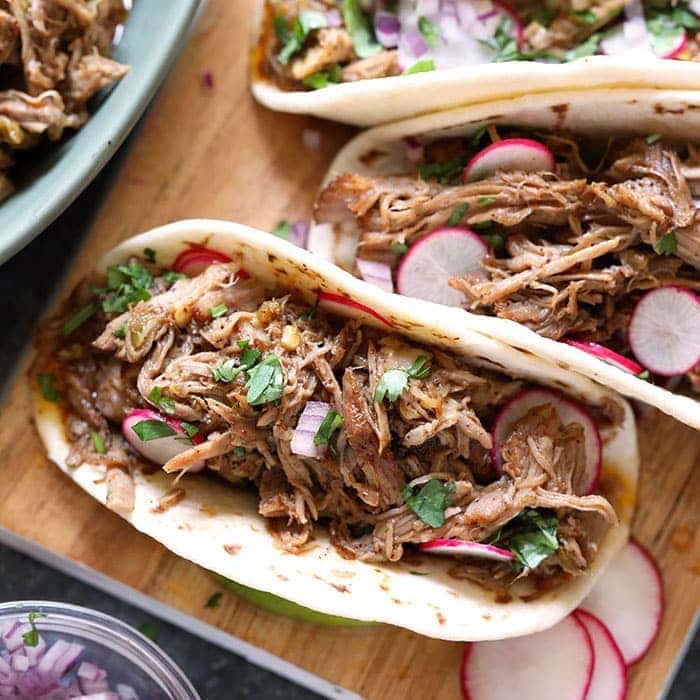 Instant Pot Pork Carnitas
Is there anything better than fall off the bone pork carnitas tacos? Learn how to make the most delicious and juicy Instant Pot Carnitas recipe with a few simple ingredients.
Prep:
20 minutes
Cook:
90 minutes
Total:
1 hour 50 minutes
Fat
30
Carbs
4
Protein
23
Ingredients
Spice Rub*
1 tablespoon

chili powder

2 teaspoons

garlic powder

1 teaspoon

smoked paprika

1/2 teaspoon

cayenne pepper

2 teaspoons

salt
Carnitas
2.5

–

3

lb. boneless pork shoulder roast

3 tablespoons

olive oil

1

–

4

oz. can green chilis

2 tablespoons

water

1/2

lime, juiced
Instructions
First, place pork shoulder on a large plate or cutting board.
Prepare pork dry rub by placing spices into a medium bowl. Mix until combined.
Pour spices over the pork shoulder and massage spices into the meat, making sure to be generous! This adds so much flavor. Set aside.
Turn on the Instant Pot's saute feature and add olive oil. When olive oil is fragrant, sear pork shoulder for 2-3 minutes on each side. The goal here is to get each side nicely browned.
Turn the Instant Pot's saute feature off and pour green chilis over the pork shoulder. Add water, and cover Instant Pot.
Turn pressure valve to seal >> turn the Instant pot to high pressure >> and set the timer to 90 minutes. It will take up to 15 minutes for pressure to build inside the Instant Pot. Once this happens, it will start counting down from 90 minutes.
When the Instant Pot beeps, quick release pressure by turning pressure valve to vent.
Take cover off Instant Pot and then remove any large fat chunks from the pork.
Use 2 forks to shred the remaining pork. It should be fall-off-the-bone and easy to shred. If it's not, consider pressure cooking for a longer amount of time.
Once shredded, squeeze on lime juice and mix.
Serve immediately OR make them extra crispy!
To make your carnitas extra crispy, spray a baking sheet with nonstick cooking spray. Then, transfer carnitas onto baking sheet and evenly spread out. Broil on high for 3-5 minutes. Then, toss and continue broiling until the edges are nice and crispy!
Tips & Notes
Spice Rub: option to use 3 tablespoons of our homemade pork dry rub instead!
Burn notice: if you get the burn notice, you need to add a few more tablespoons of liquid to the pot.
Option to remove some of the liquid before shredding. Do note that you'll be getting rid of a lot of flavor if you do that!
Nutrition Facts
Serving Size:
1/8
Calories:
373
Sugar:
2
Fat:
30
Carbohydrates:
4
Fiber:
1
Protein:
23
Category:
Dinner
Method:
Instant Pot
Cuisine:
Mexican
Keywords: instant pot carnitas, Instant Pot pulled pork