Friends with an Instant Pot, it's time to take 20 minutes to make this EPIC Instant Pot Moroccan Chicken recipe. Guys. The flavor is out of this world. We used chicken thighs for an extra burst of goodness and paired this shredded chicken with a delicious herbed couscous and roasted sweet taters!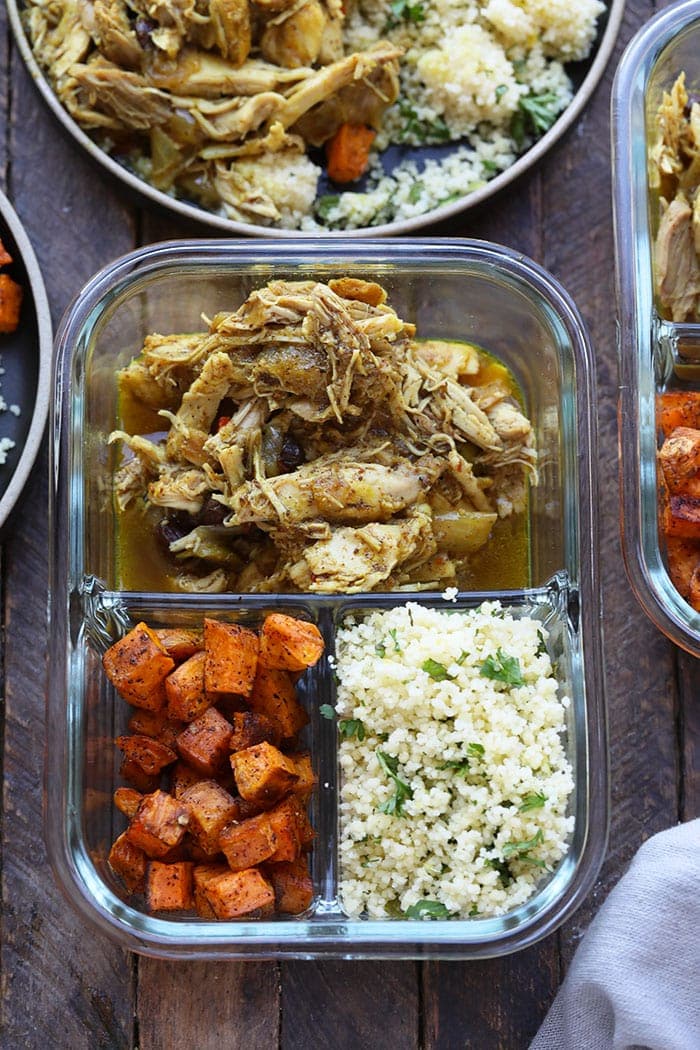 Hallelujah, these Instant Pot Moroccan Chicken Bowls have been on Fit Foodie's content calendar for about two months. We tested this recipe so many times and so many different ways. It was our first attempt at using an Instant Pot for an FFF recipe and we finally nailed it.
It's Linley (btw) and the first time I made this recipe when Lee was out of town and I was hanging out with The Healthy Maven crew. I had three taste testers that all agreed the flavor of this dish was RIGHT on, but the sweet potatoes were too dang mushy. Which was 100% true. So, on we went. When we test recipes at FFF we make sure to make it a couple times, knowing that all of you are counting on us. So, when a recipe isn't quite right, we try and try until it's perfect.
I wanted these Instant Pot Moroccan Chicken Bowls to be a one-pot meal. I wanted to throw the sweet potatoes and the chicken into the Instant Pot together and then serve them over a delicious bed of herby couscous. We tried changing the time, the pressure, we even tried cutting the sweet potatoes differently. Every time we came up with the same result, mushy sweet potatoes.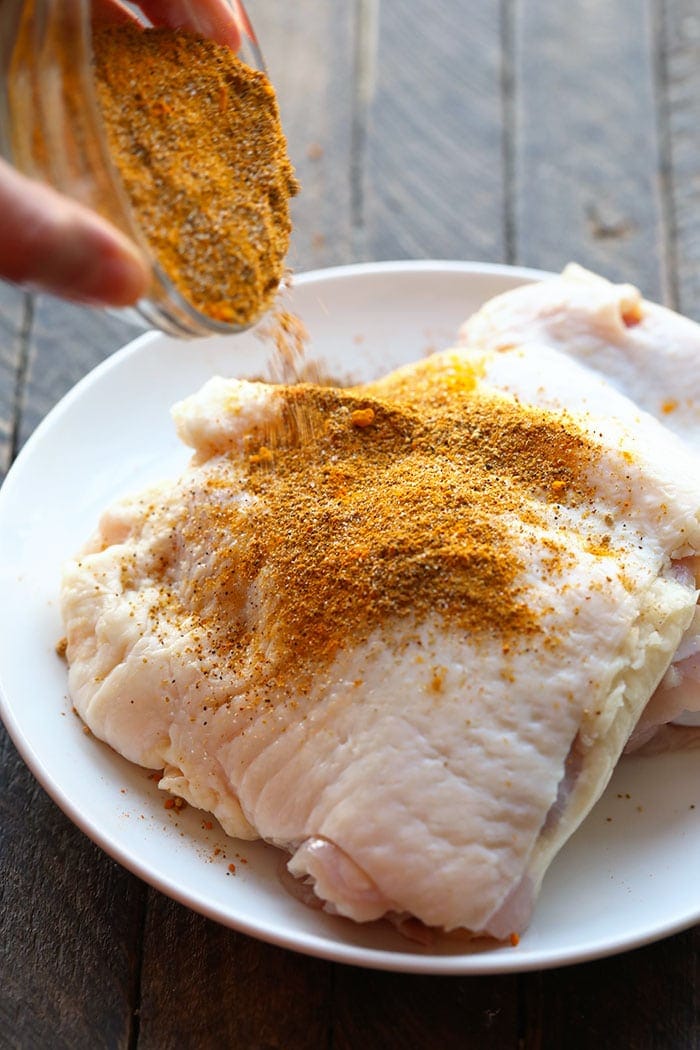 Alas, we switched gears and decided we liked the flavor profile of this dish too much to change that up. To change things up we went from cooking the sweet potatoes in the Instant Pot to roasting them in the oven. Instead of serving the chicken thighs whole we decided shredded chicken was a better fit. The sauce that ends up at the bottom of the instant pot is too good to waste! After making those changes, it turned into a "two pot" meal with amazing flavor. We are now 100% in love with this recipe.
Guess how many times we tested this recipe. SEVEN. It was all worth it.
If it's your first time using the Instant Pot, take a deep breath and remember you really can't get it wrong and no, you are not going to blow up your house. It really is as easy as it looks.
Try these other shredded chicken recipes by Fit Foodie Finds!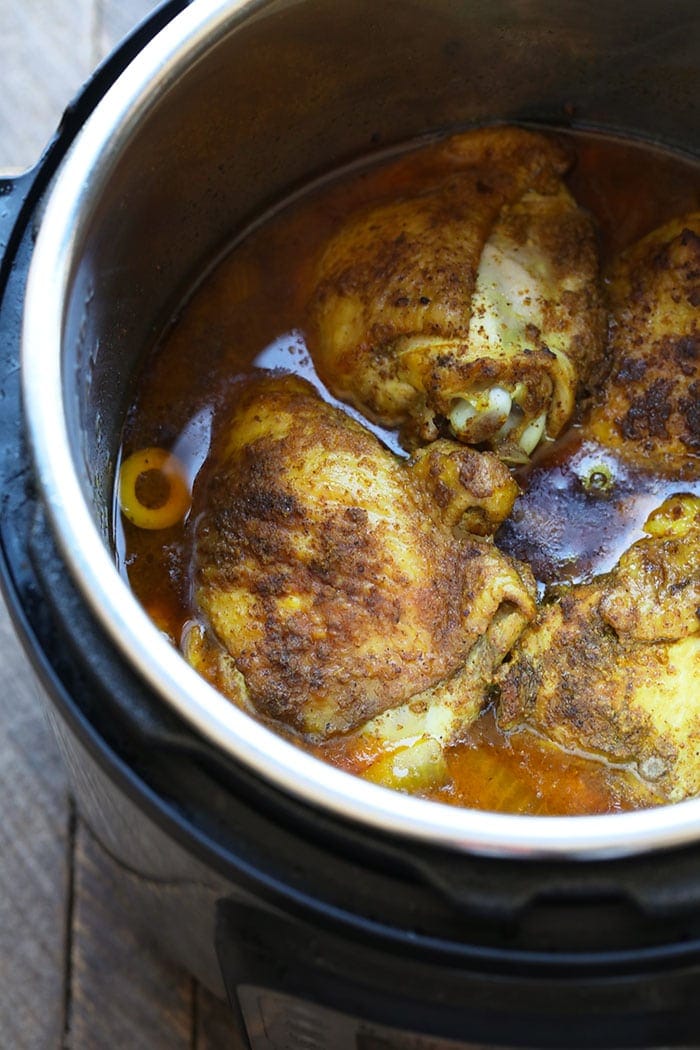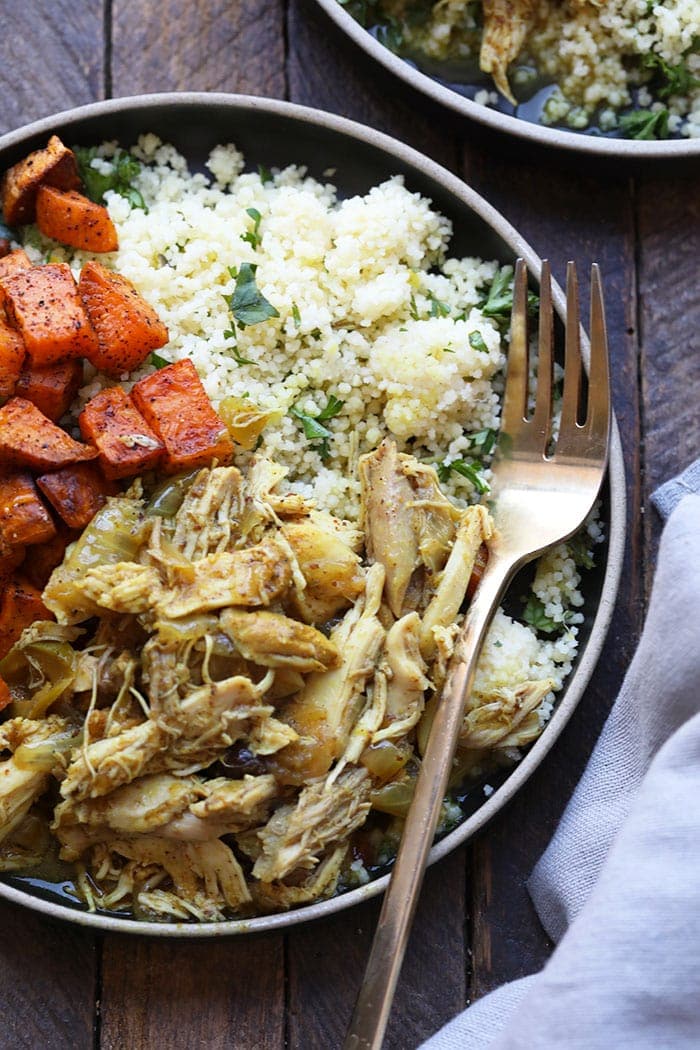 Recipe
VIDEO: Instant Pot Moroccan Chicken
Spice up dinner this week with this Instant Pot Moroccan Chicken. This chicken is finger-licking good and ready in 10 minutes! This Instant Pot Moroccan Chicken is perfect for a quick weeknight meal or for meal prep!
Prep Time:

20 minutes

Cook Time:

25

Total Time:

45 minutes
Ingredients
Sweet Potatoes
2 large sweet potatoes, cubed
1/2 tablespoon olive oil
1 teaspoon garlic powder
1/2 tablespoon chili powder
Chicken
1.5 lbs. chicken thighs (4-5 thighs)
1 tablespoon cumin
1 teaspoon turmeric
1 teaspoon ginger powder
1.5 teaspoons garlic powder
1/2 tablespoon chili powder
1/2 teaspoon cayenne
1/8 teaspoon salt
1 /3 cup raisins
1/2 cup green olives, chopped
1/2 cup chicken broth
1 white onion, chopped
3 tablespoons olive oil
Couscous
1 cup water
1 cup couscous, uncooked
zest of one lemon
2 tablespoons lemon juice
1/4 cup fresh parsley, chopped
1/4 cup fresh cilantro, chopped
Optional Toppings
Instructions
For the sweet potatoes, preheat oven to 400ºF. Place sweet potatoes on a baking sheet and drizzle with olive oil, garlic powder, and chili powder. Mix well. Bake at 400ºF for 20-25 minutes.
For the chicken, mix cumin, turmeric, ginger powder, garlic powder, chili, cayenne, and salt together. Place chicken thighs in a large bowl and pour spices over the thighs.  Rub chicken with spices, making sure each thigh is coated in spices. Set aside.
Next, open your Instant Pot and turn on the saute function. When your Instant Pot beeps, it is hot and ready to go. Add two tablespoons of olive oil to the Instant Pot. When olive oil is fragrant, place chicken thighs skin down. Let cook for 2-3 minutes and flip. Cook for an additional 2-3 minutes and remove from Instant Pot.
Place the rest of the ingredients for the chicken into the Instant Pot. Mix well. Place Chicken on top of the mixture and seal your Instant Pot (make sure you seal the vent on the top). Set your timer for 10 minutes and press 'Manual' and 'High Pressure'. When your Instant Pot builds up enough pressure, it will start to count down from 10.
While chicken is cooking, prepare couscous by bringing 2 cups of water to a boil. Remove from heat, add couscous to boiling water, and cover. Let sit for 5 minutes. Uncover and fluff couscous with a fork.
In a large mixing bowl mix all ingredients for couscous. Set aside.
When your chicken is done, your Instant Pot will beep. It will automatically release pressure. You will hear the pin on the top of your Instant Pot 'pop' when all pressure has been released. This takes about 5-10 minutes.
Remove Instant Pot cover when you are sure all pressure has been released. Remove chicken from Instant pot and use 2 forks to shred. Throw away skin and bones and then place the shredded chicken back in the instant pot and mix with all of those yummy juices.
Serve chicken with sweet potatoes and couscous. Enjoy! Optionally top with feta cheese and pistachios.
Nutrition
Serving Size:

1/6

Calories:

346

Sugar:

7

Fat:

15

Carbohydrates:

30

Fiber:

4

Protein:

26
Similar