This Moroccan Instant Pot chicken thighs recipe is a great keto dinner recipes and is perfect for meal prep. If you are looking for an easy Instant Pot Shredded Chicken recipe, look no further.
We are all about Instant Pot recipes! Whether you are a college student with no oven in their dorm room or someone just looking for quick and healthy recipes, we have something for you!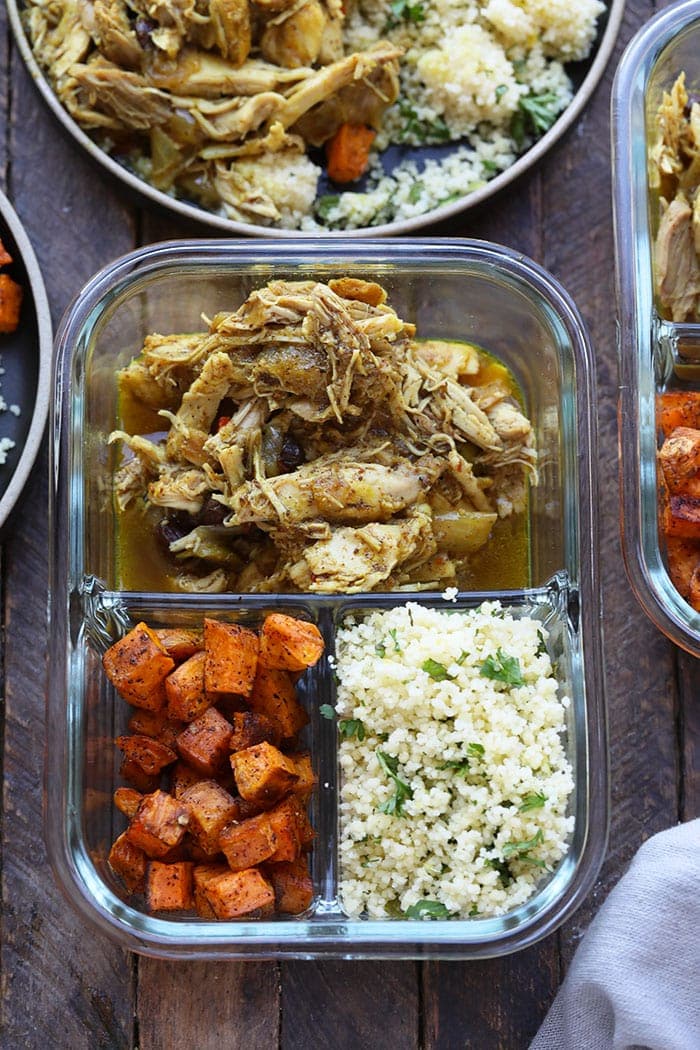 Chicken Thighs are SO Good
This Moroccan Instant Pot Chicken Thigh recipe was one of our first attempts at using an Instant Pot for an FFF recipe and now it's one of the most popular chicken recipes on FFF.
If this is your first go with an Instant Pot, check out this post about what we love about Instant Pots! It is a lot easier than you think. This recipe is a perfect recipe to start off with. Chicken tends to be forgiving in the Instant Pot and after you try the sauce that goes along with it, you won't be able to get enough!
CHICKEN THIGHS–> We used chicken thighs in this recipe because chicken thighs tend to have a bit more fat in them compared to chicken breasts. We wanted this dish to be rich and complex. Chicken thighs helped us accomplish that goal.
Feel free to use bone-in chicken thighs or boneless, either way, the chicken turns out supple and delicious.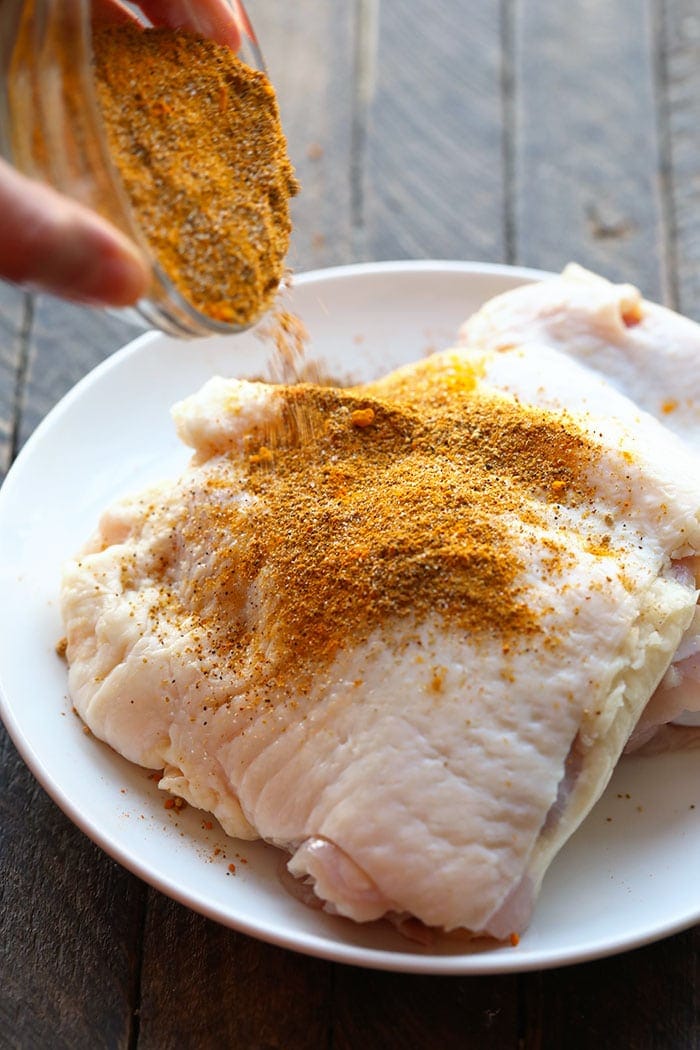 Why Should I Make this Dish?
This Moroccan Instant Pot Chicken Thighs recipe does have a couple of steps if you make the whole meal (sweet potatoes, couscous, and chicken), but it is so worth it. There are many ways you can make this dish your own.
Here are some of our favorite things about this Instant Pot Chicken Thighs!
The sauce is amazing! The sauce at the bottom of the pot is a combination of all the best flavors of this dish!
Shredded chicken tends to soak up sauce so well! The saucy chicken in this dish is SO good.
You can make this dish your own and prepare the chicken and serve it with your favorite vegetables. We use sweet potatoes, but if you are following a keto diet, try serving it with broccoli instead!
The couscous side in this Moroccan chicken dish is mixed with fresh herbs. It truly is heaven! If you're not a fan of couscous, try cauliflower rice or quinoa!
Tips + Tricks Instant Pot Moroccan Chicken
It's all about timing. If you are planning on making this whole meal (sweet potatoes, chicken, and couscous), it's all about timing! Begin by following the directions and start by getting the sweet potatoes in the oven. The sweet potatoes take the longest.
Next, start the Moroccan chicken! Once you have done the prep work and the pressure in your Instant Pot has built up, the cook time is only 10 minutes.
From there prepare your couscous (it's ready in minutes) and that's when it all comes together!
The sweet potatoes will be roasted, the couscous will be mixed, and all you have to do is release the pressure from the Instant Pot, shred the chicken, and you're golden!
Use the saute function. The saute function on the Instant Pot is crucial in this recipe! We use the saute function to crisp up the skin of the chicken thighs.
At this point, the chicken thighs are covered in delicious spices and when you sear the chicken thighs in the Instant pot, it crisps up the skin and creates a delicious fond a the bottom of the Instant Pot.
The fond will eventually be the base for the delicious sauce that your chicken will be mixed into.
Can I substitute the vegetables? Yes, feel free to serve whatever vegetables you would like with this Moroccan chicken. We used sweet potatoes but any of the vegetables below would be delicious roasted and served alongside the couscous and chicken.
broccoli
cauliflower
potatoes
onions
peppers
Is this meal keto? The Morrocan chicken in the Instant Pot IS keto. The sweet potatoes and the couscous are not keto. To make this meal keto substitute the sweet potatoes for broccoli and the couscous for cauliflower rice!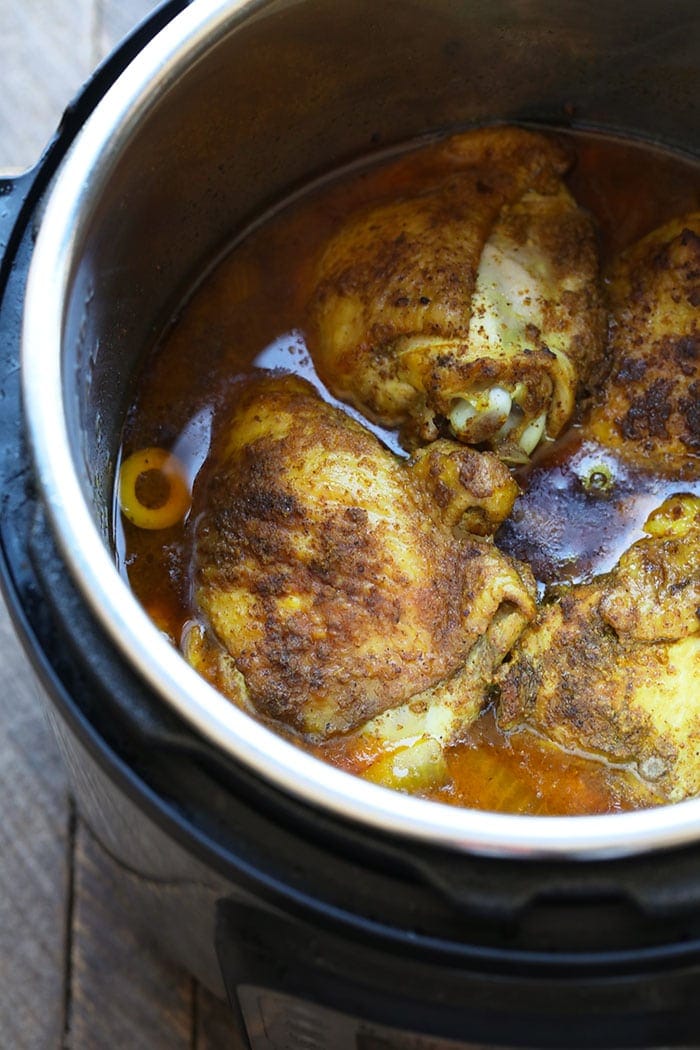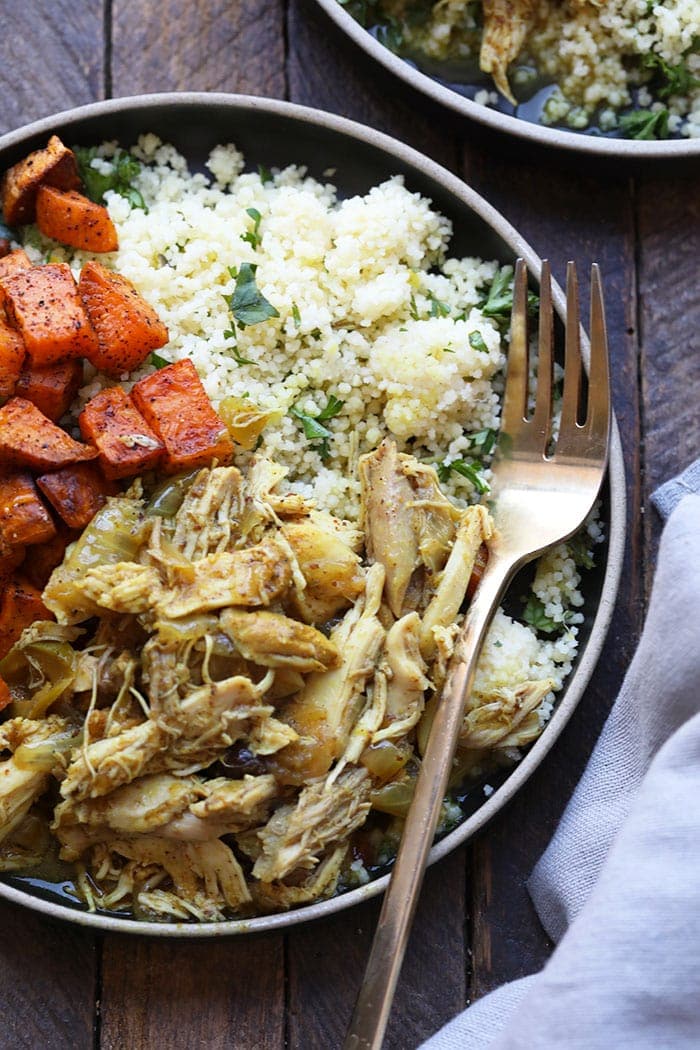 Shredded Chicken Recipes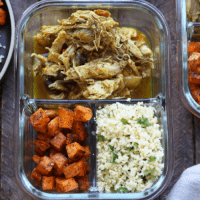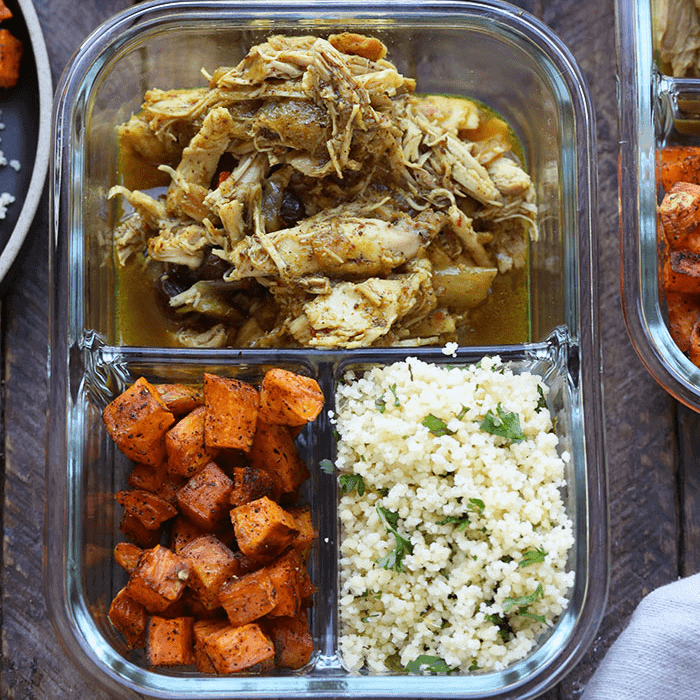 Instant Pot Moroccan Chicken
This Moroccan Instant Pot chicken thighs recipe is a great keto dinner recipes and is perfect for meal prep. If you are looking for an easy Instant Pot shredded chicken recipe, look no further.
Ingredients
Chicken
1.5

lbs.

chicken thighs

4-5 thighs

1

tablespoon

cumin

1

teaspoon

turmeric

1

teaspoon

ginger powder

1.5

teaspoons

garlic powder

1/2

tablespoon

chili powder

1/2

teaspoon

cayenne

1/8

teaspoon

salt

1 /3

cup

raisins

1/2

cup

green olives

chopped

1/2

cup

chicken broth

1

white onion

chopped

3

tablespoons

olive oil
Couscous
1

cup

water

1

cup

couscous

uncooked

zest of one lemon

2

tablespoons

lemon juice

1/4

cup

fresh parsley

chopped

1/4

cup

fresh cilantro

chopped
Instructions
For the sweet potatoes, preheat oven to 400ºF. Place sweet potatoes on a baking sheet and drizzle with olive oil, garlic powder, and chili powder. Mix well. Bake at 400ºF for 20-25 minutes.

For the chicken, mix cumin, turmeric, ginger powder, garlic powder, chili, cayenne, and salt together. Place chicken thighs in a large bowl and pour spices over the thighs.  Rub chicken with spices, making sure each thigh is coated in spices. Set aside.

Next, open your Instant Pot and turn on the saute function. When your Instant Pot beeps, it is hot and ready to go. Add two tablespoons of olive oil to the Instant Pot. When olive oil is fragrant, place chicken thighs skin down. Let cook for 2-3 minutes and flip. Cook for an additional 2-3 minutes and remove from Instant Pot.

Place the rest of the ingredients for the chicken into the Instant Pot. Mix well. Place Chicken on top of the mixture and seal your Instant Pot (make sure you seal the vent on the top). Set your timer for 10 minutes and press 'Manual' and 'High Pressure'. When your Instant Pot builds up enough pressure, it will start to count down from 10.

While chicken is cooking, prepare couscous by bringing 1 cups of water to a boil. Remove from heat, add couscous to boiling water, and cover. Let sit for 5 minutes. Uncover and fluff couscous with a fork.

In a large mixing bowl mix all ingredients for couscous. Set aside.

When your chicken is done, your Instant Pot will beep. It will automatically release pressure. You will hear the pin on the top of your Instant Pot 'pop' when all pressure has been released. This takes about 5-10 minutes.

Remove Instant Pot cover when you are sure all pressure has been released. Remove chicken from Instant pot and use 2 forks to shred. Throw away skin and bones and then place the shredded chicken back in the instant pot and mix with all of those yummy juices.

Serve chicken with sweet potatoes and couscous. Enjoy! Optionally top with feta cheese and pistachios.
Nutrition facts
Calories:
346
kcal
Carbohydrates:
30
g
Protein:
26
g
Fat:
15
g
Fiber:
4
g
Sugar:
7
g