How do you like your eggs? We love ALL egg recipes on Fit Foodie Finds and today we are sharing 15 of our favorite egg recipes for breakfast. Healthy egg breakfast recipes, egg bake recipe, egg cup recipe, and more!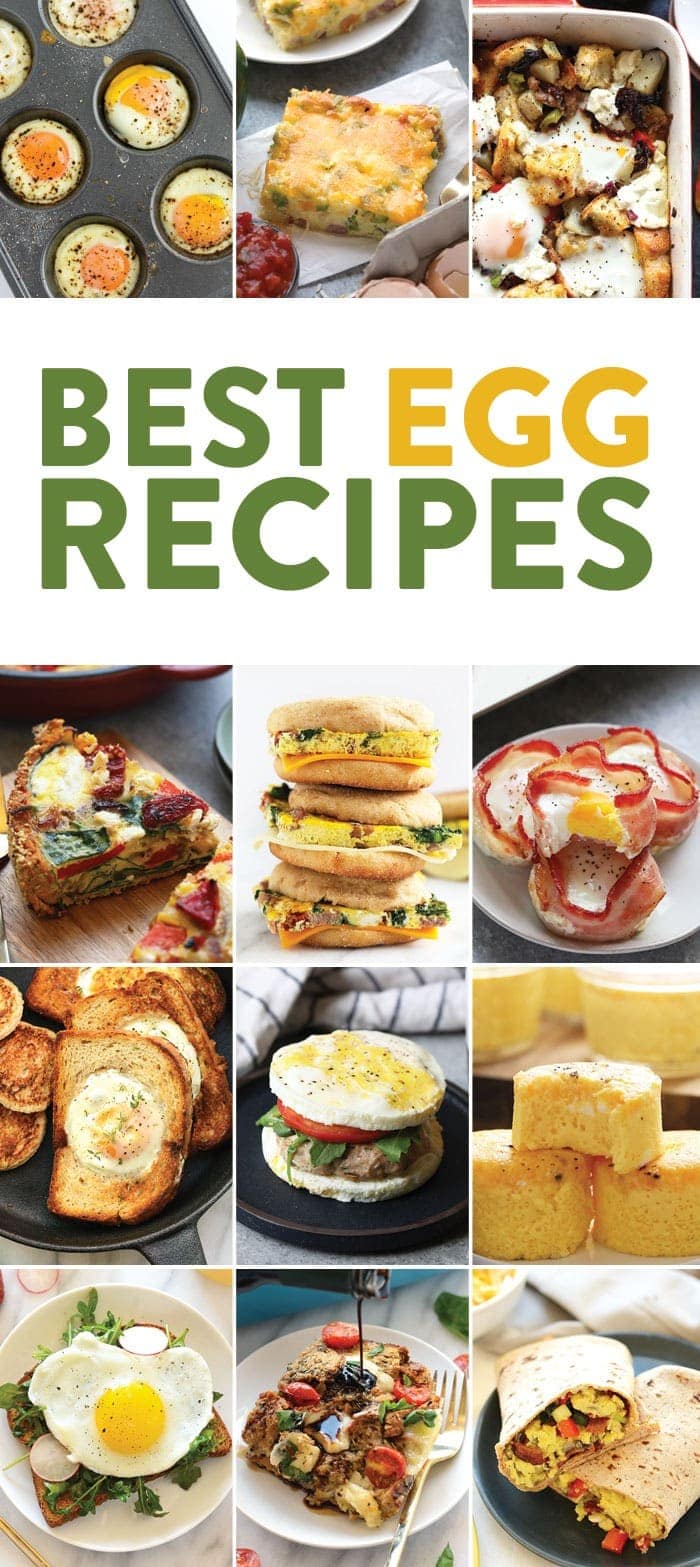 How Do You Like Your Eggs?
Eggs are probably one of the most versatile foods on the planet. ON THE PLANET. They've been dubbed a breakfast food, but I don't see it that way. I see them as an ingredient I shall eat at any hour of the day! Baked. Fried. Scrambled. Frittata-ed. YOU NAME IT…I've done it
The first time Linley met Mark we went to Cafe Benelux in Milwaukee where I ordered eggs, potatoes, and bacon. The waiter asked how I wanted my eggs and I responded fried. Then he responded with..over hard? My internal instinct was WTF is over hard, but of course, I responded semi-confidently with a "yup." Lin and Man Candy called my bullshit because they know I like my eggs runny and they could seem y confusion.
Apparently over hard is a thing and it does NOT mean a runny yolk.
If you've been reading my blog for longer than a week, you know I am a SWEET TOOTH breakfast eater. It's something about hot coffee that makes me crave foods on the sweeter side in the morning. I am, however, a HUGE fan of brunch and brinner, which is when I prefer to eat more savory recipes. Linley and Em, on the other hand, are all about that savory breakfast. It's always a Team FF debacle post workout of what we should eat 😛 Not going to lie- the savory is growing on me just a little bit!
Healthy Egg Breakfast Recipes + MORE
We have many egg recipes on Fit Foodie Finds and today we are sharing 15 of our most favorite ones! If you are looking for baked egg recipes check out our How to Bake Eggs In the Oven post before diving into our favorite healthy egg cup recipes. If you popped over to look for some delicious healthy egg breakfast recipes for meal prep, we have that, too! We've got em' all! But first, let's chat about helpful tools that make egg recipes a breeze in the kitchen!
Kitchen Essentials for Egg Recipes
Just like any food prep, preparing any egg dish can be made easy if you have the right tools. We meal prep egg recipes for easy snacks and healthy meal options for the week and it helps to have the tools that make life easy in the process. Here are our favorite tools!
Egg Cup Recipe
Healthy Egg Cups are a great option for any meal! We love to meal prep one of our many healthy egg cup recipes for an easy breakfast, a healthy snack, or even dinner. Make sure to grease your muffin tins no matter what recipe you decide on, otherwise, you'll have a hard time removing the healthy egg cups from the muffin tin. Don't forget you can always swap out any veggies in our egg recipes for your favorite veggies, too!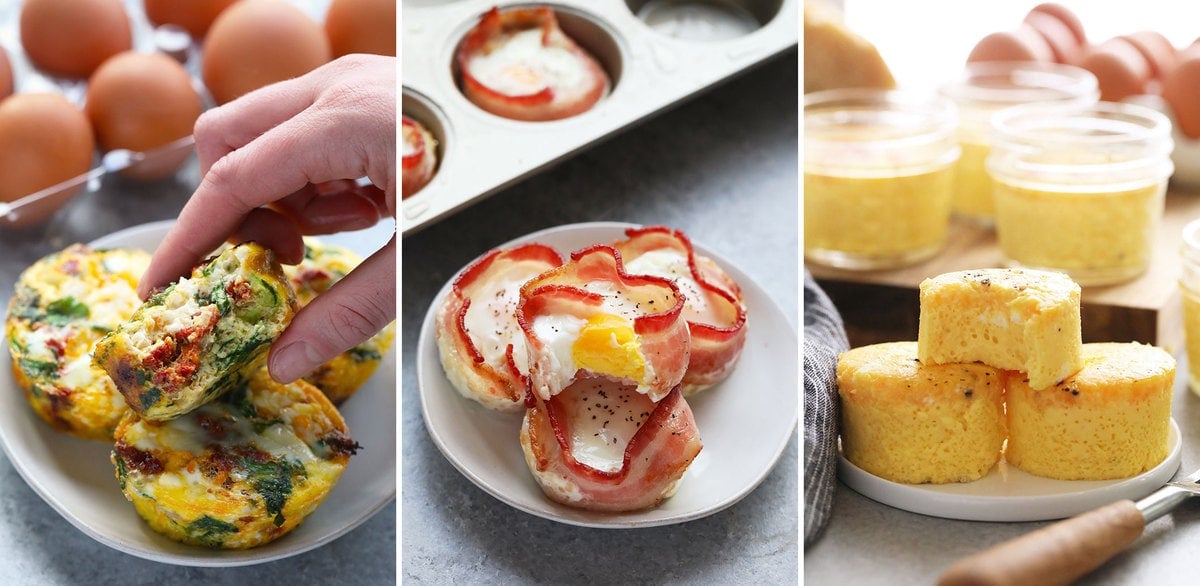 Egg Bake Recipes
Who loves brunch? We do! Not only do we love to whip up an egg bake for a great meal prep breakfast option for the week, but nobody loves a good egg bake for brunch more than we do! Our egg bake recipes are easy to make and have great ingredients and flavors that will leave your brunch guests asking for more!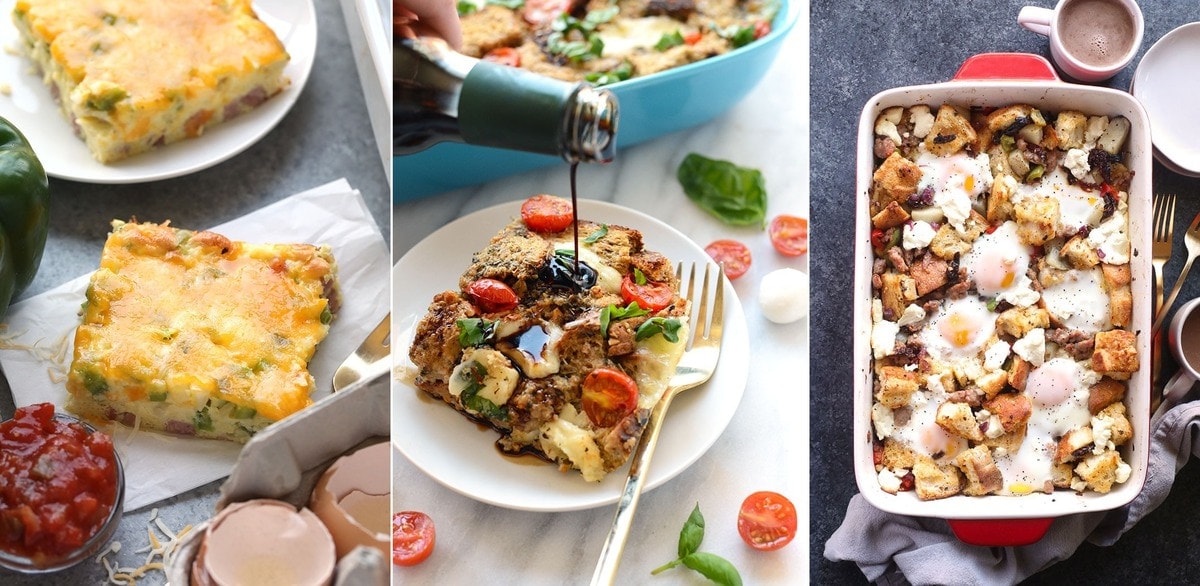 Egg Sandwich Recipe
I could eat egg sandwiches are all day, every day! There is nothing like a healthy breakfast sandwich that is packed with eggs, veggies, and cheese. Healthy egg sandwiches make a great start to any day!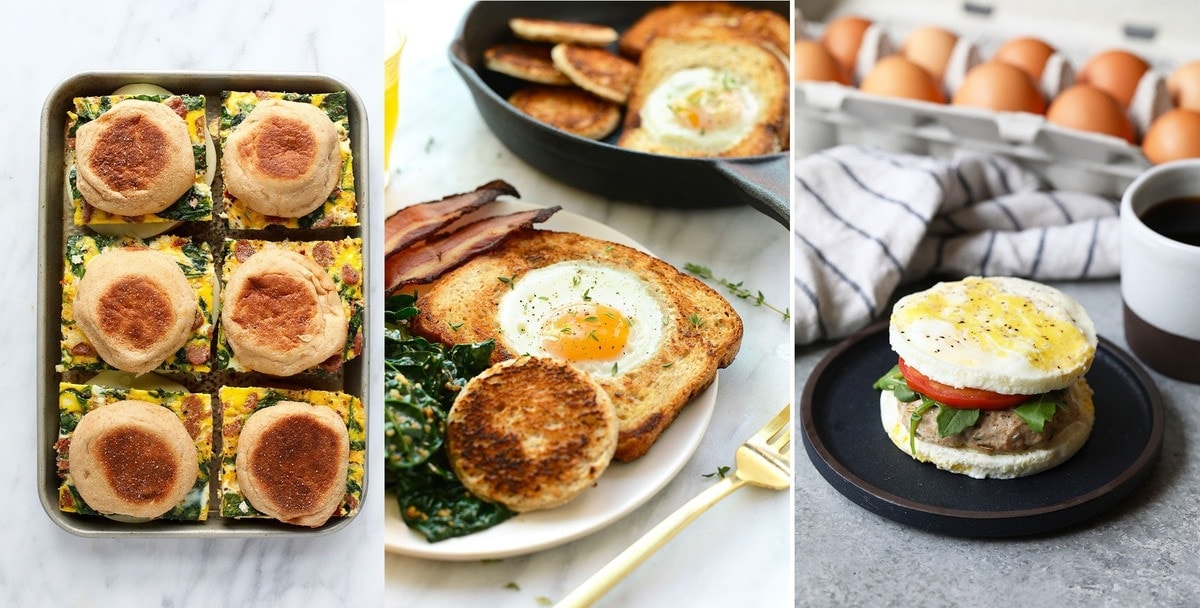 Other Egg Recipes
There are countless healthy egg breakfast recipes in this world! We love freezer breakfast burritos stuffed with scrambled eggs, breakfast bowls, and more. Check out these easy meal prep breakfast recipes!