Sweet Potato Hash Egg Cups – we're taking baked eggs to the next level by adding a sweet potato/cheddar cheese base for the most delicious, satisfying, savory breakfast you'll eat this year!
These egg cups, though! Lin and I shot this recipe back in November because we got so excited about a new FFF partnership with the NC Sweet Potato Commission and it's just getting pushed and shoved by other recipes. HOW RUDE. AmIRight? We've made these about five times since then and they get better every time :D Sweet potatoes + eggs + cheese…YES!
Over the past few months, I've been trying to find ways to keep high-protein, low sugar snacks around my kitchen. For some reason, I always gravitate towards sweeter, high-protein foods. The base of this recipe is made up of grated sweet potato, cheddar cheese, and a little bit of garlic. I love the flavor the grated sweet potato gives these egg cups…so good! Plus you get a dose of complex carbs, fiber, vitamin a & c, and manganese. You crack an egg on top, season with salt and pepper and bake 'em! It's as easy as that. Then you've got snacks/breakfast ready for the entire week. Bingo, bango, bongo.
Like I mentioned above, we tested this recipe many many times. At first, we were trying to go for a super crunchy base with the sweet potatoes…but the only way to do that is to deep fry them, which not only adds more fat calories to this recipe but also more time. We settled on a softer hash bottom, which is just as delightful in flavor and takes way less time. All you have to do is grate the sweet potatoes and put them into a muffin tin, no need to press them down. Actually, we found that by not pressing the sweet potato mixture into the pan, the egg kept everything together better that way.
Oh, and my number one tip for these is to SPRAY SPRAY SPRAY your muffin tin. You could even use a muffin liner if you don't want to worry about messing up your pan (try these reusable liners to save on paper use)!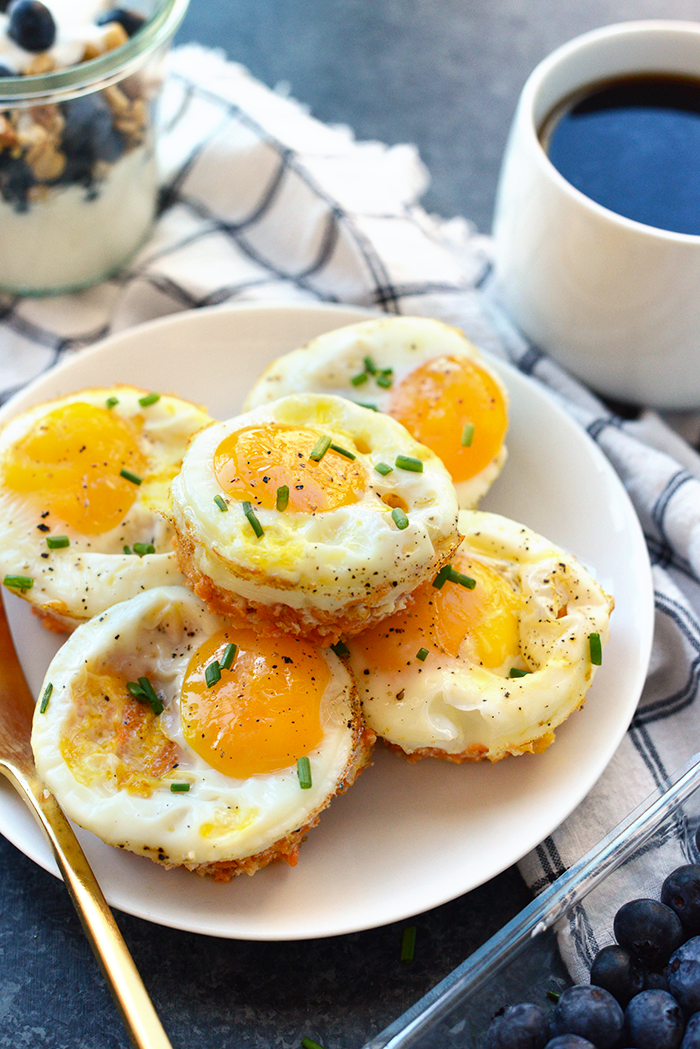 Recipe
Sweet Potato Hash Egg Cups
Sweet Potato Hash Egg Cups – we're taking baked eggs to the next level by adding a sweet potato/cheddar cheese base for the most delicious, satisfying, savory breakfast you'll eat this year!
Prep Time:

10 mins

Cook Time:

15 mins

Total Time:

25 minutes
Ingredients
1/2 cup sweet potatoes, grated (~1 small sweet potato)
1/4 cup cheddar cheese, shredded
1/2 tablespoon garlic powder
8 large eggs
salt and pepper, to taste
Instructions
Preheat oven to 375ºF and spray a muffin tin with coconut oil cooking spray. Alternatively, place liners in the muffin tin so clean up is easy!
Peel a medium sweet potato and use a cheese grater to grate potato.
Place 1/2 cup grated sweet potato, 1/4 cup cheddar cheese, and 1/2 tablespoon garlic powder in a bowl and mix until combined.
Using a tablespoon as your scooper, scoop one heaping tablespoon of sweet potato mixture on the bottom of 8 muffin tins.
Crack a large egg on top of each cup and season with salt and pepper to taste.
Bake eggs at 375ºF for 13-15 minutes or until eggs are at desired consistency.
Notes
Reheat the next day in the microwave on high for 30-60 seconds.
Nutrition
Serving Size:

1 egg cup

Calories:

103

Sugar:

1

Fat:

6

Carbohydrates:

4

Fiber:

1

Protein:

8
Similar
Wow. Has it been a heck of a week. I can't tell you how many positive, supportive, and awesome messages I've gotten from all of you regarding the Healthy Glow Collective. If you are part of the #HGCcommunity, you know what I'm talking about. There is just something about a community of women coming together to do life. Not perfectly, but balanced, real, and raw. Do you FEEL ME? Delicious food, sweaty workouts, and a place to go when you are stressed or have questions.
If you are not part of our Facebook group yet, join NOW.
Let's talk about business for a second. It's been really fun and "special" to start a business during this time in my life compared to where I was when I started Fit Foodie Finds. When I started FFF I was 20 years old, right out of college, with zero business experience and zero life experience. I've spent the past 6 years doing and learning and making mistakes and taking risks. I have learned invaluable lessons about content creation, digital marketing, photography, cooking, taxes, human resources, and so much more. So this time around, starting another business feels different. I feel confident and excited on a whole different level than with Fit Foodie. One thing that has changed dramatically this time around is having a team. This business has never been an I or me…it's been a WE. Monique and Katie are a dream to work with and I am so excited to venture into the Healthy Glow Collective with these two amazing women by my side.   
—————————————
This post is sponsored by the NC Sweet Potato Commission. Thank you for supporting Fit Foodie Finds and my love for sweet taters! I was compensated and all opinions are my own.