Looking for a fun way to eat eggs and toast? This egg in a Frame recipe made with Dave's Killer Bread White Bread Done Right will only take you 10 minutes AND is the coolest breakfast around!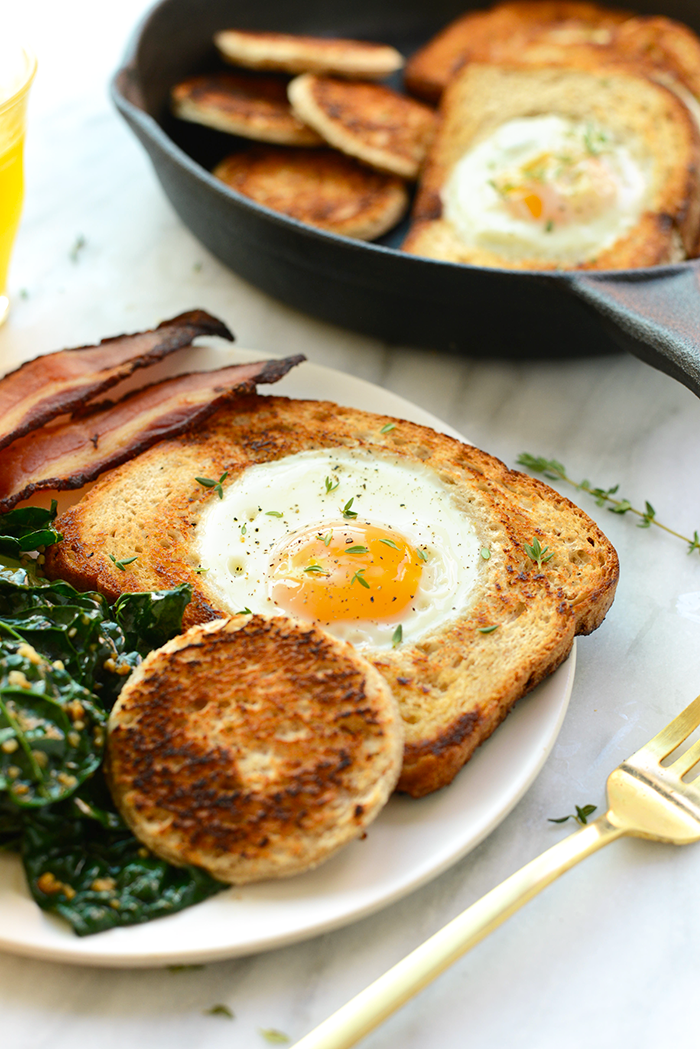 I am verrrrry excited to introduce a new FFF partnership with Dave's Killer Bread! I am a BIG fan of amped up bread made with real ingredients and that's exactly what Dave's is.
Today's recipe features their White Bread Done Right, which has the most whole grains out of any white bread on the market! WHATTTTT. It's a blend of whole grain flours and doesn't include any bleached flour OR high fructose corn syrup. Yes please. Really though, that is HUGE! Parents- you could totally get away with telling your picky kids that this is "real white bread," when it's really white bread done right 😛
Check it out : 3g protein | 2g fiber | 120mg omega-3 | 10g whole grains.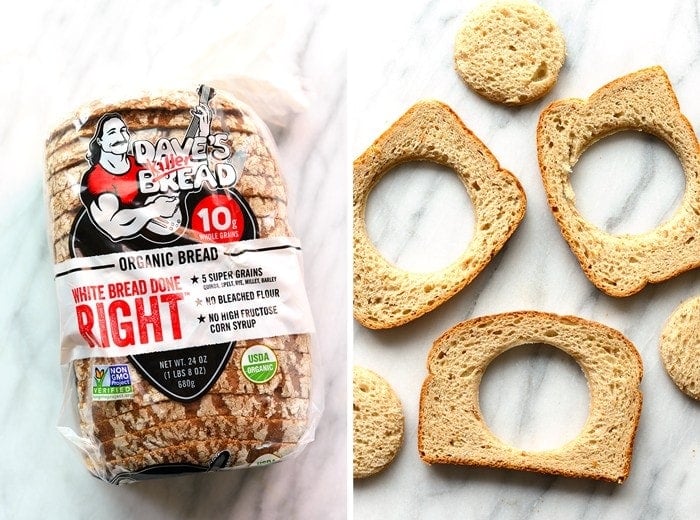 I think this may be the most controversial blog post I will ever write. A few weeks ago I asked my Instagram what they call "egg in a frame" and I couldn't believe the diversity in answers AND how passionate people are about this recipe.
Egg in a frame (what I call it!)
Egg in a basket
Hen in a nest
Egg in a nest
Egg in a hat
Eggs in a blanket
Frog in a hole
Twin sun toast
Surprise egg
Popeye
Eggie in the middle
Bullseye
Buca mi buca di
Ships egg
Caprese
Campfire egg
Miami egg
I have never seen a single dish that has so many name for it! NUTS. My favorite answer was Buca mi buca di. Apparently it's Italian and there is no direct translation in English. I also really liked Eggie in the Middle and think I might just start calling it that 😛 Really though- this recipe is so much fun and a great way to get the whole family involved with breakfast. Want to know something else? It's an AMAZING meal prep breakfast recipe because you can make these in bulk and freeze them in sandwich bags and then reheat them in the oven!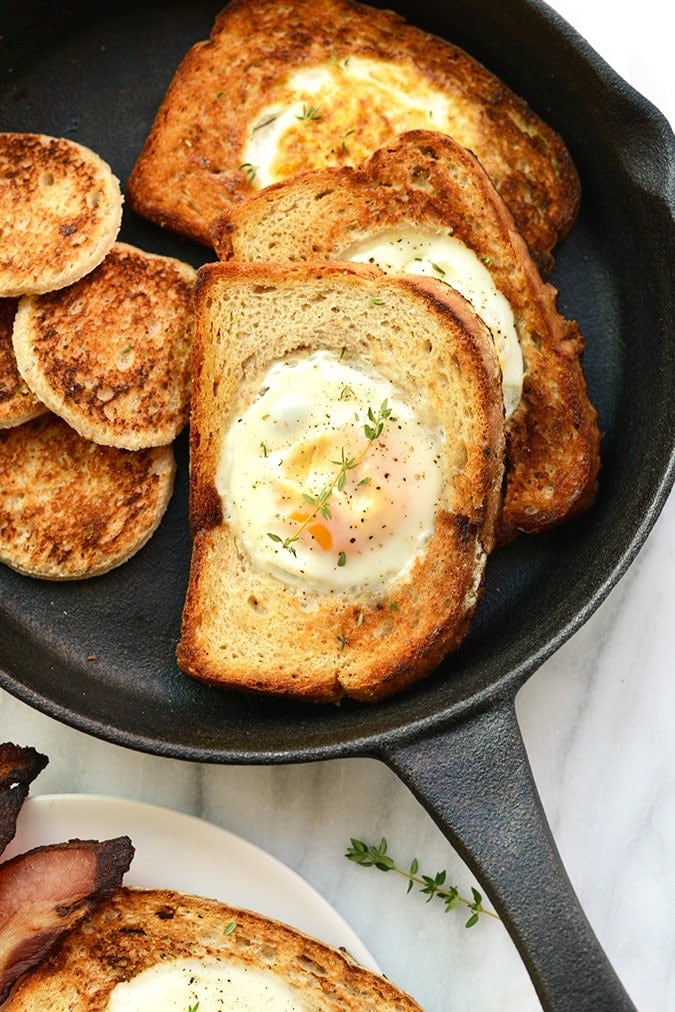 When Team Fit Foodie made this recipe, we served it with bacon and garlicky kale. NOM NOM NOM. Of course a side of orange juice was included as well as copious amounts of coffee.
Want to know something else I did? You know the little round piece of bread you cut out to make the frame? I put peanut butter on mine 🙂 Then I put a slice of banana and 2 blueberries on top of that to make a smiley face. I DON'T EVER WANNA GROW UP.
Egg in a Frame
Prep:
15 mins
Cook:
10 mins
Total:
25 minutes
Fat
22
Carbs
22
Protein
9
Ingredients
2

slices of Dave's Killer Bread White Bread Done Right

2

large eggs

2 tablespoons

olive oil

1 tablespoon

thyme
salt and pepper to taste
Instructions
Rub boths sides of the bread with olive oil.
Use a small round object (mason jar cover, round cookie cutter, the top of a glass) to cut a round circle out of the middle of each piece of bread.
Heat a large skillet over low/medium heat and add about a tablespoon of olive oil to the pan.
When the olive oil is fragrant, add the bread and circle cut outs to the pan.
Toast on the pan for for 3 to 4 minutes or until golden brown. Flip.
Crack an egg in the center of each bread square.
Cover pan for 3 to 5 minutes until a white film develops over the egg yolk, (cook time will vary on the heat of your pan and your desired runniness of the yolk).
When your Egg in a Frame is toasted and your egg is ready, remove from heat and plate.
Sprinkle on fresh thyme and salt and pepper, to taste.
Nutrition Facts
Serving Size:
1/2
Calories:
321
Sugar:
2
Fat:
22
Carbohydrates:
22
Fiber:
2
Protein:
9

If you're looking to find Dave's Killer Bread near you…use their product finder HERE.
This post is sponsored by Dave's Killer Bread, my favorite bread company! I was compensated an all opinions are my own. Thanks for supporting Fit Foodie Finds.