Eggs in a Basket (AKA Egg in a Hole) is such a fun twist on breakfast. Crack your egg right into a piece of toast for an open-face breakfast sandwich!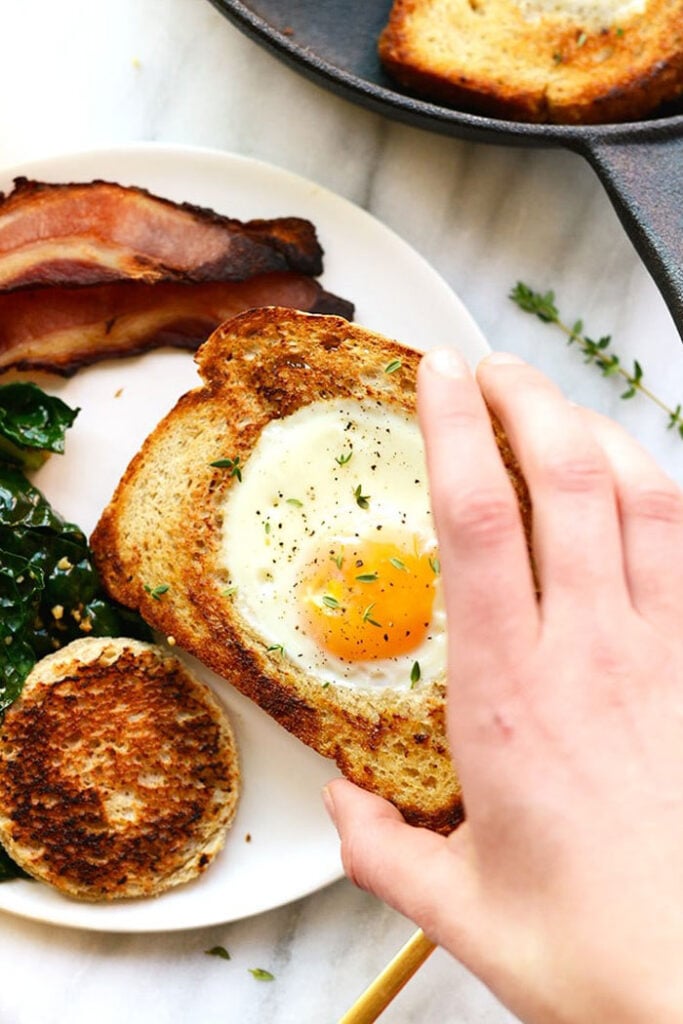 What is Eggs in a Basket?
Good morning Eggs in a Basket. You will forever be my favorite savory breakfast because you're simple and easy to make!
What is eggs in a basket? Egg in a basket is a fried egg that is situated a hole in a slice of bread. It's basically eggs and toast but made all in one pan (no toaster involved).
Eggs in a Basket or Egg in a Hole – What do you call it?
Whether you call this breakfast Eggs in a Basket, Egg in a Hole, or Egg in a Frame, it really is such a fun way to eat eggs in toast.
We took to Instagram to see what the internet called this famous breakfast and these were the top answers:
Egg in a frame (what I call it!)
Egg in a basket
Toad in a hole
Hen in a nest
Egg in a nest
Egg in a hat
Eggs in a blanket
Frog in a hole
Twin sun toast
Surprise egg
Popeye
Eggie in the middle
Bullseye
Ships egg
Campfire egg
Miami egg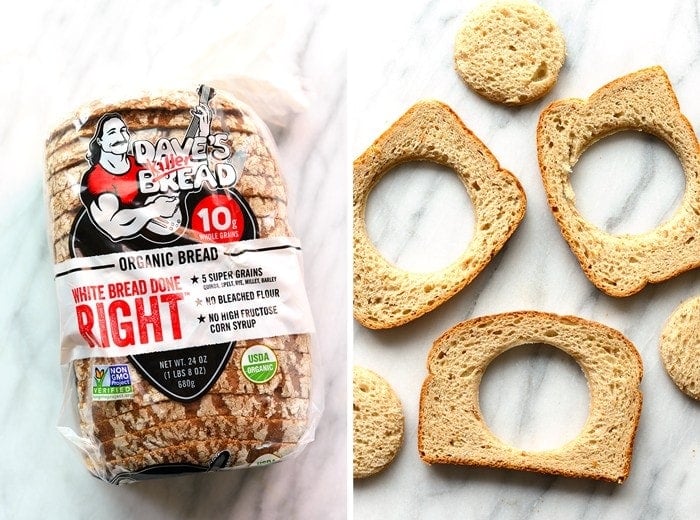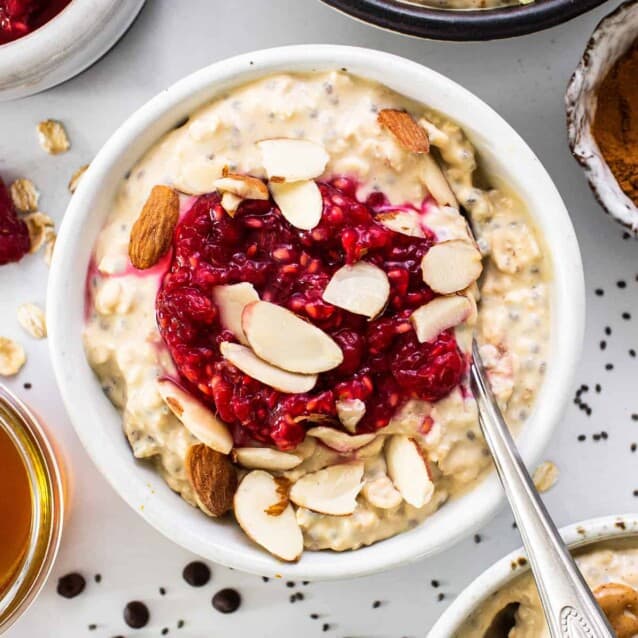 Need Breakfast Inspo?
Subscribe to our emails and get all of our best breakfast recipes straight to your inbox.
What you Need for Eggs in a Basket
Ingredients
Like I mentioned earlier, eggs in a basket is basically an open face egg sandwich, but it's all made in the same pan. Score! Here's what you need:
Bread – really any kind of bread works when making egg in a hole. You'll notice that we used white bread, but whole wheat works too.
Butter – Toast isn't toast without a little bit of butter!
Olive oil – olive oil is used to make sure the egg doesnt' stick to your pan.
Egg – this recipe calls for large eggs. You need 2.
Salt and pepper – shake, shake, shake.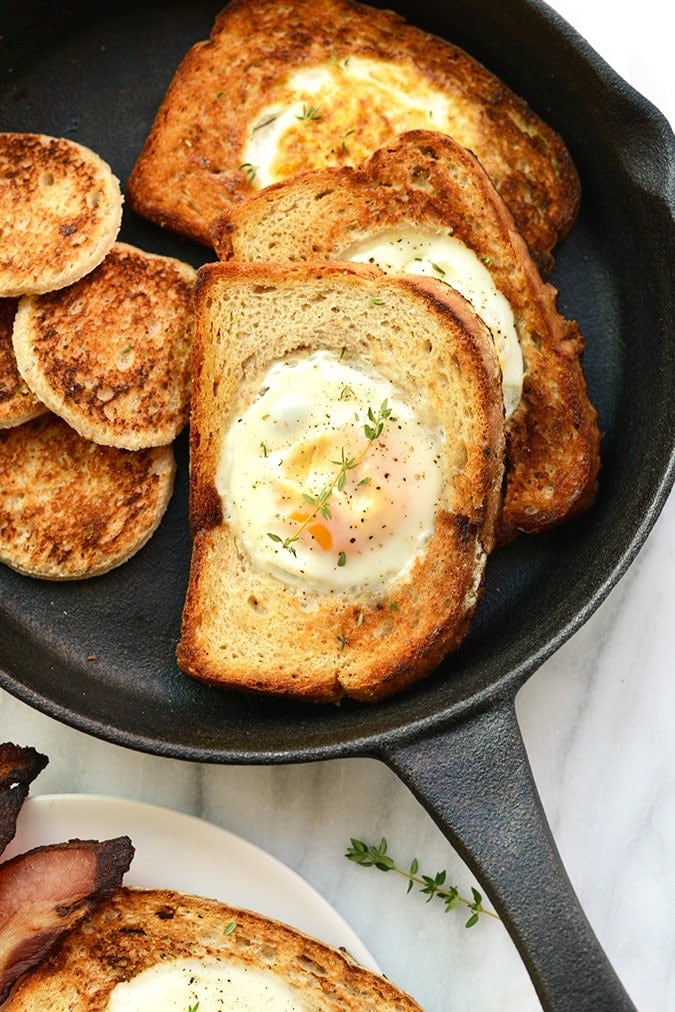 How to Make Eggs in a Basket
Butter Bread: butter both sides of your bread with softened butter.
Make the Hole: use a cookie cutter to remove the center of your bread, creating a perfect hole. Don't discard your holes. You'll cook these too!
Toast Bread: heat olive oil in a nonstick (or cast iron) pan over low/medium heat. Toast bread for 3-4 minutes or until golden brown. Then, flip the bread over.
Fry Egg: crack the eggs in the center of the holes and then cover the pan. Let cook for 3-5 minutes depending on how runny you like your eggs.
Enjoy!
What should I use to cut the center out of my bread?
The easiest kitchen tool to use to remove the "hole" of your bread is a circular cookie cutter. A little secret we want to share with you – we couldn't find ours, so we actually just used the top of a glass and that worked great!
What should I do with the centers of the bread?
Whatever you do, do not throw them out! I LOVE using the centers of my egg in a basket as my breakfast sweet treat. Try topping it with peanut butter or jam or my favorite is cinnamon sugar!
Serving Suggestions
Complete your healthy breakfast with a few of our favorites sides below!
Breakfast potatoes: These are the best breakfast potatoes you will ever eat. Perfectly cooked on the inside and crunchy on the outside. Make a big batch of breakfast potatoes and enjoy!
Bacon in the Oven: Have you ever wondered how to cook bacon in the oven? Good news! All you need is bacon, a metal baking rack, and a tin foil-lined baking sheet to make the most perfect oven baked bacon every time.
French Press Coffee: Start the day off right with the perfect cup of French press coffee! Making French press coffee is a lot easier than you think. You don't have to be a coffee genius to produce the perfect cup of coffee in under 15 minutes.
French Toast Sticks: French Toast Sticks are a childhood classic and they are so easy to make at home. This French Toast Sticks recipe is melt-in-your-mouth delicious and topped with cinnamon sugar.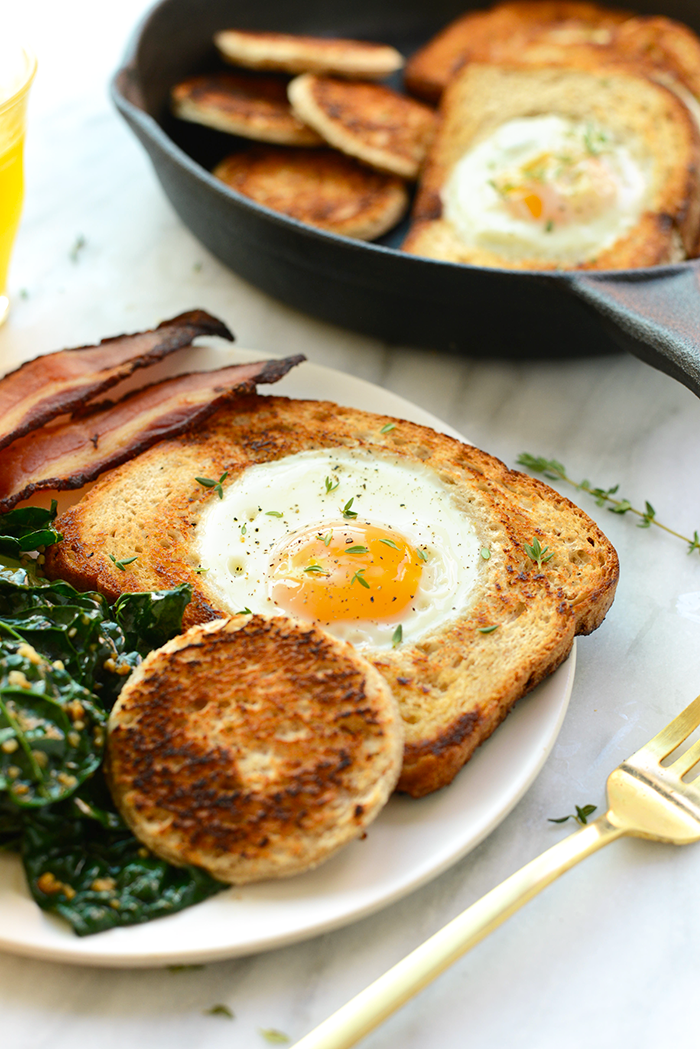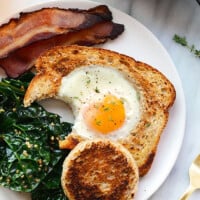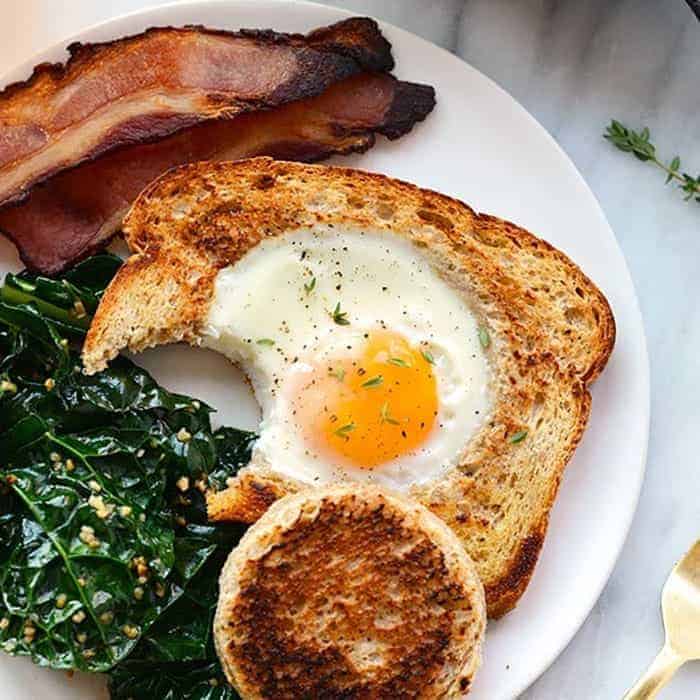 Eggs in a Basket (Egg in a Hole)
Eggs in a Basket (or Egg in a Hole) is a fun take on eggs and toast! All you need is bread, butter, eggs, and a little olive oil!
Ingredients
2

slices

bread

any kind

2

large eggs

1

tablespoon

softened butter

olive oil works too

salt and pepper to taste

1

tablespoon

olive oil
Instructions
Rub both sides of the bread with softened butter.

Then, use a small round object such as a Mason jar cover, round cookie cutter, the top of a glass, etc. to cut a round circle out of the center of each piece of bread.

Heat a large skillet over low/medium heat and add about a tablespoon of olive oil to the pan. When the olive oil is fragrant, add the bread and circle cutouts to the pan. Cook bread on the pan for about 3 to 4 minutes or until golden brown. Flip.

Crack an egg in the middle of each circular cutout. Then, cover the pan and let cook for 3 to 5 minutes depending on how runny you like your yolk.

Remove your egg in a hole from the heat and season with salt and pepper, to taste.
Nutrition facts
Serving:
1
/2
Calories:
321
kcal
Carbohydrates:
22
g
Protein:
9
g
Fat:
22
g
Fiber:
2
g
Sugar:
2
g