Make your own healthy french toast sticks with just a few whole ingredients. It's flavored with french toast classics: maple syrup and cinnamon and kid-friendly!
I was totally THAT girl who brought her lunch to school every single day EXCEPT on a few special occasions: Baked Potato Bar, Taco Bar, and French Toast Sticks. I can't help myself. I love those warm, sweet, pre-package sticks of goodness. Honestly though- I don't want to know what's in them because I guarantee the ingredient list is longer than I can image.
These babies are made with 6 basic ingredients and can even be made gluten-free depending on the bread you use. For these guys, I went to the bakery and got some freshly made 9-grain bread and o0o la la, was it tasty!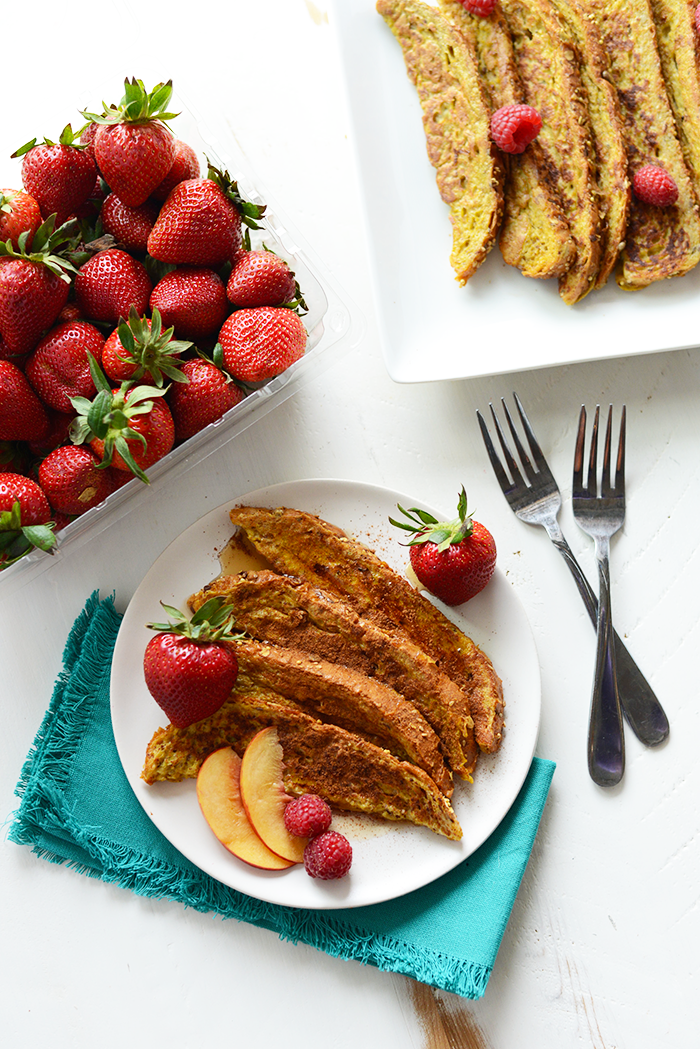 Blake brought up 8-dozen farm fresh eggs from his dad's house in Kansas and I've been working my way through every dozen. I La la love that every single egg is a different color and size. Even the yolks are different colors!
I've noticed that farm-fresh eggs have a much brighter yolk, which you can see in the photographs. The French toast sticks are have a slight yellow tint and it's all from the yolk!
So this bread was so soft and chewy, perfect for French toast. You could totally purchase a normal whole wheat loaf, but if I were you I'd splurge and get bakery bread. SO GOOD. The texture is always so much better, too!
I kept things light and used Almond Breeze Almondmilk Original Unsweetened, of course. If you like things on the sweeter side, go for the 60 calorie sweetened variation. That would have been delish as well.
I sweetneed the egg mixture with a hint of maple syrup as well as cinnamon and vanilla. THE perfect flavor combination.
This isn't picture, but as I was testing this recipe, I topped mine with peanut butter. Go fig, right?
Linley suggested to try and freeze a batch of these puppies for easy access later, and all I have to say is she's one smart cookie. I literally popped them into the microwave and defrosted for about 3 minute, then cooked them for 30 seconds and they were ready for my belly.
Recipe
French Toast Sticks
Prep Time:

5 minutes

Cook Time:

15 minutes

Total Time:

20 minutes
Ingredients
6

eggs, large

1 cup

Almond Breeze Almondmilk Original Unsweetened

1 teaspoon

vanilla extract

1/2 teaspoon

ground cinnamon

1 tablespoon

maple syrup

8

pieces of whole grain bread
Instructions
Begin by whisking together eggs, Almond Breeze, vanilla, cinnamon, and maple syrup.
Then, prep your bread by slicing into strips. Set aside.
Heat a skilling with coconut oil cooking spray to medium heat.
Dunk each piece of bread into the egg mixture, making sure everything is generously coated on both sides. Place on the skillet and let cook for about 3-5 minutes, or until the bottom turns golden brown. Flip and continue cooking for about 3-5 minutes until everything is cooked all the way through and the second side is golden brown.
Notes
It's always better to do this on a lower setting so that things cook evenly. Refrain from putting your burner on high, please!
Nutrition
Serving Size:

4 french toast sticks
Similar
Were you a brown bag lunch kid or did you eat the school lunches?
This post is sponsored by Blue Diamond Almond Breeze Almondmilk. I was compensated and all opinions are my own.