French Toast Sticks are a childhood classic and they are so easy to make at home. This French Toast Sticks recipe is melt-in-your-mouth delicious and topped with cinnamon sugar.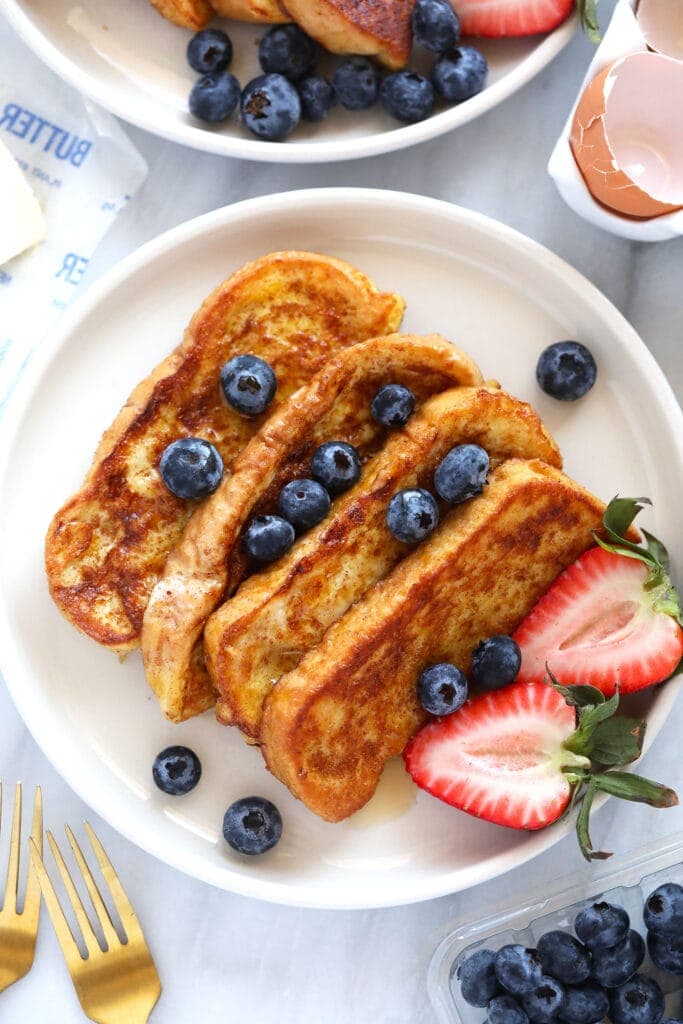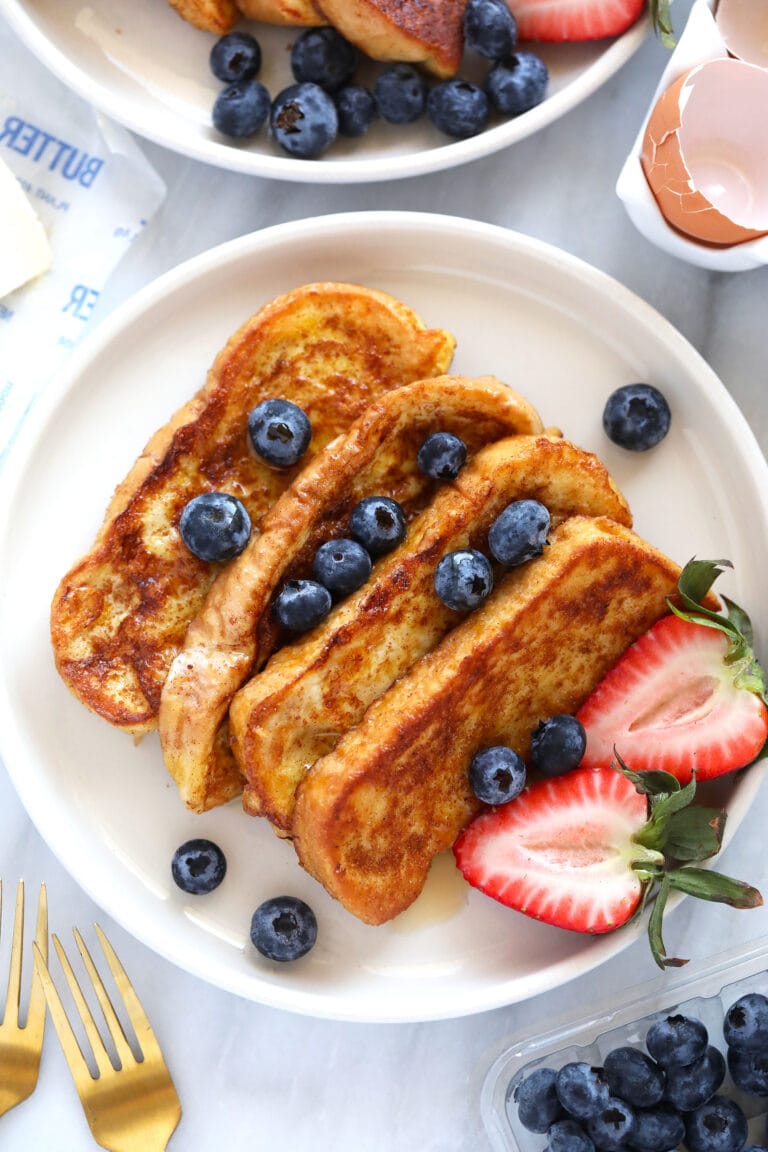 These French toast sticks are the perfect and kid-friendly breakfast. Looking for more healthy breakfast options for the family? Check out this Peanut Butter Banana Oatmeal Bake or Oven Baked Bacon.
What are French Toast Sticks?
French Toast Sticks are an American twist on classic French toast where sliced bread is soaked in an egg and milk mixture and fried on the stove top.
If you ate school "hot lunches" you probably remember French Toast Sticks as a popular choice among school children.
Why make french toast sticks?
Ready in less than 30: whether you're making these French toast sticks for Sunday brunch or in the morning before school, they are ready in less than 30.
Simple ingredients: you only need 5 main ingredients that are common at most American grocery stores for French toast sticks.
Kid-friendly: you're kids are going to go crazy for this breakfast!
Easy to freeze: bonus! You can easily freeze french toast sticks for an easy breakfast during week (or whenever).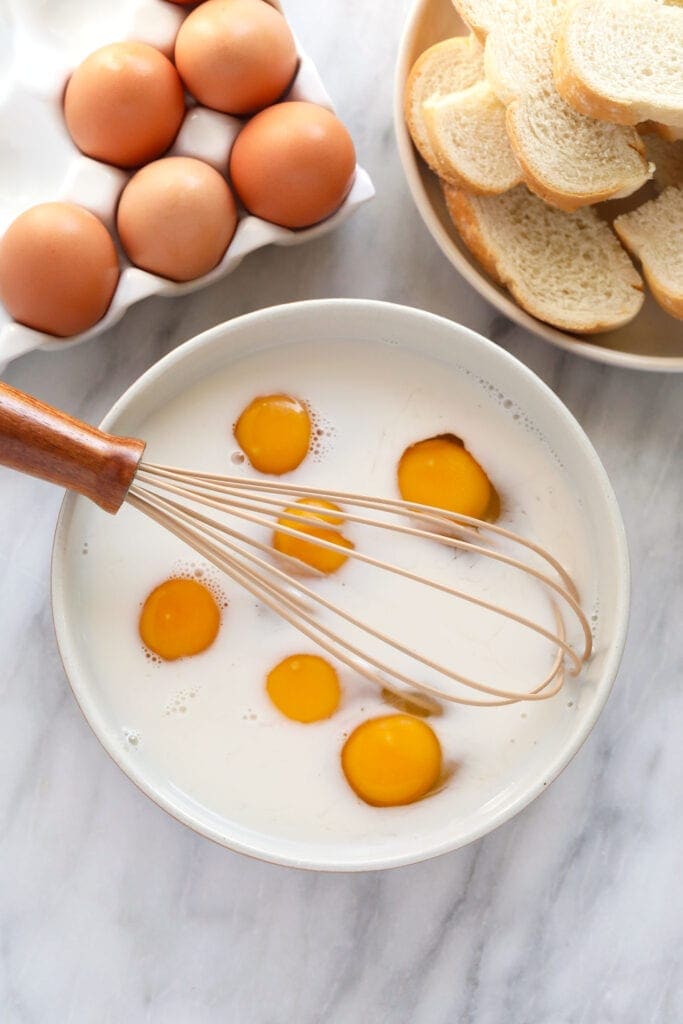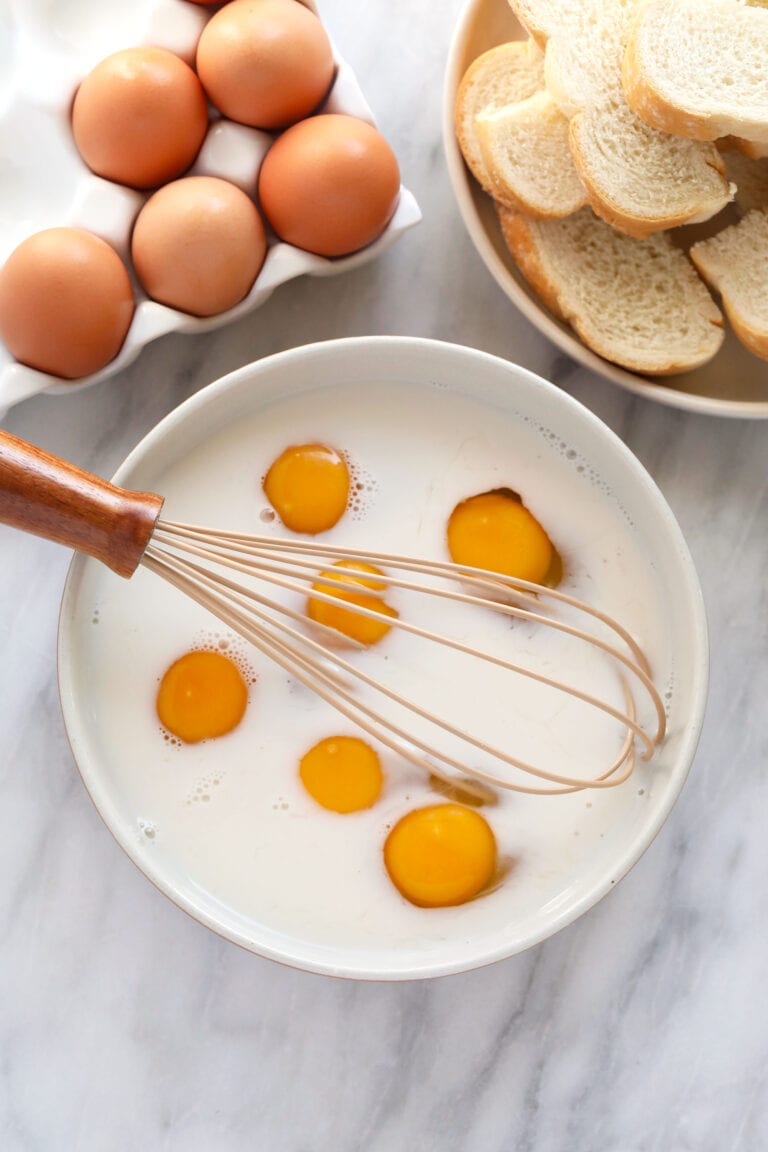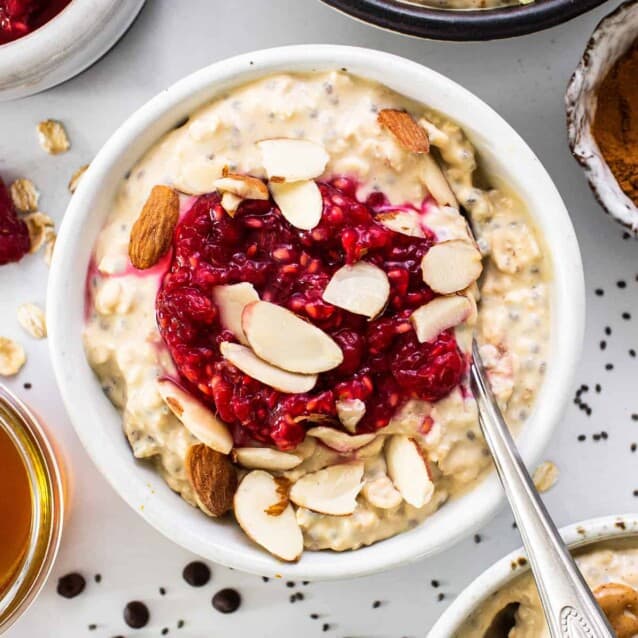 Need Breakfast Inspo?
Subscribe to our emails and get all of our best breakfast recipes straight to your inbox.
French Toast Sticks Ingredients
eggs: this recipe calls for 6 large eggs. We recommend farm fresh and/or organic.
milk: any kind of milk works for French Toast Sticks. You can use a dairy-free milk such as almond milk or cow's milk too!
maple syrup: a hint of maple is always a good thing!
thick-cut bread: what makes these French Toast Sticks is the thick-cut bread. You can use any artisan bread or brioche. White bread soaks up the egg mixture a lot easier than whole grain, but that works too!
butter: when in doubt, fry in butter!
Cinnamon Sugar Topping
The cinnamon sugar topping really is the cherry on top! It's so simple and you only need two ingredients:
light brown sugar
ground cinnamon
Tip! Have fun with your cinnamon sugar topping and use a fun spice mix such as chai spice or pumpkin pie spice.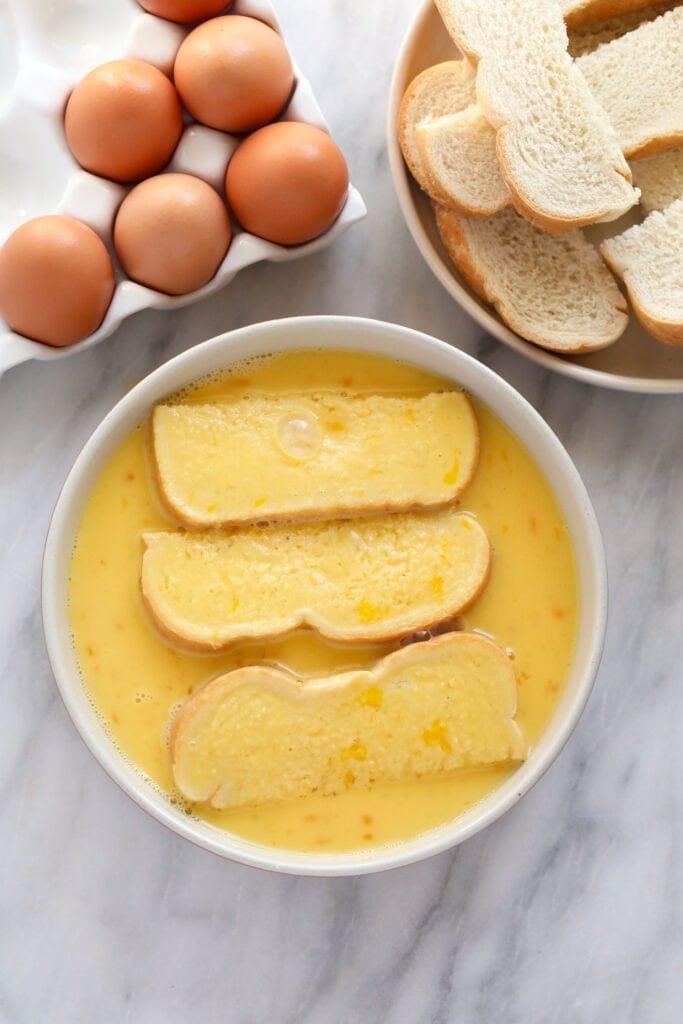 How to Make French Toast Sticks
Wondering how do you make French Toast Sticks from scratch? Prepare an egg wash, slice your bread into "sticks", dip them in the egg, and fry them in butter. Check out a more detailed step by step below.
Prepare Egg Wash
In a medium bowl, whisk together eggs, milk, and maple syrup. We like using a whisk for this, but you can also use a fork.
Slice Bread
Slice 8 pieces of thick bread either in half or in thirds, depending on how wide your bread is. We only needed to cut ours in half, length-wise.
Dip
Dip each French toast stick in the egg was, fully coating both sides. We like to let them sit for at least a minute to let them soak up as much liquid as possible.
Fry & Flip
Heat butter in a large nonstick saucepan over medium/low heat. Cook French toast sticks on both sides until golden brown and fully cooked in the middle.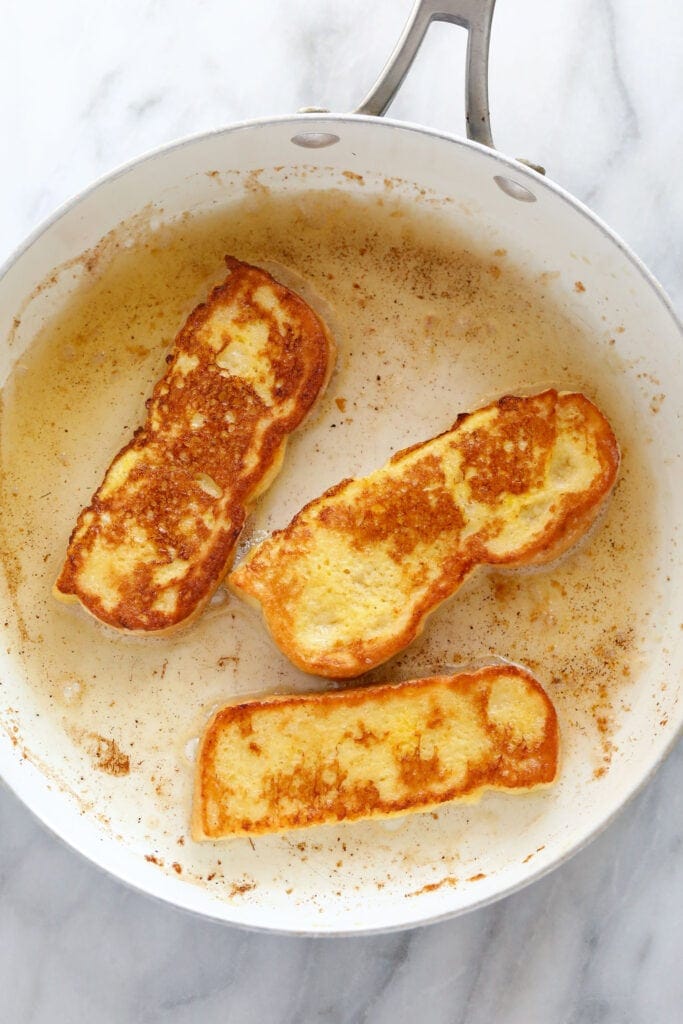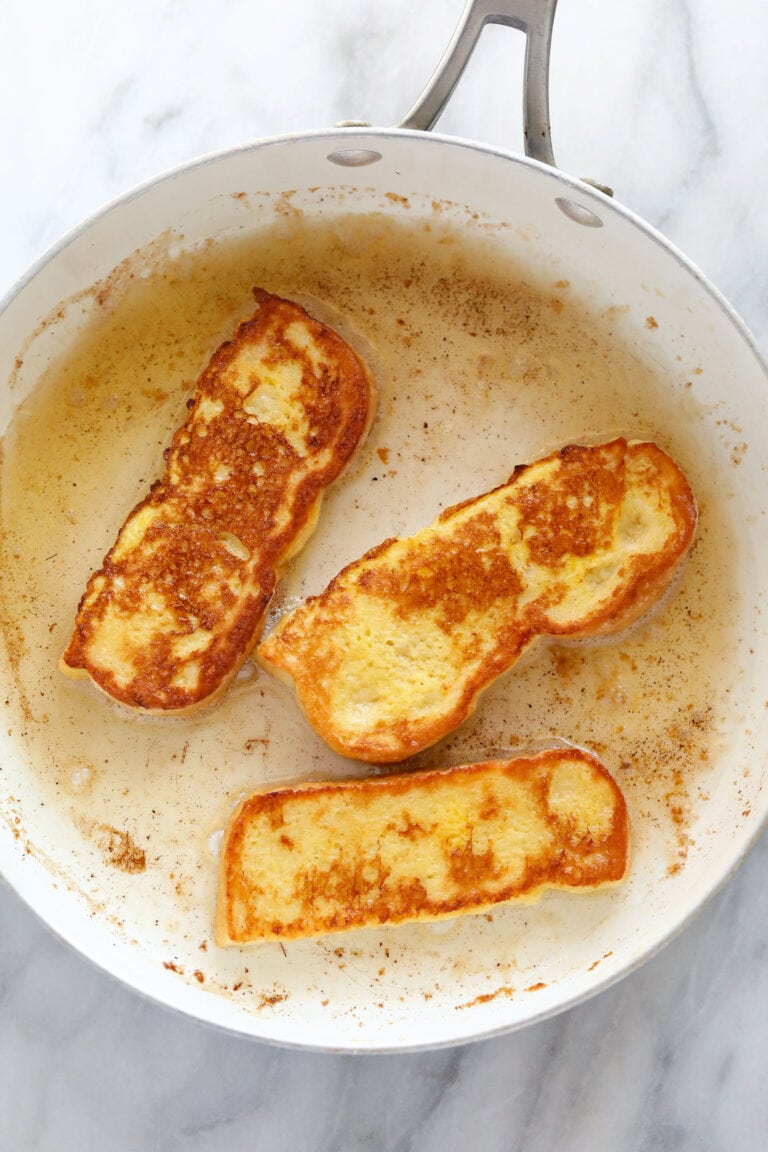 Cinnamon Sugar
Combine brown sugar and cinnamon and then sprinkle on a generous amount to both sides of your French toast sticks and cook them for 20 seconds on each side until they crisp up.
Repeat
Repeat this process until all French toast sticks are fully cooked.
How to Make French Toast Sticks Healthier
Use whole grain bread: instead of using a white bread such as brioche, feel free to use any kind of whole grain bread. One tip in this realm is that the thicker the bread the better, but thin will work too.
Skip the cinnamon sugar topping: instead of using cinnamon sugar, use just cinnamon. This will help reduce the grams of sugar.
Use less butter: instead of butter, you can use cooking spray. This will help reduce both fat and calories.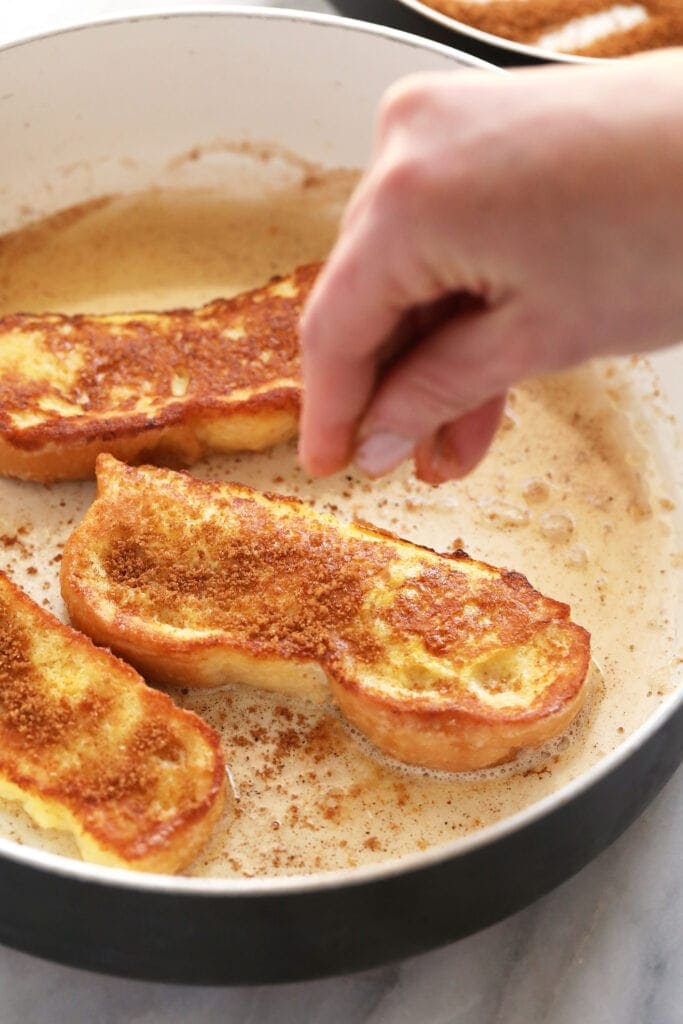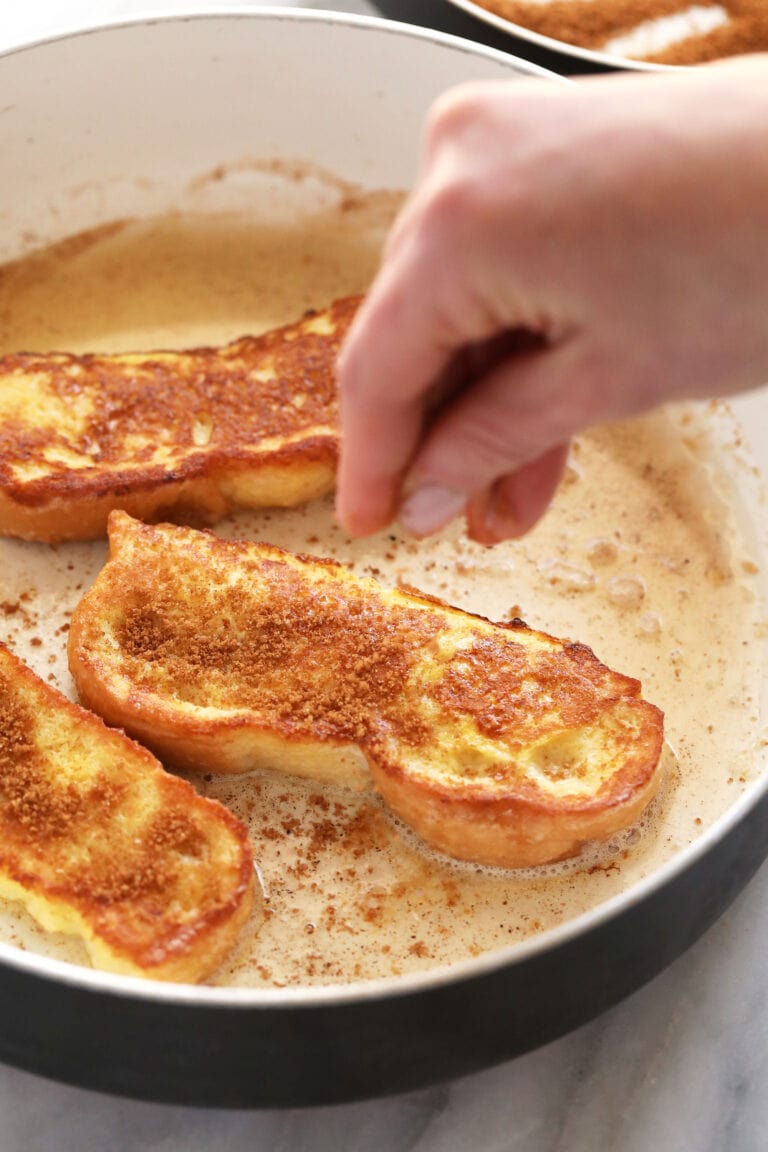 Topping Ideas
Every piece of French Toast deserves to have a mound of toppings. The most important being maple syrup! Here are some other ideas:
fresh berries
whipped cream
peanut butter
walnuts or pecans
sliced apple
chocolate chips
Serving Suggestions
Complete your breakfast with some of our other popular breakfast recipes to make your meal a well-rounded one!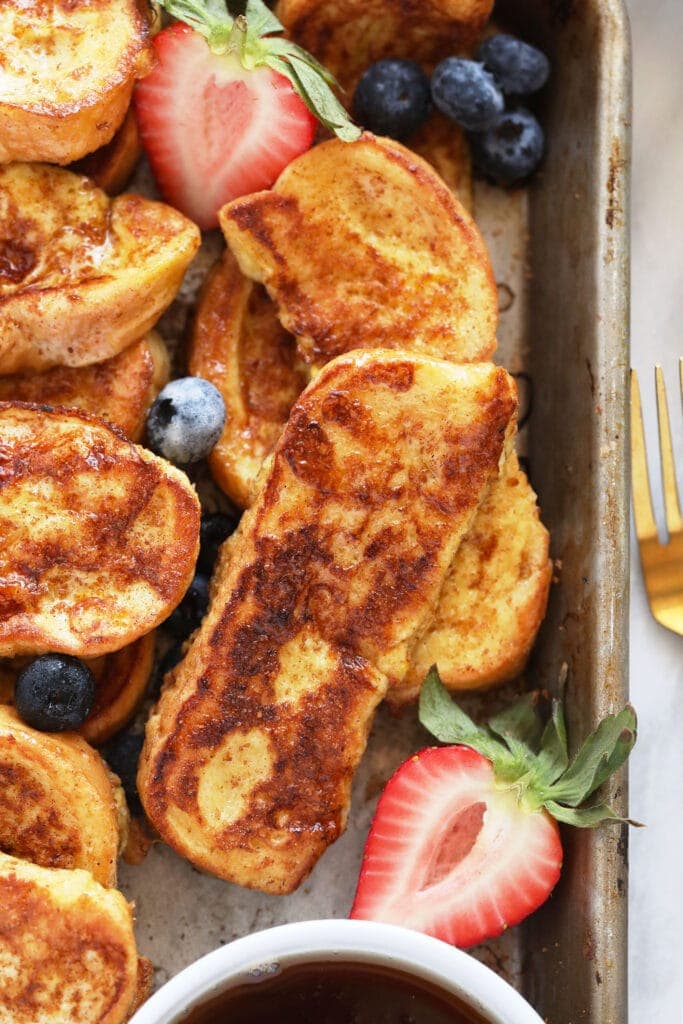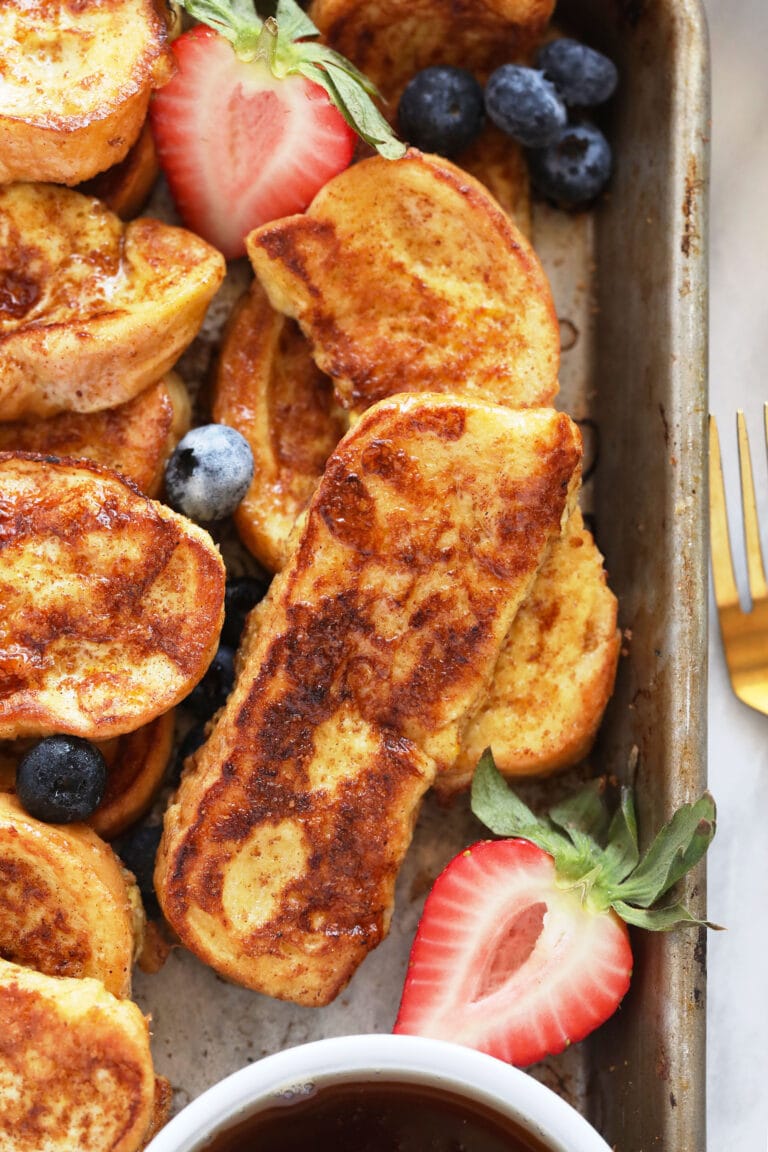 Storage
Let your French toast sticks cool completely. Then, transfer them into an airtight container and seal. Store in the fridge for up to 3-5 days.
Can You Freeze French Toast Sticks?
French toast sticks are a great breakfast to freeze for later.
First, let French Toast Sticks cool completely.
Then, wrap 4 French Toast Sticks (1 serving) with tin foil. Remove as much air as possible and seal.
Store in the freezer for up to 3 months.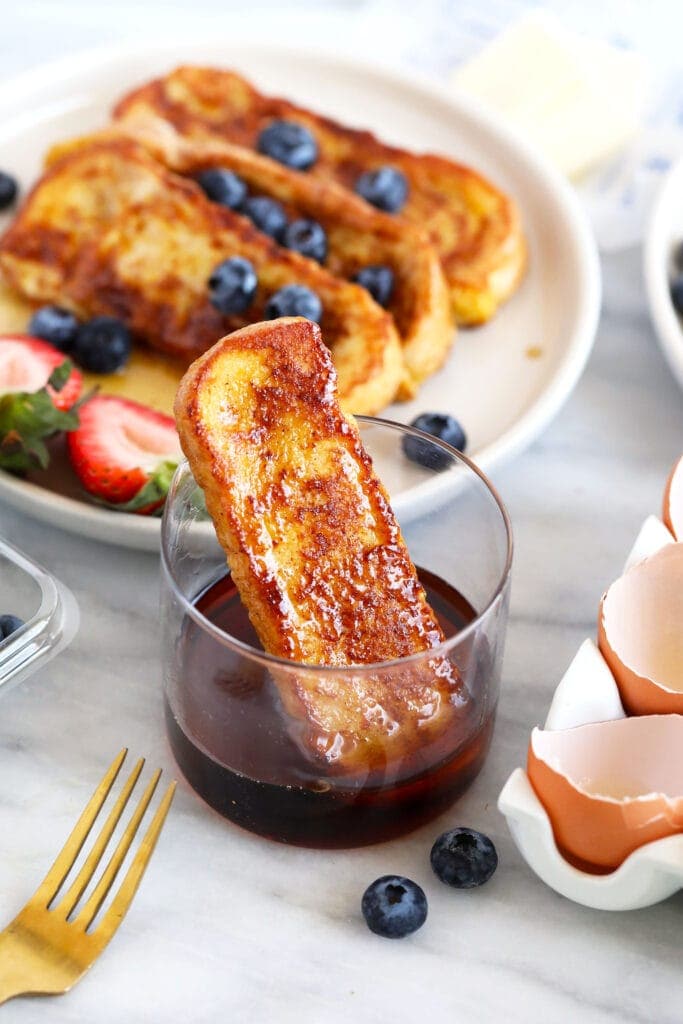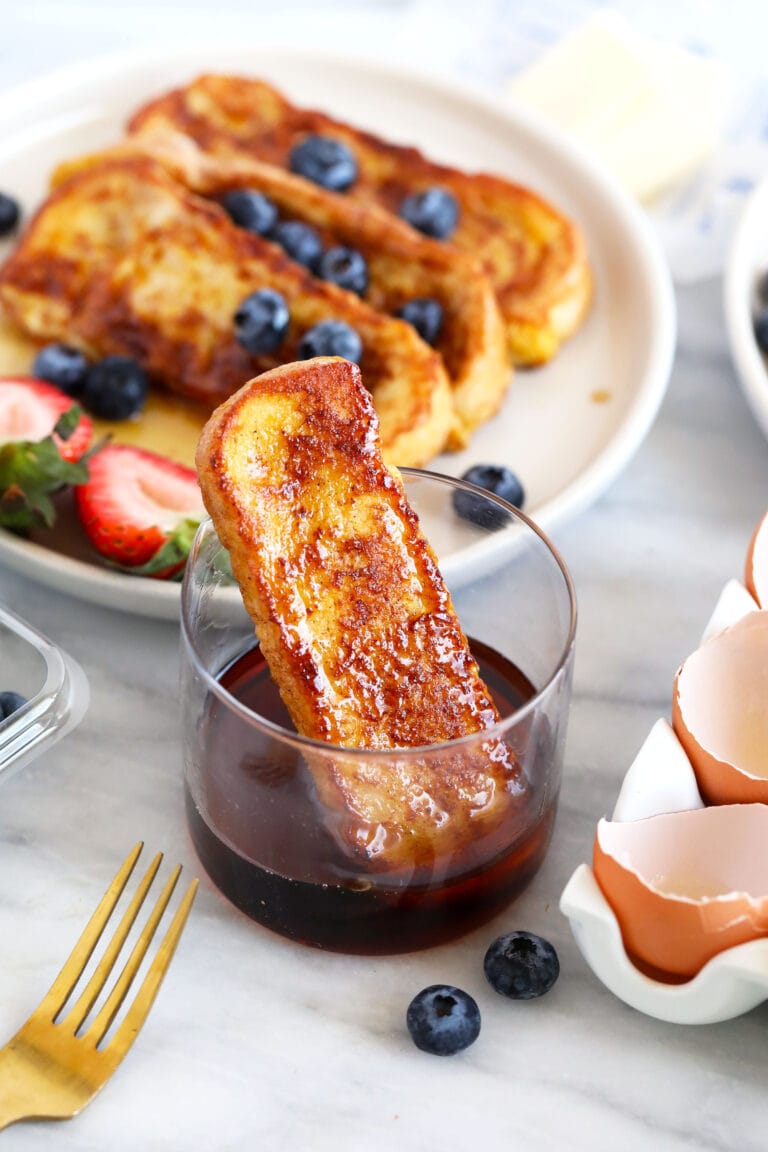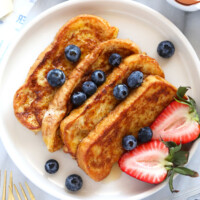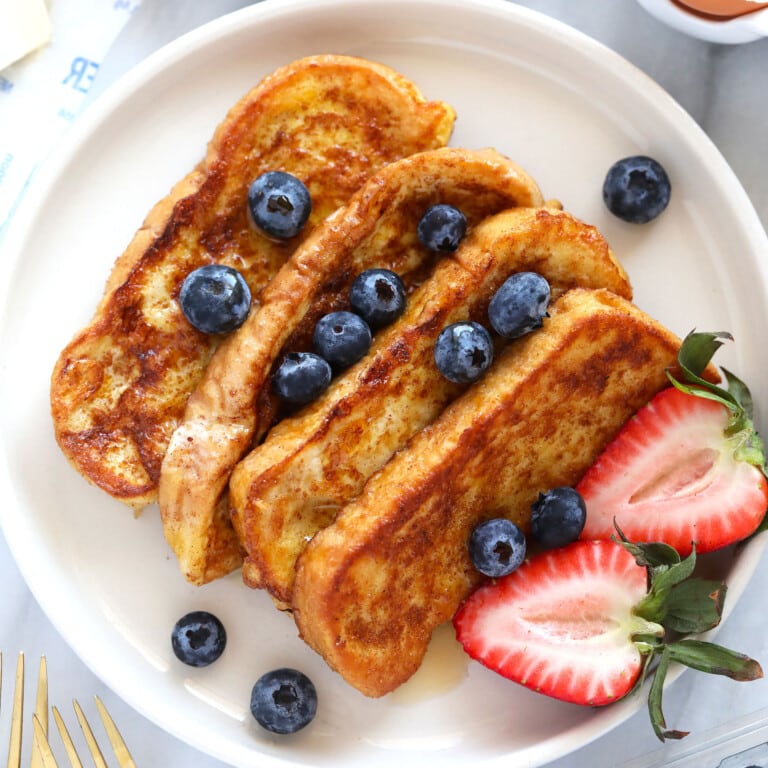 French Toast Sticks
French Toast Sticks are an easy, kid-friendly breakfast recipe made with sliced brioche bread, egg, milk, and a cinnamon-sugar topping.
Ingredients
6

large eggs

3/4

cups

milk

any kind

1

tablespoon

maple syrup

8

slices

thick-cut bread

artisan, brioche, etc.

3

tablespoons

butter
Instructions
First, make cinnamon sugar topping by combining brown sugar and cinnamon in a small bowl. Set aside.

Then, whisk together eggs, milk, and maple syrup and set aside.

Prepare the French toast "sticks" by using a cerated knife to slice bread in either half or in thirds (depending on how wide your bread is).

Submerge the strips of bread in the egg mixture and let sit for around 1 minute to really soak up all the goodness. Then, lift the bread out of the mixture and let excess egg drip off each piece of bread. Repeat.

Heat 1 tablespoon of butter over medium/low heat in a large nonstick skillet. Add around 1/3 of the French toast sticks to the pan, making sure they are spaced out and not touching. Let cook for around 3 minutes or until they turn golden brown.

Flip French toast sticks and turn the heat up to medium. Cook for 2-3 more minutes or until golden brown. Before removing from the pan, sprinkle on a generous amount of cinnamon sugar on the French toast sticks and flip. Let cook for 20 seconds and do the same thing on the other side.

Use a piece of paper towel to wipe your pan to remove the brown bits. Turn the heat back down to low/medium and repeat this process 2 more times or until all French toast sticks are cooked.
Tips & Notes
Bread: we've made this recipe with all kinds of bread. Whole wheat bread works too, but we love a thick-cut piece of bread for French toast sticks!
All stovetops vary, so make sure you start off cooking these on medium/low. The goal is to cook the egg and not burn them!
Nutrition facts
Serving:
4
g
Calories:
432
kcal
Carbohydrates:
41
g
Protein:
14
g
Fat:
24
g
Fiber:
1
g
Sugar:
11
g