With just one sheet pan you can whip up the most delicious and nutritious sweet potato hash using pantry staple ingredients!
Our sweet potato breakfast hash is made with chopped sweet potatoes, turkey sausage, and baked eggs.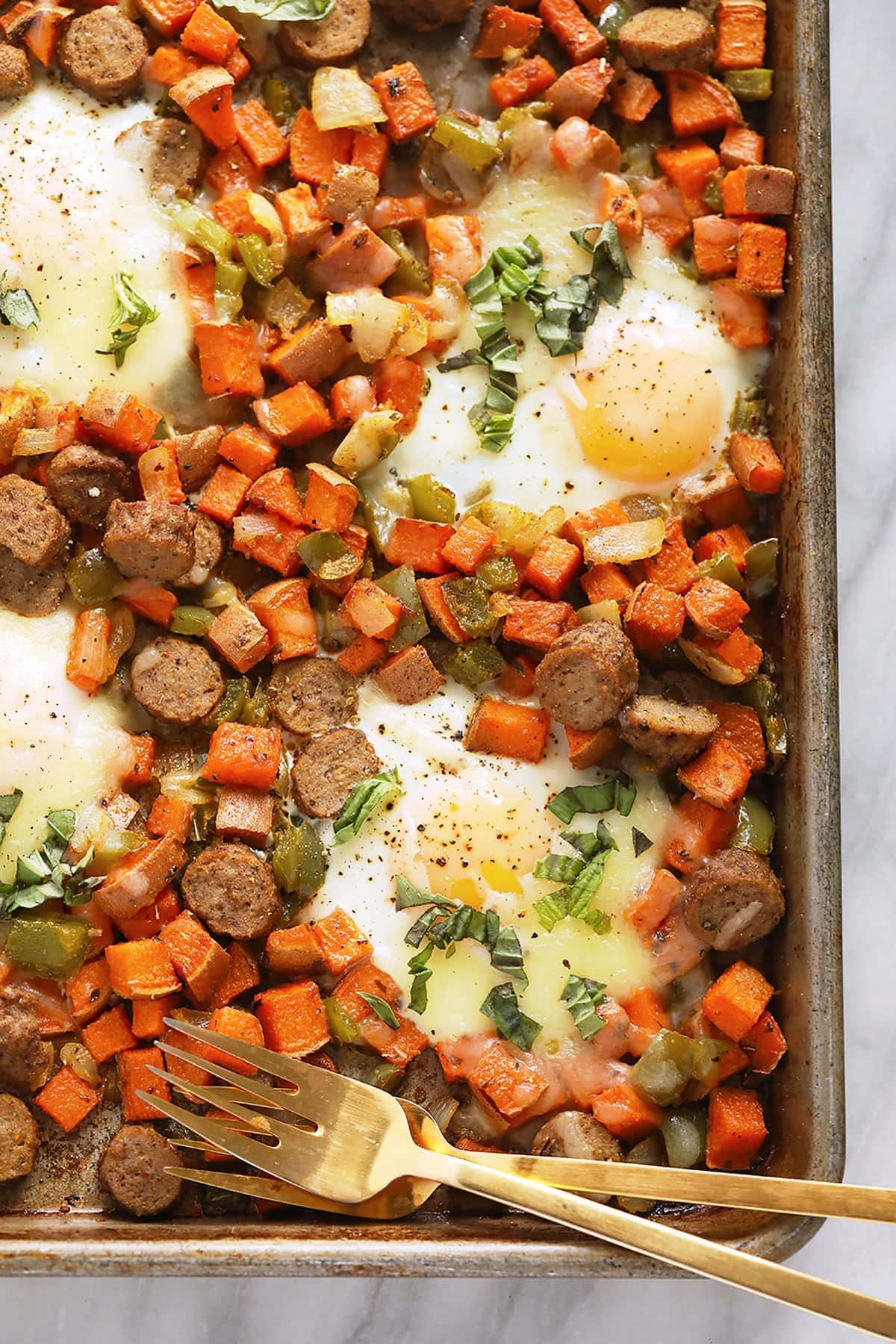 Hands off Breakfast Idea – Sweet Potato Hash!
Say good morning to this delicious sweet potato hash with eggs. It's truly the best savory breakfast recipe — packed with veggies and protein.
We love this healthy breakfast idea because it's so easy to make, kid-friendly, nutritious, and delicious.
First, you'll roast the sweet potato hash and then you'll make wells for the baked eggs. Finally, a sprinkle of cheese is added for pure breakfast perfection.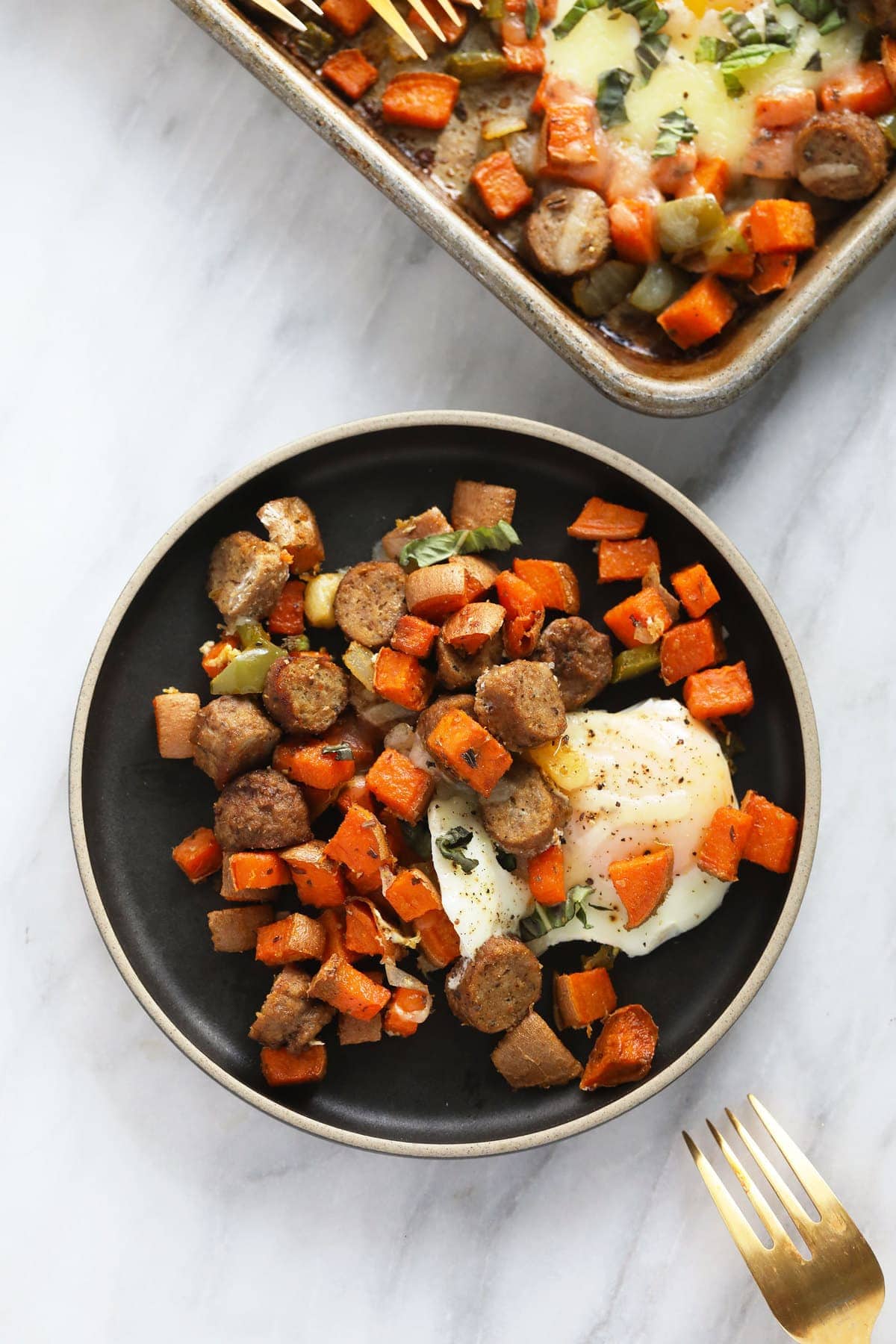 What You Need
Sweet Potato Hash is an easy breakfast (lunch or dinner) idea you can whip up in under an hour! Here's what you need.
Sweet potatoes
Bell pepper
Onion
Olive oil
Spices
Breakfast sausage
Eggs
Shredded cheese (optional)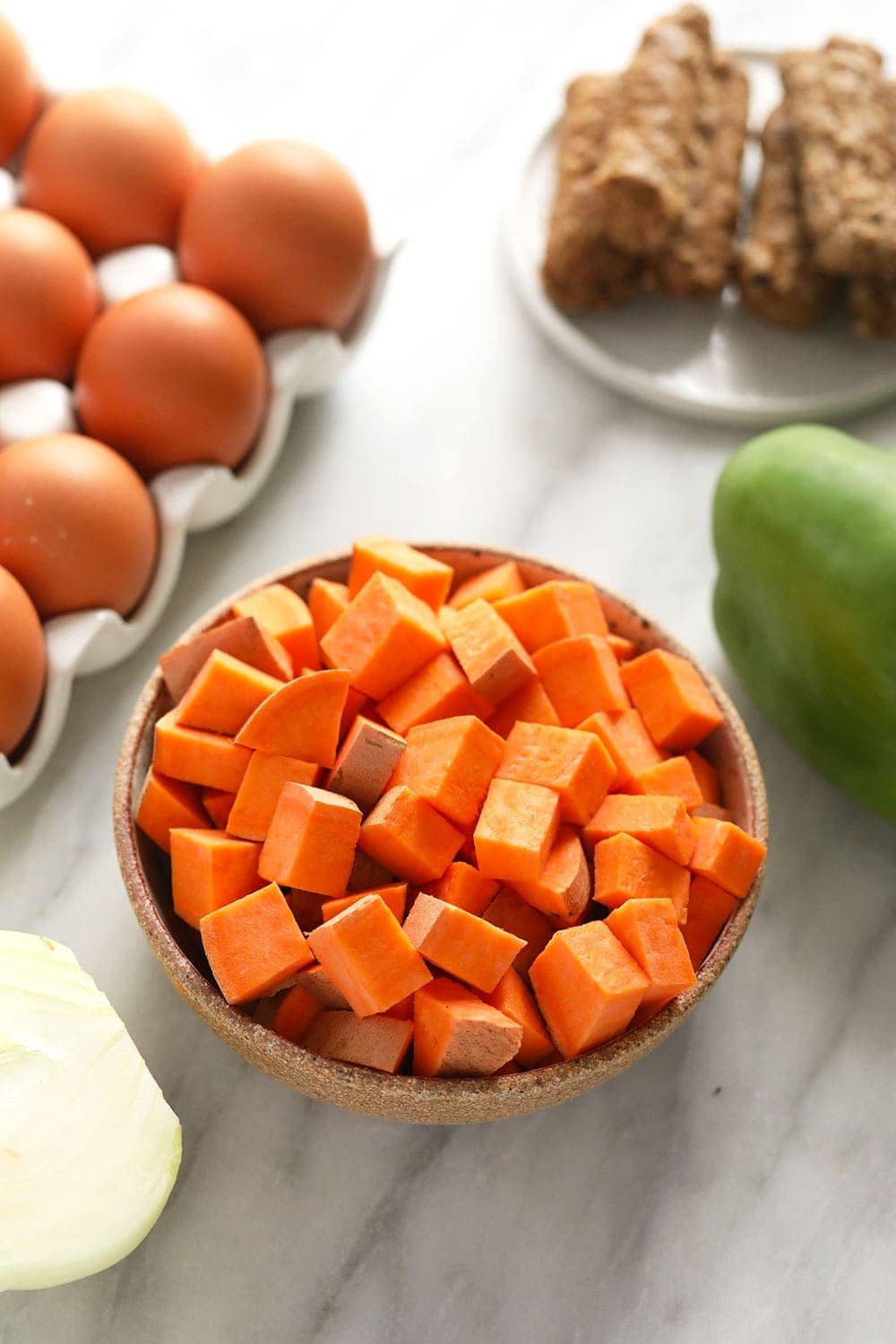 How to Make Sweet Potato Hash
Chop + Partially Roast Veggies
First things first, it's time to chop your veggies! Since this is a hash, the goal here is to cut your sweet potatoes rather small. I used my handy dandy ruler and found 1/2-inch was the magic number. Any bigger and you'll have to roast longer.
The onion and green pepper can be cut even smaller, and finely diced.
Once your veggies have been cut, transfer them to a baking sheet and add a generous amount of oil. Then, season and toss. Roast veggies at 400ºF for 10 minutes.
Toss and Add Sausage
While your veggies are roasting, dice up your breakfast sausage. We recommend using pre-cooked breakfast sausage. Any kind (pork, chicken, turkey, or plant-based) works!
Remove the baking sheet from the oven and give your veggies a quick toss. Then, add the breakfast sausage and toss again.
Place the baking sheet back in the oven and roast for another 10 minutes.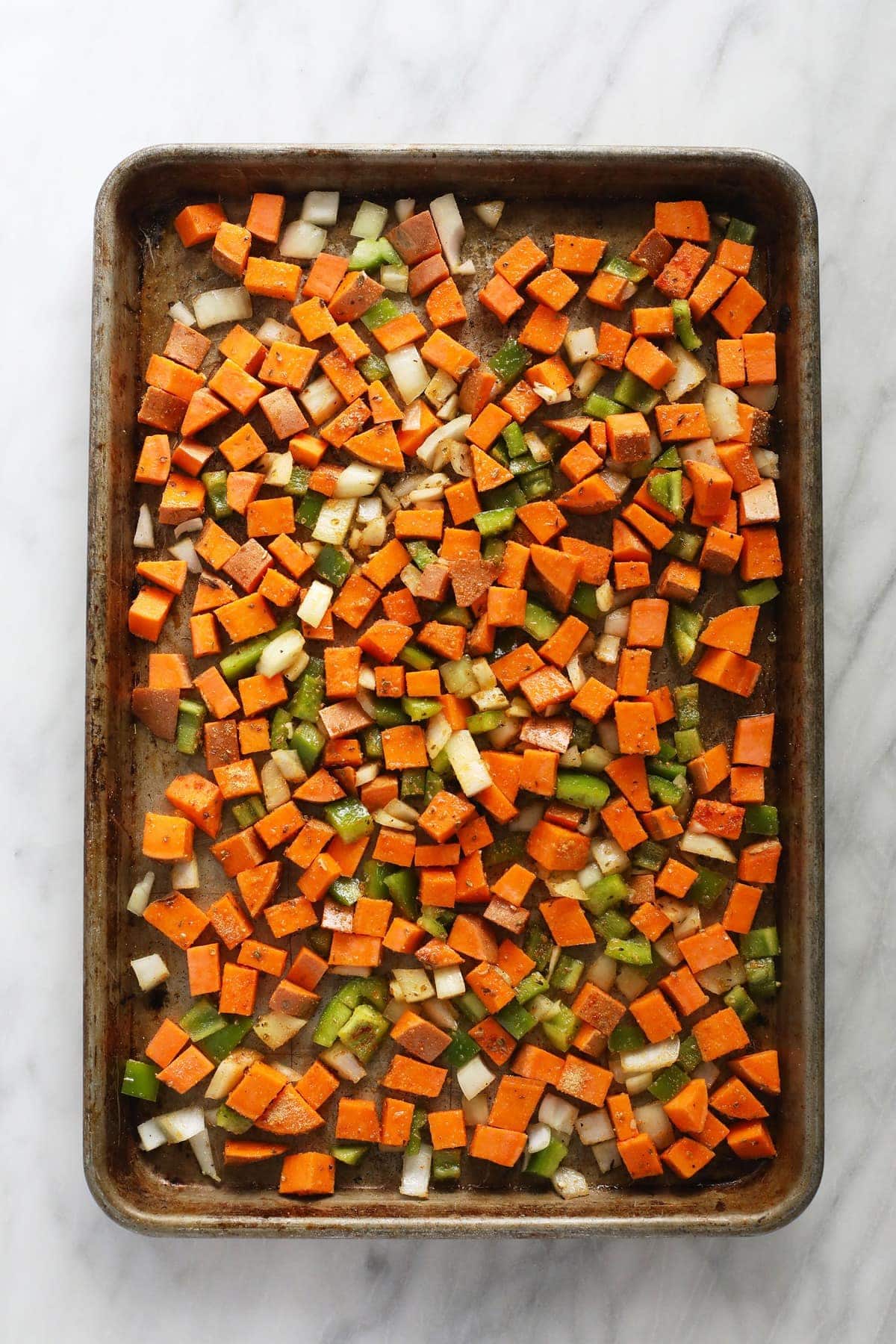 Create Nests + Crack Eggs
At this point, your sweet potatoes should be almost fully cooked! Now it's time to create nests so that you can crack the eggs into them for baking.
Carefully push the veggies aside to create little egg nests. Be careful: the pan will be hot! You want to make sure that some of the pan is exposed on the bottom so that the eggs cook quickly.
Create 4-6 nests depending on how many eggs you want to use and then spray each nest with cooking spray. Crack a large egg into each nest and then season with salt and pepper.
Bake
Place the baking sheet back into the oven and roast at 400ºF for an additional 6-9 minutes to fully cook the eggs. 7 minutes will get you an over-medium egg, just the way I like it! The longer you cook your eggs, the more well-done they will be.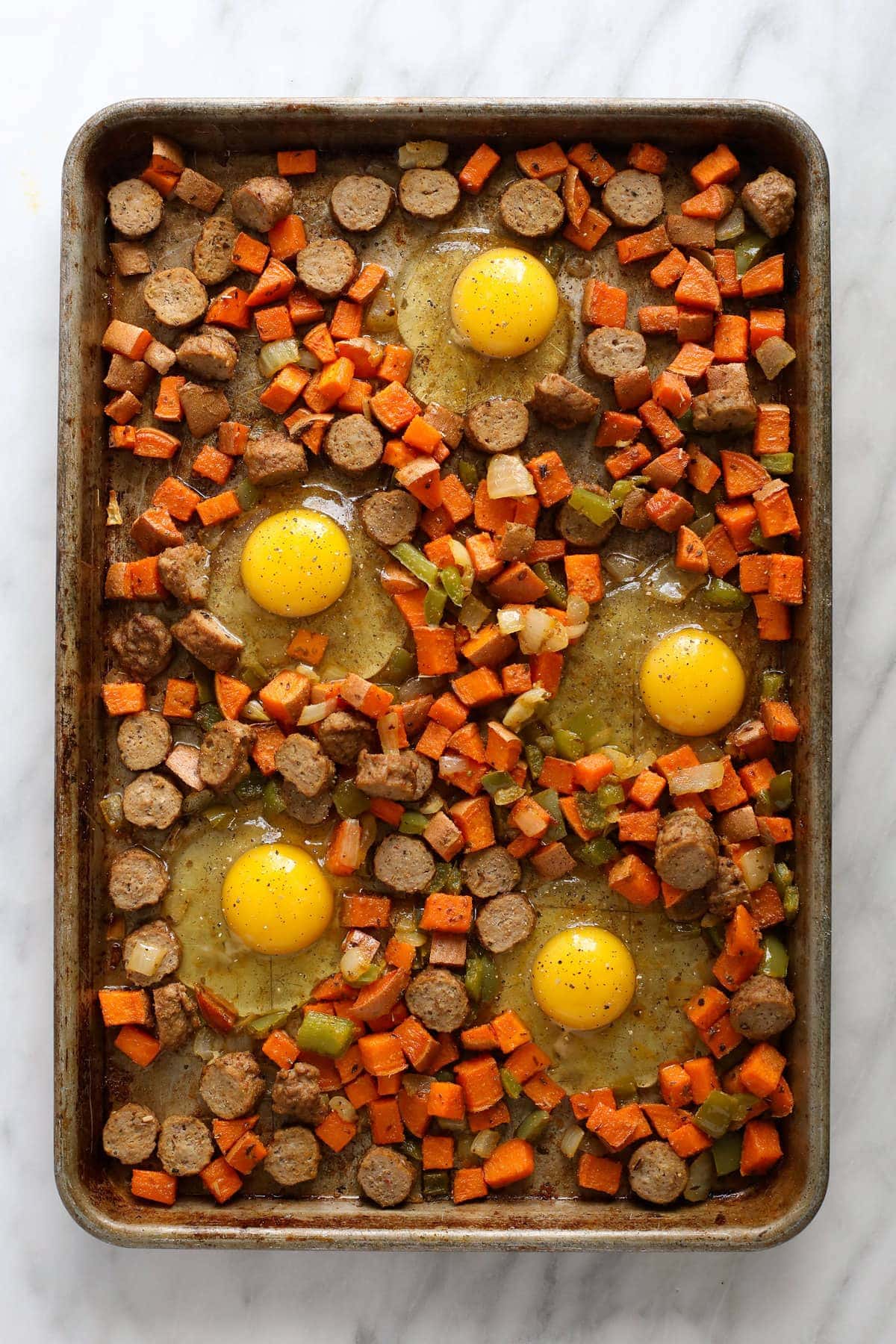 Add Cheese + Bake Again
The last step is adding cheese! This step is optional but highly recommended. Add a sprinkle of shredded cheese on top of each egg and then pop the entire baking sheet back into the oven for a few minutes to melt the cheese.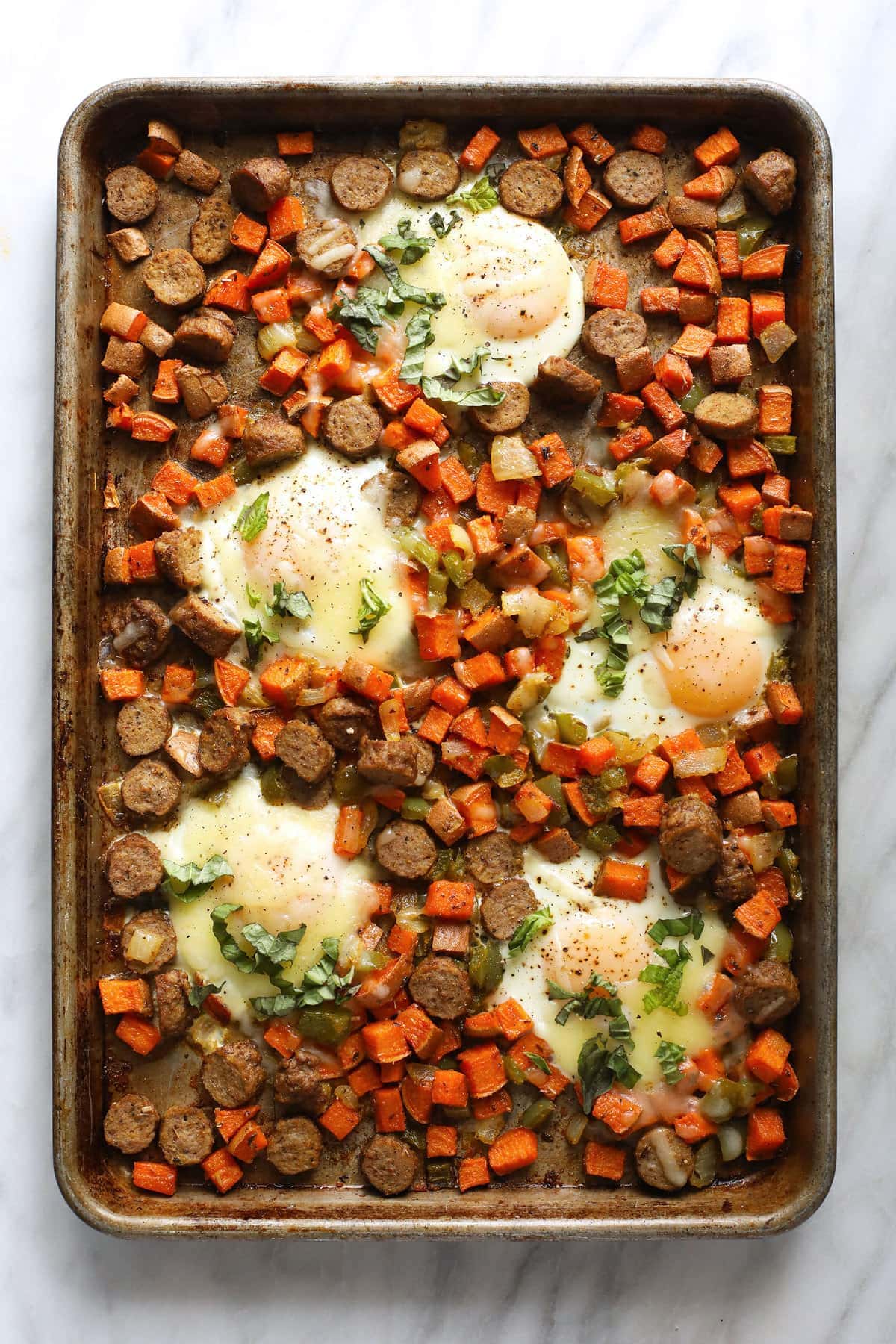 Sweet Potato Hash Tips & Tricks
Size Matters: Make sure to cut your sweet potato chunks the same size so that they cook evenly. We suggest cutting them around 1/2-inch thick!
Add More Veggies: In addition to the sweet potatoes, so many other veggies would be delightful in this recipe. Try zucchini, russet potatoes, carrots, or celery.
Toppings & Serving Suggestions
Toppings are one of my favorite things about breakfast. Hot sauce is pretty incredible on this hash, but I would suggest also trying: salsa, ketchup, and hummus.
As for what to serve this sweet potato breakfast hash with. Here are a few more breakfast ideas to complete your meal: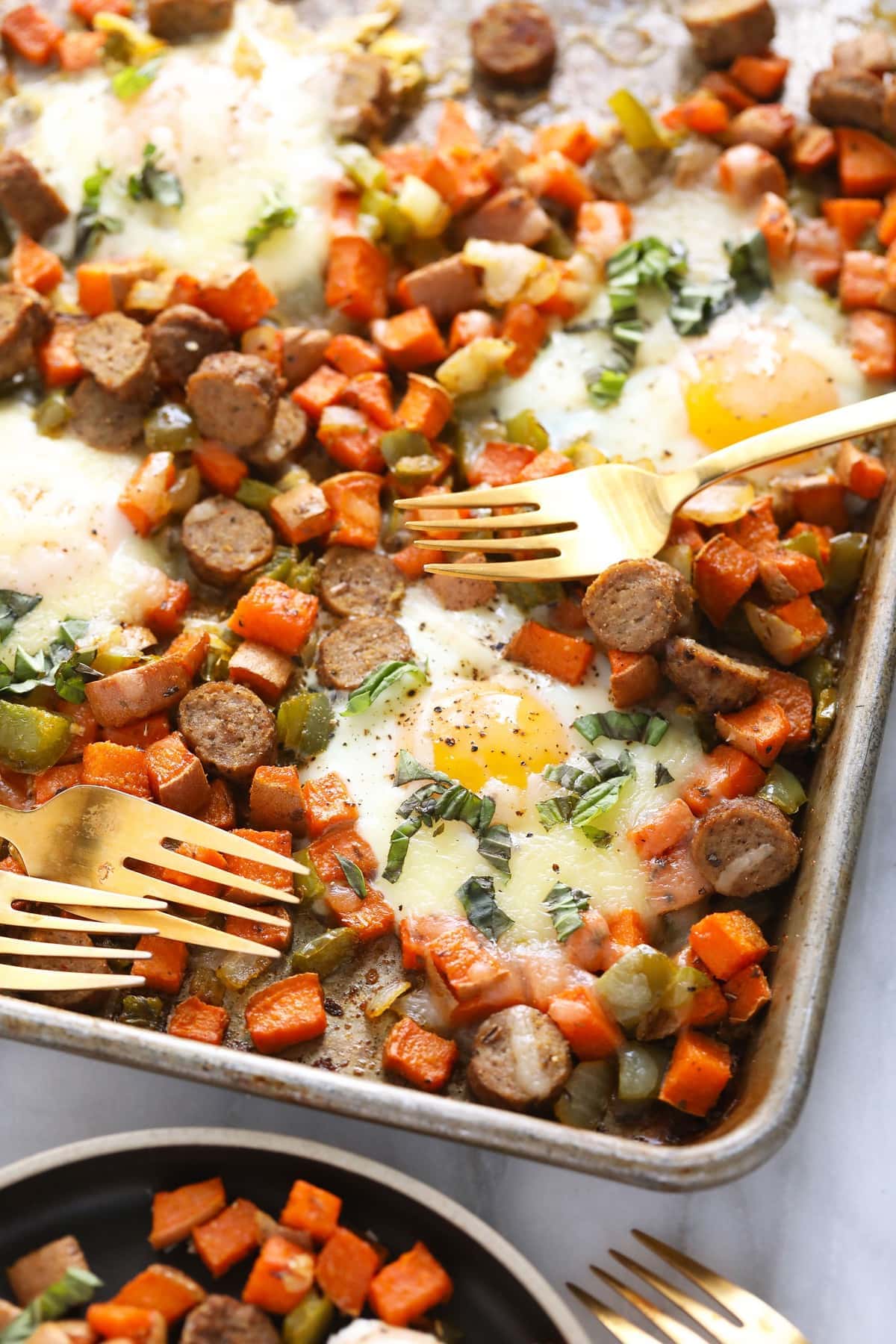 Storage
Got leftovers? Store your sweet potato breakfast hash in a glass, airtight container in the refrigerator for up to 3-5 days!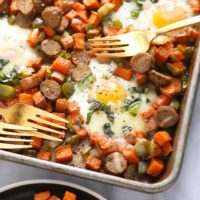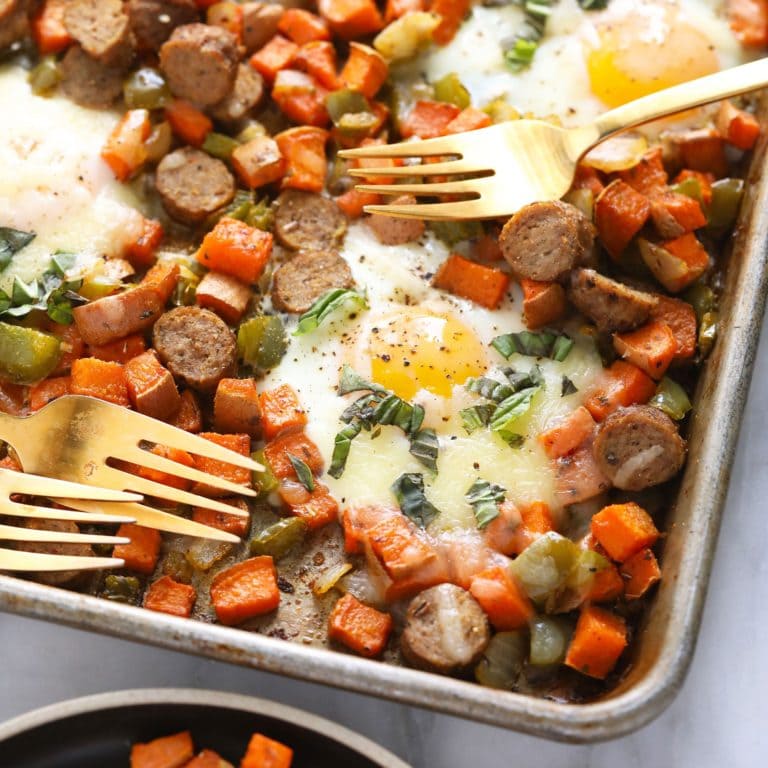 Sheet Pan Sweet Potato Hash
This sheet pan sweet potato hash is the perfect breakfast packed with complex carbs, protein, and veggies!
Ingredients
2

medium sweet potatoes

diced into 1/2-inch chunks (~3 cups)

1

medium green bell pepper

finely diced

1/2

medium yellow onion

finely diced

2

tablespoons

olive oil

1/4

teaspoon

salt

1/8

teaspoon

ground black pepper

1/4

teaspoon

smoked paprika

1

teaspoon

dried oregano

1.5

teaspoons

garlic powder

8-10

fully-cooked turkey sausage links

sliced into small chunks

4-6

large eggs

optional: 1/2 cup shredded cheddar cheese
Instructions
First, preheat oven to 400ºF.

Then prep sweet potatoes by washing any residue off of them. Pat dry with a paper towel. Option to peel sweet potatoes or leave the skin on. Dice sweet potatoes into small, 1/2-inch chunks and then place them onto a large baking sheet.

Next, finely diced a medium green pepper and 1/2 medium yellow onion and transfer veggies onto the baking sheet.

Drizzle sweet potato hash with 2 tablespoons of olive oil and then season with salt, ground pepper, smoked paprika, dried oregano, and garlic powder. Use a wooden spoon to toss and then evenly spread out on the pan. Make sure there are no veggies overlapping so that everything cooks evenly.

Roast veggies at 400ºF for 10 minutes. Remove from oven, toss veggies, and add sliced turkey sausage. Toss one more time and then place back into the oven for 10 more minutes.

Once the full 20 minutes is up, remove the baking sheet from the oven. The sweet potato should be mostly cooked. If it's not, place the pan back into the oven for a few minutes. Then, create 4 nests for the eggs. Spray the bottom of each nest with nonstick cooking spray and then crack the eggs into each nest. Season eggs with salt and pepper, to taste and then place back into the oven at 400ºF for 7-9 minutes depending on how runny you like your yolk.

Option to add shredded cheese on top of your cooked eggs and bake for an additional 1-2 minutes to melt the cheese.

Enjoy immediately.
Tips & Notes
Nutrition information does include cheese and includes 4 eggs.
Nutrition facts
Calories:
259
kcal
Carbohydrates:
19
g
Protein:
13
g
Fat:
15
g
Fiber:
3
g
Sugar:
4
g