Learn how to make crepes with this simple step-by-step guide. You can make sweet or savory crepes in less than 20 minutes. Enjoy!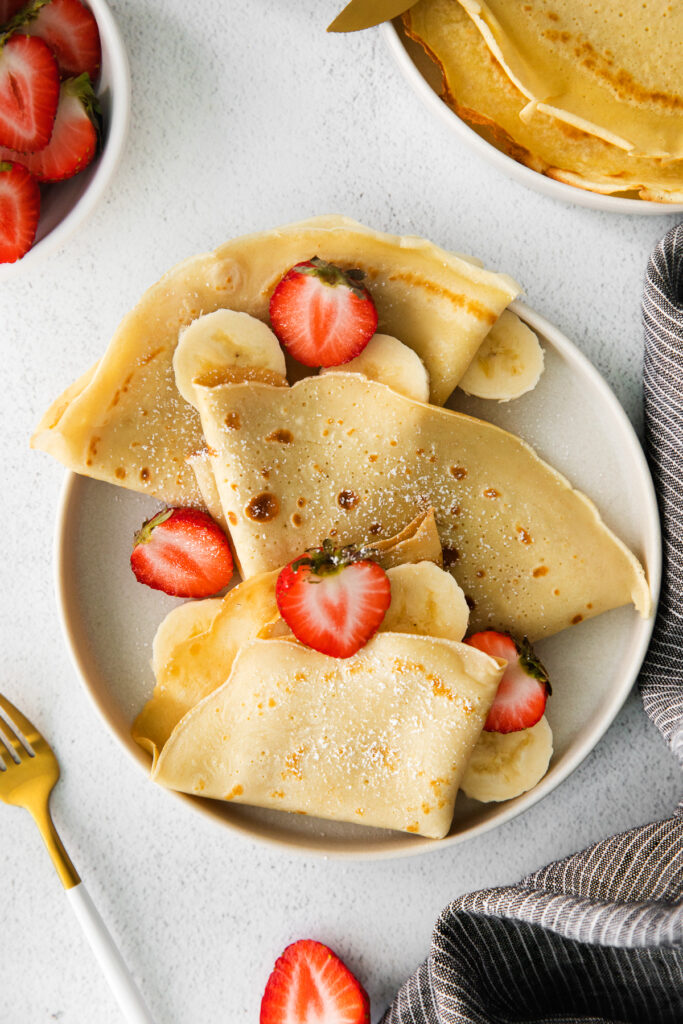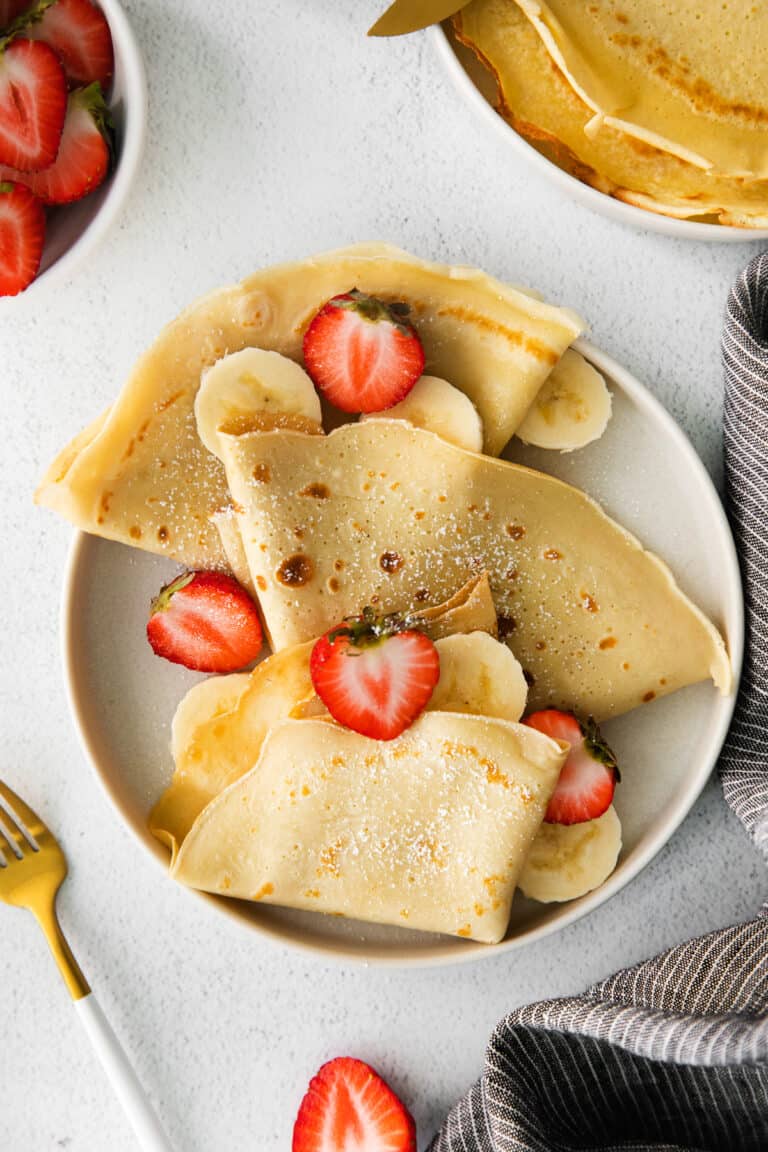 Let's Make Crepes!
Don't be intimidated by crepes! Thought they sound fancy and look like you can only buy them in a french bakery, anyone can make them. They are a sweet (or savory) breakfast that can be made in no time.
what we love about crepes
They are like fancy pants pancakes and will impress your guests.
You can make these crepes sweet or savory.
These crepes are ready in 20 minutes.
Ingredients You Need
You only need 5 ingredients (plus toppings) to make this crepe recipe! There are a few substitutions you can make, see your options below.
Whole milk: if you can use whole milk, do! Heavy cream could work, too, but you would need to add more water to the batter.
Water: water helps thin out the batter.
2 large eggs: be sure you use large eggs, not medium or extra large.
Butter: we use salted butter, but you can use unsalted butter, too!
All-purpose flour: this is the best flour option for this recipe. If you are gluten free you can use a 1:1 gluten free flour mix, but be careful of a sticky batter.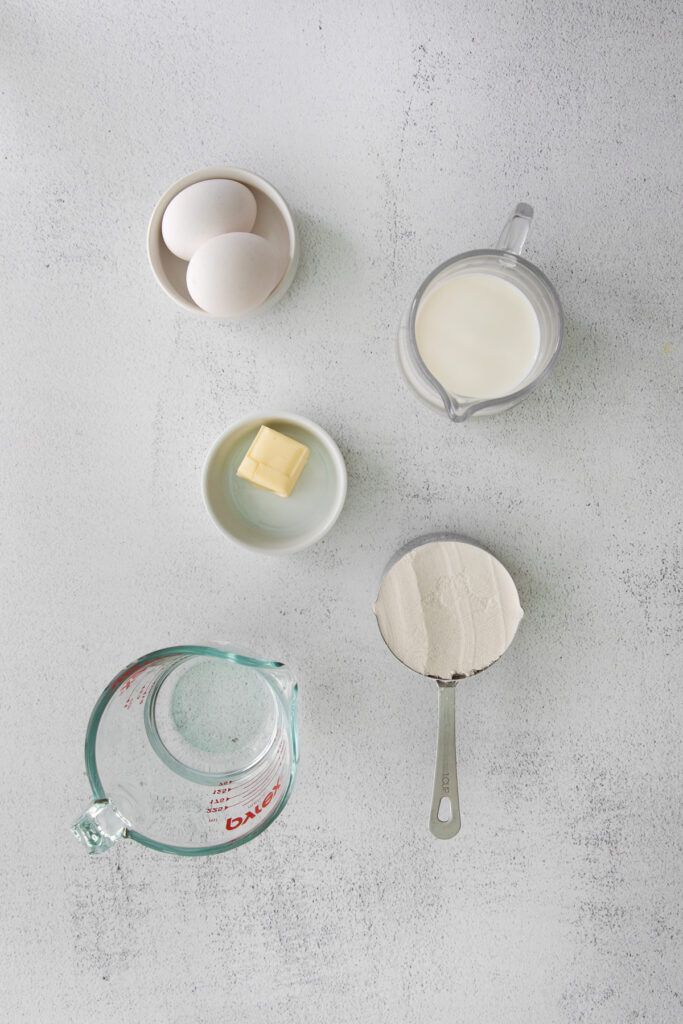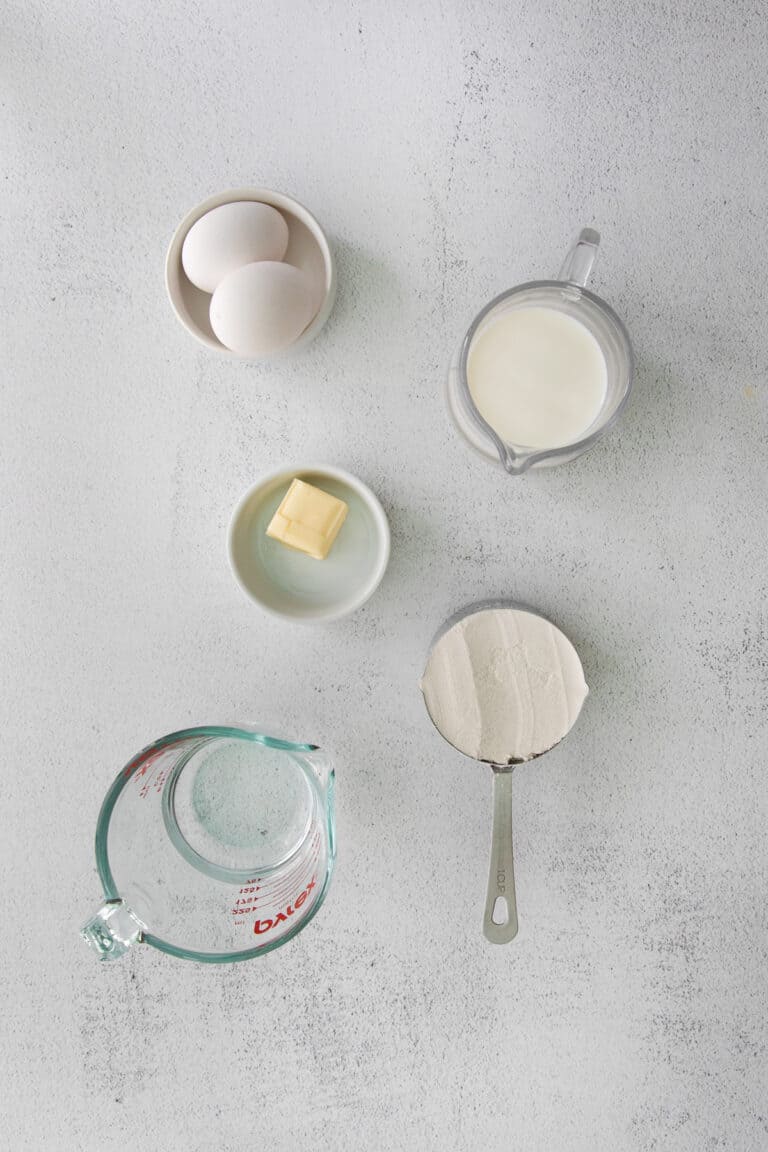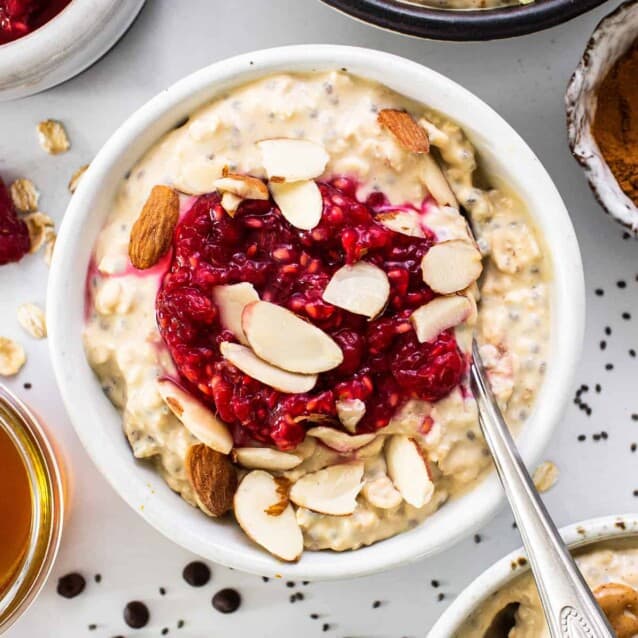 Need Breakfast Inspo?
Subscribe to our emails and get all of our best breakfast recipes straight to your inbox.
Things to Remember Before Making Crepes
The combination of milk and water creates the perfect soft and rich crepe. The crepe will be slightly softer if they're both at room temperature, but they don't have to be!
Eggs help bind the crepe batter together.
Butter adds a bit of richness and great butter flavor.
Flour gives the crepes structure– make sure to measure using the spoon and level technique so you don't add too much (no one wants a dry crepe).
Crepe batter is much thinner than pancake batter, if you find that your crepe isn't spreading once you poor it into the pan, you can thin out your batter with another tablespoon of water.
Be sure your pan is hot before pouring in the batter.
The color of your eggs may change the color of the crepe batter and thats ok!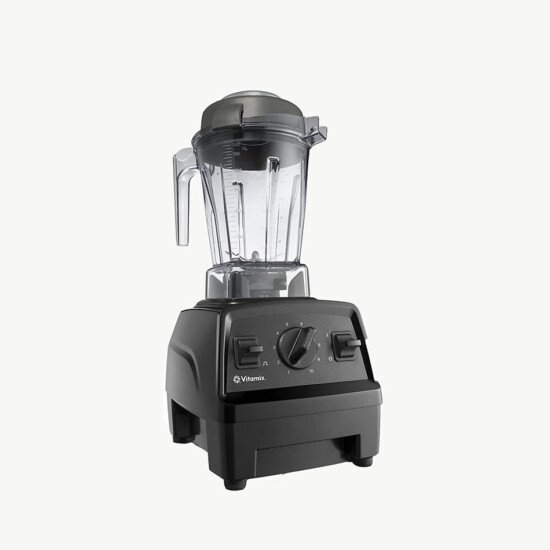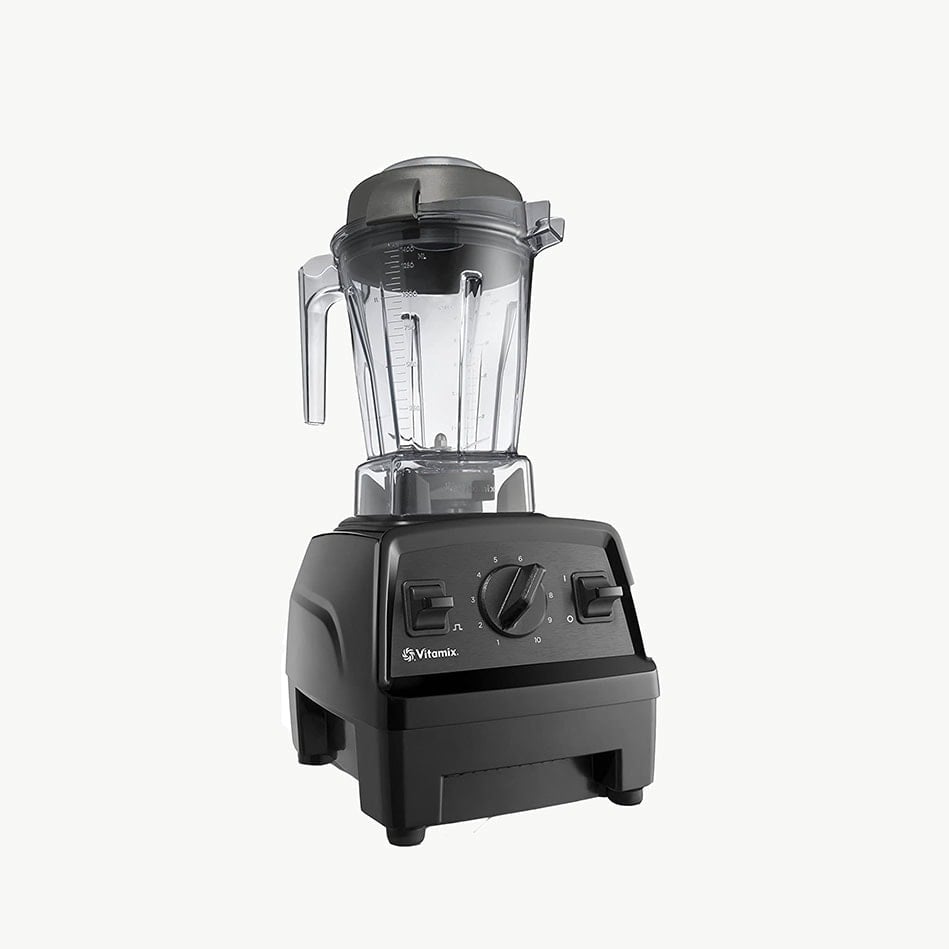 Our Favorite
Blender
Looking to upgrade your blender? Check out our favorite Vitamix Blender. It's our favorite high-speed blender perfect for making smoothies, soups, and nut butter.
Buy Now
How to Make Crepes – Step by Step
Below is a step-by-step on how to make crepes. One thing that makes this recipe easier is to be sure that you have everything measured out before starting the recipe!
Add Wet Ingredients to the blender
It's important that you add the wet ingredients to the blender first and make sure they are combined. Be sure not to over blend the eggs. Blend all the ingredients together on low for 30 seconds.
Don't have a blender? You can mix your ingredients together by hand with a whisk or on low with a hand mixer, too.
Add dry ingredients to the blender
Once the wet ingredients are combined scrape the sides of the blender with a spatula and then add flour to the blender. Blend all the ingredients on low until flour is combined with the wet ingredients.
Don't fret, it's going to feel very runny, but it's supposed to me runny batter!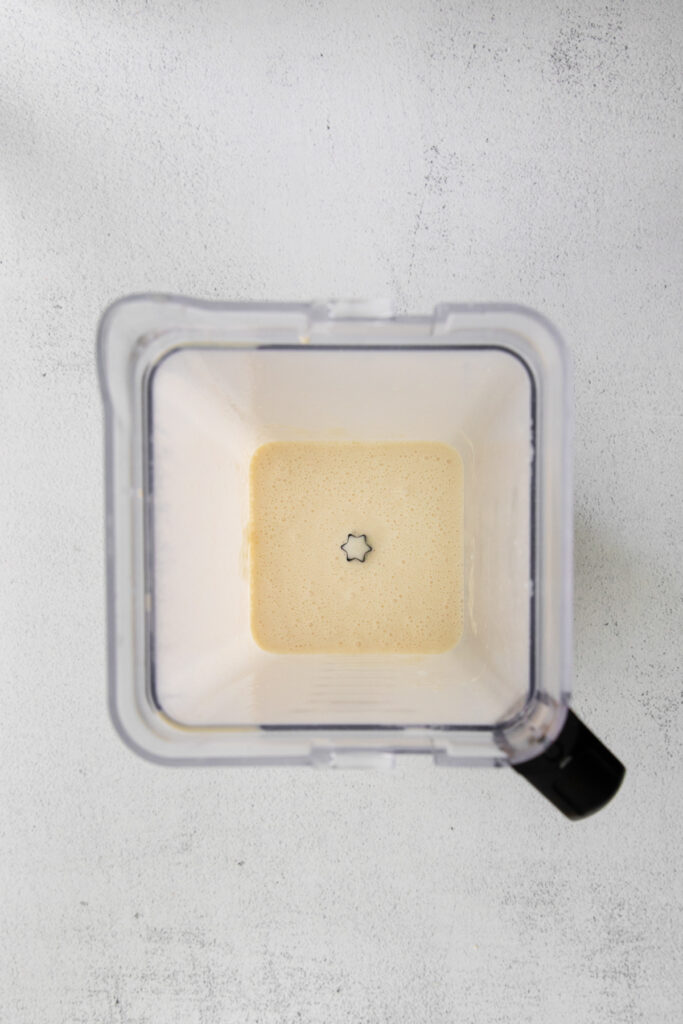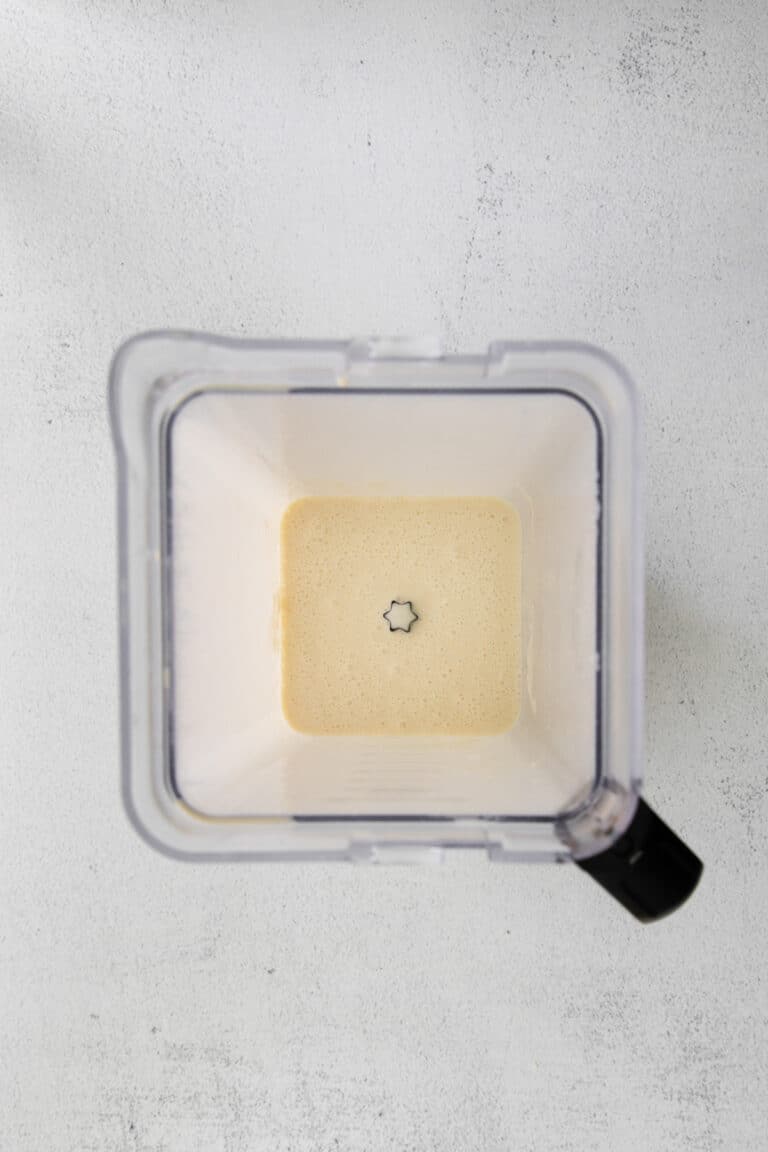 Sweet or Savory
This is the T in the road when it comes to crepe making. Are you a sweet or savory person?
If you are going for sweet crepes, add sugar to the blender (along with vanilla or almond extract if you're getting fancy).
If you are going savory, add a pinch of salt or garlic powder to the batter.
Pulse the ingredients together until combined.
Heat the pan
Heat a 12 inch nonstick pan over medium heat. Add butter and heat until melted.
It is important to heat the pan before you add the crepe batter!
It's all about the swirl + flip
Use a 1/4 cup scoop to scoop the crepe batter into the center of the pan.
Immediately lift the pan after adding the batter a few inches off the stovetop and carefully swirl the crepe batter until it reaches the edge of the pan and the batter is spread evenly across the bottom of the pan.
Let the crepe cook over medium heat for about 1.5-2 minutes and then flip. The crepe should be a golden brown color. Heat the crepe for an additional 1.5-2 minutes and remove.
Repeat until all the batter as been used.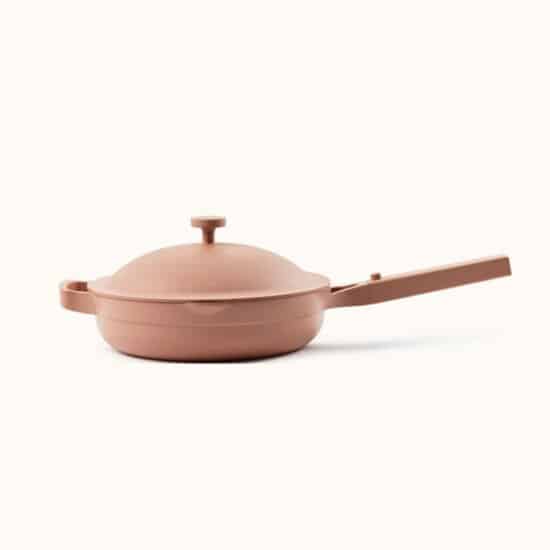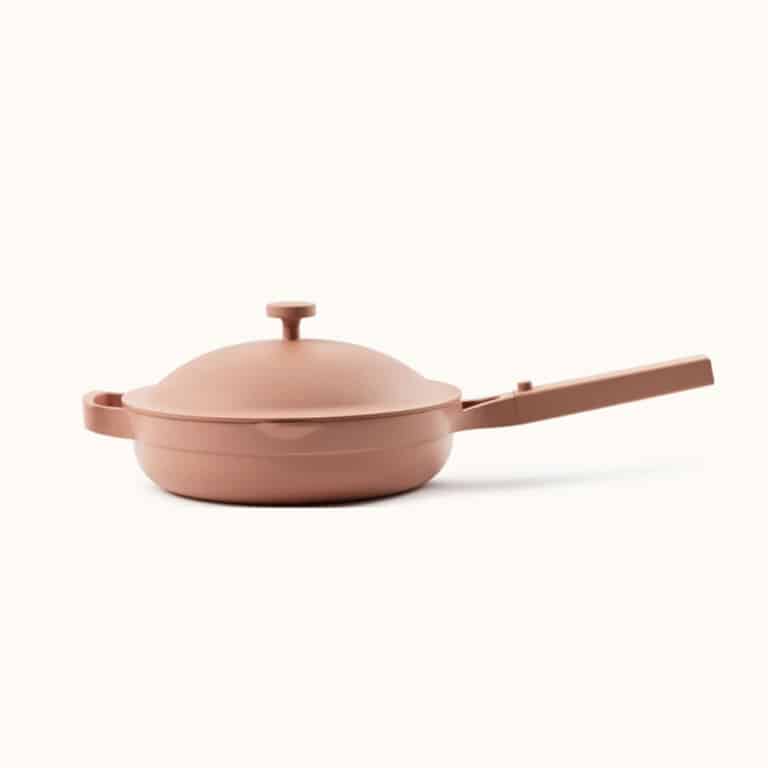 Try it!
Always Pan
The Always Pan is our favorite pan for sauteing, steaming, frying, and simmering. It's a nonstick pan that we highly recommend.
Buy now!
flavor variations for crepes
Don't forget that you can make these crepes your own! Here are some of our favorite flavor variations, but if you have other delicious combinations, let us know in the comments!
Make the Sweet
Nutella and bananas
Strawberries and whipped cream
Butter and jam
Maple syrup and candied pecans
Yogurt and ganola
Make them savory
Lox and capers
Goat cheese and caramelized onions
Bacon and eggs
Kalamata olives, feta, and tomatoes
Caprese-style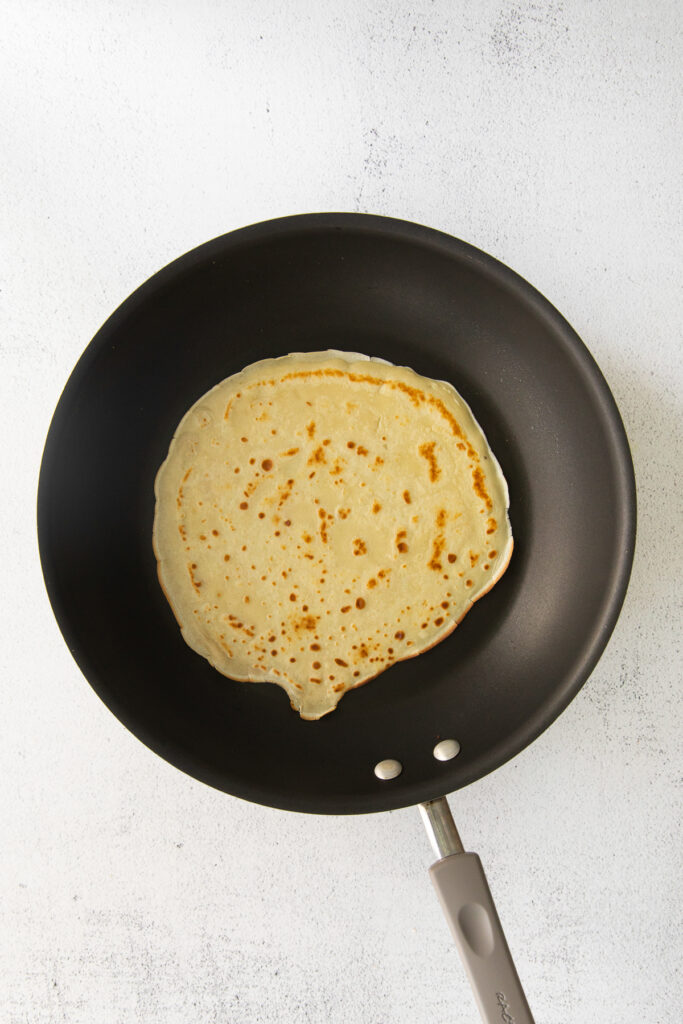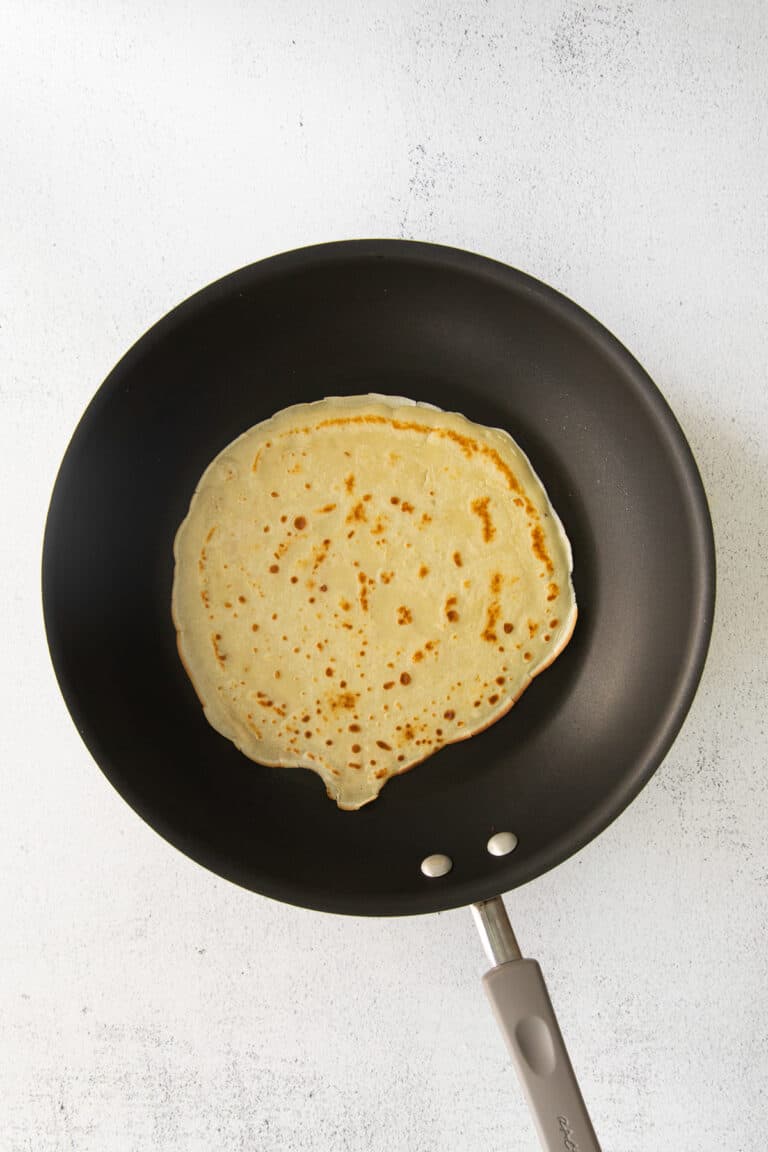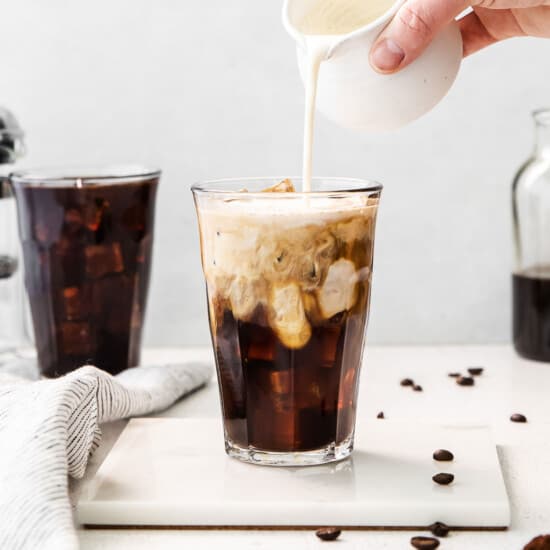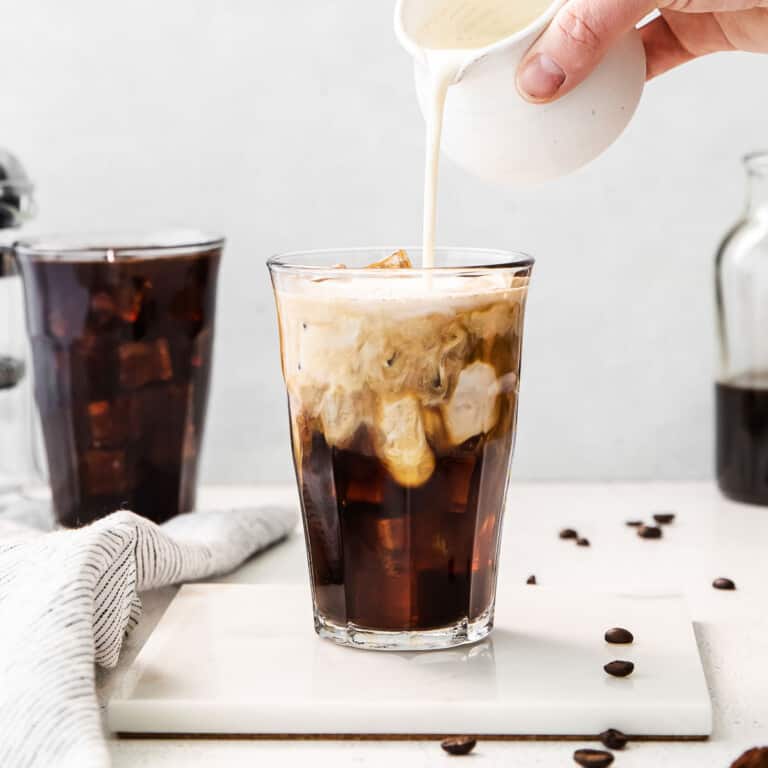 How to Make
Cold Brew Coffee
Check out this super simple tutorial on how to make your own cold brew coffee at home with just 2 ingredients!
Get Recipe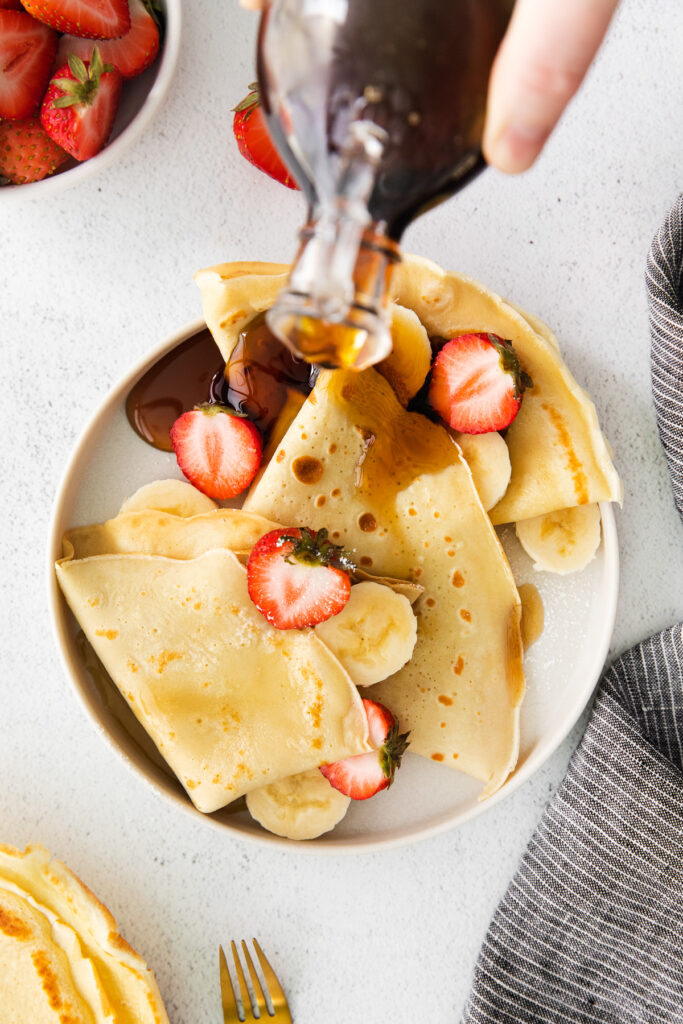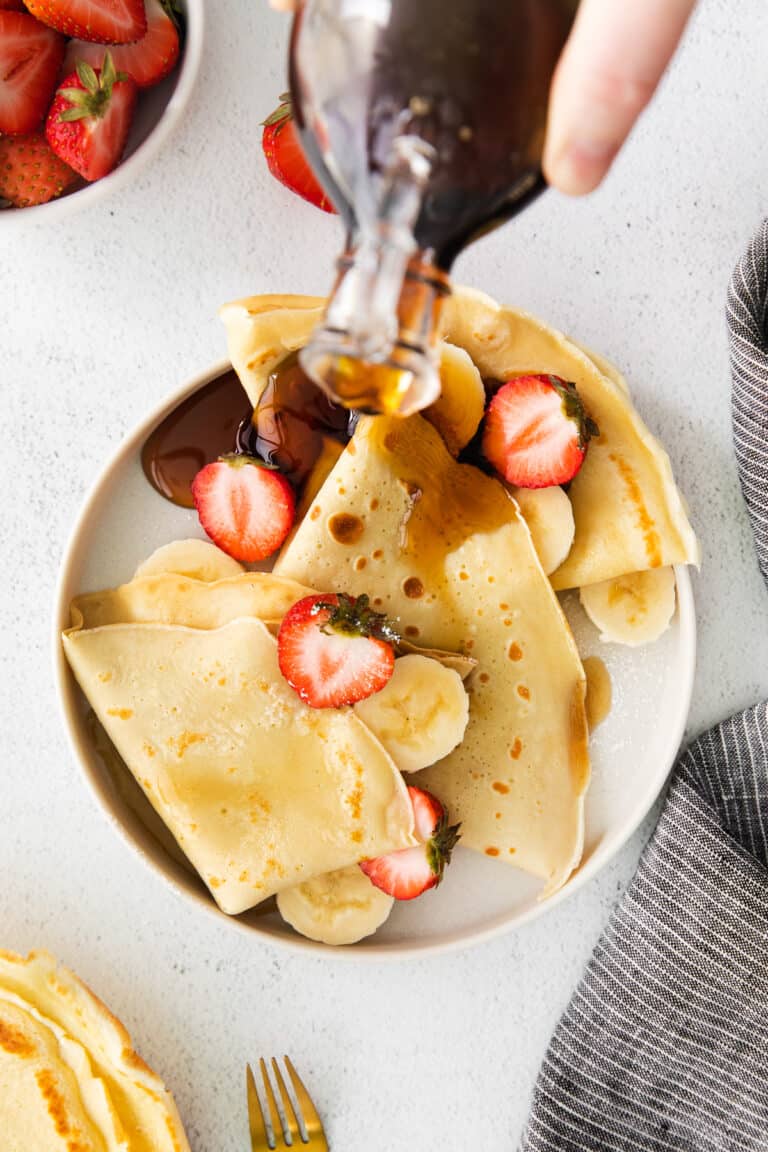 Storage Instructions
You can store crepes in an air-tight container for up to 3 days.
When reheating: Heat the oven to 325ºF and place the crepes in the oven for 5-10 minutes or until warm.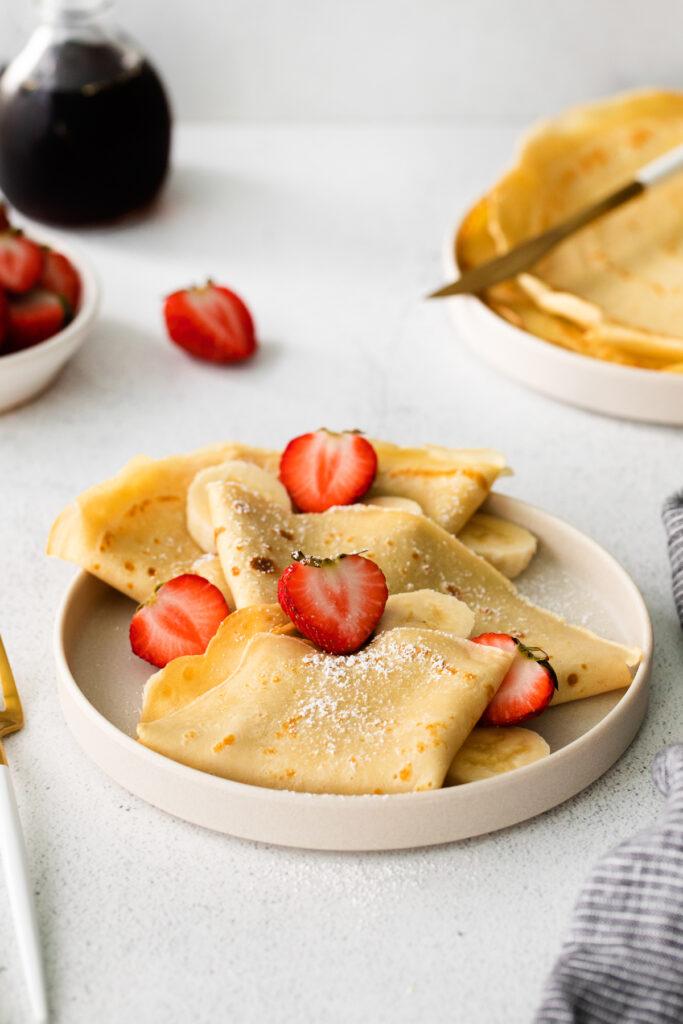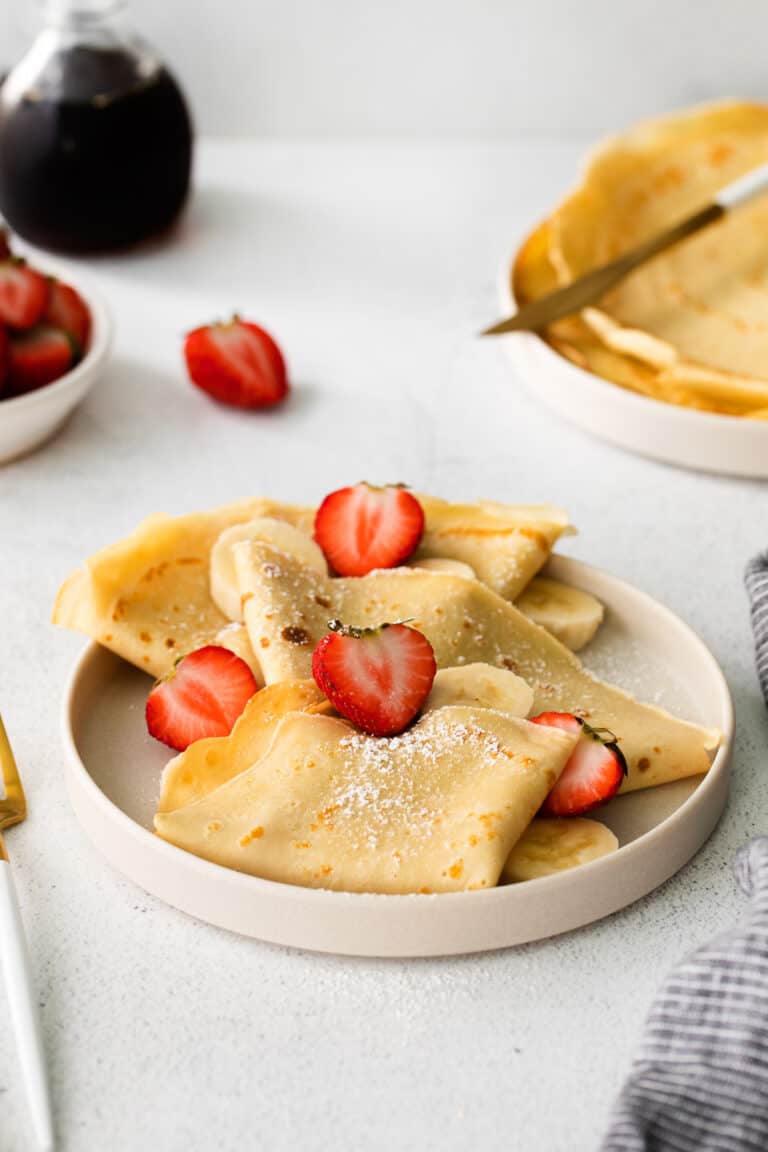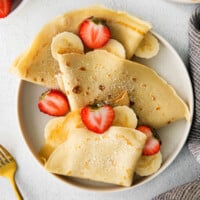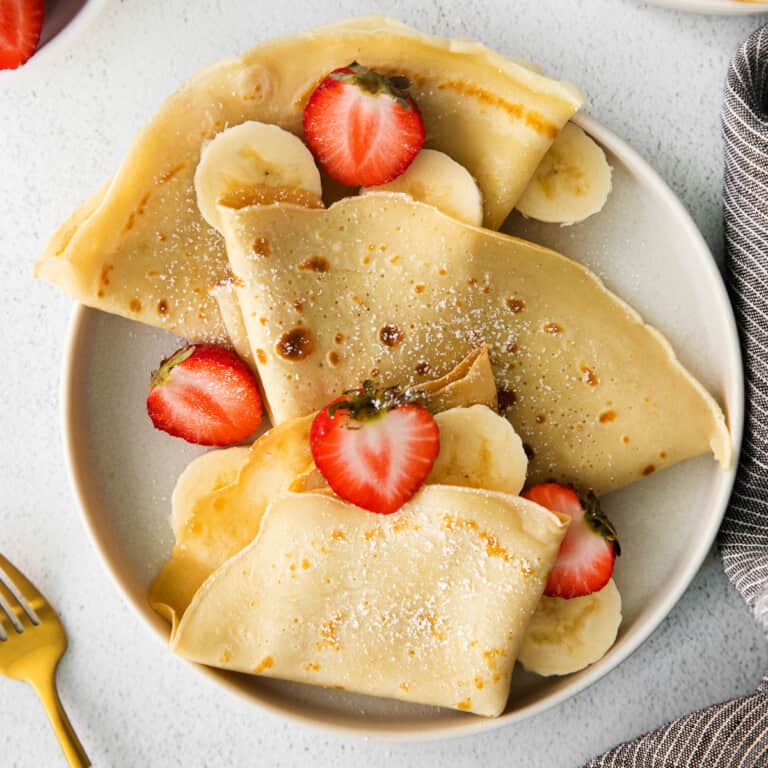 How to Make Crepes
Learn how to make crepes in just 20 minutes with this simple crepe recipe. You only need 5 ingredients! 
Ingredients
½

cup

whole milk

½

cup

water

2

large eggs

2

tablespoons

butter

melted

1

cup

all-purpose flour
Instructions
Add the milk, water, eggs, and melted butter to a blender and blend on medium speed for 30 seconds. 

Next, add the flour (and any additional flavorings) and blend for 15 seconds. Scrape down the sides of the blender, if needed, and blend for an additional 15 seconds. 

Heat a large, nonstick skillet (preferably one with short sides) over medium heat, just until it is warm. Grease the pan very lightly with butter or non-stick cooking spray. 

Add about 3 tablespoons of batter to the center of the pan and swirl it in a circular motion to spread out the batter. It will seem difficult at first, but you'll get the hang of it! 

Cook for 2 minutes, then flip the crepe and cook for an additional minute. Remove the crepe to a plate and repeat with the remaining batter. 

Fill the crepes with your favorite garnishes and enjoy them warm. 

Store any leftover, unfilled crepes in an airtight container in the fridge for up to two days. 
Tips & Notes
This recipe yields around 8 crepes.
Variations
For sweet crepes, add 2 tablespoons of granulated sugar, 1 teaspoon of pure vanilla extract, and ¼ teaspoon ground cinnamon to the batter in step 2.

 

For savory crepes, add ½ teaspoon kosher salt and ¼ teaspoon garlic powder to the crepes in step 2.

 
Filling Options

 
I love to fill my crepes with fresh fruit-- bananas, berries, peaches, and apples are all delicious. You could also use your favorite jam or fruit spread (like lemon curd)!

 

For savory crepes, I love to fill them with cheese (brie is a personal favorite), cured meats, or sauteed vegetables!

 
Nutrition facts
Calories:
215
kcal
Carbohydrates:
24
g
Protein:
7
g
Fat:
10
g
Fiber:
1
g
Sugar:
1
g