Eat your breakfast and protein too. Here are 15 high protein breakfast recipes from eggs to pancakes to smoothies with at least 15g of protein per serving!

Breakfast Love
I've always had a thing for breakfast. From the time I was very young, I was always the first one up in the household, cooking breakfast for the family. I remember I was always so excited when it was my sister's birthday so that I could serve her breakfast in bed (re: banana oatmeal pancakes!).
Today we are chatting all things high protein breakfast foods. While I love me a thick stack of carb-filled pancakes, sometimes I want to get more protein in before I leave for the day so that I stay fuller longer and feel good about my morning eats. Speaking of protein, check out our protein powder review post where we dive deep into our fav protein powders!
Benefits of High Protein Breakfasts
There are many benefits to eating breakfast in general, but if you can get in a good amount of protein in the morning there are even more!
Stay fuller longer – protein actually helps you stay fuller longer so that you're not starving all morning!
Increases muscle mass – the more muscle you have, the more calories you burn at rest. Heck yes!
Boosts immune system – protein actually helps you create a better immune system to protect you from illness. Eat up!
Healthy Protein Breakfast Ideas
Here is a list of our favorite high protein breakfast recipes from Fit Foodie Finds that will keep your belly full and heart happy until lunch! Each of these recipes has at least 15g protein/serving or more! PS: if you're in a pinch, try a Perfect Bar! They're our all-time favorite refrigerated, store-bought bar to eat from breakfast.
These peanut butter cookie dough overnight oats pack 15 grams of protein and a ton of fiber! Whip up a big batch of these oats for breakfast this week! *15g protein per serving*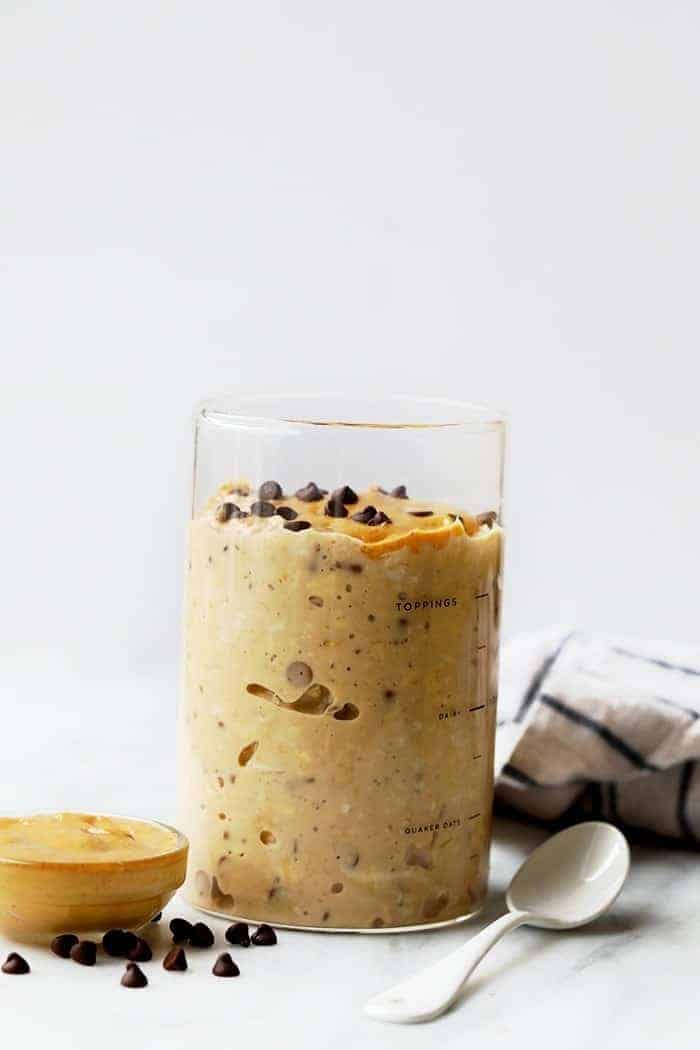 Try this strawberry coconut post workout smoothie after a tough sweat session for a delicious, refreshing way to get an extra boost of fiber and protein! *21g protein/serving*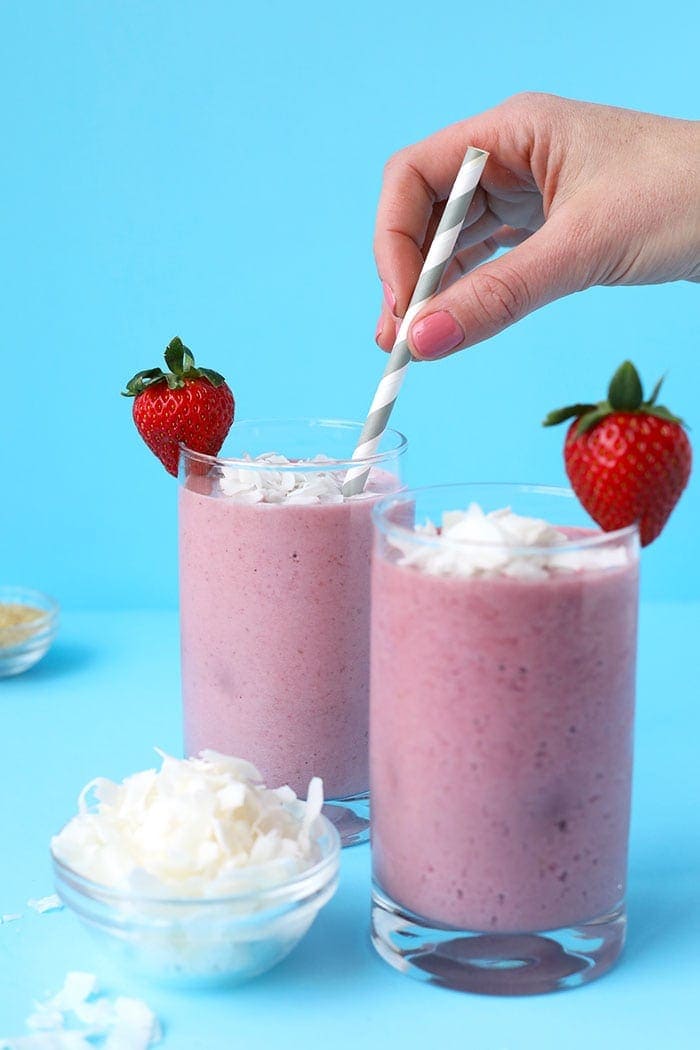 Get a sous vide for Christmas and looking for easy, healthy recipes to make with it? Look no further. You're going to absolutely love these Cheesy Sous Vide Egg Bites. They're made with 3 basic ingredients and done in under 60 minutes. *16g protein/2 egg bites*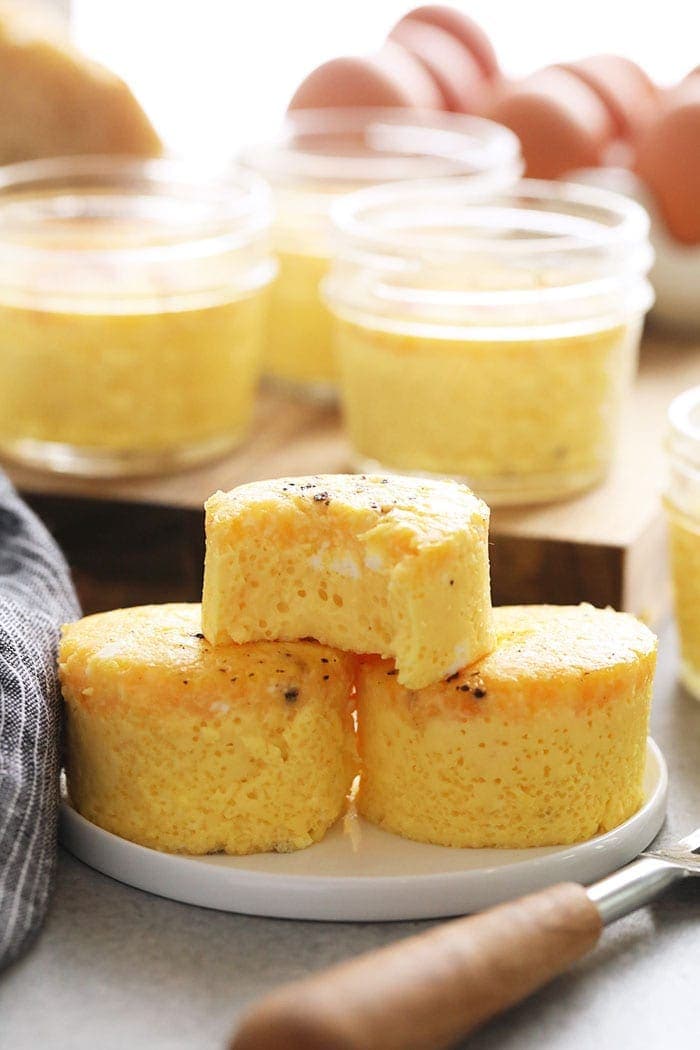 This is meal prep at its finest! Make these delicious protein-packed breakfast burritos to have before work or school all week long! *25g protein/serving*
These Strawberry Vanilla Overnight Oats are a breakfast meal-prep miracle! All you have to do is throw all of the ingredients into a jar, let them sit overnight, and an easy and delicious breakfast is ready for you in the morning. *15g protein/serving*
Need a quick, grab-and-go breakfast? Make these delicious freezer breakfast sandwiches! They're made with a sausage, sun-dried tomato, and spinach egg patty, cheese, and a whole grain English muffin. *21g protein/serving*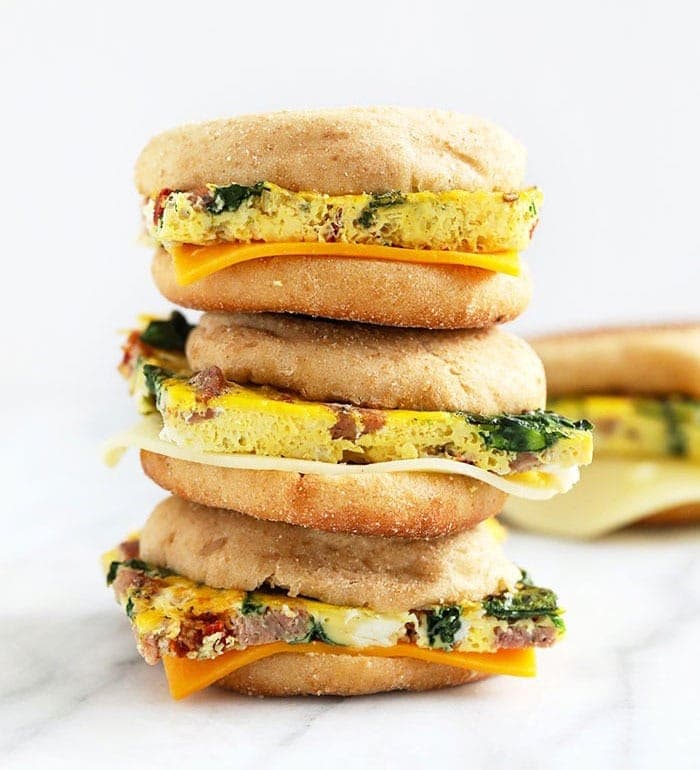 Got a bunch of veggies in the fridge? Make yourself a delicious and colorful vegetable frittata with farm fresh eggs and a sprinkle of parmesan cheese for a low-carb breakfast option! *15g protein/serving*

These Paleo Coconut Flour Pancakes are the best you'll ever make! They're made with just 4 main ingredients and a little coconut oil making them grain-free, dairy-free, and refined sugar free. *16g protein/serving*
For breakfast, lunch, or dinner, this sweet potato hash protein bowl is packed with tons of veggies and protein. Start off by making a homemade sweet potato hash, then add in tons of other veggies and your favorite chicken sausage for a delicious protein bowl recipe. *16g protein/serving*
We've got an easy blueberry protein pancakes recipe for you that's made with 100% whole grains, your favorite protein powder, mashed banana, and blueberries! *17g protein/serving*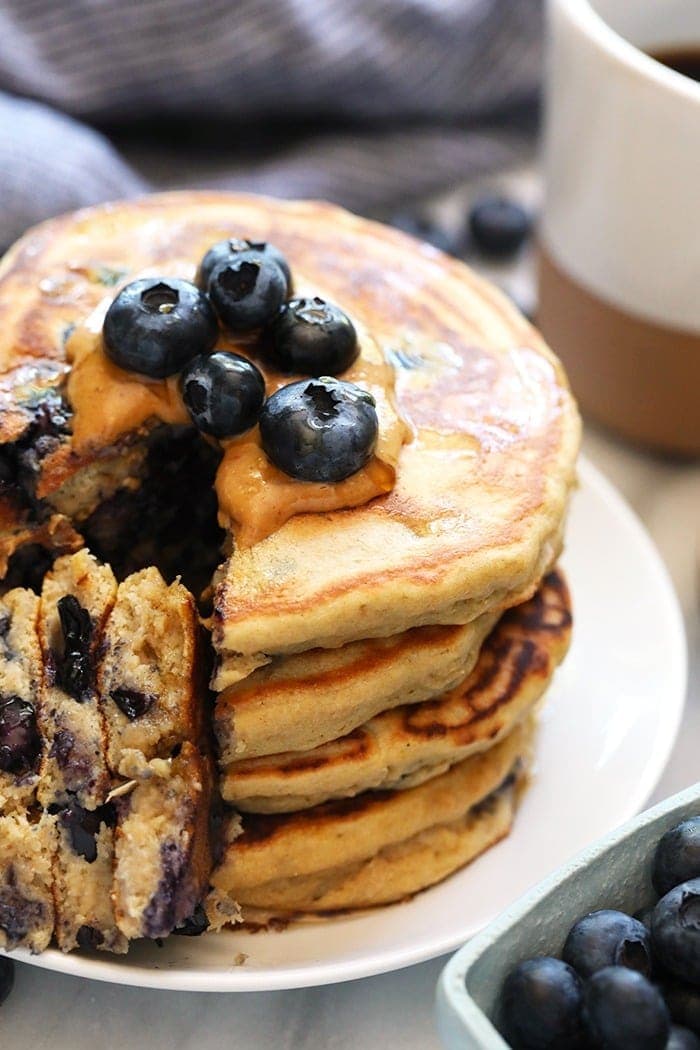 Throw all of your favorite breakfast food in the Instant Pot to make this Instant Pot Hard Boiled Egg Meal Prep Breakfast. *15g protein/serving*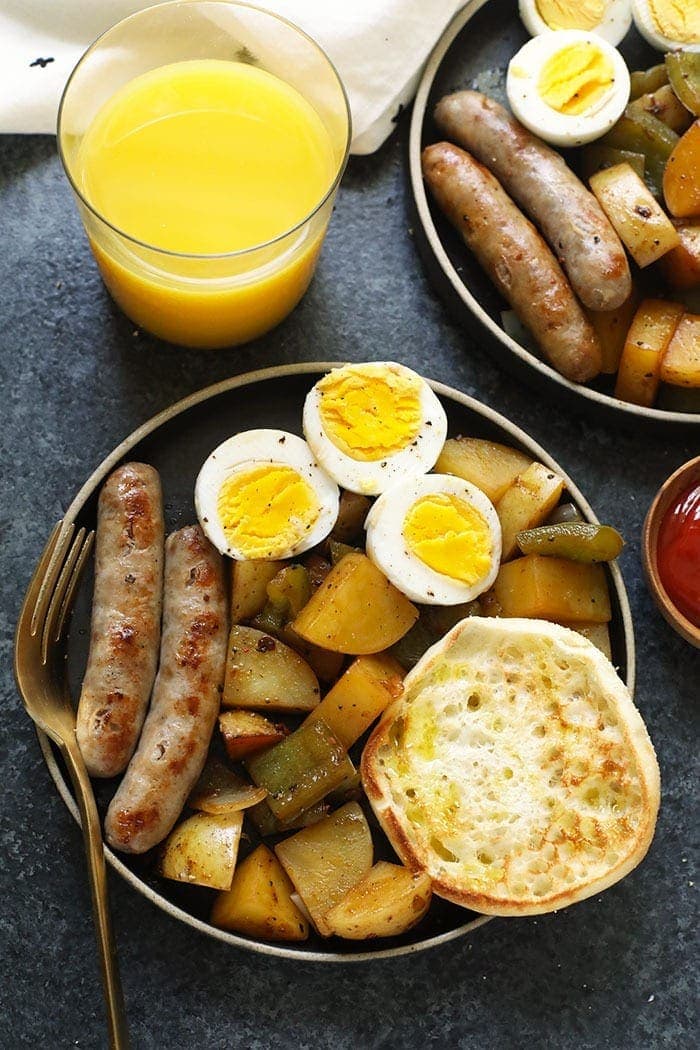 Meal-prep your way into the week with these Copycat Egg McMuffins Made with Egg Muffins! All of the delicious flavors of a breakfast sandwich, without any bread! *27g protein/serving*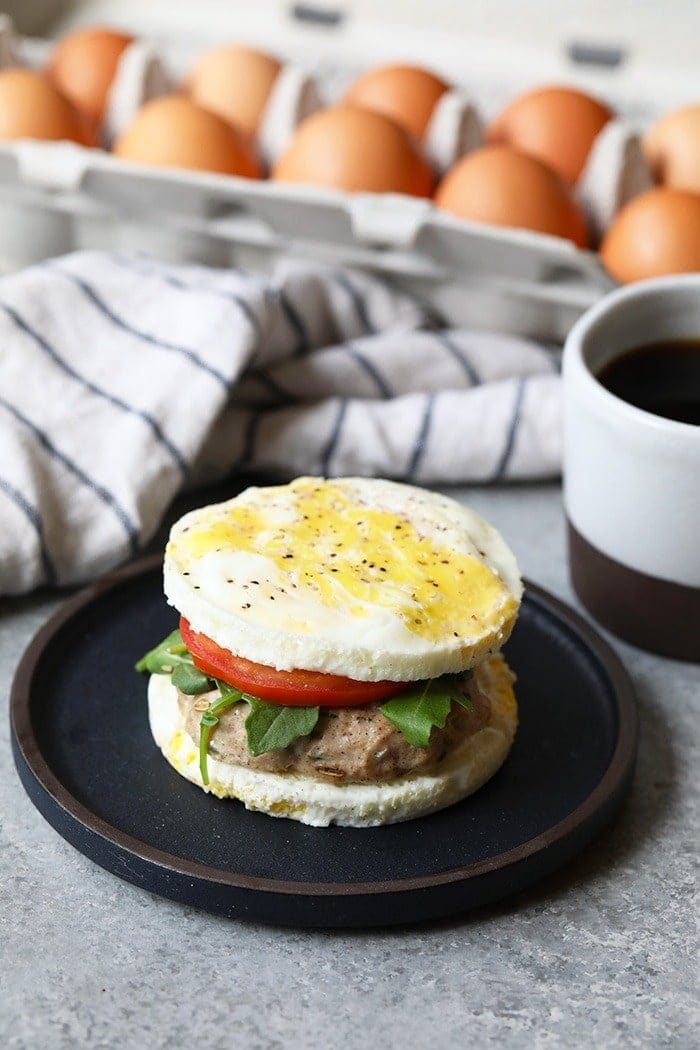 Cottage Cheese Protein Pancakes for the win! Who's with me? If you're all about healthy pancakes and getting a protein boost at the same time then you will love this protein pancake recipe! *19g protein/serving*
Breakfast is served with this delicious, gluten-free quiche! That's right, this sweet potato crust quiche is gluten and grain-free making this vegetarian breakfast protein and veggie-packed. *16g protein/serving*
What's better than cheesecake for breakfast? NOTHING! You're going to love this Strawberry Protein Shake because it tastes exactly like strawberry cheesecake. *19g protein/serving*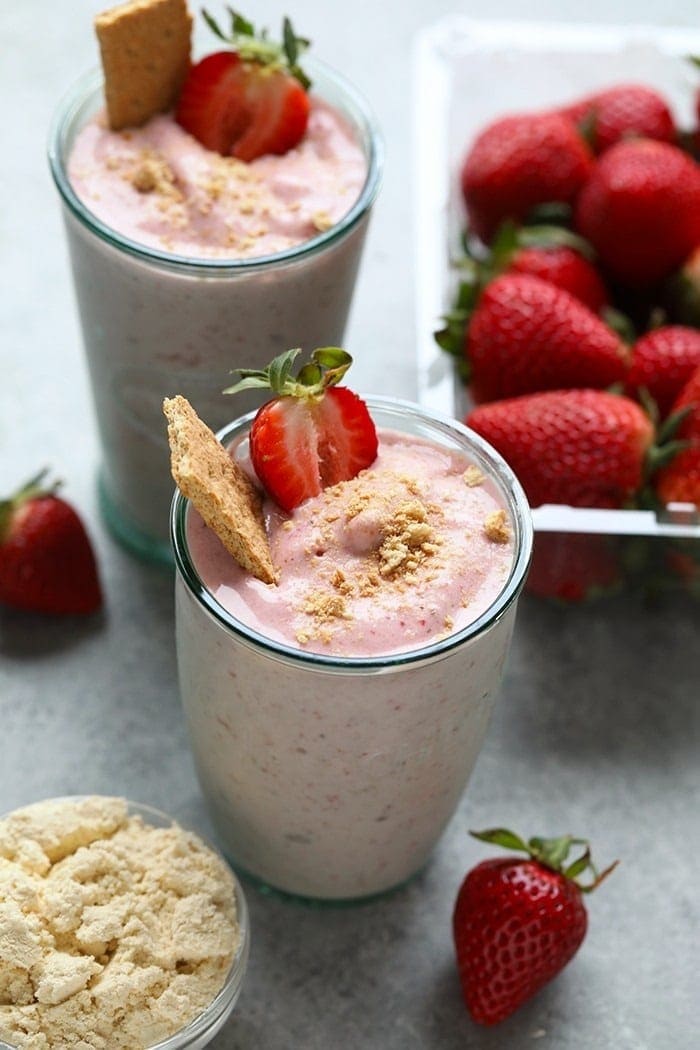 PS: Who else is/was s a cereal freak?! Soooooooo I legit would go through a box of cereal in two days growing up. Sports + a hungry belly left me eating lots of Honey Comb. Some of my other favorites included Mini-Wheats, Cocoa Puffs, and Fruit Loops. Today I've graduated into liking and eating a healthier variety of cereal/granola such as: Barbara's Puffins, Peace Cherry Almond Cereal, and Seven Sunday's Muesli. I try and look for cereals that are made with 100% whole grains, little to no added sugar, high in protein, and crunchy. I've got a thing for crunch. While today's post really has nothing to do with cereal, I thought I'd share some of my favs :D