This English muffin breakfast bake is a combination of all your favorite breakfast ingredients in one casserole dish. Grab your English muffins, sausage, and eggs and make this breakfast bake for the week or for a fun holiday morning.
Looking for other delicious breakfast bakes? Perhaps you're looking for a sweeter breakfast bake. Try our overnight french toast bake to sweeten things up.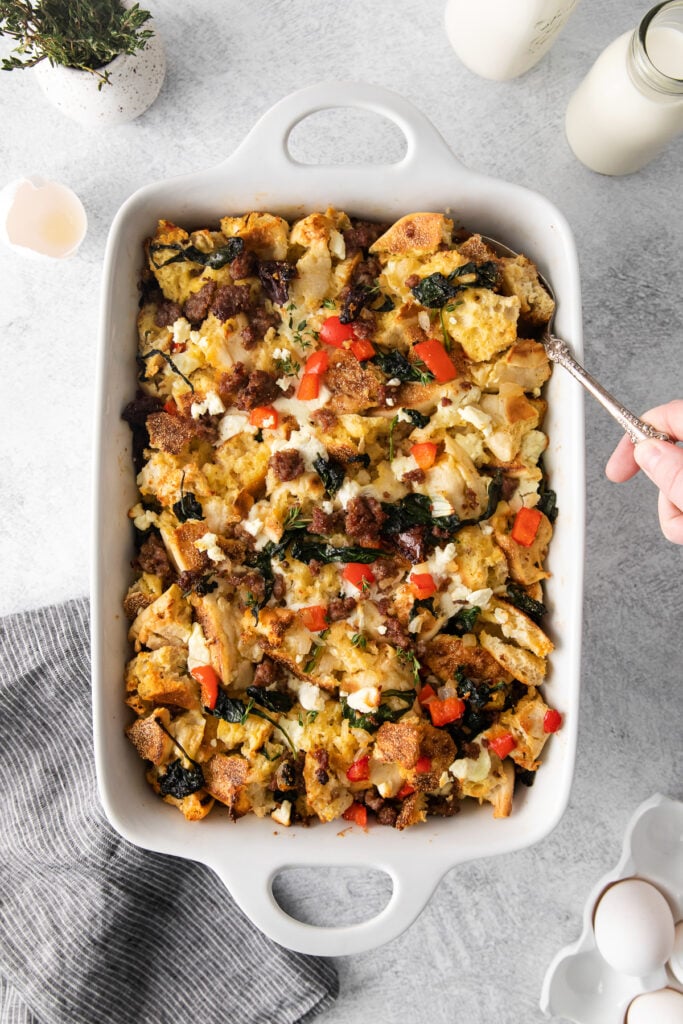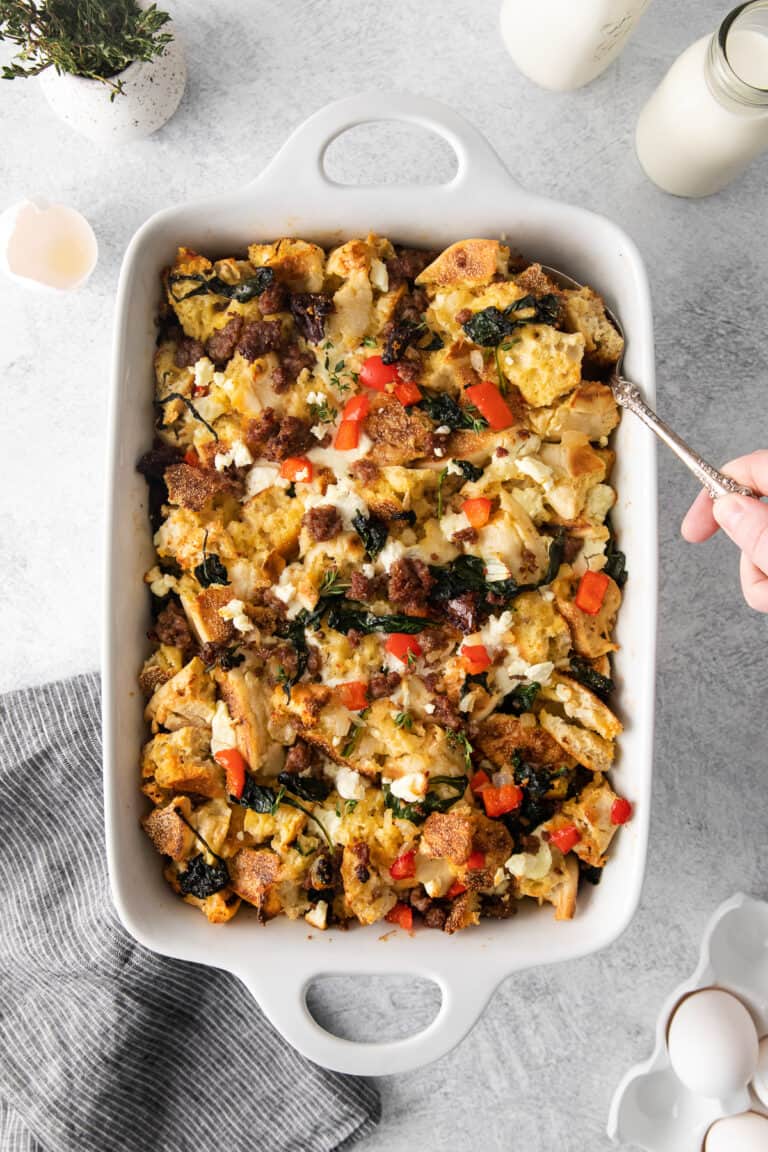 The Best Breakfast Bake
A good breakfast bake is made with soft bread, flavorful sausage, eggs, and a good balance of vegetables. This english muffin breakfast bake is one of the most delicious breakfast bakes because, well, who doesn't love english muffins?
Our favorite things about this bake
We love that this breakfast bake is soft on the inside and golden brown and crispy on the outside.
All of our favorite breakfast foods are mixed up in one casserole dish.
You can make this breakfast bake your own by substituting ingredients for things you love.
This breakfast bake is a great recipe for the holidays because you can make it the night before.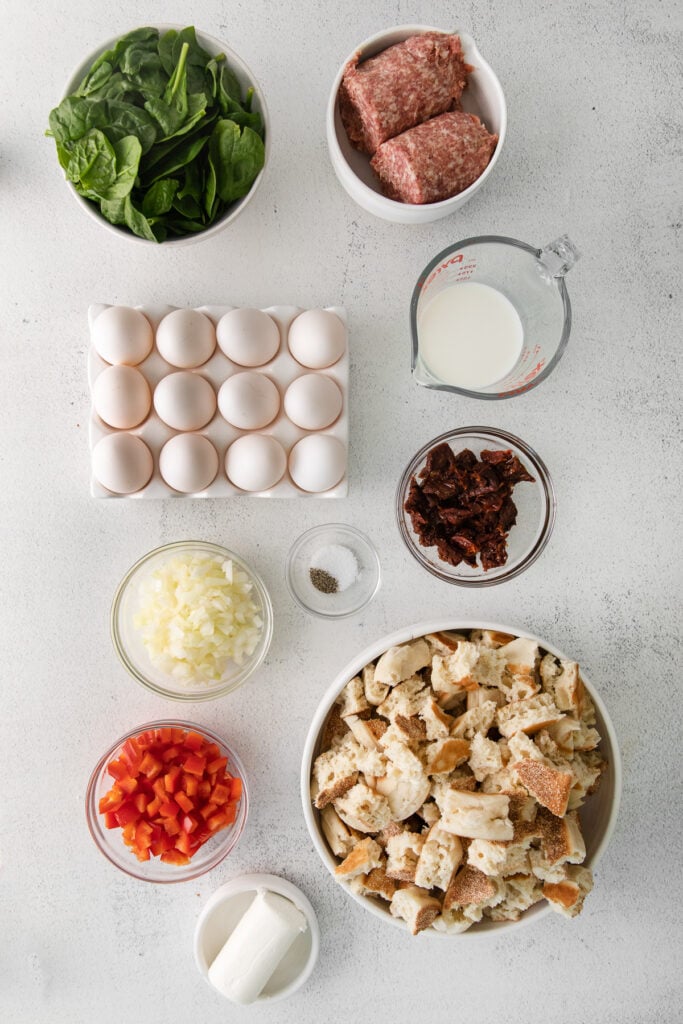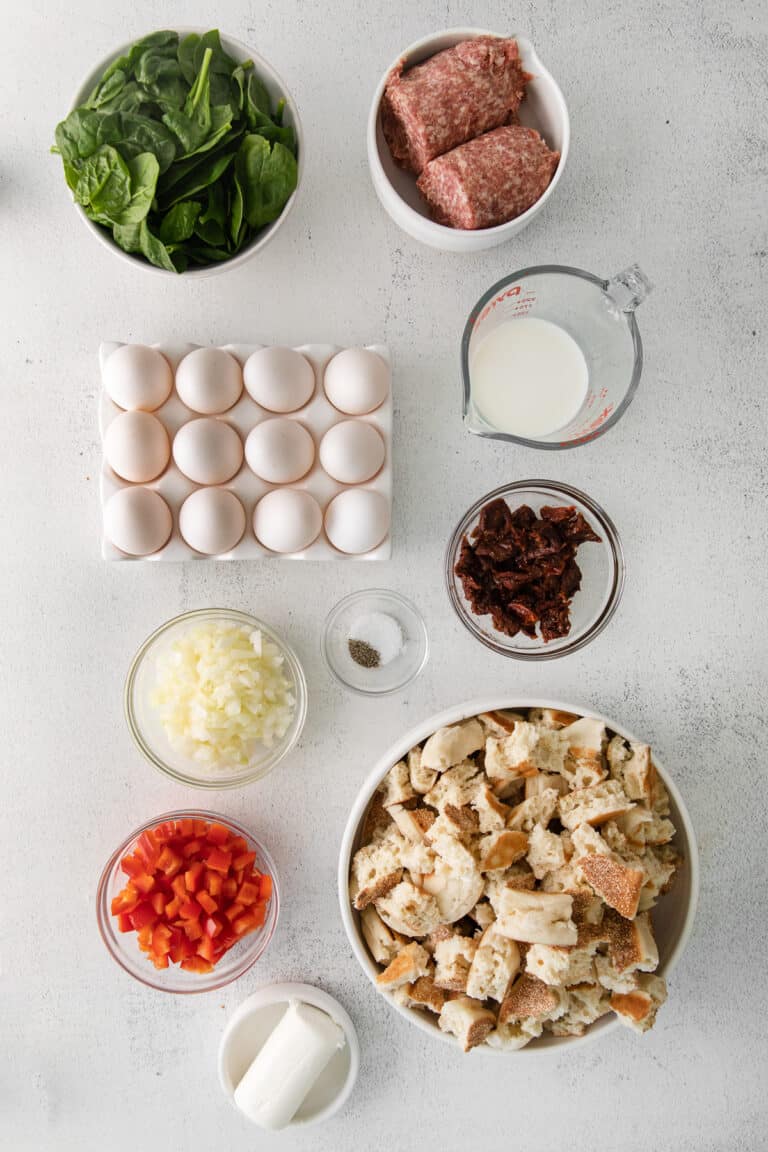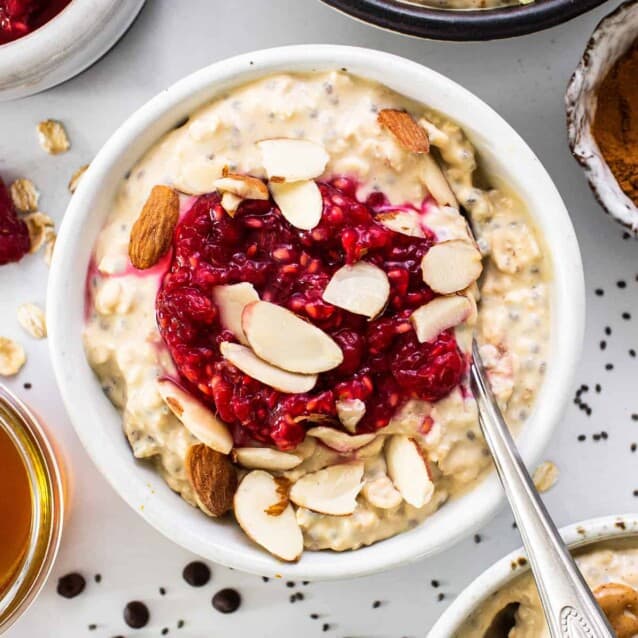 Need Breakfast Inspo?
Subscribe to our emails and get all of our best breakfast recipes straight to your inbox.
Ingredients You Need
Most of the ingredients for this easy breakfast casserole recipe are many different elements of our favorite breakfast recipes. Here is everything you need for this english muffin breakfast bake.
English muffins- skip the bread and use english muffins! We love how buttery and textured english muffins are. They make the perfect breakfast bake bread with all of their nooks and crannies.
Ground pork breakfast sausage- we prefer a flavorful ground pork breakfast sausage. We find that breakfast sausage with a bit of maple makes for the perfect sausage for this recipe.
Large bell pepper- chop up a sweet bell pepper to add both flavor and crunch.
White onion- don't skip the onion, it adds that savory flavor that is a must.
Fresh spinach – you cook down fresh spinach with onion and pepper to add a superfood to your breakfast bake.
Sun dried tomatoes (the ones in oil)- sun dried tomatoes offer both flavor and texture to this recipe. We find that the sun dried tomatoes in oil offer the most flavor!
Goat cheese- soft and creamy goat cheese takes this recipe up a notch.
Large eggs- you use 12 large eggs in this delicious breakfast bake to create a fluffy and savory breakfast bake.
Milk– we whisk 2% milk into the eggs for this breakfast bake.
Salt + pepper- salt and pepper bring out all of the flavors in every ingredients.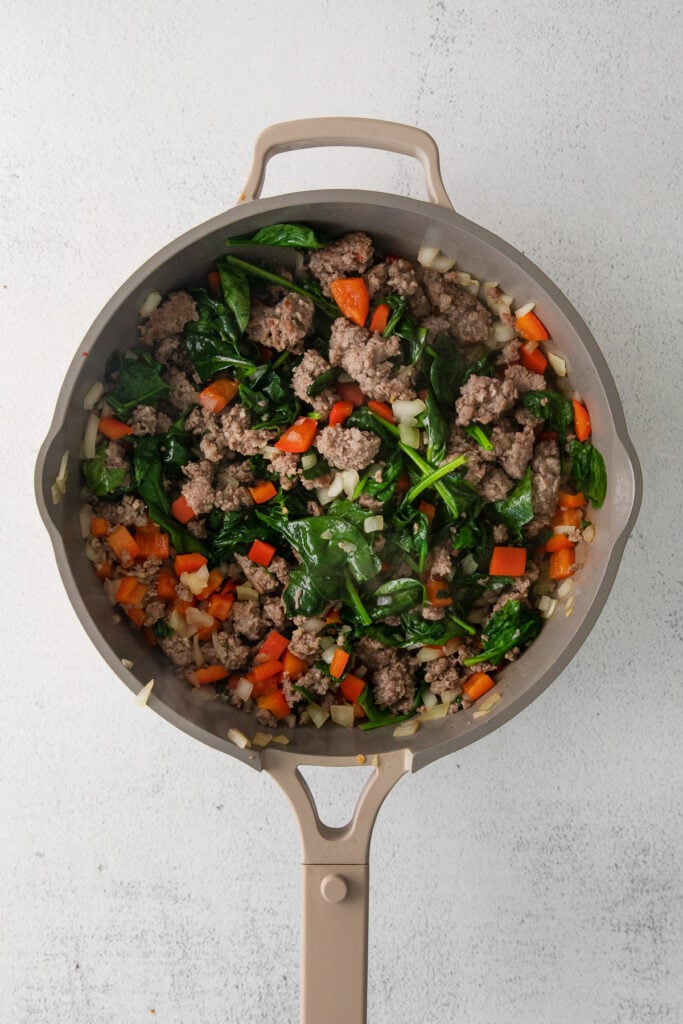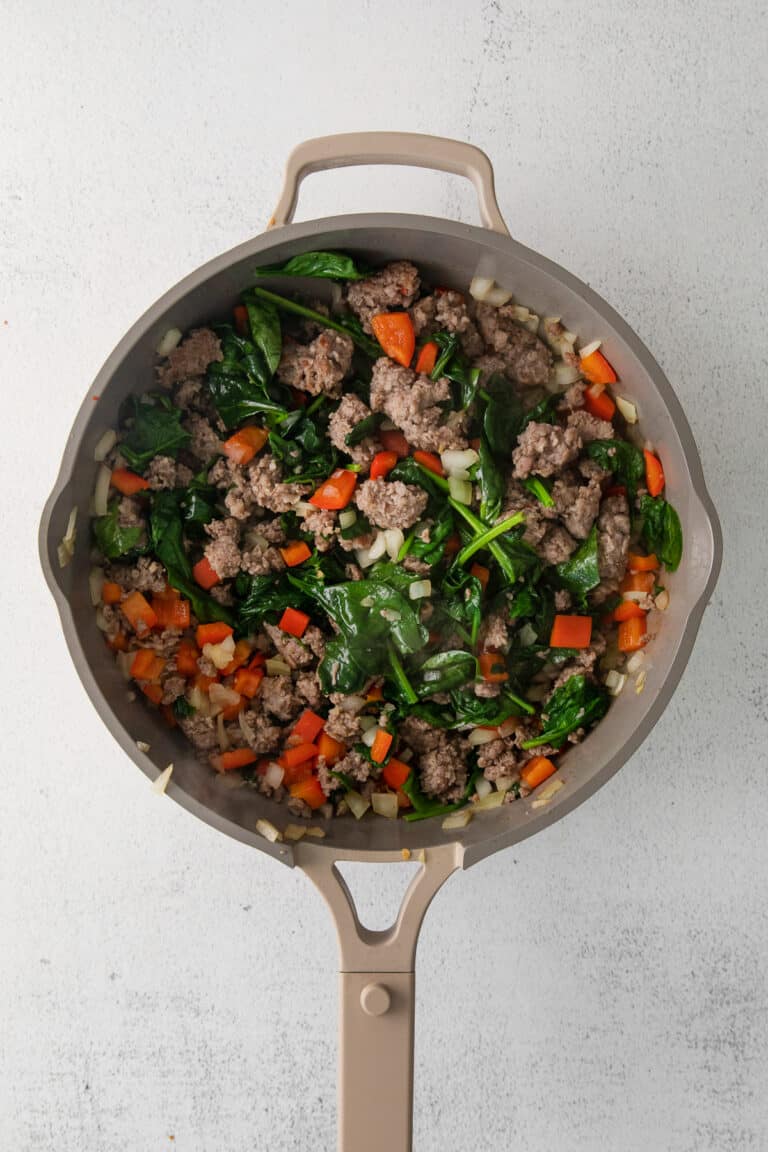 How to Make an English Muffin Breakfast Bake
Lightly cook sausage + veggies. Before we pack everything into a baking dish we cook all the ingredients down a bit. Cook the sausage for a few minutes and then add the onion and pepper. Finally, add the fresh spinach and let it cook down until wilted.
Mix all the ingredients together in a casserole dish. Add the pieces of english muffin to a greased casserole dish and then add the sautéed veggies to the casserole dish along with the sun dried tomatoes. Toss all the ingredients together.
Add cheese. Dollop the goat cheese over the top of the breakfast bake and toss.
Whisk the eggs + milk. In a separate bowl, add all of the eggs and milk and whisk the two ingredients together until combined. Pour the eggs over the english muffins and veggies. Toss all the ingredients together and use a spatula to make sure the egg mixture soaks into the english muffin pieces.
Bake. Cover the breakfast bake and place it in the oven and bake at 350ºF for 60 minutes, removing the cover for the last 15 minutes so the top becomes golden brown and crunchy.
Top. Remove the breakfast bake from the oven and let it rest for 10 minutes. Top with fresh thyme and optional fresh goat cheese crumbles.
Make this breakfast bake ahead of time
One of the best thing about his breakfast bake is that you can make everything ahead of time. Once all the ingredients are mixed into the casserole dish, rather than baking it, cover it with plastic wrap and place it in the refrigerator overnight.
Not only do the flavors soak into the the english muffins, but your breakfast bake is all ready and all you have to do is throw it into the oven.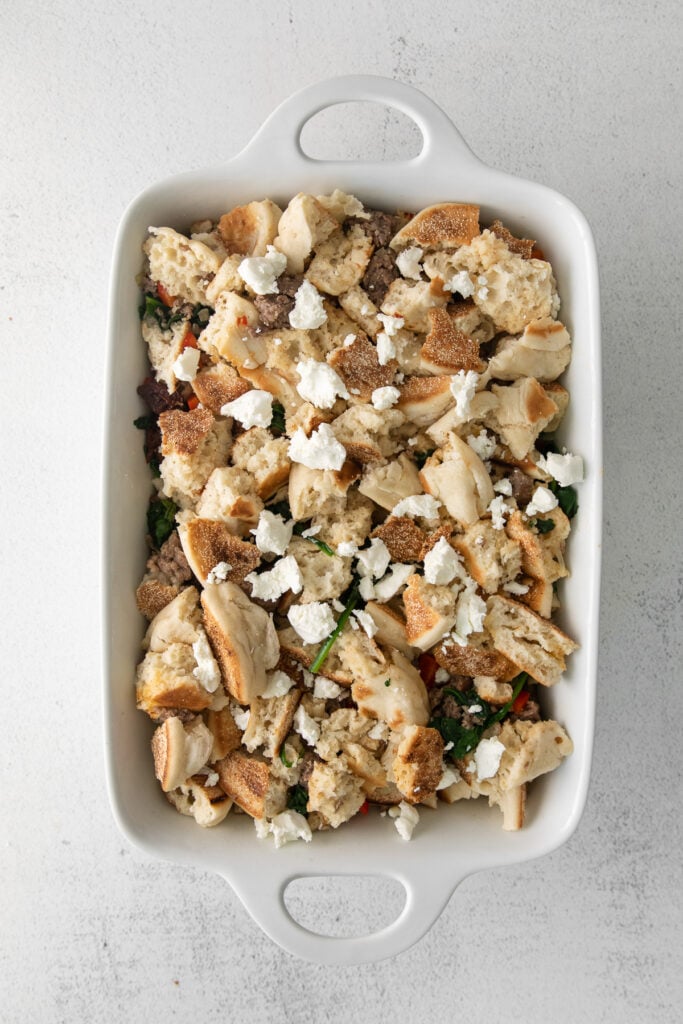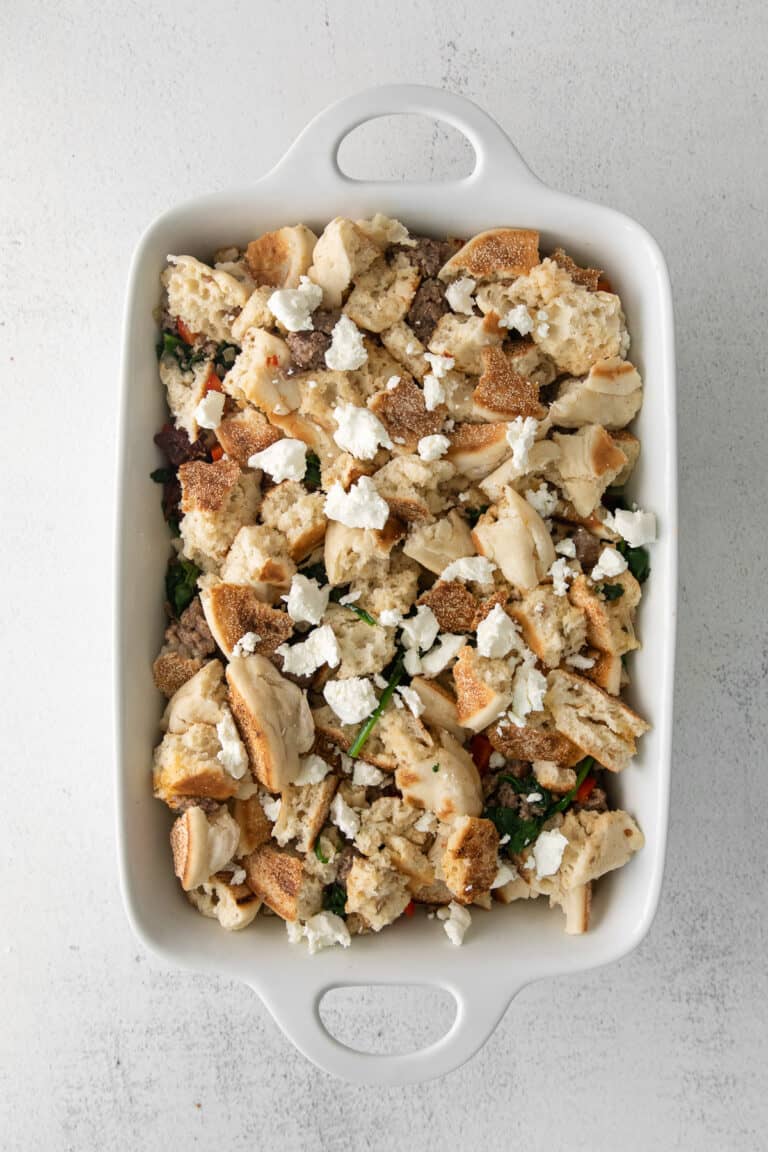 The Key to a Delicious Breakfast Bake
This breakfast bake is delicious regardless of when you bake it. However, if you want to impress the brunch crowd, we highly suggest making the breakfast bake ahead of time and letting it sit in the refrigerator over night!
Ingredient Swap Ideas
This delicious breakfast bake is the perfect combination of all of our favorite breakfast ingredients. If you don't have something that the recipe calls for or you just want to use something different, go for it. Below are some great ingredient swaps for this recipe.
English muffins–> chunks of sourdough bread
Breakfast sausage–> ground turkey sausage or sofrita breakfast crumbles
Spinach–> your favorite green
Goat cheese–> feta cheese
2% milk–> almond milk
other ingredients to add
There are so many different vegetables, spices, and ingredients you can add to this overnight breakfast casserole. Below are other options that are easy to add.
Bacon
Mushrooms
Chunk of ham
Brocoli
Swiss cheese
Cheddar cheese
Monterey jack cheese
Chunks of zucchini
Chunks of asparagus
Broccoli chunks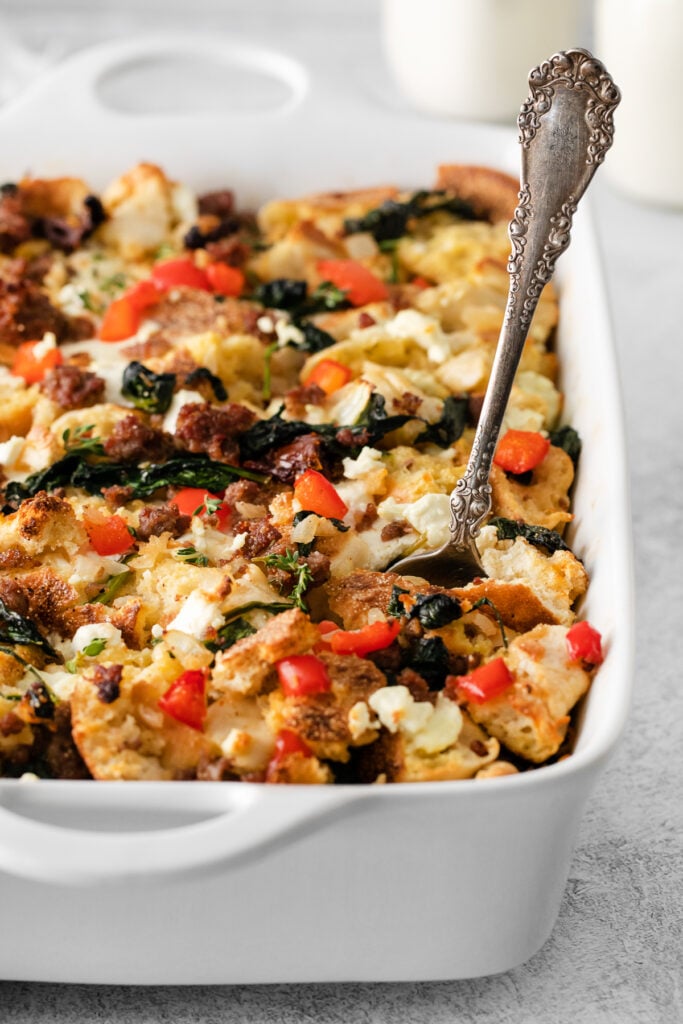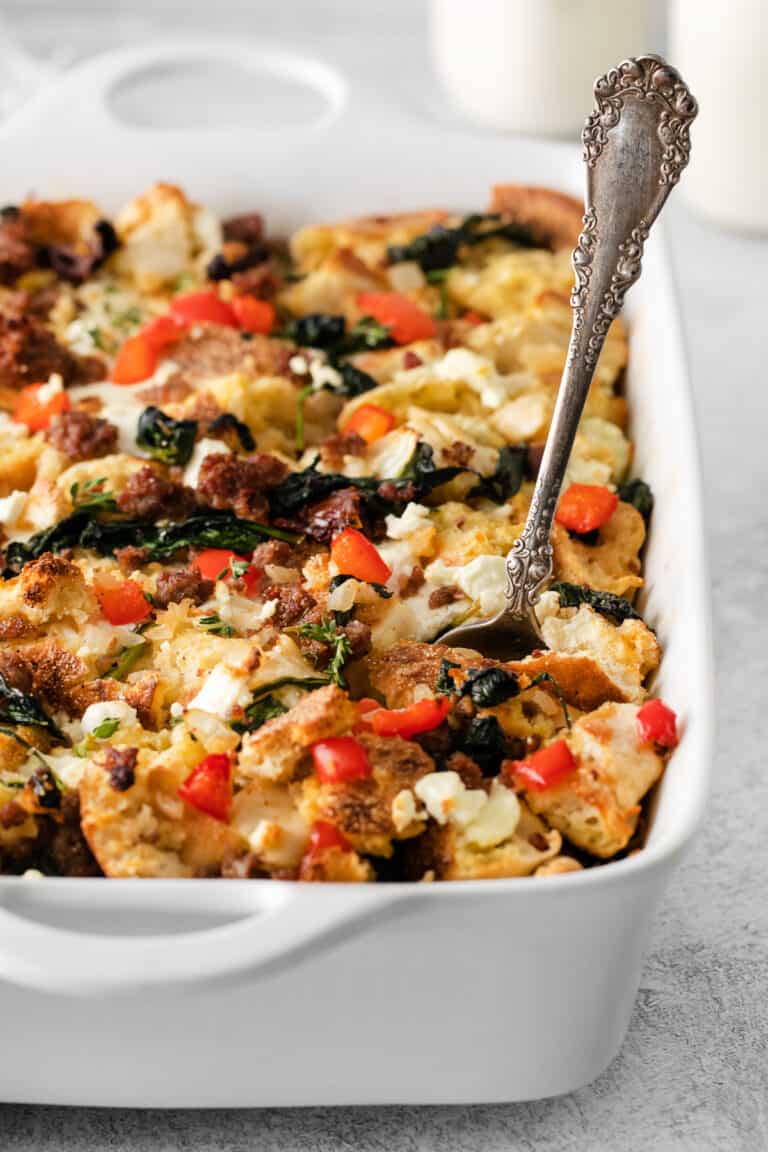 Storage '
After you have baked this breakfast bake, let it cool completely and store it in an airtight container for up to 5 days.
Can I freeze this Breakfast Casserole?
Yes, you can freeze this breakfast casserole. We recommend baking the casserole fully, letting it cool, and then cover it with plastic wrap and then aluminum foil and place it in the freezer for up to 3 months.
To reheat this breakfast casserole from frozen, bake it from frozen at 325ºF for 30-45 minutes.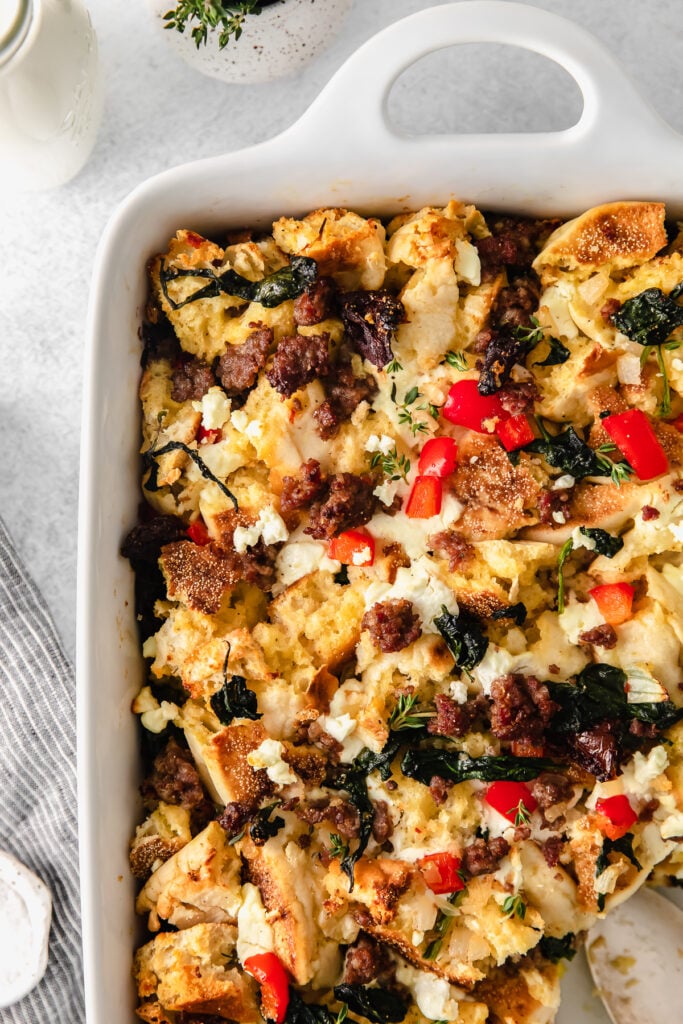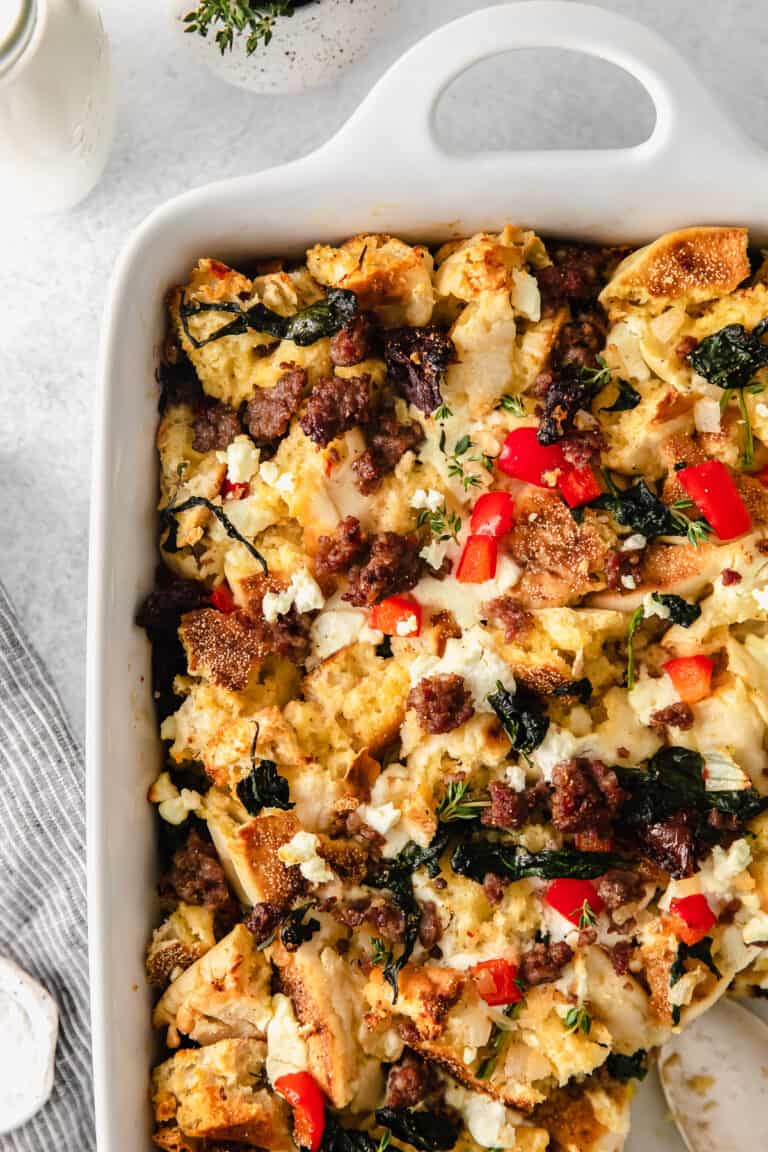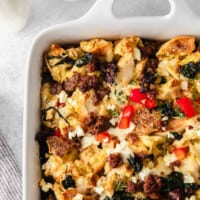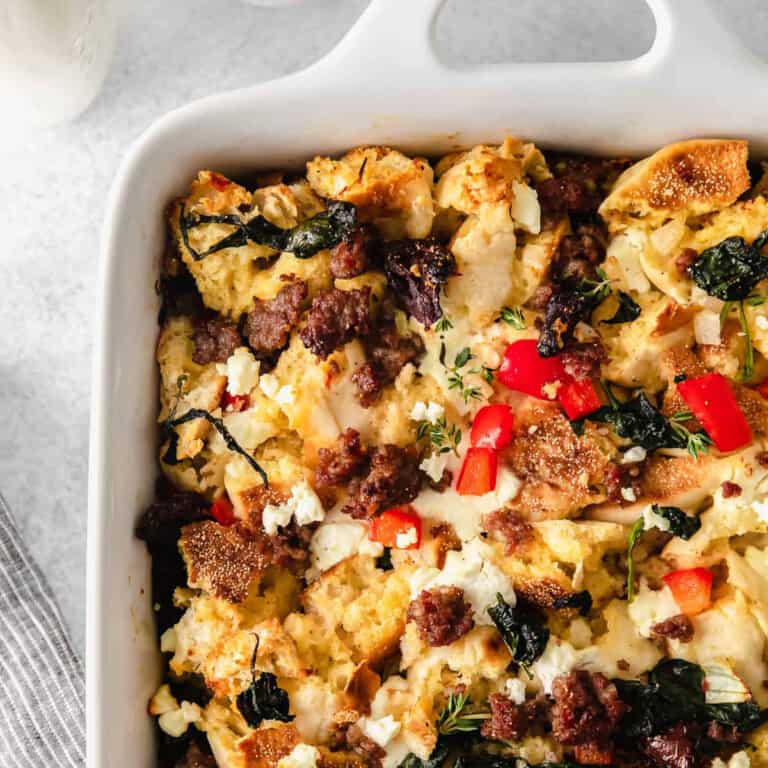 English Muffin Breakfast Bake
This breakfast bake recipe is made with fluffy english muffins, sausage, and veggies. It can serve a crowd or be a great easy breakfast for the week. 
Ingredients
16

English muffins

torn into 1-2-inch pieces

1

lb.

ground pork breakfast sausage

1

large red bell pepper

diced

½

large white onion

minced

5

oz.

fresh spinach

4

oz.

sun dried tomatoes

chopped (the kind with olive oil in it)

4

oz.

goat cheese

plus more for topping

12

large eggs

½

cup

milk

any kind (we used 2% milk)

½

teaspoon

salt

¼

teaspoon

pepper
Instructions
Spray a 9x13-inch casserole dish with non-stick cooking spray. Set aside. 

Heat a large skillet over medium/high heat and add the ground pork to the skillet pan. 

Break the sausage up into small pieces and let the sausage cook for 2-3 minutes. 

Add the red pepper, white onion, and spinach to the skillet and mix all the ingredients together. Cook all the ingredients together for an additional 5 minutes until the spinach begins to wilt and until the pork is cooked. Remove the skillet from the stove top. 

Add the English muffin pieces, pork, cooked veggies, and sun dried tomatoes to the greased casserole dish. Mix until combined. 

Dollop the goat cheese all over the casserole and then toss everything together.

In a large bowl, whisk the large eggs together. Add milk, salt, and pepper to the eggs and whisk until combined. 

Pour the egg mixture over the English muffin casserole and toss to combine everything together. Use your hands to press the ingredients into the egg mixture. 

Cover the casserole dish with tin foil and place it in the refrigerator for at least 2 hours or (preferably) overnight. 

When the casserole is ready to bake, preheat the oven to 350ºF. 

Remove the casserole from the refrigerator and leave the casserole covered. Place it in the oven and bake for 50-60 minutes, uncovering the casserole after 45 minutes. 

Sprinkle fresh goat cheese on top of the casserole and place the casserole back into the oven for 3-4 minutes or until the goat cheese is melted. 

Remove the casserole from the oven and let it rest for 10 minutes before serving. 
Nutrition facts
Calories:
499
kcal
Carbohydrates:
50
g
Protein:
25
g
Fat:
21
g
Fiber:
2
g
Sugar:
6
g