Got leftover salmon? Make this protein-packed dill salmon and eggs scramble that's made with just a few ingredients and seasonal flavors!
This recipe is the epitome of the perfect brinner. When I think brinner, I think savory breakfast. There's no better savory breakfast than using your leftover salmon from the night before to make a yummy dill salmon and eggs scramble.
What To Do With Leftover Salmon?
'Member that one time I made that lovely chopped salmon salad? I had a ton of leftover salmon and made this dish for brinner the next day. I know some of you love savory breakfast, so eating this after a workout would be PERFECT with the crazy amount of protein involved.
Let's check out the ingredients needed to get started!
large eggs
fresh dill
leftover salmon
minced garlic
olive oil
sea salt
pepper
First up- fresh farm eggs. They are a must. How gorgeous are these yolks? I really believe that free-range, farm fresh eggs are the best and they for sure taste the best! Next, fresh dill. This is the one herb where you really can't over do it. There's no such thing as "it's too dilly."
Can you Use Dry Dill?
You can totally use dry dill for this recipe, however, there really isn't anything like fresh dill and I promise it will taste better.
Then there's the salmon. We love salmon of all kinds — grilled, baked, broiled, sous vide, and pan seared. The beauty of this recipe is that any kind of leftover salmon will work!
Can you Use Canned Salmon?
Canned salmon will totally work for this recipe! If that is your cup of tea, we recommend using canned salmon in water with no extra additives.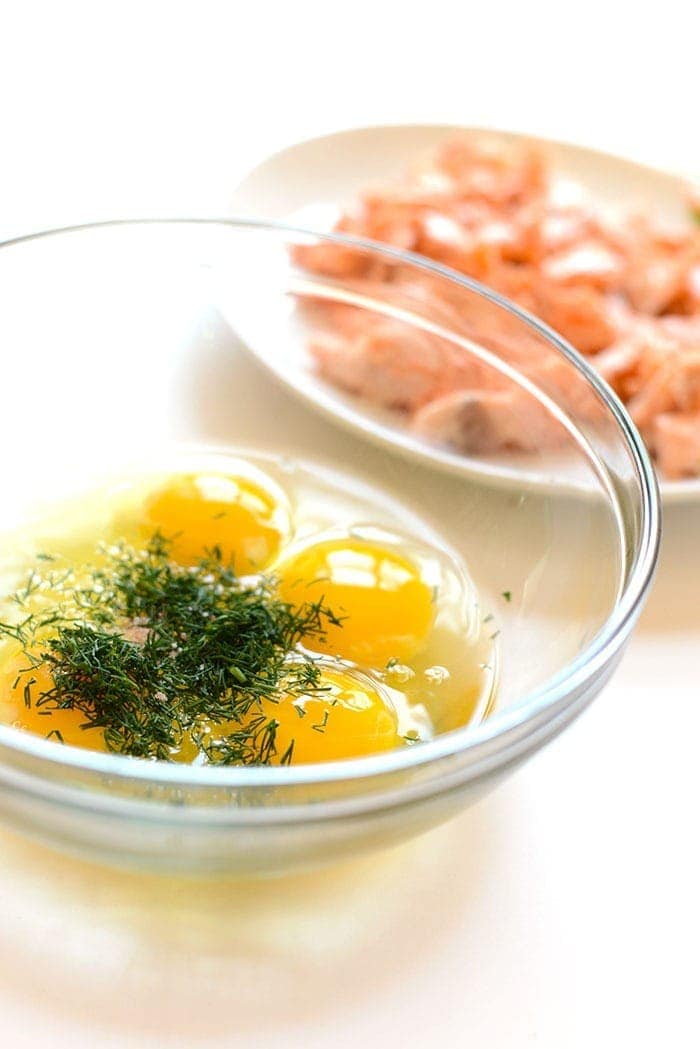 Greek Yogurt Dill Dressing
You HAVE to make the Greek yogurt topping to go with this yummy salmon breakfast. It's too good not to! It's very similar to the Greek yogurt dill dressing that I made for the salmon salad I was talking about earlier. So flipping good! #eatallthedill
So when I make this next, I'm totally going to put it between a whole wheat bagel with some peanut butter. HOW GOOD DOES THAT SOUND?!
Just kidding, about the peanut butter. I'm not THAT much of a pb freak 🙂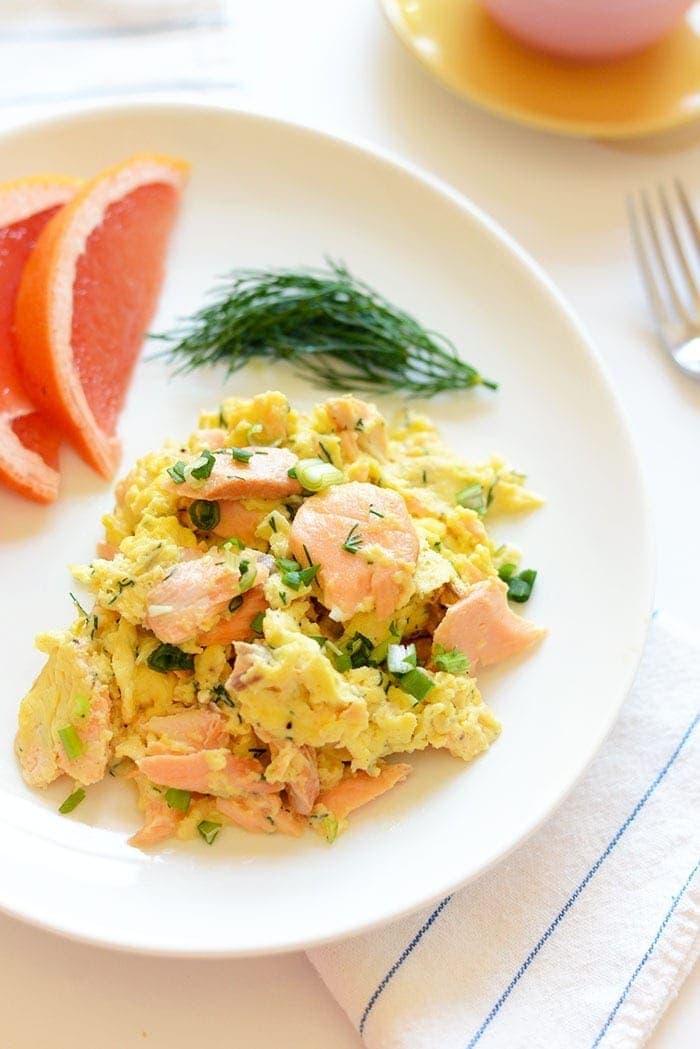 More Ways to Use Leftover Salmon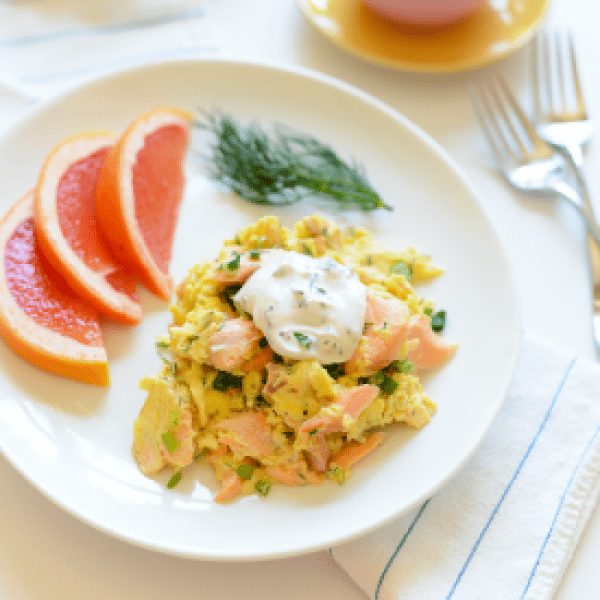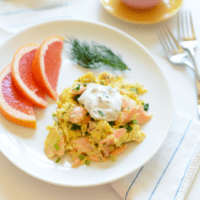 Dill Salmon and Eggs Scramble
Got leftover salmon? Make this protein-packed dill salmon and eggs scramble that's made with just a few ingredients and seasonal flavors!
Prep:
15 minutes
Cook:
5 minutes
Total:
20 minutes
Fat
16
Carbs
8
Protein
31
Ingredients
For the Scramble
4

large eggs
splash of milk, any kind

1 tablespoon

fresh dill, minced

1 teaspoon

minced garlic

2 teaspoons

olive oil

1 cup

leftover shredded salmon (~

6 oz

.)

1/8 teaspoon

sea salt
pepper, to taste
For the Greek Yogurt Topping
1/4 cup

full-fat Greek yogurt

1/2 tablespoon

minced fresh dill

1/2 tablespoon

minced chives
pinch of salt

1 teaspoon

lemon juice
Instructions
Prep eggs by whisking together 4 large eggs, a splash of milk, dill, salt, and pepper until combined.
Then, heat a medium size skillet to medium/high heat and add in olive oil and garlic. Pour in the egg mixture and cook for 1-2 minutes, using a spatula to scramble. Once the eggs have started to cook, add in cooked salmon.
Continue stirring until the eggs have reached desired texture (for about 3ish minutes).
To make the Greek yogurt topping, mix together all ingredients.
Serve scramble with Greek yogurt topping.
Nutrition Facts
Serving Size:
1/2
Calories:
304
Sugar:
3
Fat:
16
Carbohydrates:
8
Fiber:
1
Protein:
31
Category:
Breakfast
Method:
Stove Top
Cuisine:
American
Keywords: salmon and eggs