Make this Lemon Butter Pan Seared Salmon with 5 ingredients and in 20 minutes or less. Not only that, salmon is healthy and you can't feel bad eating something this good. Enjoy!
If you love this pan friend salmon recipe, check out some of our other delicious and healthy salmon recipes: Dill Salmon and Eggs Scramble, Baked Lemon Pepper Salmon, and my favorite, Lemon Dill Salmon Burgers.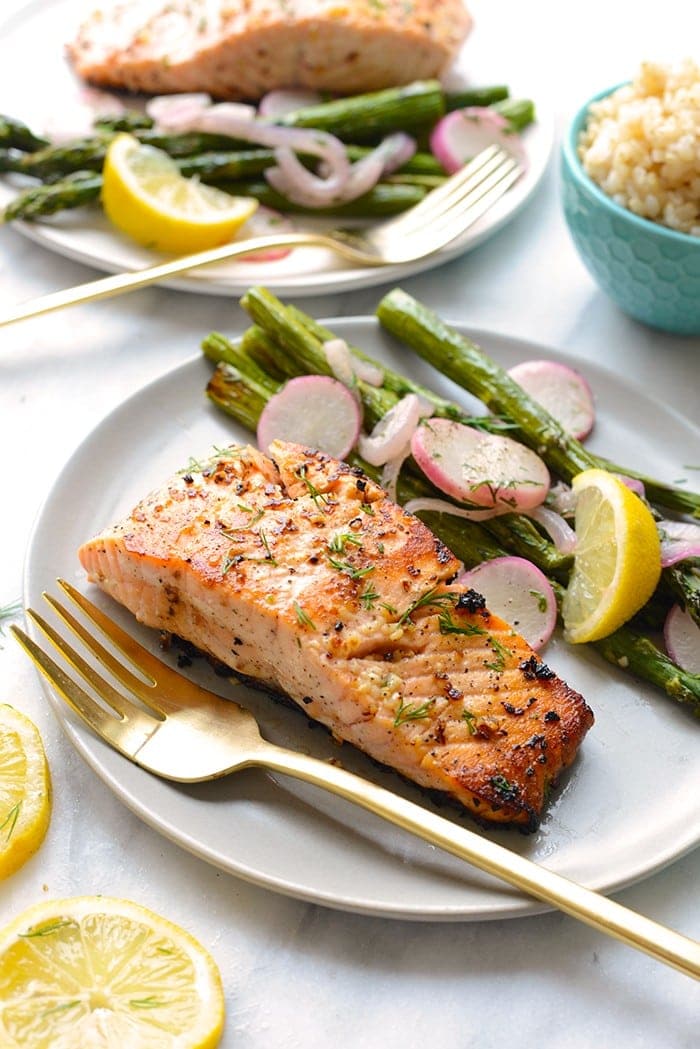 Note to self: don't edit photos of the most delicious tasting salmon when you are EXTREMELY HUNGRY. This will result in hangriness.
It was so good to be back in the kitchen with Lin yesterday! We've got some AMAZING recipes in the works for casserole week, you guys. While I was away in Scandinavia, Lin started testing a handful of casserole recipes for the big week and HOLY MOTHER OF PEARL did she do a good job. We re-tested and shot two of them yesterday and I am so excited to share them with you.
Quick & Healthy Salmon Recipe
This poor salmon recipe has been sitting in the queue for about three months. It's been pushed and shoved around the content calendar and it's finally going live. Every time I make salmon, I ask myself why I don't make it more often. For some reason, I always gravitate towards chicken even though you can pretty much flavor salmon any way you want!
This recipe is a classic. Lemon + butter + dill = everything I've ever wanted in a salmon recipe. I really enjoy pan friend salmon…even over grilled! It gives it more of a crispy outer layer, which I prefer.
How Pan Sear Salmon
Wondering how to cook salmon on the stove? Don't be intimidated about cooking your salmon in a pan because it's super simple. Here's how to cook salmon in a pan in 3 simple steps:
Add butter or oil to the bottom of your skillet (we used a cast iron pan and highly recommend using one) and turn to medium/high heat.
Once the skillet is warm, place the salmon skin-side up and sear for 4ish minutes. If you have a thick piece of salmon, sear for an extra minute or two.
Flip salmon and sear for 3-4 minutes or until it's no longer pink in the middle.
Pro Tip: if your salmon is still pink after the 3-4 minutes, flip again and cover. Sear until fully cooked!
See, so easy! We served this deliciousness with some roasted veggies, but since this is such a versatile recipe you could serve it over greens or even use the leftovers in a salmon scramble…just like this one.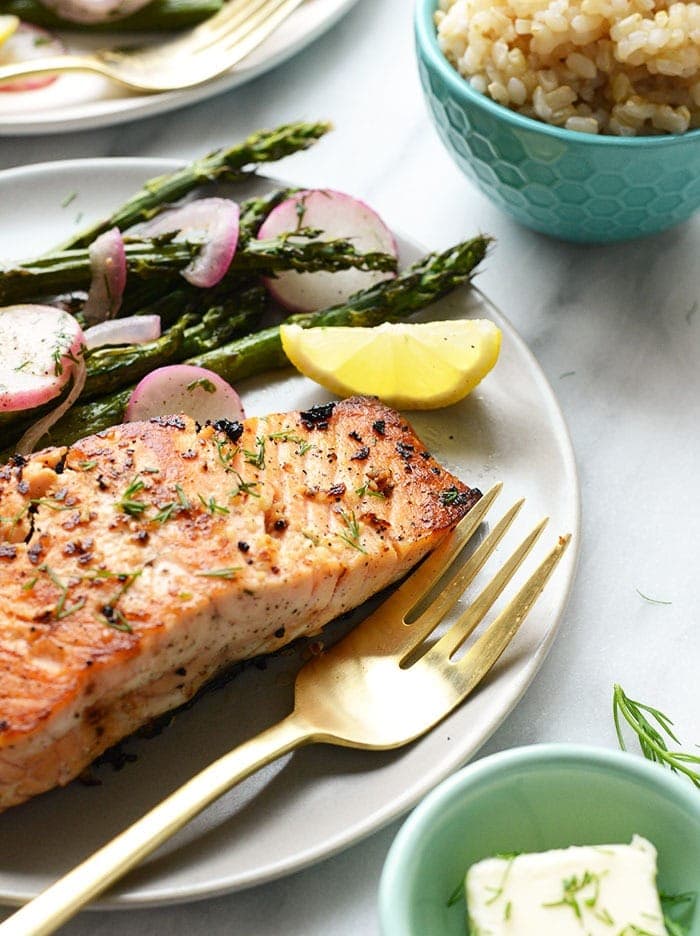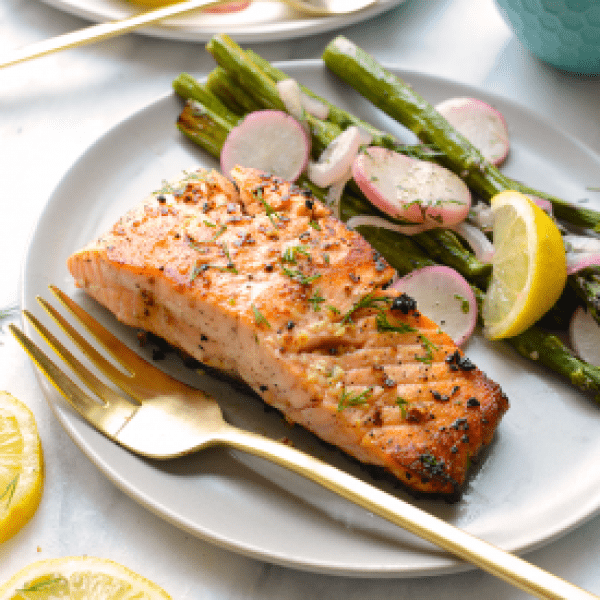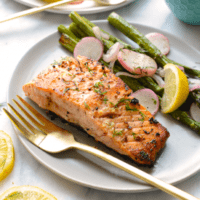 Lemon Butter Seared Salmon
Make this Lemon Butter Pan Seared Salmon with 5 ingredients and in 20 minutes or less. Not only that, salmon is healthy and you can't feel bad eating something this good. Enjoy!
Prep:
10 mins
Cook:
10 mins
Total:
20 minutes
Fat
18
Carbs
3
Protein
28
Ingredients
2/3

lb. salmon, skin on (we used

2

.33-lb. salmon filets)

2 tablespoons

butter

1/2

medium lemon, juiced

1 tablespoon

minced garlic

1 tablespoon

fresh dill
salt and pepper, to taste
Instructions
First, prep salmon by patting with a paper towel to remove moisture. Then, season with salt and pepper, to taste.
Place 2 tablespoons of butter and 1 tablespoons minced garlic into a skillet and set over medium/high heat. Place salmon skin side up in the pan and sear for 4 minutes. Flip salmon and cook for an additional 3-4 minutes until barely pink in the middle.
Once flakey and cooked, squeeze 1/2 lemon on top of salmon and sprinkle with fresh dill.
Store leftovers in airtight container.
Nutrition Facts
Serving Size:
1/2
Calories:
292
Sugar:
0
Fat:
18
Carbohydrates:
3
Fiber:
0
Protein:
28
Category:
Fish and Seafood
Method:
Stove Top
Cuisine:
American
Keywords: pan seared salmon
Because Team Fit Foodie is all about meal prep —> how perfect would this be to bring to work?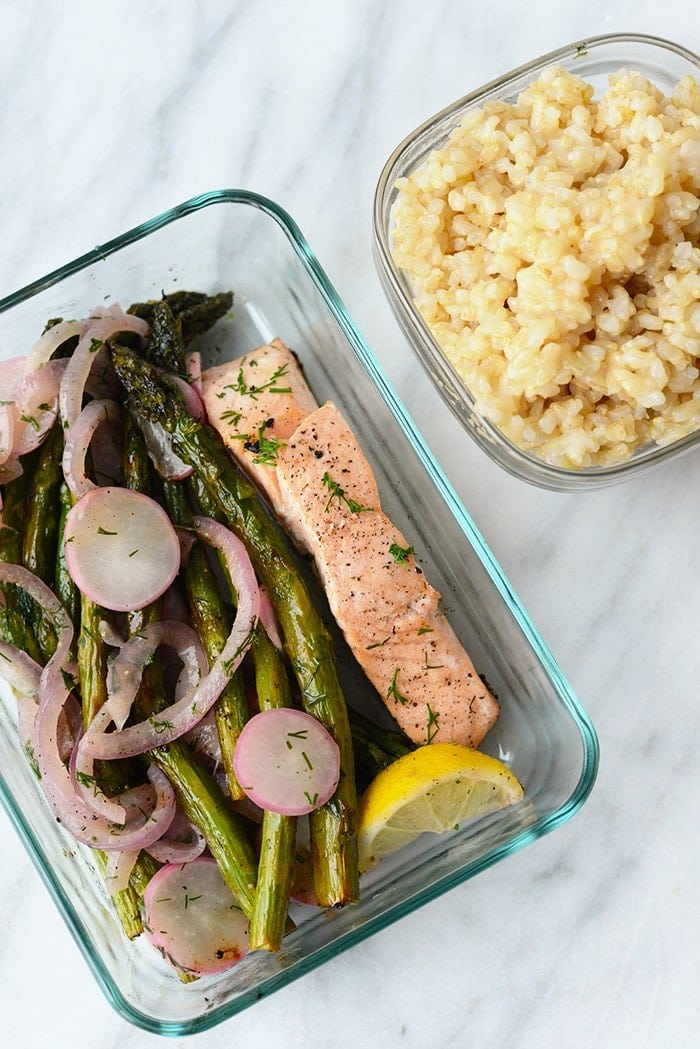 Perfectly Paired Sides