This perfectly tender and flakey smoked salmon is made with a simple dry rub and a yummy maple glaze making it perfect for crackers, bagels, or a salad!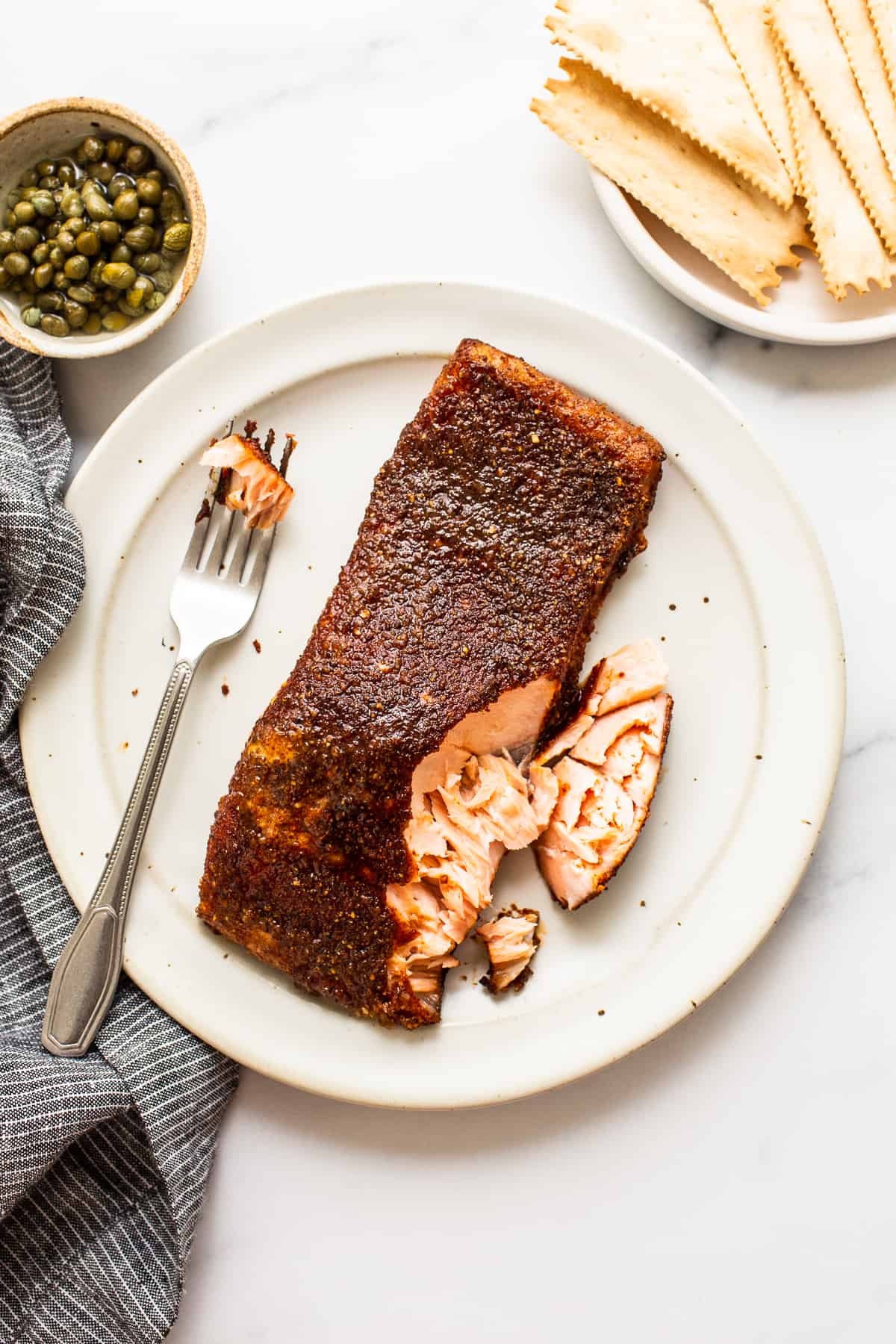 Perfect Smoked Salmon
Is there anything better than a smoked salmon appetizer that's perfectly flakey, smokey, and so flavorful? Today we're teaching you how to smoke salmon in just about 2 hours.
Our easy recipe is made with a smoked salmon dry rub and a yummy maple glaze that infuses your salmon filet with so much flavor.
We're giving directions for a Traeger smoked salmon, but you can use any kind of smoker that you have!
Ways to serve smoked salmon!
If you're still skeptical about why you should take the time to make smoked salmon, here are all the ways you can enjoy it!
With crackers
On a bagel
Smoked salmon salad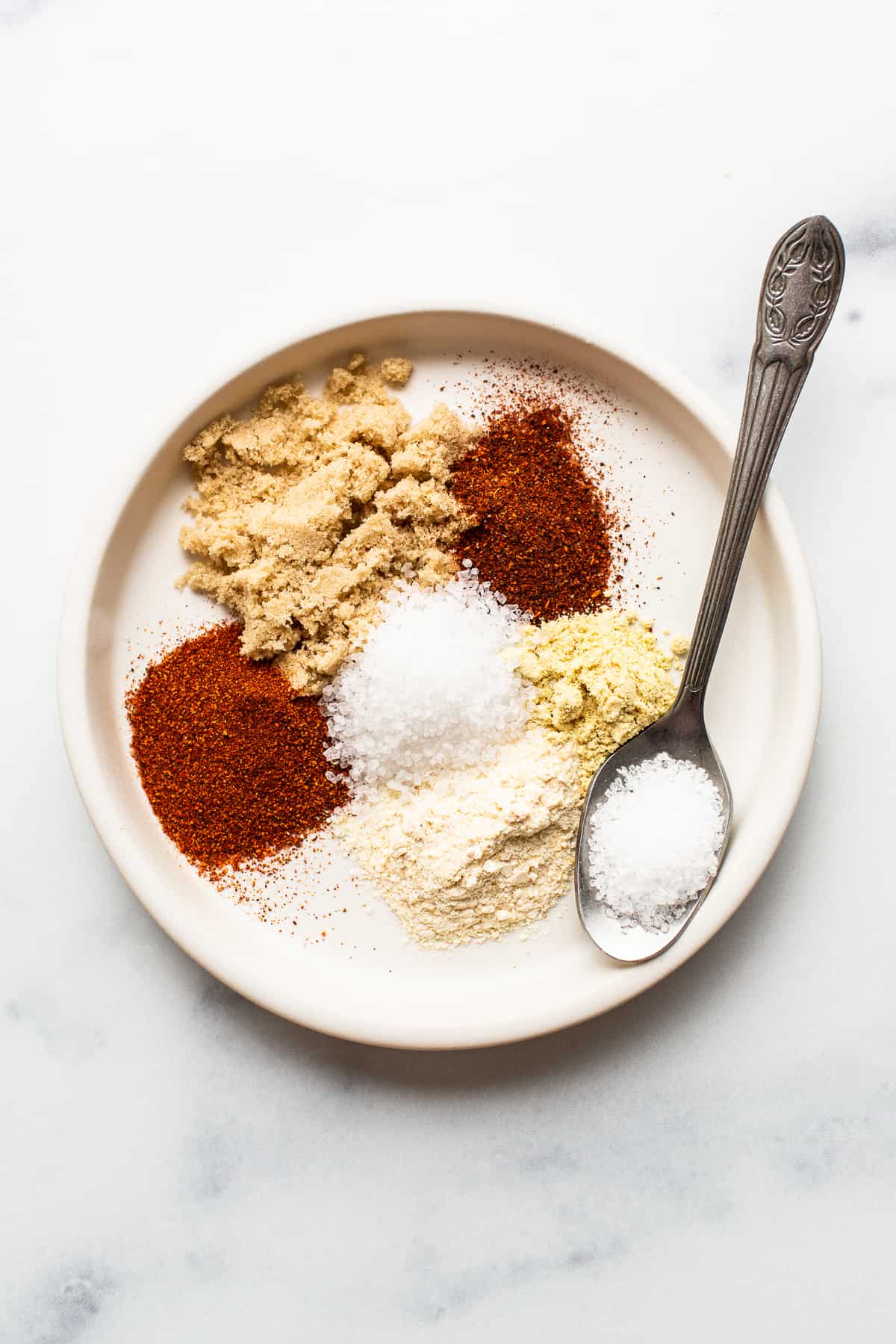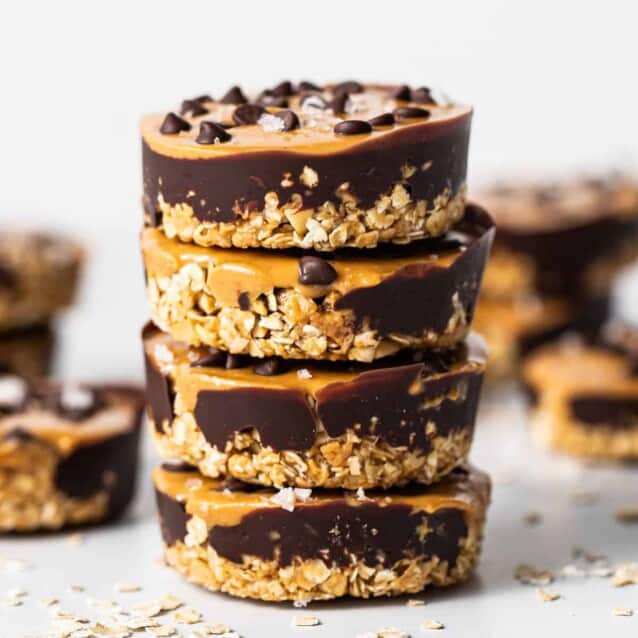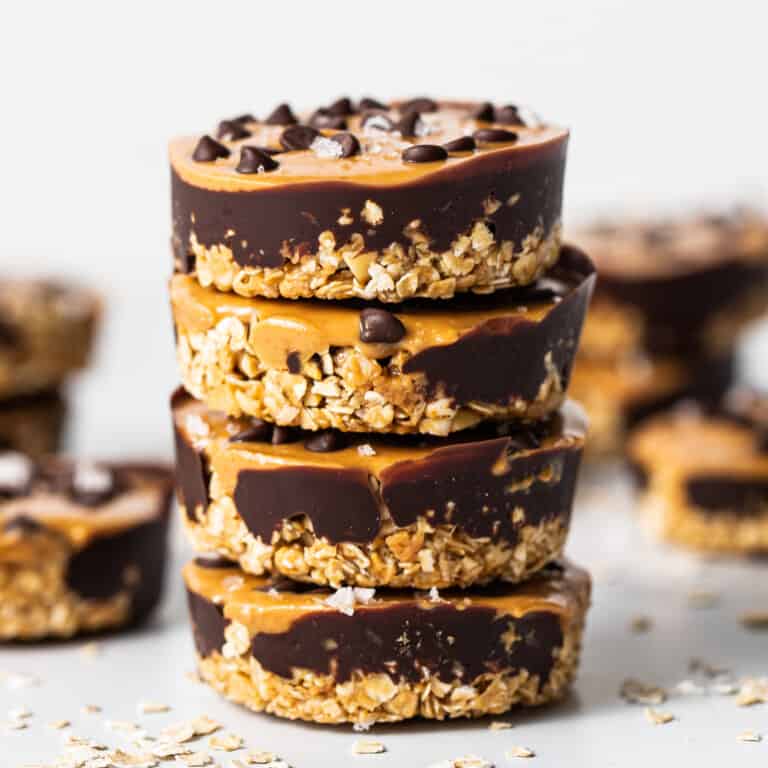 Get our Top 10 5-Star Recipes!
Join our email list for new recipes and BONUS: get our top 10 ⭐️⭐️⭐️⭐️⭐️ recipes e-book!
Featured Ingredients
Salmon filet: when in doubt, buy good salmon. We love Surrender Salmon because it's wild-caught, Alaskan salmon that is flash-frozen the day it's caught!
Dry rub: while you can absolutely smoke salmon without any spices, we're using a simple homemade smoked salmon dry rub that adds flavor and salt.
Maple spritz: yes, we're going above and beyond with a glorious maple spritz made with maple syrup, soy sauce, and Worcestershire sauce. This adds a glisten and really balances out the flavors of the dry rub.
Try Surrender Salmon!
Our all-time favorite salmon is Surrender Salmon. They catch wild-Alaskan salmon off of Bristol Bay in Alaska. The salmon is bright orange, so flakey and delicious, and truly the best.
Surrender Salmon is a family-run company based here in Minneapolis and they are good friends of ours! Support a local business if you can.
Smoked Salmon Dry Rub
salt
garlic
paprika
chili powder
mustard powder
brown sugar
Smoker Essentials
Check out all of our favorite smoker products, including what smoker we use in the Fit Foodie kitchen for testing recipes!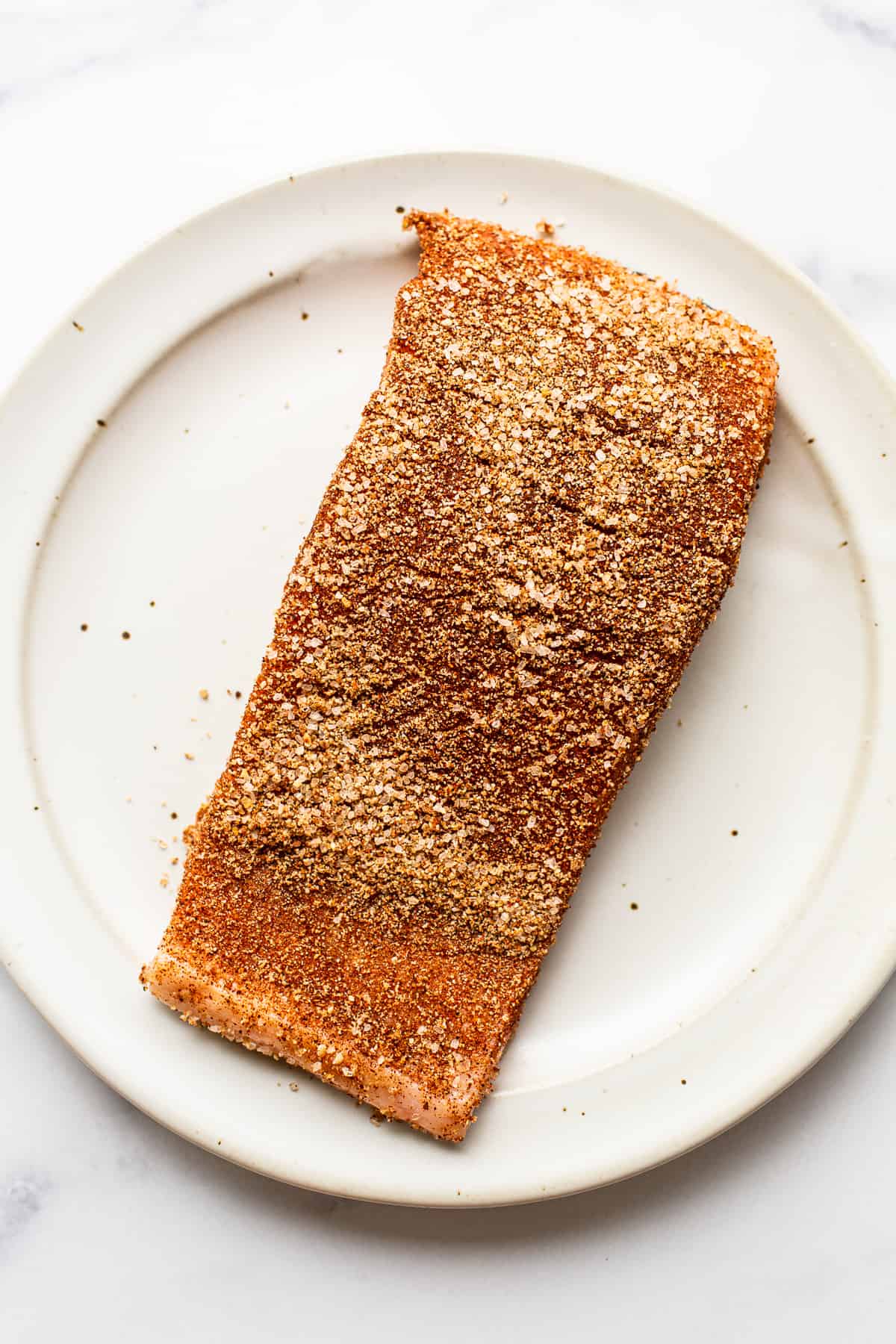 How to Smoke Salmon
Remove moisture: first, pat the salmon dry to remove any excess moisture.
Make the dry rub: combine the dry rub in a small bowl. Then, season the salmon with the salmon dry rub.
Refrigerate: place the salmon in the fridge for around 1 hour.
Smoke: let the salmon rest on the counter for 10 minutes while your smoker preheats to 225ºF. PS: we used Traeger's signature blend pellets. Smoke for 1 hour.
Make maple glaze & glaze: whisk the ingredients for the glaze together. After the salmon has cooked for 1 hour, brush it with the glaze.
Up temp: up the temperature of the smoker to 375ºF and cook for an additional 10 minutes.
Let rest: remove the salmon once the internal temp reaches 145ºF – 150ºF. Then, let rest for 5-10 minutes before digging in.
How to Give Salmon a Smoked Flavor
Don't have a smoker, but want to give your salmon a yummy smokey flavor? Here are 2 options:
Woodchip tin foil boat: if you have a gas grill, you can emulate a smoker by making a tinfoil boat of wood chips. Check out this post from Girls Can Grill for how to do it.
Liquid smoke: add a little liquid smoke to your marinade to infuse your salmon with that smoked flavor. A little goes a long way!
Latest Salmon Recipes
More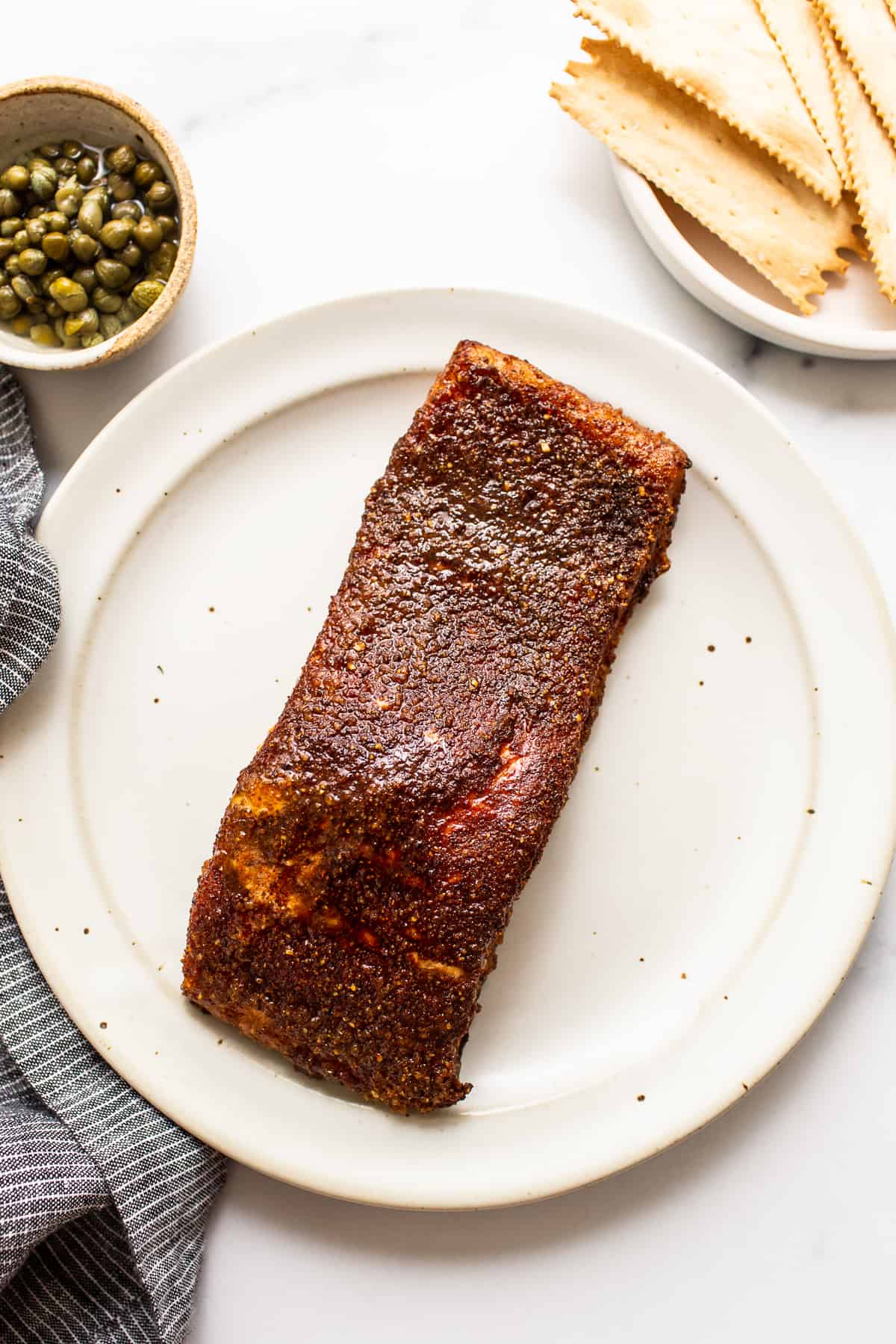 FAQ
What kind of pellets should I use for smoked salmon?

We recommend using Traeger's signature blend. But any flavor would work.
Is smoked salmon raw or cooked?

Smoked salmon is cooked and not raw. If made correctly, the internal temperature of your salmon should reach 145ºF – 150ºF, a safe eating temperature for fish.
Is smoked salmon healthy for you?

Smoked salmon is high in protein and packed with omega-3 fatty acids making it a healthy option.
What is the best way to eat smoked salmon?

The best way to eat smoked salmon is with crackers, on a bagel, or in a smoked salmon dip.
How long do you smoke a salmon?

Due to the nature of fish cooking quickly, salmon only needs to cook for around 1 hour and 15 minutes to be safe to eat.
How long to smoke salmon at 225:

A 1/2-lb. filet of salmon should take around 1 hour and 15 minutes. Cook salmon until it reaches an internal temperature of 145ºF-150ºF.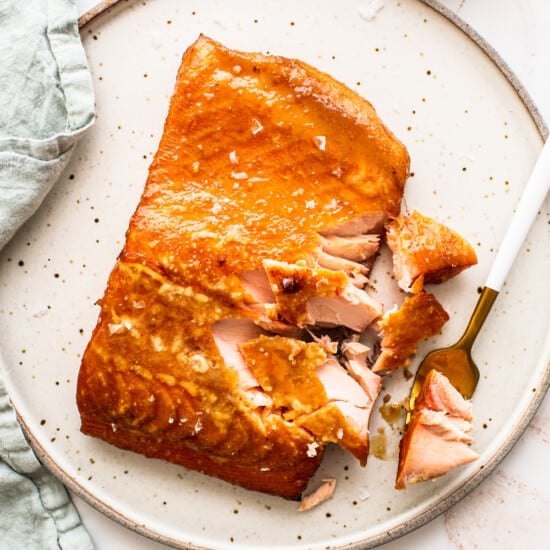 Maple Mustard
Smoked Salmon
Stick this maple mustard smoked salmon on the smoker right next to your try rub salmon.
Make It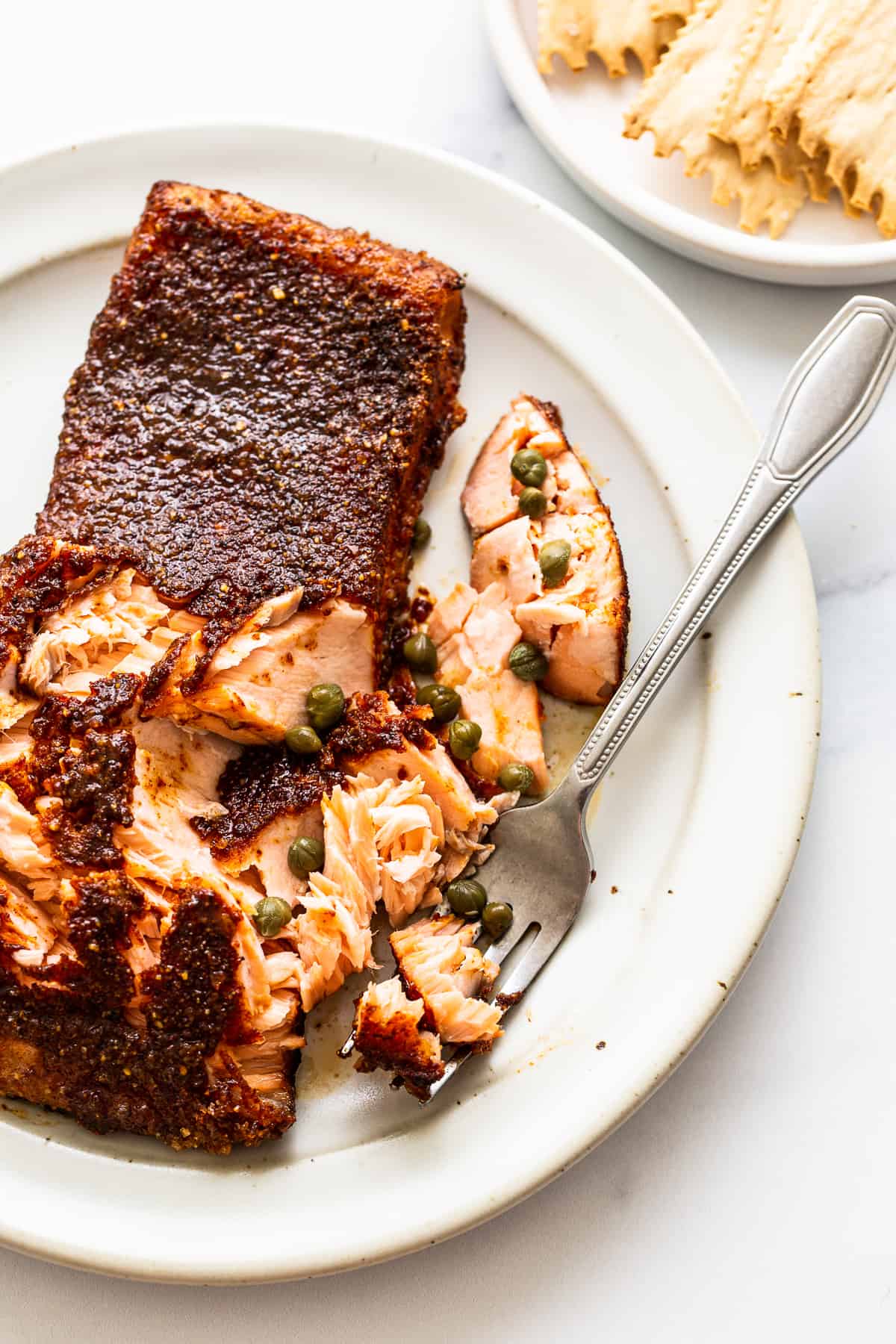 Storage
Store leftover smoked salmon in an airtight container in the fridge for up to 3-5 days.
Freezer Instructions
Tightly the chilled smoked salmon in tin foil.
Freeze for up to 3 months
To thaw: let your frozen salmon in the fridge for 24 hours or on the countertop for about 3-5.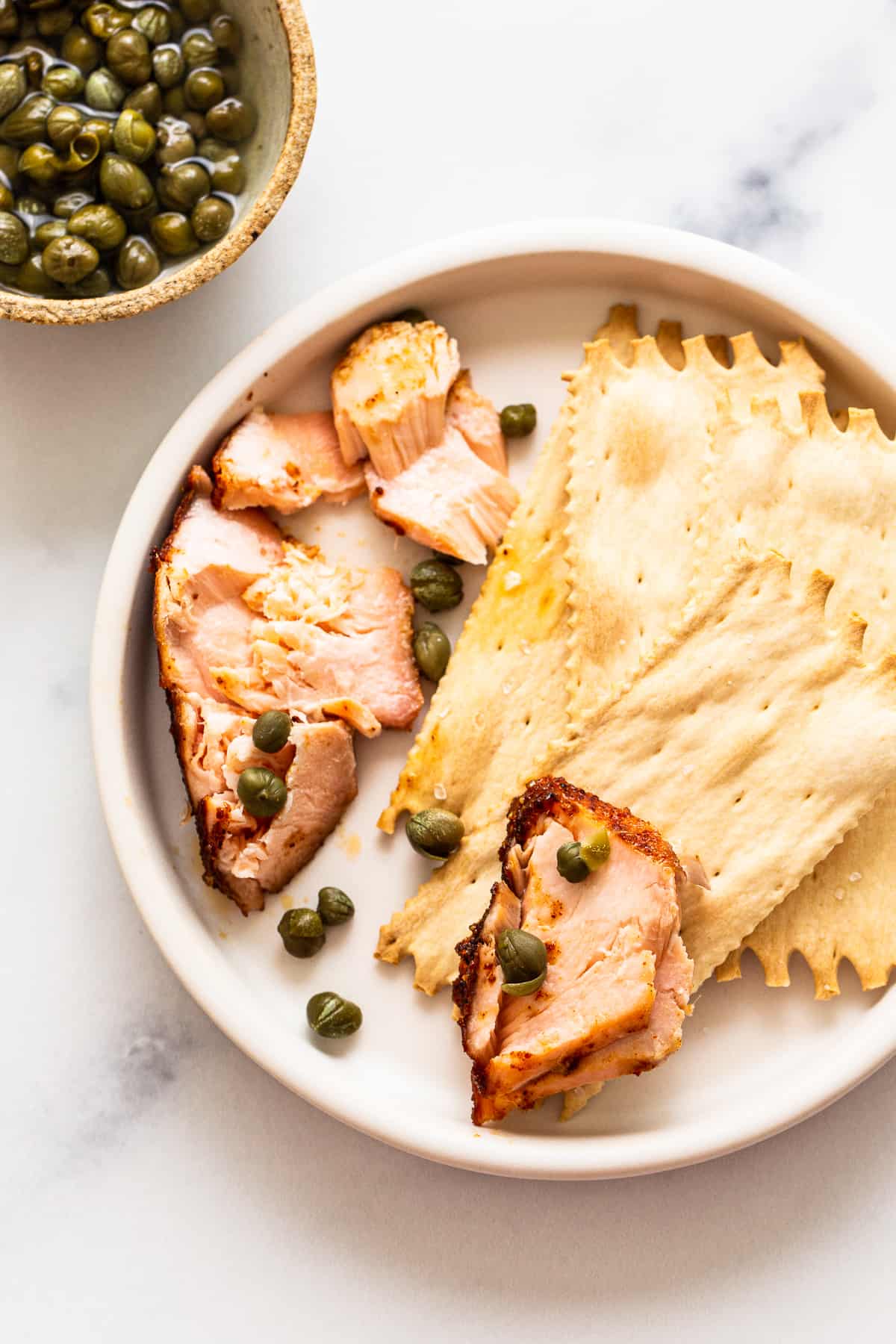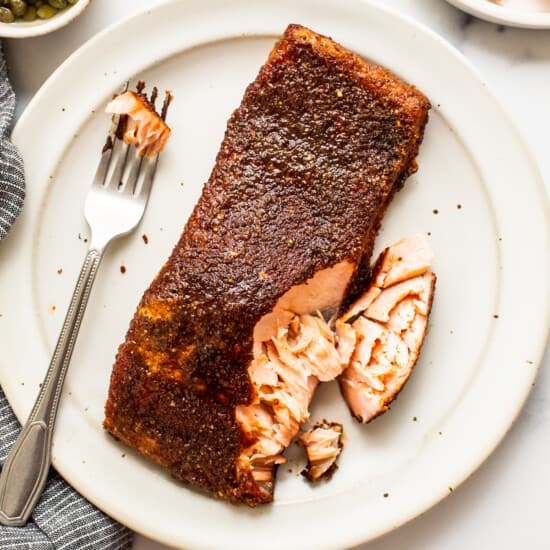 Easy Smoked Salmon Recipe
Smoked salmon is such a delcious and nutrition appetizer. This smoked salmon recipe is made with a smoked salmon dry rub and yummy maple glaze.
Instructions
Pat the salmon filet with a paper towel to remove any excess moisture from the salmon. Set aside.

Add the coarse sea salt, garlic powder, smoked paprika, chili powder, mustard powder, and brown sugar to a small bowl and mix to combine.

Sprinkle the dry rub on top of the salmon and gently massage it into the flesh.

Refrigerate for at least 1 hour (and up to overnight).

Prepare your smoker with pellets. We used Traeger's signature blend. Preheat your smoker to 225ºF and remove the salmon from the refrigerator. Let the salmon sit at room temperature for 10 minutes.

When the smoker is ready, place the salmon filet skin-side down into the smoker and cover. Smoke at 225ºF for 1 hour.

Next, make the maple glaze. Add the maple syrup, soy sauce, and worcestershire sauce to a bowl and whisk to combine.

After 1 hour of smoking, brush the salmon filet with the maple glaze and increase the smoker temperature to 375ºF. Cook the salmon for an additional 10 minutes.

Remove the salmon from the smoker when the internal temperature reaches 145-150ºF.

Let the salmon rest for 5-10 minutes.

Top smoked salmon with capers and eat immediately or place the salmon in the refrigerator to cool and serve cold.
Tips & Notes
Feel free to use any type of pellet that you would like in your smoker. We used Traeger's classic pellet mix.
We crank up the heat right at the end to caramelize the glaze.
Nutrition facts
Calories:
83
kcal
Carbohydrates:
7
g
Protein:
8
g
Fat:
3
g
Fiber:
1
g
Sugar:
5
g
Photography: photos taken in this post are by Ashley McGlaughlin from The Edible Perspective.