Seriously delicious smoked chicken thighs made with an easy, flavorful chicken marinade!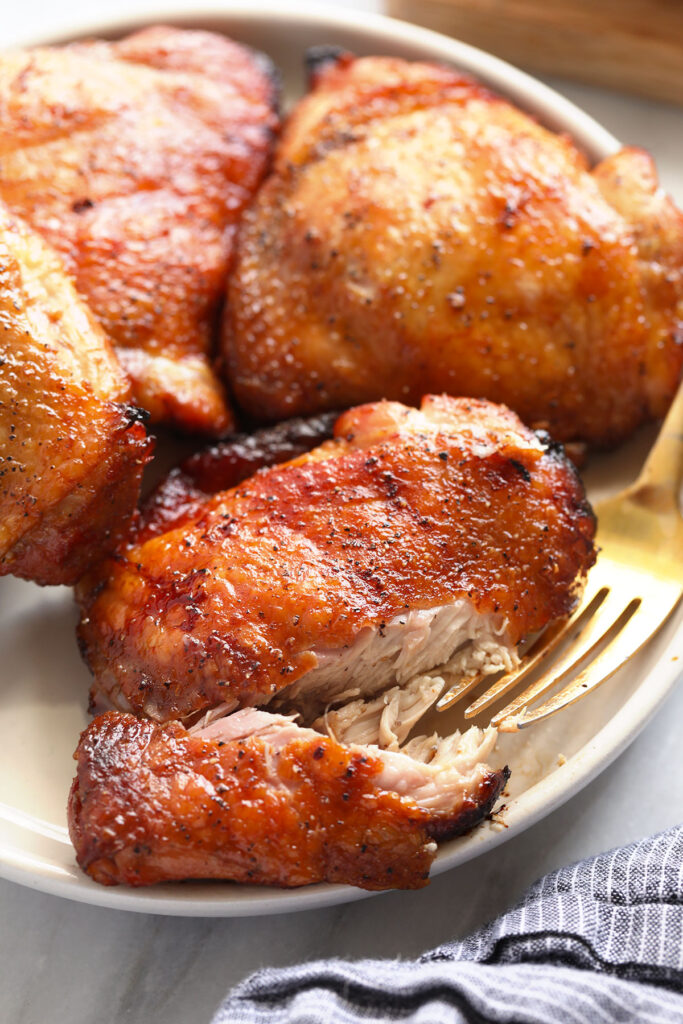 Smoked Chicken Thighs
How do you end up with juicy chicken thighs with crispy chicken skin every time? Smoke those thighs! If you are a fan of smoking meat these smoked chicken thighs are going to be your new favorite chicken recipe.
Tools You Need
Along with a smoker here are a few other things you will need to make these smoked chicken thighs.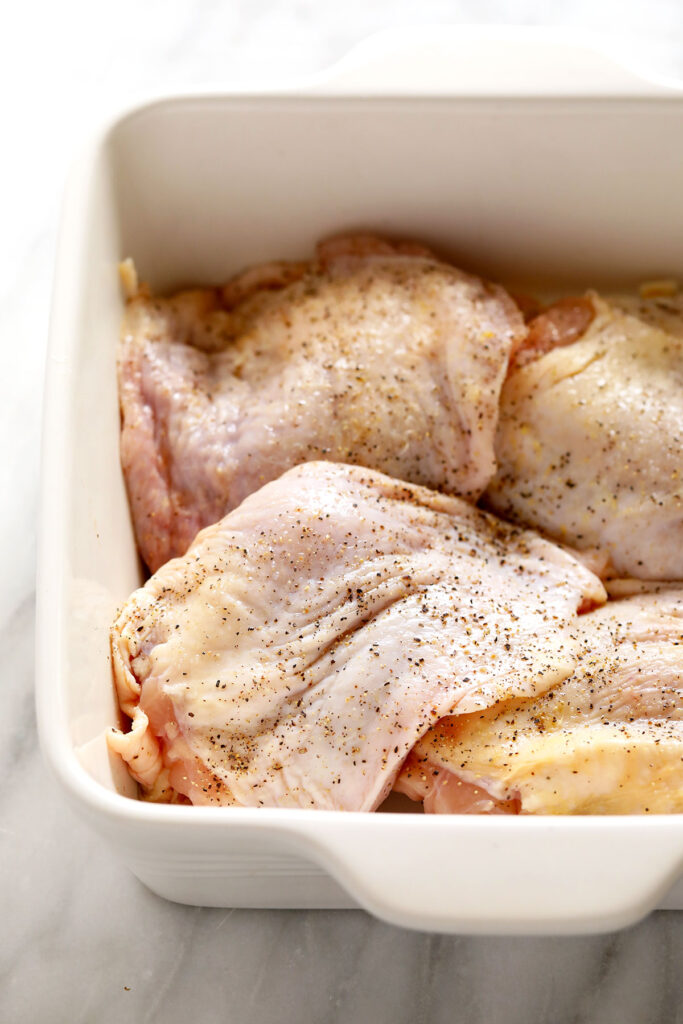 Ingredients You Need
Below are all of the ingredients you need for these smoked chicken thighs, along with the ingredients for the chicken marinade. We used a very similar marinade to our grilled chicken marinade and it is so flavorful!
Chicken thighs- we suggest using bone-in and skin-on chicken thighs when you are smoking chicken thighs. Why? Because you are cooking them for so long at a low temperature you want hearty chicken thighs so you don't end up with overcooked chicken.
Balsamic vinegar– we use a little balsamic vinegar in the marinade to both sweeten up the marinade and caramelize the chicken skin.
Olive oil- we suggest using olive oil as the fat and oil base of the marinade, it has great flavor.
Worcestershire– worcestershire sauce adds a vinegar and umami flavor to the marinade!
Honey– we used honey to balance out the savoriness of the marinade. It also adds to the caramelization of the chicken skin.
Dijon mustard- the mustard adds the perfect amount of bite to any marinade.
Lemon juice + zest- you need a little citrus is the perfect addition to any chicken marinade.
Minced garlic- don't ever skip the garlic!
Red pepper flakes- the spice in this marinade is a little bit of red pepper flakes. Balance out that sweet with some spice.
Salt + pepper– enhance all the flavors in your chicken marinade with salt and pepper.
How to Make Smoked Chicken Thighs
Prepare the marinade. Mix all of the ingredients for the chicken marinade in a bowl and whisk the marinade until all the honey dissolves.
Season the chicken. Before you let the chicken sit in marinade be sure to season the chicken with salt and pepper. You want to massage under the chicken skin and on top of the chicken skin for optimal flavor.
Marinate the chicken. Place the chicken in a baking dish or casserole dish with sides and pour the marinade over the chicken thighs. Rub the marinade all over the chicken and be sure the chicken is submerged in the marinade before placing it into the refrigerator for at least 2 hours or overnight.
Smoke the chicken. Preheat the smoker to 275ºF. Remove the chicken thighs from the fridge and drain the marinade off of the chicken. Place the chicken on the smoker for 1.5 hours (skin side up) and then flip the chicken over and smoke them for an additional 1-1.5 hours (depending on how big the thighs are).
Let it rest. Remove the chicken from the smoker and let them sit 10 minutes before enjoying the chicken.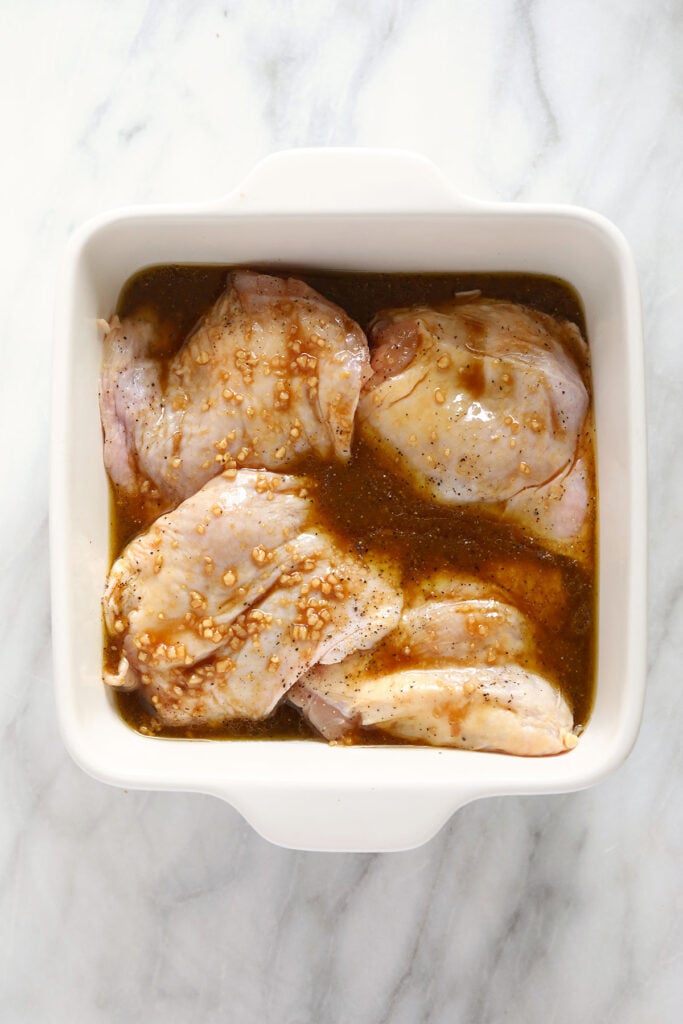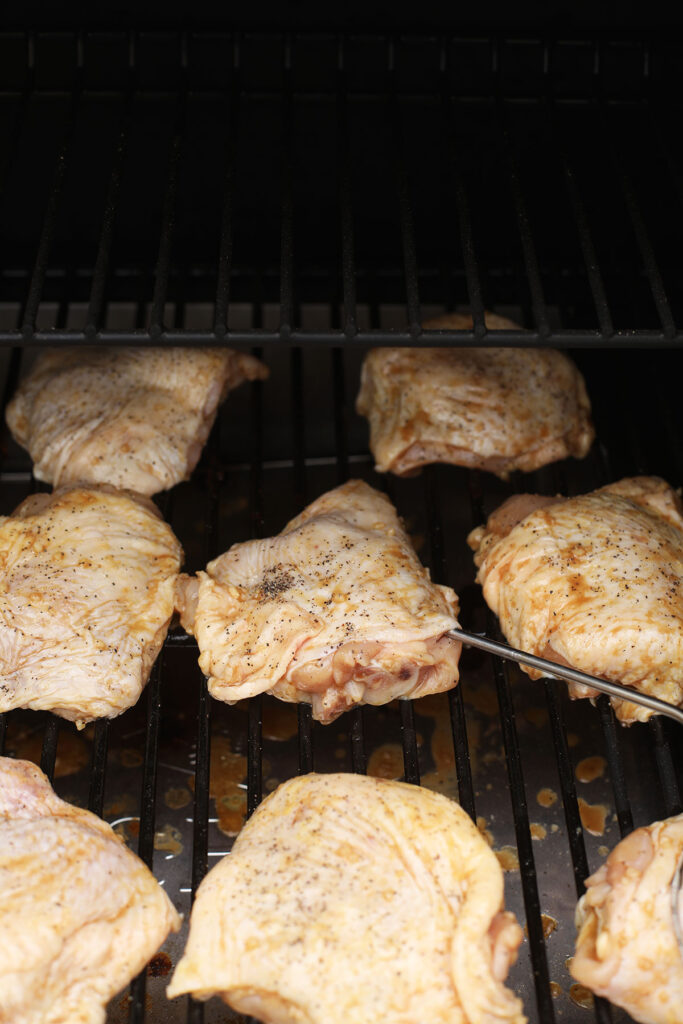 Other Tips + Tricks
Can I use boneless chicken thighs?
We do not suggest using boneless chicken thighs but if you must use boneless chicken tights you will have to cook the chicken for less time. Be sure to check the internal temperature of the chicken thighs every hour or so.
What is the internal temperature of chicken thighs?
The internal temperature of chicken thighs must be 165ºF.
What to serve with smoked chicken thighs
Serve these chicken thighs with your favorite sides or salads! Below are some of our favorites.
Baked Potatoes in Foil- One of our favorites dinner sides is a baked potato in foil. Whether you're hoping to make a grilled baked potato in foil or oven baked potatoes in foil, we'll teach you how to make a perfect baked potato every time!
Greek Salad- This Greek salad is made with sweet cherry tomatoes, cucumber, red onion, feta, and homemade Greek salad dressing! It is perfect for meal prep, a summer picnic, or just a healthy summer meal!
Broccoli Salad- This recipe for a broccoli salad gets its sweetness from dried fruit and a sugar/vinegar dressing. Plus, it's a good way to trick children into eating their veggies.
Sweet Potato Fries- Perfectly crispy baked sweet potato fries ready in 30 minutes. In this post, we're sharing all of our secrets for perfect crispy sweet potato fries every time!