Say hello to the most delicious crispy sous vide chicken thighs on the internet. These thighs come out perfectly moist in the middle, with the most delicious crispy outside.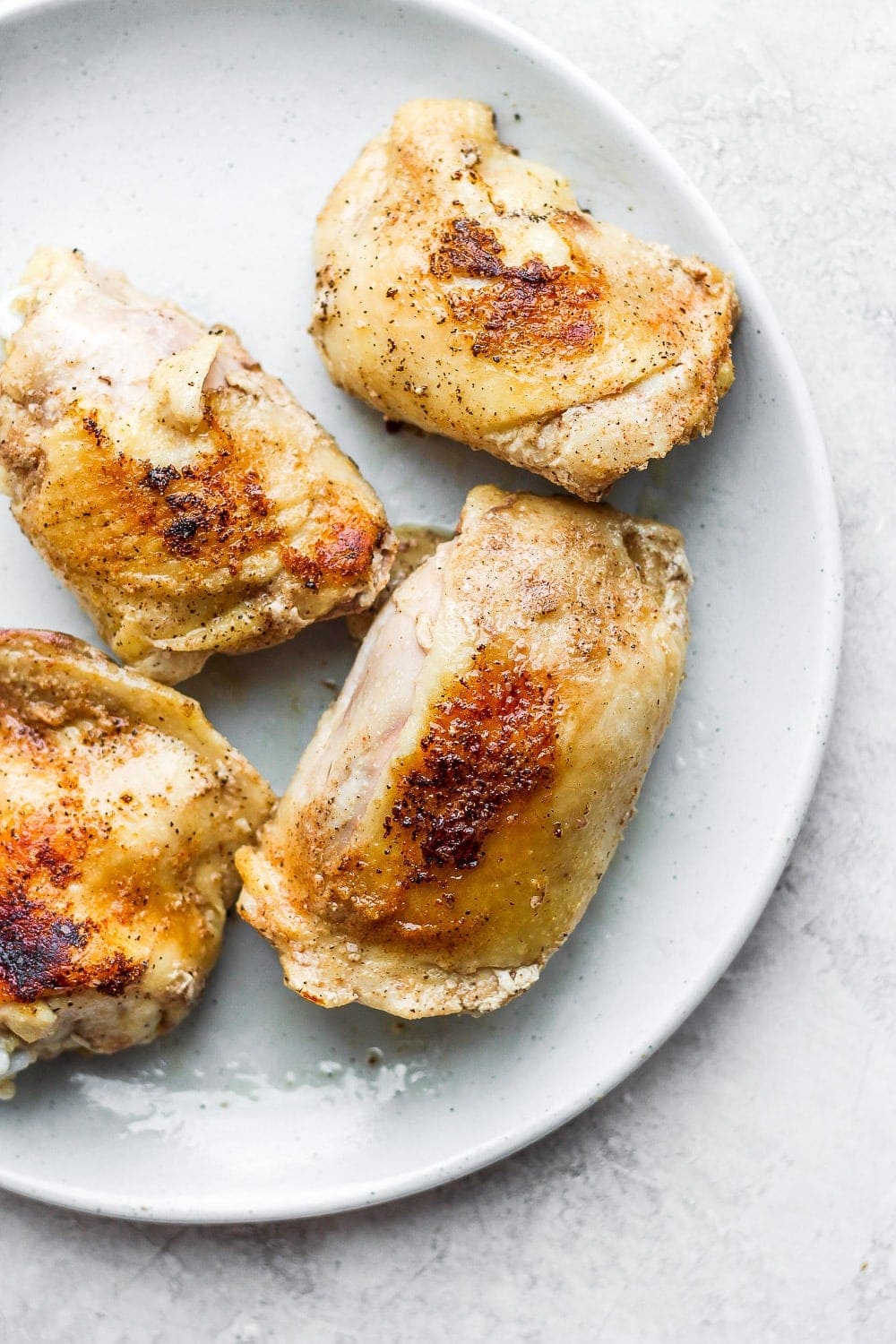 Hello, sous vide lovers! We're here to bring you one of the best basic sous vide recipes that needs to be added to your routine ASAP.
This crispy sous vide chicken thigh recipe is a great base recipe for you to flavor to your liking, or keep super basic for chicken salad, chicken tacos, etc.
Bone-In vs. Boneless
First things first, let's talk –> cut of meat! Good news for you is that we tested both bone-in chicken thighs as well as boneless chicken thighs to get the very best results.
Our main goal was to find the best chicken thighs to create a tender, juicy inside with an outside that could be seared to crunchy perfection. No one likes dry chicken and no one likes soggy chicken.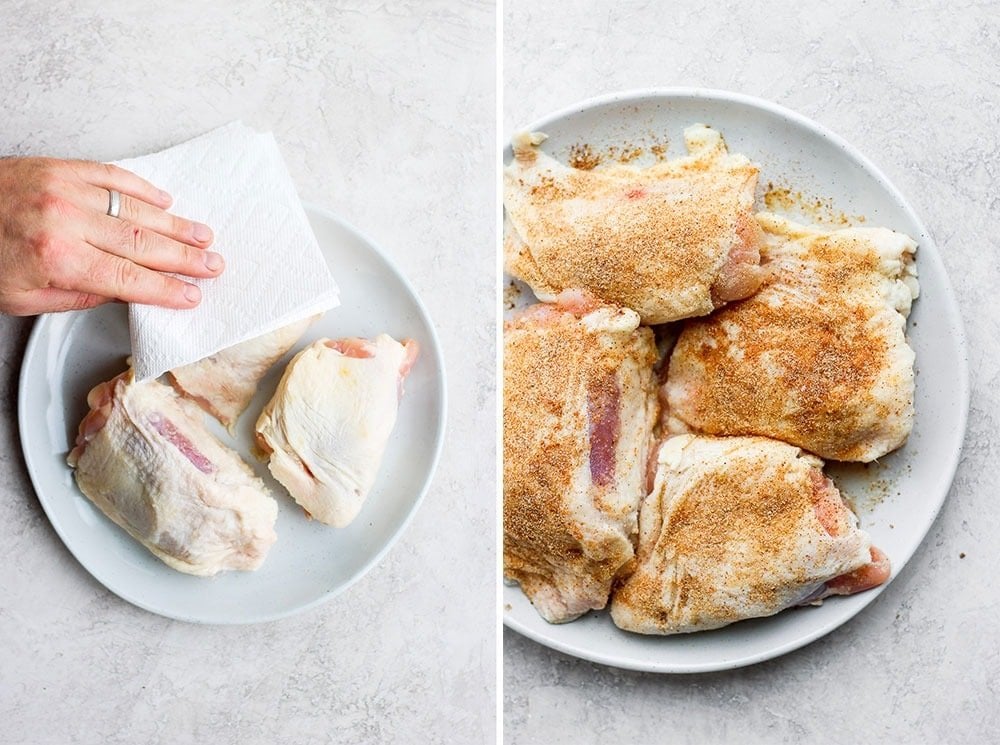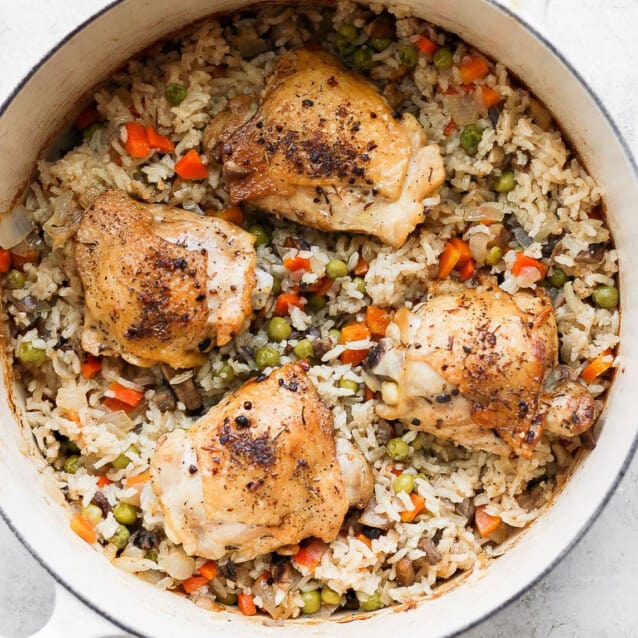 Become a Pro at Cooking Chicken!
We'll teach you everything you need to know on how to cook chicken perfectly every time + we'll share our top chicken recipes when you subscribe to our emails today!
Our Findings >>
Sous Vide Bone In Chicken Thighs
slightly moister
better flavor
needs more time in sous vide
Sous Vide Boneless Chicken Thighs
more meat for what you're buying
less time in the sous vide
still moist
good flavor
Our Conclusions
Both work! YEEHAW. It really comes down to preference whether you typically like bone-in or boneless thighs better.
Skin-on- The one thing to remember for both variations is to always buy skin-on so that you can get the crispy outside at the end.
Our preference?: we are an always bone-in kind of crew over here. Yes, you get less meat, but we love the flavor bone-in gives meat!
Seasoning Tip
For this sous vide chicken thighs recipe we thought we'd keep things basic and use our homemade chicken dry rub. We have one very important tip to share with you about dry rubs + sous vide chicken…
Remove as much moisture as possible from your chicken thighs before seasoning. We like to use 2 paper towels and press into each thigh to get as much moisture out as we can.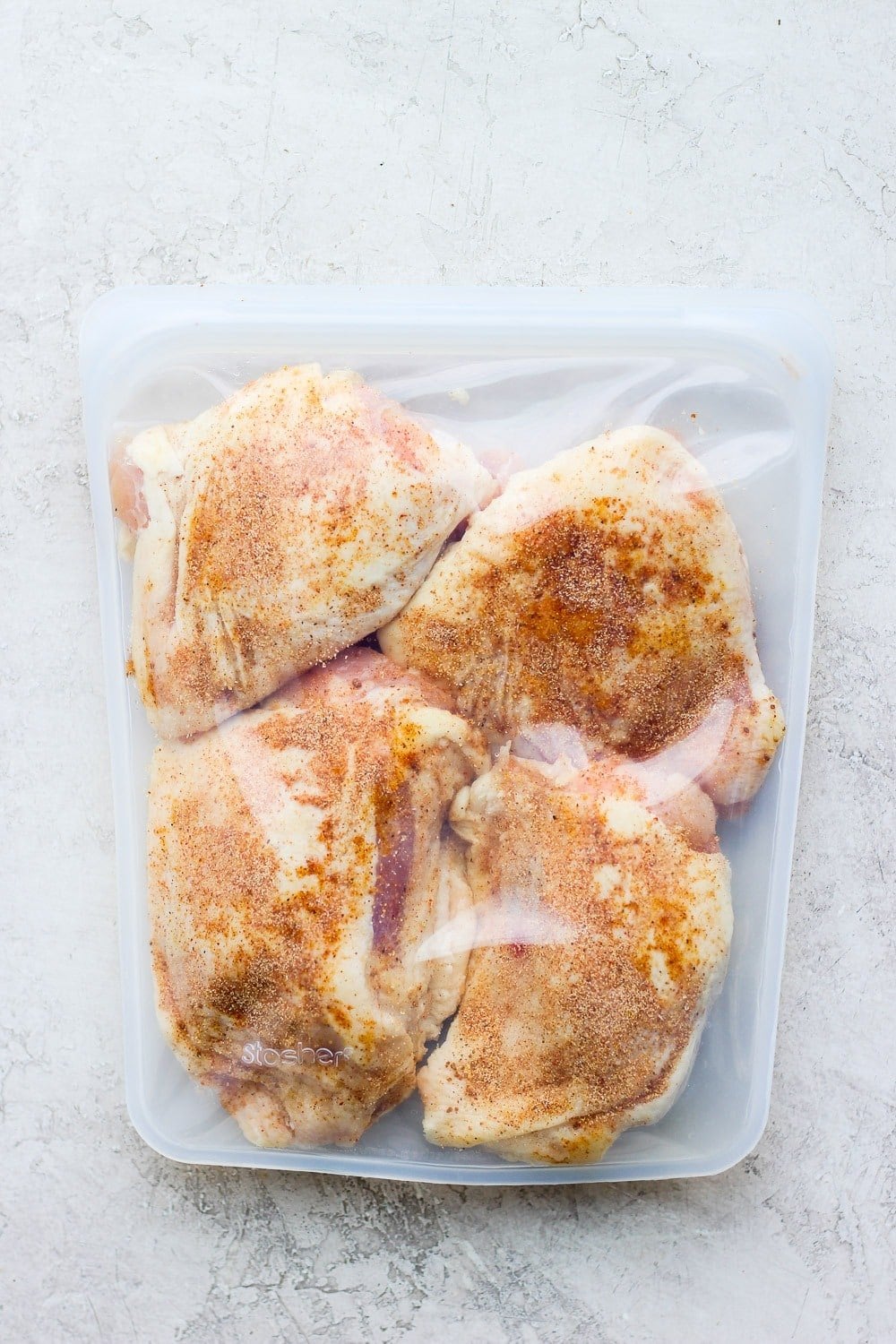 Sous Vide Cook Time
According to the USDA, the internal temperature of your chicken thighs must reach 165ºF in order to be considered safe to eat. This is why we're instructing you to set your sous vide water bath to 165ºF.
The cool thing about sous vide cooking, is that your entire chicken thigh, not just the inside, will be 165ºF once it's done cooking. So, there should be no worries about over or under-cooking.
Plus, you're going to quickly sear the outside of your thighs, which will bump up the temp overall.
Let your bone-in thighs cook for around 4-5 hours and your boneless thighs cook for around 3-4. Before searing, use a meat thermometer to check the interior temperature of your chicken just to be sure!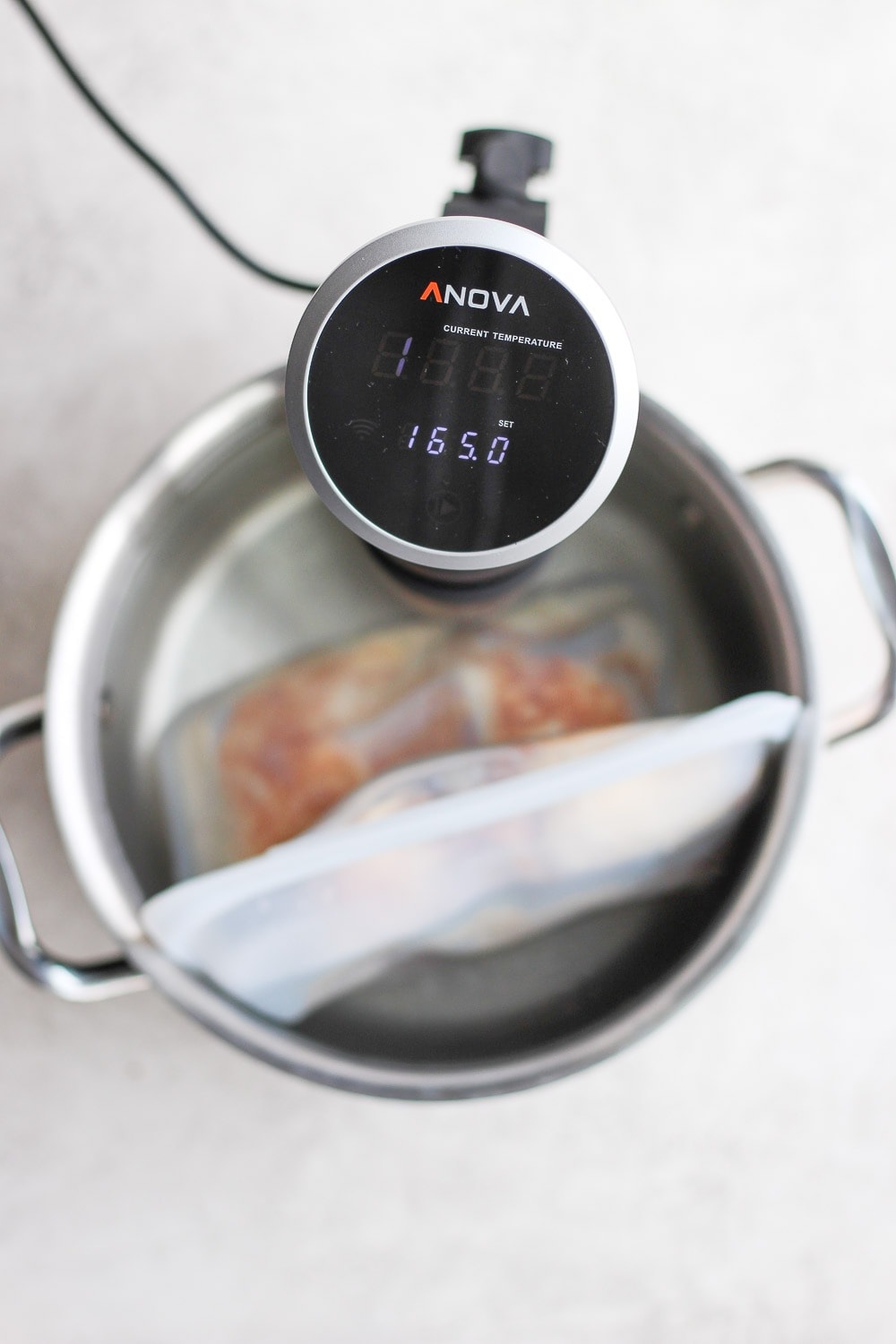 How to Make the Skin Crispy
Fool-Proof Method
Pan Fry: the best way to get crispy skin on chicken thighs is a good ol' sear on a skillet. Make sure that you use enough oil or butter because this is what helps it get nice and crispy. Also, chicken thigh skin likes to stick to pans, so that's another reason why you shouldn't be afraid to use a good amount of oil.
And, remember, the goal here is not to cook the chicken thighs anymore, but to just get them nice and crispy on the outside. So, that's why we suggest a super hot, quick sear on both sides.
Other Options
Grill: Are you a grill marks kind of person? Sous vide chicken thighs are incredible finished on the grill. Like pan-frying, the goal is a quick sear for that nice crunchy outside. So, turn your grill up to 450ºF and sear those babies for a few minutes on each side!
Flame Torch: If you're a sous vide connoisseur, you likely have a flame torch. This is my husband's preferred way to finish everything that comes out of the sous vide.
All you have to do is torch both sides of your chicken thighs and you're ready to eat!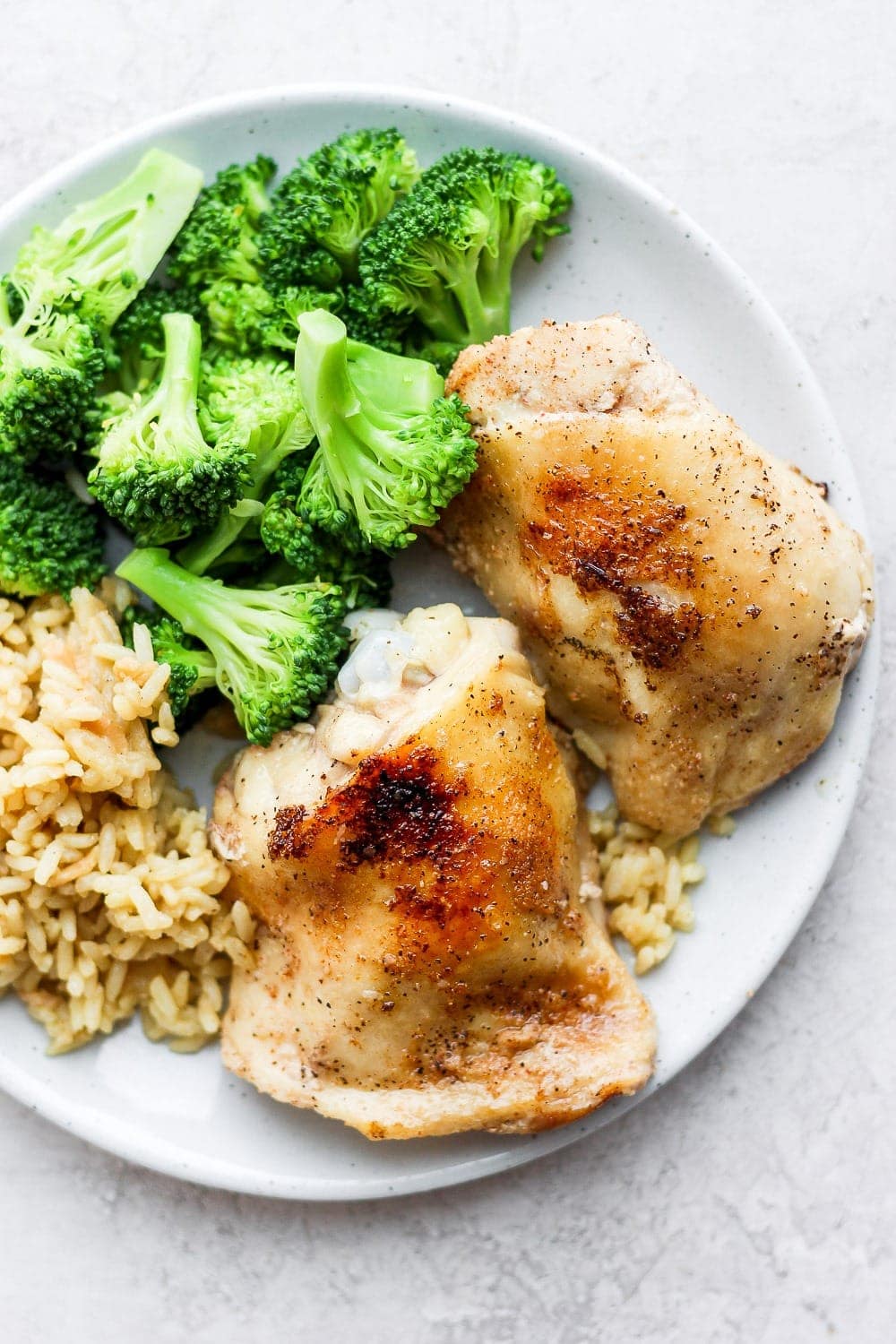 Flavor Variations
Cajun: Add a few teaspoons of our homemade cajun seasoning to your thighs instead of the chicken dry rub for a cajun-flare! It's slightly smokey with warm flavors.
Mexican: Love Mexican flavors? Use our homemade taco seasoning or fajita seasoning for the right amount of Mexican spice.
Moroccan: I love our homemade Moroccan spice mix and this would be so yummy on sous vide chicken thighs. We used it on thighs before and it comes out amazing!
What to Do with Sous Vide Chicken Thighs
More Sous Vide Recipes
Want more sous vid recipes? Check out our Guide to Sous Vide Cooking to learn the basics and some of our fav recipes below!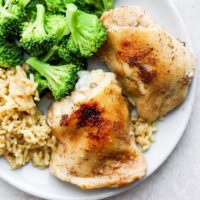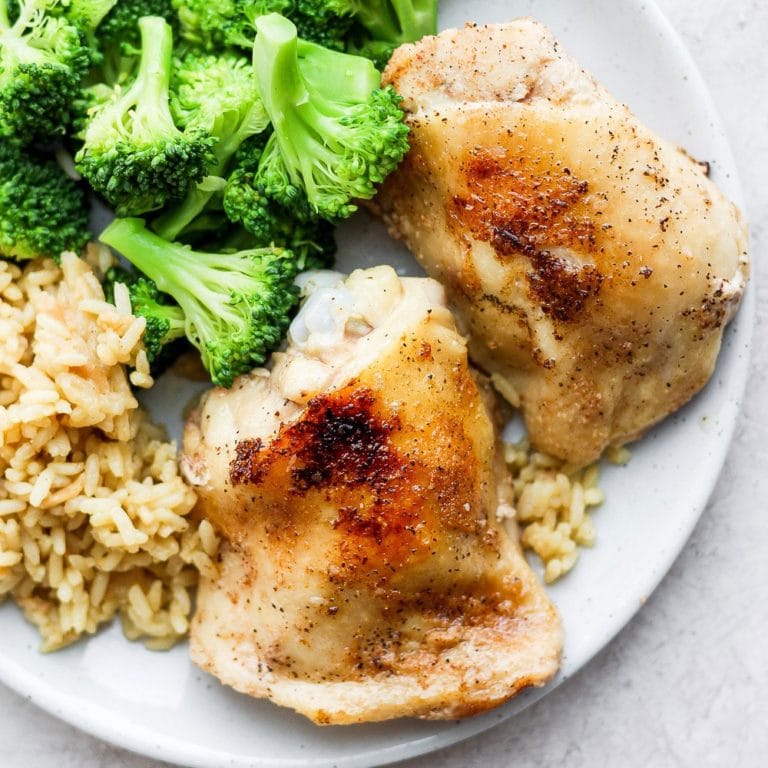 Crispy Sous Vide Chicken Thighs
Get super tender, perfectlty cooked chicken thighs with this crispy sous vide chicken thighs recipe!
Instructions
Begin by preparing the sous vide and fill a large stock-pot with water. Attach your sous vide to the pot and set your sous vide to 165ºF. You want to make sure you can fully submerge your chicken thighs in the water.

Next, remove chicken thighs from the package and remove excess moisture from the chicken thighs by patting them with a paper towel.

Next, evenly distribute the dry rub over the chicken thighs and use your hands to pat it in. Be sure the chicken thighs are fully covered in dry rub.

Place chicken thighs into a vacuum seal bag, Ziplock, or Stasher bag. Remove as much air as possible and seal. We do this so that the chicken will sink to the bottom of the pot.

Then fully submerge bone-in chicken thighs in water and let them sous vide at 165ºF for 4-5 hours*.

Remove chicken thighs from the water bath and take the chicken out of the bag. Use a meat thermometer to check the center temperature of your chicken. It should read 165ºF. If it does not, you need to continue cooking until it does.

Discard the excess liquid and set the chicken thighs aside.

Heat a large skillet over medium/high heat and add olive oil. Make sure to add enough olive oil as the skin sometimes like to stick.

When olive oil is fragrant, add chicken thighs (skin side down) to the pan and let the chicken thighs sear for 2-3 minutes.

Remove from the pan and enjoy!
Tips & Notes
If you are using boneless thighs, you do not need to cook as long. We suggest 3-4 hours instead.
Nutrition facts
Calories:
327
kcal
Carbohydrates:
7
g
Protein:
35
g
Fat:
14
g
Fiber:
1
g
Sugar:
4
g