This One Pot Moroccan Chicken is flavor-packed, nourishing, and ready in less than an hour! Whip this meal up on a weeknight or meal prep it for the week. You won't be disappointed.
We love chicken recipes that you can meal prep in no time! After you make this one-pot Moroccan chicken, try one of our best chicken casserole recipes or our delicious chicken noodle soup recipe.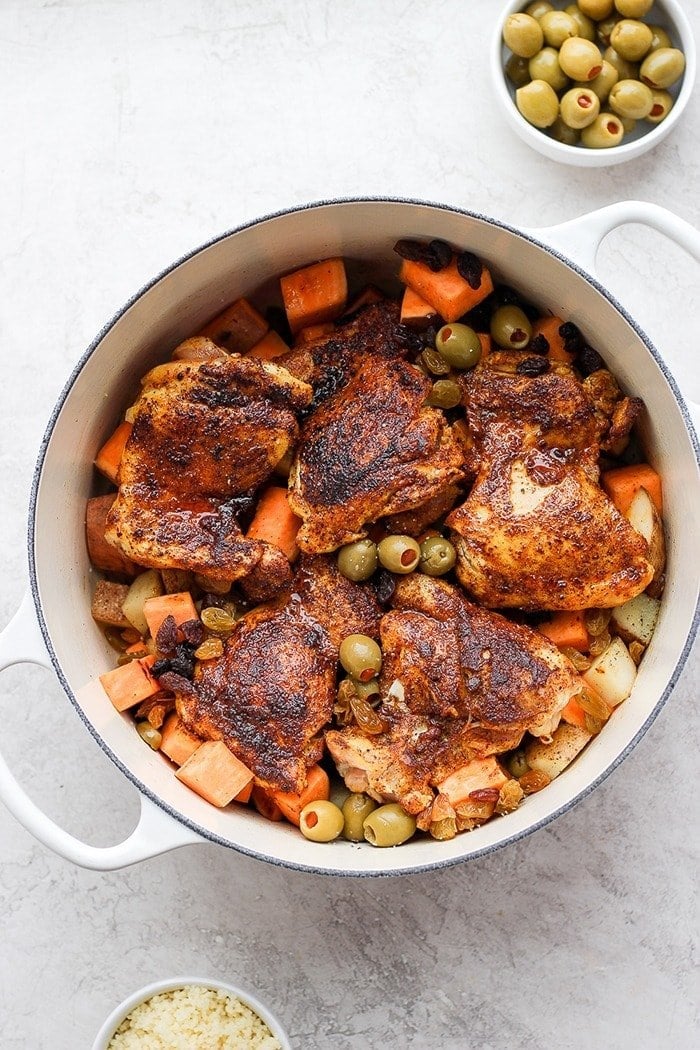 Favorite Morrocan Chicken
There is truly nothing better than a one-pot meal. Only 1 dirty pot? Yes, please. This One-Pot Morrocan Chicken features delicious seared Moroccan chicken thighs along with sweet potatoes, russet potatoes, and green olives.
Since we're all about cooking from scratch with real food, we'll teach you how to make a simple Morrocan seasoning and share simple instructions for this flavor-blasted one-pot meal!
Why you'll love it!
Feeds a crowd and is perfect for meal planning.
You only need ONE POT
It is packed with so many veggies.
This Moroccan chicken dish is an adaptation of a traditional Moroccan chicken tagine. We used our homemade Moroccan seasoning, our personal favorite veggies, and a Dutch oven instead.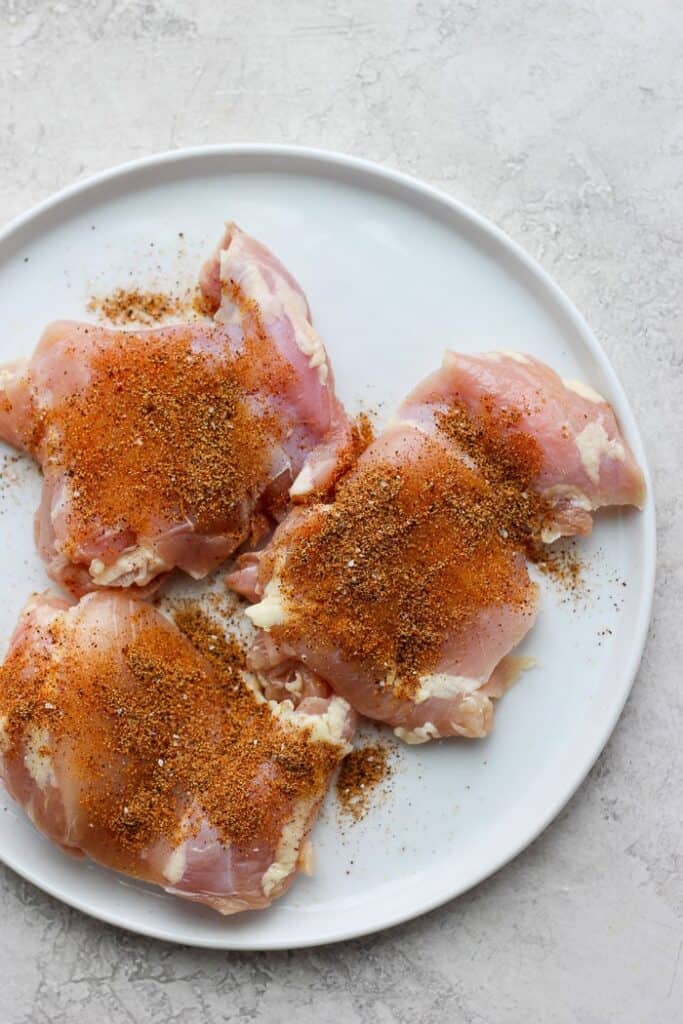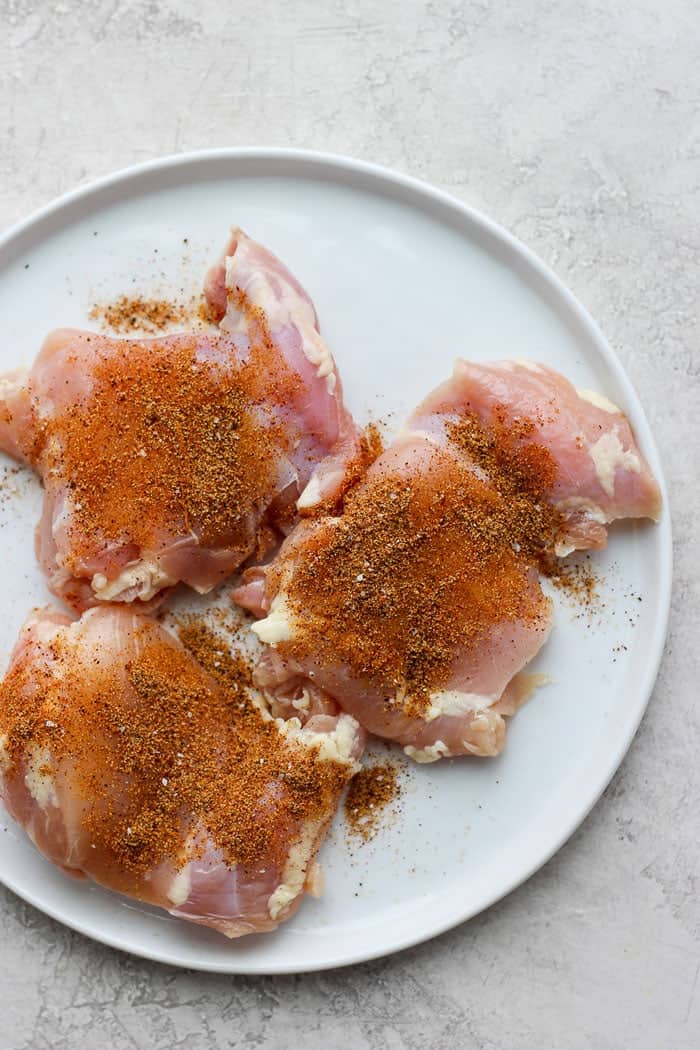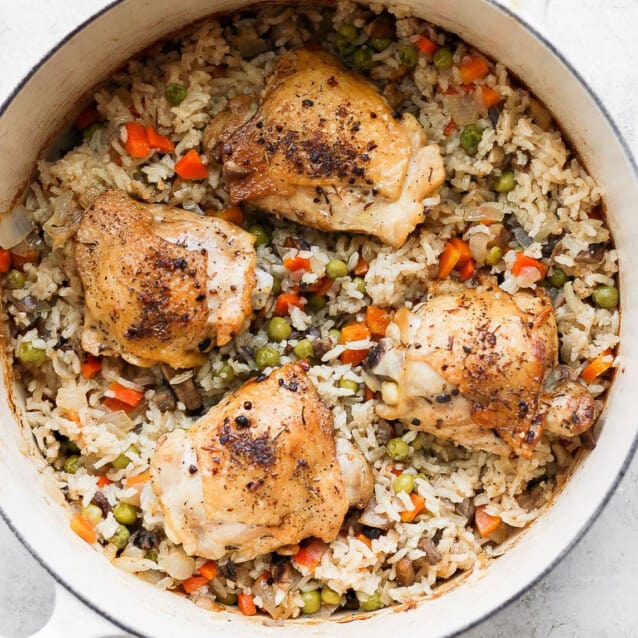 Become a Pro at Cooking Chicken!
We'll teach you everything you need to know on how to cook chicken perfectly every time + we'll share our top chicken recipes when you subscribe to our emails today!
Everything You Need to Know about Our Moroccan Chicken Thighs
Here are all of the ingredients we used plus some substitutions you can make if you are out of something or need to make substitutions to meet your personal dietary needs!
Main Ingredients
Boneless, skinless hicken thighs: we prefer a boneless thigh, but bone-in works too,
Moroccan chicken seasoning: our homemade seasoning is so delicious an only require a few ingredients.
Sweet potato: we love that sweet potatoes add a natural sweetness to this dish.
Russet Potatoes: russet potatoes are hearty and soak up all of that yummy seasoning.
Rasins: raisins will add a bite of sweet in every bite.
Green olives: green olive add a nice savory balanace to all of the sweet.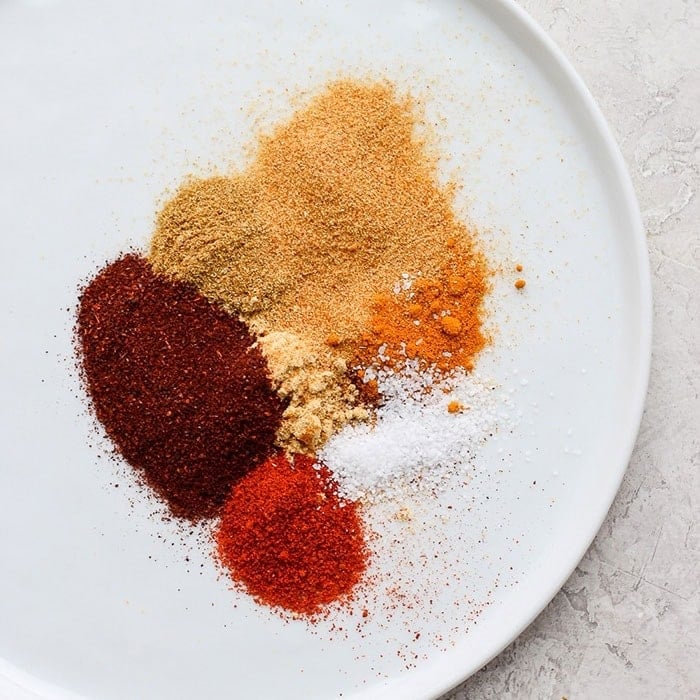 Try it!
Homemade Moroccan Spice
Moroccan spices are the perfect flavor addition for chicken thighs, roasted vegetables, and tomato-based stews!
Get Recipe
Ingredient Substitutions
Chicken Thighs: you can also use chicken breast, but the cook-time may be a bit shorter, so you will want to check on your chicken every 5 minutes to check the temperature. However, we believe chicken thighs are the best cut of chicken for this recipe!
Olive Oil: Feel free to use avocado oil, ghee, or any other oil or fat that you like. We love the flavor that olive oil gives to this dish.
Sweet Potatoes + Russet Potatoes: We used potatoes in this dish because we love the creaminess they add to the end result! If you don't have potatoes, have no fear! Feel free to use any root vegetable that you'd like- cauliflower would even work.
Raisins: Raisins are used in Moroccan cooking to add a bit of sweetness to balance out the savory and salty flavors. If you don't have raisins, we recommend using dried apricots, dried cherries, or even dried cranberries.
Green Olives: The green olives in this dish add a delicious saltiness to this recipe! You can also use black olives or capers if you would prefer those! If you don't like olives, just add a little extra salt!
Chicken broth: Any broth will do.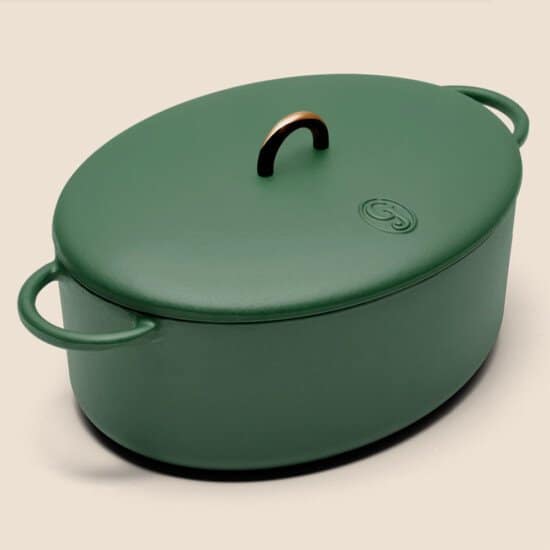 Great Jones
The Dutchess
This is hands-down our favorite Dutch oven. It's a 6.75 quart enameled cast iron Dutch oven that's super high-quality and gorgeous.
Buy Now!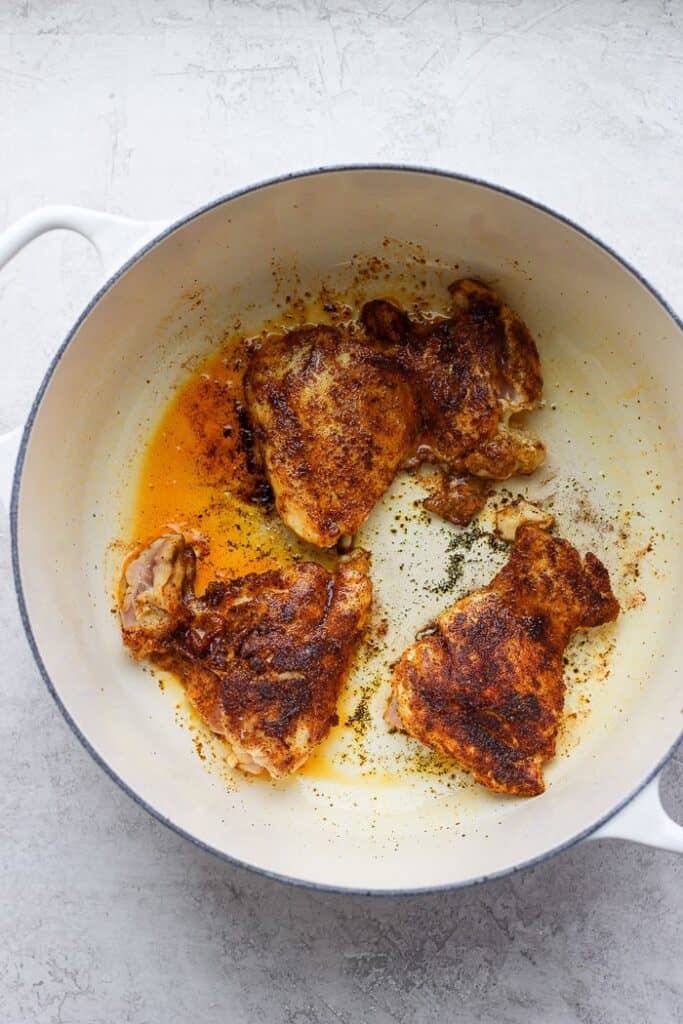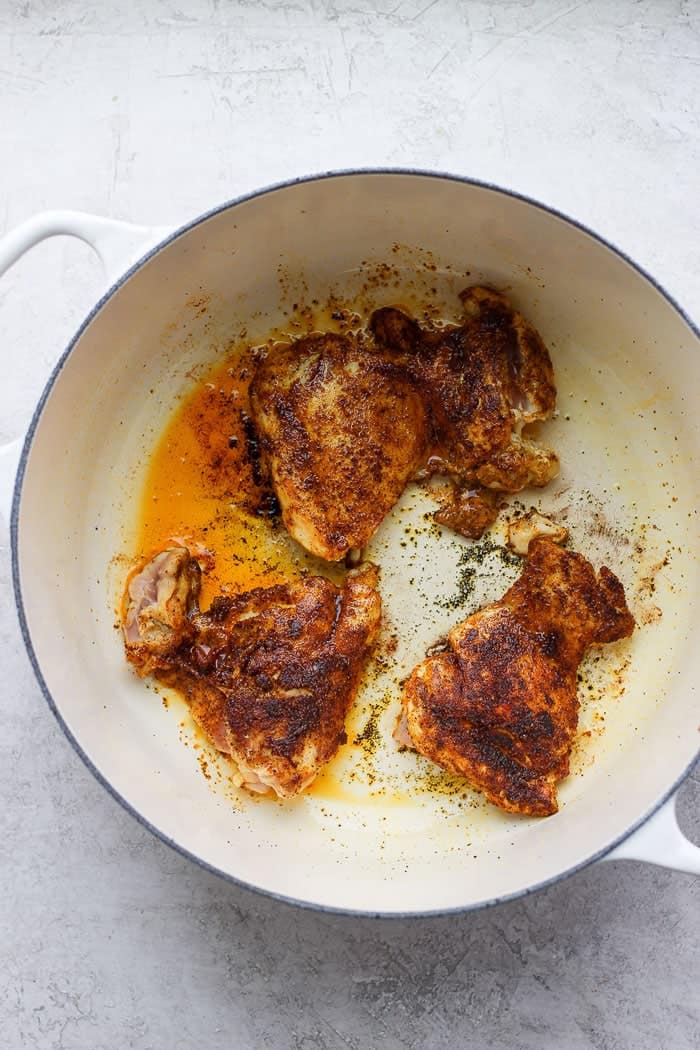 Tips for Perfect Moroccan Chicken Thighs
Spice it up. To prepare the chicken thighs before searing them, be sure you cover them completely with this delicious Moroccan spice rub. In a perfect world you would let the chicken thighs sit in the spices for at least 30 minutes, but if there isn't time, just make sure they're covered.
We also love coating meat in a spice rub, because when you sear the meat the spices caramelize and create a delicious crispy skin.
Make sure your Dutch oven is hot. Before adding the olive oil to the pot, always heat your Dutch oven. This will ensure you will have a very hot pan even before adding your oil.
Make sure the olive oil is HOT. Before you sear the chicken thighs, be sure you heat the olive oil. The olive oil should be sizzling. You want the olive oil to be hot enough where it sears the skin of the chicken thighs but doesn't cook the thighs too much before baking them in the oven.
Sear that chicken. You don't want to cook the chicken thighs all the way through. Just make sure to sear both sides to brown them.
Only sear the chicken thighs for about 1-2 minutes on each side before removing them from the pot and following the rest of the recipe.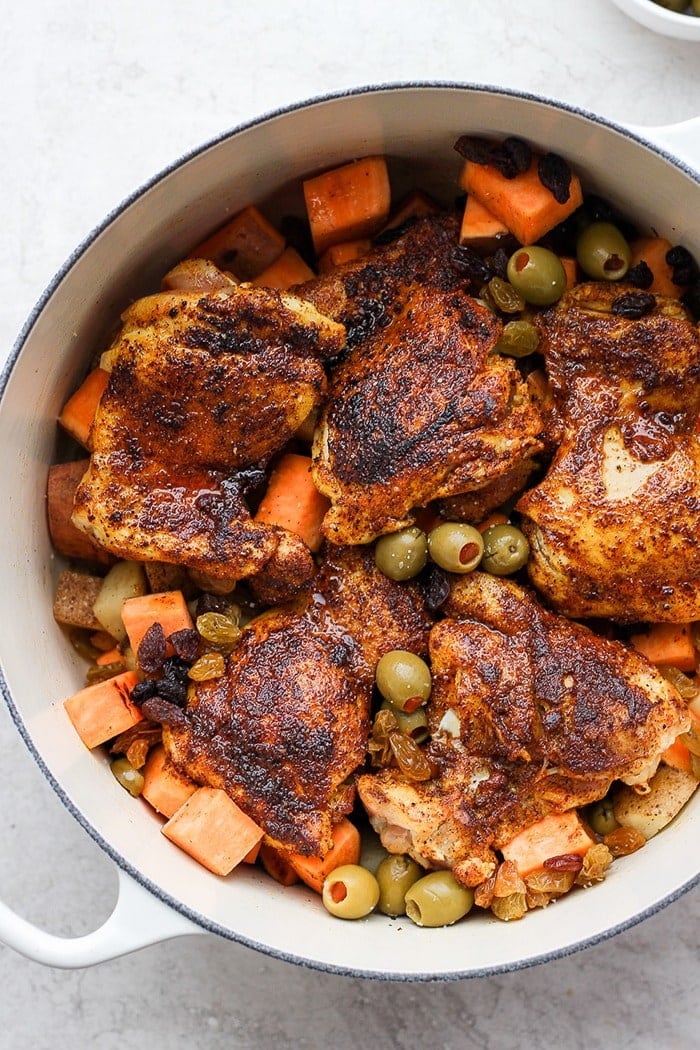 Serving Suggestions
Pair your Moroccan chicken thighs with your favorite grain. Here are some favorites.
Q&A
What is Moroccan Tagine?

A tagine is a cone-shaped vessel (or a Moroccan dutch oven).
Can I use a Dutch oven to make Moroccan chicken?

Though it is a bit different than traditional Moroccan tagine, you can use a Dutch oven in place of a tagine (that's what we use)! A Dutch oven will produce a delicious Moroccan chicken, too.
What kind of spices are rubbed on Moroccan chicken?

The Moroccan spice blend used on Moroccan chicken is usually a combination of cumin, turmeric, ginger powder, chili powder, salt, and cayenne pepper. Moroccan chicken spices may vary by recipe!
What do I serve with Moroccan chicken?

You can serve Moroccan chicken with whatever you would like! We like to serve our Moroccan chicken on a bed of couscous, jasmine rice, or saffron rice!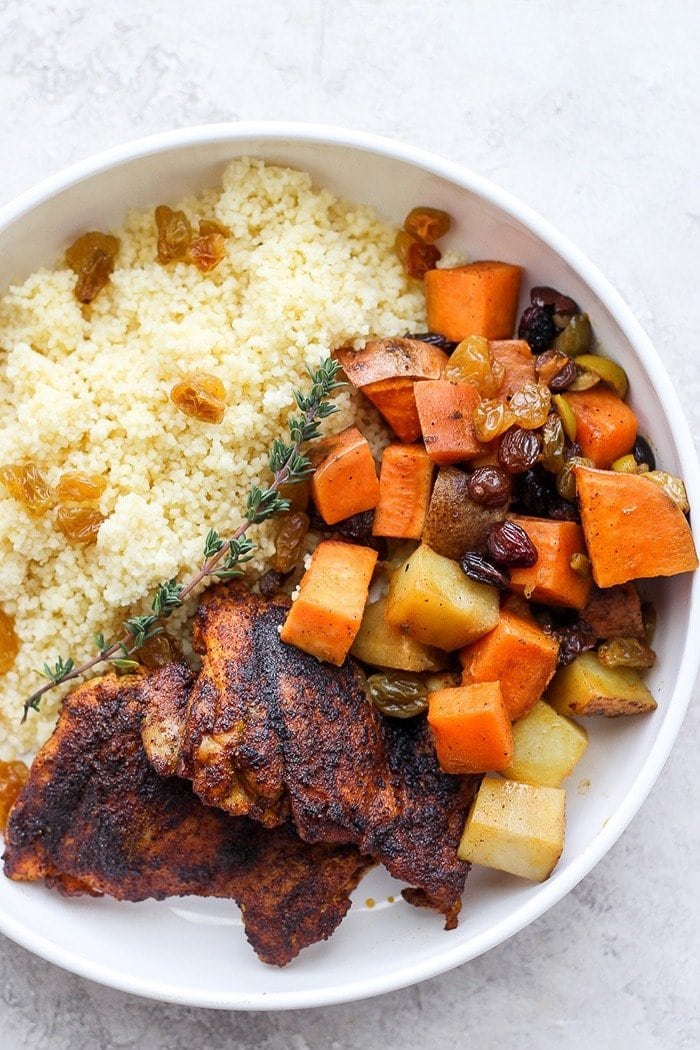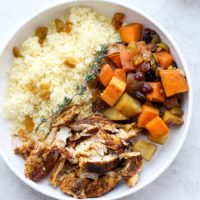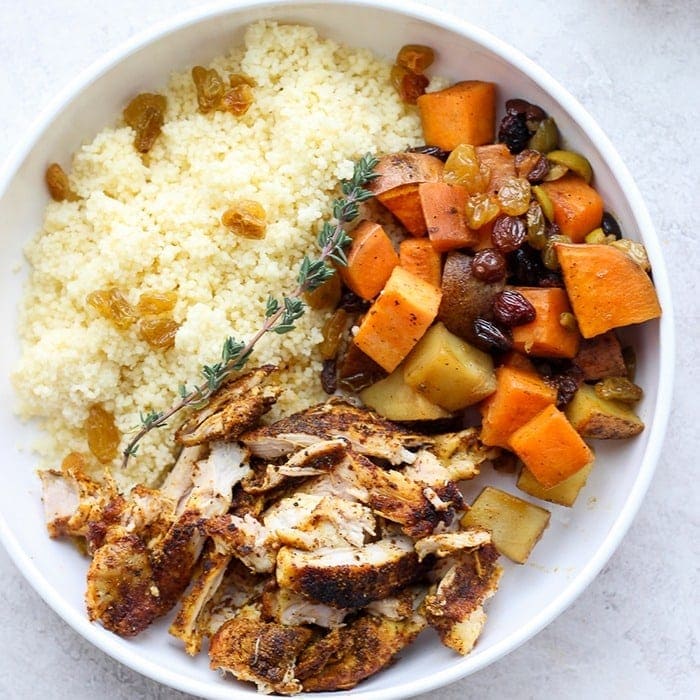 One Pot Moroccan Chicken Thighs
These Moroccan chicken thighs come out incredibly moist and are made with a homemade spice rub and tons of veggies. Serve it on top of your favorite grain!
Ingredients
1.5

lbs.

boneless

skinless chicken thighs (4-5 thighs)

1

tablespoon

cumin

1

teaspoon

turmeric

1

teaspoon

ginger powder

1.5

teaspoons

garlic powder

1/2

tablespoon

chili powder

1/2

teaspoon

cayenne

1/8

teaspoon

salt

3

tablespoons

olive oil

divided

1

large sweet potato

cubed

2

medium russet potatoes

cubed

1/3

cup

raisins

1/2

cup

green olives

sliced

1/2

cup

chicken broth
Instructions
First, preheat oven to 375ºF.

Then, make your Moroccan spice rub by combining cumin, turmeric, ginger, garlic, chili, cayanne, and salt in a small bowl.

Generously season both sides of your chicken thighs. Save the leftover spices if you have any.

Next, heat 2 tablespoons of of olive oil in a large stockpot or dutch oven over high heat.

When olive oil is fragrant, brown the chicken thighs for 1.5 minutes on each side. Then, remove from pot and set aside.

Add another tablespoon of olive oil to the pan and use a wooden utensil to scrape all of the spices from the bottom of the pan so they dont burn.

Next, add in diced potatoes and the rest of the seasoning and saute for around 5 minutes.

Then, add in raisins, green olives, and chicken broth and mix.

Place chicken thighs on top of potatoes and cover.

Bake at 375ºF for 15-20 minutes or until chicken thighs are fully cooked.

Remove chicken thighs from stock pot and use 2 forks to shred. Place shredded chicken back in the stockpot and mix.

Serve on top of your favorite grain such as couscous.
Nutrition facts
Calories:
499
kcal
Protein:
36
g
Fat:
24
g
Fiber:
3
g
Sugar:
10
g
Photography: photos taken in this post are by Erin from The Wooden Skillet.