Sink your teeth into the most flavorful (and easiest!) chicken casserole recipe made with minute rice, broccoli, carrots, peas, chicken breast, and a yummy creamy cheese sauce.
Casserole season is every season and today we're sharing our very best chicken casserole recipes! Best part? All of these dishes are both balanced and healthy made with real ingredients.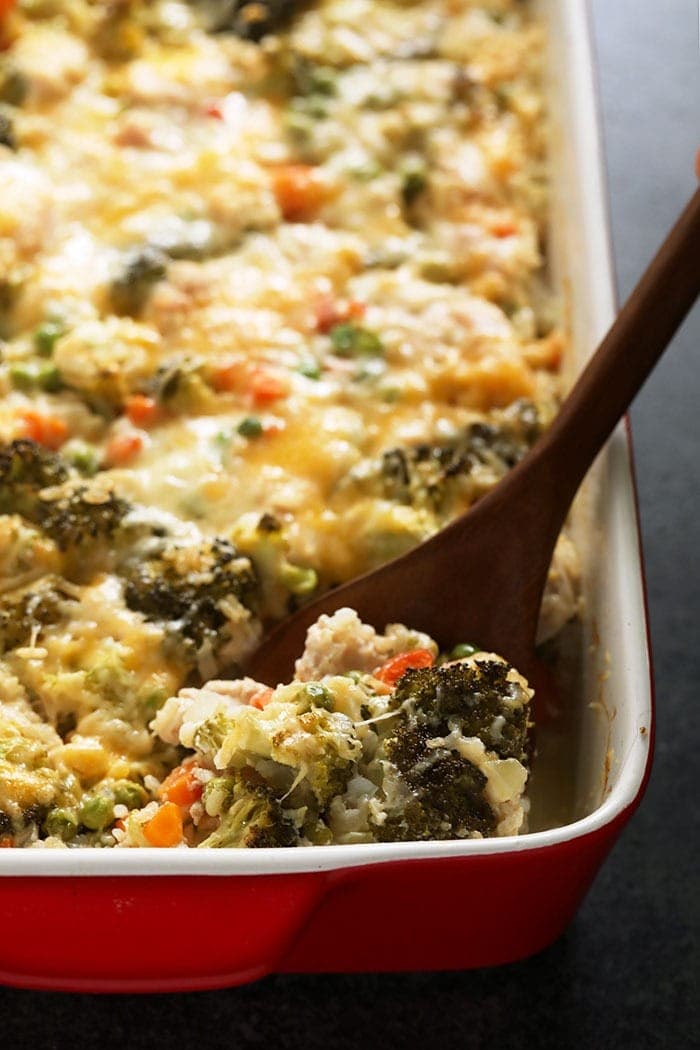 You know when you have "nothing to eat?" That's when you make a chicken casserole recipe! Today we're sharing all of our very best chicken casserole inspo + our best chicken casserole ever that you're going to absolutely love.
What is Chicken Casserole?
A chicken casserole is when you cook all parts of your chicken meal in a baking dish. Usually, the ingredients you use in your chicken casserole are uncooked for a quick "throw everything into a dish and bake it" kind of meal. Typically a chicken casserole includes 4 parts:
Grain: pasta or rice
Chicken: breast or thighs
Vegetables: all kinds!
Sauce: cheese sauce, roux, etc.
From midwestern chicken and rice casserole to creative Asian-inspired casseroles like orange chicken casserole, we are huge fans of taking classic chicken dinners and turning them into casseroles.
Like I mentioned above, most chicken casserole dishes that you'll find on FFF use raw ingredients so you can toss everything into your baking dish and bake it. None of that hour+ prep time!
Take Chicken Tikka Masala for instance. You're going to serve that with some kind of vegetable and grain, so why not make a Chicken Tikka Masala Casserole?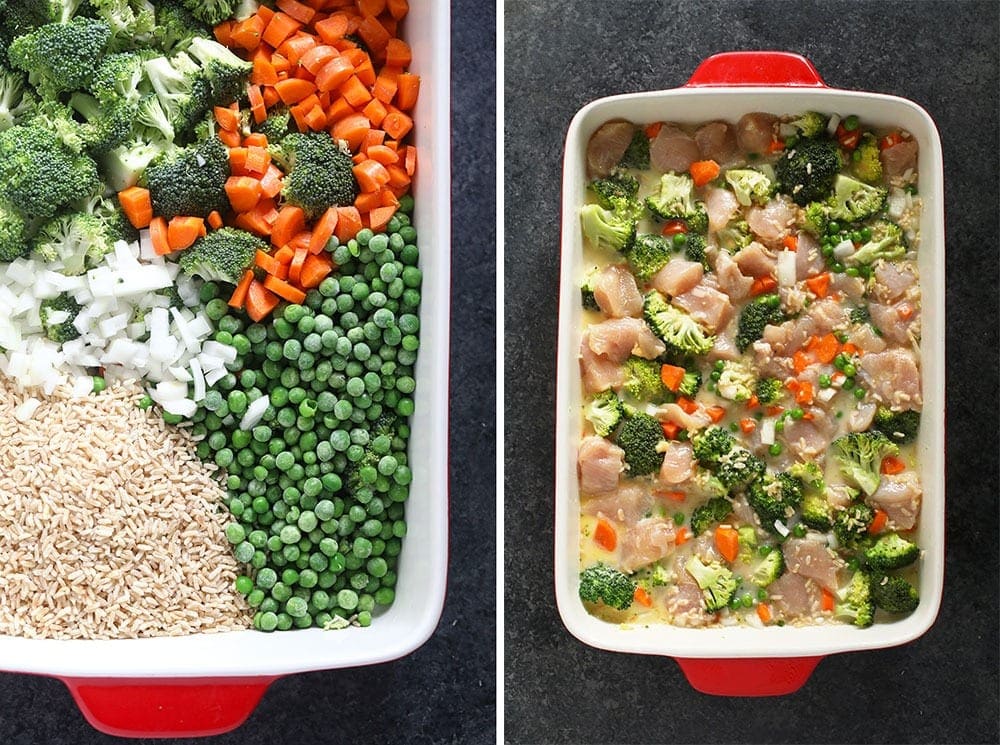 What kind of dish should I bake my casserole in?
First things first, let's talk casserole dishes! Our chicken casserole recipes call for ceramic casserole dishes and let me tell you, there is a difference between that and a baking pan. Casserole dishes are like cast iron pans in that they bake things more evenly and faster than a normal metal baking pan.
We much prefer to use a ceramic casserole dish for our chicken casserole recipes for this exact reason. However, no fear if you don't have one! A baking pan or a dutch oven also works great.
Favorite Ceramic Casserole Dishes
What can I use if I don't have a casserole dish?
Feel free to use a deep cast-iron skillet or a dutch oven in place of a casserole dish! You can even use a cake pan.
Our chicken and rice recipe uses a dutch oven and it's delicious and easy peasy.
Can you put chicken in a casserole raw?
You do not need to cook your chicken before putting it into a casserole if you plan to cook your casserole for at least 45 minutes in the oven.
However, if you come across a casserole that bakes less, you can absolutely use a pre-cooked shredded chicken.
How long can you keep chicken casserole in the fridge?
Most chicken casseroles will last 3-5 days in the fridge.
Storage tip: make sure to store your casserole in an airtight container with the lid on.
Can I freeze chicken casserole?
Chicken casserole is a great freezer meal. Let your casserole cool completely and then cover it with a piece of plastic wrap, pressing it onto the top of your casserole and removing as much air as possible. Then, cover it with a piece of tin foil doing the same thing.
freezer tip
We suggest baking your chicken casserole in a disposable tin casserole dish. This will free up your other casserole dishes for real-time baking.
What do you eat with chicken casserole?
The great thing about a chicken casserole is that all parts of your meal are usually baked right into the casserole. Typically you get a grain, vegetable, and carb, so there really is no need to serve it with anything else. However here are a few suggestions:
Fav Chicken Casserole Recipe
Before we share all of the very best chicken casserole recipes from FFF, we want to share a very midwestern dinner that is what we like to call — BASIC.
This easy chicken casserole recipe is the epitome of a casserole. It's got all 4 parts: veggies, rice, chicken breasts, and a cheesy sauce to bind everything together. And, it doesn't call for cream of chicken soup or cream of mushroom soup, making this better-for-you!
What you need
Our signature chicken casserole is packed with veggies, rice, and chicken breast. Oh, don't forget the cheese sauce. Here are the star ingredients:
Grain
Can I use a different kind of rice? We only recommend using some time of minute rice. Normal white or brown rice will take a different amount of liquid and take much longer to bake.
Chicken
Chicken breast – make sure to use raw chicken breast and to cut them into 1-inch chunks so that they fully cook.
Can I use chicken thighs instead? Feel free to sub chicken thighs for the breast 1:1.
Veggies
Onion
Carrot
Green peas
Broccoli
Can I add other/different veggies? Yes! Feel free to add any other veggies. Our recommendations include green beans, celery, cauliflower, and bell pepper.
Sauce
Milk: milk is used to make this a delicious creamy sauce.
Broth: broth is used for more liquid volume. Feel free to use any kind.
Shredded cheddar cheese: the more cheddar the better! We recommend shredding your own cheese, if possible.
Spices: garlic powder, salt, and pepper
How to Make a Chicken Casserole
2-Part Prep
To make things even simpler, I'd like to break the prep of this recipe into 2 parts!
Part 1: Veggies + Chicken
Part 1 is all about prepping your veggies and chicken. This chicken, broccoli, and rice casserole calls for the following ingredients that need to be chopped:
broccoli
carrot
onion
chicken breast
Once you chop those things, place them on the bottom of your casserole dish along with some green peas and quick-cooking rice.
You'll notice that everything on this list is raw/uncooked. That means you don't need ore-cooked chicken which is an absolute dream.
Part 2: Cheese Sauce
Up next it's time to make your homemade cheese sauce! That's right, no need to buy cream of mushroom soup. For this, you'll need shredded cheddar cheese, broth, and milk (any kind).
Heat a small pot over medium/high heat and add your liquid. Once simmering, add cheese and turn the heat down to low/medium. Continuously stir until cheese melts. Finally, pour sauce on top of the veggies in the casserole dish.
Note: you'll notice that there is no roux involved. We're keeping it simple with melted cheesy creamy goodness.
Bake it!
All of that should take you around 20 minutes to prepare. From there, all you need to do is bake your casserole in the oven at 375ºF for 30 minutes.
Remove from the oven and add a generous amount of cheese to the top. Place back in the oven for 15-20 more minutes.
Let it Sit
Once your chicken is fully cooked, it's time to let your casserole rest. This may sound like a funny thing to do, but I promise it's important!
By letting your casserole rest on the stove-top for 15 minutes, you'll let all of the liquid the chicken gave off soak up into the rice and veggies. I promise it's worth it!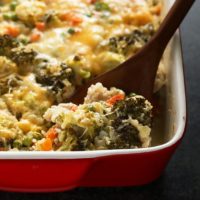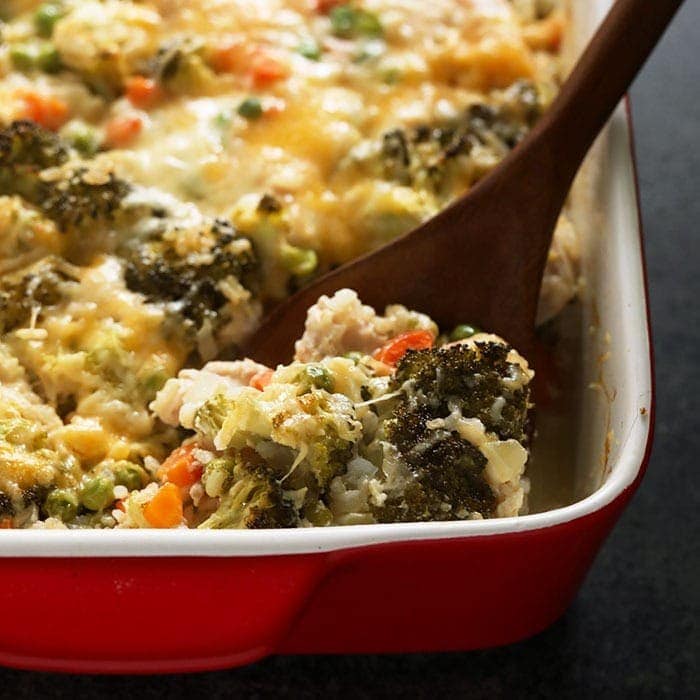 Best Chicken Casserole (+Fav Chicken Casserole Recipes)
This is one of our favorite chicken casserole recipes. A chicken casserole that's cheesy, filling, and healthy. Our chicken, broccoli, and rice casserole is made without pre-made soup, it's so easy and even more delicious from scratch.
Ingredients
1.5

cups

minute brown rice

5

cups

chopped broccoli florets

1 full head

1/2

medium yellow onion

finely diced

2

medium carrots

finely diced

1.5

cups

frozen green peas

2

cups

chicken broth

1.5

cups

2% milk

8

oz.

shredded cheddar cheese

divided (6 oz. and 2 oz.)

1/4

teaspoon

garlic powder

1/8

teaspoon

salt

1/8

teaspoon

ground pepper

1.5

lb.s boneless

skinless chicken breast (raw)

1

oz.

shredded parmesan cheese
Instructions
First, preheat oven to 375ºF and spray a large ceramic casserole dish with nonstick cooking spray.

Next, place minute brown rice, broccoli florets, yellow onion, carrots, and green peas on the bottom of the casserole dish.

Prepare cheese sauce by placing broth and milk into a small saucepan. Heat over medium heat.

Once simmering, turn down low/medium and add in 6 oz. shredded cheddar cheese, garlic powder, salt, and pepper. Continuously stir until the cheese melts and your cheese sauce has formed.

Immediately pour over rice and veggies and mix.

Next, slice chicken breasts into 1-inch cubes and add that to the casserole dish and mix making sure everything is fully coated in cheese sauce.

Bake at 375ºF, uncovered, for 30 minutes.

Then, add 2 oz. shredded cheddar cheese and 1 oz. shredded parmesan cheese to the top of the casserole dish and bake for an additional 15-20 minutes.

Let casserole rest on the stovetop for 15-20 minutes before serving to further thicken.
Tips & Notes
Chicken: the chicken goes into the casserole raw.
Nutrition facts
Calories:
337
kcal
Carbohydrates:
23
g
Protein:
32
g
Fat:
14
g
Fiber:
3
g
Sugar:
4
g
Best Chicken Casserole Recipes
And now, here is the lineup of all of our best chicken casserole recipes from Fit Foodie Finds. Here's you'll find flavors from all over the world! Enjoy.
This lighter-fare Chicken Pot Pie Casserole is jam-packed with veggies, lean chicken, and that amazing creamy pop pie flavor!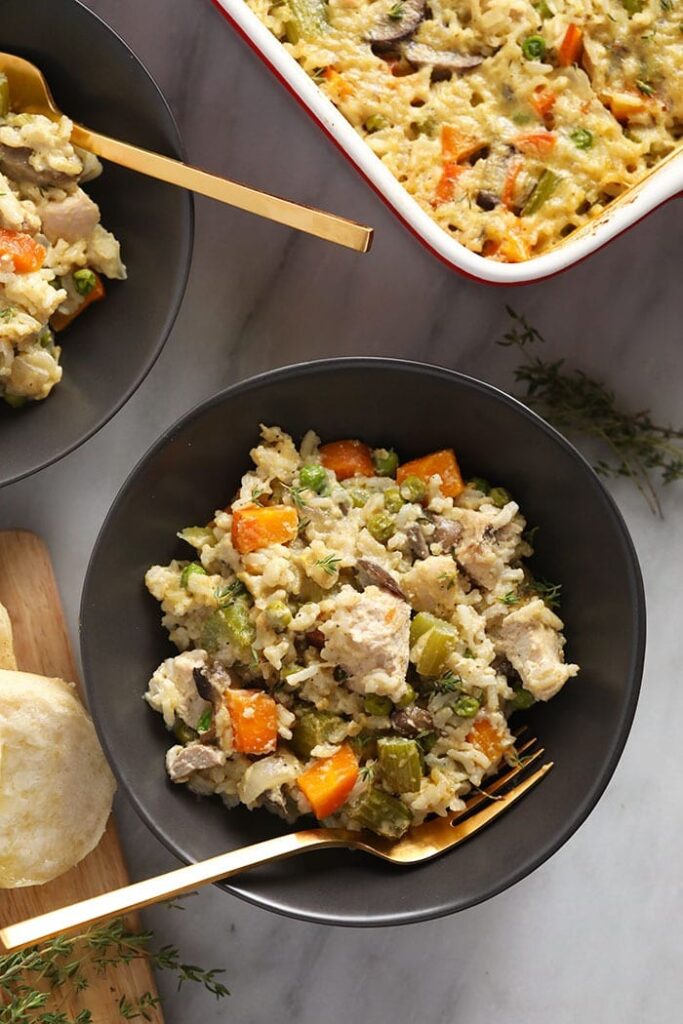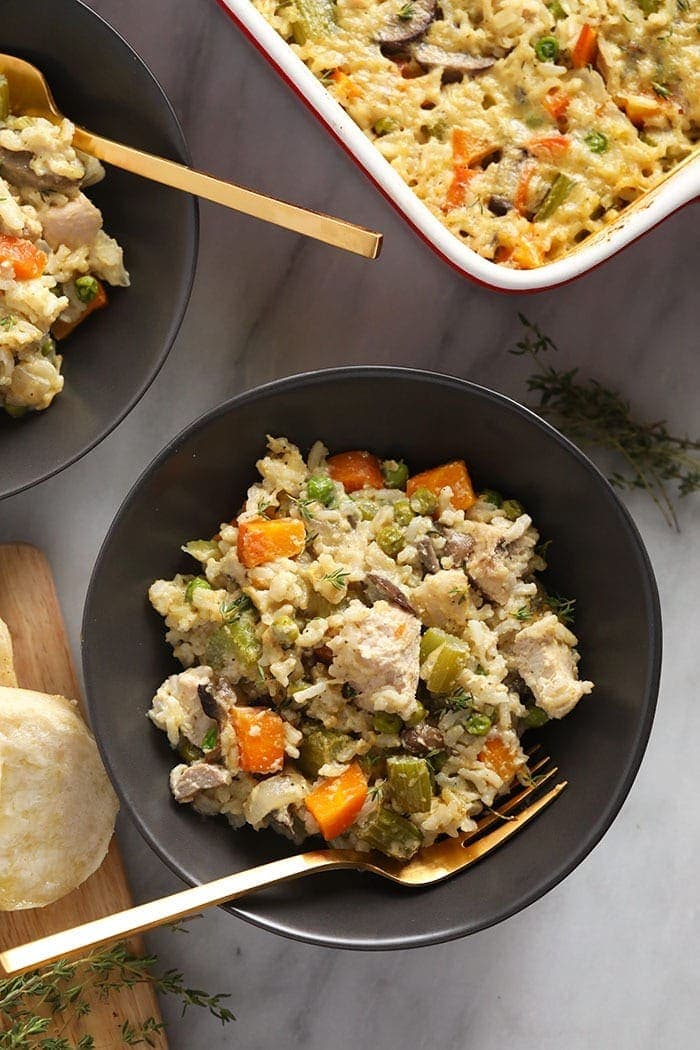 The most flavorful chicken and rice recipe on the internet. Our chicken and rice bake is made with juicy chicken thighs and a delightful rice medley so you get extra veggies!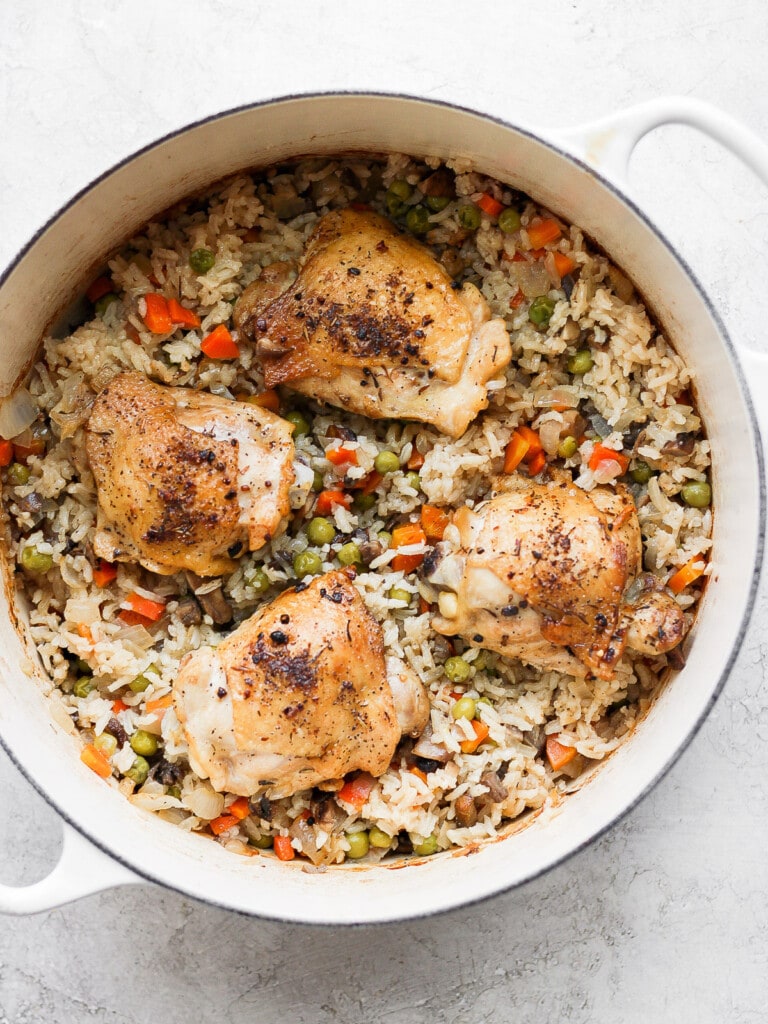 Say hello to the most delicious chicken parmesan casserole. This pasta casserole has crispy chicken, savory marinara sauce, and lots of CHEESE. It is the perfect family dinner that everyone will love!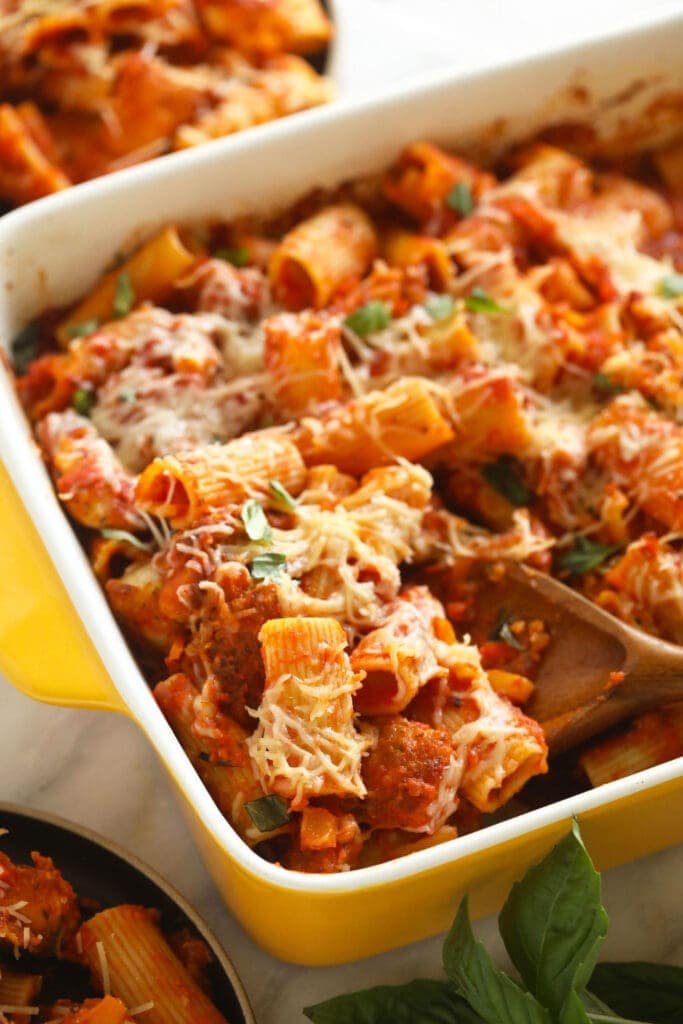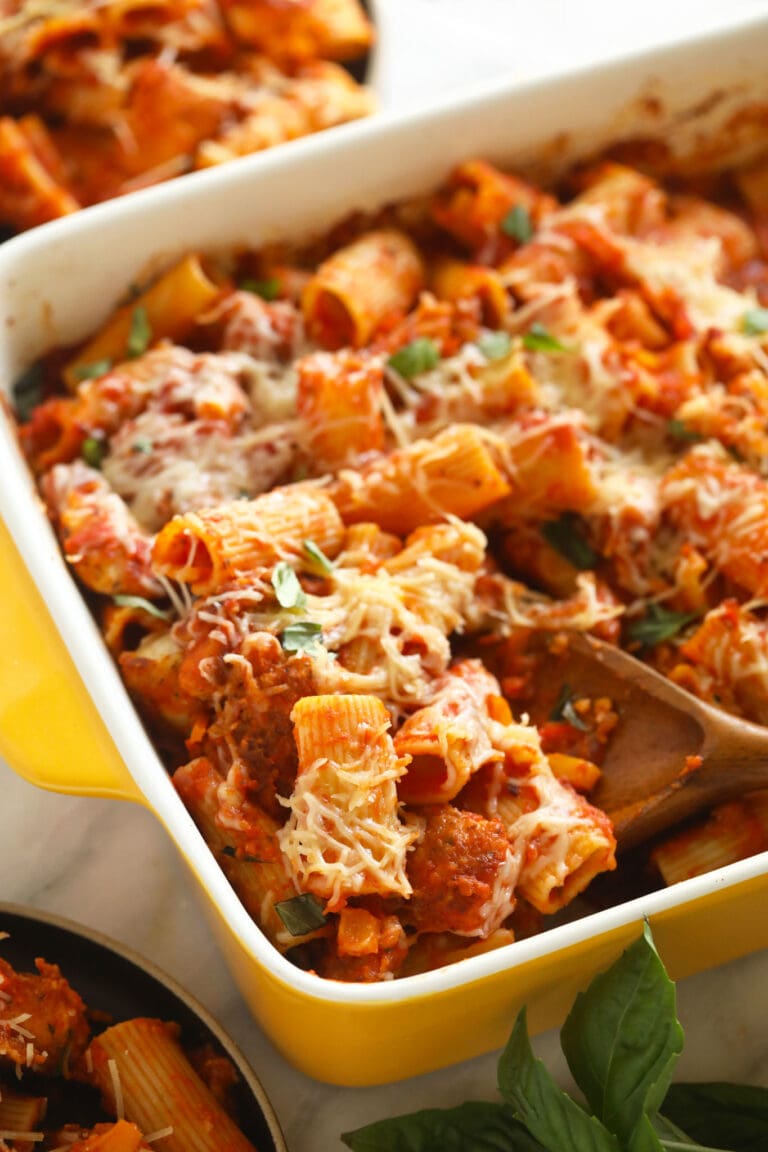 This chicken tikka masala casserole recipe is one of the most delicious and easy chicken casserole recipes around! It has all of the traditional flavors of chicken tikka masala in casserole form. Make this chicken tikka masala casserole for dinner this week!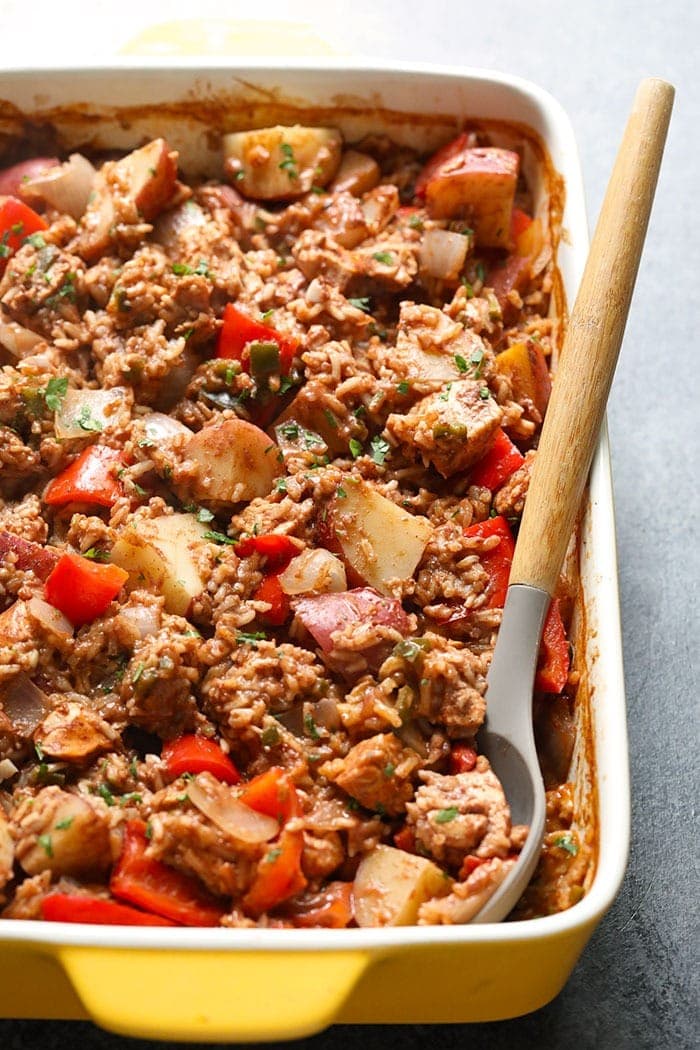 In just 60 minutes you can make this healthy chicken enchilada casserole that's packed with lean chicken, beans, tons of veggies, and brown rice. Throw everything into a casserole dish uncooked and you've got yourself dinner for the entire family.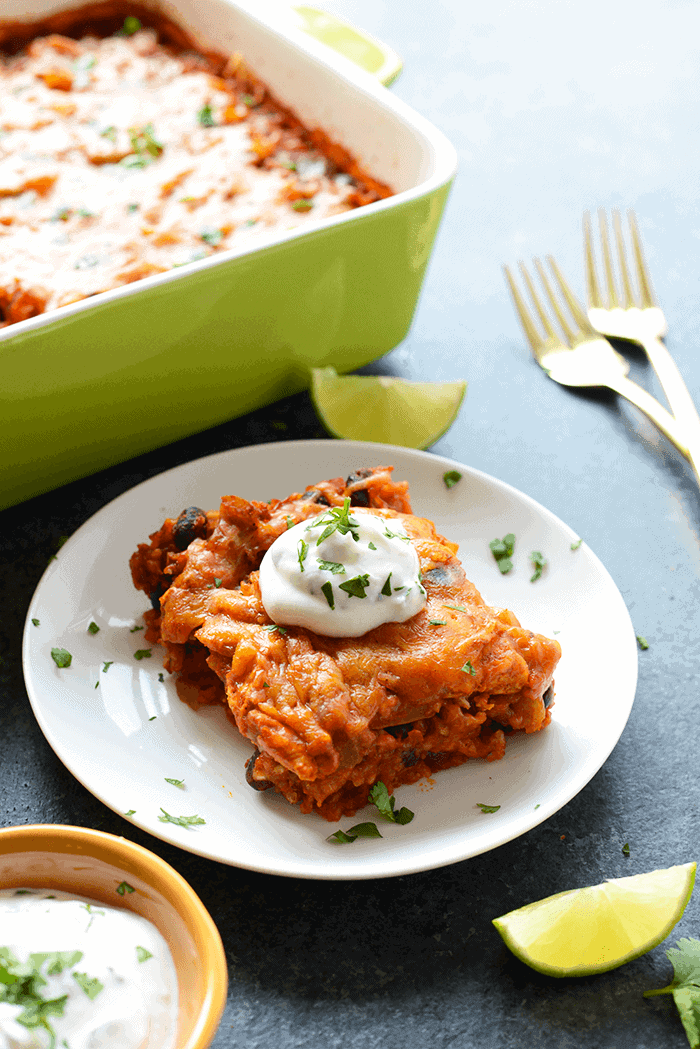 All the flavors you love in casserole form! Make this Chicken Bacon Ranch Casserole for an easy and delicious dinner the whole family will love.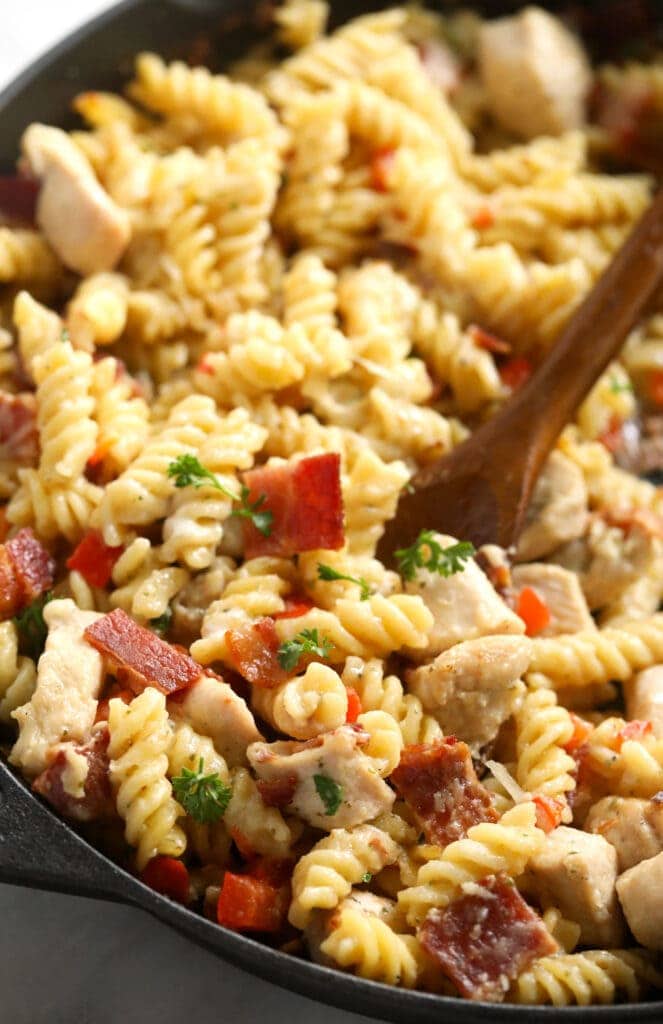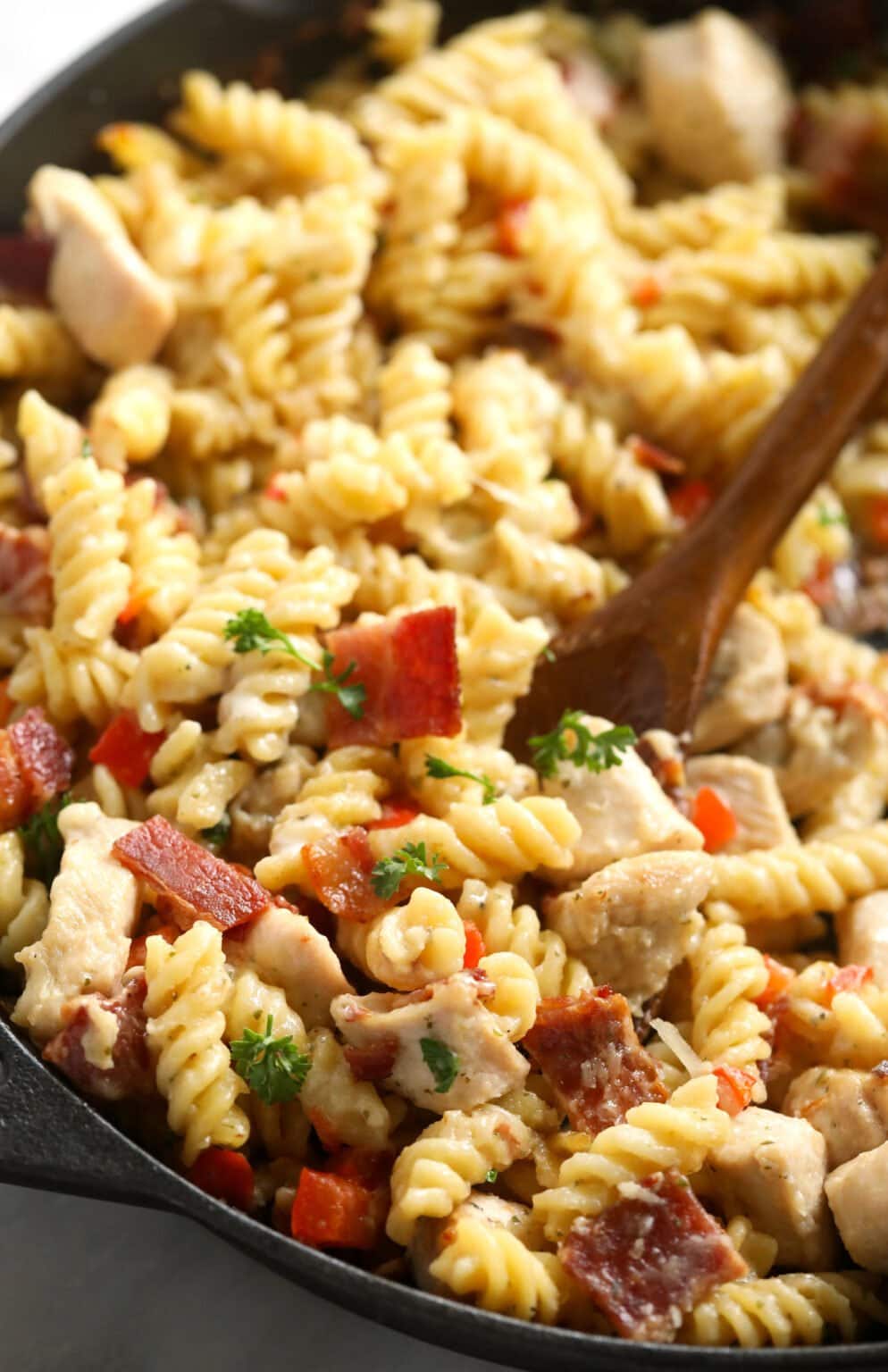 This Southwestern Chicken Casserole calls for simple, healthy ingredients and gives the classic chicken casserole a run for its money!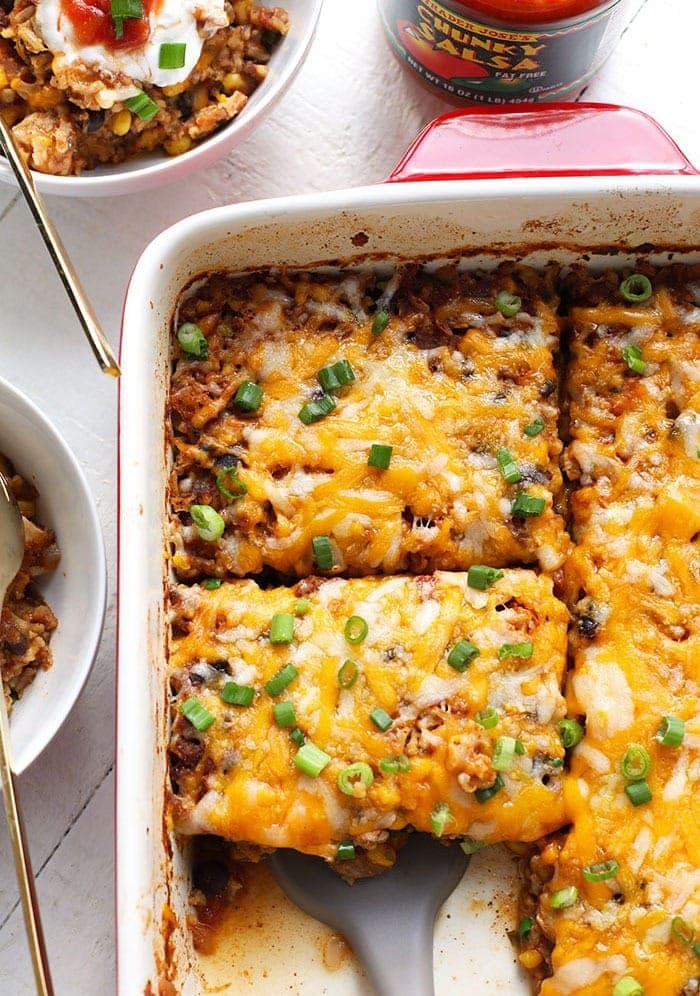 Our protein and veggie-packed healthy chicken parmesan quinoa casserole is a winner for all. It's made with homemade parmesan chicken, marinara, mushrooms, and quinoa for an epic, kid-friendly chicken parmesan casserole.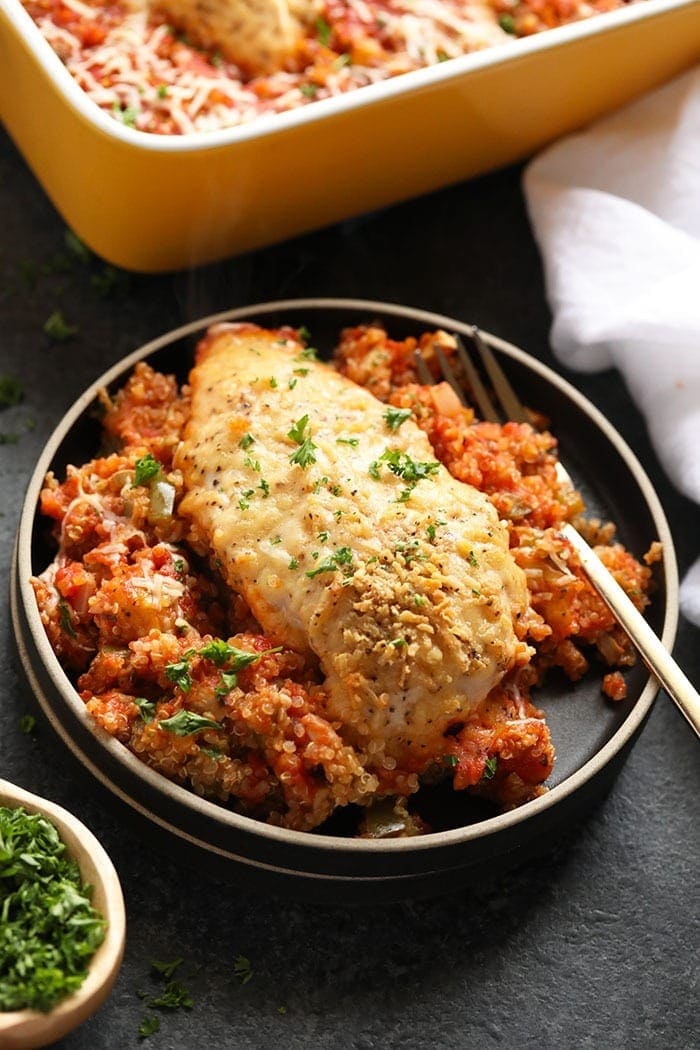 With just a few simple ingredients and a casserole dish you can have a dinner packed with veggies, protein, and whole grains, in just 60 minutes!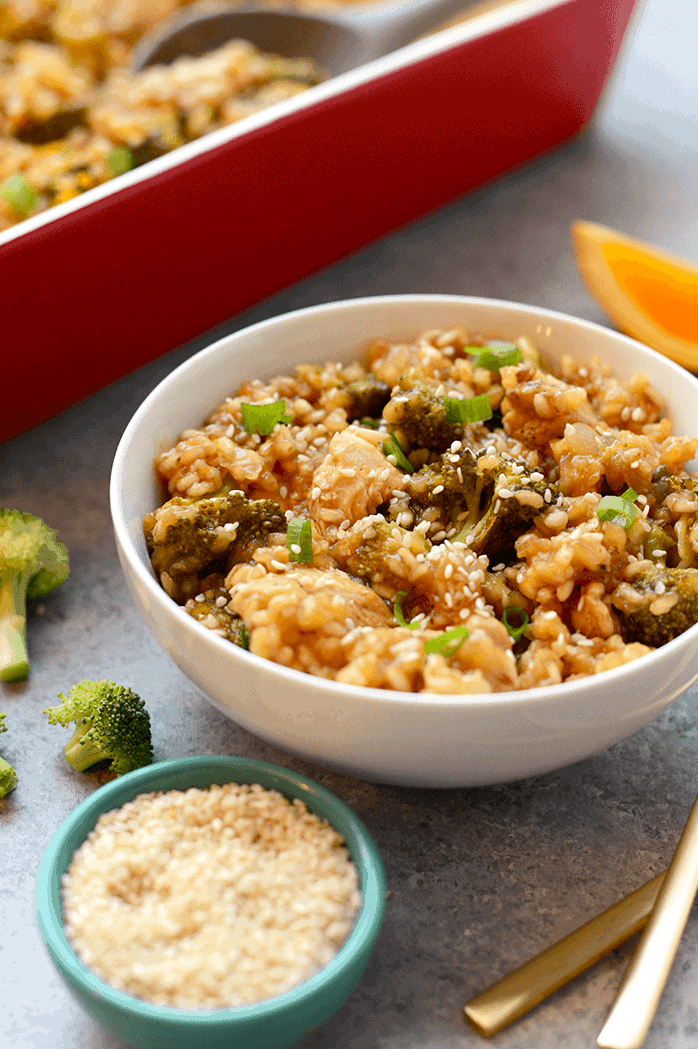 This recipe makes healthy comfort food a real thing! Make this Cauliflower Mac n' Chicken Casserole with ancient grain pasta for the most epic meal the entire family will love!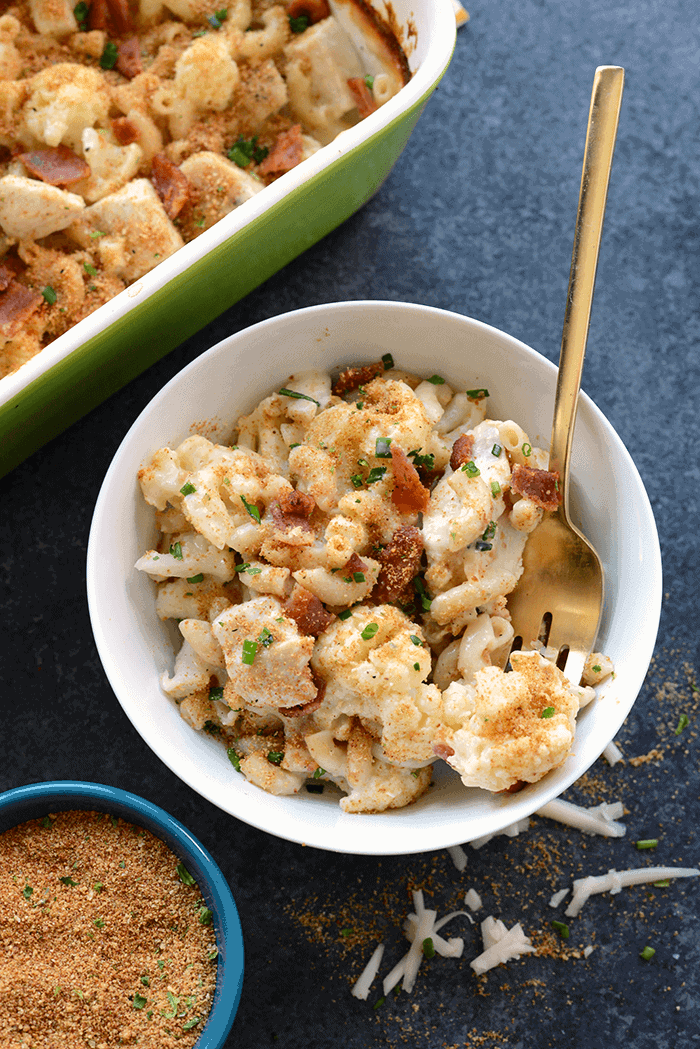 This Slow Cooker Chicken Enchilada Casserole will change your life! Throw everything in your slow cooker and in only 3 hours dinner is served.
This healthy chicken burrito bowl casserole is made with ground chicken, beans, rice, Mexican spices, and all the topping for a delicious one-pot dinner the entire family will enjoy!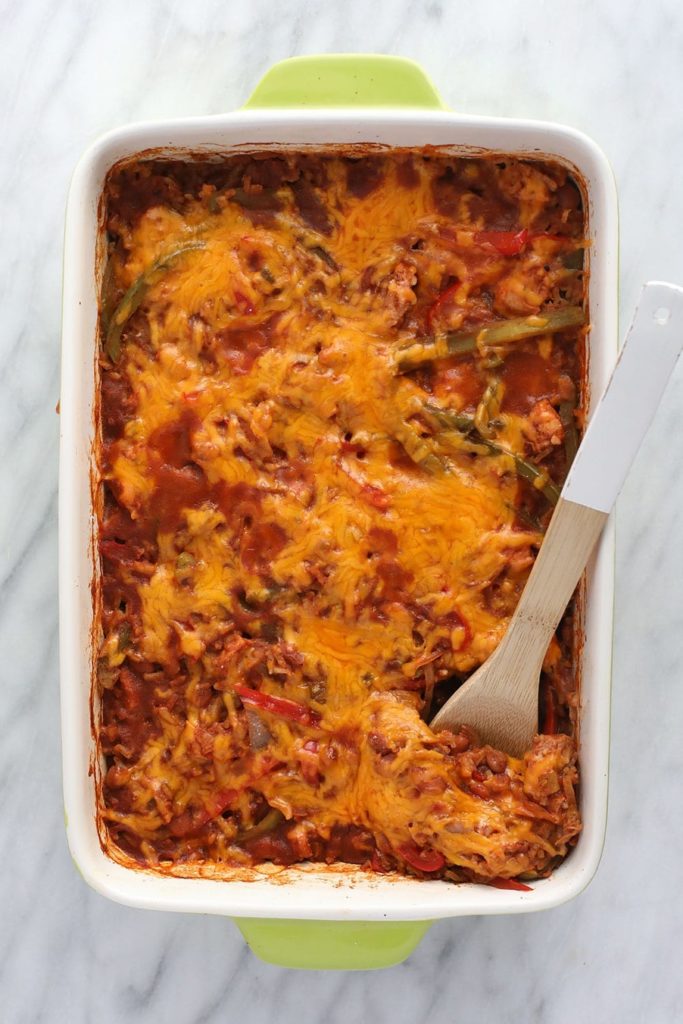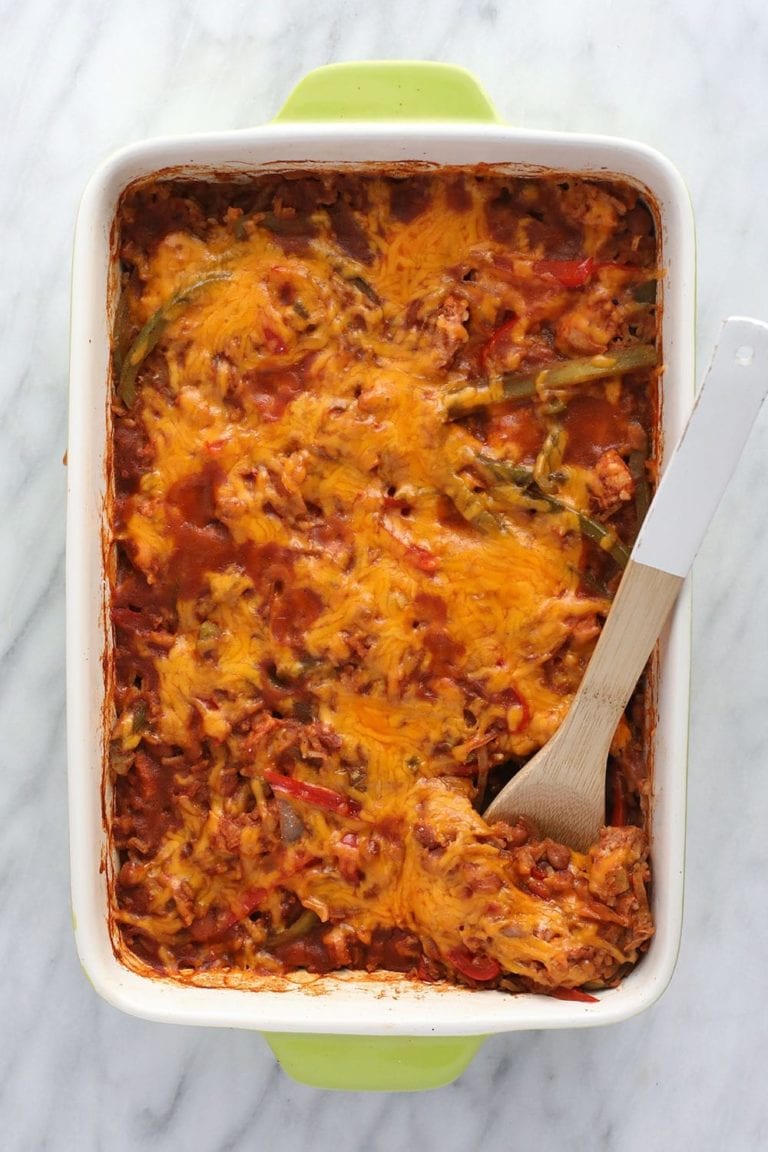 Make this Cashew Chicken Quinoa Bake for a high-protein, one-dish meal that the whole family will love! Meal prep at its finest!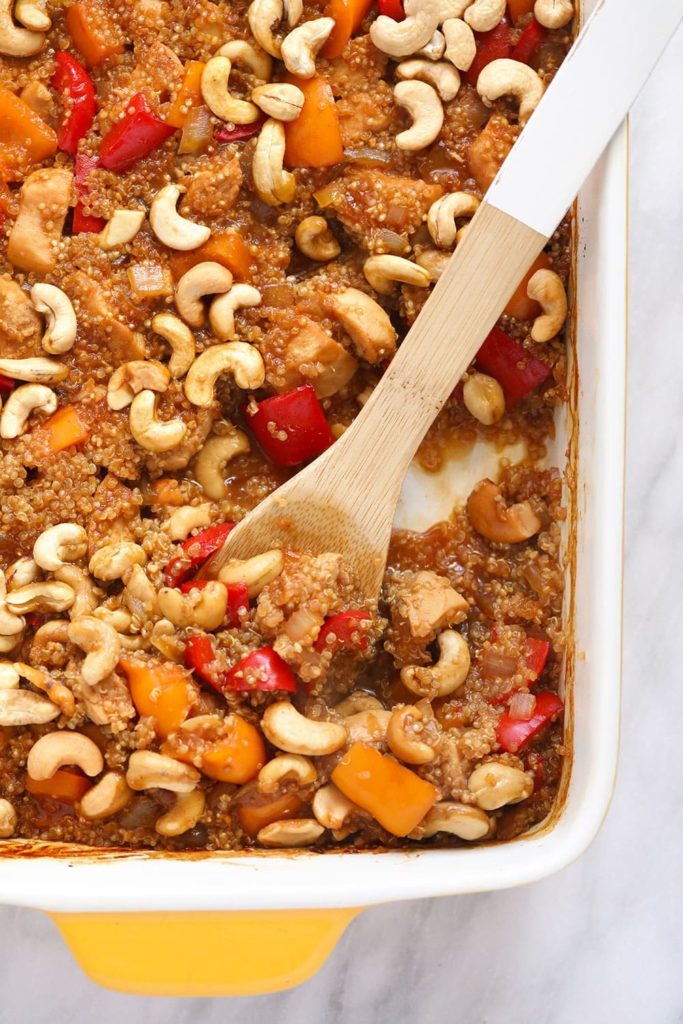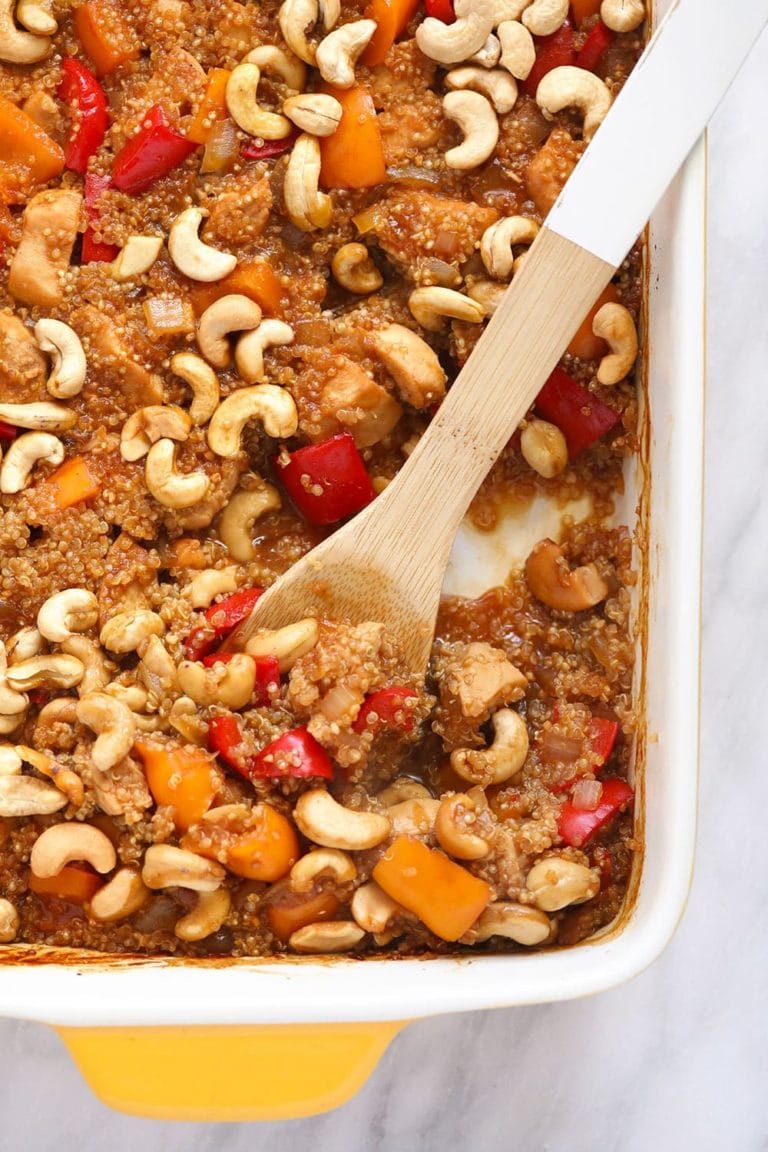 This Tuscan Chicken Quinoa Bake is packed with Italian flavors, kid-friendly, and has a whopping 40g protein per serving!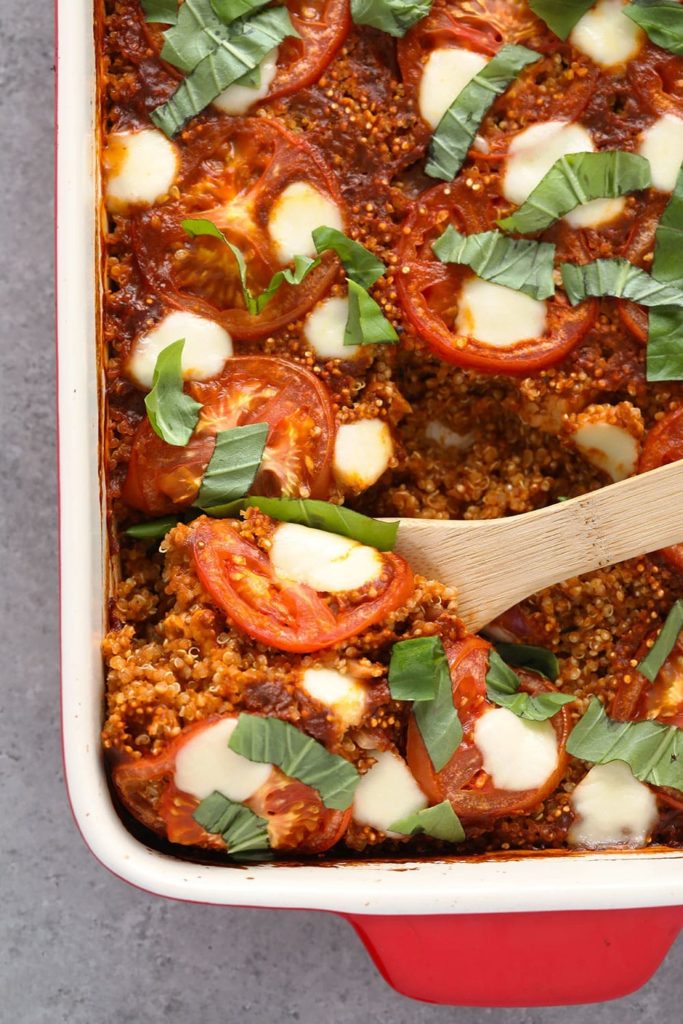 Try this Meal-Prep Chicken Cacciatore Quinoa Bake for dinner this week. It has all of the delicious flavors and ingredients of traditional chicken cacciatore, but with a healthy and quick twist!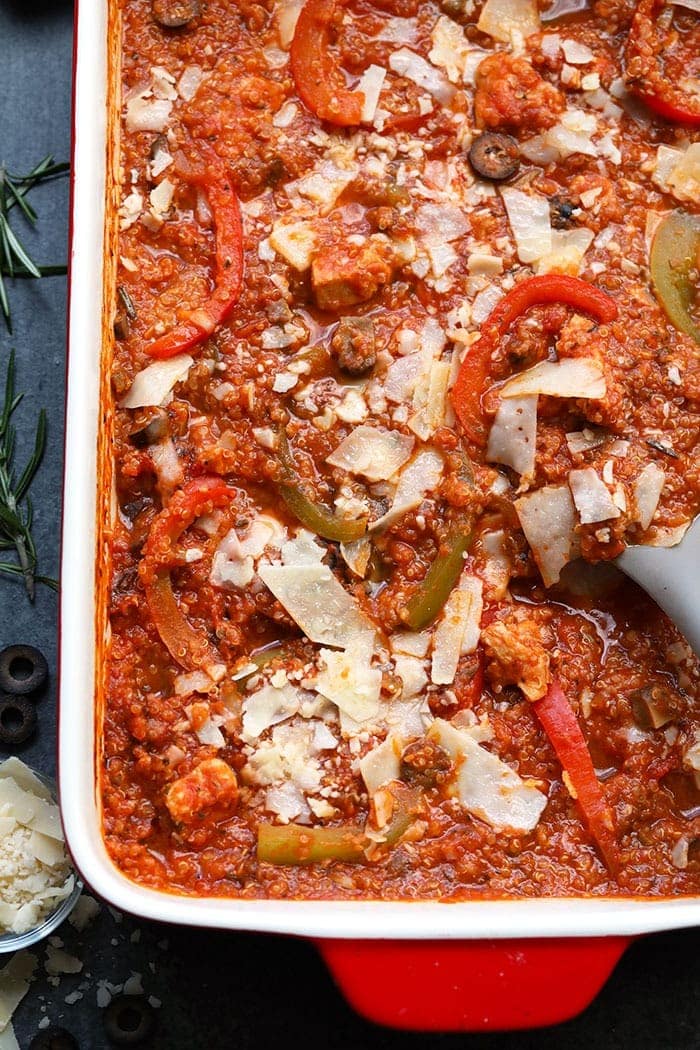 This Chicken Apple Sausage Quinoa Casserole is packed with shredded Brussels sprouts and sweet potatoes. It is the perfect healthy meal for an easy weeknight dinner or is perfect for meal prep for the week! It is high in protein and delicious!