Make this Cashew Chicken Quinoa Bake for a high-protein, one-dish meal that the whole family will love! Meal prep at its finest.
Can't get enough of delicious chicken casserole recipes? Check out this easy orange chicken casserole or this easy southwestern chicken casserole!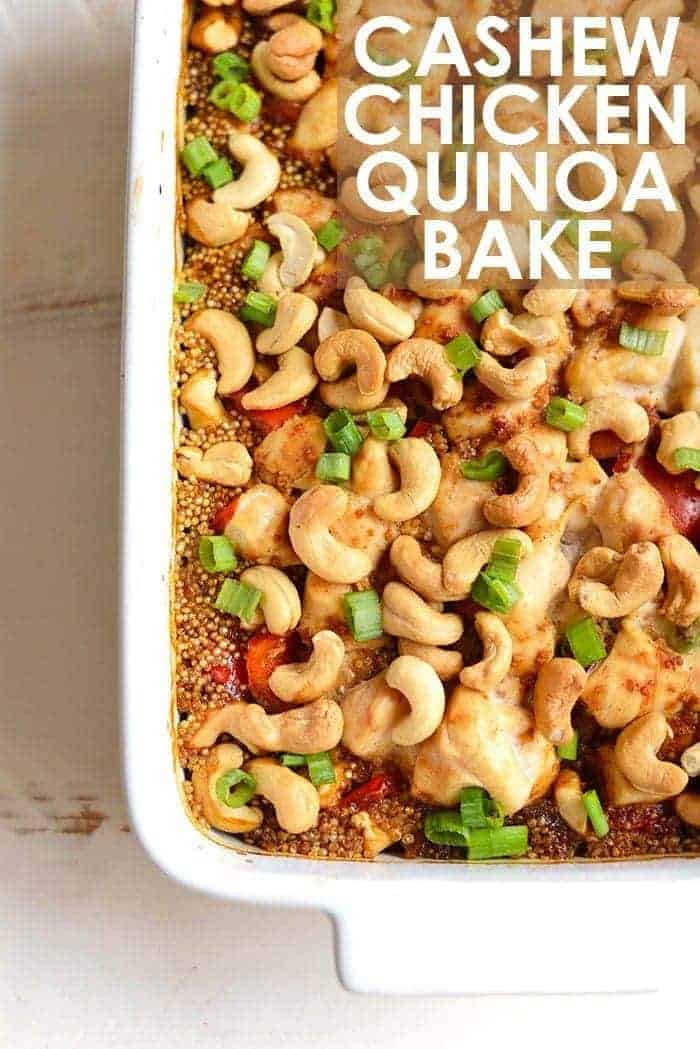 Make Your Own Healthy Chinese Takeout
Raise your hand if you've jumped on the casserole train. We have been whipping up casserole recipes for the last couple of weeks in the Fit Foodie kitchen and we have no shame!
Today we are sharing one of the original quinoa casserole recipes on FFF! It is also one of the most popular recipes. Want to know why?
It is stacked with protein (37 grams per serving)
There's only one dish to clean
It tastes like your favorite cashew chicken Chinese takeout (except it's healthy)
This chicken casserole is made with whole, healthy ingredients, with all of the classic flavors of cashew chicken. Let's break this casserole down.
Everything You Need to Know
All you need is one pan.
For this dish, you literally throw everything in a casserole dish UNCOOKED (even the chicken and quinoa) and pop it in the oven for 60 minutes.
Can I use other vegetables in this casserole?
Yes, you can use other vegetables in this chicken casserole. If you don't have peppers on hand or want to use something else. Feel free to use any of your favorite vegetables. Below are some of our top substitution picks!
broccoli
cauliflower
pea pods
green beans
Does it matter what kind of quinoa I use?
I tested this with traditional white quinoa
and Inca Red Quinoa
.
I noticed that the red quinoa needed to cook a bit longer than the white, so just be mindful of that if you only have red on hand!
Do I need to use specific cashews in this recipe?
You can use whatever cashews you have on hand! However, we recommend using roasted salted cashews for the best flavor!
What are the best toppings for this cashew chicken casserole?
The topping options are endless for this cashew chicken casserole! Below are our go-to toppings!
fresh lime juice
cilantro
cashews
green onions
Can I freeze this cashew chicken casserole?
Yes, you can freeze this cashew chicken casserole! Make the casserole as instructed in the recipe card and then let it cool completely.
Next, cover the casserole dish with plastic wrap and then tin foil to tightly seal the casserole and place in the freezer for up to 3 months. You can also transfer the casserole into meal prep containers for single-serve options!
Cashew Chicken Casserole Tips
Here are a few tips and tricks to make sure you get the most bang for your buck when you make this chicken casserole recipe!
Make sure that all the quinoa is submerged in liquid before you place the casserole in the oven.
If you find that your chicken casserole isn't cooking evenly, try stirring the casserole halfway through the cook time.
Be sure to spray your casserole dish before placing ingredients into the casserole dish. This will prevent the ingredients from sticking to the casserole dish when you are serving it!
Healthy Chicken Casserole Recipes
Cashew Chicken Quinoa Bake Video
Recipe
Cashew Chicken Quinoa Bake
Make this Cashew Chicken Quinoa Bake for a high-protein, one-dish meal that the whole family will love! Meal prep at its finest! 
Prep Time:

15 mins

Cook Time:

55 mins

Total Time:

1 hour 10 minutes
Ingredients
1 cup

quinoa, rinsed and uncooked

1 cup

yellow onion, minced

2

medium red peppers, chopped into bite-sized pieces

4

4oz chicken breasts, diced into bite-sized pieces

1/2 cup

hoisin sauce (or gluten-free hoisin sauce)

1 tablespoon

minced garlic

2 tablespoon

s soy sauce or tamari (low sodium)

1/2 tablespoon

fresh ginger, minced

1 cup

water

1 cup

cashews, roasted and lightly salted
green onion for garnish
Instructions
First, preheat oven to 375ºF and spray a casserole dish with coconut oil cooking spray.
Next, place 1 cup uncooked quinoa on the bottom of the casserole dish and layer with diced onion and red pepper on top. Place sliced chicken on top of veggies.
Prep sauce by mixing together hoisin sauce, minced garlic, soy sauce, fresh ginger, and 1 cup of water. I used a fork to whisk everything together.
Evenly pour sauce over chicken breast.
Bake at 375º for 45 minutes, uncovered. Remove from oven and add 1 cup of cashews and bake for another 10 minutes.
Garnish with green onion.
Nutrition
Serving Size:

4

Calories:

457

Sugar:

15

Fat:

10

Carbohydrates:

54

Fiber:

5

Protein:

37
Similar