This is the best chicken enchilada casserole you will ever eat! Throw everything into a casserole dish, raw, and in just 60 minutes you'll have a healthy chicken casserole ready to go!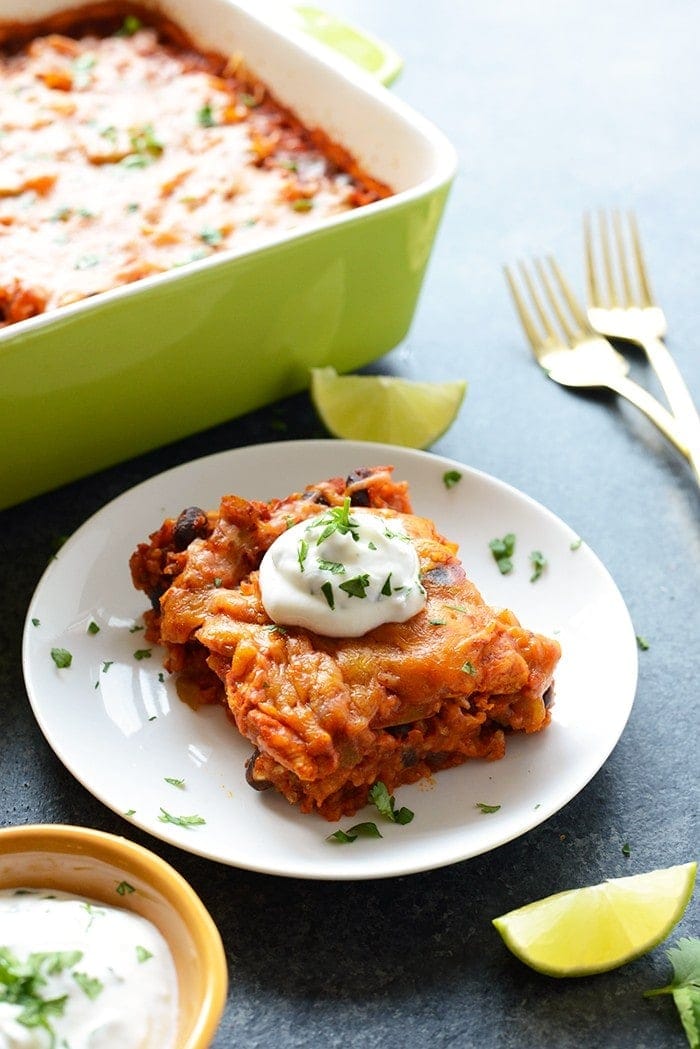 We like to call this easy chicken enchilada casserole the "everything but the tortilla chicken enchilada casserole." We ditched the soggy tortilla and swapped it with brown rice to make an extraordinary casserole that all will love!
PS: 1 serving of this deliciousness has over 30g protein and is packed with lean protein and vegetables. SCORE!
Everything Goes in Raw!
The number one thing I love about this casserole is that everything goes in raw. There is no additional sautéing or cooking involved other than chopping and mixing and baking.
Chicken
For this recipe, we are using chicken breasts, but boneless skinless chicken breasts also work! We chose to chop ours into bite-size pieces for even cooking, but you can always leave the breasts whole if desired
Veggies
Bell peppers, onions, and beans help make this casserole packed with veggies and flavor. Get creative with your veggie choices and add whatever you have on hand. Here are some suggestions that would work really well!
potatoes
sweet potatoes
butternut squash
kale
Enchilada Sauce
Your choice in enchilada sauce is what's going to give you your saucy flavor. So? Make sure you know what the enchilada sauce tastes like before you use it. Some sauces are blander than others, so just keep that in mind!
Our favorite enchilada sauce is Frontera Red Chile Sauce, but any kind will work…even a homemade sauce!
Rice
Last but not least, we've ditched tortillas for RICE! Rice really makes this a "casserole" if you ask me. Keep scrolling to read a long-winded answer on what kind of rice you should use for this casserole because we've tested many kinds!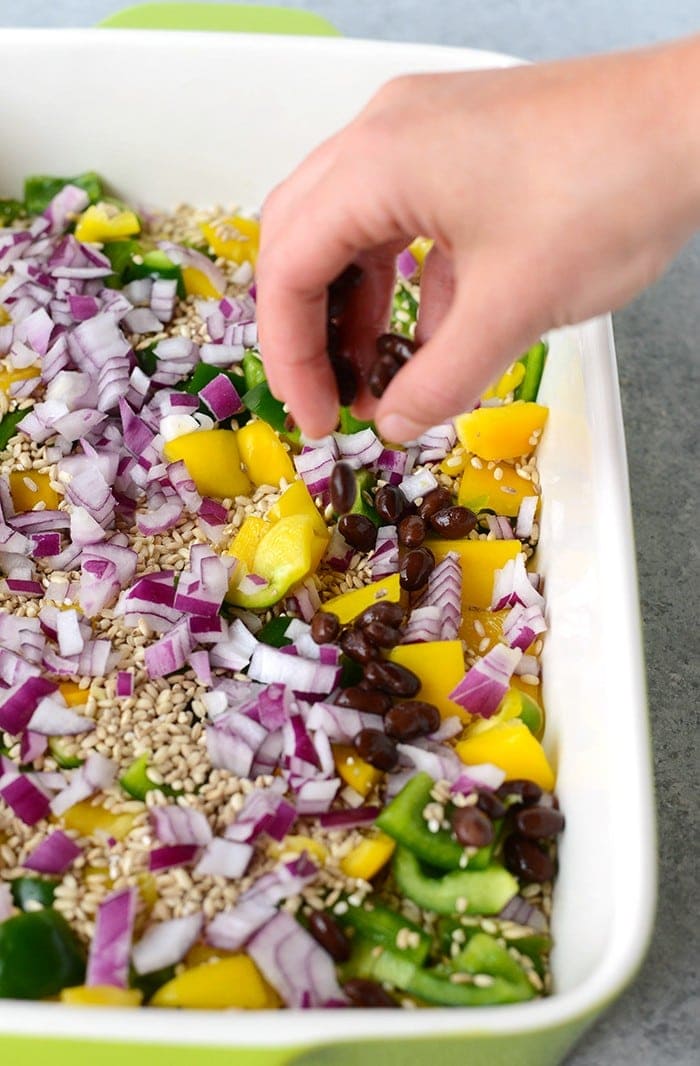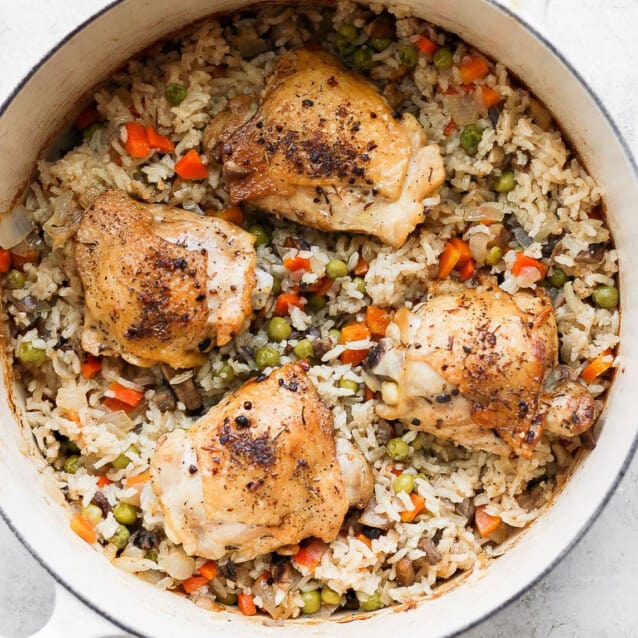 Become a Pro at Cooking Chicken!
We'll teach you everything you need to know on how to cook chicken perfectly every time + we'll share our top chicken recipes when you subscribe to our emails today!
Let's Talk About Rice
The first time we made this casserole we used something called germinated brown rice. What is germinated brown rice? Germinated brown rice
is sprouted rice that has had very little processing. This is done to keep as many nutrients and as much texture in the rice as possible!
We noticed that germinated brown rice actually cooks faster than other brown rice, which is why it's perfect for this casserole. 60 minutes and DONE!
Rice Substitutions
Long-Grain White Rice: Swap out the germinated brown rice for long-grain white rice 1:1. We have tested this method and it is by far the best substitution we've found.
Long-Grain Brown Rice: If you choose to use classic long-grain brown rice, you cook time will need to increase by 30 minutes to an hour. This is because long-grain brown rice takes longer to cook than germinated brown rice. We suggest
Quick-Cooking Rice: While we have not tried this, I am hopeful that quick-cooking brown/white rice will work. We use this product in another one of our similar casseroles (Southwest Chicken Casserole). The one thing that would need to change is the liquid amount. I would decrease the amount of enchilada sauce by 1 cup and broth to 1/2 cup.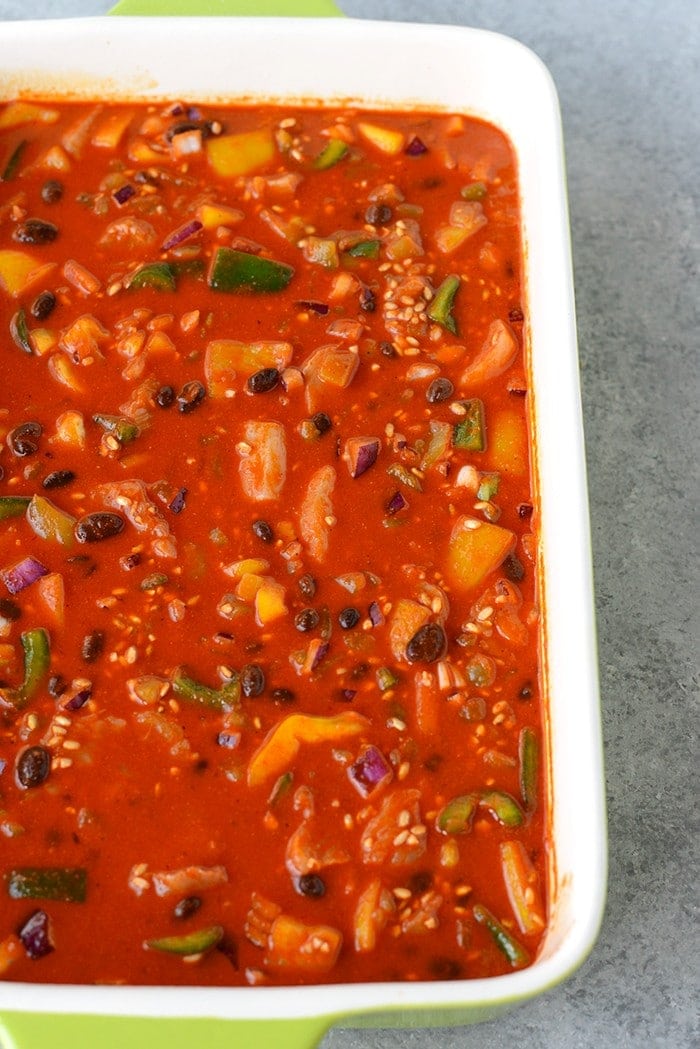 How do you reheat chicken enchilada casserole?
To reheat chicken enchilada casserole, you have a few options.
Microwave: Place a serving of this chicken enchilada casserole recipe into a microwave-safe bowl and cook on high for 1.5 to 2 minutes.
Oven: Preheat oven to 350ºF. Place the entire chicken enchilada casserole back into the oven (in its casserole dish) and reheat for around 20 minutes or until warm.
Stove-Top: Add 1/2 tablespoon of olive oil to a large skillet. Then, transfer the casserole to the skillet and sauté over medium/high heat for around 5 minutes or until warm.
Can you freeze chicken enchilada casserole?
Chicken enchilada casserole is the perfect recipe to freeze. We suggest making this casserole in a disposable casserole dish so that once it's cooked you can pop it right into the freezer. We also recommend holding off on the cheese until reheating for best results.
Directions: let the casserole cool completely. Then, cover it with a piece of plastic wrap and press it down into the casserole, removing as much air as possible. Cover that with a piece of tin foil and write the best by date (3 months from when you made it) and the name of the casserole. Then, freeze for up to 3 months!
Reheat: to reheat, let thaw completely, then use any of the reheat methods above to reheat!
Storage
Store this casserole in a glass, airtight container for up to 5 days in the refrigerator. We recommend portioning out this casserole into single servings for an easy grab-and-go meal prep option!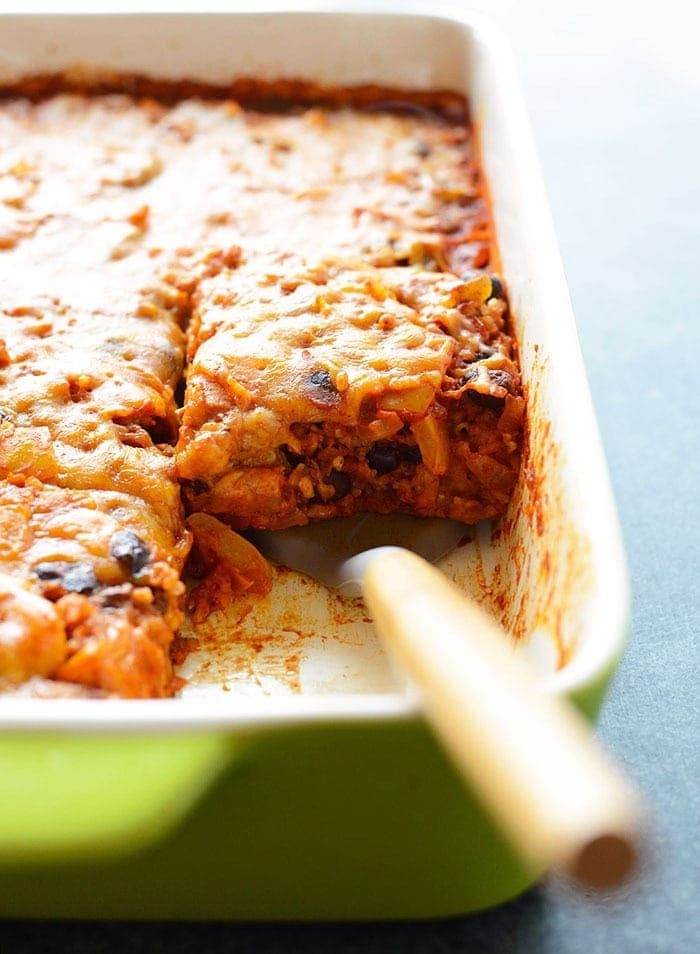 Best Chicken Enchilada Casserole Recipe
This is the best chicken enchilada casserole you will ever eat! Throw everything into your casserole dish raw and in just 60 minutes you'll have a healthy chicken casserole ready to eat.
Ingredients
Optional Toppings:
fresh cilantro

a squeeze of lime

Greek yogurt/sour cream
Instructions
Preheat the oven to 375ºF and spray a large ceramic casserole dish with nonstick cooking spray.

Next, prep veggies by dicing the yellow and green peppers and finely dicing the purple onion. Sprinkle veggies into casserole dish.

Prep chicken breast by cutting it into 1-inch chunks and then placing that on top of vegetables.

Add in germinated brown rice, green chiles, and black beans.

In a large pyrex or glass bowl, add enchilada sauce, chicken broth, and spices and mix. Then, pour mixture on top of veggies and chicken.

Using a large spoon to mix everything together. Use your hands to press all solid contents into the liquid so that everything is (mostly) covered.

Cover with aluminum foil (do not skip this part) and bake for 30 minutes. Then, remove and stir. It will still be a little soupy, but don't worry this is how it's supposed to be! Place back in the oven for 30 more minutes, covered.

Remove from oven and sprinkle with shredded cheese and place back into the oven for 3-5 minutes to fully melt the cheese.

Remove and let sit** for about 5-10 minutes before slicing and serving. Top with fresh cilantro, Greek yogurt/sour cream, and a squeeze of lime.
Tips & Notes
Germinated brown rice cooks very differently than short grain or long grain brown rice. The one subsitution we have found that works best is long grain white rice. We have personally tested this recipe using long grain white rice and you can substitute this 1:1. If you decide to long grain brown rice, however, you will need to cook your casserole for an additional 30 minutes to an hour due to do the variations in cook time between rice.
Option to sub water or vegetable broth for chicken broth
Make sure you let your casserole sit for at least 5-10 minutes to both cool and continue cooking. If your brown rice is still a little crunchy, letting it sit (covered) will help it continue to cook.
Nutrition facts
Calories:
487
kcal
Carbohydrates:
76
g
Protein:
34
g
Fat:
8
g
Fiber:
13
g
Sugar:
6
g