Curry just got even easier and more delicious than ever! In less than an hour you can have this delicious Sweet Potato Green Curry Quinoa Casserole ready for the entire fam.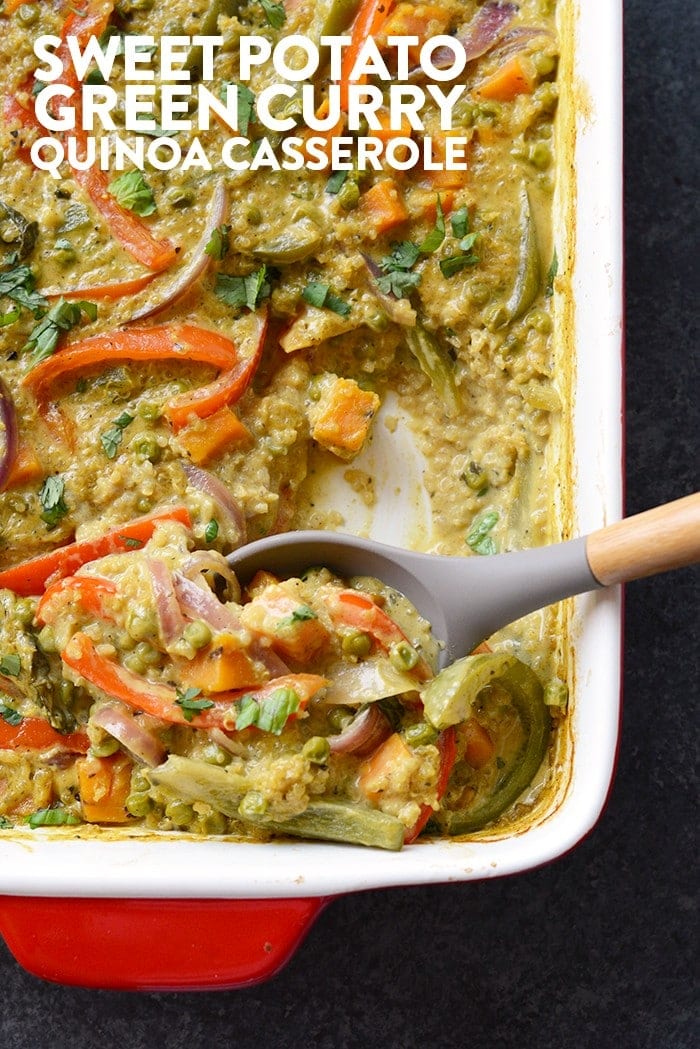 Good day team! I am currently sitting on a airplane on my way back to Minneapolis from Denver after a really fun and exciting week planning for Sweat Series 2017 and beyond. Monique and I have some MAJOR (like MAJOR) things planned and we are so excited we can barely contain it. Mark your calendars friends, January 8th is the start date of our very first New Year Sweat Series.
SO, CASSEROLE WEEK DAY 2 —> Sweet Potato Green Curry Quinoa Casserole.
Fun fact: I hadn't tried curry until about a year ago when Davida made it for me at her house. I KNOW CRAZY, RIGHT? I instantly fell in love and knew it had to be part of casserole week. One thing I really like about curry is the fact that it's made with full-fat coconut milk. I've tried it with "lite" coconut milk, and it just doesn't have the same, full-bodied flavor. Yes, full-fat coconut milk contains a lot of fat and calories in it, but it's good fat and essential for this recipe!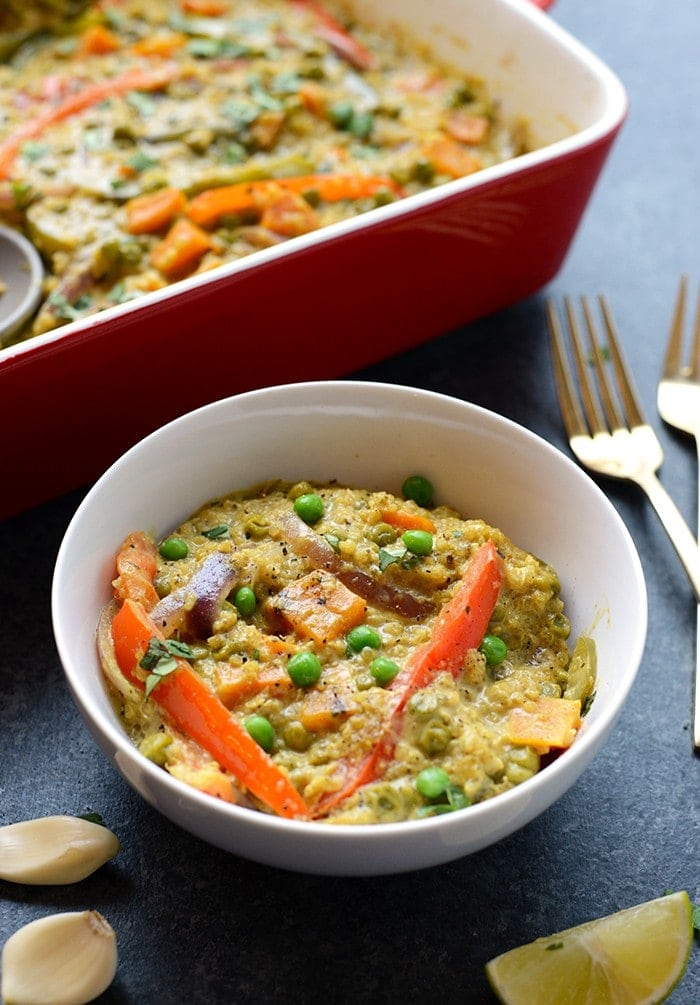 This casserole really is the ultimate vegetarian (vegan, actually) meal! Like I mentioned yesterday, Linley and I really focused on following our healthy casserole equation: protein + veggies + whole grains for each casserole in casserole week. Made with sweet potatoes, peas, onions, and peppers, this curry is absolutely packed with vegetables. The cool thing about this vegetarian casserole, is that you hit your protein and whole grains with one ingredient —> quinoa! While I know quinoa is actually a seed, I like to think of it as a protein-filled whole grain because you can use it in place of rice.
truRoots' Sprouted Quinoa is my jam and cooks perfectly in 60 minutes in this casserole. I'm sure you are wondering what the difference of sprouted quinoa is vs. normal quinoa. truRoots made a video on it, but here's the gist: first the quinoa is washed, and then using a process using light and air, the quinoa is sprouted. Sprouting helps break down the quinoa's protective outer layer to release more nutrients! Yes please.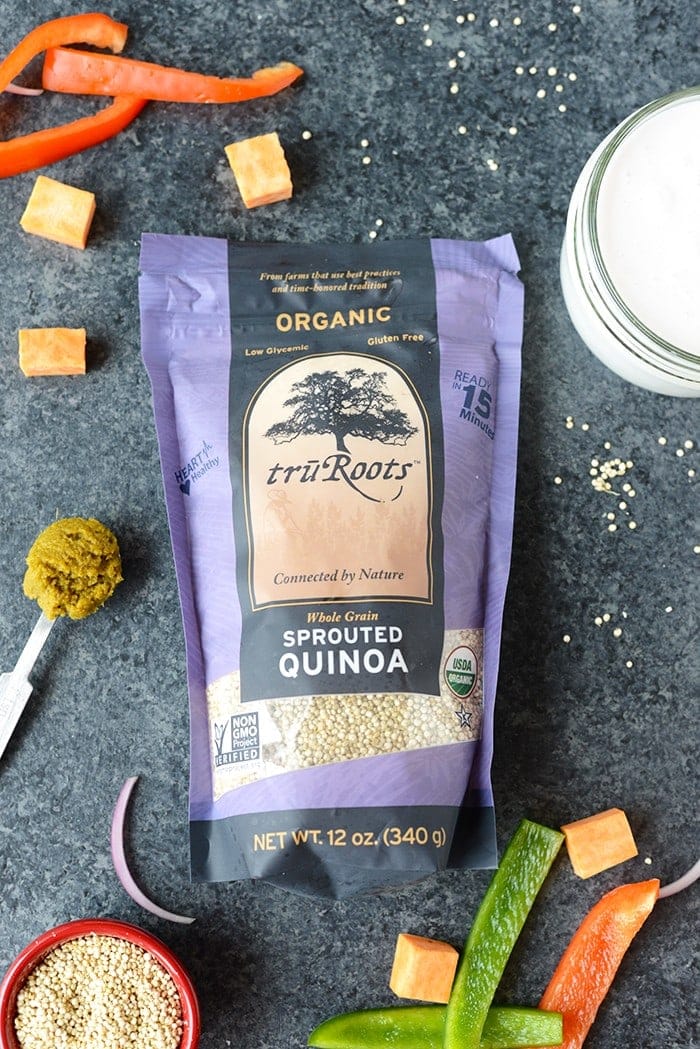 Let's take a look at what veggies are in this casserole:
sweet potatoes
green pepper
red pepper
onion
sweet peas
The cool thing about this recipe is that you can pretty much throw in what ever veggies you have on hand! You could use any kind of pepper, potatoes, celery, etc! Get creative, people…make this your own meal.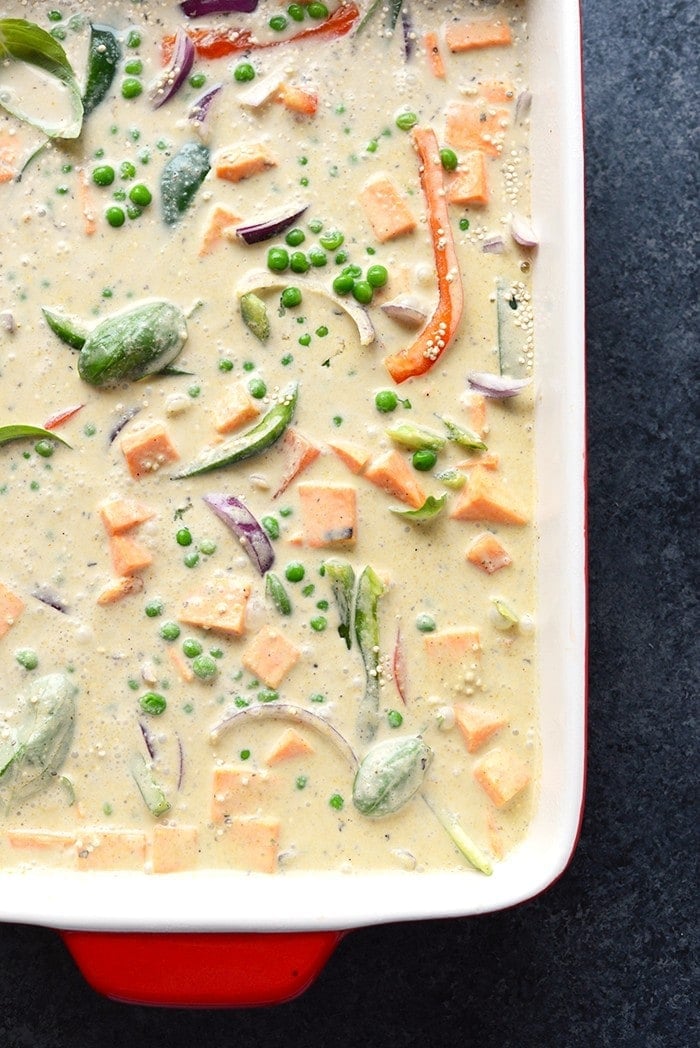 Sauce-wise, this recipe is really really simple and I bet you already have everything in your kitchen!
full-fat coconut milk
vegetable broth
green curry paste
spices: garlic powder, chili powder, turmeric, and basil
green dragon sauce (AKA green hot sauce)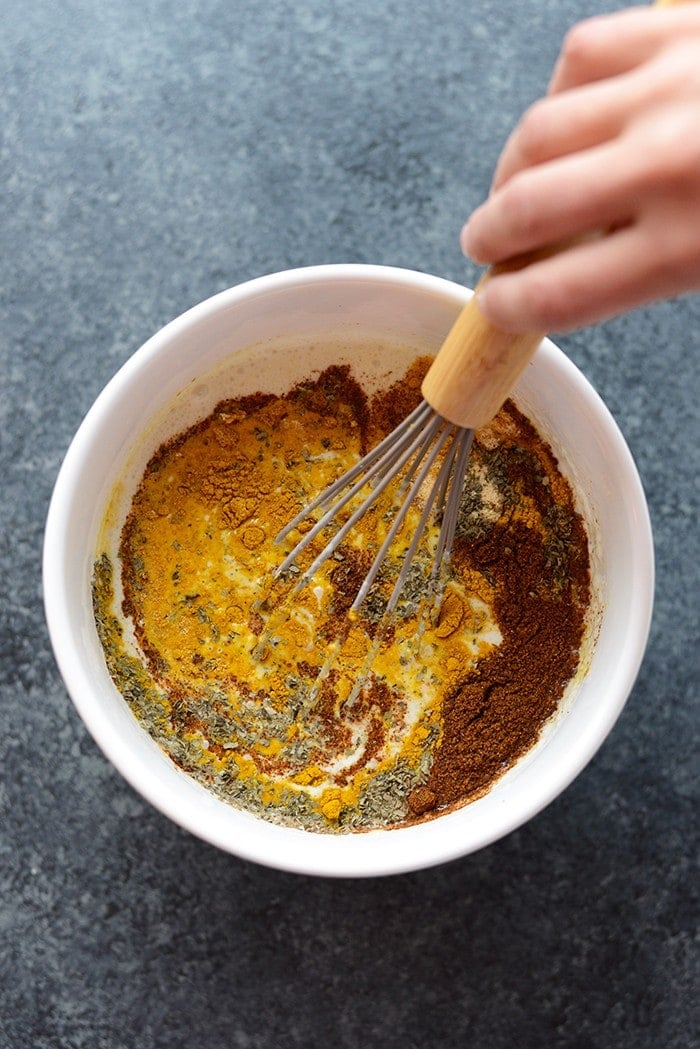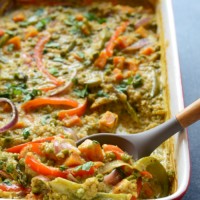 Sweet Potato Green Curry Quinoa Casserole
Ingredients
1.5

cup

truRoots Organic Sprouted Quinoa

1

medium sweet potato

peeled and diced (2 cups)

1

medium red pepper

sliced

1

medium green pepper

sliced

1/2

red onion

sliced (1/2 cup)

1

cup

frozen peas

15

leaves

of fresh basil
Instructions
Preheat oven to 375ºF and spray your casserole dish with coconut oil cooking spray (be generous!).

Next, prep veggies by peeling and dicing the sweet potatoes and slicing the peppers and onions. Sprinkle all veggies (including frozen peas) in the casserole dish.

Next, add basil and truRoots Whole Grain Sprouted Quinoa into the casserole dish. Set aside.

Mix all ingredients for the sauce in a medium sized bowl. Mix well.

Add sauce mixture to the casserole dish and use a large spoon to mix all ingredients together, making sure everything is (mostly) covered.

Cover with tin foil and bake for 30 minutes. Then, remove and stir. It will still be a little soupy, but don't worry this is how it's suppose to be! Place back in oven for 30 minutes, covered.

Remove and let cool.

Top with a squeeze of lime and enjoy
Nutrition facts
Serving:
1
/6
Calories:
561
kcal
Carbohydrates:
66
g
Protein:
11
g
Fat:
28
g
Fiber:
14
g
Sugar:
15
g

Storage
Refrigerator: Store in an air tight container, such as a glass pyrex
, for  up to 5 days in the refrigerator.
Freezer: If you plan to freeze, we suggest baking this in a disposable/aluminum casserole dish
. Place a piece of plastic wrap on top of cooked, cooled casserole and press out all of the air. Then, wrap the entire casserole in tin foil and place in the freezer. Write the name and date of casserole on the tin foil. To reheat, take the frozen casserole out of the freezer and let thaw in the fridge over night. Either reheat single servings of the casserole in the microwave, or reheat the entire thing in the oven (we suggest 40 for 20 minutes).
Product Finder
Looking for a specific truRoots product? Use their product finder feature on truRoots.com!
Casserole Week 2016 is in partnership with truRoots. I was compensated and all opinions are my own. Thank you so much for supporting Fit Foodie Finds and making this website (and my job!) possible!