Is there anything better than a healthy and creamy pasta bake? This vegan pasta bake with white wine pasta sauce is a perfect combination of garlic, cashew cream sauce, and perfectly tender mushrooms.
Make it for your next weeknight dinner or the next time you want to impress your friends at a dinner party.
Vegan Pasta Ingredients
Don't let the word vegan scare you when it comes to making this healthy pasta bake. All you need is the ingredient list below, a high-speed food processor (or Vitamix), a casserole dish and BOOM. You're ready to make an easy and tasty vegan pasta sauce tossed with pasta and veggies!
Garlic
Roasted Salted Cashews
Dry white wine
White onion
Vegetable Broth
Nutritional Yeast
Balsamic Vinegar
Apple Cider Vinegar
Sea Salt
Mushrooms
Spinach
Olive Oil
Fusilli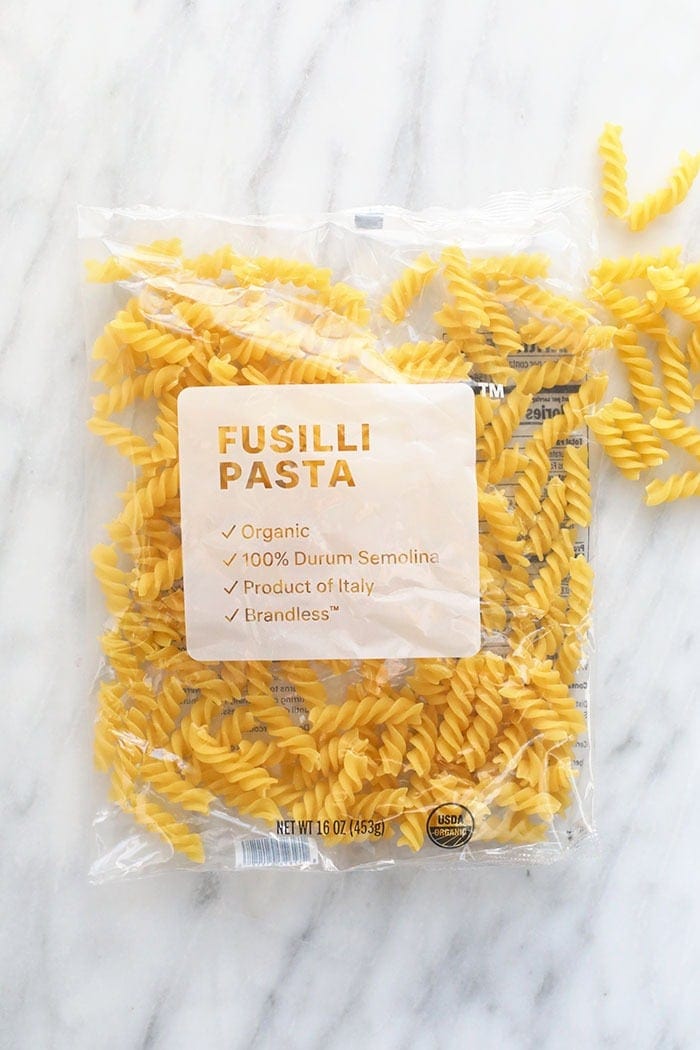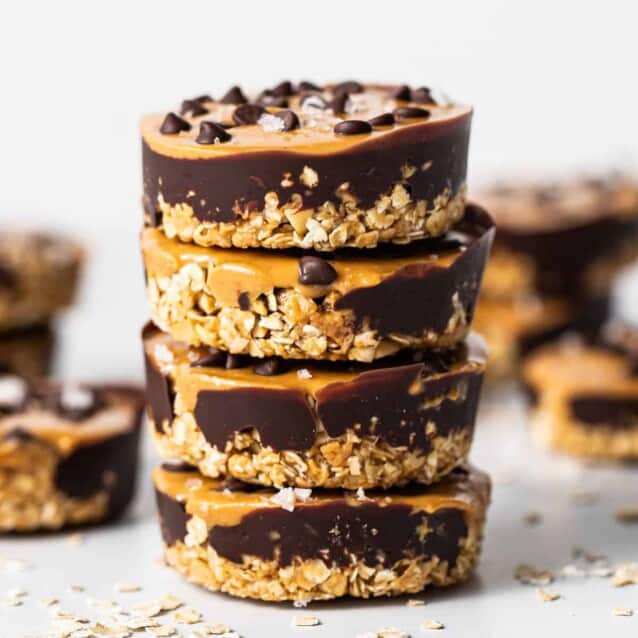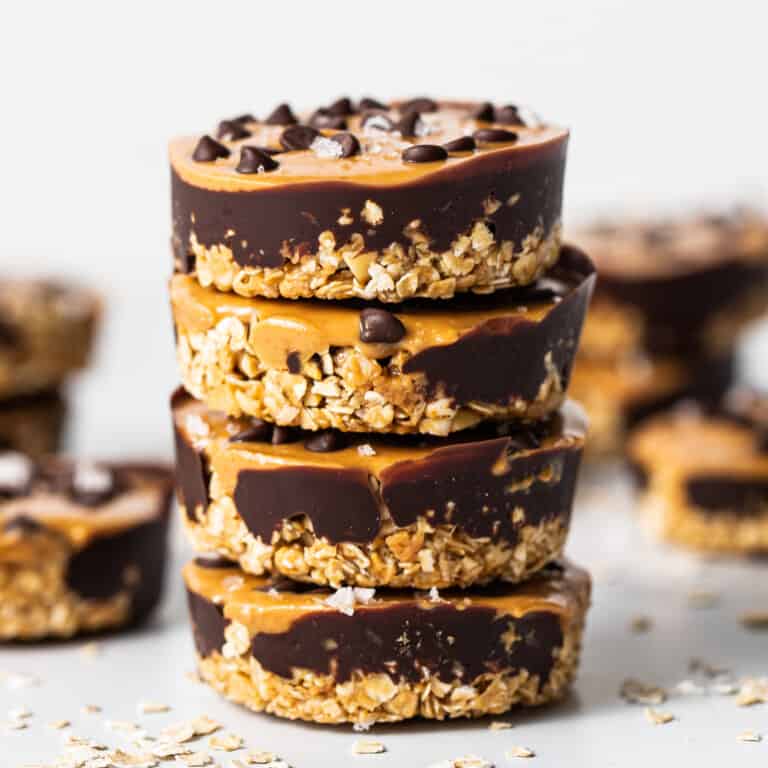 Get our Top 10 5-Star Recipes!
Join our email list for new recipes and BONUS: get our top 10 ⭐️⭐️⭐️⭐️⭐️ recipes e-book!
We Love Vegan Cheese Sauce
When it comes to vegan cheese sauce, you could say that Team Fit Foodie is a little bit obsessed. We have been testing every kind of vegan cheese sauce under the sun. Exhibit A: see below.
We just love vegan cheese sauce and before we get into the ins-and-outs of this amazing creamy vegan pasta bake we wanted to talk about what exactly creamy vegan pasta sauce is actually made out of.
I'm sure some of you are thinking, "How do you make vegan cheese sauce without cheese?" Don't worry, you're not the only one.
There are many ways that you can blend up a creamy vegan pasta sauce without using cheese. Some people prefer to blend up white beans as a base for their vegan pasta sauce where some people prefer to use a thick vegetable puree.
All about the cashews
Here on Team Fit Foodie, our favorite way to make a vegan pasta sauce is with soaked cashews! We knew we wanted to use soaked cashews when started developing this Vegan Pasta Bake with White Wine Pasta Sauce.
In the past, we have generally used raw cashews for our cashew sauce, however, we have been obsessed with roasted cashews and they are always in our pantry, so we decided those would be the base for our sauce.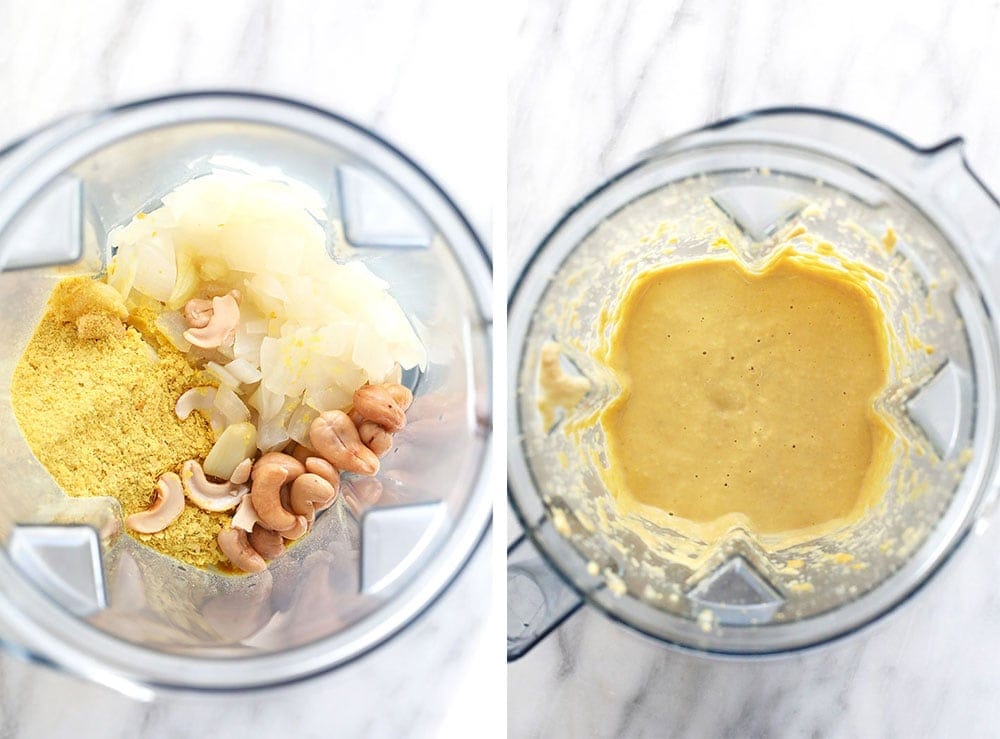 How to Make a Vegan Pasta Bake
Let's get down to business with this vegan pasta bake. The beauty of this savory and delicious meal is that it is easy to make, but it gives off flavors you'd find in a cozy corner Italian cafe.
After you make the white wine pasta sauce, you throw all your ingredients into a casserole dish and bake it to perfection.
Our variation of this Vegan Pasta Bake is made with mushrooms and spinach, but we wanted to remind you that you can make this vegan pasta bake your own! Now, let's dig a little deeper.
You'll Love this White Wine Pasta Sauce
The key to this white wine pasta sauce is to make sure all ingredients are fully cooked, soaked, and blended! There is a little bit of leg work to prepare the ingredients to make this a creamy pasta sauce, but once the ingredients are ready all you have to do is blend. So, first things first…
Soak Cashews
You have two choices when it comes to soaking your cashews. One, you can soak them overnight in room temperature water or two, you and flash boil the cashews by pouring boiling water over your cashews and letting them sit and soak for at least 30 minutes.
Roast Garlic
If I'm being honest with you, you can use whatever kind of garlic you would like in this pasta sauce (even garlic powder if you must). However, you will get the best flavor and bang for your buck if you roast a head of garlic in the oven.
Preheat your oven to 400ºF at the beginning of recipe prep, cut off one head of your garlic and wrap it in tin foil. Roast for 30 minutes. Remove and squeeze garlic cloves out of the peel and they are ready for roasting.
Reduce White Wine
Before you move forward to prepare the pasta or the veggies, you must reduce your white wine sauce. We suggest using a dry chardonnay rather than a sweet pinot grigio. What you'll do is bring your wine and onion to a boil, let simmer, and reduce by half. Then, remove wine and onions from heat.
Once each step of the pasta sauce is completed, place all ingredients into your high powered blender and blend until smooth. If the sauce is too thick add a teaspoon of broth at a time until it is at your desired consistency.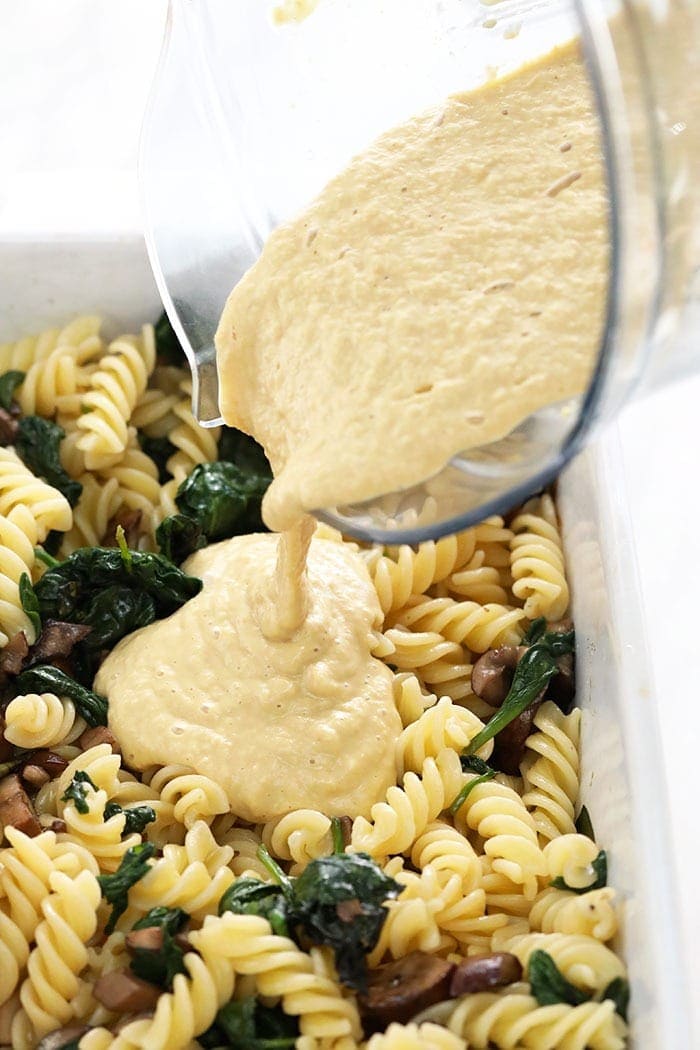 Get Your Noodle On
You can use whatever noodle you would like in this recipe. We used Fusilli because it has the perfect spiral to hold the delicious creamy white wine sauce in all of the crevasses of the pasta.
No matter what pasta you decide to use, you will need to boil your pasta before mixing it into your vegan pasta bake.
All you have to do is bring a pot of water to a boil, add pasta, and cook until pasta is a little crunchier than al dente. You want to make sure your pasta doesn't overcook in the oven, so undercooking your pasta on the stove will help! Strain your pasta and set aside for later.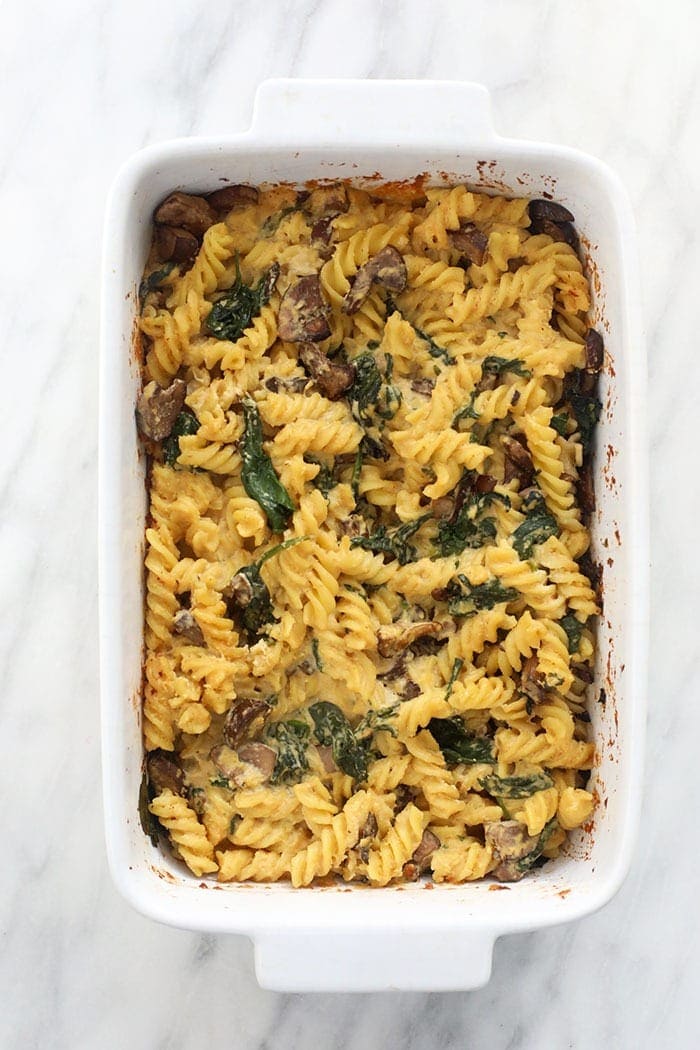 Choose Veggies
Everyone has a different palate when it comes to vegetables. We chose mushrooms and spinach for this vegan pasta bake because the umami flavor of the mushrooms goes insanely well with the creamy pasta sauce.
However, if you would rather use bell peppers, go for it! If you're not a fan of spinach, try kale! The roast time for your veggies may vary slightly, but any veggie will do.
Prepare your veggies by chopping them and placing them in your greased casserole dish. Drizzle with olive oil and salt and pepper. Place casserole dish in the oven and let them roast for 20 minutes, stirring every 5 minutes (you will place your casserole dish next to your roasted garlic in the oven). Remove from oven.
Bake
Finally, it's time to get your vegan pasta bake in the oven. Add pasta and creamy white wine pasta sauce to the casserole dish with veggies still inside. Make sure pasta and veggies are all covered by the white wine pasta sauce and that's it!
Place vegan pasta bake into the oven and let bake for 15-20 minutes or until all ingredients are perfectly hot and combined.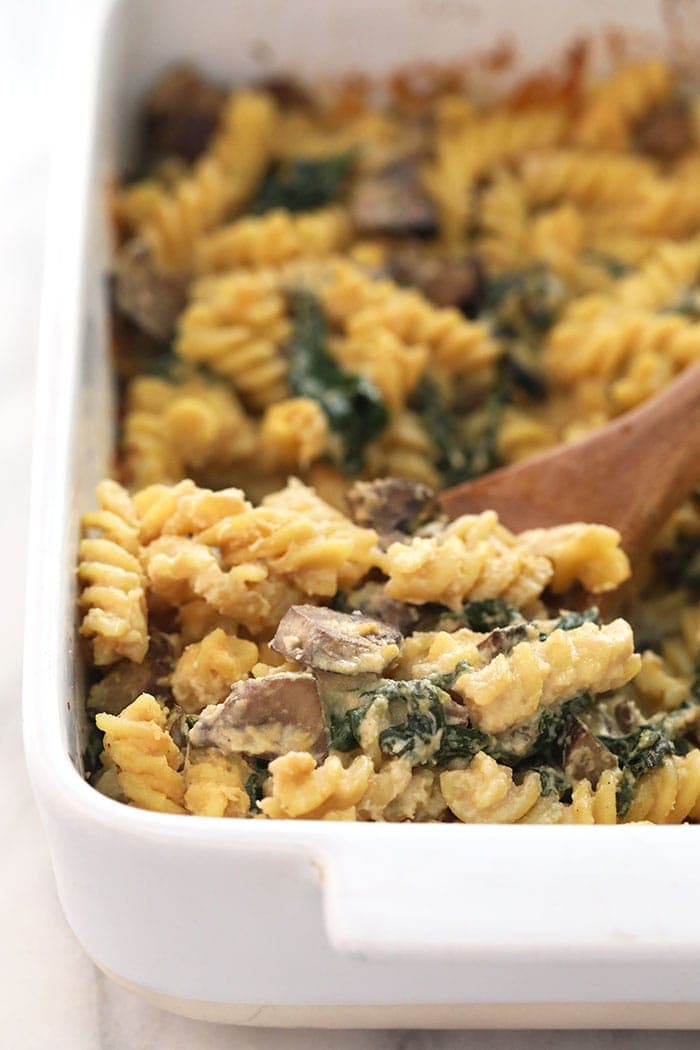 Vegan Pasta Q&A
We understand that there are always going to be questions when it comes to a specific diet regimen. So, before we dive into how exactly you prepare this healthy vegan pasta, let's go over a couple frequently asked questions.
Is white wine vegan? Some white wine is vegan and some white wine is not. Traditionally, all wine is filtered through a fining agent to remove and filter certain things from the wine.
Usually, that fining agent is made from an animal byproduct. Luckily, there are wine brands out there that have figured out how to do the filtering process with different material! For more information on vegan wine and how to tell if a specific wine is vegan, check out the Kitchn's Post on Vegan Wine!
Can vegans eat pasta? YES, vegans can eat pasta! However, not all pasta's on the market are vegan. Make sure to check labels and ingredient lists of any pasta you are thinking about purchasing.
Do I use roasted cashews or raw cashews for vegan cheese sauce? Traditionally, raw cashews are used for vegan pasta sauce. However, I have good news for you. YOU CAN USE BOTH roasted cashews or raw cashews. It does depend on your personal preference on flavor. Roasted cashews tend to leave a little bit of a smokier or sweeter flavor depending on what roasted cashew you use. The good thing is that the texture of the vegan pasta sauce does not change. It comes out creamy and thick no matter what type of cashew you use!
Can you reheat or freeze a vegan pasta bake? Yes! You can prepare this pasta bake and reheat it in the oven or microwave all week long or keep in the fridge for up to 5 days. If you would like to freeze this meal we suggest using a disposable tin baking dish. Bake your vegan pasta bake, let it cool completely, and cover with saran wrap and tin foil. Place in the freezer for up to 3 months. When you are ready to bake your frozen vegan pasta bake. Remove from oven, let it thaw completely, and bake at 350ºF for 20-30 minutes or until hot.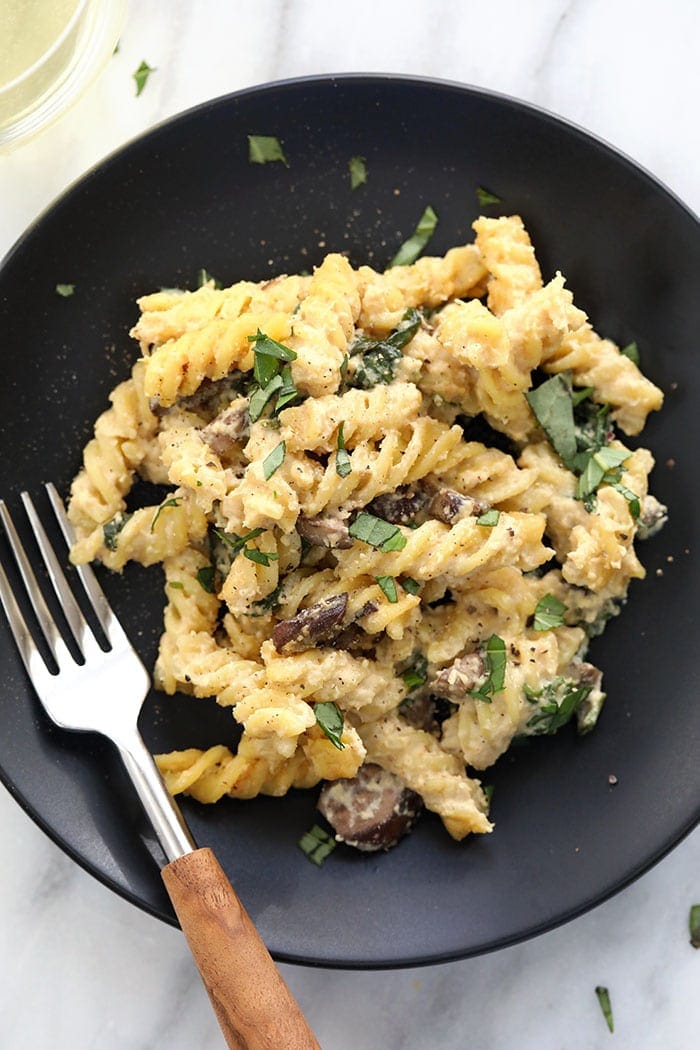 More Vegan Recipes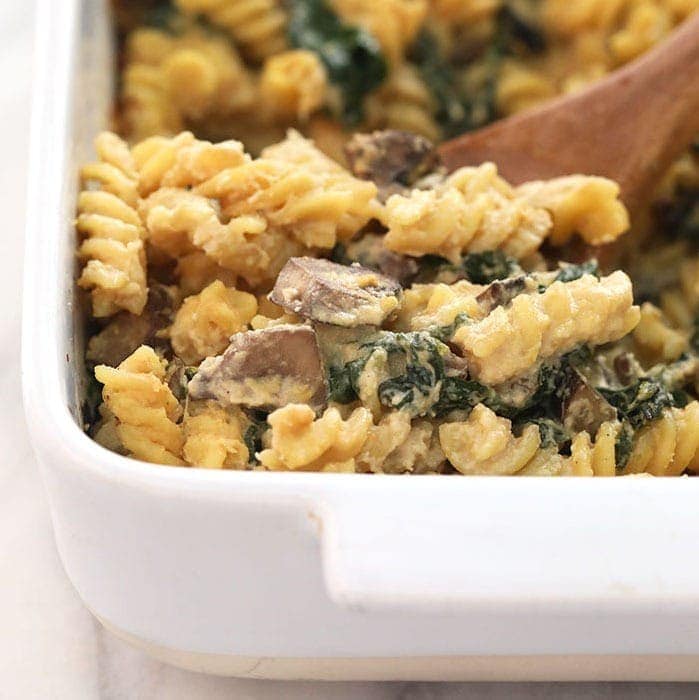 Vegan Pasta Bake with White Wine Sauce
Is there anything better than a healthy and creamy pasta bake? This vegan pasta bake with white wine pasta sauce is a perfect combination of garlic, cashew cream sauce, and perfectly tender mushrooms. Make it for your next weeknight dinner or the next time you want to impress your friends at a dinner party.
Instructions
Begin by preheating oven to 400ºF.

Next, place cashews into a large bowl and bring 2 cups of water to a boil and pour water over the cashews. Let sit for at least 15 minutes.

Prepare head of garlic by chopping off one end and placing on a piece of tin foil. Generously drizzle with olive oil and then wrap with the tin foil, removing as much air as possible. Roast at 400ºF for 30 minutes.

While your garlic is roasting, prepare vegetables. Spray a large baking dish with nonstick cooking spray and add in chopped mushrooms and spinach. Drizzle with 2 teaspoons of olive oil and season with salt. Bake at 400ºF for 20 minutes. Stirring every 5 minutes.

Before preparing your white wine sauce boil pasta. Bring a large pot of water to a boil and add pasta. Let cook for 3-4 minutes or until pasta is a little crunchier than al dente. It will finish baking in the oven. Strain and set aside.

Prepare white wine pasta sauce by placing 1 cup of dry white wine and 1/2 chopped white onion in a small saucepan. Turn heat to high and bring to a boil. Then, turn to low and let simmer for about 15 minutes or until it reduces by half.

Next, transfer white wine and onion mixture into a high-speed blender. Once your roasted garlic is done cooking, remove it from the tin foil and squeeze roasted garlic cloves into the high-speed blender.

Add the rest of the white wine pasta sauce ingredients and blend on high for at least 60 seconds or until pureed.

Finally, add cooked pasta and vegan pasta sauce to the casserole dish with veggies still inside. Mix well until all ingredients are combined and covered with pasta sauce. Place into the oven and bake for 15-20 minutes or until pasta bake is hot.

Remove from oven and serve.
Tips & Notes
Nutrition information is for 6 servings.
Nutrition facts
Calories:
333
kcal
Carbohydrates:
41
g
Protein:
12
g
Fat:
11
g
Fiber:
14
g
Sugar:
4
g