The most delicious creamy vegan pasta is made with soaked cashews, roasted tomatoes, and garlic. Blend it up and serve it with fresh basil and your favorite pasta!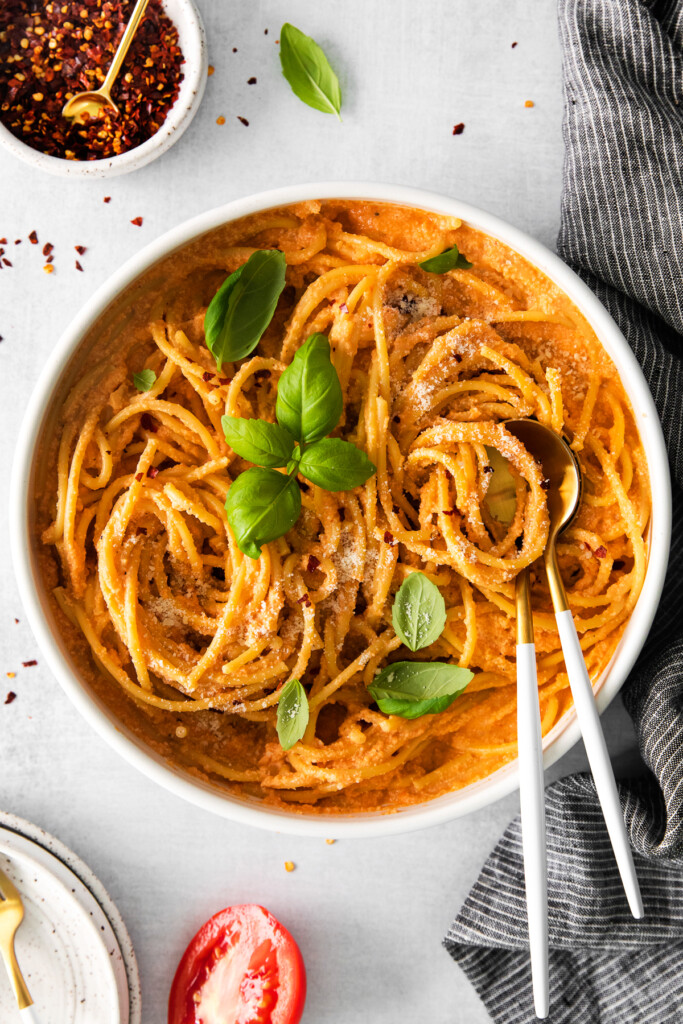 The Vegan Pasta is one of our most popular plant-based meals on Fit Foodie Finds. We hope you love this nutrient-packed pasta recipe!
Seriously the BEST Vegan Pasta Recipe
When we say this is one of the best vegan pasta recipes on the internet, WE MEAN IT. It's saucy, filling, and so flavorful. So many of you have made this and given this vegan pasta recipe a 5-star review and rightfully so.
It's our go-to vegan pasta dish to make year-round, but especially when tomatoes are bursting in the garden.
this vegan pasta is…
Made with simple ingredients: in addition to noodles, this vegan pasta is made with fresh ingredients such as tomatoes, onion, and garlic.
Protein-packed: per serving, this plant-based pasta has 9g protein/serving.
Nutrient-dense: this creamy pasta sauce is nutrient-dense made with a raw cashew base and olive oil.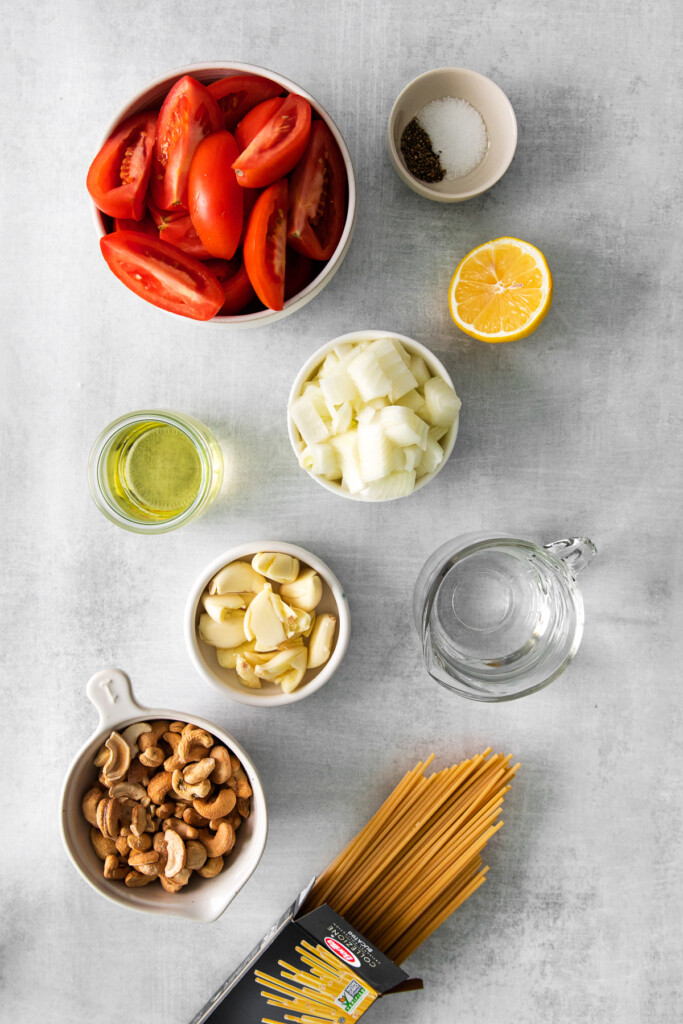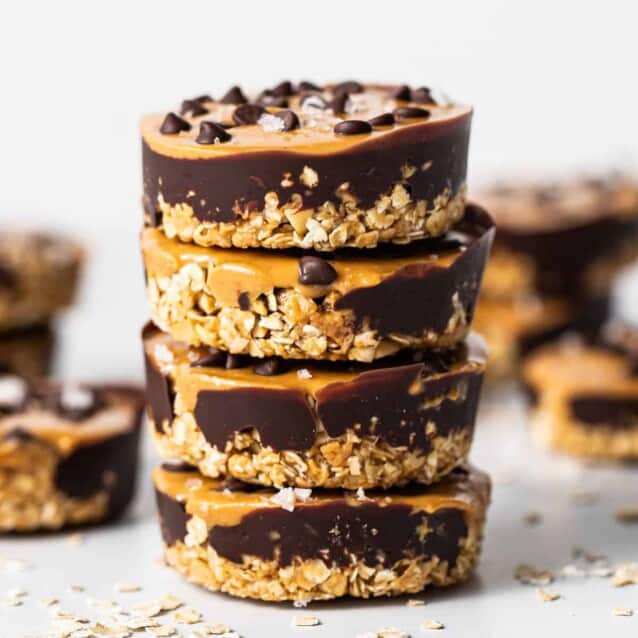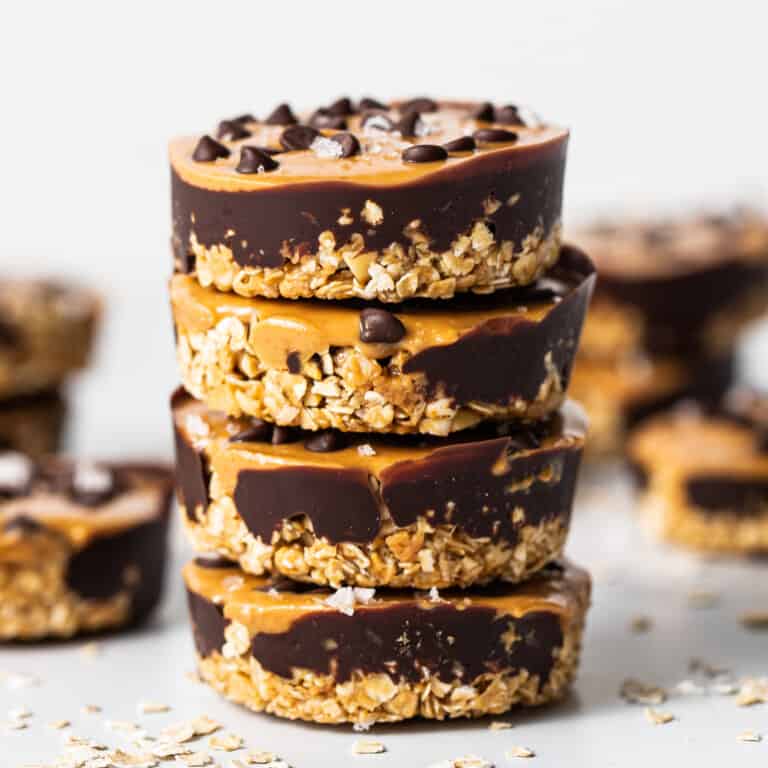 Get our Top 10 5-Star Recipes!
Join our email list for new recipes and BONUS: get our top 10 ⭐️⭐️⭐️⭐️⭐️ recipes e-book!
Simple Ingredients for Vegan Pasta Sauce
I love how simple the ingredients are in this recipe. They're fresh, easy to find, and pair extraordinarily well together.
Tomatoes: this recipe calls for roasting, so we recommending using medium/large tomatoes, but any kind will work.
Yellow Onion: onion offers up an incredible flavor add. It's savory, yet sweet at the same time.
Garlic: roasted garlic is a dream. This vegan pasta recipe calls for 6 cloves, but heck, you could use an entire head if you wanted! Check out this quick tutorial for how to roast garlic.
Olive Oil: olive oil is used to help break down the tomatoes and onions during roasting.
Pasta: feel free to use any kind of pasta your heart desires.
Raw Cashews: raw cashews are the basis of this vegan pasta sauce. We'll give you the full run down below of whether to use raw or roasted cashews.
Fresh Basil: fresh basil adds such a wonderful freshness to this sauce. Don't skip it!
Do I have to use raw cashews?
We used to be sticklers about using only raw cashews when you make a creamy vegan pasta sauce. However, since we've made this so many times (and so have you), we thought we'd test both options.
Both raw and roasted cashews will work. It does depend on your personal preference for flavor.
We found that roasted cashews tend to leave a little bit of a smokier or sweeter flavor, but overall the texture of the vegan pasta sauce does not change. It comes out creamy and thick no matter what type of cashew you use.
Can I use a different kind of nut?
We haven't tested this recipe with any other nut other than cashews and we don't recommend swapping it.
Why didn't you use nutritional yeast?
You're more than welcome to use nutritional yeast, but we wanted to make a vegan pasta sauce without it that still tasted good and was a creamy as ever!
Is this vegan pasta gluten-free?
If you serve this pasta with a gluten-free certified noodle, then this recipe is gluten-free.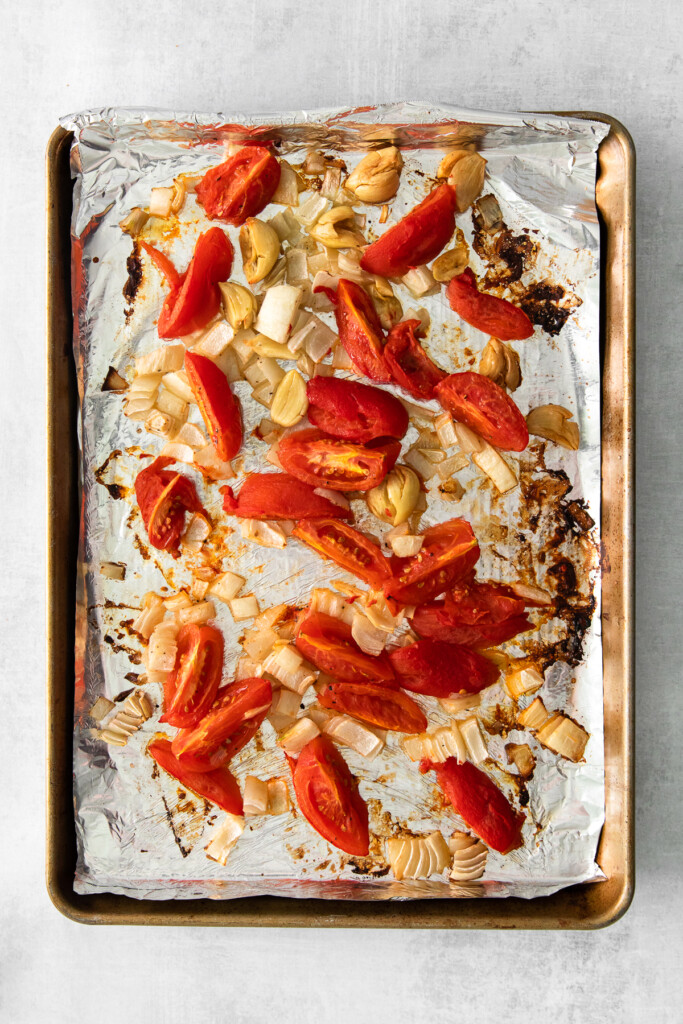 How to Make Vegan Pasta
Lots of the pasta recipes on Fit Foodie Finds are naturally vegan (hello garden summer pasta and pesto pasta) and we're upping the anty with this recipe by making a creamy pasta sauce!
Soak Cashews Until Squishy
In order to make this a *creamy* vegan pasta sauce, you need cashews. Cashews take the place of any kind of cream or dairy because when blended, they turn into a super creamy consistency.
Soaking the cashews before blending is a must. Soaking your cashews in water helps soften them to make them easier to blend up as the base of your sauce. There are two different ways you can soak cashews.
Overnight. Place cashews in a glass bowl and cover them with water. Cover with plastic wrap and let them soak overnight or for at least 12-24 hours.
Flash boil. Bring a small pot of water to a rolling boil. Add cashews to the pot and remove from the heat. Let the cashews sit for at least 15 minutes.
No time? no problem!
You can always quick-boil your cashews instead of letting them sit overnight. This will speed up the soaking process.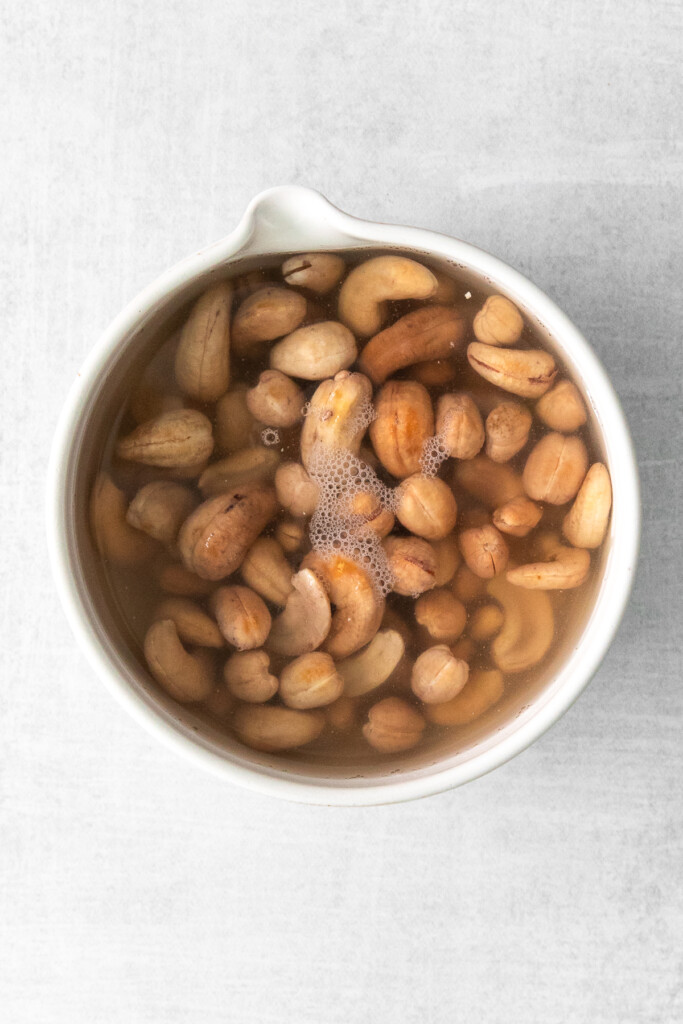 Roast Veggies
Now it's time to roast your veggies. The main components of this sauce are tomatoes, onion, and garlic. 3 of my favorite things.
Place veggies on a baking sheet and drizzle with olive oil. Season with salt and pepper.
Roast at 400ºF for 20 minutes.
After 20 minutes, carefully remove the skins of the tomatoes. Trust us, you don't want to skip this part. Pop the veggies back into the oven and roast for 10 more minutes.
Blend Sauce
Once your veggies are done roasting, transfer them into a high-speed blender.
Drain the cashews from the water they were soaking in and place those in the blender too. Add olive oil, starchy pasta water, and salt and blend until smooth.
You may need to add more starchy pasta water depending on how thick/thin you like your pasta sauce, so make sure to save a full cup.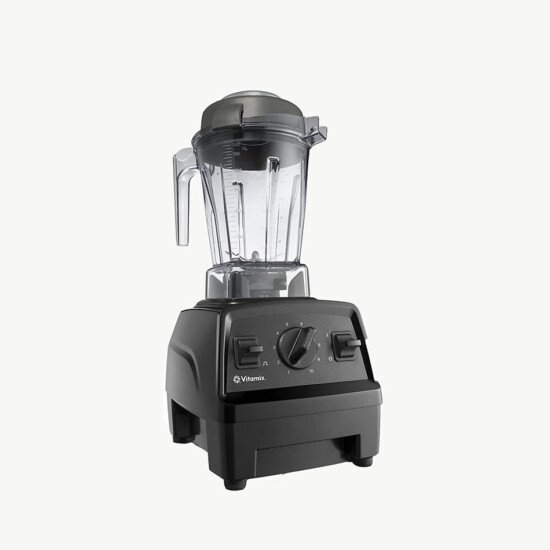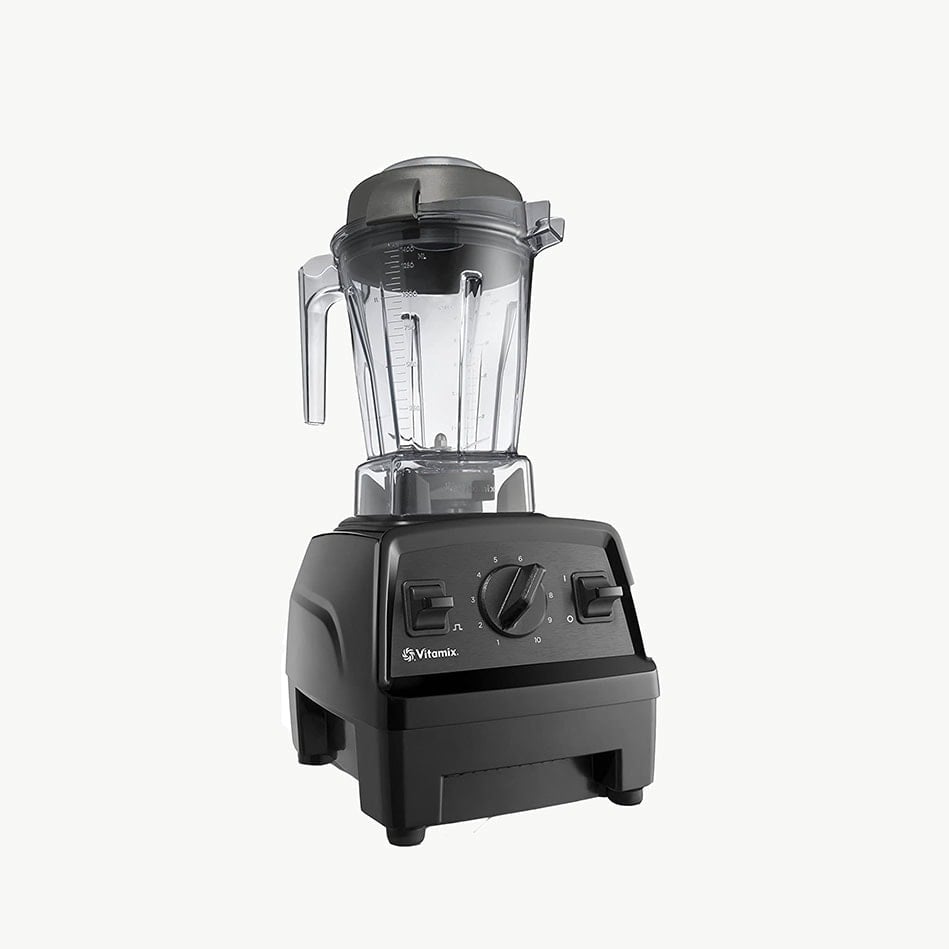 Our Favorite
Blender
Looking to upgrade your blender? Check out our favorite Vitamix Blender. It's our favorite high-speed blender perfect for making smoothies, soups, and nut butter.
Buy Now
Can I sauté the veggies instead?
Instead of baking, you are more than welcome to saute the veggies. A few readers have done so and had success (re: comments).
We suggest sauteeing in a large frying pan until the tomatoes have broken down. Make sure to still remove the skins of the tomatoes as the texture will be better.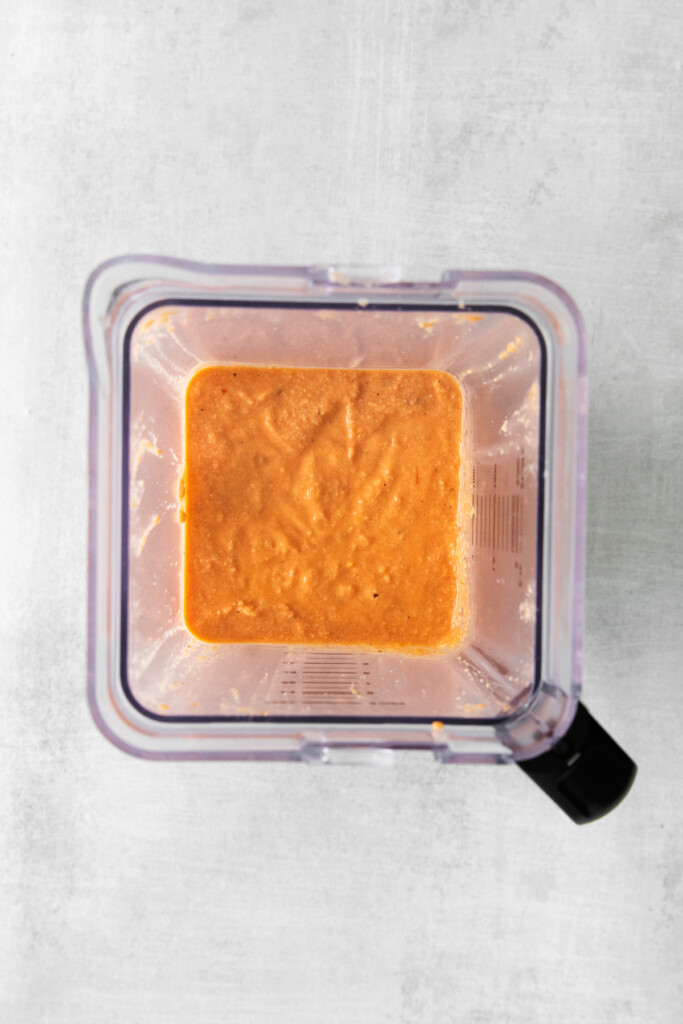 Serve and Top
Pour the creamy tomato pasta sauce on top of your cooked noodles and toss to combine.
Sometimes we've found that if you don't work fast enough during the sauce creation, you may need to reheat it a bit. If that is the case, go for it! You can always add more starchy pasta water too.
Serve pasta with vegan parmesan cheese, fresh basil, and red pepper flakes.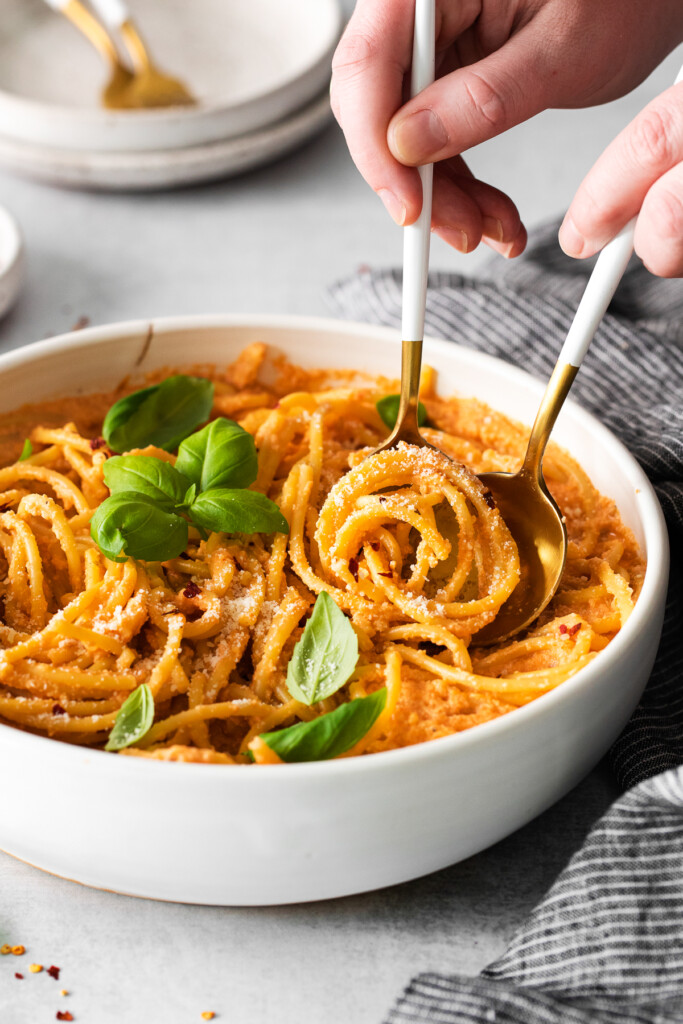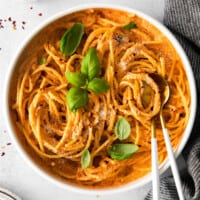 Creamy Tomato Vegan Pasta
This is the best creamy vegan pasta. It's made with a delicious creamy tomato basil vegan pasta sauce made from cashews and served with your favorite noodle.
Ingredients
1

cup

raw cashews

6

medium tomatoes

quartered

1

medium yellow onion

chopped

10

cloves

garlic

peeled and smashed

1/4

cup

olive oil

separated

1

teaspoon

salt

separated (or more, to taste)

1/4

teaspoon

ground pepper

+ more for serving

1

cup

starchy pasta water

1/2

tablespoon

lemon juice

6-8

servings of pasta

we used bucatini

Fresh basil

for serving

Red pepper flakes

for serving

Vegan parmesan

for serving
Instructions
First, prepare your cashews by placing them into a bowl. Pour boiling water on top of them so that they are fully submerged. Let sit for 30 minutes.

Preheat the oven to 400ºF and line a baking sheet with tin foil.

Place tomatoes, onions, and garlic onto the baking sheet. Drizzle with 2 tablespoons olive oil and season with 1/2 teaspoon salt and 1/4 teaspoon ground pepper. Toss, making sure everything is coated.

Roast veggies at 400ºF for around 20 minutes.

While vegetables are roasting, prepare your pasta by following the direction on the back of the box. Make sure reserve 1 cup of starchy pasta water for later.

When the vegetables are done roasting, remove the baking sheet from the oven and carefully remove the skin from the tomatoes. The skins should come off pretty easily at this point. Then, roast for an additional 10 minutes.

Now it's time to make your creamy vegan pasta sauce. Strain the cashews from the water they were soaking in and then place them into a high-speed blender. 

Transfer all ingredients from the baking sheet (including the juices) into the blender along with 2 tablespoons olive oil, 1/2 teaspoon salt, 1/2 cup of starchy pasta water, and 1/2 tablespoon lemon juice. Blend on high until smooth. Taste the pasta sauce and add more water as needed along with more salt.

Toss the cooked pasta with the sauce. If it's no longer hot, you can reheat on the stovetop.

Servewith fresh basil, cracked black pepper, red pepper flakes, and vegan parmesan.
Tips & Notes
Option to add fresh basil into the blender.
This recipe was slightly updated on 2/9/2022. We added starchy pasta water to make it easier to blend along with a little lemon juice.
Nutrition facts
Calories:
333
kcal
Carbohydrates:
51
g
Protein:
9
g
Fat:
10
g
Fiber:
4
g
Sugar:
6
g