Looking to mix up your pasta dish? Make this delicious Creamy Vegan Pasta with Sautéed Kale, and Tomatoes.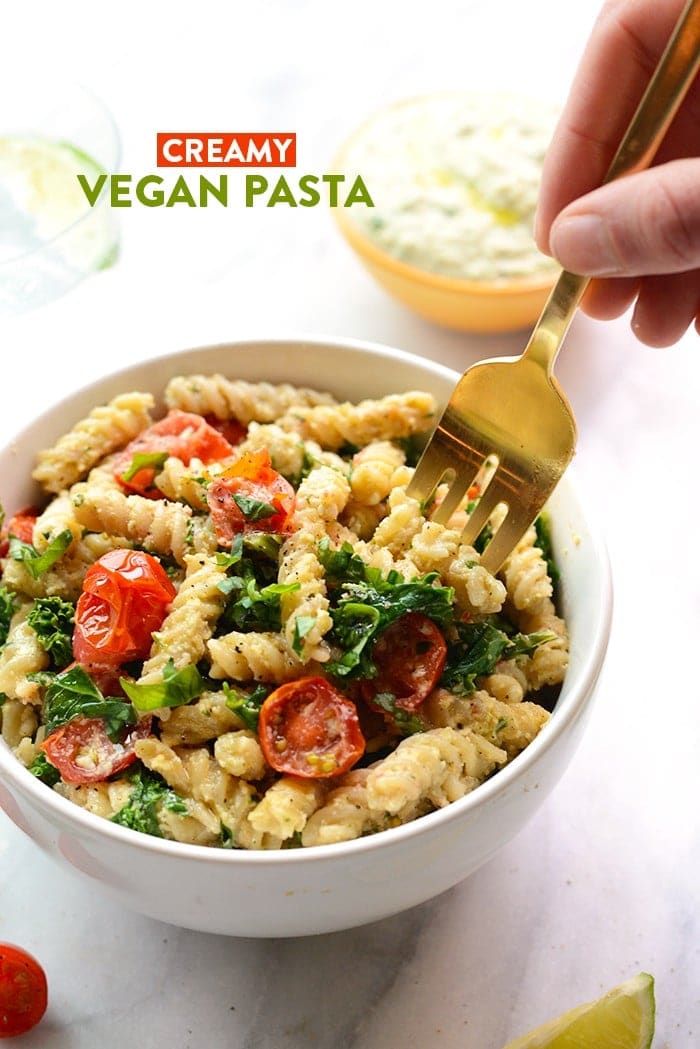 Hola amigos! I had a conversation with Linley the other day about how there are certain foods we are afraid to cook. Like grilling for example. I used to be mortified to grill because I thought it was only a dude thing. Turns out, it's super simple and really enjoyable! I get emails from readers about how they are afraid to cook chicken or any kind of meat because they are afraid they will mess it up or undercook it. One thing I've learned in my 6 years of food blogging is to just GET OVER THE FEAR and get in the kitchen and just do it!
I bring this up because I FINALLY took my own advice last month and made a creamy vegan pasta sauce with soaked cashews, which I was afraid to make. I am a HUGE Minimalist Baker fan (I just think Dana is the bestest) and she is the queen of vegan creamy sauces. I've been gawking over her vegan pasta recipes using soaked cashews for the past 4 years, but I have been too much of a fraidy cat to make it. Thankfully, I put on my big girl pants, got in the kitchen, and created this delicious recipe!
Anyway- I just wanted to reiterate- DO NOT TO BE AFRAID. You WILL surprise yourself at how good real food tastes even if you think you messed it up. I did at least!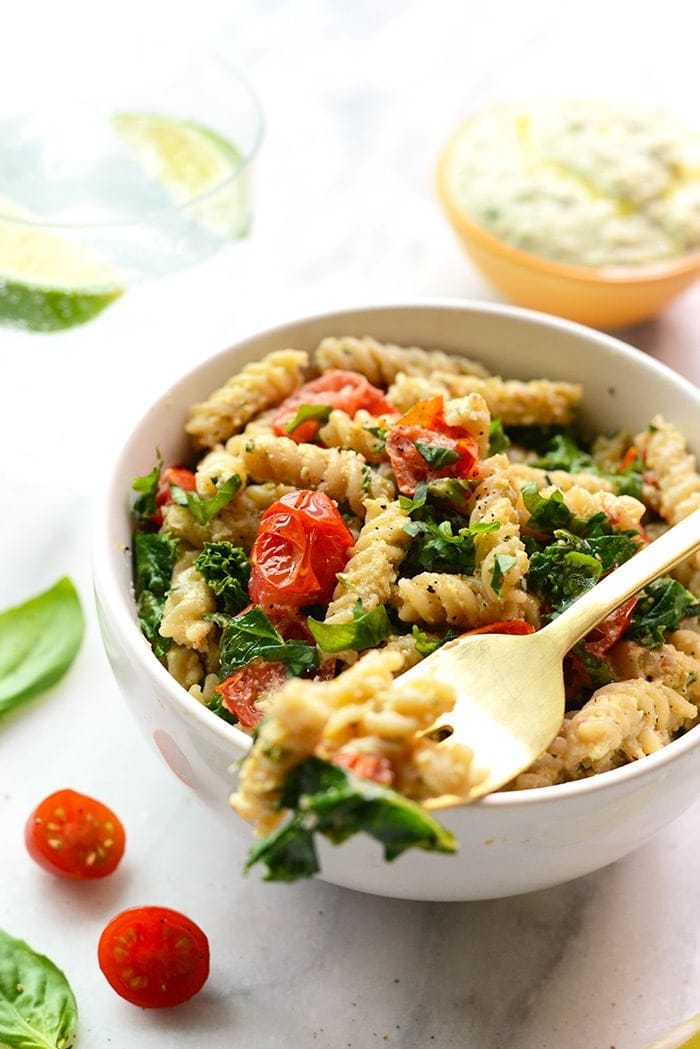 With all of that said- this pasta is SO GOOD. Today's recipe is sponsored by truRoots.
I want to start off by saying that I have tried a fair share of gluten-free pasta. I'm not going to lie, I don't normally swoon over GF pasta because it can come out mushy and tasteless. YOU GUYS- THIS PASTA IS AMAZING. The texture is on point and the flavor is delicious. I can safely say this is the best gluten-free pasta I have ever tried and would 100% recommend this to both gluten-free eaters and normal pasta lovers.
I love this pasta not only because it tastes great and cooks to perfection, but also because it's packed with ancient grains such as brown rice, quinoa, amaranth, and corn! Did I mention it's called fusilli? Say that 5 times fast!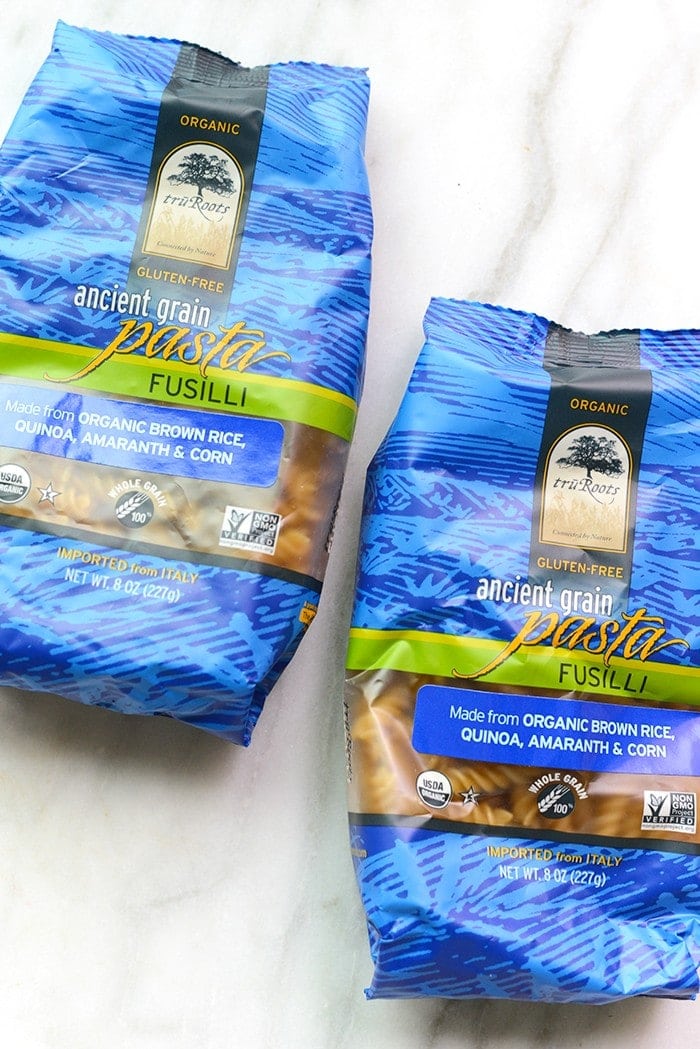 As I was exploring truRoots' website, I noticed that you can see exactly where they source their ingredients for their products! I love that in every piece of pasta you pretty much get a taste of the entire world.
Okay- let's talk sauce for a minute here. So I mentioned above that I was a little mortified to make a vegan "cream" based sauce because I just didn't have experience working with soaked cashews. GUYS- it's so easy! All you have to do is boil some water and pour it over your cashews, let them soak overnight, and you're ready to make your sauce the next day. The base of this sauce is soaked cashews with some garlic, a whole bunch of basil, olive oil, water, and salt. I was hoping for the sauce to turn green, but errrrrrr, it didn't happen!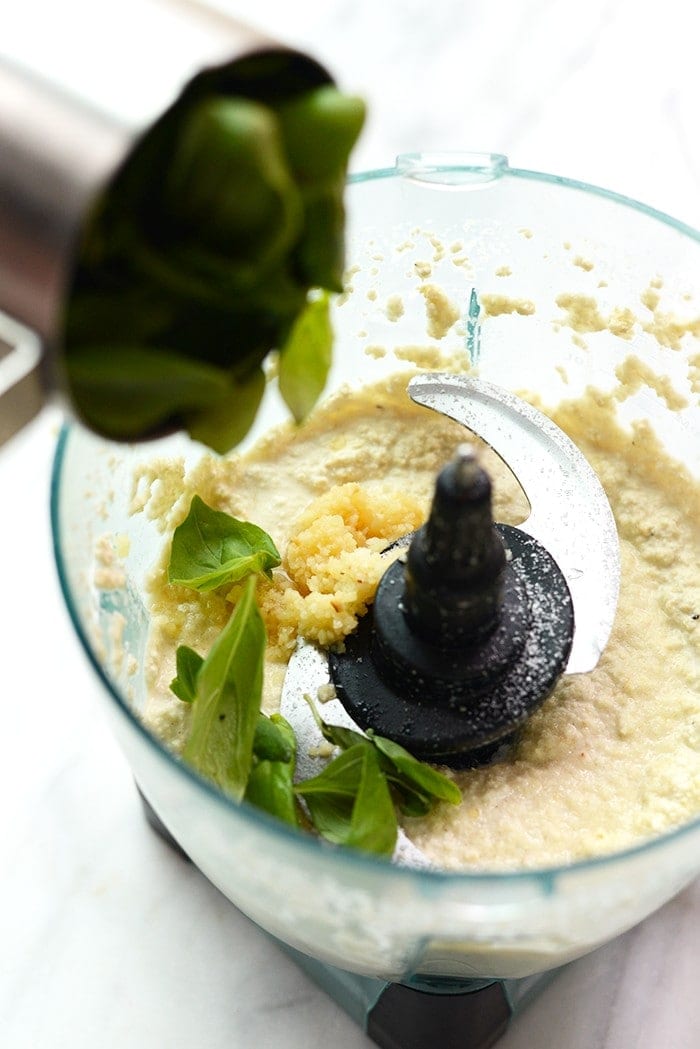 The rest of the pasta is even easier than the sauce! All you need to do is cook your pasta and sauté your veggies. Then, you mix everything together and DINNER IS READY!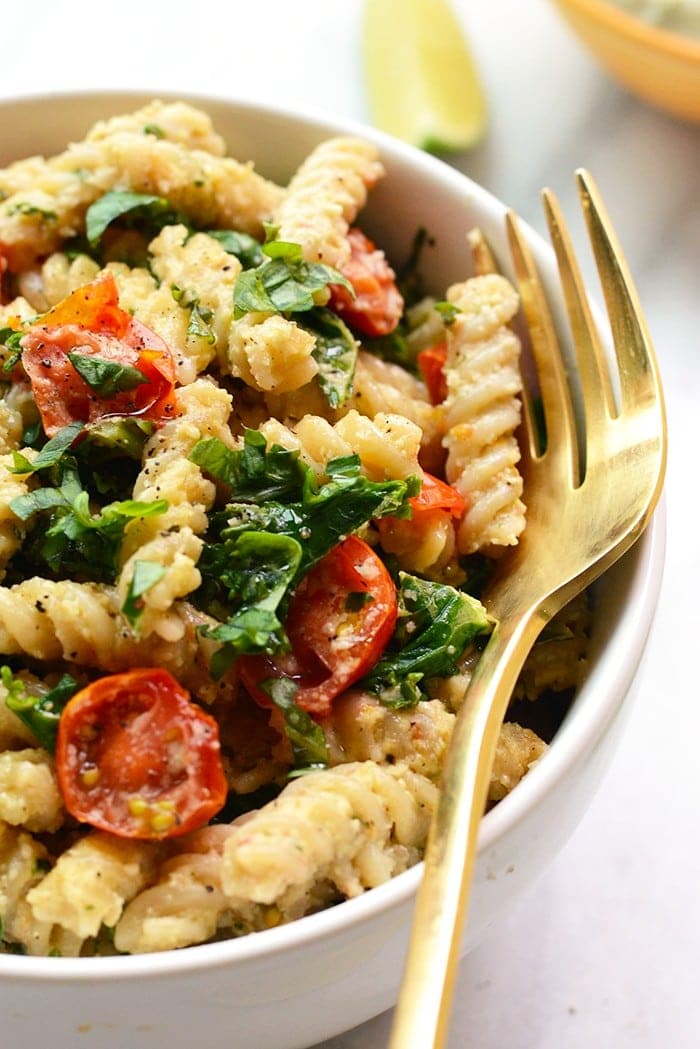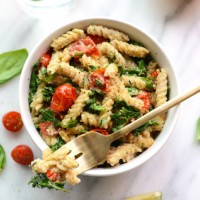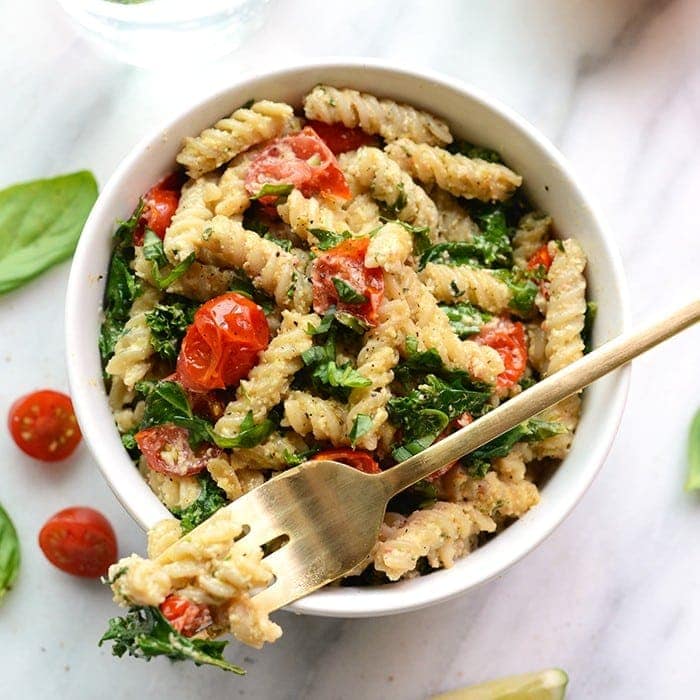 Vegan Creamy Pasta with Basil, Kale, and Tomatoes
Looking to mix up your pasta dish? Make this delicious Creamy Vegan Pasta with Sautéed Kale, and Tomatoes.
Instructions
For the Sauce
Place all of the ingredients for the sauce into a high-speed food processor or blender and mix for 2-3 minutes, stopping to scrape the sides every so often. If your sauce is too thick, add more water a tablespoon at a time. Set aside.
For the Pasta
Cook truRoots Organic Fusilli Pasta by following the directions on the box. Set aside.

Sautée veggies by heating 2 tablespoons of olive oil in a saucepan over medium/high heat. Add in kale and cherry tomatoes and sautée for a few minutes or until kale is at desired texture. Season with salt and pepper.

Add pasta into veggies and then add the sauce (note: you may have some leftover depending on how saucy you like your pasta!).
Tips & Notes
*Boil 4 cups of water. Then, pour over cashews and let soak for at least 4 hours or overnight (this is what I did!). Strain water before use.
Nutrition facts
Calories:
342
kcal
Carbohydrates:
69
g
Protein:
29
g
Fat:
7
g
Fiber:
5
g
Sugar:
21
g

This post is sponsored by truRoots. I was compensated and all opinions are my own. Thank you for supporting Fit Foodie Finds and my love for all things real food!