Head out to your garden or the farmers market and grab everything you need for this garden summer pasta! It's made with cherry tomatoes, fresh basil, and a little bit of ricotta to make it perfectly creamy and delicious!
We love summer pasta recipes here on Fit Foodie Finds. Say hello to this caprese chicken pasta and this healthy BLT pasta! You can't go wrong with any of these pasta recipes!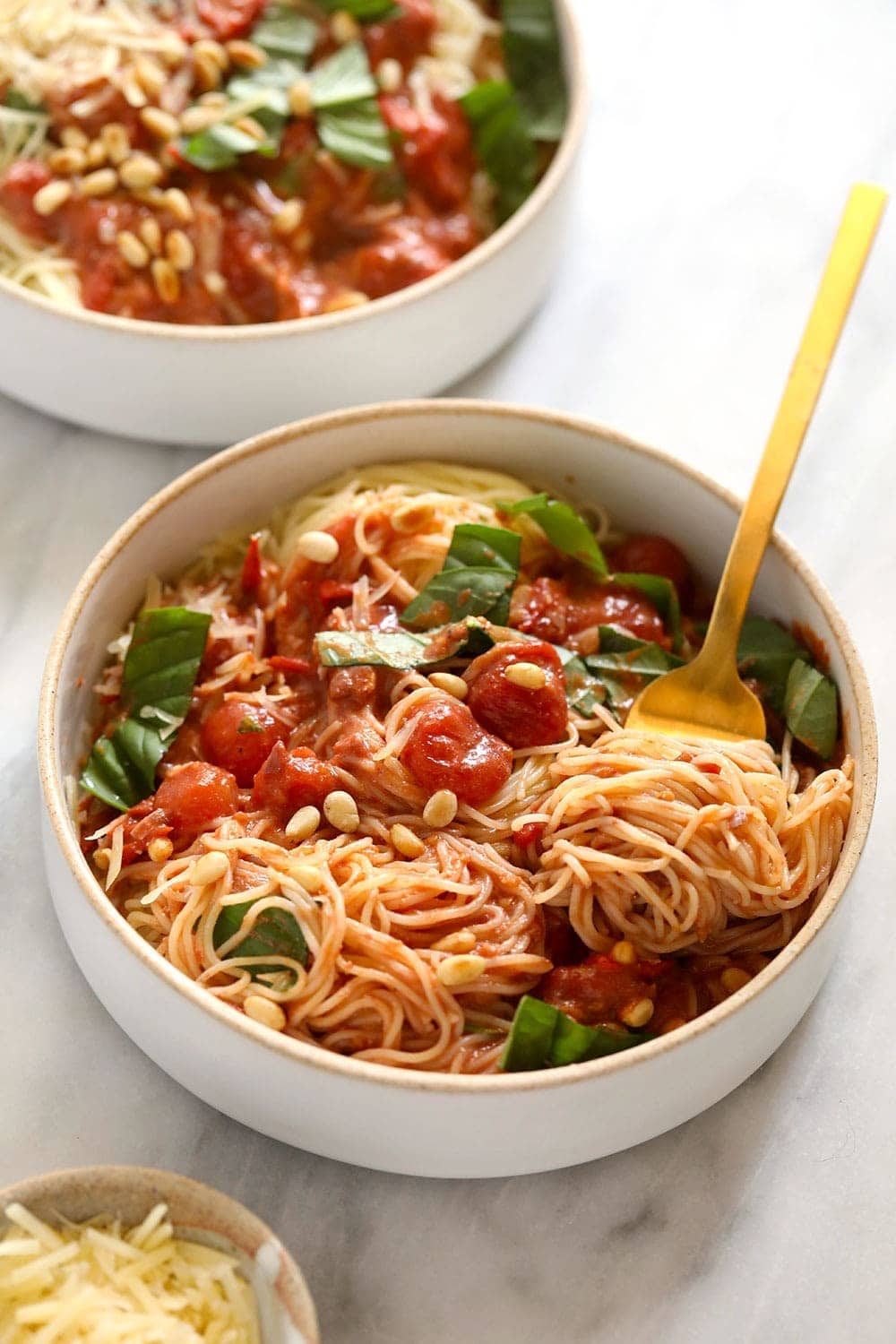 This summer pasta is one of our all-time favorite pasta recipes on Fit Foodie Finds that we personally make year-round!
It's made by simmering cherry tomatoes until they burst, cooking them with garlic, balsamic vinegar, a little red wine, and ricotta cheese.
Simple Summer Pasta
This summer pasta recipe is truly the perfect meal for anyone. Need a quick week night meal? Summer pasta. Need to feed a crowd? Double or triple this summer pasta recipe and you have an easy and delicious meal for a party.
This garden summer pasta recipe is one of our favorites because you can walk right out to your garden to pick fresh tomatoes and basil. If you don't have a garden this is a great recipe for a farmers market run!
Ingredients You'll Need
Not only is this summer pasta delicious, but it has a pretty simple list of ingredients! Here is everything you'll need to make this yummy dish!
Cherry tomatoes
Garlic
Olive Oil
Red Wine
Ricotta
Balsamic
Butter
Pasta
Salt + Pepper
Fresh Basil
Grated Parmesan
pro tip
Don't have cherry tomatoes? You can chop up large tomatoes and use them instead! Chop up about 2 cups of large tomatoes .
The only difference is your chopping up large tomatoes rather than leaving them whole like the cherry tomatoes.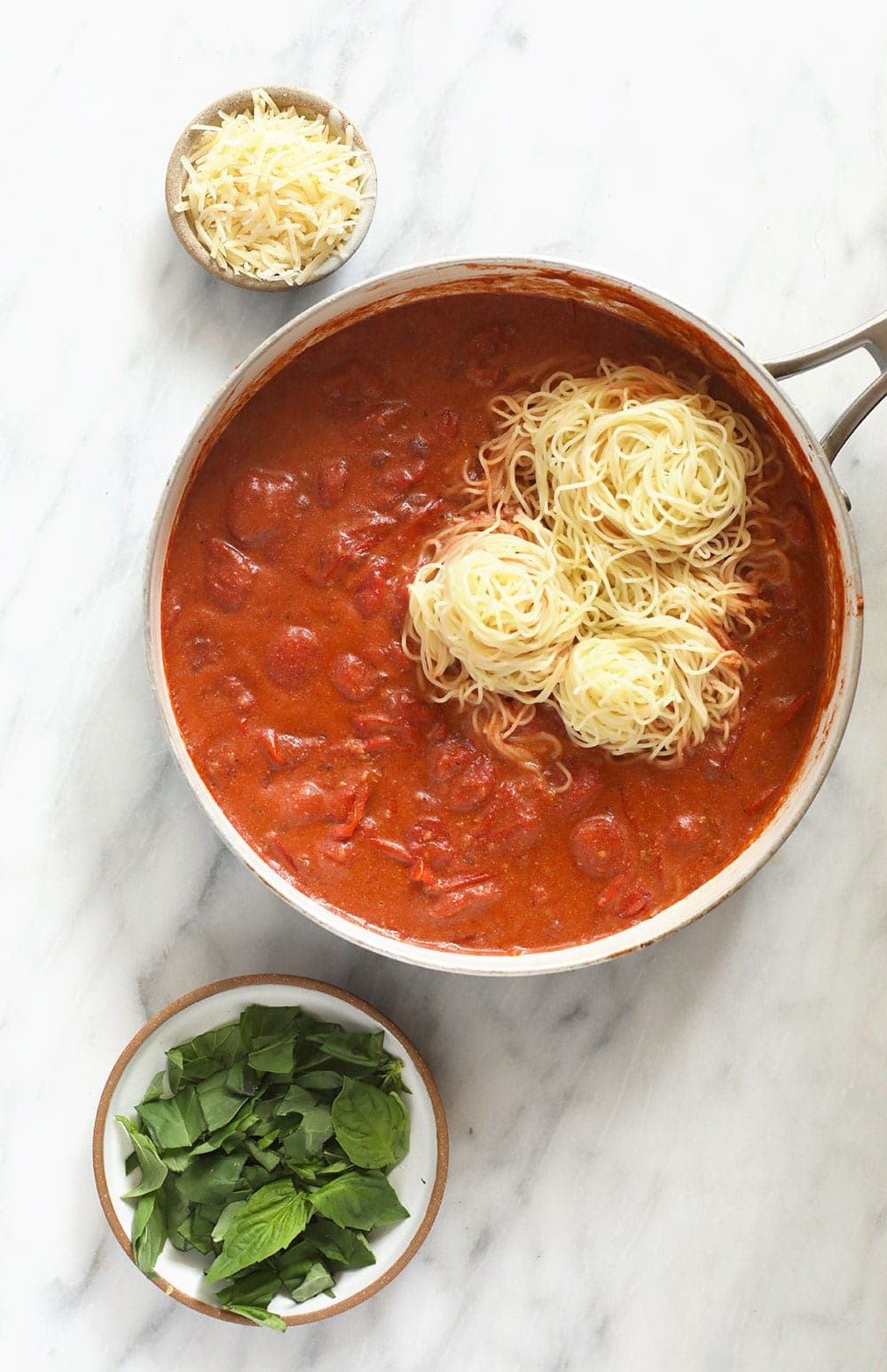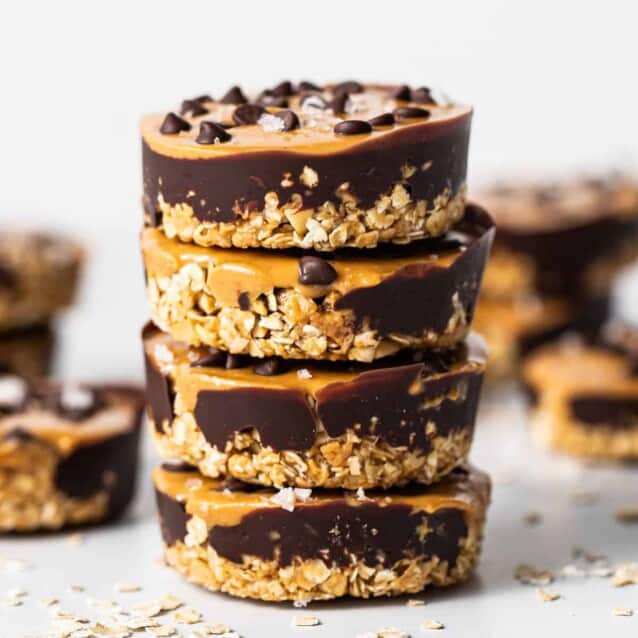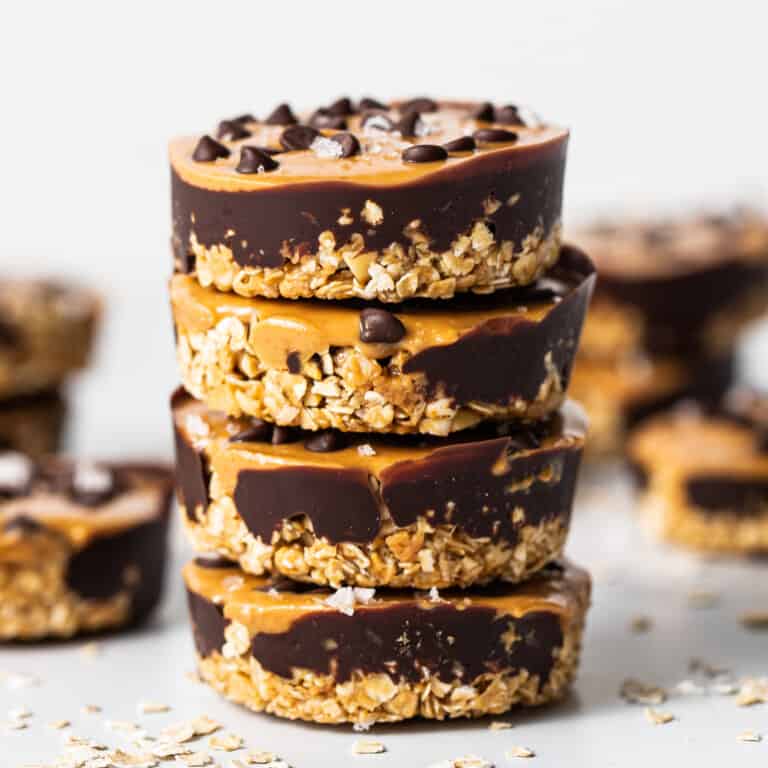 Get our Top 10 5-Star Recipes!
Join our email list for new recipes and BONUS: get our top 10 ⭐️⭐️⭐️⭐️⭐️ recipes e-book!
All About the Homemade Tomato Sauce
When it comes to tomato sauce recipes, there are so many directions you can take. We have a delicious homemade marinara sauce recipe or you can use one of your favorite marinara sauce recipes (we are loving Rao's sauce right now!).
This easy tomato sauce is actually one of our favorites sauces! Why? Because it's so easy to make and it tastes so fresh and delicious with little effort!
How to Make It
All you have to do is sauté your tomatoes in olive oil, garlic, balsamic, and wine. Let them cook down for about 15 minutes (or until the tomatoes burst and start to break down into a sauce).
After that, all that's left is adding in a little butter and ricotta for creamy richness! It's seriously amazing!
Can I use any kind of tomato?
Any kind of tomato should work for this recipe. If you are planning to use medium or large tomatoes, we suggest quartering them so that they cook down faster.
What can I use instead of red wine?
In place of the red wine, we suggest using subbing for 1/4 cup of starchy pasta water and using a little more balsamic vinegar.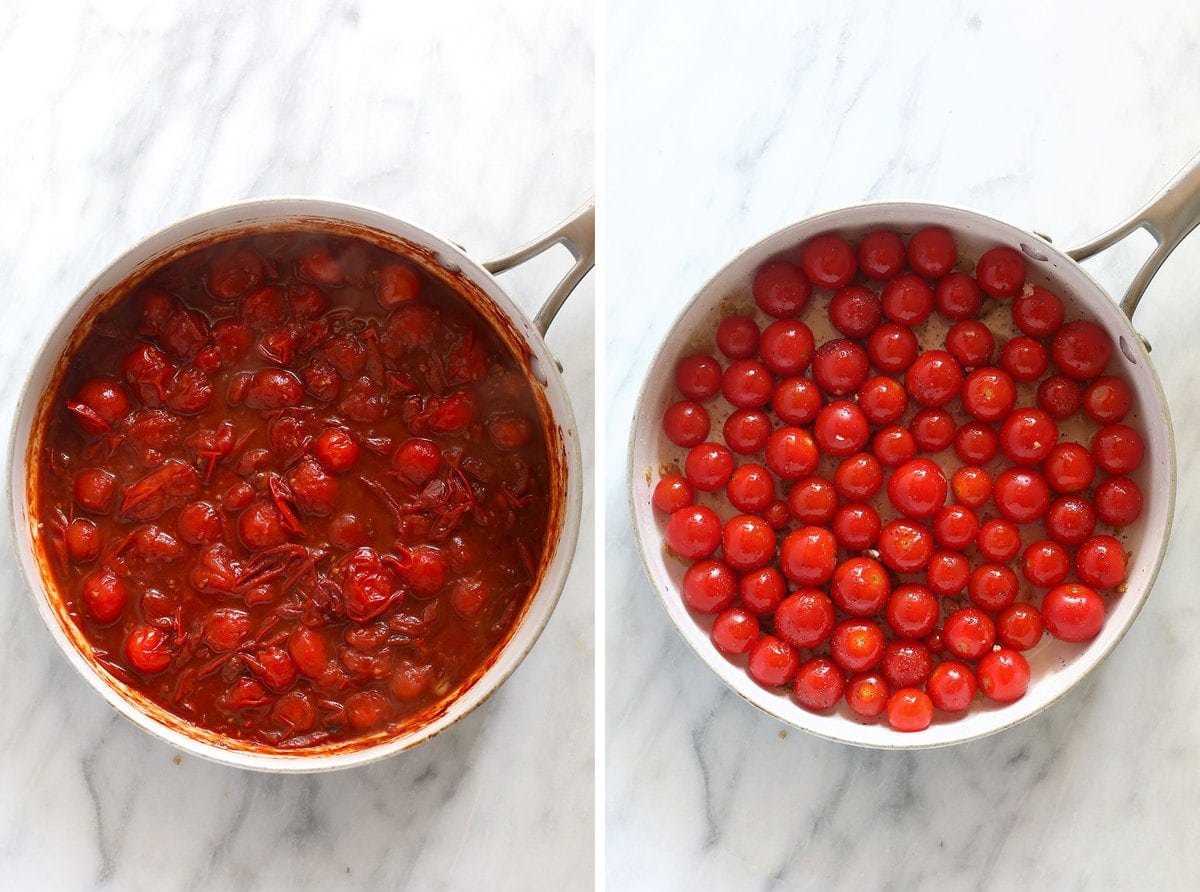 Tips and Tricks
This summer pasta is quite easy to make! Here are a few tips + tricks to make it extra easy-peasy.
Don't overcook your tomatoes. One thing to watch out for is that you don't over cook your tomatoes. Once the tomatoes burst and release their juices, there is a fine line between when the tomatoes pop and when the skins will start to get hard and crispy.
Add a little lemon juice at the end. If you want to brighten up this pasta, a squeeze of lemon juice right before serving adds the perfect amount of flavor.
Salt always helps. If you find that something is missing when you taste this sauce try adding a little bit more salt! Sometimes we underestimate how much salt we really need!
Add a little of this for thicker sauce. Do you want a thicker sauce? Add a couple tablespoons of pasta water to the sauce and let it boil and thicken for a couple of minutes! It really does add a lot!
Storage
Got leftover summer pasta? Let it cool completely and then transfer it into an airtight container. Store in the fridge for up to 3-5 days.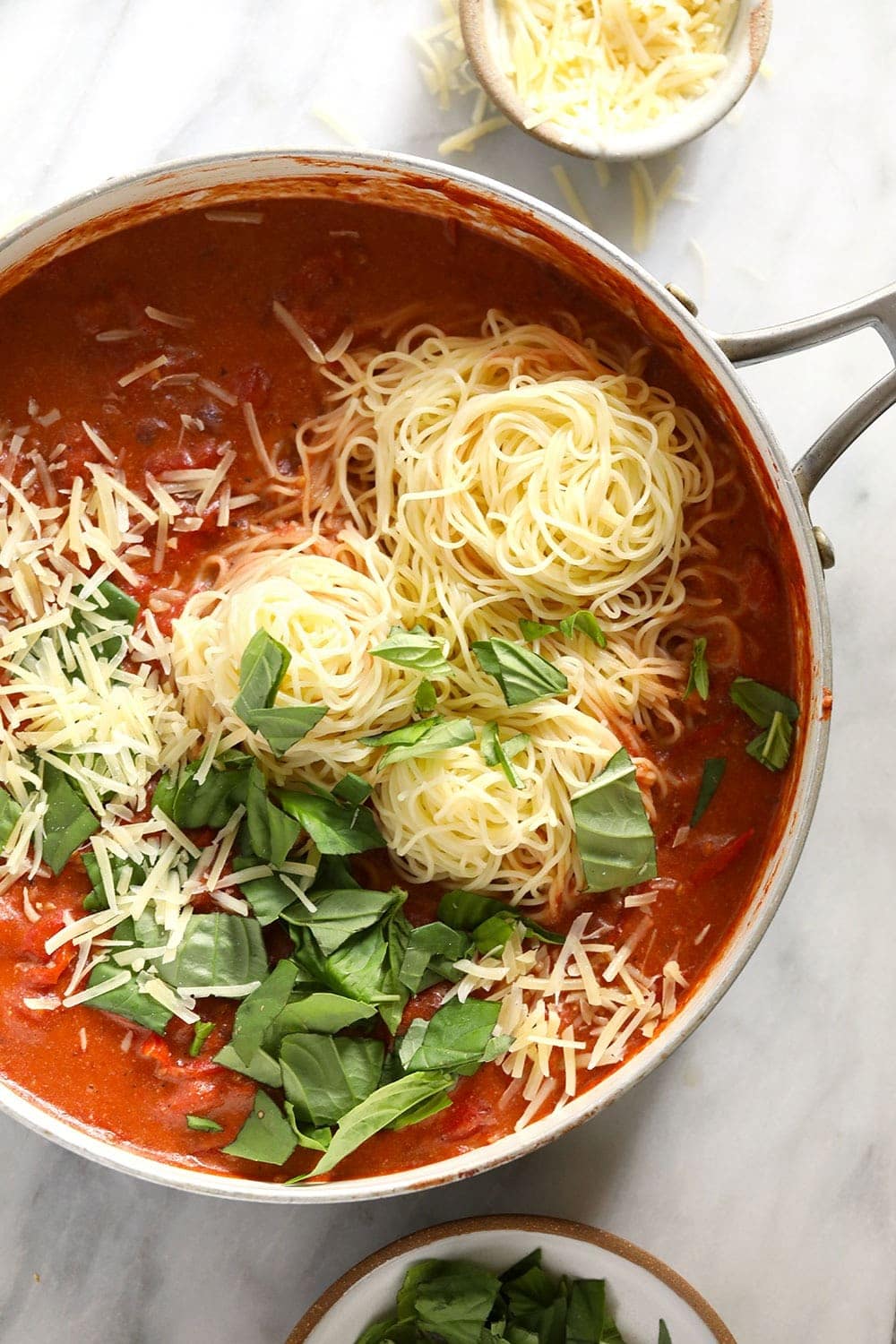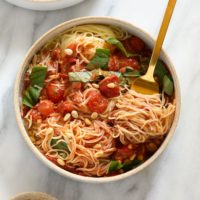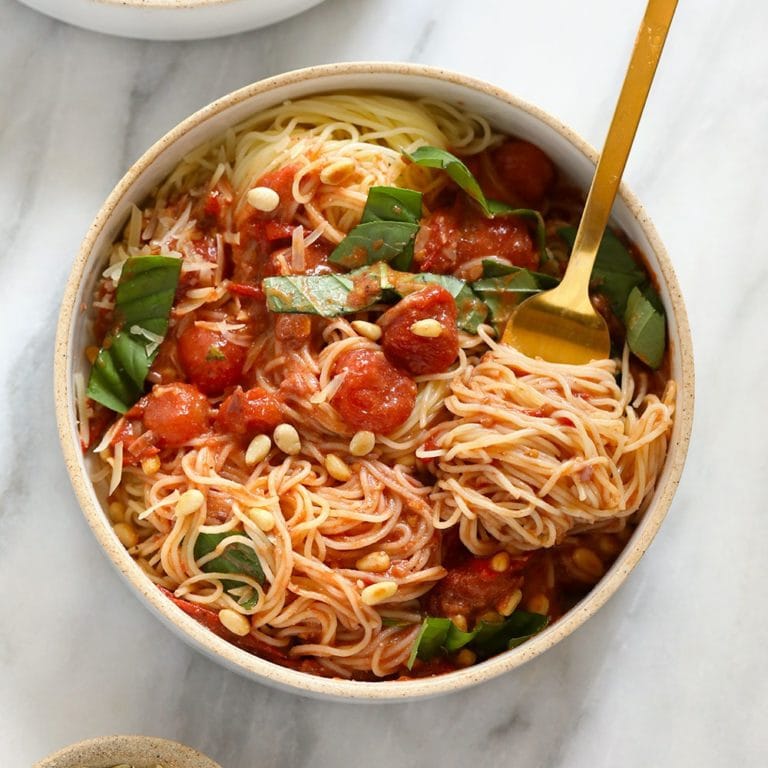 Garden Summer Pasta Recipe
Head out to your garden or the farmers market and grab everything you need for this garden summer pasta! It's made with cherry tomatoes, fresh basil, and a little bit of ricotta to make it perfectly creamy and delicious!
Ingredients
8

oz.

angel hair pasta

2

tablespoons

olive oil

6

cloves

garlic

smashed and minced

14

oz.

cherry tomatoes

whole

1/4

teaspoon

salt

1/4

teaspoon

ground pepper

1/4

cup

red wine

2

tablespoons

balsamic vinegar

1/4

cup

ricotta cheese

3

tablespoons

butter

unsalted

toppings: shredded parmesan cheese and fresh basil
Instructions
First, prepare the noodles by bringing a large pot of water to a boil. Add salt. 

When the water is boiling add noodles and cook until the noodles are al dente. 

Next, drain the water from the noodles and set aside. 

Prepare the pasta sauce by heating a large skillet over medium/high heat. Add olive oil. 

When olive oil is fragrant add the garlic to the olive oil and let it cook for about a minute. 

Add the cherry tomatoes to the olive oil and garlic and season with salt and pepper. 

Turn heat to medium, cover the tomatoes, and let them cook for about 5 minutes, stirring occasionally. 

Uncover the tomatoes and add the red wine and balsamic vinegar to the pan. Stir and let the tomatoes simmer in the liquid for 8-10 more minutes or until the tomatoes burst. 

After the tomatoes have burst and the sauce starts to thicken* add the ricotta cheese and butter to the sauce. Stir until the ricotta and cheese dissolve into the sauce. 

Simmer the sauce for an additional two minutes and remove from heat. 

Finally, add the noodles to the sauce and mix well. 

Serve with fresh basil and parmesan cheese. 
Tips & Notes
*You'll know when the sauce is thick enough when you scrape the bottom of the pan and it leaves a film! 
Nutrition facts
Calories:
411
kcal
Carbohydrates:
48
g
Protein:
10
g
Fat:
19
g
Fiber:
3
g
Sugar:
7
g