The most delicious homemade marinara sauce is ready in no time and is made with simple ingredients such as chunky tomato sauce, onion, and garlic.
In this post, we'll teach you how to make marinara sauce, what to do with it, and how to store it.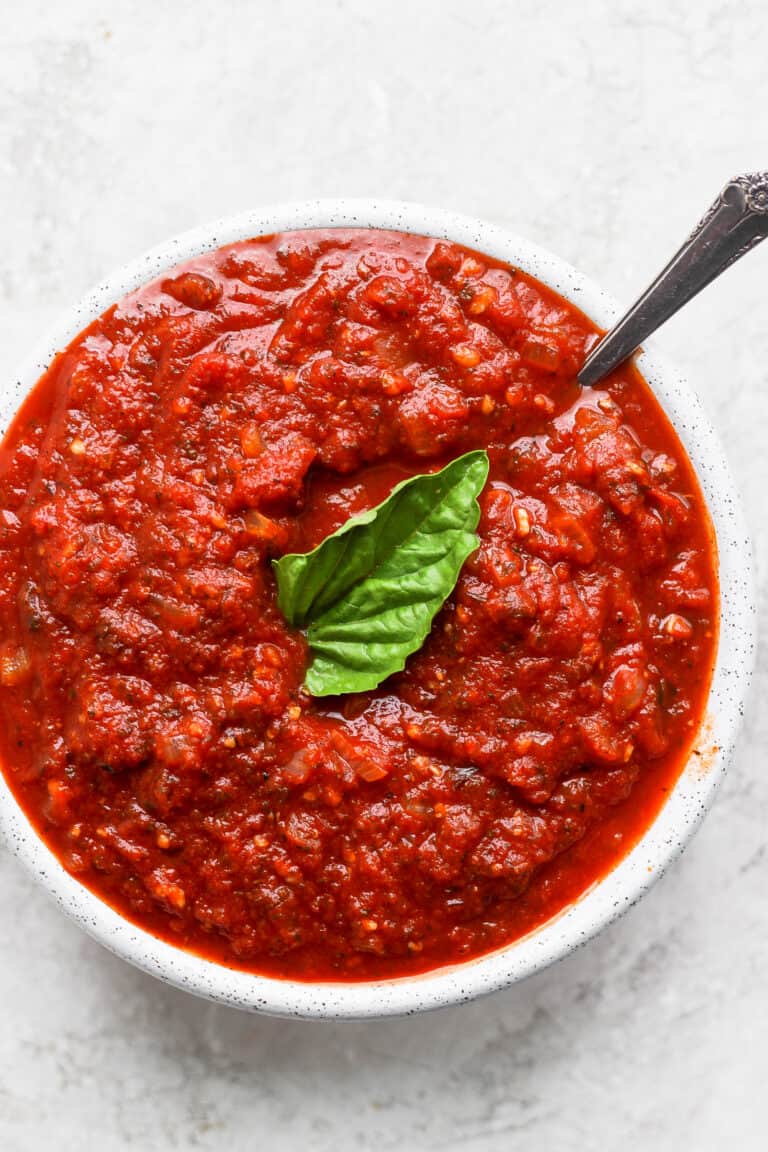 Marinara Sauce = Favorite Red Sauce
Spaghetti and meatballs were on the menu at least once a week in my house growing up. My Italian mother grew up eating delicious Italian/American foods and a marinara sauce was high on the list of favorites.
While we can't claim this as an authentic marinara sauce, we can claim it as an easy marinara sauce inspired by my Italian grandmother that you can make at home!
This sauce…
Easy: you only need one pot and a wooden spoon to whip up this super flavorful marinara sauce recipe!
Simple ingredients: this recipe is made with canned tomato products and hearty ingredients such as garlic and onion.
Easy to freeze: make a triple batch of this sauce and freeze it for later. It'll give you easy access to dinner on a busy night.
Versatile: like a chunkier sauce? Or something a little spicy. Make this marinara your own!
What is Marinara Sauce?
Marinara sauce is a type of tomato sauce (red sauce) that's made with simple ingredients such as tomatoes, onion, garlic, and spices.
Marinara sauce is served as the base in many Italian dishes such as Italian meatballs, lasagna, and chicken parmesan.
Spaghetti Sauce vs. Marinara Sauce
While spaghetti sauce and marinara sauce taste similar, typically spaghetti sauce is served thicker. You can, however, use marinara sauce in place of spaghetti sauce.
Can I use marinara sauce in place of pizza sauce? Even though marinara sauce is a bit thinner than pizza sauce, the flavor is similar and you can use it in place of pizza sauce.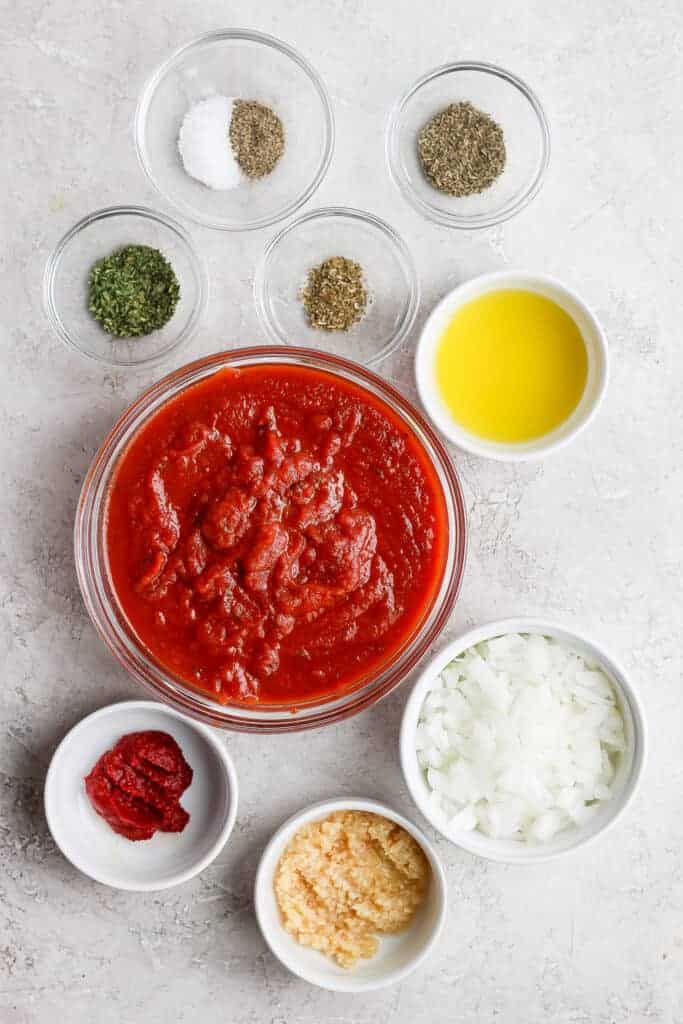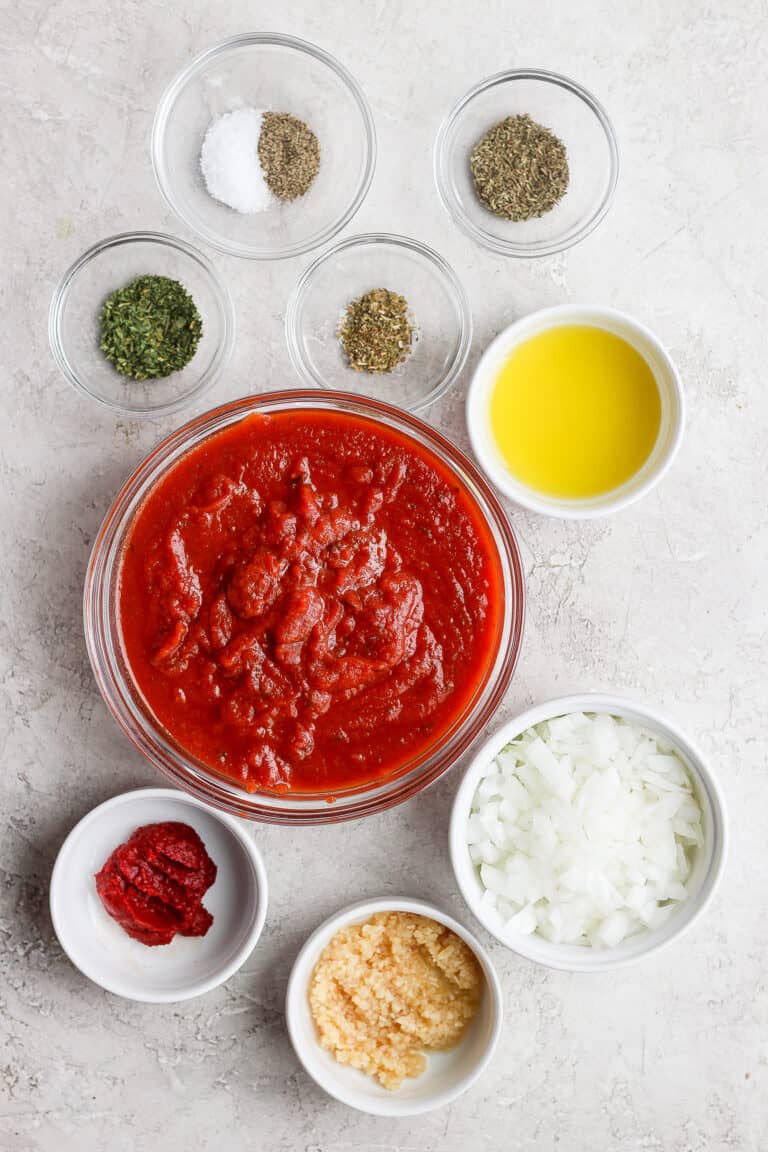 Ingredients for Homemade Marinara Sauce
Extra virgin olive oil: olive oil is used for sauteeing. It also adds such much-needed fat to this marinara sauce recipe.
​​​​Onion: you can either use white or yellow onion for this recipe. Whatever you do, don't skip it.
Garlic: garlic is a marinara sauce staple. The fresher the better too!
Chunky tomato sauce or crushed tomatoes: the base of this sauce is chunky tomato sauce. We used the brand Muir Glen. If you can't find chunky tomato sauce, you can use crushed tomatoes or diced tomatoes too!
Tomato paste: tomato paste is like a tomato concentrate. It not only adds so much flavor, but also help thicken this sauce.
Salt: be generous here and salt in stages! You'll note that we do this in the recipe card.
Spices: spices used in this recipe include dried parsley, thyme, and oregano. You can also use an Italian seasoning blend, too.
Can I use fresh tomatoes instead? Yes! Check out our Roasted Tomato Basil Marinara Sauce recipe. It uses fresh tomatoes and is so delicious.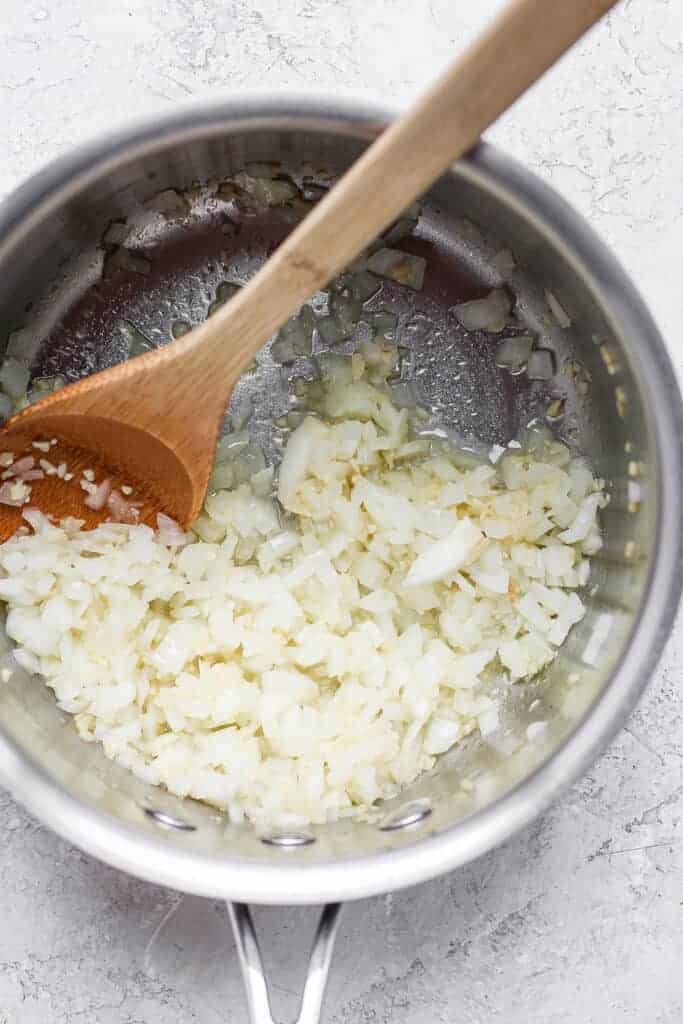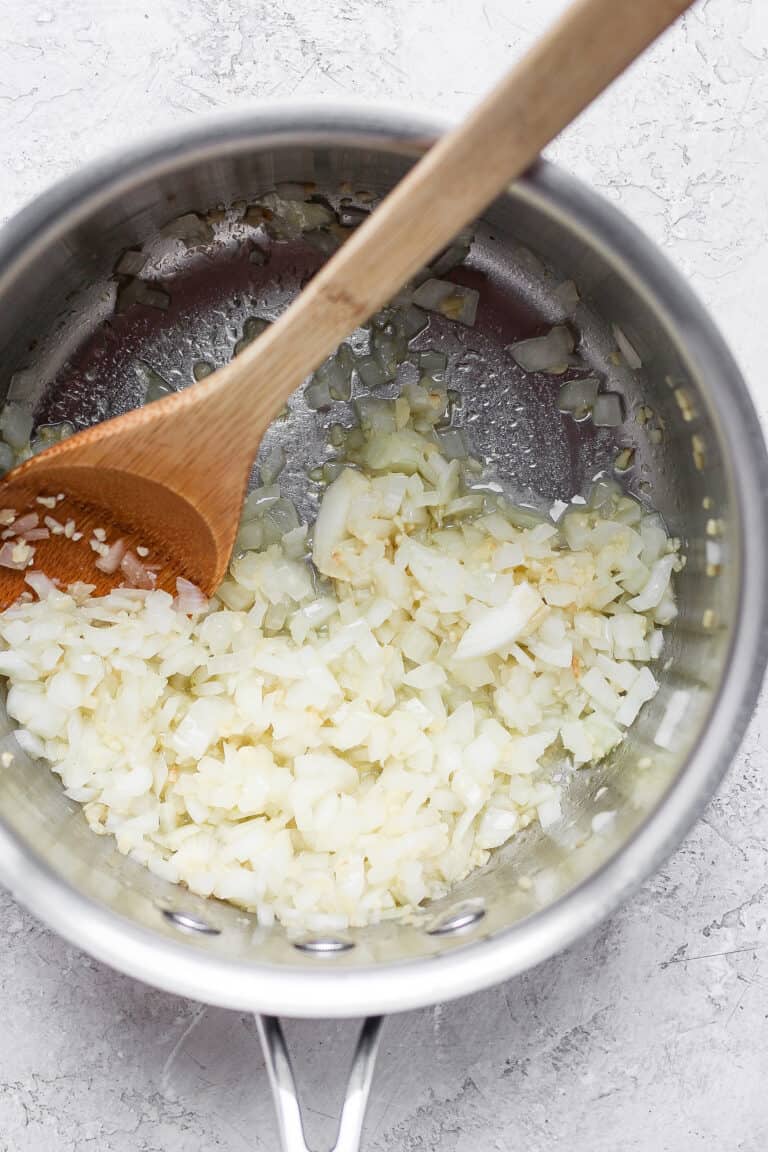 Kitchen Tools
How to Make Marinara Sauce from Scratch:
Homemade marinara might be one of the easiest sauces you'll ever make in your own kitchen! Here's a quick rundown of how to make marinara sauce.
Cook onion and garlic: first, heat olive oil in a medium pot. Then cook onion and garlic in salt until the onion is translucent.
Add tomatoes and spices: add in chunky tomato sauce, tomato paste and dried spices. Mix to combine.
Simmer: turn down to low/medium heat and let simmer for around 20 minutes. As the sauce simmers, the flavors will intensify and it will thicken slightly.
Serve: serve this easy marinara sauce over cooked pasta or in our eggplant parmesan recipe!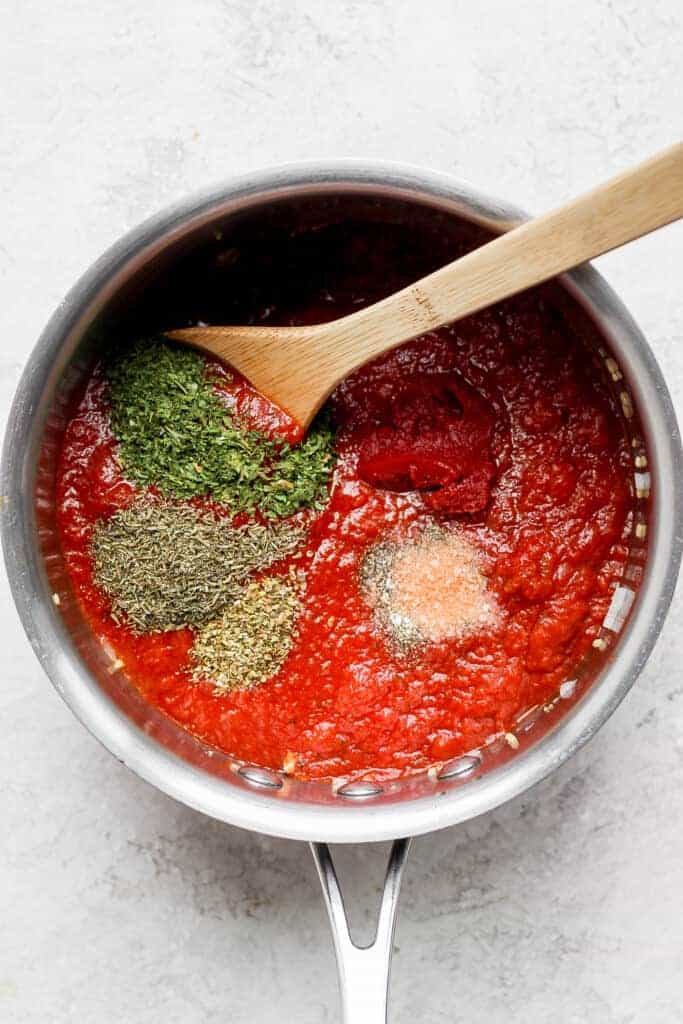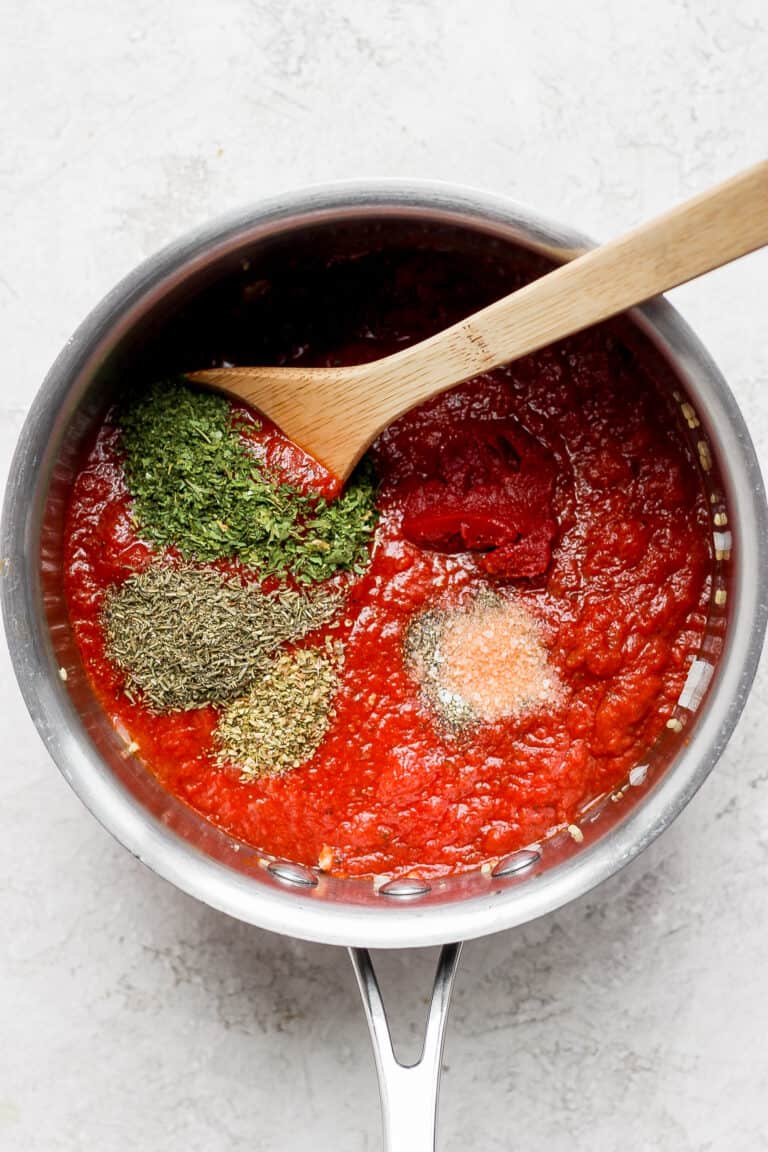 Flavor Variations
Make it spicy: like a little heat? Add 1/2 teaspoon of red pepper flakes.
Make it fresh: make your own crushed tomatoes by pulsing them with some water in a food processor. Then, use fresh herbs such as fresh basil and fresh parsley.
Make it chunky: make a chunky sauce by adding a can of diced tomatoes. Or, you can get inspired by a bolognese sauce and add sauteed vegetables such as carrots and celery.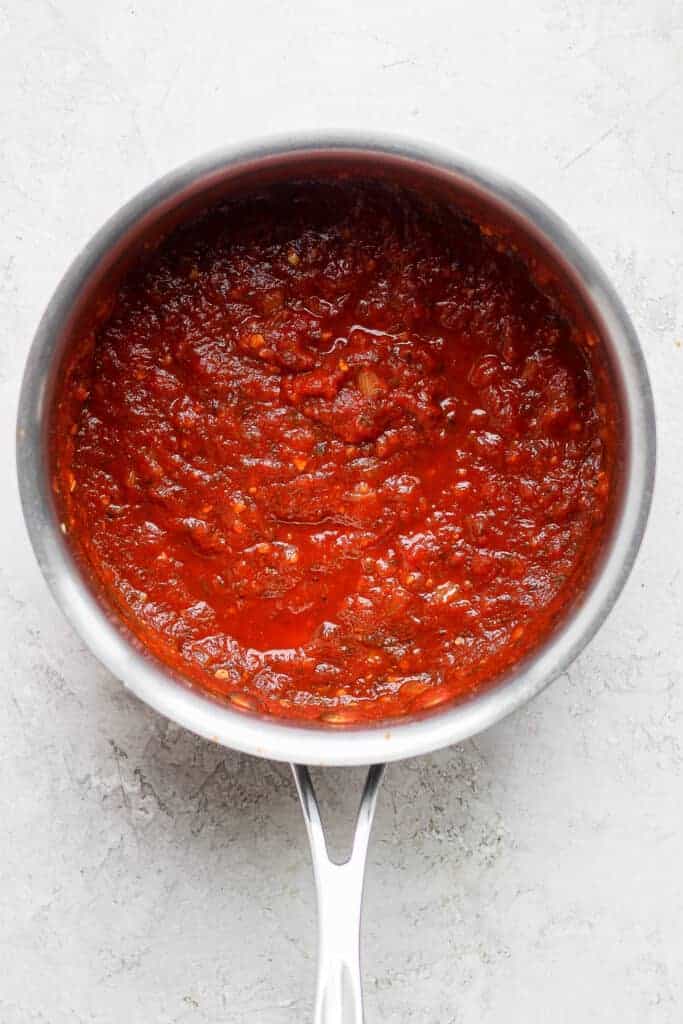 Ways to Use Marinara Sauce
Chicken Parmesan: you can make either baked chicken parmesan or air fryer chicken parmesan by first making our parmesan-crusted chicken and then using our marinara for baking.
Spaghetti and Meatballs: there's truly nothing better than spaghetti and meatballs. Swap out the pasta sauce for a jar of this homemade marinara sauce.
Lasagna: ​​​​this red sauce is one of the easiest and most flavorful bases to use for lasagna! Try our crockpot lasagna or butternut squash lasagna.
Stuffed Shells: our vegetarian stuffed shells are made with sweet potato, spinach, and ricotta cheese. This easy marinara sauce would be so delicious served with it.
Ratatouille: if you're a veggie-lover, then make our ratatouille recipe! It's made with different kinds of squash, ricotta cheese, and a tomato sauce that can easily be swapped for homemade marinara.
Dipping Sauce: are you a huge fan of cheesy garlic bread? Or looking for something to dip your baked zucchini in? This sauce is for you!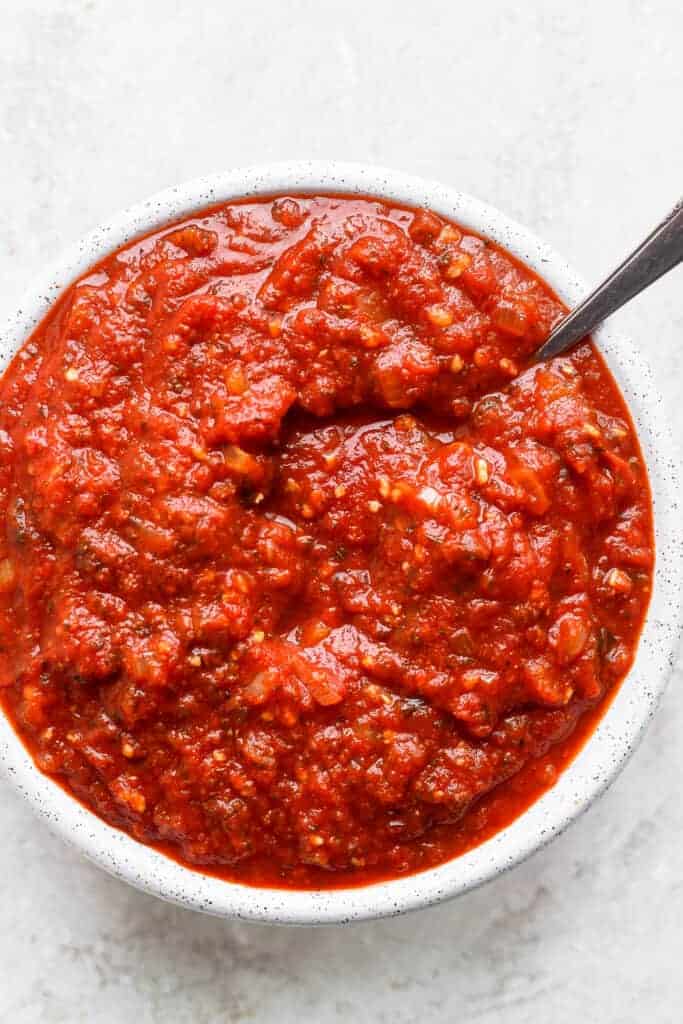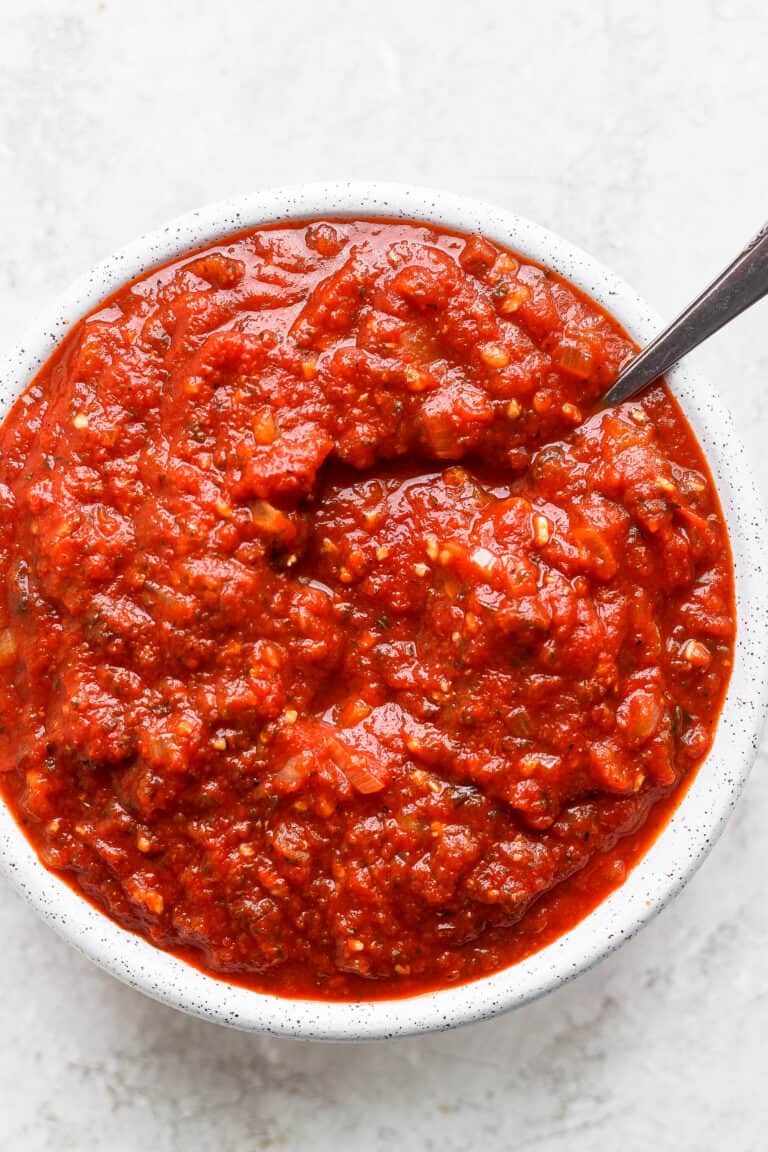 Storage
Store leftover sauce in an airtight container in the fridge for up to 3-5 days.
Freezer Directions
Lucky for you, this homemade marinara sauce freezes really well!
Let it cool completely.
Then, transfer it into a gallon-size plastic bag or freezer-safe container.
Remove as much air as possible and then seal.
Freeze for up to 3 months.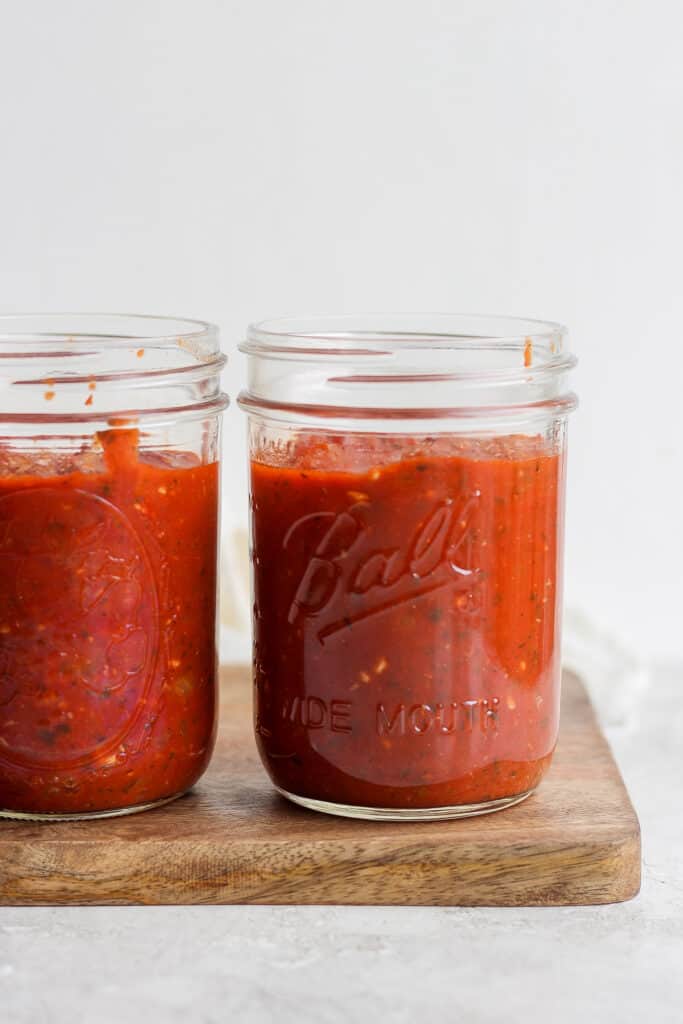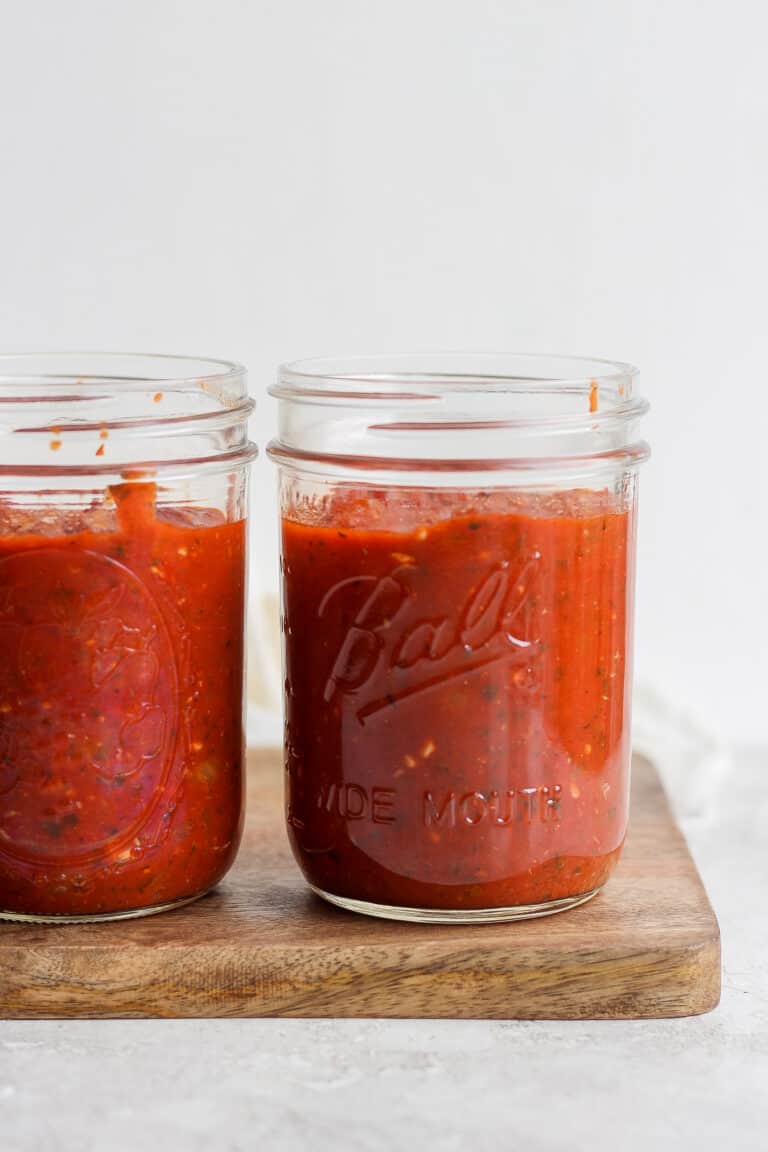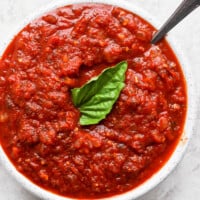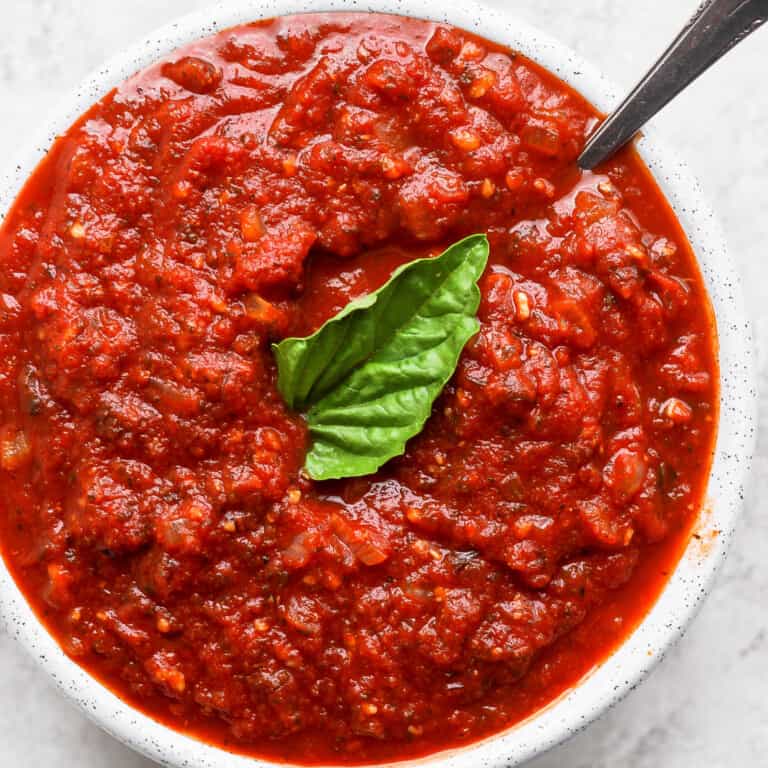 Homemade Marinara Sauce
Wondering how to make marinara sauce? Here's a simple marinara sauce recipe made with basic Italian flavors such as tomato, garlic, onion, and spices.
Instructions
Add 1 tablespoon olive oil to a pot and heat over medium/high heat.

When the olive oil is fragrant add the white onion and minced garlic to the pot and sprinkle with ¼ teaspoon salt. Sauté for 2-3 minutes. 

Add the rest of the ingredients to the pot and stir.

Bring the marinara sauce to a boil and then turn the heat down to low and simmer for 15-20 minutes. 

Serve immediately or let cool and store for later.
Tips & Notes
chunky tomato sauce: If you can't find chunky tomato sauce, you can also use diced tomatoes.
This recipe makes around 4 cups of sauce.
Nutrition facts
Calories:
100
kcal
Carbohydrates:
13
g
Protein:
2
g
Fat:
2
g
Fiber:
2
g
Sugar:
7
g
Photography: photos taken in this post are by Erin from The Wooden Skillet.