Make a batch of this homemade enchilada sauce or double batch of this delicious sauce and keep it in the refrigerator until you are craving enchiladas during the week!
This sauce is a great addition to any enchilada recipe, but you can also use it in our slow cooker chicken enchilada soup or our favorite chicken enchilada casserole!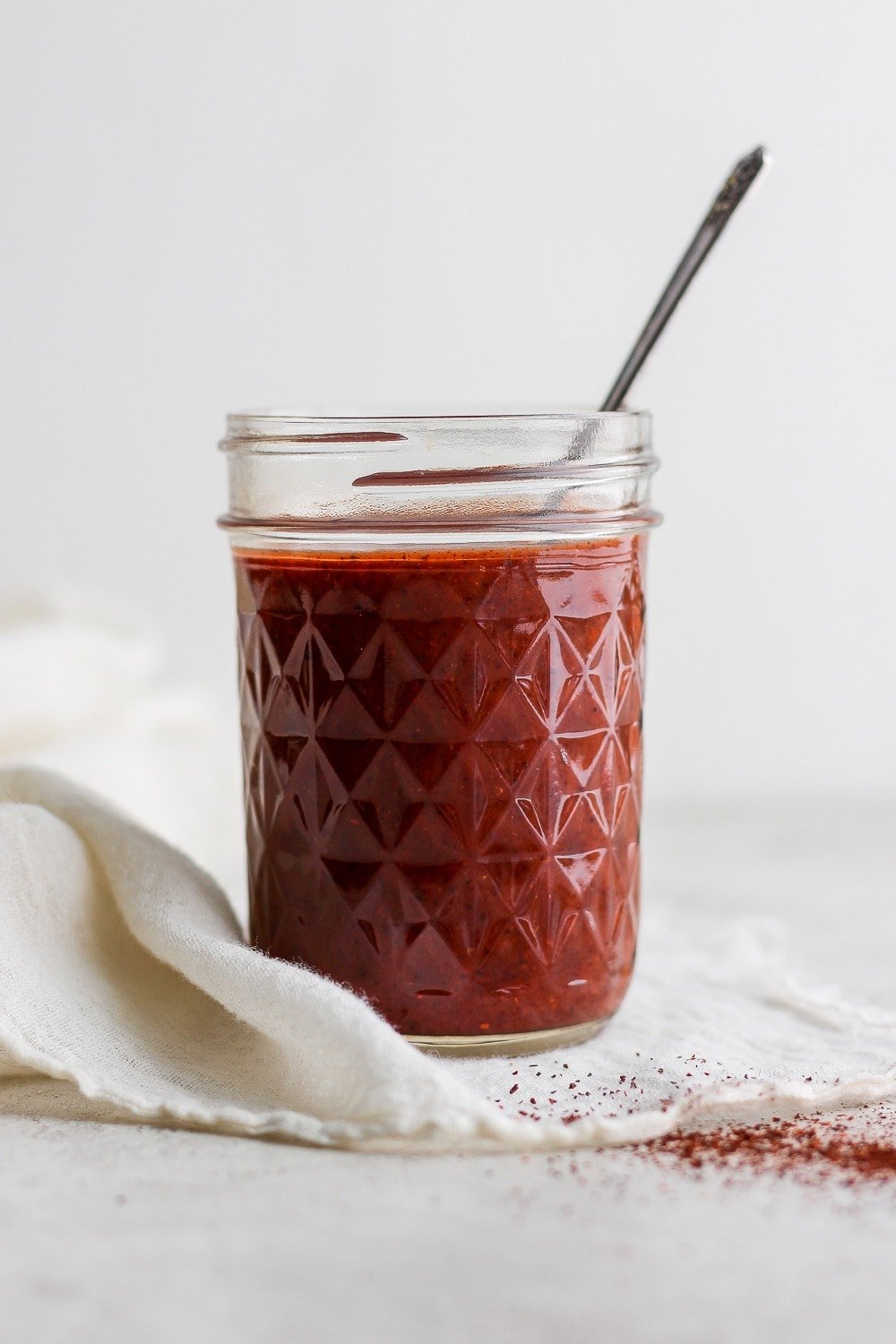 Sauce it Up
We are all about the sauce here on Fit Foodie Finds. We love marinara sauce on pasta, vegan cheese sauce in casserole, and more! The saucier the better! This enchilada sauce is a staple recipe that we use in all of our enchilada inspired recipes!
How to use Enchilada Sauce
There are many different ways that you can use this enchilada sauce and that means you don't have to use it JUST for enchiladas. Here are some fun and creative ways to use this enchilada sauce.
Enchiladas- Who doesn't love enchilada recipes? We have this delicious healthy sweet potato chicken enchilada recipe on FFF that is a spin on a classic enchilada! Whether you make this  enchilada recipe or an enchilada recipe of your own, this enchilada sauce is super easy to make!
Soup- We love adding a bit of enchilada sauce to soup! Sounds kind of weird, right? Adding enchilada sauce to soup is similar to adding tomato paste or tomato sauce to a recipe. It thickens the broth a bit and adds amazing flavor!
We added 2 cups of enchilada sauce to this slow cooker enchilada soup recipe and it gave the soup the perfect enchilada flavor. Don't be scared to add a couple of tablespoons to your favorite chili recipe or soup recipe!
Dip- Take everything you love about enchiladas, mix it up in to a cast iron dish, cover it with cheese, and bake it! What do you get? A delicious enchilada dip recipe! Our healthy enchilada dip recipe is one of our most popular appetizer recipes on FFF!
It really is enchiladas deconstructed. All of your favorite ingredients and flavors that you can scoop up with a chip! Our homemade enchilada dip is the perfect base for this delectable dip!
Casserole- It's no secret that we are obsessed with casseroles on FFF. Our chicken enchilada casserole is one of our most popular meal prep recipes. All you do is throw veggies, rice, enchilada sauce, and broth into a casserole and bake to perfection!
Meal prep- The best part of this enchilada sauce is that you can add it to any savory recipe to give it a boost of enchilada flare! Here are some fun ways to meal prep with enchilada sauce!
Meal prep shredded chicken and toss it with enchilada sauce for a meal prep bowl recipe.
Drizzle your favorite egg cup with enchilada sauce!
Toss grilled shrimp with a little enchilada sauce and serve them with a salad!
OMG, toss some chicken wings in this enchilada sauce. Can you imagine how delicious?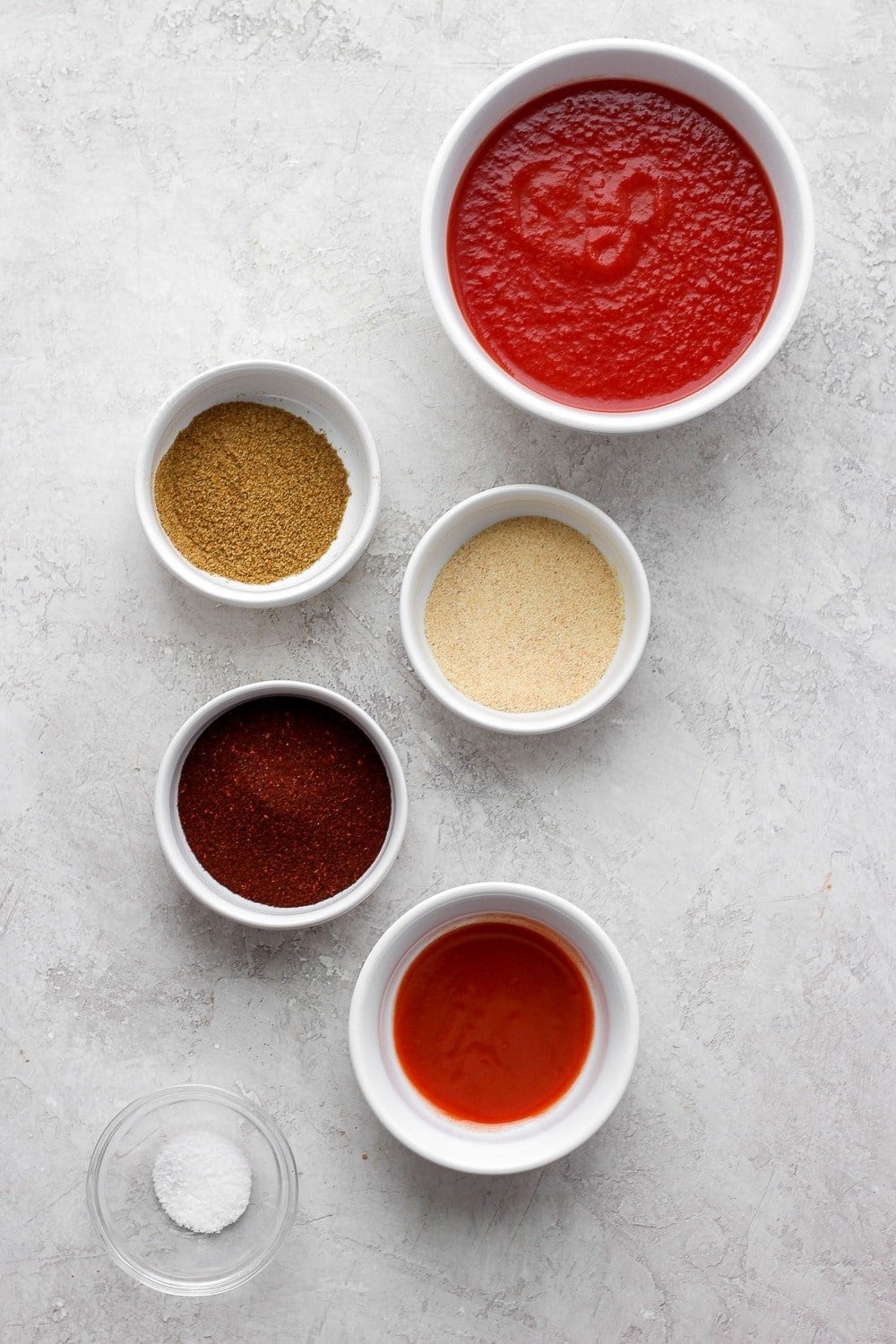 Enchilada Sauce 101
Do I need to boil enchilada sauce before I use it?
We do recommend boiling down enchilada sauce before using it! Simmering the sauce really thickens the sauce to a delicious and glossy consistency. It also helps the spices dissolve into the sauce so it doesn't have a grainy consistency.
What can I use in place of enchilada sauce?
You can always use store bought enchilada sauce if you don't have the ingredients to make your own! Frontera enchilada sauce is our favorite!
How long does enchilada sauce last in the refrigerator?
Enchilada sauce can last 5-7 days in the refrigerator if you store it in an airtight container!
Can I freeze enchilada sauce?
Yes! You can make a batch of this enchilada sauce and let it cool completely. Then, you can freeze it in a mason jar or in an ice cube tray for an easy storage option of enchilada sauce cubes that you can later transfer to a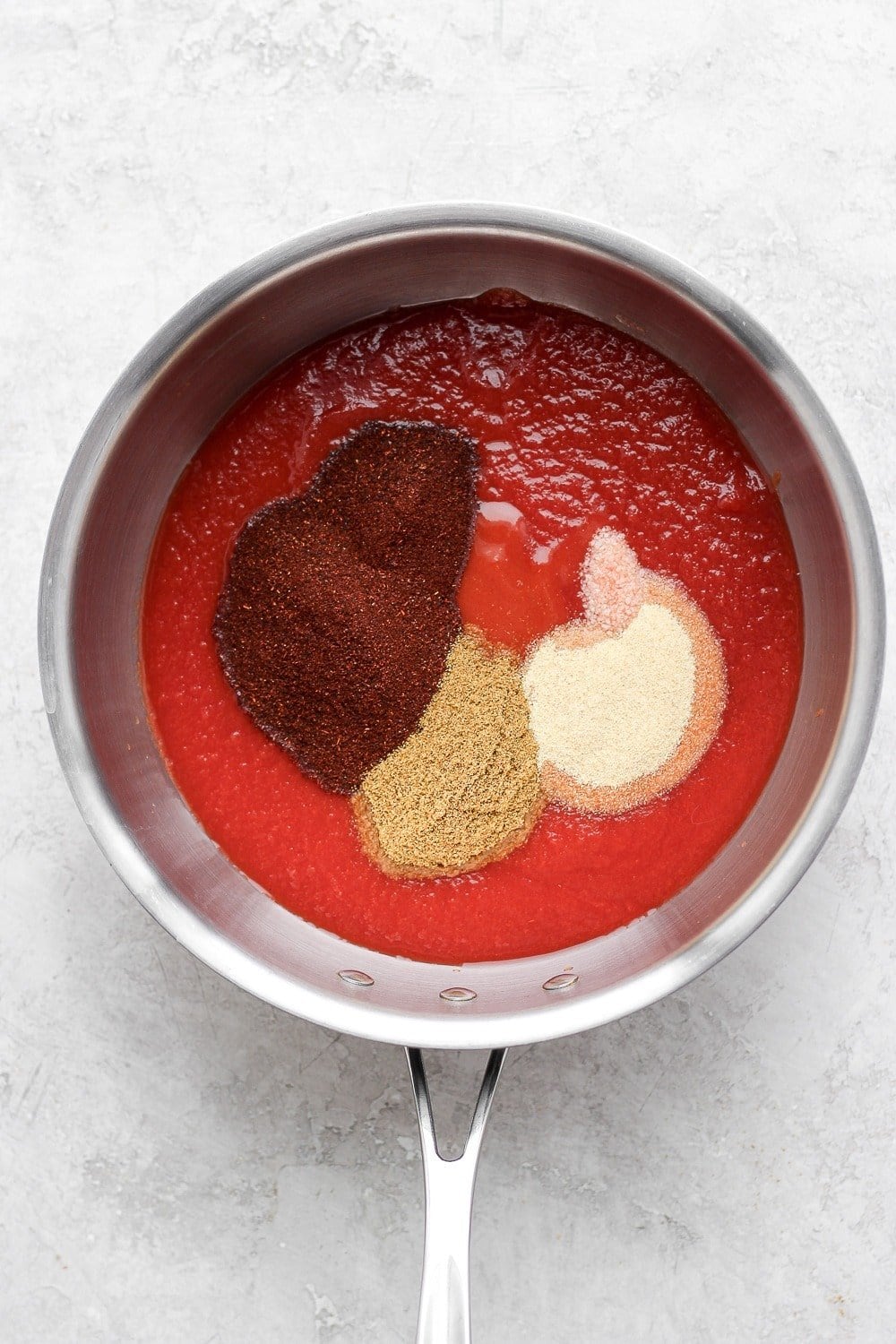 Use Enchilada Sauce in these Recipes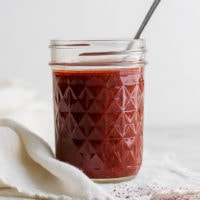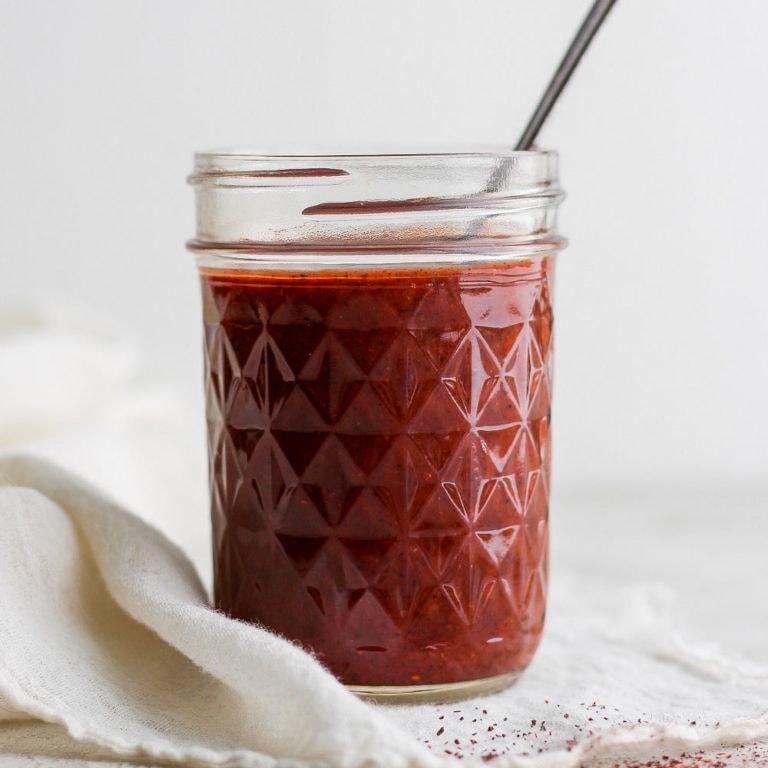 Homemade Enchilada Sauce
Make a batch of this homemade enchilada sauce or double batch of this delicious sauce and keep it in the refrigerator until you are craving enchiladas during the week!
Ingredients
2

15-oz.

cans tomato sauce

2/3

cup

water

3

tablespoons

chili powder

1

tablespoon

garlic powder

1

tablespoon

ground cumin

2

tablespoons

Franks

or more, to taste

1/4

teaspoon

salt
Instructions
 Add all ingredients for enchilada sauce to a sauce pan, mix well and then cook over high heat. Bring to a boil.

Reduce to low heat and let sauce simmer for 10 minutes. The sauce should thicken and become glossy.

Use enchilada sauce immediately or let the enchilada sauce cool completely before placing it in an airtight container and storing it in the refrigerator for 5-7 days.
Nutrition facts
Calories:
200
kcal
Carbohydrates:
53
g
Protein:
10
g
Fat:
2
g
Sugar:
23
g
Photo Credit: Wooden Skillet